THE MUSIC THAT MAKES US DANCE CONCERT & WORKSHOPS, SEPTEMBER 23-25 2014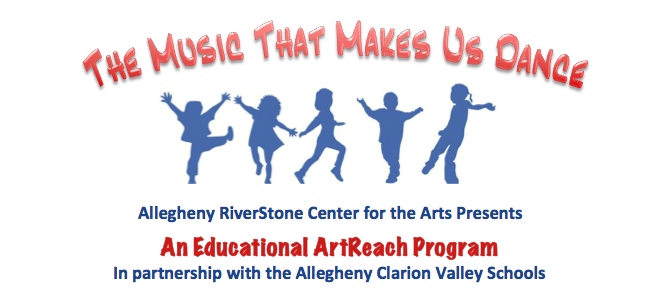 Dance was chosen to extend the artistic genres brought to Allegheny-Clarion Valley students because some of the most joyous, uplifting and effecting music ever written has been created for the dance. The impulse to move and respond to rhythm is deeply imbedded in our cultural DNA.  ARCA's program was designed to utilize the universal language of dance, engaging students in the wonder of music and the dance – an expression of the impulse of life – and involving their hearts, minds and bodies in learning through the arts.
ARCA's dance and music residency in the A-C Valley Schools opened with two days of movement workshops for PreK to 4th grade students on September 23-24, conducted by Laurie Tarter, dance educator and specialist in early childhood education.  The first-time kinesthetic movement workshops built momentum into the rest of the sequence, evidenced by students' focus and enthusiastic participation in the workshops and assembly concert that followed.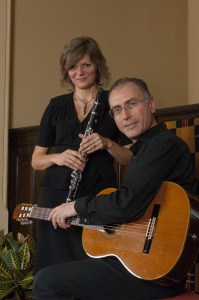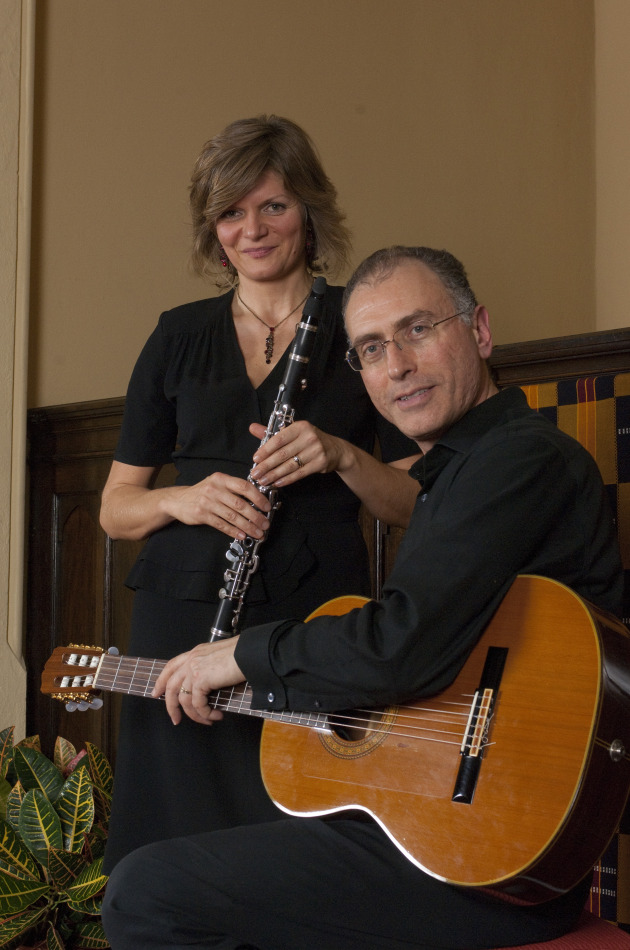 On Thursday morning, September 25, internationally acclaimed clarinetist and saxophonist, Susanne Ortner, and Pittsburgh's guitar virtuoso, composer and Carnegie Mellon faculty member, John Marcinizyn were joined by Renee Danielle Smith and Joe Nickel, dancers from Pittsburgh's Murphy/Smith Dance Collective, performing three small workshops for preK to 6th grade.  They performed assembly concerts in the afternoon for preK to 12th grade.
A-C Valley students were invited to bring their parents with them to enjoy the evening concert on Thursday, September 25, together with the general public, A Dance Concert for the Whole Family, at 7:00 PM in Allegheny-Clarion Valley High School Auditorium.
Deeply discounted family ticket prices attracted students and parents, joining the general public.  Regular Adults, $15.  Parents $5 and Students $5.  Children Under 6 Free.
STUDENT PREPARATION AND IN SCHOOL WORKSHOPS, September 23-24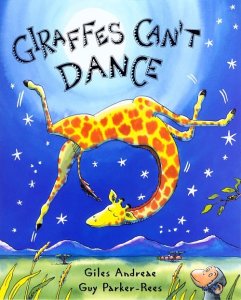 ARCA Board member and seasoned arts education professional, Katherine Soroka, who designed and implemented ARCA's 2013 and 2014 arts education sequences, created a Teacher Resource Guide booklet for classroom teachers and arts specialists.  (Download the Teachers Resource Guide PDF on this page.) Resources included lesson plans for dance history and rhythms and a values curriculum using the children's book "Giraffes Can't Dance" by Giles Andreae.  The book is a contemporary fable about Gerald the Giraffe which features an anti-bullying and individuality-validating moral – "Everyone can dance when they find the music that they love". Music Specialist Jennifer Lowrey introduced 1-6th grade students to the four dance rhythms being performed in the assembly concert and worked with Pre-Kindergarten and Kindergarten students on "Giraffes Can't Dance".
In her creative movement residency on September 23-24, dance educator Laurie Tarter amplified the values curriculum lessons of Giraffes Can't Dance via her workshop theme, Everybody Dances.  Laurie believes that dance, more than other art forms, is inclusive of all ages and abilities.
Laurie Tarter introduced AC Valley students to dance as an art form using space, shape, time and motion. Even the youngest students participated in the creative process. Laurie's work is founded in the belief that the arts can be the glue that makes learning meaningful. In her movement workshop with K-4 students, Laurie encouraged the kind of thinking and problem solving skills that transfer to all subjects.
---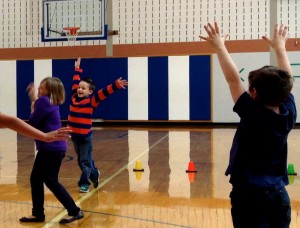 Laurie Tarter is a dancer and early child movement specialist. She was a founding member of Pittsburgh Dance Alloy and was featured as a "neighbor" on Mr. Rogers Neighborhood. Laurie has been a teaching artist in residence, working with classroom teachers in the Western Pennsylvania Wolf Trap Program for Early Learning Though the Arts. She has taught dance education classes at the Carnegie Museum of Art studio. She developed Dance Alloy's satellite program for The Children's Institute and continues to teach dance at their and Neighborhood Dance Studio in East Liberty. Laurie was a member of the performing arts faculty at The Winchester-Thurston Schools from 1999 through 2005.
SEPTEMBER 25 ELEMENTARY WORKSHOPS, K-6
For the Music That Makes Us Dance residency, ARCA welcomed back to the Allegheny-Clarion River Valley the expressive internationally-acclaimed clarinetist and soprano saxophonist, Susanne Ortner, with her duo partner, the guitarist virtuoso, John Marcinzyn. The dancers and Ortner duo began the morning performing three small workshops for students K-6 in the pod spaces outside student classrooms.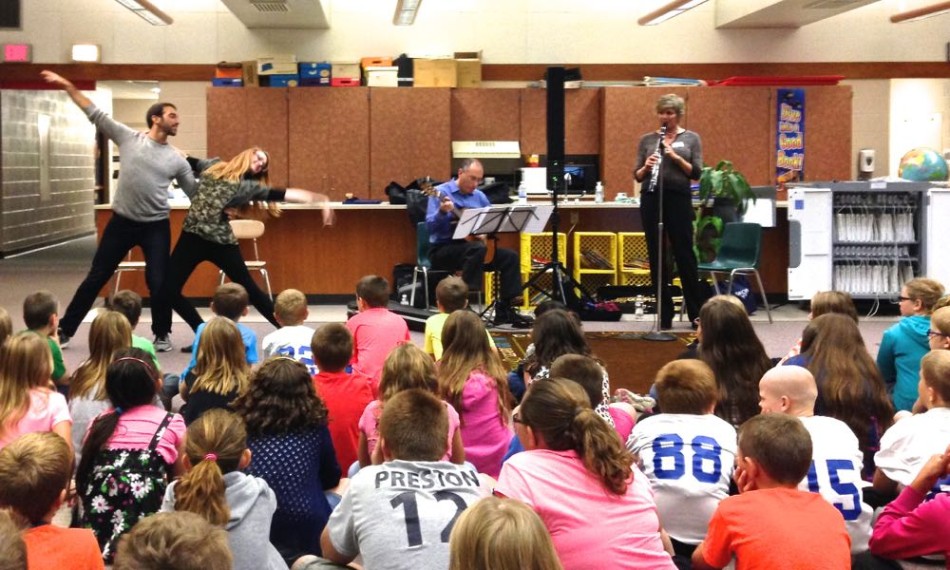 The students were engaged in clapping exercises related to the dance rhythms for the polka, waltz and tango, and in movement exercises led by the dancers from the Murphy-Smith Dance Collective – Renee Danielle Smith and Joe Nickel. The dancers demonstrated their choreography to the music students had studied in their preparatory sessions.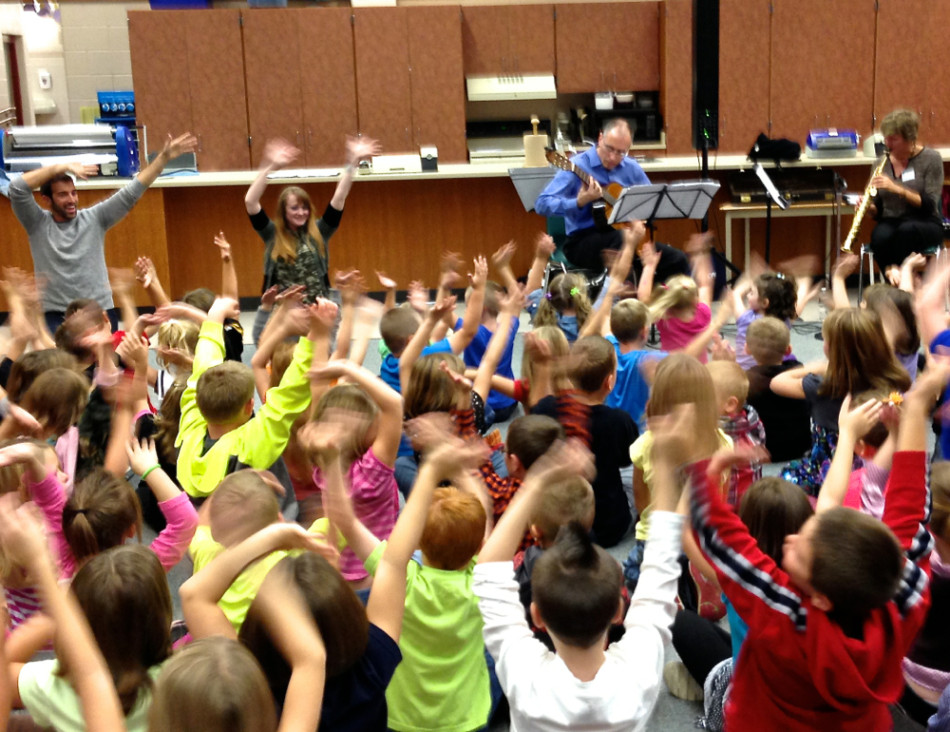 Most popular was the dance to the popular contemporary song "Happy" by Pharrel Williams. Students were taught a body percussion pattern to "Happy" in the workshops which they enthusiastically did in the assembly concert, as the dancers were doing flips and cartwheels as well as modern dance choreography to the music.   
In the afternoon the Ortner/Marcinizyn Duo and dancers performed two assembly concerts for the A-C Valley Elementary and Junior and Senior High School students of an eclectic blend of music – Gypsy Jazz, Latin, and Klezmer in the mesmerizing sounds of New Orleans, Paris, Odessa, and Argentina –  making the students' spirits fly and bodies move!
Four of the dances were choreographed and danced by Renee Danielle Smith and Joe Nickel from the Murphy/Smith dancers: a waltz, tango, polka and a contemporary dance.
The waltz was the hauntingly beautiful Liebeslied (Love's Song), composed by the beloved Austrian violinist Fritz Kreisler and arranged by Susanne Ortner in klezmer style.
The tango they danced was the most famous and recognizable tango of all time, La Cumparsita.
The polka was a kelzmer dance, A Nikolaev Bulgar, made popular by one of the leading klezmer clarinetists from the 1920s to the 1960s, Dave Tarras. The piece started with a little spin off of the squealing clarinet opening to Gershwin's Rhapsody in Blue.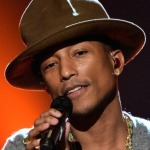 The contemporary popular song Happy – originally in the animated movie Despicable Me II –  was A-C Valley Students' favorite dance.  One of the biggest hits of the year, Pharrel Williams' Happy spent 15 weeks at the top of the Billboard 100 and inspired hundreds of fan videos on YouTube.
Very rhythmically infectious because of its complex syncopation, whether or not one knows how Happy was written, it triggers in young and old alike a nearly uncontrollable need to tap one's foot, bob one's head and move to the rhythm in some way.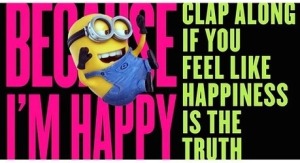 Some of the students who were taught body percussion movements to Happy in the workshops performed it during the K-6 assembly performance. The evening concert audience didn't feel left out of the fun. During the performance, students in the audience performed body percussion movements to Happy along with the dancers on stage… a joyously contagious moment for all.
DANCE CONCERT FOR THE WHOLE FAMILY, 7:00 PM, SEPTEMBER 25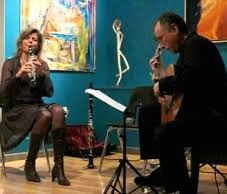 For the two hour evening "Dance Concert for the Whole Family" the Ortner/Marcinizyn Duo extended their program.  In addition to the four dances performed by the Murphy/Smith Dance Collective, the Duo also performed their arrangement of Liebesfreud by Fritz Kreisler/Django Reinhardt, where "The Joy Of Love" takes on its Gypsy Shoes: The great Gypsy Jazz guitarist Django Reinhardt was inspired by Kreisler's tune to Jazz it up. The arrangement merged the old into the new. Tico Tico (Zequinha de Abreu) the famous Choro tune, Tu Vuo Va L'Americano (Italian Gypsy Jazz) and beautiful tunes from the Great American Songbook, such as My Romance (Rodgers/Hart) rounded out the program with a flourish and lots of heart.
The Murphy/Smith Dance Collective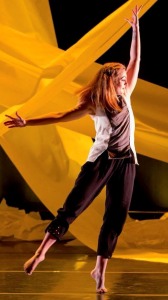 The Music That Makes Us Dance residency featured the exuberant dancing of Murphy/Smith Dance Collective member, Renee Danielle Smith, and Joe Nickel, Pittsburgh dancer and choreographer.
Founded in 2011 by Pittsburgh dancers and choreographers, Murphy/Smith Dance Collective's (MSDC) Renee Danielle Smith and Jamie Murphy engage their audiences through contemporary dance work inspired by the human experience. Through exploration of the expressive potential of the human body, MSDC creates work with passionate fervor, driven by athletic phrasing, accessible through gestural simplicity.
After establishing themselves as independent emerging choreographers, Renee and Jamie joined together for their first collaborative commissioned work, Much More Than Bones, for the Kelly-Strayhorn Theater's Next Stage Residency Program. The collective has performed in the New Hazlett Theater, The Grey Box Theater, Attack Theatre's performance space, and in NYC at the White Wave 2011 Dumbo Dance Festival. In addition, regionally they have performed at festivals and universities in Columbus and Youngstown, OH.
The Ortner Duo – Suzanne Ortner & John Marcinizyn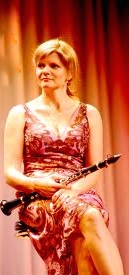 German clarinetist Susanne Ortner is internationally acclaimed both as a soloist and as a member of the German Klezmer Quartet "Sing Your Soul", the Ortner-Roberts Duo with pianist Tom Roberts, and Klez & Morim with the Bulgarian accordionist Vladimir Mollov. She also collaborates with US jazz musicians such as guitarist John Marcinizyn (Pittsburgh), guitarist Mark Strickland (Pittsburgh), trumpeter Charlie Caranicas (NYC), drummer Tom Elrick, drummer Roger Humphries (Pittsburgh), as well as multi-instrumentalist Vince Giordano (NYC).
The German Newspaper Augsburger Allgemeine states that she is "a musician par excellence, capable of moving you deeply" and the Aichacher Nachrichten stated that "Susanne Ortner […] enchanted with her almost unbelievable witchcraft on the clarinet". Susanne is a graduate of the Leopold Mozart Conservatory, and the University of Augsburg. Susanne is a serious researcher of Eastern European music, offers Klezmer Workshops, lectures at the University of Pittsburgh, and Duquesne University, and holds an adjunct teaching position at Washington & Jefferson College. Susanne previously taught German literature, language and music at the secondary level in Germany – great preparation for the innovative and creative work she is doing in educational programming here in the States.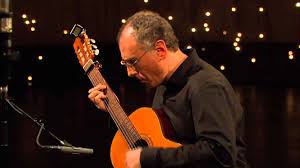 Pittsburgh based guitarist, composer, banjoist John Marcinizyn performs frequently as a soloist, with the Ferla-Marcinizyn Guitar Duo, contralto Daphne Alderson, Duo Cieli (flute and guitar duo), violin and guitar duo, and groups ranging from The Bach Choir of Pittsburgh to Billy Price. He is also a member of The Red Hot Ramblers (Dixieland jazz). His versatility as an acoustic and electric guitarist allows him to perform in many styles including classical, jazz, flamenco, rock, blues, and folk. John has also performed guitar and banjo for many theater companies including Quantum Theatre, where he wrote and performed a flamenco score for The Red Shoes and a Blues score for El Paso Blue. His playing can be heard on eight CDs and one DVD. John's original music compositions have received numerous performances and include a guitar concerto, string quartet, orchestral music, music for theater, and pieces for solo guitar and guitar with mixed ensemble, as well as a number of jazz and rock pieces.
MUSICAL THEME FOR THE FALL SEASON

Carrying the theme into ARCA's other offerings, five concerts in the fall of 2014 presented musical compositions written for or inspired by the dance. On Sunday, September 21, Rising Stars! Young Artists Winners from the Pittsburgh Concert Society at 2:00 PM in Lincoln Hall performed dances written by Chopin, Liszt, Debussy and Tournier, and an original dance composition by the seventeen year-old piano soloist, Aleksandr Voinov.  PCS Young Artists Winners from age 12 to 20 were Hannah Piston, Harp; Joel Goodloe, Baritone; Stephanie Petinaux, Piano; and Alesandr Voinov, piano.
On Saturday, October 4, at 7:00 PM in Lincoln Hall the Pittsburgh Symphony Chamber Players performed Hungarian and Slavonic Dances, as well as Tangos and Milongas from their acclaimed CD, Encore, Encore.
Two concerts featured music written for the ballet.  On Sunday, October 19 at 2:00 PM in Lincoln Hall, Steinway piano artist Gayle Martin played Prokofiev's music for the ballet Romeo and Juliet. In its November 15 concert in the AC Valley High School Auditorium, the Pittsburgh Youth Symphony Orchestra performed Aaron Copland's, Appalachian Spring, written for the ballet celebrating the 19th century building of a Pennsylvania farmhouse. It was a  smorgasbord of music for the dance this fall in the Allegheny-Clarion River valley.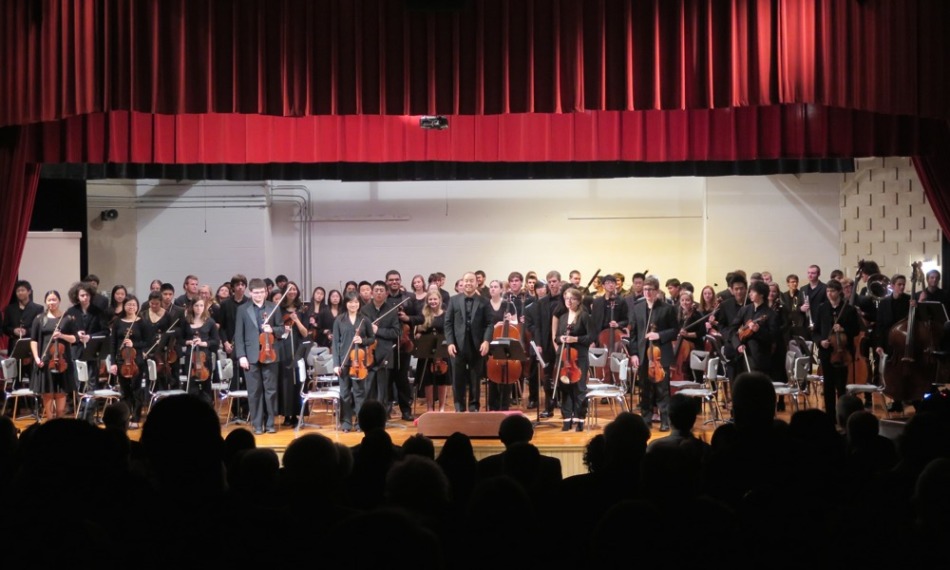 PARTNERSHIP WITH ALLEGHENY-CLARION VALLEY SCHOOLS
Allegheny-Clarion valley residents can be proud of A-C Valley School District's commitment to arts education demonstrated over the years through its funding and support of music and art programs. A-C Valley arts specialists have conducted the choruses and bands, directed the musical theatre shows and mounted student art displays that have been a community treasure for decades.
Time and again, studies confirm what arts educators have seen anecdotally for years:  Learning through the arts not only can be enjoyable and enriching for students, but also can improve every aspect of their education and their lives – from cognitive development to socialization and from problem-solving to critical thinking. The arts build self-confidence, self-esteem and a sense of belonging and foster a drive for quality that is personal, passionate and persistent.
The key to creating effective arts education partnerships is to engage students in sequential, authentic, arts learning and direct performance experiences that involve their minds, hearts and bodies.  ARCA is grateful to the administration and faculty of the A-C Valley School System for their commitment, time and resources in partnering with ARCA in bringing The Music That Makes Us Dance to AC Valley students. Together we may seek to encourage creativity and physical activity, instill a love of learning, and develop analytical and reflective thinking and team building – necessary tools for 21st Century learning and leadership. It's a tall order, and yet where there is vision, passion and heart from administrators, faculty and teaching artists combined with the unlimited potential of young people – all things are possible.