Cheri Anderton-Yarnell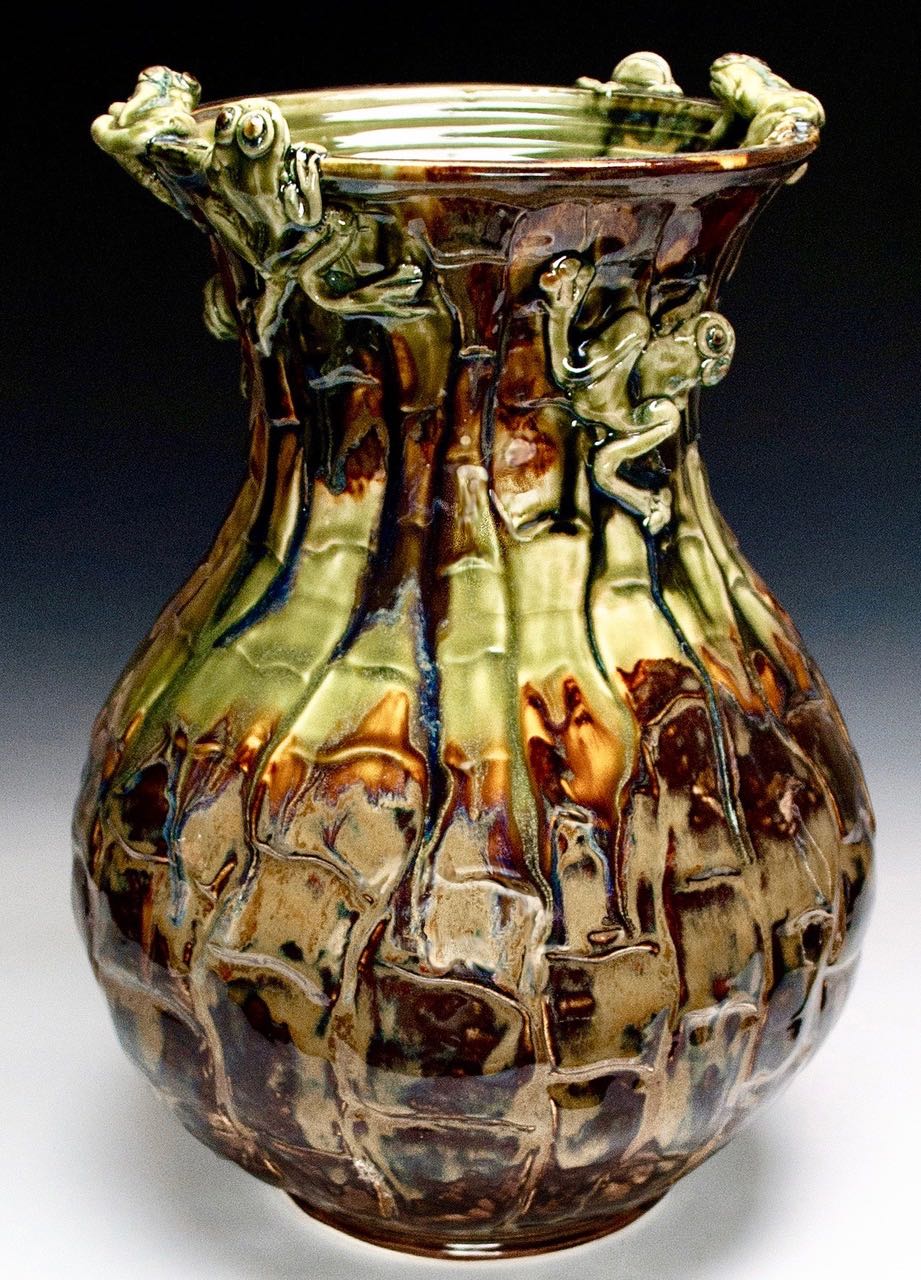 For potter Cheri Anderton-Yarnell, playing in the mud as a child began her lifelong passion for clay. Today her work is both a reflection of her concern for our planet and fellow humans as well as a celebration of earth and of a spiritual path.
"I enjoy weaving images into a variety of clay vessels.  I am particularly drawn to the plight of amphibians and endangered and threatened species," said Anderton-Yarnell. "These have become the signature images in my work. From the playful to the profound, I intend for each vessel to evoke a sense of the beauty and peril of our world."
Her work is primarily high fired porcelain or stoneware. Cheri creates each piece individually, from wedging the clay, forming each vessel on the potter's wheel or hand building.
Some pieces receive surface treatment and much of the work involves alteration through manipulating and through sculpting.

Karin Arnds
I became interested in weaving after a trip to Peru about 12 years ago. Seeing the unique patterns and fiber art pieces  that the weavers create there left me totally in awe. Since  then I have studied weaving with Deb Meterney at the Pittsburgh Center for Arts and Media. In the last few years I have exhibited my work at PCA's member exhibits and continued my studies with more advanced classes and workshops at the Redstone Glen Fiber Art Center near Harrisburg, with renowned fiber artists Tom Knisely and Sara Bixler.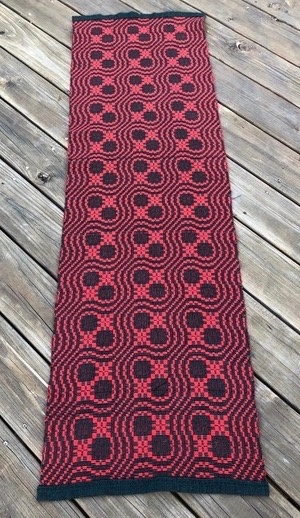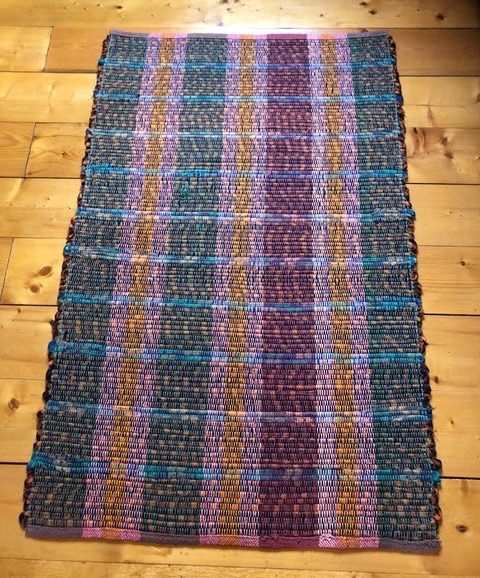 Professionally, have been a relationship therapist for over 35 years. I now realize my career is related to my passion of weaving more than I had initially recognized. I have been weaving people's stories and experiences into new patterns, creating and connecting meaning in a way that is not so different from a pattern on the loom. I am excited to be taking my skills into the fiber arts world and to glean inspiration from the stunning natural beauty of the Allegheny River Valley.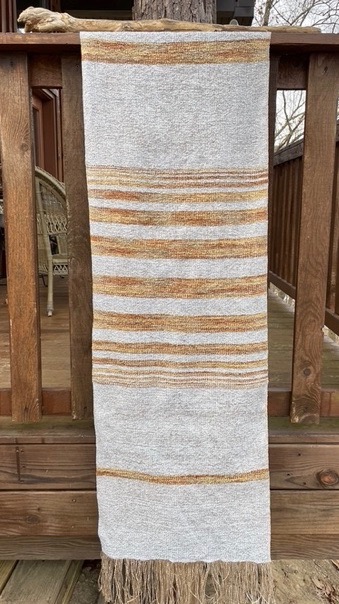 Artist's statement: Over, under, over, under… an ancient story told with each union of warp and weft. Single threads merge to form unique patterns and useful objects. Appreciating the beauty of creation and connectedness. Weaving our stories into the fabric that is life.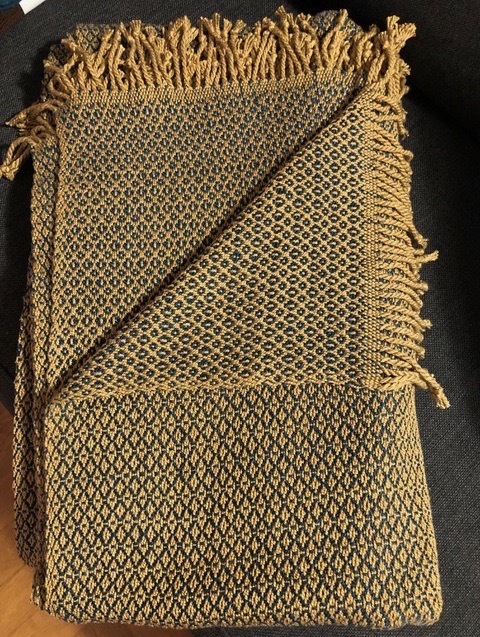 Jeffrey Calta
Jeffrey Calta is a stained glass artist who has been perfecting his art and craft since the mid-1970's. His work originally centered around hanging lampshades and table lamps. Recently he has been creating art pieces of stained glass that incorporates special lighting effects that have been made possible with electronic microcontrollers and light emitting diodes (LED's).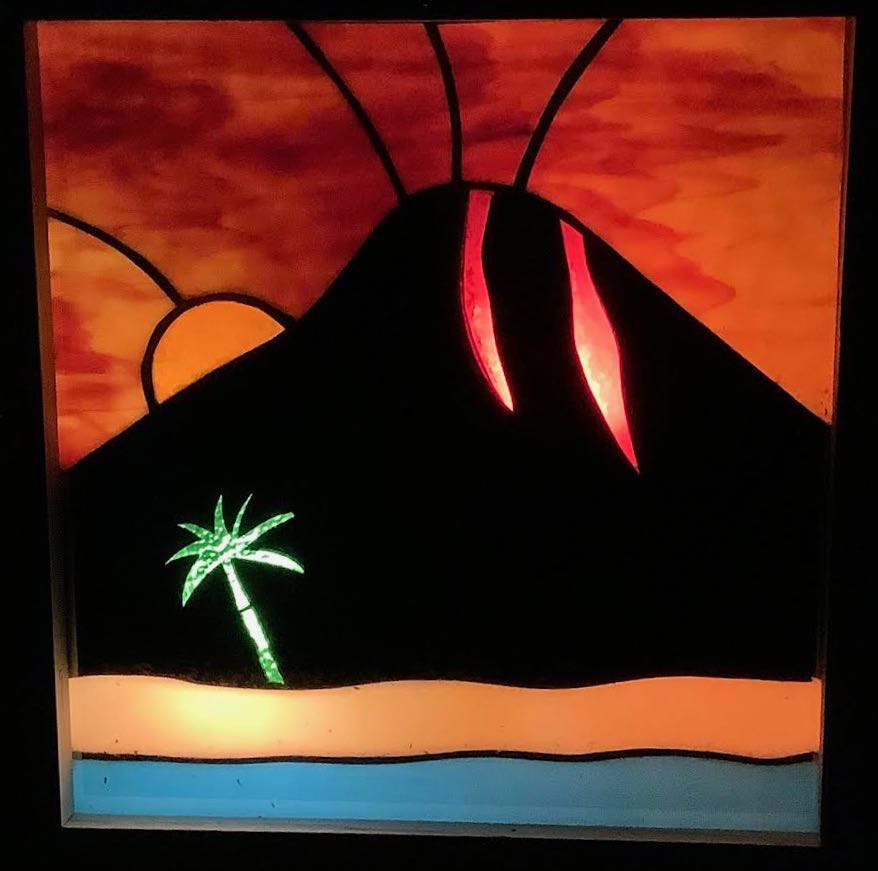 His work is best described as eclectic as he explores many different stained glass construction methods and design concepts. Jeffrey was a production supervisor at Sonneborn LLC in Petrolia, PA and retired several years ago. He lives with his wife Pat in Fairview Twp, (near Chicora).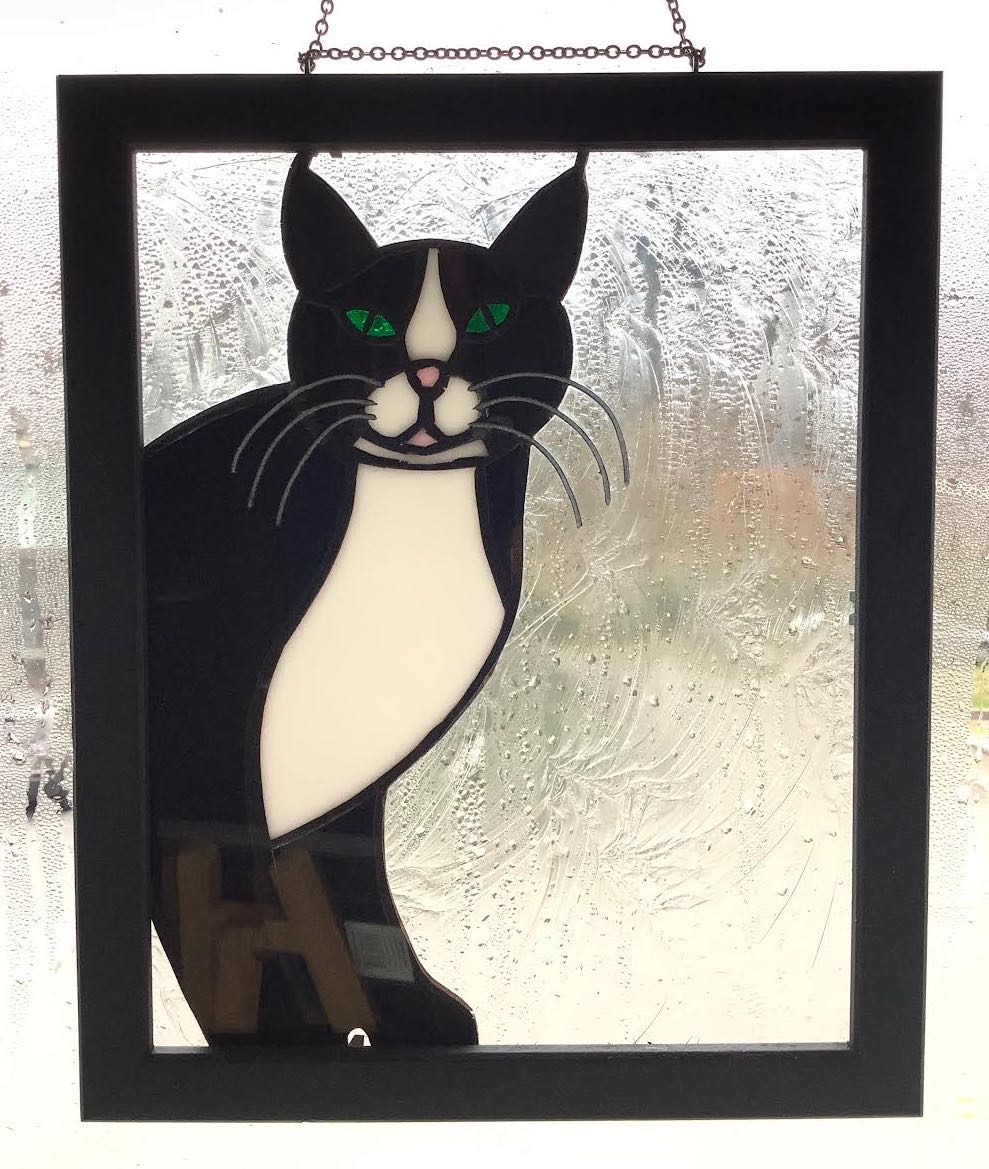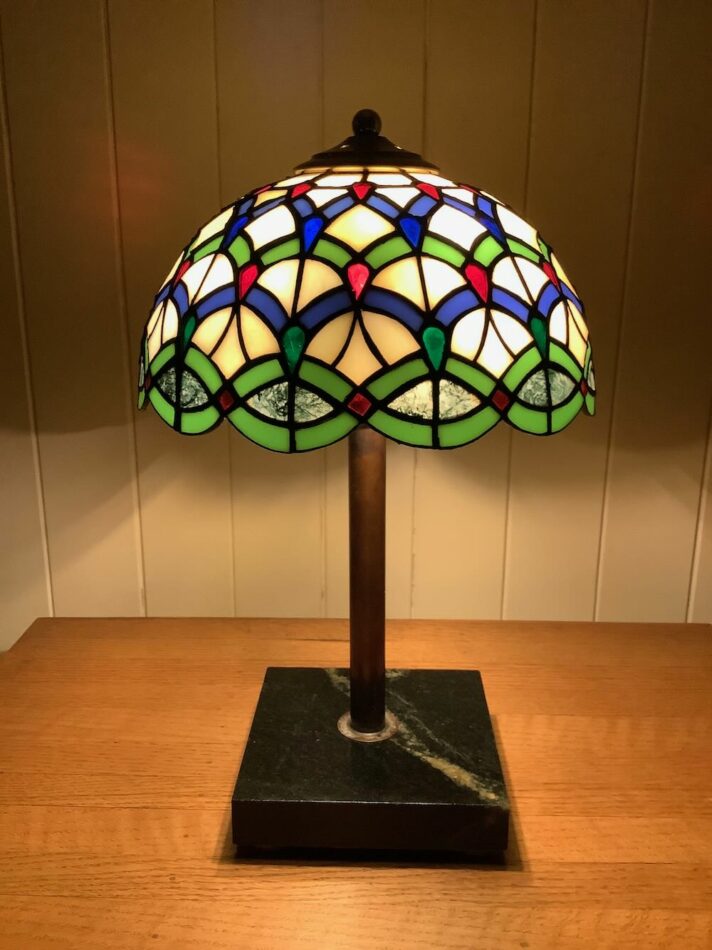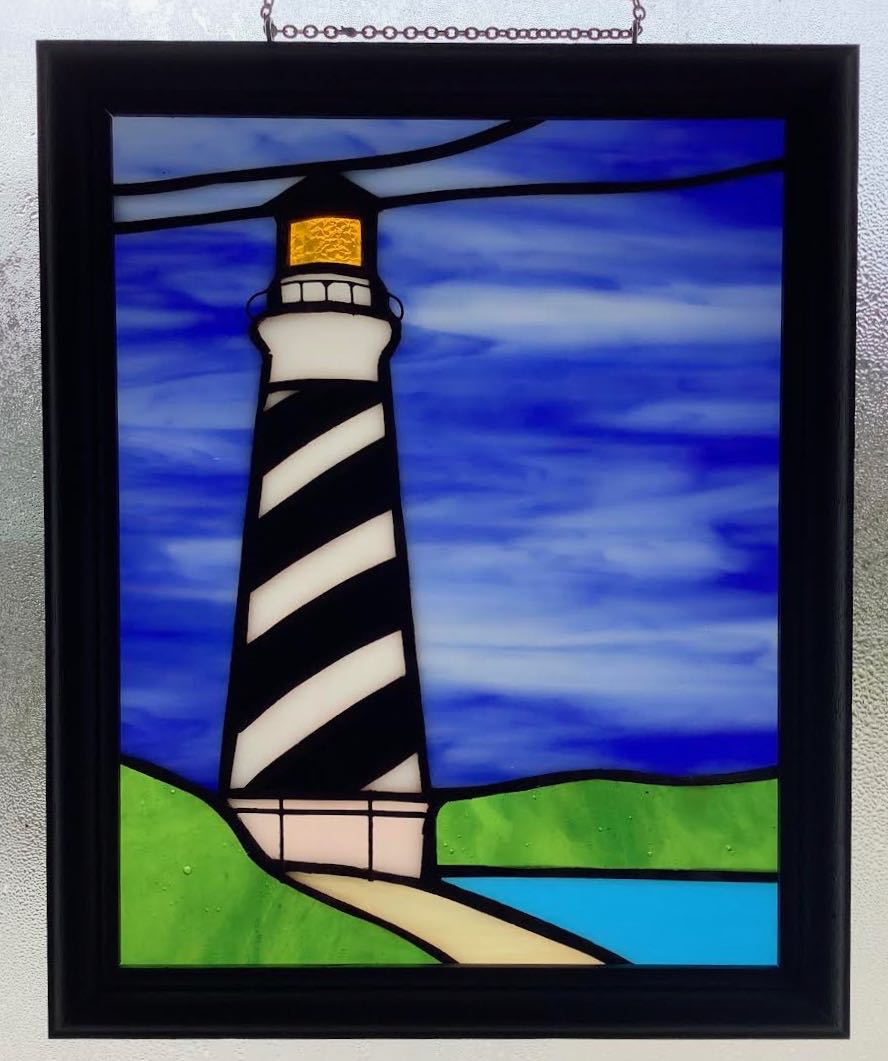 Mark DeWalt
Woodworking has provided both economic stability and artistic opportunity for 4 generations of Mark's family. He grew up handling and manipulating wood; learned to see it's beauty revealed through works of fine craftsmanship, and learned to love it's textures, colors, character and potential.
Artist Statement
"Always living in a rural setting, I have found great inspiration in the natural and historic forms that surround me. I enjoy blending materials from diverse origins to create something new while incorporating time-tested techniques. Recent works have been fashioned using figured lumber, burls, fence posts, vines and my old upright grand piano."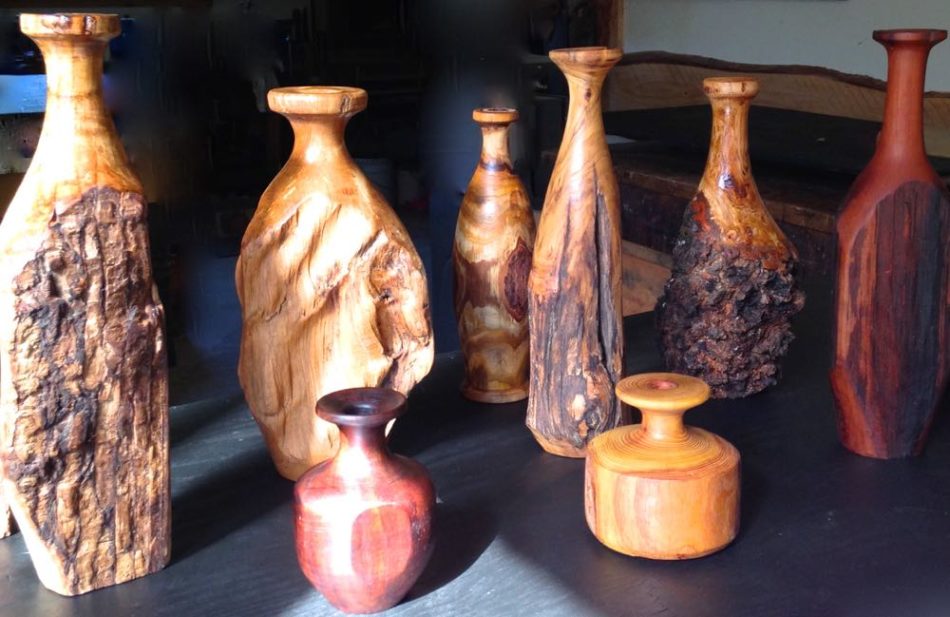 Donna Edmonds
Donna Edmonds is a watercolor artist who concentrates on botanical and other nature subjects. She has a particular interest in the native plants of the region along with their pollinators. Donna has a certificate in Botanical Art and Illustration from Phipps Conservatory and Botanical Gardens where she had the opportunity to study under a number of highly accomplished contemporary botanical artists. Donna also worked as an instructor on the Phipps faculty for several years teaching color theory for watercolor applications. She is a member of the Allegheny Highlands Botanical Art Society and The American Society of Botanical Artists.
Donna was the founder of the Red Brick Gallery and Allegheny RiverStone Artists' Co-operative. She serves as its Artistic Director and is a member of the artists' co-op. She resides in Parker, PA.
Angela Taylor Hardwick
Born in London, England, Angela was exposed to all the arts at an early age and was particularly drawn to music and painting.  Eventually, a career in the music business with HarrisonParrott artist management in London found her managing international conductors and much of her free time was taken up singing and touring with the LSO Chorus. Angela's work as Assistant to the Pittsburgh Symphony's Music Director, Andre Previn, brought her to Western Pennsylvania, where she met her husband, Charles, a violinist with the Pittsburgh Symphony.
Since retiring from running European Artists Direct for a group of European artists' managements, Angela at last has had the time to indulge her love of painting (self-taught), along with her other passions, gardening and cooking.  Angela has produced a watercolor series including the four seasons of the Frick Cafe and the Frick Greenhouse, which have been on sale in the Frick Museum Gift Shop.  She enjoys commissions to do watercolor paintings of people's houses and estates.  Much of Angela's artwork is inspired by regular trips to Europe with her husband.  They live with their three amazing cats in Wexford.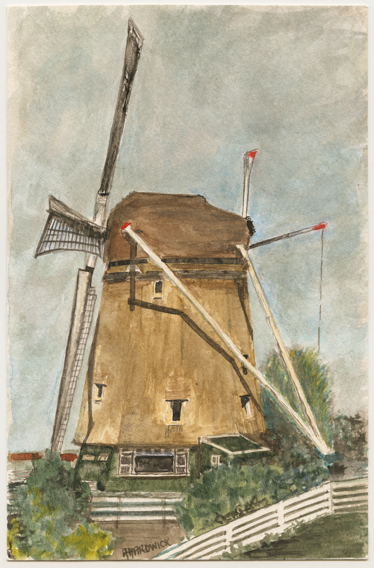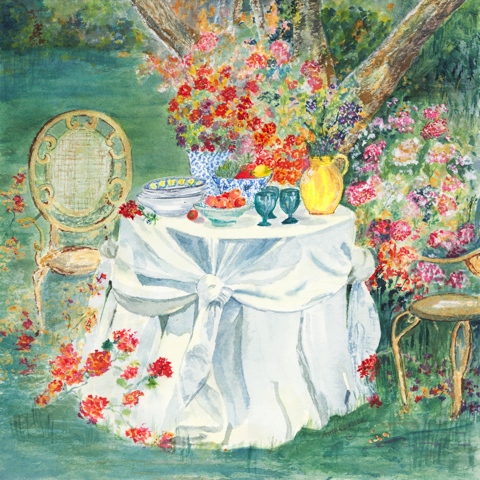 Kathy Hogg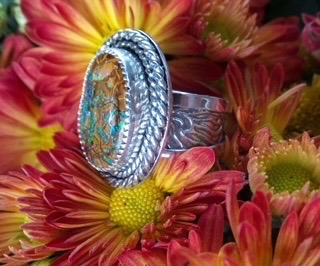 "I have always enjoyed the arts.  Although I have tried many different disciplines, I connected to jewelry-making on a different level. I love the resilience of metal and the physicality of the process – all of the fire and heat and intricate work that results in something that is an expression of the individual who eventually wears it. I especially enjoy working with silver and copper, and the beautiful gemstones that I collect on my travels.
I have taken classes in many parts of our beautiful country in order to learn the methods that influence my style. Some recent experiences include classes in Arizona at the Tucson Gem Show, and with Bill Fretz at his studio in Maine."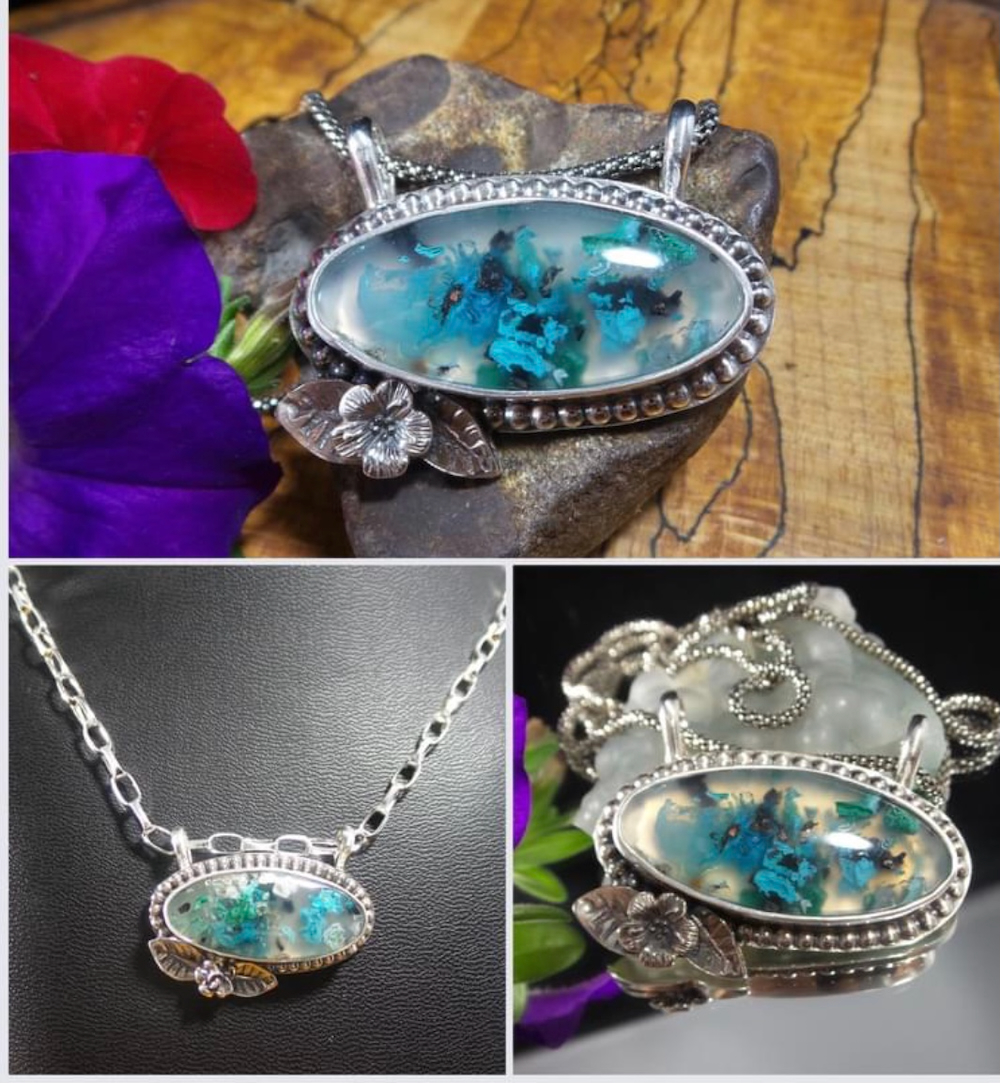 "While general metal-working processes are used in my creations – so are some unexpected ones, such as; sand-casting, Argentium silver-fusing, stamping, texturing, and enameling – just to name a few. Each new experience adds another dimension to what I create in my studio. I hope you enjoy my collection."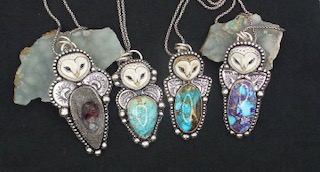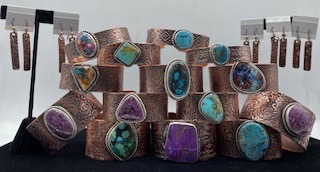 Andy Johnson
I am a poet, writer, editor, and teacher of creative writing, philosophy, and theology. My professional career centered on psychotherapy, guidance counseling, and teaching philosophy in college.  I currently lead the "Writer's Circle" through the Slippery Rock University Institute for Learning in Retirement.  I also, publish and produce spoken word CDs.  I have always been attracted to the combination of creative writing and fine art.  In both high school and college, I founded and edited their first literary arts magazines.  In 2019, I founded and edited "The Eclectic".
"Writing has been something I could not do for the past sixty years.  Even as a pre-teen I thought all good writing was really a magical code for a hidden reality.  I still do.  I grew up in the family library where I pretended to read by looking at a book's illustrations and creating stories from my imagination which went along with the art.  Imagine my surprise when I learned real reading."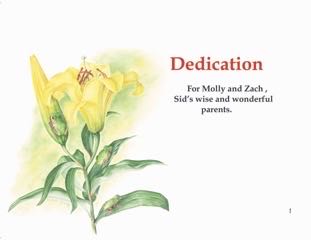 My writings have taken many forms from poetry, travel journals, short stories, journalism, eulogies, music reviews, and children's books. "Sid's Backyard" is the second children's book in a series of six books from wife Peggy and  I to our grandchildren.  Donna Edmonds illustrates the beautiful water colors in the book of which I author.  When I discovered her art, I knew it would be perfect for the story "Sid's Backyard" because it held the purity and innocence of nature which is paramount to the story.  Almost the entire book takes place in a dream where the narrator learns about the world by meeting animals, birds, and insects.  Along with the rich world of the unconscious, Donna Edmond's watercolors remain a constant source of inspiration.
"Blisstaken" is my poetry/jazz trio and also the name of the CD on display at the RBG. I read my poetry while Terry Steele/sax and Mike Wienand/guitar perform jazz and blues standards and improvisational pieces.
My wife and I are dedicated members and volunteers in ARCA and the Red Brick Gallery where we are in good company with creative artists and stimulating people with unique and shareable skills and interests.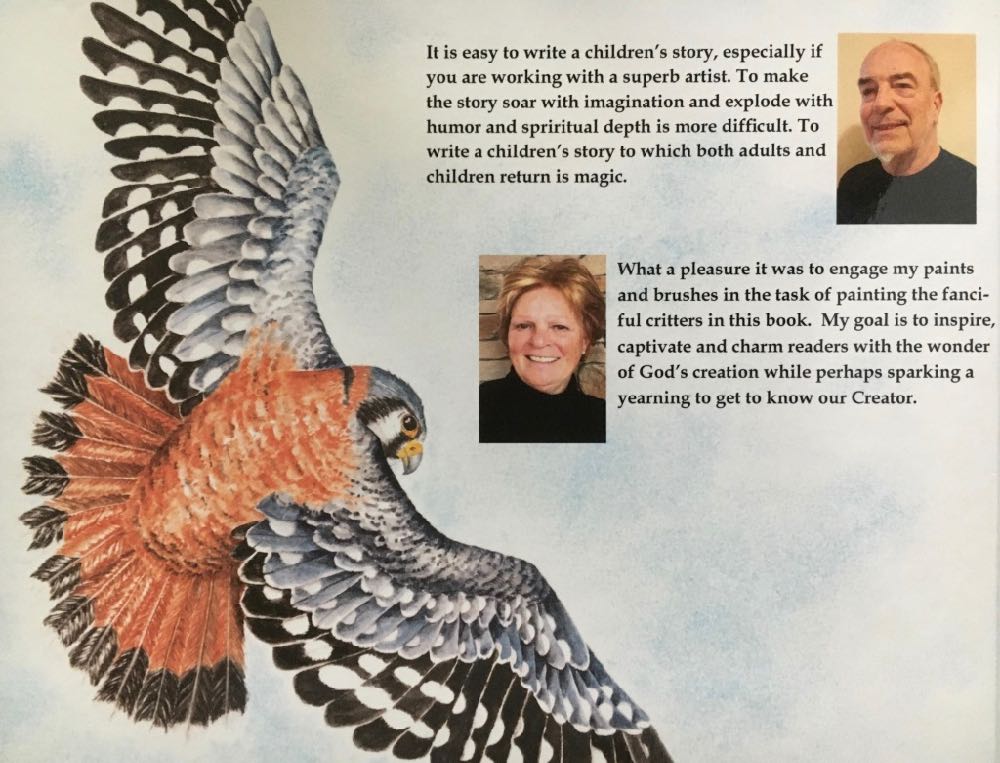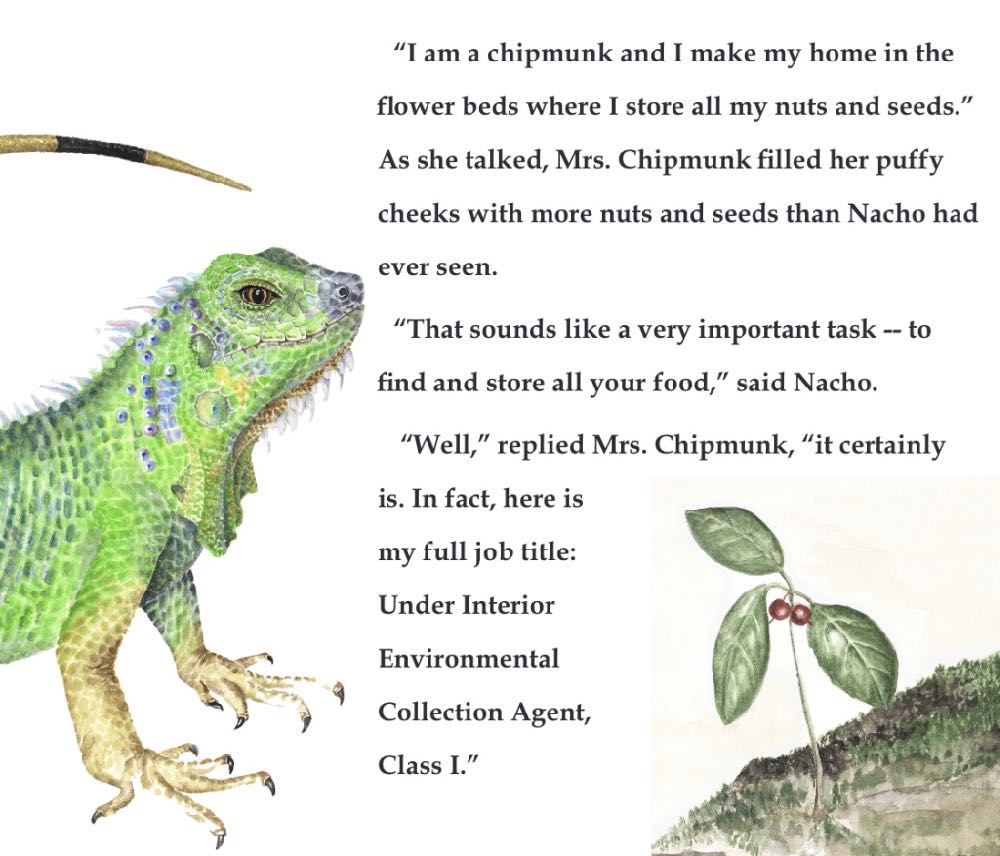 John M Karian
John M. Karian is from Franklin, Venango County, Pennsylvania. As a result of growing up a hundred yards from the confluence of the Allegheny River and French Creek, he developed a passion for waterways, wetlands, lakes and ponds.  Observing and studying the local aquatic flora and fauna with a microscope led to a degree in Biology, and subsequently a career in Medicine. Now retired, he continues his photographic passions alongside, above, and beneath those same waterways, lakes and ponds.
In John's words "Experiencing and capturing the natural beauty of the Allegheny River region remains a thrill which I enjoy sharing.  In my own way, I feel somewhat uncomfortable in being called an "artist" per se. I am more like a "distributor" of the region's natural splendors."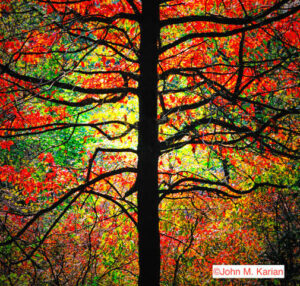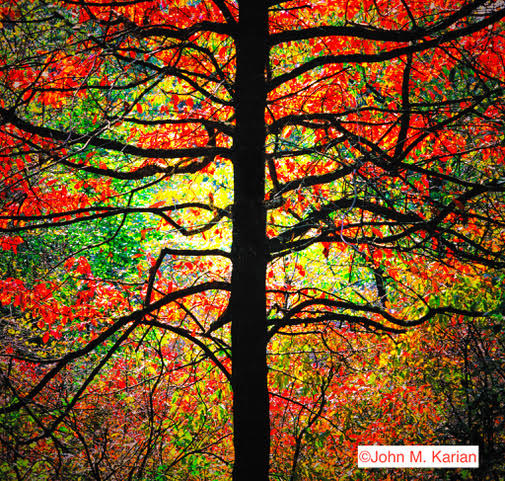 Afternoon Sun – Oil Creek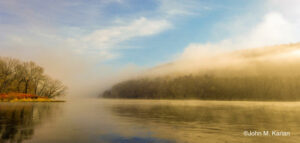 Dawn – Allegheny River at French Creek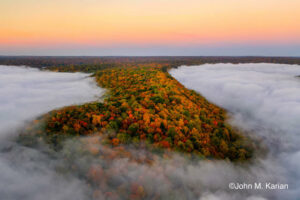 Allegheny River Fog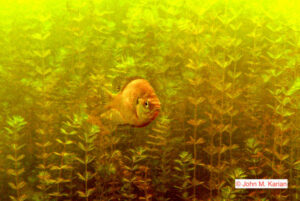 Morning at 11″ depth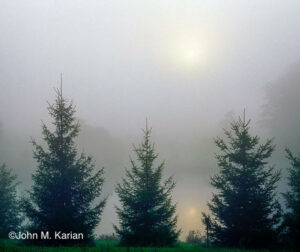 Sunrise – Pond – Venango County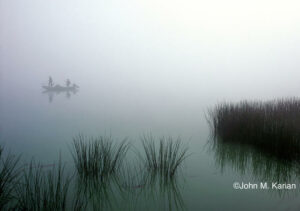 Fishermen in the Fog
Dennis Keyes
I am a self-taught photographer, videographer and  painter.  My work is in private collections, corporate boardrooms, hospitals, restaurants, publications,  public landmarks, on line and, of course, in the Red Brick Gallery.   I retired after  30 years of Dentistry and have added a framing business to my photography services.
My new work for this 2023 Member/Guest show features Contemporary Interpretations of Mythological creatures from various cultural folklores.  Some familiar themes have been elaborated with original and collected photographs, rendered as digital paintings and painted on canvas.
I have photographed, videoed, edited and produced about 50 youtube videos including a number of the ARCA performances and events over the past 12 years.  I have also documented, with youtube videos, many of my travel adventures.  These can all be found on my youtube channel (drdk84).
"Affordable Frames" presents a complete package from the snap of the shutter to finished work hanging on your walls.  I also offer complete color managed photography of 2-D and 3-D art for other artists interested in cataloging, or reproducing their work for prints or submission to juries or magazines.
You can find my work on my website: www.denniskeyesphotography.com
I am on Facebook: https://www.facebook.com/DennisKeyesPhotography/
You can reach Dennis by email at:  drdk84@gmail.com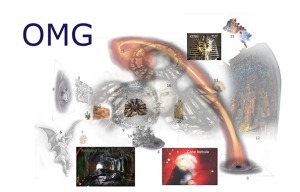 Dennis Keyes has incorporated numerous images into his epic work OMG.  To receive  a full explanation of the work, you may request the document describing its content and the inter-relationship of the images by contacting Dennis by email at  drdk84@gmail.com or by telephone at (724) 679-1055.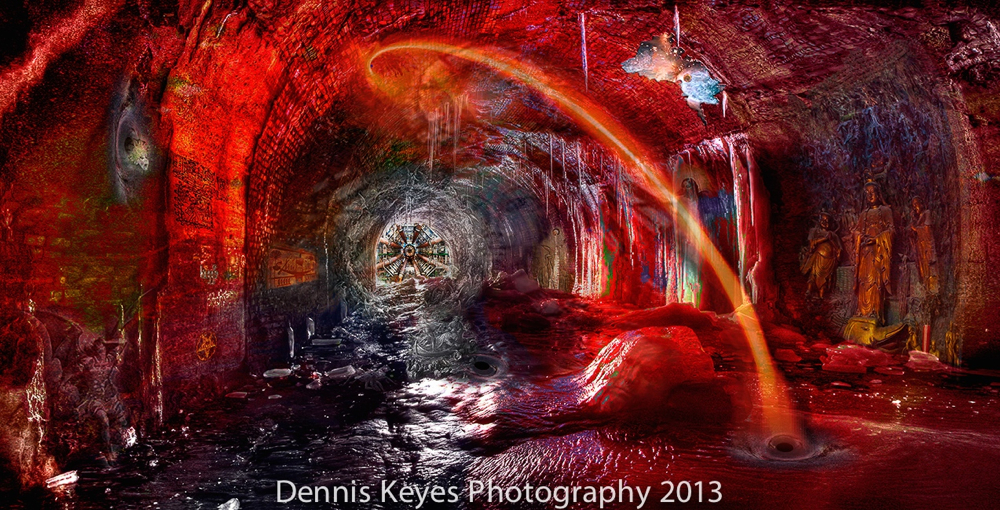 Jason Floyd Lewis
Jason Lewis is from Clarion, Pennsylvania.  After graduating from Clarion Area High School in 1998, he received a scholarship to go to the Columbus College of Art and Design where he studied fine art.  Drawing and Painting landscape became his primary focus.  From there he went to Bowling Green State University where he was a teaching assistant, instructing an Introduction to Painting course.  He earned an MFA in Drawing from BGSU in 2004. After college, Jason returned to Clarion and married his wife, Amanda, who is a clay artist.  They converted an automotive garage into a studio and display area where they both can work.  Jason is represented by galleries in Columbus and Erie and has exhibited in various locations throughout western PA and OH including Nemacolin Resort, Millcreek Metroparks in Youngstown, Schedel Gardens, Hiram College and the Winkler Gallery. He is also a member of the Red Brick Gallery Artists' Cooperative in Foxburg where he exhibits his work and is the art curator.  Jason has previously been the judge for high school art shows and for the Clarion County Arts Council's Autumn Leaf Festival Art Show and is the 2019 judge for the Saxonburg Art Show.My artwork represents the landscape as I have observed it.  The paintings and drawings represent real places, most of them near my home in western PA.  Most of the places I choose to represent are in some way memorable, such as rivers, roads or other significant landmarks.  I am interested in the way man's activities coexist and intermingle with the natural landscape in rural areas.
Artist Statement
My artwork represent the landscape as I have observed it.  The paintings and drawings represent real places, many of them near my home in western PA.  Most of the places I choose to represent are in some way memorable, such as rivers, roads, trails or other significant landmarks.  I am interested in the way human activities coexist and intermingle with the natural landscape in rural areas.  In my recent work, I have focused on forest interior spaces, exploring the more rugged terrain of wooded areas.  I am also interested in depicting the various effects of light, air and humidity that can transform the mood of the landscape.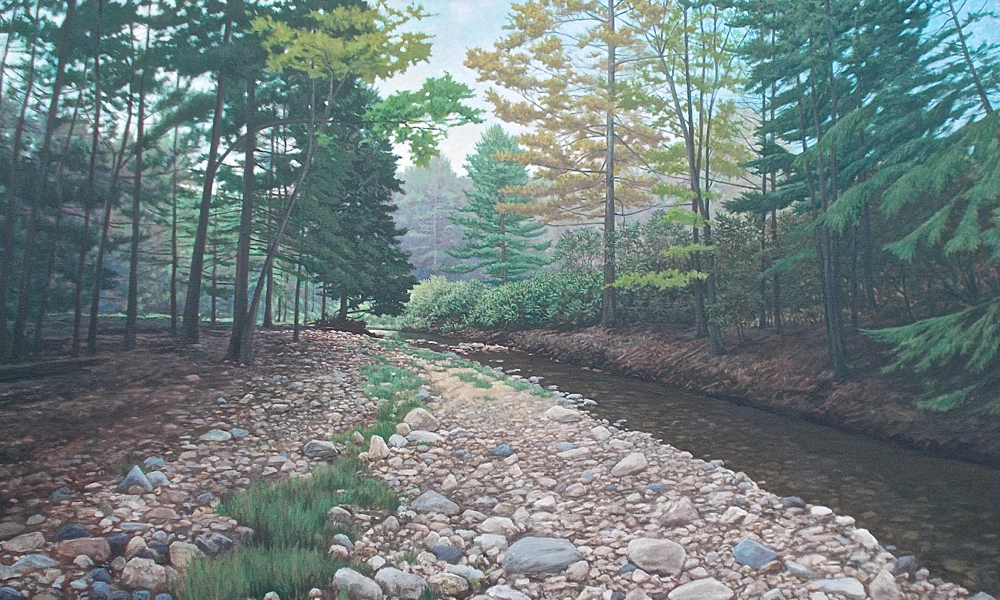 My goal is to represent the landscape in a naturalistic way. I use photographic reference in the studio to produce my finished works, however, I do not consider myself to be a photorealist.  The photos are a tool used both for designing and for recording facts about my subject.  As I work, I refer to the photographs, but also rely on my memories of observing the landscape and on my recollections of paintings done by other artists whom I admire. I work in thin layers of paint, building up detail and color contrasts gradually until I am satisfied with the visual impact of the representation.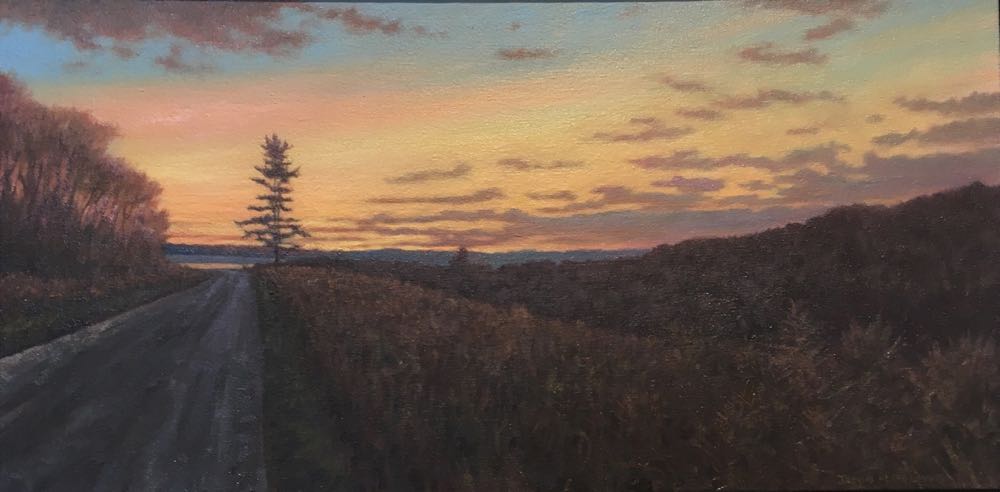 In my work, I try to balance my strict attention to realistic detail with a freedom to manipulate the overall structure and effect of my images.  I try to use gradations, lines and rhythms to create a sense of space and time in a dynamic way.  My goal is to orchestrate works of art that not only emulate the beauty of the landscape but also operate as an expression of my personal response to it.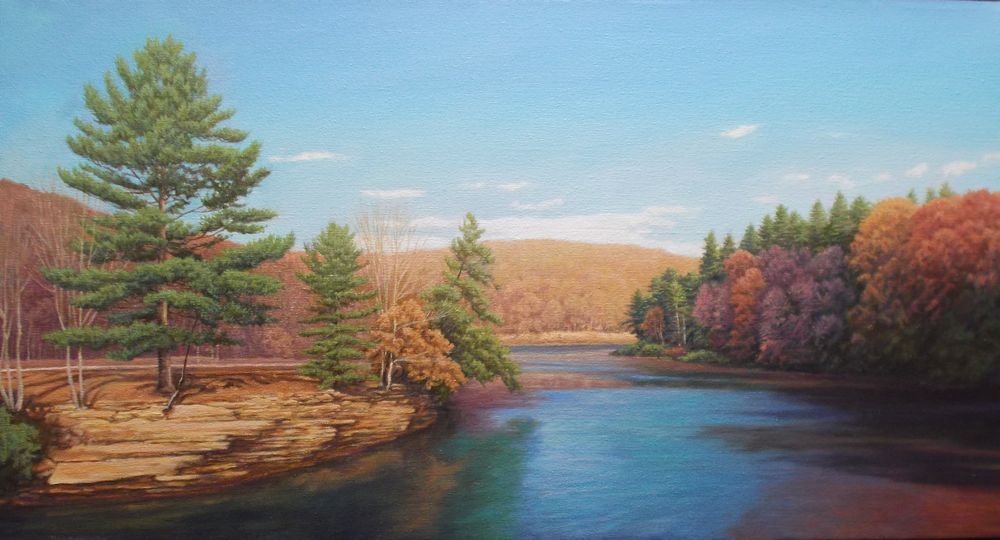 Karen Mortland
Karen is an acrylic artist that paints a variety of subjects.  Her paintings range from cars to nature and usually is just something she sees that she would like to paint.  She is an architect by profession, but took many art classes throughout her college career.  She started painting as a hobby in 2013 after seeing car paintings for sale at a show she was at.  She was inspired to try it herself.  She and her husband reside in Chicora, PA.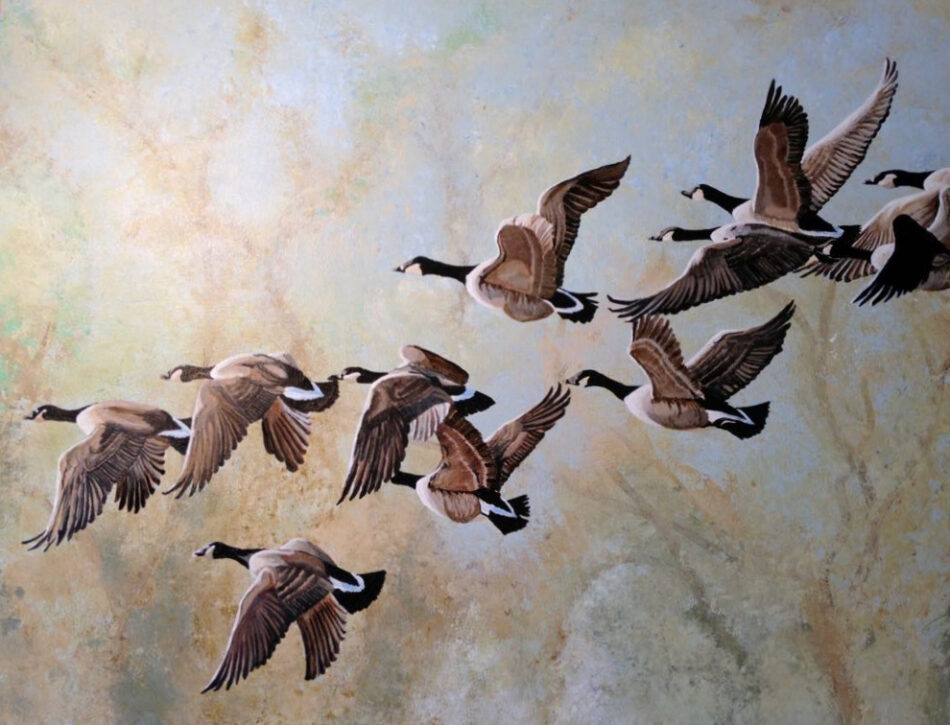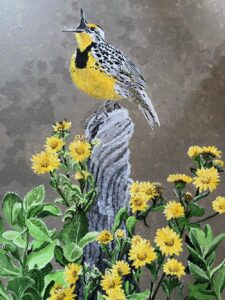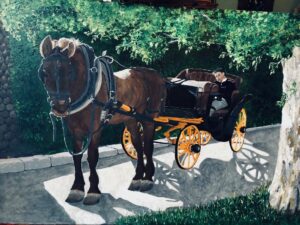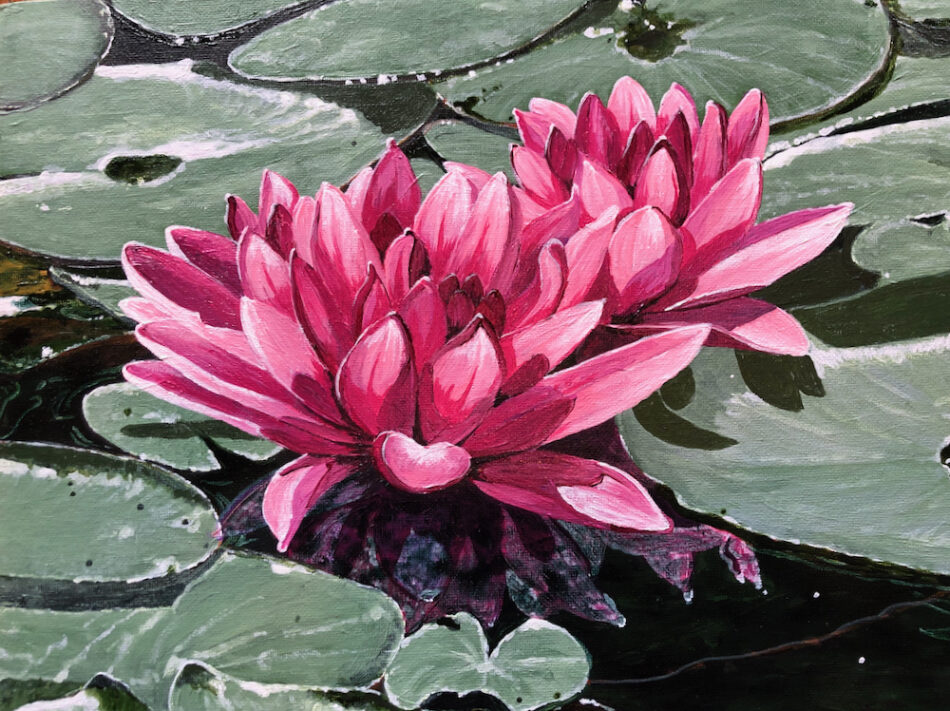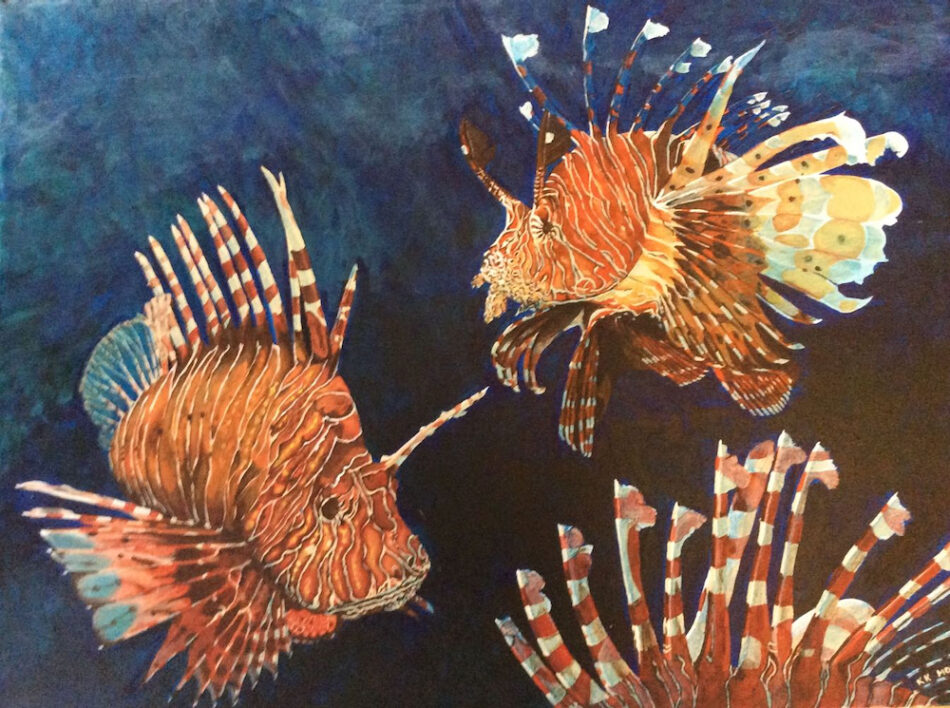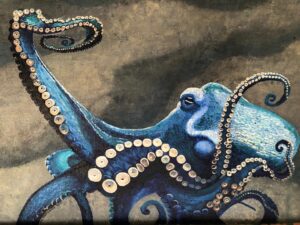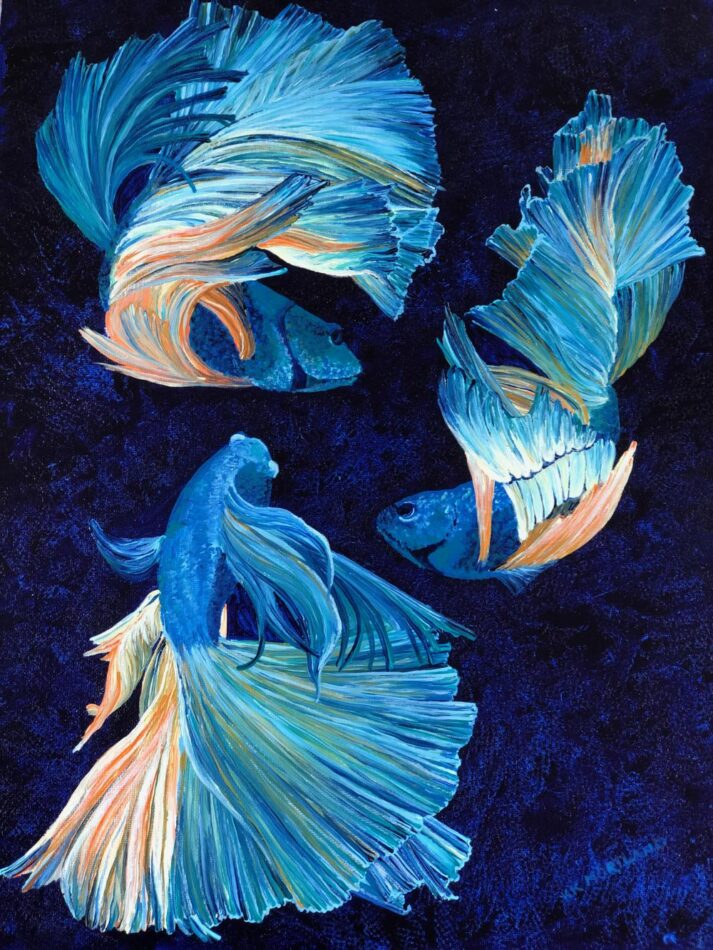 Linda Thompson
Though I was an English major in college and a coordinator of gifted programs in my professional life, I have always been a firm believer that the arts are what keep us centered and in touch with nature and the beauty of the world.
About 15 years ago my husband and I spent an adventuresome five years living in Brazil. While there, with few friends and limited fluency in Portuguese, I discovered a weaving teacher who spoke English. I have always said that the language I mastered during that time was that of warp and weft, not Portuguese. It gave me a calm pursuit in the turmoil that surrounds one when one is far away from family and trying to fit into a new culture.
Upon my return to the US, though I continued to weave, I felt I was searching for another artistic outlet. Fortunately, a quilter friend introduced me to fabric-coiled baskets and I have found great satisfaction watching the baskets, each unique, and often not exactly as planned, emerge from the sewing machine. The challenges met and the personal flair I am able to insert have brought great satisfaction and relaxation.
In addition to baskets, I am learning Zentangle, a contemplative art form that provides me with a graphic art pursuit to round out my creative repertoire.
Finally, I leave you with a quote that rings true for me and may resonate with you as well.
"The secret is not the mechanics or technical skill that create art–but the process of introspection and different levels of contemplation that generate it."  Erik Wahl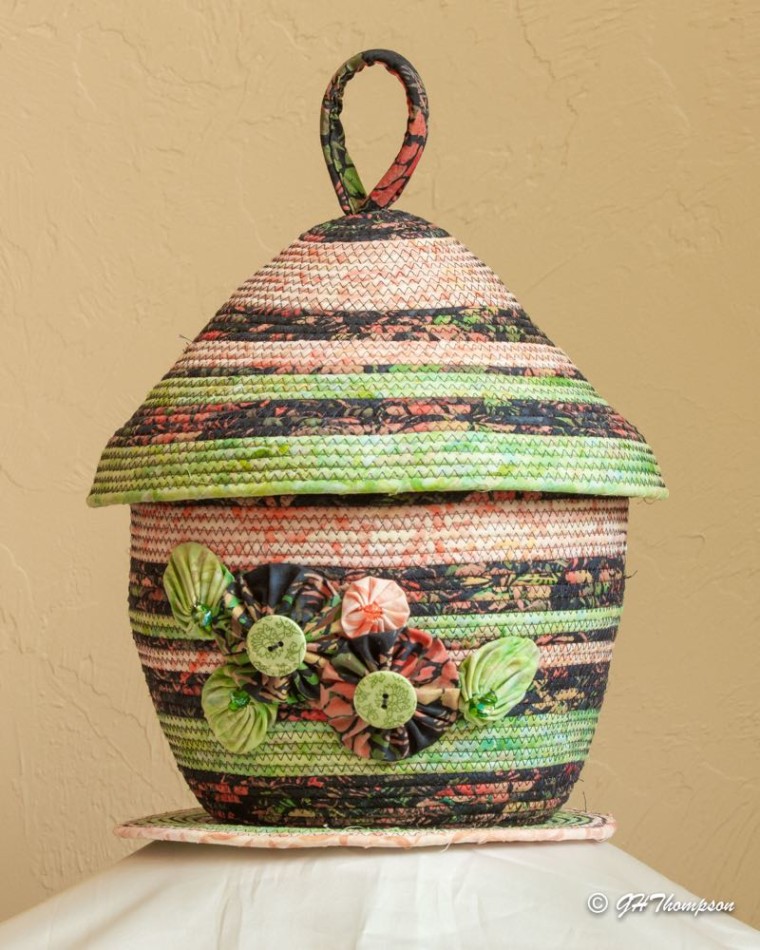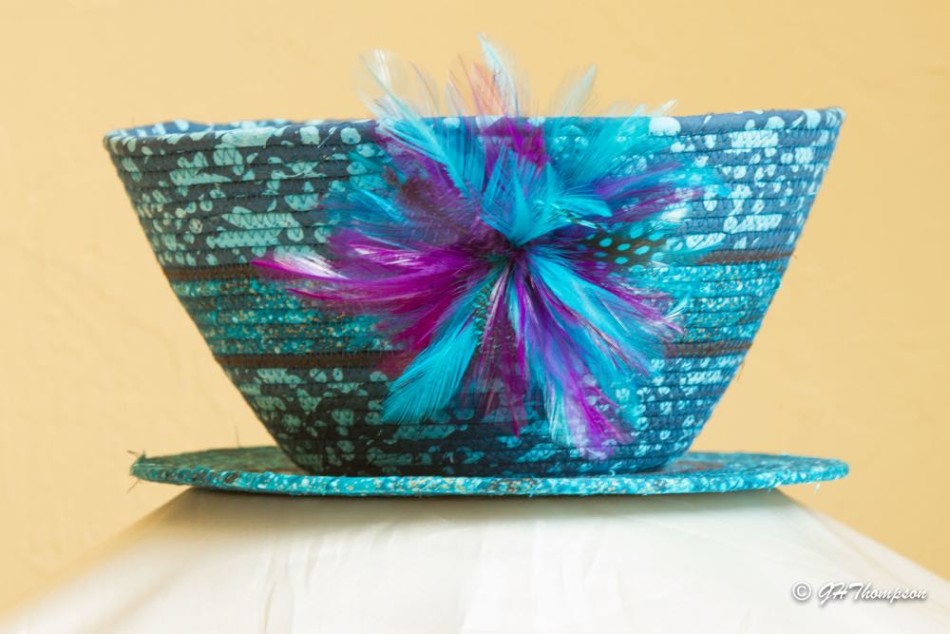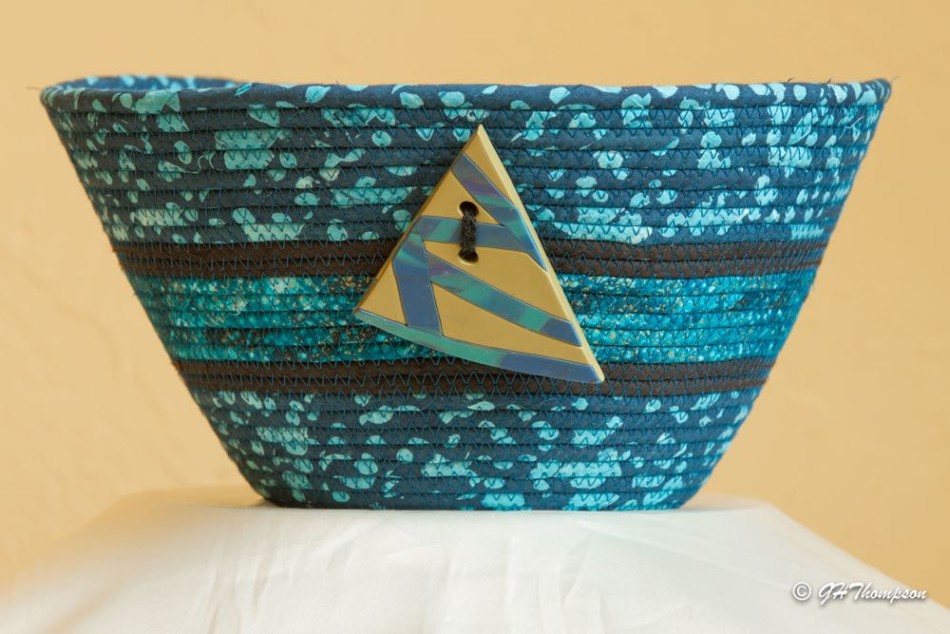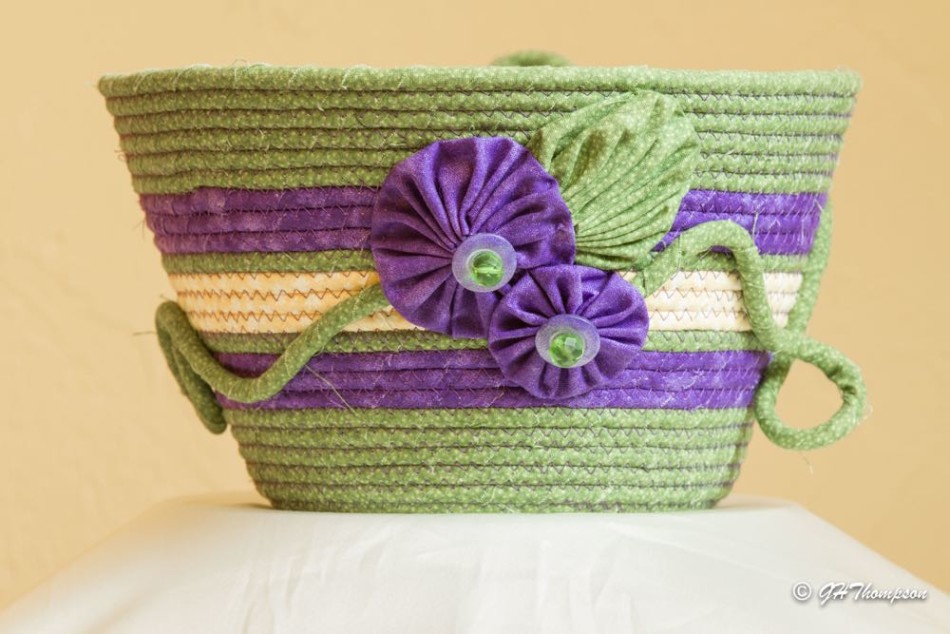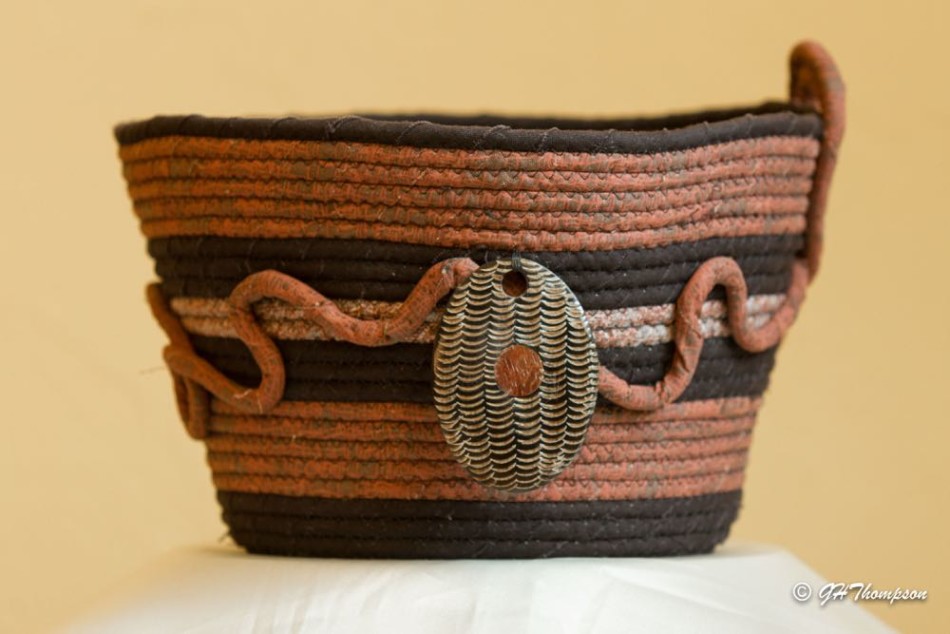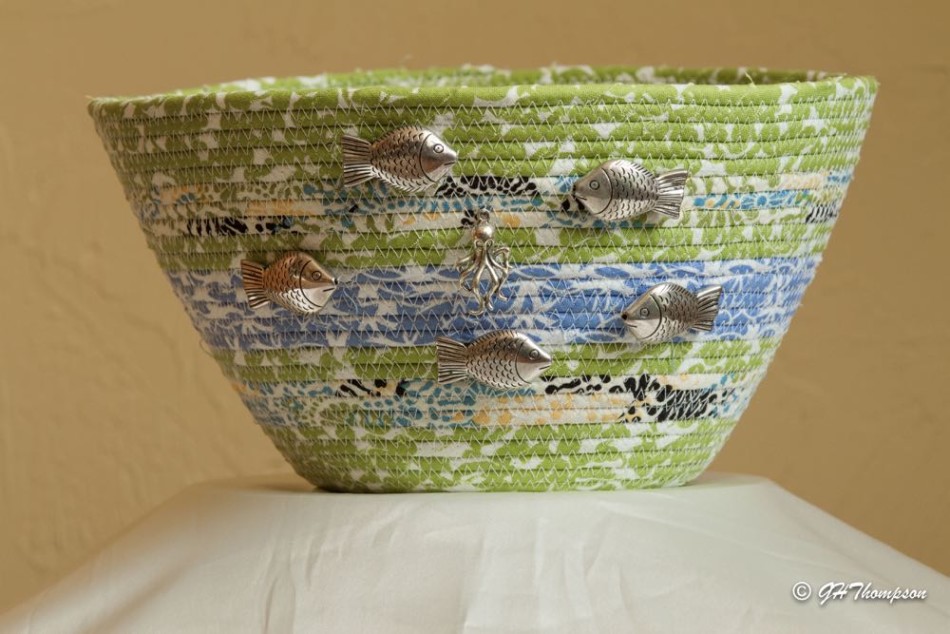 Jack and Catherine Trzeciak
Jack's background as a machinist allowed him the opportunity to work with many different metals. He was often involved with the design and production of prototype projects. In 2005, in anticipation of retirement, he decided to add silver to his repertoire concentrating on the design and crafting of silver jewelry. Since then he has been studying under well-known Pittsburgh silversmith Patricia Falbo at the Pittsburgh Center for the Arts. His enthusiasm for his art inspired his wife Catherine to join him in 2007. Influenced by an admiration of Native American silversmiths they create jewelry that varies between a clean modern look and an older artisan appearance.  As well as doing individually designed custom pieces, their jewelry is also shown and sold at "So Me", a Pittsburgh shop concentrating on the work of western Pennsylvania artists.