The Red Brick Gallery and Gift Shop was founded in 2011, in ARCA's Fifth Season. The boutique fine art gallery and gift shop is located in historic downtown Foxburg, PA.   Situated in a charming 150-year-old building that was once owned by the renowned Fox family, the Red Brick Gallery strives to nurture artistic creativity by providing an inspiring venue for local artisans and other emerging art talent.  Red Brick Gallery & Shop features hundreds of artisan-inspired items (on two floors), along with a wide selection of limited edition and collectable signature works. You can find the Red Brick Gallery exhibition schedules here.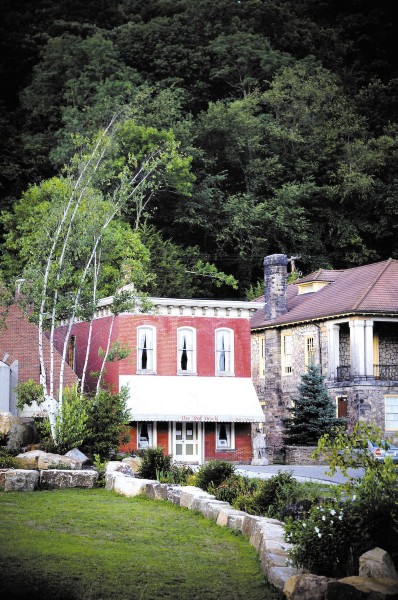 The Red Brick Gallery and artisan cooperative was formed in 2011 by botanical artist and retired corporate executive, Donna Edmonds, who served as the Artistic Director of the Gallery through 2022.  Beginning in 2023, the Artistic Director and Curator of the RBG will be Jason Floyd Lewis, painter and graphite artist who has been a Cooperative Artist since the Gallery's inception.
The artisan cooperative's home is a charming and historic 145 year old building at 17 Main Street which was once the business office of the Fox family from Philadelphia and the namesake of the Foxburg village. The building was attractively restored in 2004 by its then owners, Dr. Arthur and Patricia Steffee, who were officers and founding members of ARCA.  The building also serves as the office of the Allegheny RiverStone Center for the Arts.
In 2023, the artisan co-operative will be in its eleventh year of showcasing fine art from the greater Allegheny-Clarion River Valley Region in special exhibits and gift shop offerings.   Art works are displayed in the Gift Shop space on the first floor, offering for sale a full display of works by local painters, photographers, potters and artisans.  The second floor is used as a gallery space for special exhibitions from April to December.
Red Brick Gallery & Gift Shop Hours in 2023 are Fridays from 1:00 to 6:00 PM; Saturdays, 11:00 AM to 7 PM and Sundays, 12:00 PM to 5 PM.
The purpose of the Red Brick Gallery and Gift Shop is to provide regional artists a suitable venue for the display and viewing of their works, as well as to provide a consignment sales outlet for Cooperative Artists, who all volunteer their time to have the space open to the public.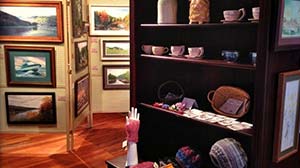 The Gift Shop offers for sale the works of local artists in a variety of media:  Oil and watercolor paintings, pencil drawings, fine art photography, fiber art, silver jewelry, stained glass, hand woven scarves and rugs, knitting, pottery, wearables, and greeting cards.
Current members of the Red Brick Gallery Artist Cooperative for 2022 are Cheri Lee Anderton-Yarnell, Karin Arnds, Taylor Banner, Jeffrey Calta, Mark DeWalt, Donna Edmonds, Blanche Hall, Angela Taylor Hardwick, Kathy Hogg, Andy Johnson, John M. Karian, Dennis Keyes, Jason Floyd Lewis, Karen Mortland, Nissa Rappoport, Linda Thompson, and Cathy & Jack Trzeciak.
Meet the Artist Openings for Exhibitions are generally scheduled on Sunday afternoons after an ARCA concert from 4:00 – 6:00 PM.
The Red Brick Gallery is always seeking new artist members as well as volunteers to help mind the store.  In order to encourage and challenge local artists to continually hone their skills and to enhance the reputation of the Gallery, the work of artists who wish to become Co-op members and to display work on consignment will be juried by a panel appointed by ARCA.  Since it is a cooperative with no paid staff, all displaying artists volunteer in the Gallery Shop on a regular basis.
Becoming a Red Brick Cooperative Artist
Are you a visual artist and interested in exhibiting your work and looking to be a part of a supportive, artistic community?  Red Brick Gallery is adding cooperative artists to its roster this season. Striving to nurture artistic creativity, Red Brick Gallery provides an inspiring venue for local artisans and other emerging art talent. By providing a suitable venue for the display and viewing of their works to regional artists Red Brick Gallery and Gift Shop affords co-op artists the opportunity for consignment sales.
To apply for membership in the co-op, send a minimum of three high quality images to RBG email address theredbrickinfoxburg@gmail.com along with contact information – name, address, telephone number and e-mail address. Submissions are juried and applicants will be contacted if they are accepted.
The requirements for members include working at the gallery during the weekends when it is open to the public. This typically involves one 4 to 5 hour shift once a month but can fluctuate up or down depending on the number of member artists at any given time. RBG also requests that its members be involved in the operation of the gallery – to occasionally help with receptions, minor maintenance and upkeep of the gallery.
The Red Brick is located at 17 Main Street in "downtown" Foxburg.  The Red Brick Gallery & Gift Shop Hours during 2022 are Fridays, 1:00 to 6:00 PM; Saturdays, 11:00 AM to 7 PM and Sundays, 12:00 PM to 5 PM.