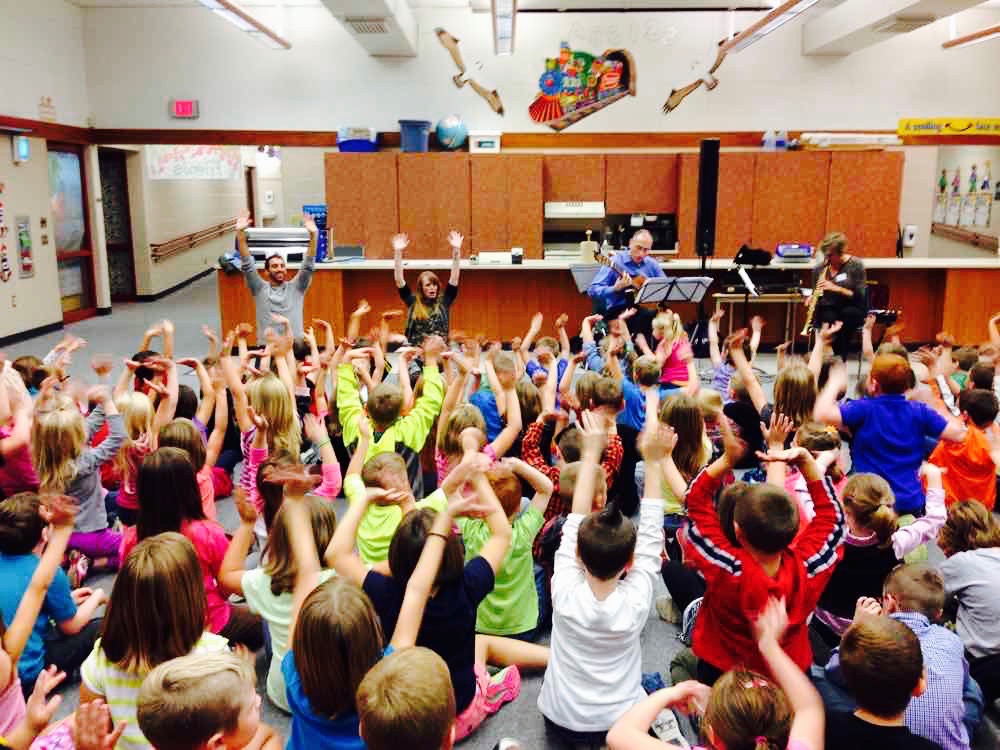 About ARCA's Educational ArtReach Program
In 2022, Allegheny RiverStone Center for the Arts continues its successful Educational ArtReach residency program, which since its inception has provided arts education workshops, assembly concerts and student art exhibits for students in the greater Allegheny River Valley Region through a partnership with the Allegheny-Clarion Valley School District.  On December 12, 2022, Allegheny-Clarion Valley students in grades K through 6 and Jr. and Sr. high school chorus and band students will be bused to Lincoln Hall for four educational "informances" on the Wurlitzer organ by internationally renowned theatre organist, Dave Wickerham.
Begun in 2009, ARCA annually brings professional teaching artists and arts education performances and workshops to students from K to 12th grade in the Allegheny-Clarion Valley Schools and showcases artwork of A-C Valley students in exhibits at its Red Brick Gallery on Main Street in Foxburg.  ARCA is grateful for the partnership of the A-C Valley Schools, working closely with A-C Valley administrators, faculty and music specialists in the design and implementation of this program.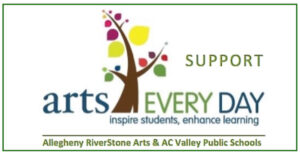 Since 2010, the program has been supported by a grant from the Pennsylvania Council on the Arts, a state agency funded by the Commonwealth of Pennsylvania and the National Endowment for the Arts, a federal agency, as well as by generous contributions from Allegheny RiverStone Center for the Arts Members and donors.
In 2015, Clarion County Community Fund, an affiliate of Bridge Builders Community Foundations, gave a generous grant in support of the Dancing off the Canvas residency of Attack Theatre and the Allegheny-Clarion Valley School student art exhibit in the Red Brick Gallery.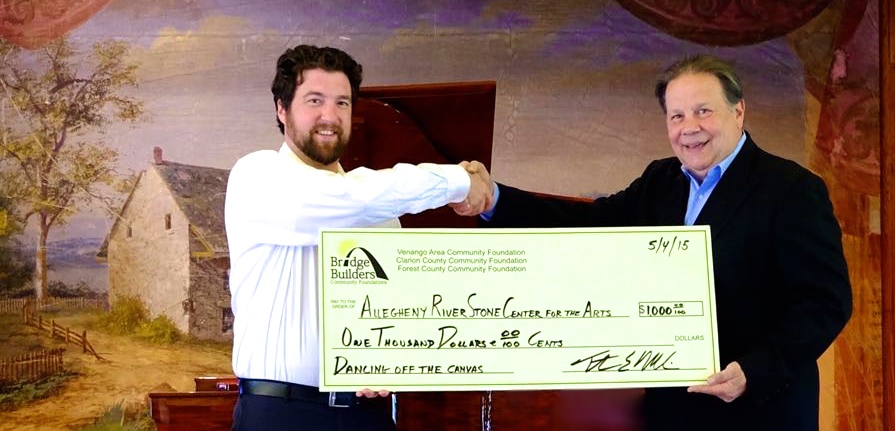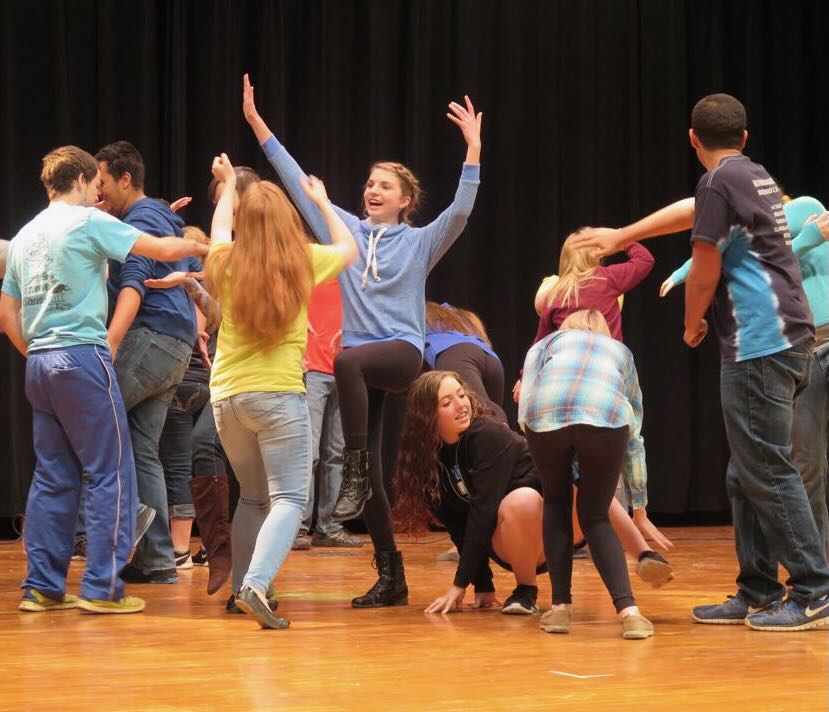 ARCA is grateful for the support of the A-C Valley School Board, Superintendent David McDeavitt, the Principals David Jordan and Lori Marron Sherman, and faculty.
Special thanks to music/art specialists Jennifer Lowrey, Karen Hetrick, Kathy Larimer (retired), Scott DiTullio, Anita Allen (retired), Gifted and Talented Director Lori Marron Sherman (former) – for their partnership in bringing its sequential arts education program to enrich the education of AC Valley students since its inception in 2009.
ARCA's arts education program is in fulfillment of its mission as a non-profit organization, demonstrating its commitment to contribute to the future of the Allegheny-Clarion valley community through the arts education of its young people.
ARCA Educational ArtReach from 2016 to 2022
(see pull down menu for earlier seasons)
2022 Educational ArtReach – Wurlitzer Theatre "Informances" in Lincoln Hall by world renowned Dave Wickerham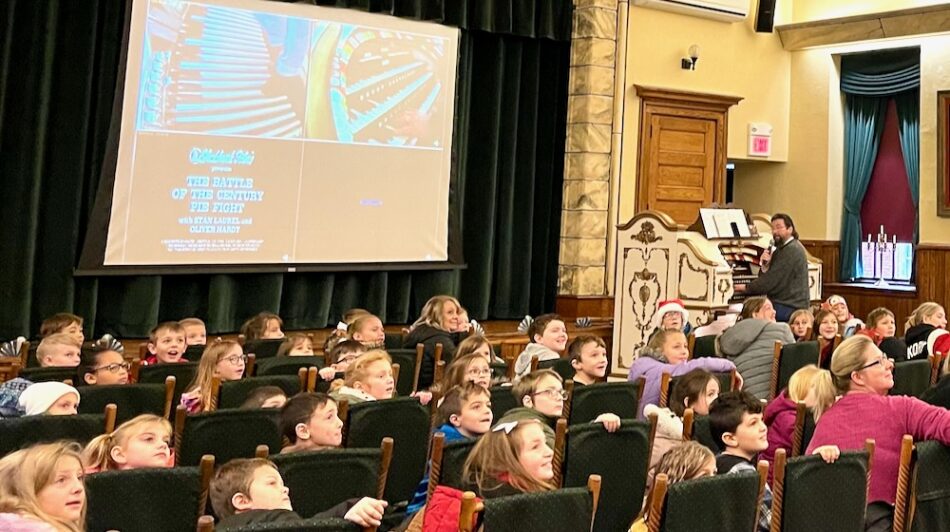 On Monday morning, December 12, 2022, Allegheny RiverStone Center for the Arts continued its successful Educational ArtReach Program in partnership with the Allegheny-Clarion Valley Schools as it bused four hundred students in grades K to 6 and the Jr. and Sr. High band and chorus for Wurlitzer theatre organ "Informances" in Foxburg's Lincoln Hall by world renowned organist DAVE WICKERHAM, who had performed a sold out Christmas concert the previous day.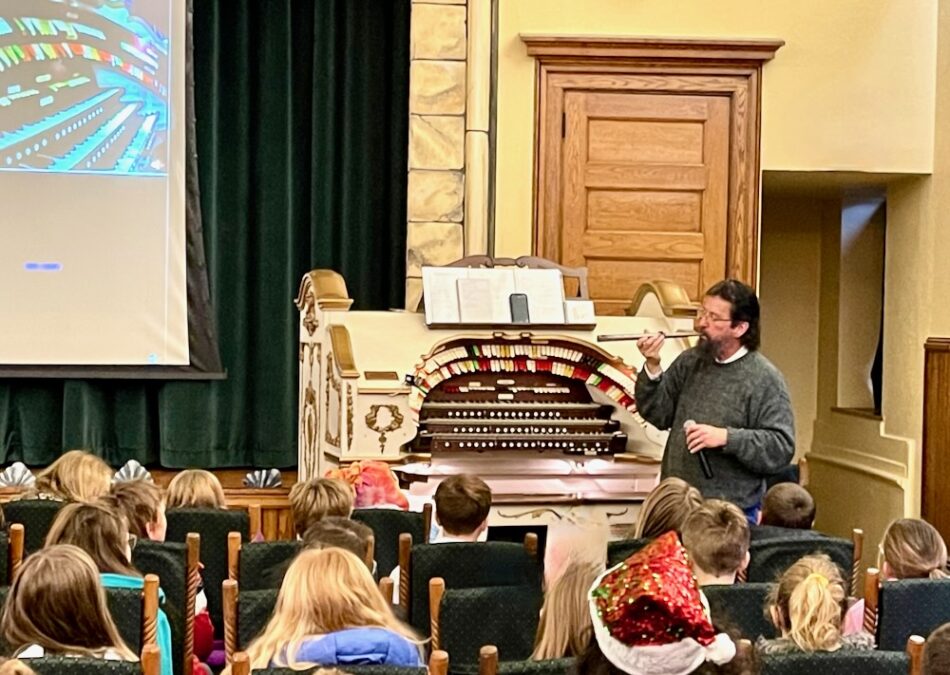 The internationally acclaimed theatre organist Dave Wickerham performed four educational programs on the Mighty McKissick Wurlitzer theatre organ including popular songs ranging from Disney and Star Wars to Harry Potter – and ending with the soundscape train whistle opening and Chattanooga Choo Choo!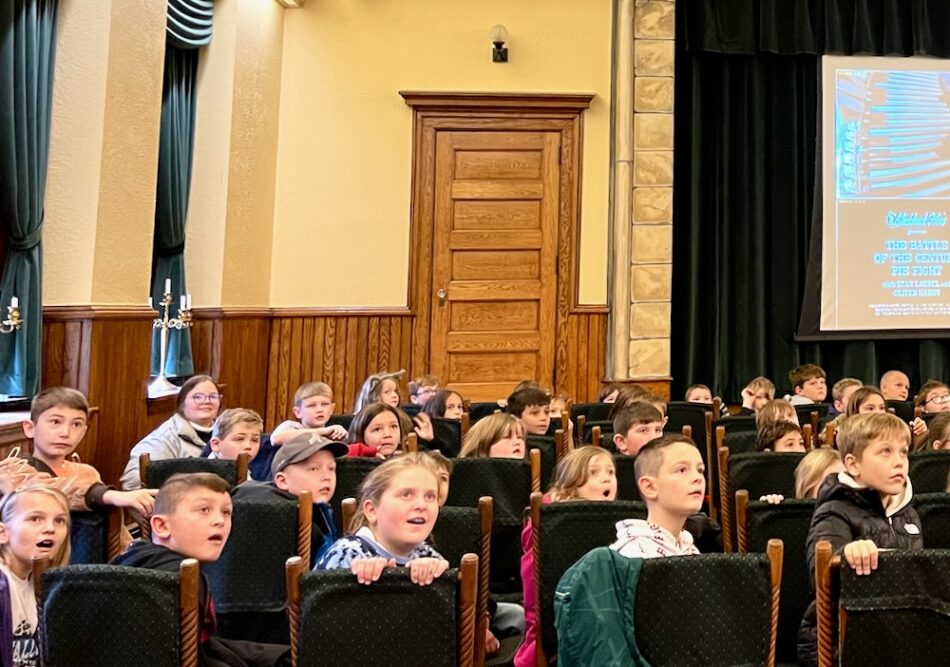 The amazed look on students' faces showed their fascination as Wickerham displayed the orchestral sounds the theatre organ can replicate, including percussion instruments featured on a shelf at the back of the hall – snare drum, cymbals, marimba, and pitched sleigh bells.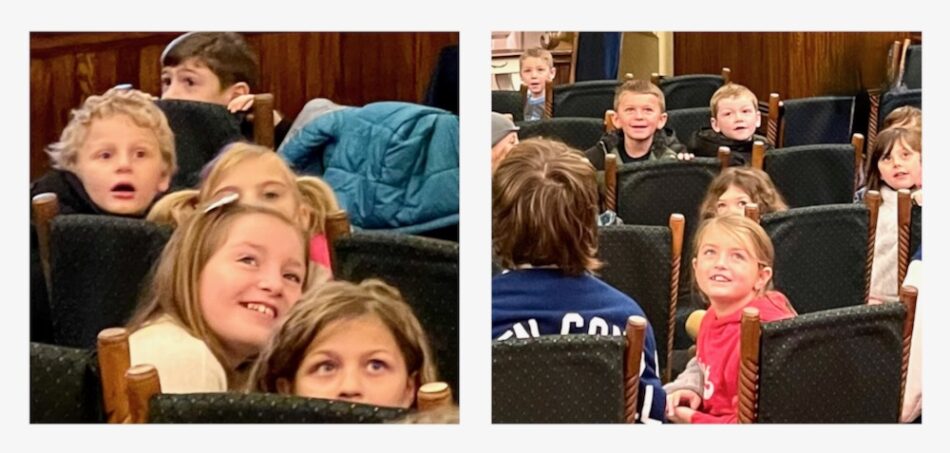 Demonstrating how the Wurlitzer organ would have been used a hundred years ago accompanying silent movies, Dave played his improvised score for a silent short of Laurel and Hardy's "The Battle of the Century Pie Fight" to peals of laughter from the students.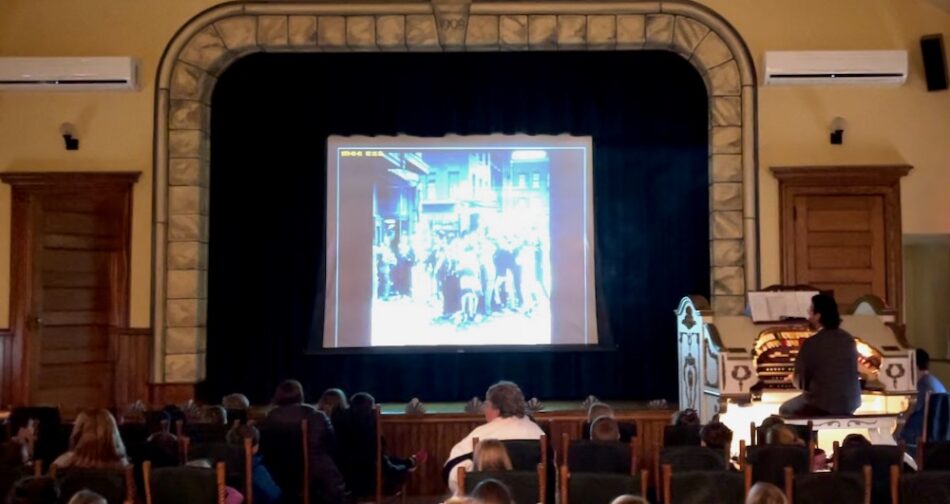 ARCA is grateful for the generous contribution of Rod and Nadine Stewart underwriting the busing of students – as well as a grant from the Pennsylvania Council on the Art and contributions from ARCA Members and donors that make its Educational ArtReach program possible.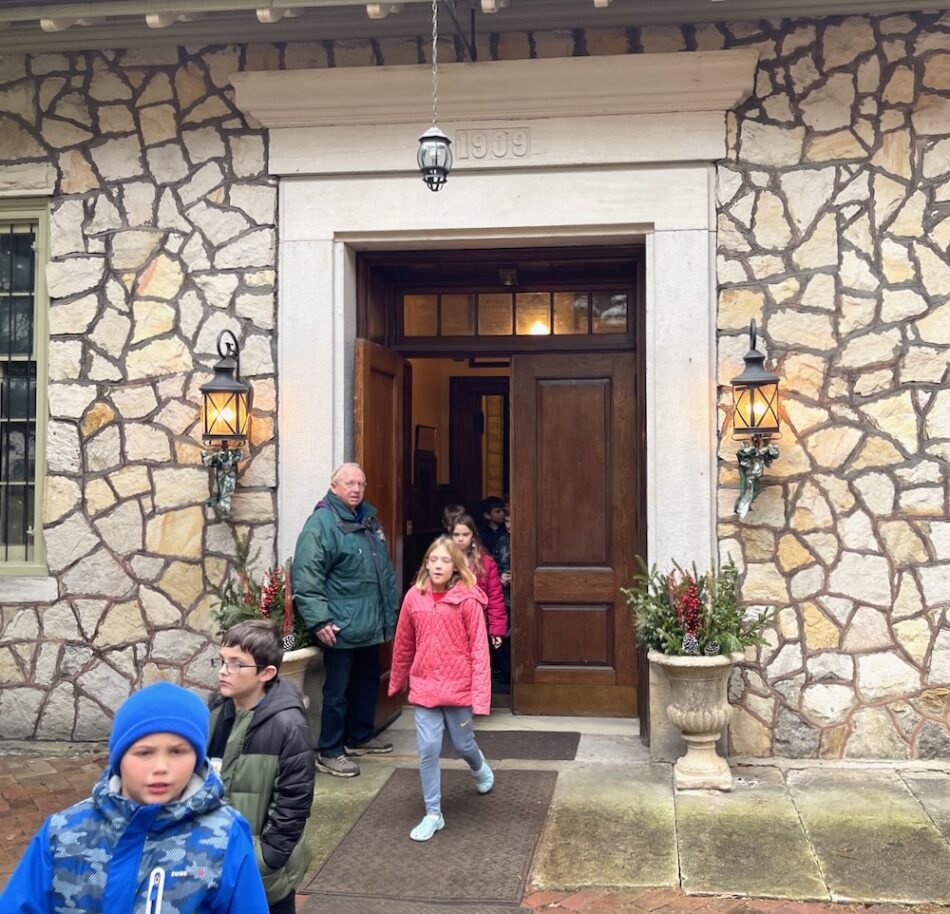 Special thanks to the administration of A-C Valley schools – Superintendent David McDeavitt and Principals Bill Jordan and Lori Marron Sherman, and music teachers Karen Hetrick and Jennifer Lowry for facilitating the visit of A-C Valley students to Lincoln Hall for these concerts.
Superintendent McDeavitt said, "This was a great program for our students and staff. I overheard several students talking about the program during the day! And, staff who were in attendance raved about the program; and more overly, the partnership that we have with ARCA. Please keep bringing these programs to our students, together we are changing lives forever!"
2021 Educational ArtReach – SPARK YOUR CREATIVITY video by teaching artist and violinist, Monique Mead, and her family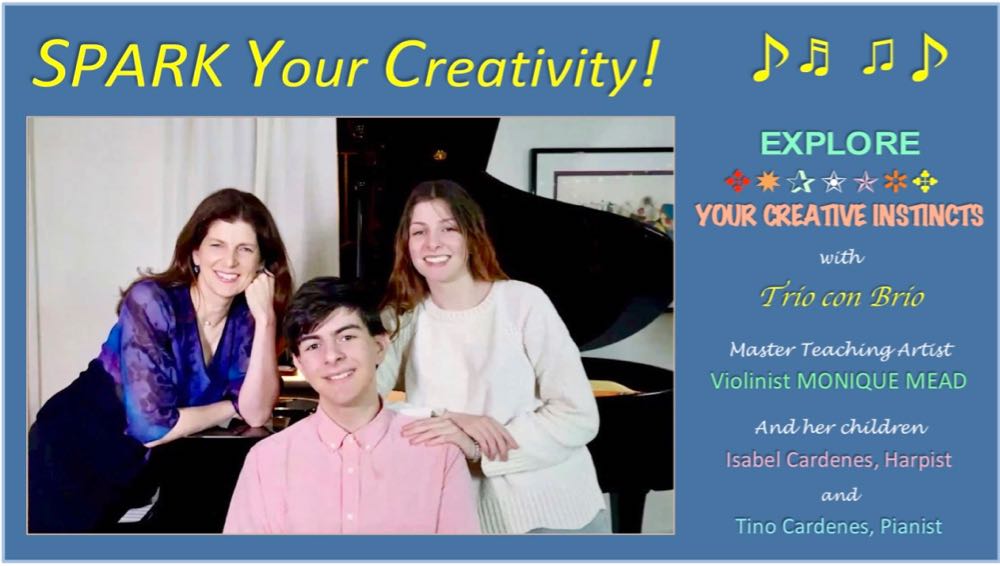 Undaunted by Pennsylvania COVID restrictions prohibiting in-school performances in 2021, Allegheny RiverStone Center for the Arts commissioned the acclaimed Teaching Artist, violinist MONIQUE MEAD, to create a 35-minute video resource to be presented in the classroom for all students in grades K to 6 and for Chorus students in grades 7 to 12 in the Allegheny-Clarion Valley Schools.
The entertaining and stimulating video features the "Trio con Brio" as Monique Mead and her children, harpist Isabel Cardenes (17) and Tino Cardenes (16), pianist and video executive producer, explore the larger process of creativity – in any endeavor – with music performance as the metaphor.
See the ARCA blog with the FULL STORY about the video and project!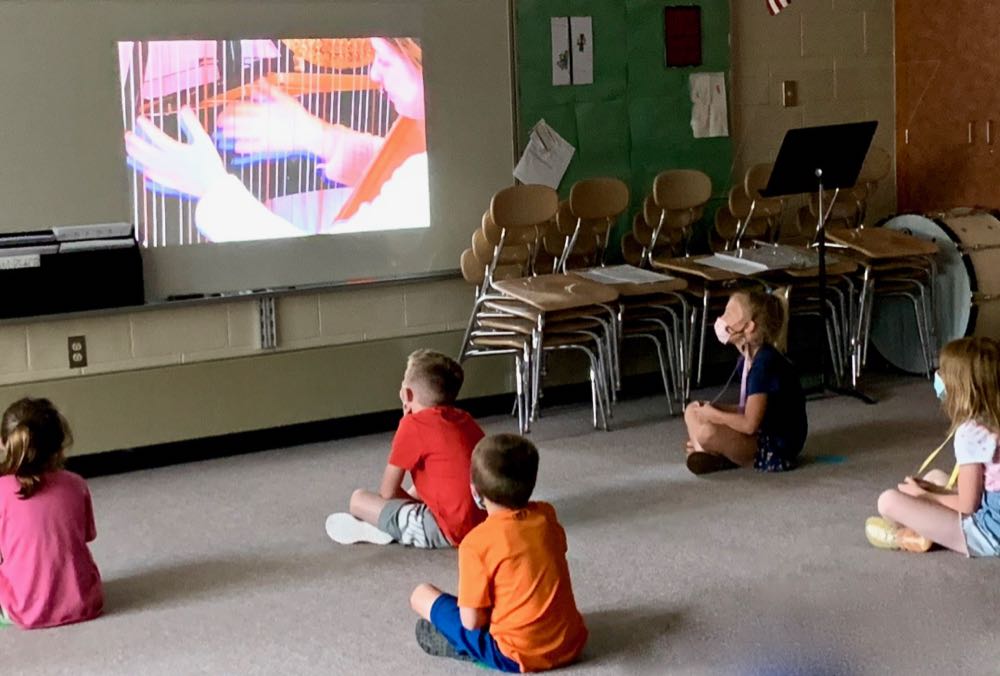 In late May, 2021, the resource was presented by teachers Karen Hetrick and Jennifer Powell Lowrey to their students in elementary general music classes and to  Jr./Sr. High School Choir.
The YouTube link is now available for public viewing below:
Monique Mead and her children, harpist Isabel Cardenes and pianist Tino Cardenes – "Trio con Brio" –have created an engaging program that explores the creative instinct within each of us.
In the thirty-five minute video, this teen-family brings you into their home to share stories, performances, and practices that can help light a spark for your own creative pursuits.
They present the three-step process that underpins any creative work – Finding Inspiration, Doing the Work and Putting it Out There – all while performing solos and duos by composers Vittorio Monti, Jules Massenet, William Grant Still, J. S. Bach, Antonín Dvořák and Erroll Garner.

From the crying violin of a Hungarian folk melody that inspired the Italian composer Vittorio Monti and the inspiration of John Williams' Star Wars music to illustrations of the development of the double-action pedal harp and family photos from their travels and performances together, young video producer, Tino Cardenes, has employed quick frame-changing animated images to make it delightfully engaging.

The musical equivalent of "Beware if there are no callouses!" is the reality that in any project, no matter the inspiration, you have to put in the time to practice, practice, practice – which is the musical punch line to that old joke of someone asking how you get to Carnegie Hall. Tino shares his musical and technical process of learning both parts to a four-hand piano arrangement of Dvořák's 'Dumky' Trio – both parts of which he plays and video records and intertwines into a seamless performance. I dare you NOT to be inspired to take on a BIG project for yourself!

Then there's baring your soul and sharing your project – with all its nerves, fear of failure and frustrations along the way – not to mention patience. Most charming are the outtakes as high school senior Isabel is making her video audition tape for college.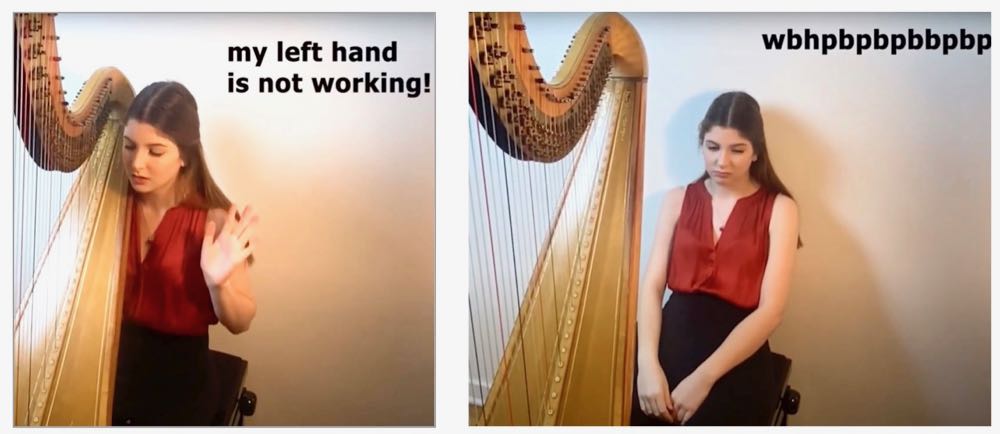 Her exasperated and self-deprecating groans as she tries and tries again – until she gets it perfect – all culminate in the elegance of her final Bach performance that won her the Presidential Award Merit Scholarship at Manhattan School of Music where she will matriculate in the Fall of 2021.


By its end, you will hope there is a sequel and want to share the YouTube link with every budding musician you know – of all ages.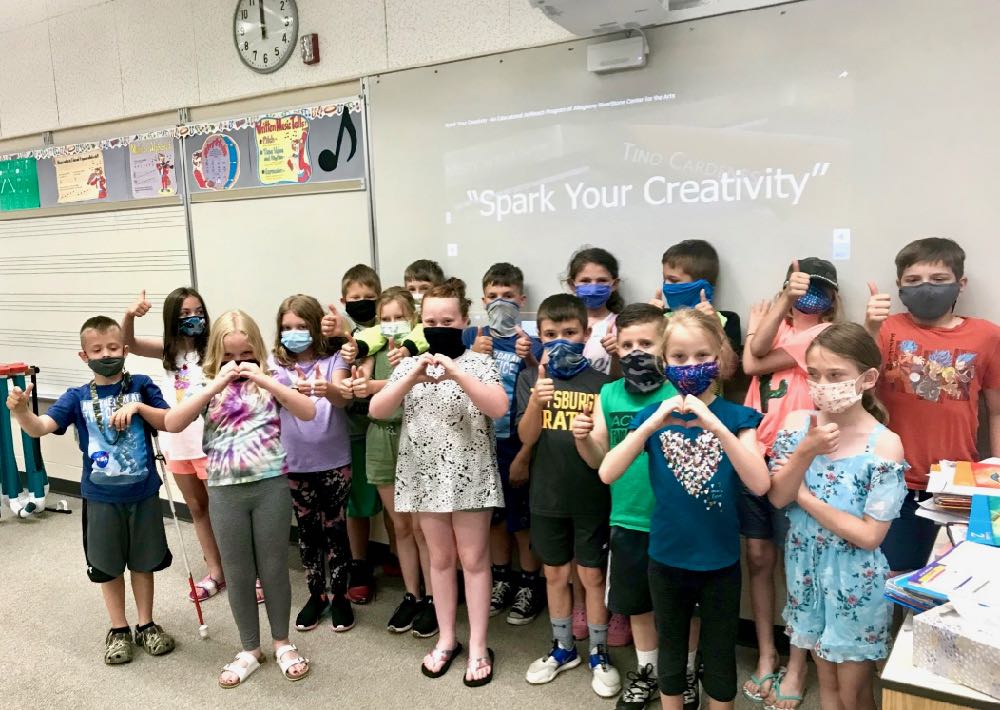 Enjoy their performances of:
Vittorio Monti: Czardas for Violin and Piano Jules Massenet: Meditation from the opera Thais William Grant Still: "Gamin" (street urchin) from Suite for Violin and Piano J.S. Bach/Grandjany: Harp transcription of "Largo" from Solo Violin Sonata in C Major Antonin Dvorak: II. Allegro vivace from "Dumky Trio" arranged for Piano 4 Hands Erroll Garner: "Misty"
For more information on the program and artists: https://alleghenyriverstone.org/event/spark-your-creativity-explore-your-musical-instincts/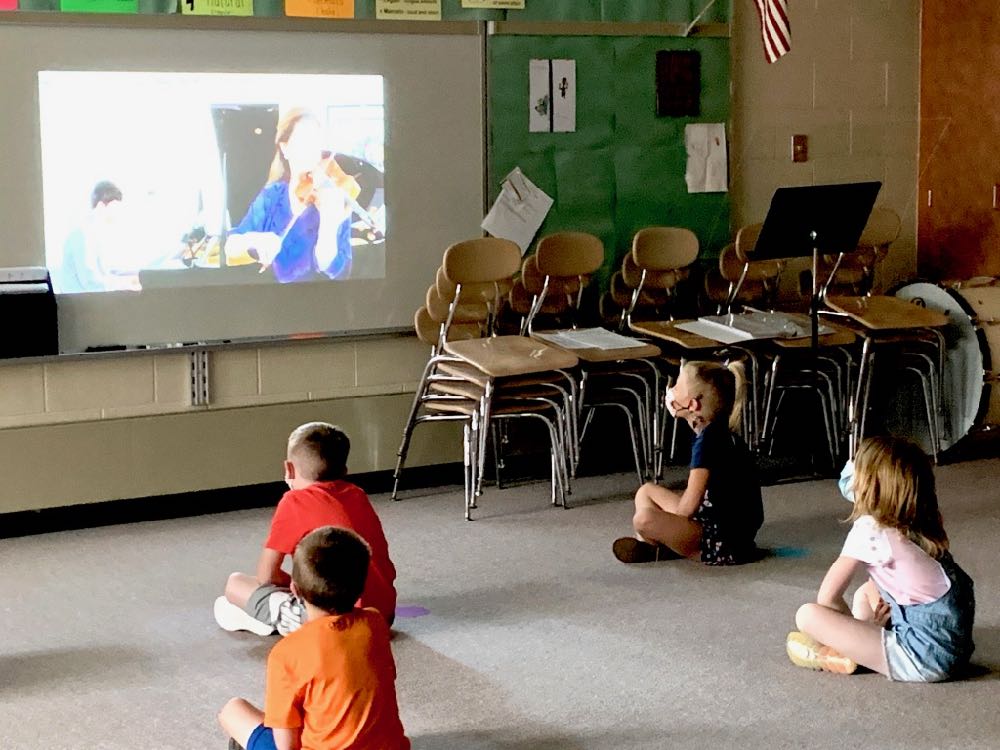 2020 Educational ArtReach – Renaissance City Winds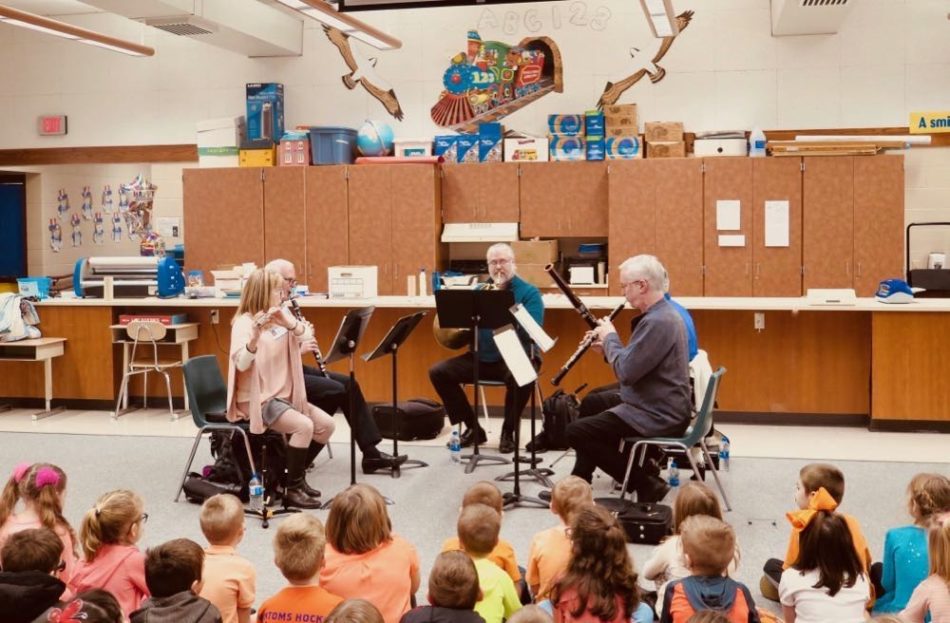 Fortunately, eleven days before the COVID lockdown, on March 3, 2020, ARCA proudly brought into the Allegheny-Clarion Valley Schools a day of Educational ArtReach enrichment provided by seasoned teaching artists in a wind quintet from one of Pennsylvania's leading chamber music ensembles, The Renaissance City Winds.  Performing in the wind quintet were Barbara O'Brien, flute; Scott Bell, oboe; Jack Howell, clarinet; R. James Whipple, bassoon; and Jason Allison, French horn.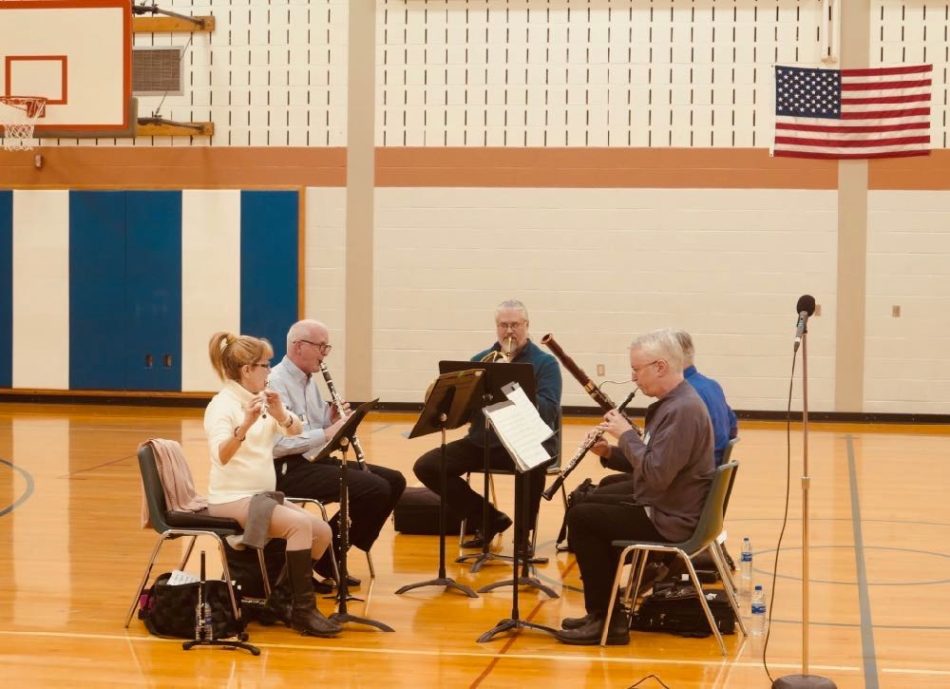 Known for promoting the fine art of wind chamber music since 1975, The Renaissance City Winds have been hailed in the press for being "Nothing short of brilliant" [Olean Times Herald], "Playing with excitement, musicality and daring" [WQED-FM], "Expert wind players… attractive program… enjoyable" [New York Times].
The Renaissance City WINDS musicians performed three small workshops for Allegheny-Clarion Valley Elementary students in grades Pre-K to 6 in the morning, prior to an assembly concert for all elementary students in the Elementary School gymnasium. In the afternoon they moved to the Jr. and Sr. High School to perform an assembly concert for grades 7 – 12 in the High School Auditorium.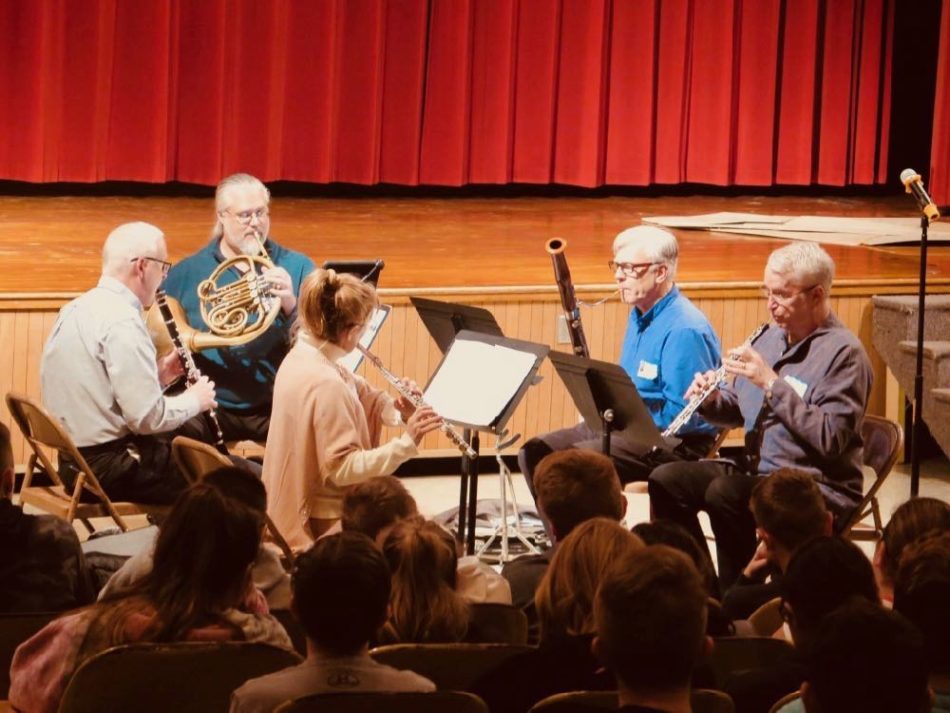 2019 Educational ArtReach – Aria412: A Fractured Musical Fairy Tale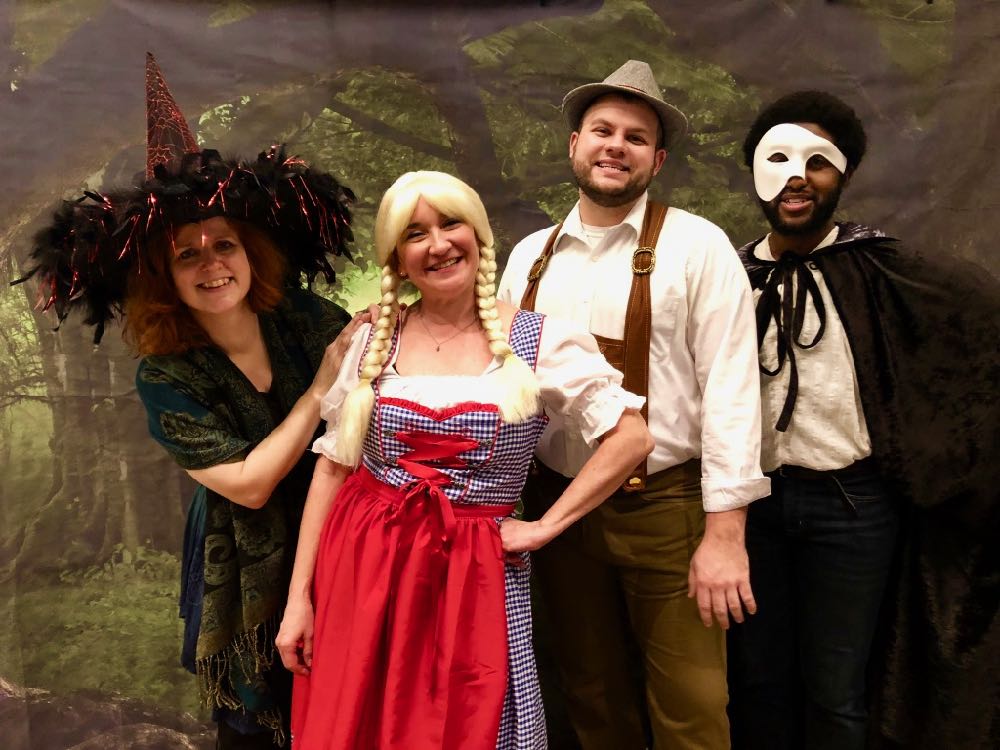 The celebrated opera-musical theatre ensemble Aria412 perform an arts education residency in the Allegheny-Clarion Valley Schools on Friday, March 1, 2019.  Teaching artists – singers Desirée Soteres, Kelly Fiona Lynch, Kevin Adamik and Franklin Mosley and pianist Amy Kapp – will conduct three small classroom workshops for students in grades 1 to 6 in the morning preparing them for the afternoon assembly performance of A Fractured Musical Fairy Tale, based on the story of Hansel and Gretel, in the A-C Valley Elementary gymnasium followed by a second performance for Grades 7 to 12 in the Senior High School auditorium.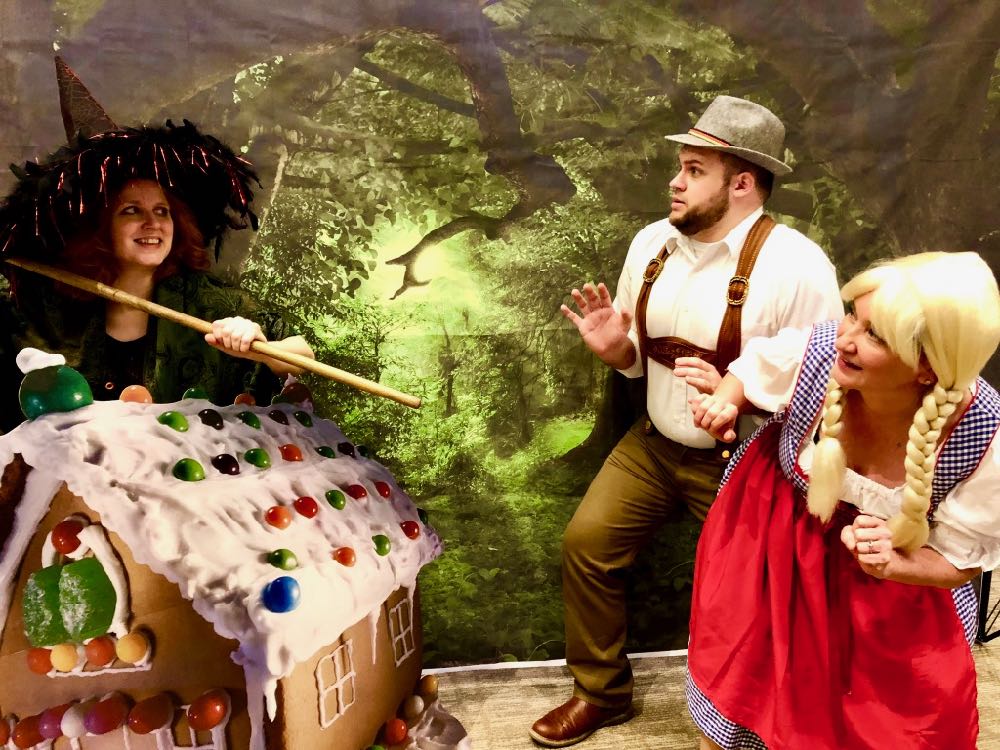 The assembly performances of A Fractured Musical Fairy Tale – with subtitles Opera-tunity Knocks: Into the Woods with Hansel and Gretel – or – Opera Parents are the Worst – combine opera, musical theatre, jazz, rap and popular music retelling the story of Hansel & Gretel.  Along the way they encounter a rapping Witch, the wicked Queen of the Night with lots of operatic high notes, a friendly Barber named Figaro, a hungry plant named Audrey II and a masked Phantom of the Opera – all to delight, amaze and educate A-C Valley students.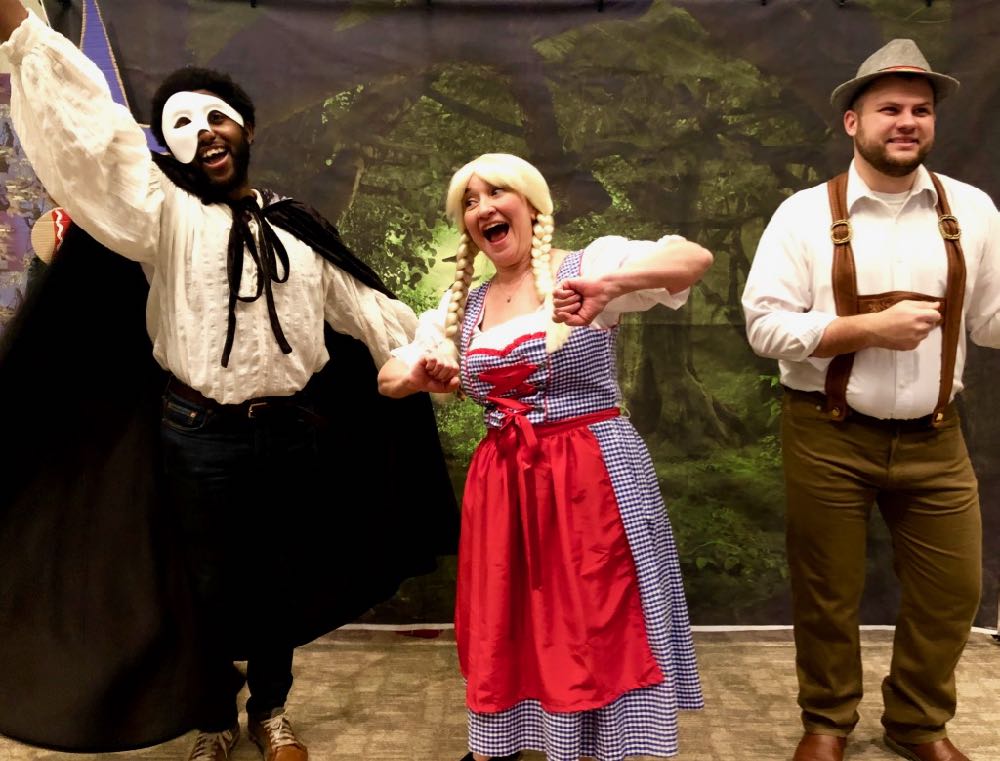 2018 Educational ArtReach – Beo String Quartet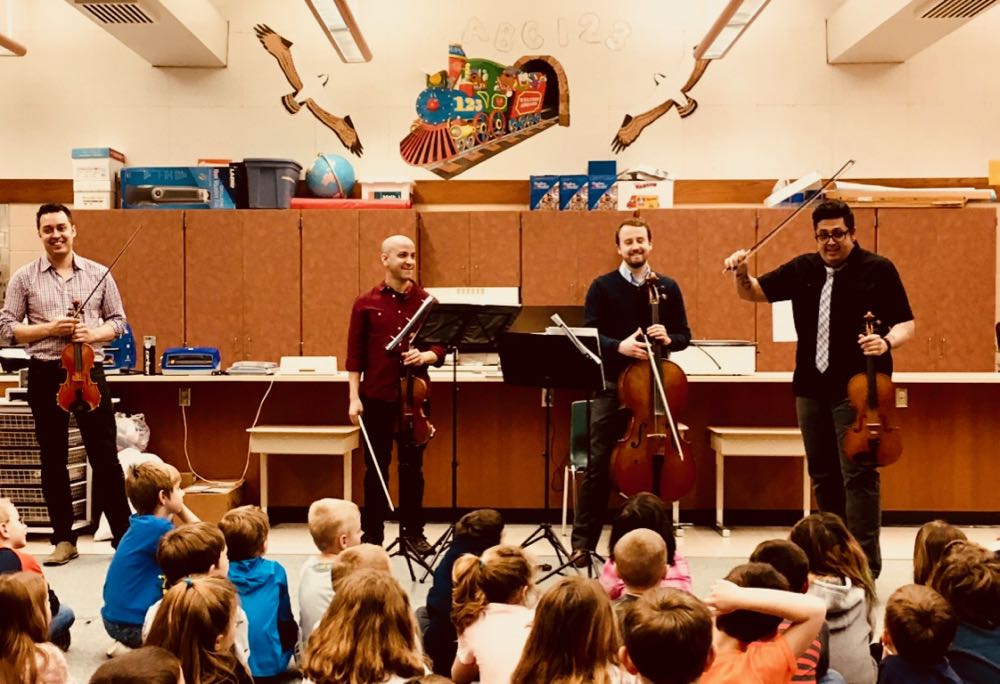 In 2018 Allegheny RiverStone Center for the Arts brought the celebrated BEO String Quartet to perform an arts education residency in the Allegheny-Clarion Valley Schools on Wednesday, March 14, 2018.
The seasoned Beo String Quartet teaching artists –  Jason Neukom, violin; Sandro Leal Santiesteban, violin; Sean Neukom, viola; and Ryan Ash, cello – conducted three small classroom workshops for students in grades 1 to 6.  Using original compositions by Sean Neukom, composer, to demonstrate the range of instruments, various playing techniques and to elicit creative responses from the students on how to "Find the Melody" and  how the music made them feel – all derived from attentive listening.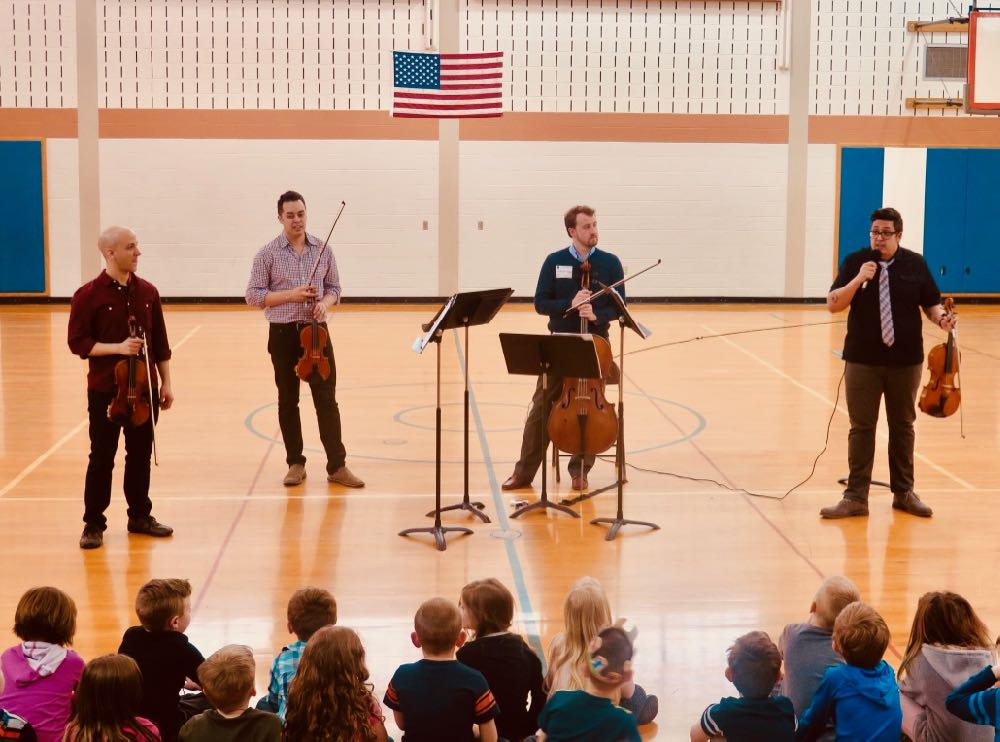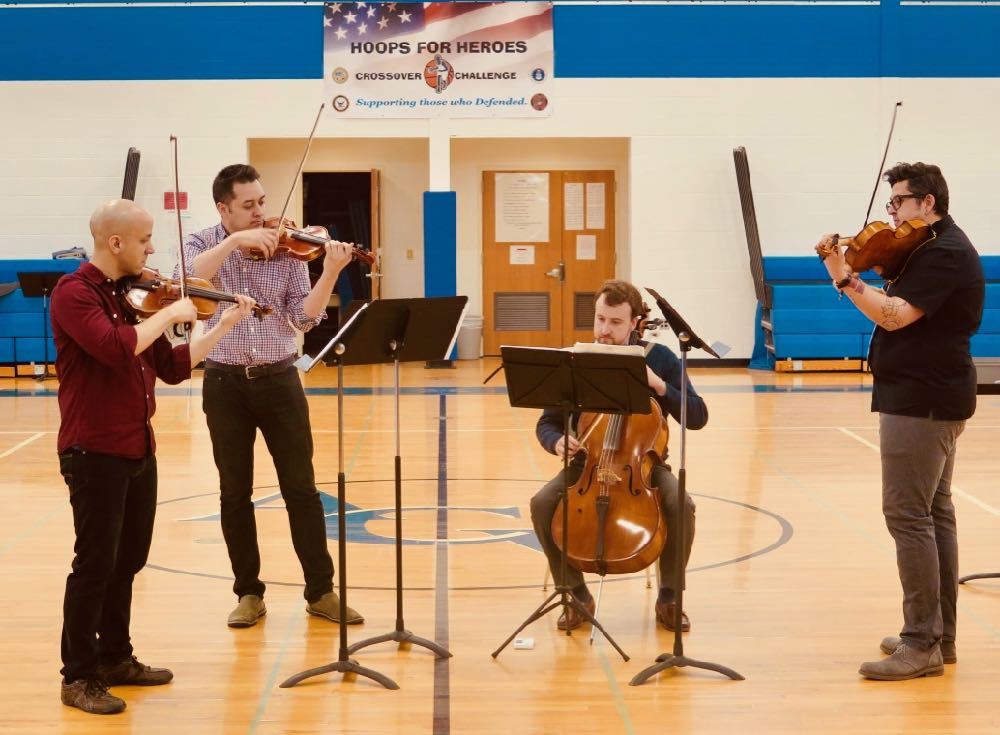 In the afternoon, Beo String Quartet performed two assembly concerts for students from grades K to 12 in the A-C Valley Elementary gymnasium and Senior High School auditorium. Performing the Andante furioso movement from Dimitri Shostakovich String Quartet, Opus 118, No. 10 –  A flat Major, 1964 for the Junior and Senior High School Beo had the student's rapt attention.  Demonstrating the conflict in the dialogue of musical motives in the movement until the haunting single voice at the end,  Sean explained how Shostakovich created a musical metaphor for Stalin's totalitarian campaign with the Russian people.
At the conclusion of the assembly concert, Sean said thank you to all the students for their focussed appreciation, and one ninth grader spoke out respectfully, "No – thank YOU!" demonstrating the response that the Beo String Quartet has garnered wherever they have done residencies.  ARCA was grateful that these inspiring young artists could bring to the students at Allegheny-Clarion Valley Schools their enthusiasm for teaching and their love for music and its power to educate and enlighten.
"[Beo] had nearly 900 children, ranging from grades 3-8, with [them] from the very start, and provided memorable insights in how to listen to chamber music. All were captivated and inspired."  -Ruth Waalkes, Associate Provost for the Arts, Executive director, Moss Arts Center
2017 Educational ArtReach – Akropolis Reeds & A-C Valley Student Art Show
The 19th century Romantic composer, Robert Schumann, proclaimed that, "The artist's vocation is to send light into the human heart".   And bright it was in the Allegheny-Clarion River Valley on Tuesday, February 21 as the dazzling artistry of The Akropolis Reed Quintet flooded joyous and glorious music making and inspired instruction to more than 700 students from grades K – 12 in the Allegheny-Clarion Valley School system.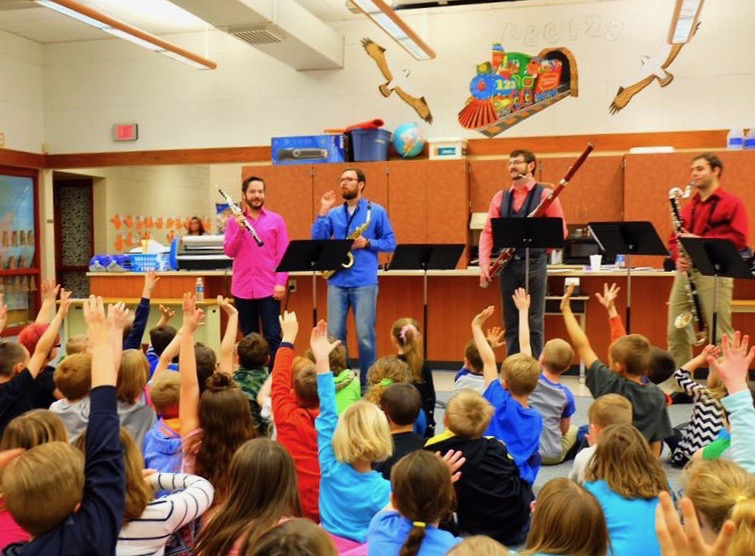 Exploding with infectious energy and intensity and hailed for their "imagination, infallible musicality, and huge vitality" (Fanfare Magazine), the Akropolis Reed Quintet has won six national chamber music prizes since 2011, including the 2014 Fischoff Gold Medal. Deeply committed to nurturing music appreciation among young audiences, Akropolis is also winner of the 2015 Fischoff Educator Award.
Beginning with three small "pod" classroom performances in the informal community spaces outside of Grades 1 – 6 classrooms, the award winning Arkopolis Reeds Teaching Artists introduced students to their instruments and engaged the students in telling a story with music that expresses emotions – with a student volunteer depicting it visually on a white board. The Reeds said that the A-C Valley students were the best-prepared group with which they had worked. Thanks to the advance preparation given to students by A-C Valley music specialist and choral director, Jennifer Powell Lowrey, when asked what one of the lesser known instruments was, a first grader answered, Oboe – and spelled it correctly!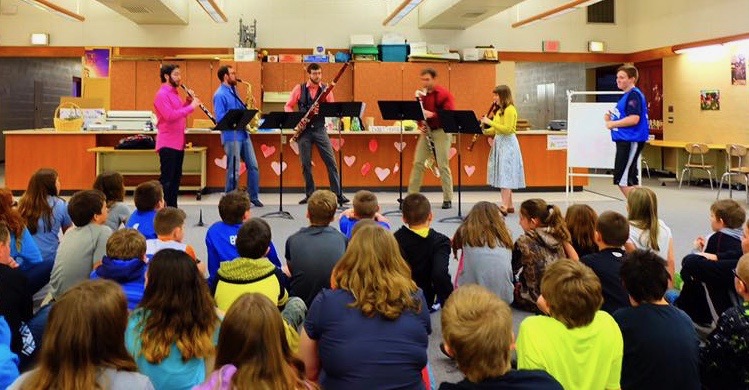 In the afternoon, a full gymnasium of students from K – 6 were in rapt attention as the artists remarkably extended classroom dynamics and student interaction to track melodies as performed by members of the ensemble. The elementary assembly concert culminated in the musical and narrated dramatic presentation of "The Best Story" with musicians playing multiple roles from sharks to pirates, replete with costumes.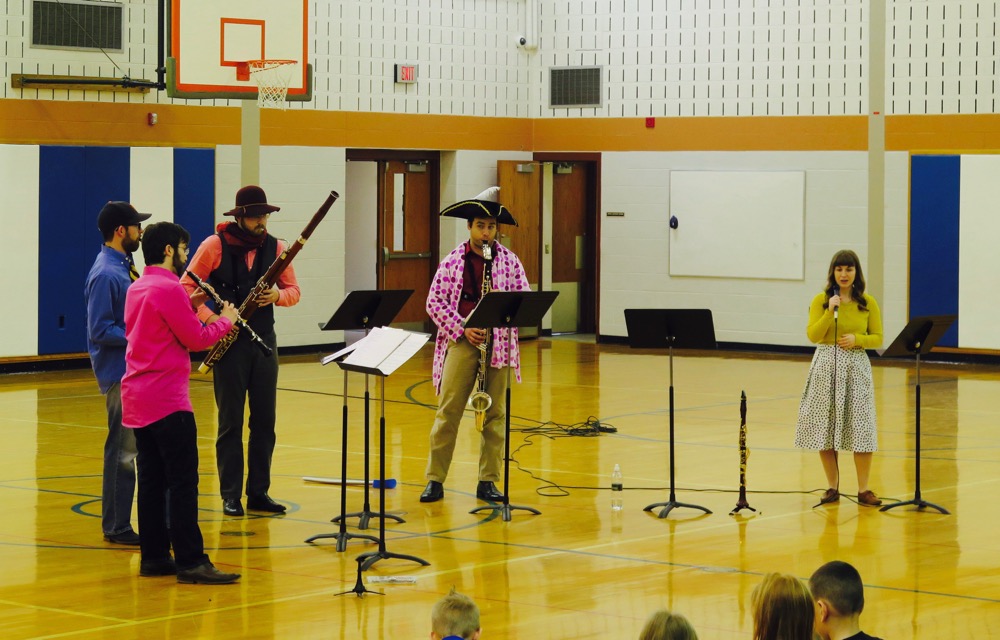 Later in the afternoon the Akropolis Reeds moved up to the High School to perform a more "hip" assembly concert for grades 7 – 12 including a brilliant arrangement of George Gershwin's orchestral work, American in Paris, and Q/A about issues relevant to them.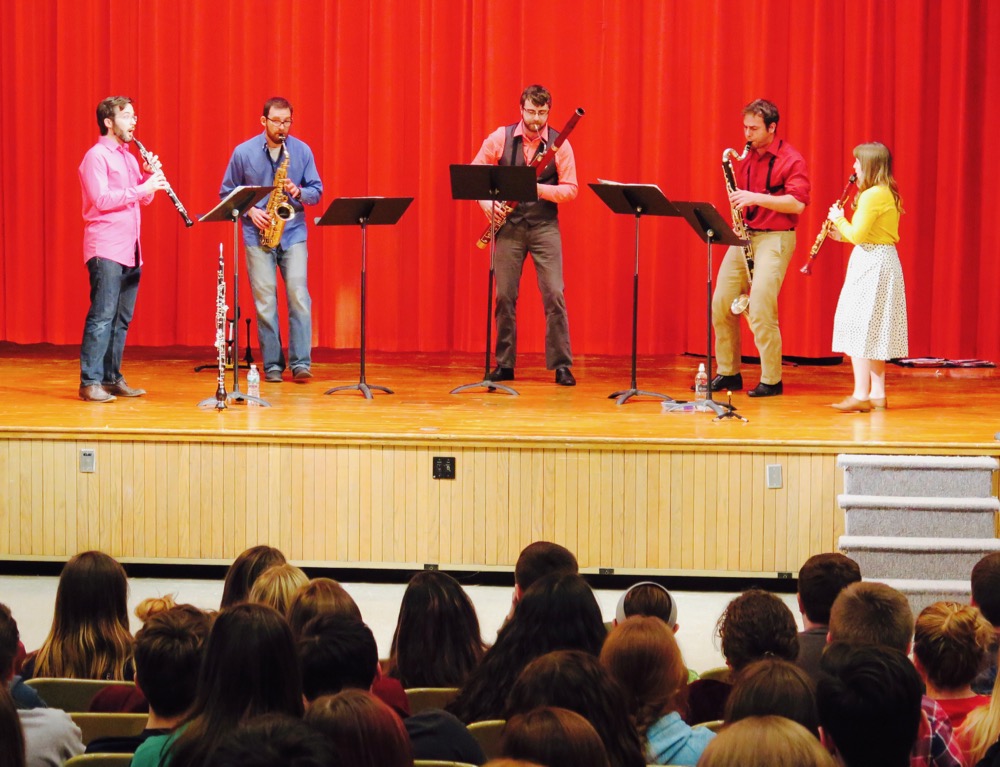 The day concluded with after-school hands-on technical workshops and master classes with A-C Valley students. A-C Valley Jr/Sr High Band Director, Scott DiTullio, and Elementary band teacher, Karen Hetrick, had prepared five small ensemble groups from grades 5 – 12 including flute, saxophones and clarinets, which performed for the Akropolis Reeds.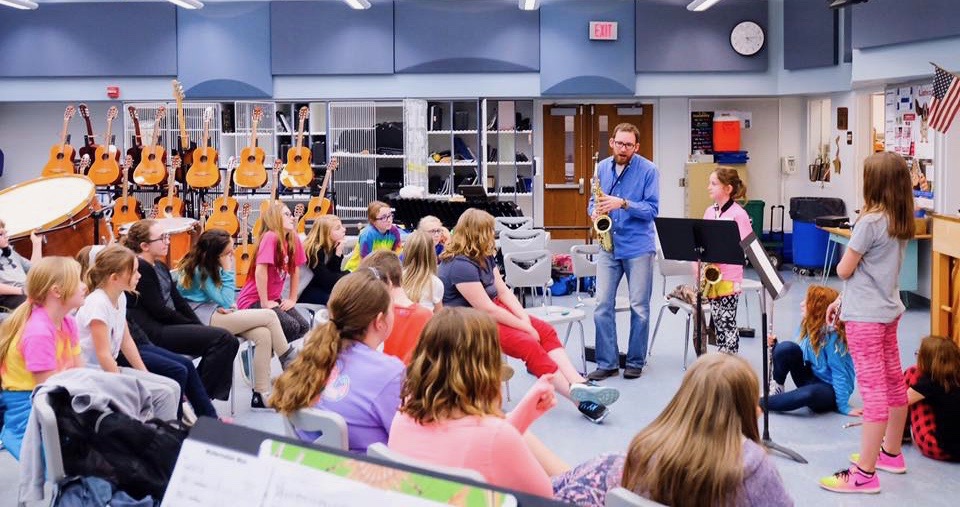 Particularly after the Reeds' awe inspiring performances and insightful personal interactions with students, their demonstrations in the after school workshops had major impact. One of the younger clarinetists said that her group was going to breathe together like the Reeds taught them to do in their upcoming Ensembles Concert at the A-C Valley School. That is what it's all about… the inspiration of the arts impacting lives, as in the Chinese proverb, "I hear and I forget; I see and I remember; I do and I understand."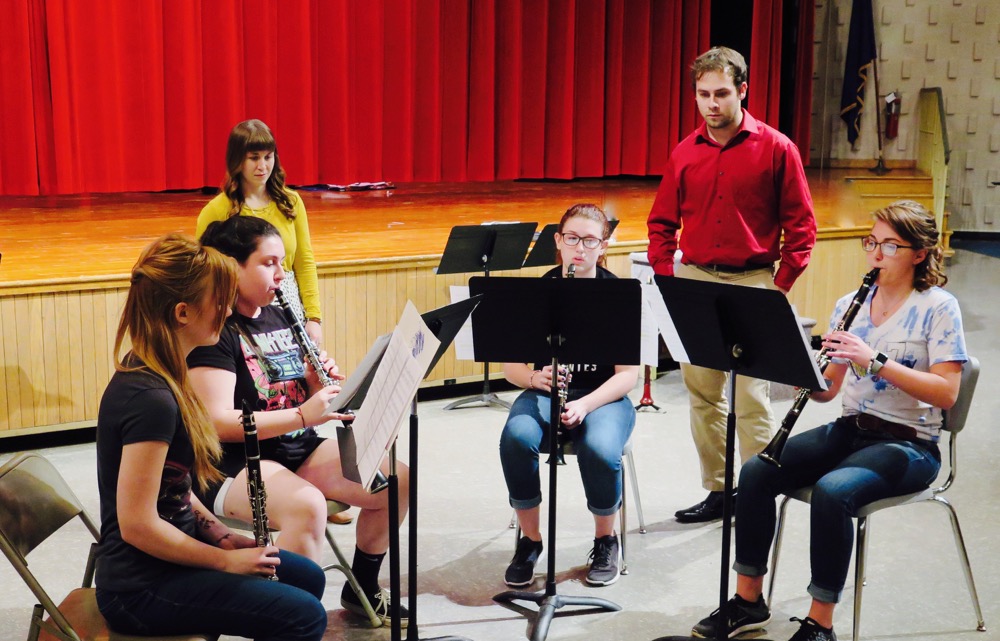 The Akropolis Reeds are the very pinnacle of Teaching artist ensembles in America today. A music educator wrote after a recent residency, "Akropolis performed for our middle school and did a wonderful job of entertaining as well as educating. Concepts of musical structure and imagery were brought to the students' attention with wit, depth, and accessibility. My only complaint is that they couldn't stay for a month!" After their residency in A-C Valley Schools, teachers and students alike felt the same way!
This residency was made possible by ARCA's partnership with the A-C Valley Schools, a grant from the Pennsylvania Council on the Arts and contributions from ARCA Members and Donors.
A-C Valley Student Art Show at Red Brick Gallery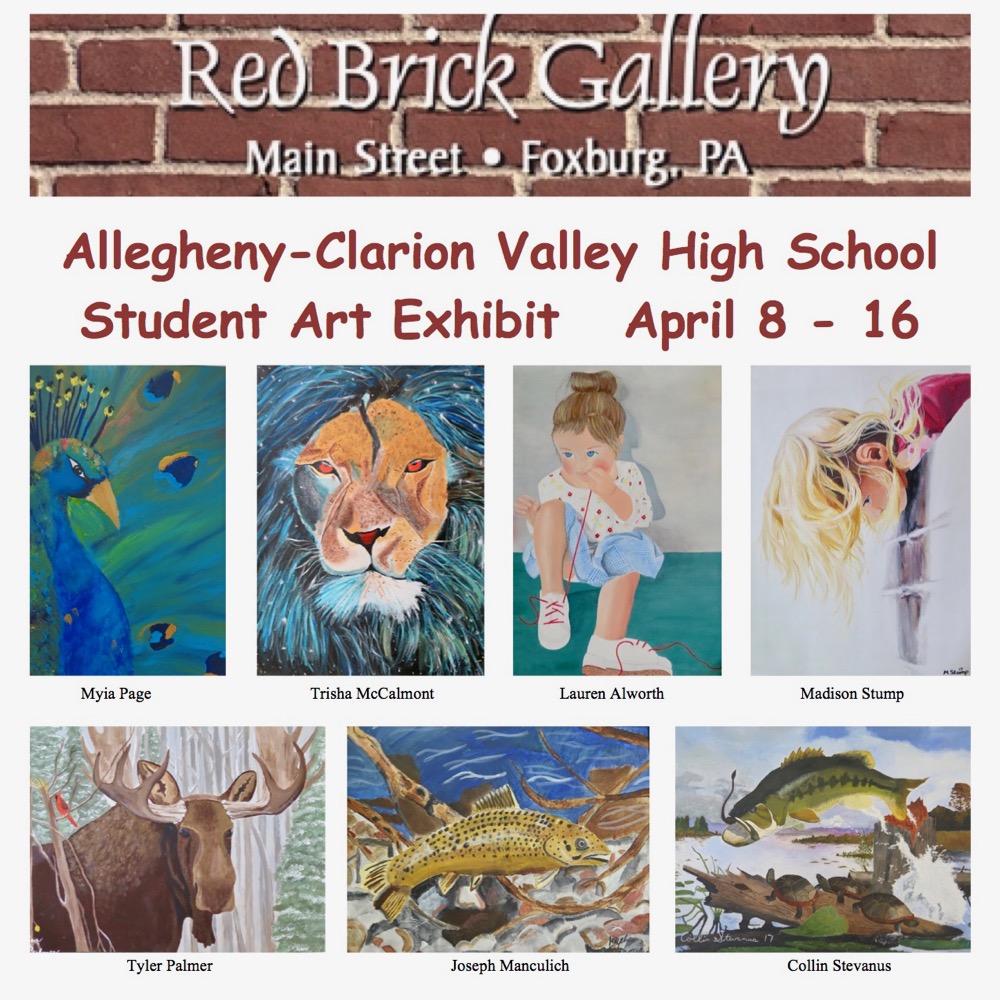 Hallmark Card's late Gordon MacKenzie would walk into a class of kindergarten and first graders, look at the artwork on the walls, and ask, "How many artists are in the room?" Every hand would go up. By second grade three-fourth of the kids raised their hands, by third only a few and by sixth grade, not a single hand went up.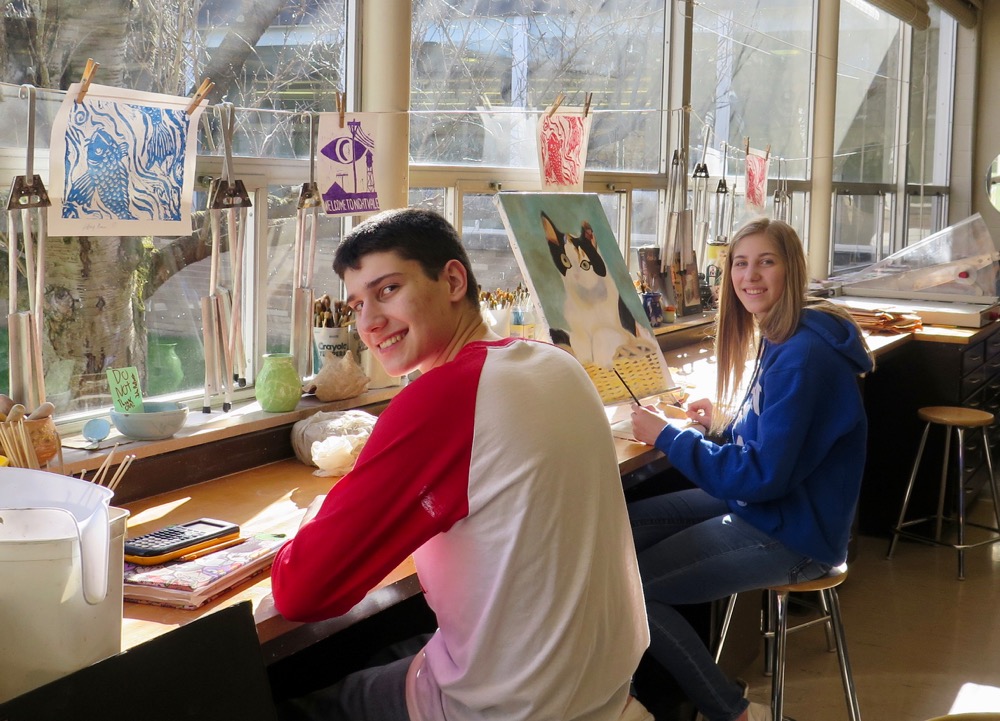 Thanks to the District's support of arts education and the work of gifted and inspiring visual arts teachers in the Allegheny-Clarion Valley Schools – Jessica Nimelli (K-6) and Anita Allen (7-12), student hands would go up not only throughout the elementary grades but also in Junior/Senior High School AND in vocational training classes.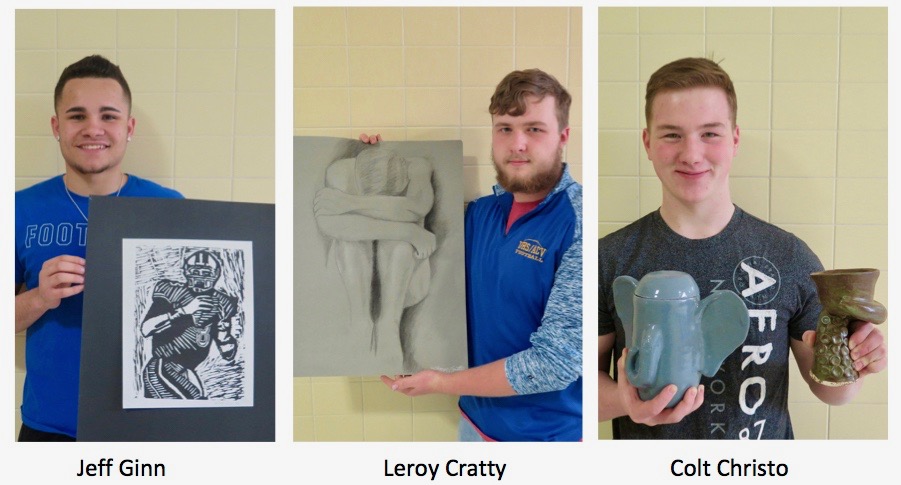 Yes, the visual arts are flourishing in the A-C Valley Schools and you can see for yourself the exceptional artwork of 100 A-C Valley students in Anita Allen's classes from Grades 7 – 12 (including Vo-Tech) in an exhibition at the Red Brick Gallery in Foxburg, sponsored by Allegheny RiverStone Center for the Arts, on Saturdays and Sundays, April 8-9 and 15-16. The exhibit will showcase their achievements in three-dimensional art – ceramics and pottery – as well as watercolors, acrylic, charcoal, and pastels.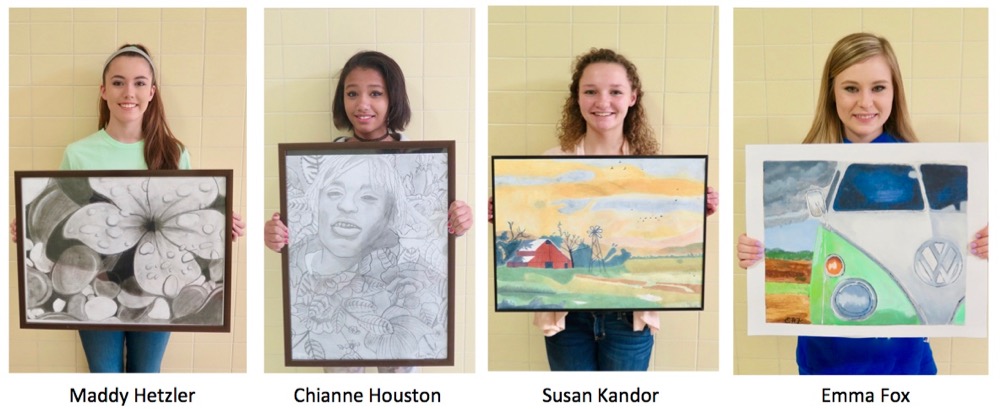 There is no admission to the Exhibit at the Red Brick Gallery and Gift Shop, 17 Main Street, Foxburg, PA 16036.   A Meet the Students reception will take place on Saturday, April 8 from 11 AM to 5 PM.   The Exhibit is open Saturday and Sunday, April 8 – 9, and April 15 – 16.   Gallery Hours are: Saturdays 11:00–7:00, Sundays 12:00–4:00 PM.

C Street Brass – 2016 Educational ArtReach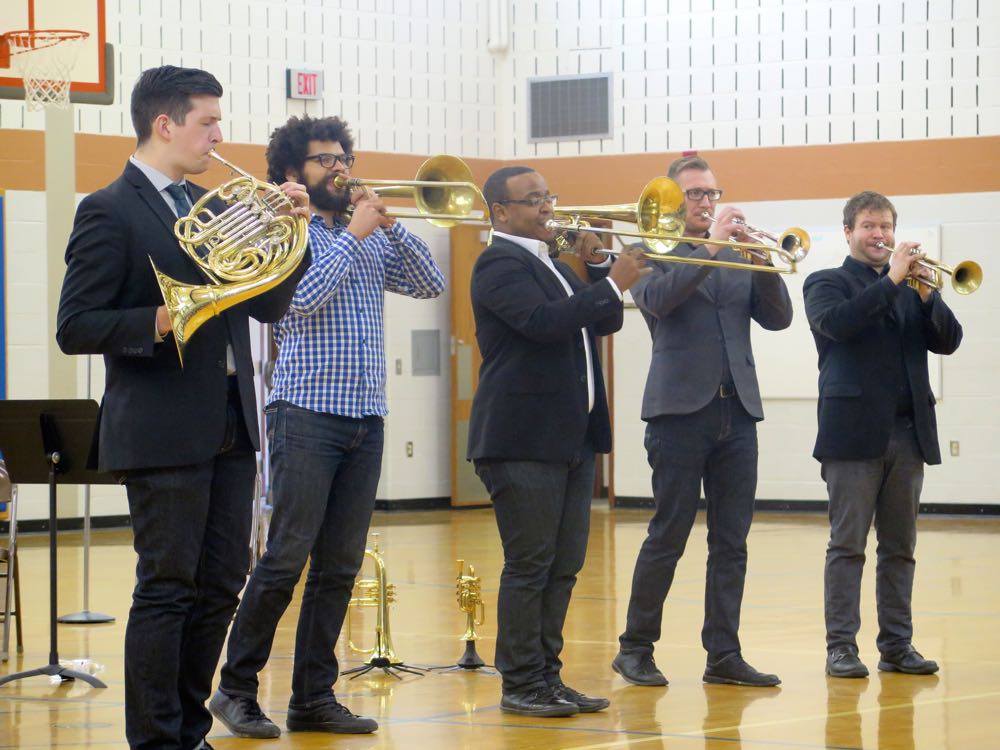 On March 3, 2016 ARCA brought the extraordinary brass quintet and seasoned teaching artists, C Street Brass, for a full day residency in the A-C Valley Schools.  The theme of their residency was how melodies play a part in telling a story, using examples from two famous American musicals, West Side Story by Leonard Bernstein and Porgy and Bess by George Gershwin.
Hailed for radiating the joy of music-making, C Street Brass brought to A-C Valley students not only their imaginative approach to brass quintet performance, superb musicianship, extraordinary technical prowess and seasoned educational skills, but also the ineffable "inspiration factor" of charismatic, young professionals in their twenties who are making a significant career in the music field and receiving accolades their innovative performances.  George Vosburgh – Principal Trumpet of the Pittsburgh Symphony and an ARCA favorite in the annual Christmas Pittsburgh Symphony Brass Concert – has said of the group,  "C Street is the new sound, look, and feel of the modern brass quintet. Highly virtuosic playing in a wide variety of styles rolled into an accessible, warm hearted candor which makes for a delightful concert experience. "
C Street Brass performed three small workshops in the small communal areas outside of classrooms for Pre-K to Grade 6 students, demonstrating their instruments, answering questions and performing for the students. They used examples from musicals by Bernstein and Gershwin to explain the history of each instrument and how their instruments are used differently in classical and jazz settings.  In advance of their residency, elementary music teacher, A-C Valley choral director and musical theatre director, Jennifer Lowrey, prepared K-6 students for C Street Brass small workshops, introducing them to songs and melodies from these musicals as well as the brass instrument family.
In the afternoon C Street performed an assembly concert in the Elementary gymnasium before moving to the High School auditorium to perform an assembly for grades 7 – 12.
 In addition to works by American composers Leonard Bernstein and George Gershwin, C Street also performed Concerto for Saint Mark, Fly Me to the Moon, and other jazz arrangements for brass quintet.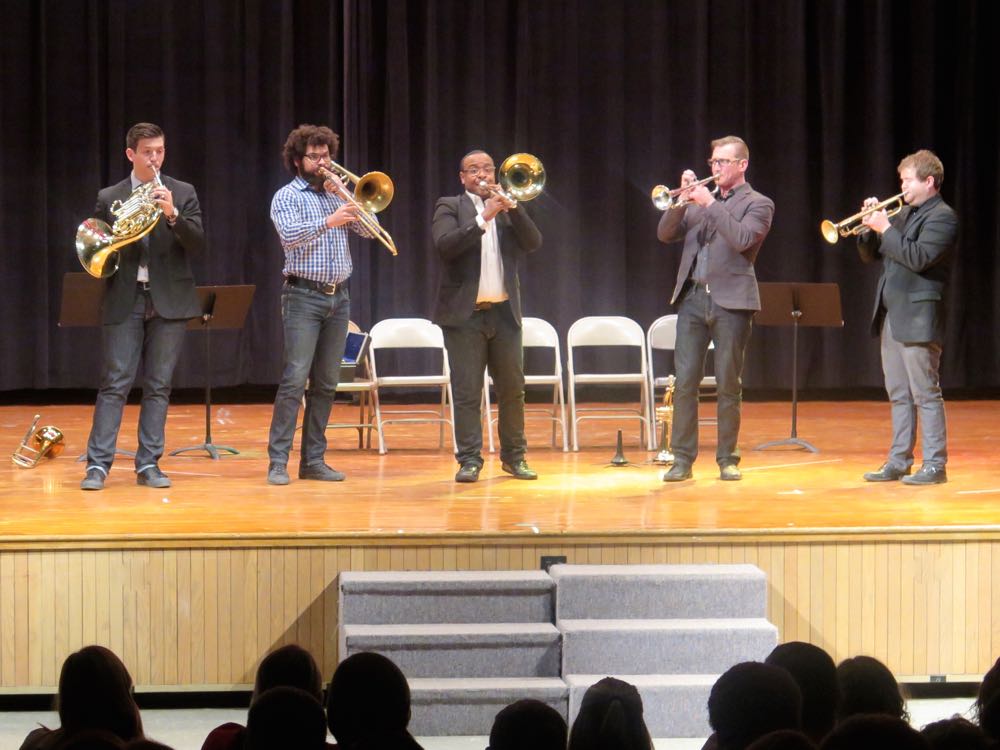 After School, C Street Brass musicians conducted hands-on workshops with A-C Valley band students, coordinated by Scott DiTullio, High School Band Director.

As it is said, when performing for a "pro" who demonstrates the artistic subtlety and nuances of how the music goes, "a musical phrase is worth a thousand words…"
A-C Valley students had a wonderful time playing for and being coached by members of C Street Brass!

C Street Brass is passionately committed to educating and inspiring the next generation of musicians. In addition to their arts education work in Pittsburgh, the group has done educational residencies in Orcas Island, WA, and at Mercyhurst College in Erie, PA, among others.  C Street Brass was awarded a Visiting Scholars Grant by the University of South Carolina, spending several one weeks during the 2014-15 school year in Columbia, South Carolina performing concerts, teaching master classes, giving seminars, and working with local community bands and sharing their music with the community in free public outdoor performances.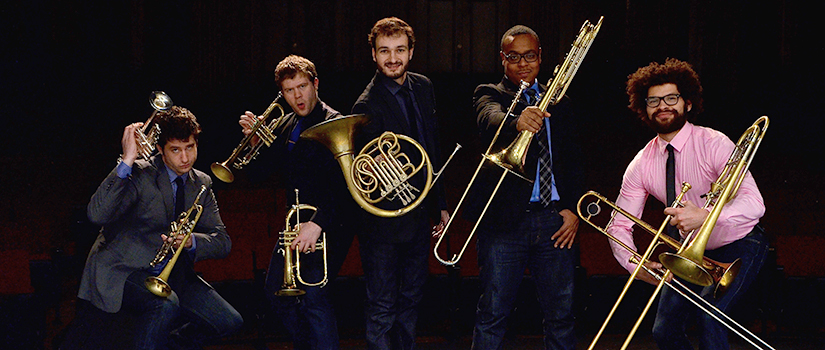 ARCA's Arts Education Sequence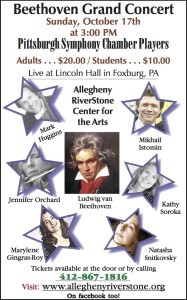 ARCA began its educational outreach program in 2009, when former Executive Director, Drew Orient, brought workshops and assembly performances on the music of Mozart to all students from Kindergarten to 12th grade in the Allegheny-Clarion Valley School District.  From 2009 to 2012 ARCA's arts education sequence began with small workshops presented for K-6th grade students in three groups in the common areas (pods) outside their classrooms. These prepared students for a thematically related assembly concert, also performed for 7-12th grades.  During this time in-school workshops and assembly concerts were linked programmatically to an ARCA classical music concert in Lincoln Hall in downtown Foxburg, which concluded the sequence. Discounted tickets were offered to AC Valley students.
Presenting teaching artists and performers of the highest artistic quality has been a primary objective. From 2010 to 2012, the Pittsburgh Symphony Chamber Players performed the final chamber music concert, programing music relevant to the theme of the AC Valley arts education sequence.
Beginning in the 2012 spring semester, ARCA presented workshops for the Gifted and Talented students in grades 7 to 12 both from A-C Valley and 12 regional school districts as part of a Gifted and Talented Consortium, followed by an afternoon assembly performance for all A-C Valley 7-12th grade students in the A-C Valley High School Auditorium.

In May of 2013, ARCA's Gifted and Talented outreach program brought Slippery Rock University's touring drama troupe under the direction of Laura C. Smiley to perform a composite version of Romeo and Juliet.  The afternoon assembly was preceded by workshops on Shakespeare and theatre techniques. Professor Ronald G. Shafer, a renowned Shakespeare expert and senior member of the doctoral English faculty at Indiana University of Pennsylvania, presented a session on Romeo and Juliet. Ken and Liz Smith of the Hob Nob Theater guided students with improvisation and scene development exercises around the balcony scene from Romeo and Juliet and presented film clips from various Romeo and Juliet movies, including The Hunger Games.
ARCA Educational ArtReach Autumn 2013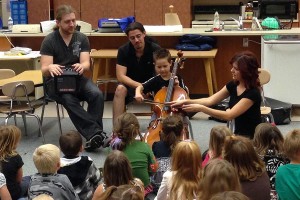 In 2013, ARCA Board Member Kathy Erlandson Soroka, an experienced arts education professional,  worked with A-C Valley music special specialist Jennifer Lowrey to enhance ARCA's traditional sequence – small workshops preparing students for an assembly concert of classical music – in several ways:  Presenting Cello Fury, a nationally celebrated crossover classical/rock group, to connect classical music with rock music – the students' music vernacular – see youtube video; Providing teacher resource materials utilized by Elementary Music specialist, Jennifer Lowrey, to prepare students for Cello Fury's small workshops and assembly concerts; Changing the sequence's final public concert to one featuring Cello Fury, i.e. the artists who performed in-school workshops and assemblies; Moving the location of the final concert from Lincoln Hall in downtown Foxburg to A-C Valley High School Auditorium, offering deeply discounted family pricing.
In the small workshops for K-6 students, Cello Fury cellists (noted and experienced teaching artists) utilized the melody "Twinkle, Twinkle" to contrast what makes music 'rock' or 'classical',  demonstrating the special sounds that create their distinctive style.  Prepared by Elementary music teacher, Jennifer Lowrey, students imitated the sounds of 'glissando', 'col legno', and "pizzicato" and clapped rhythms to understand how changing rhythmic accents distinguishes a rock beat from a classical tempo.  At the end of each session, students had the opportunity to "try the cello" themselves.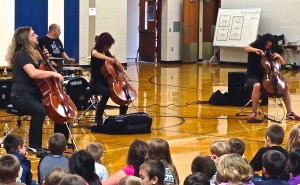 In the afternoon Cello Fury cellists and drummer (who was featured in a drum solo) performed two assembly concerts in the elementary and high school auditoriums which were a huge success.
Cello Fury's evening performance in the high school auditorium was promoted to K-6 students and parents via individual take-home handbills.  At the end of the K-6 Assembly, Elementary Principal, Joshua Tabor, invited the students to return that evening for the Cello Fury concert and to bring their parents – and so they did!  Standing in line to buy tickets were elementary students with their mother and father in tow.
Of the people attending the evening community concert at 7:00 PM at the A-C Valley High School Auditorium, more than 80% of the audience was comprised of elementary children and their parents.  At the intermission of the evening concert, once again K-6th grade music specialist, Jennifer Lowrey, guided more than 20 children and some adults as they tried out the cello.
ARCA Educational ArtReach 2014-15
In 2014-15 , under the direction of Board member Kathy Erlandson Soroka, ARCA expanded its Educational ArtReach Partnership Program in the A-C Valley Schools.  Utilizing a dance-based theme, A-C Valley students from pre-K to 12th grade participated  in The Music That Makes Us Dance (2014 Fall) and Dancing Off the Canvas (2015 Spring)… Click previous links to webpages for more information on both programs.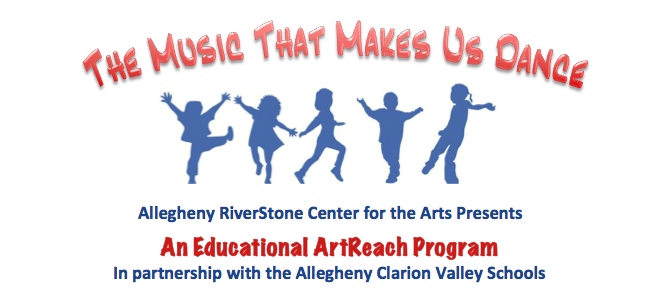 Dance was chosen to extend the artistic genres brought to A-C Valley students because some of the most joyous, uplifting and effecting music ever written has been created for the dance. The impulse to move and respond to rhythm is deeply imbedded in our cultural DNA.  ARCA's program was designed to utilize the universal language of dance, engaging students in the wonder of music and the dance – an expression of the impulse of life – and involving their hearts, minds and bodies in learning through the arts.
New initiatives introduced in The Music That Makes Us Dance sequence in the 2014 Fall semester included:
Performances for the first time by musicians and dancers – internationally acclaimed clarinetist and saxophonist, Suzanne Ortner, and composer, classical guitar virtuoso, and Carnegie Mellon faculty member, John Marcinizyn (The Suzanne Ortner Duo) with dancers from the Pittsburgh-based Murphy-Smith Dance Collective, Renee Danielle Smith and Joe Nickel;
Adding Pre-K students to the program;
Movement workshops for pre-K-4th grade conducted by a Dance Teaching Artist and early childhood education specialist, Laurie Tarter;
A printed Teacher Resource Guide with resources and lesson plans for classroom teachers and arts specialists (download the PDF below);
Discounted family tickets to encourage A-C Valley students and parents to attend Fall ARCA classical concerts featuring music written for the dance – performed by The Pittsburgh Symphony Orchestra Chamber Players and internationally acclaimed pianist, Gayle Martin;
Two dance-related concerts featuring young musicians – a concert featuring Pittsburgh Concert Society Young Artists Winners from age 12 to 20 in Lincoln Hall and the eighty member Pittsburgh Youth Symphony Orchestra at A-C Valley High School Auditorium with orchestra members from age 12 to 22.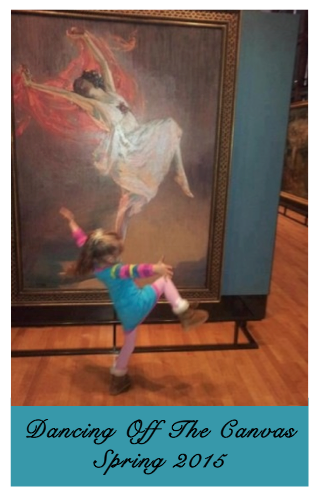 In the 2015 Spring semester, ARCA continued its dance related ArtReach Program with Dancing Off The Canvas. On Tuesday, March 24, Pittsburgh's celebrated dance company and experienced arts educator, Attack Theatre, presented morning workshops for AC Valley Gifted & Talented 5-12 grade students and students in the Gifted and Talented consortium from 12 Schools and six counties:  Clarion, Venango, Jefferson, Elk, Forest, Clearfield.  In addition AC Valley students in the visual arts, drama, band and chorus in 7-12 participated in the workshops,  coordinated by Lori Marron Sherman, A-C Valley Gifted and Talented Director.
In the afternoon, Attack Theatre performed a 40-minute assembly dance performance, Leap Into Action, for the Gifted and Talented students and all A-C Valley High School students 7-12.
On Thursday, March 26, at 7:00 PM  the Attack ensemble returned to perform an "Informance" of Leap Into Action – A Look Behind the Curtain – for a community audience in the A-C Valley High School Auditorium.
As part of this initiative, A-C Valley students performed a dance inspired by the 2014-15 dance education program in a spring choir concert conducted by A-C Valley Choral Conductor Jennifer Lowrey.
Another goal of ARCA's ArtReach program is to bring attention to arts instruction already flourishing at A-C Valley and provide new public opportunities to showcase students' talents.  As part of Dancing off the Canvas, an exhibit of art works by A-C Valley art students inspired by the dance was displayed in the second floor exhibit space of The Red Brick Gallery and Gift Shop in downtown Foxburg on weekends, Friday through Sunday from April 10 – 19. Working with Donna Edmonds, Red Brick Gallery Director,  Anita Allen, A-C Valley Art teacher and Director of the Art Club, guided the students in creating and preparing art works for display in the exhibit.