Brian Lowry
Keyboards, Accordion, Hammered Dulcimer
Kelly Lowry
Vocals & Percussion
Caitlin Lowry Shegog
Vocals & Bodhran
Benjamin Lowry
Bass, 6-String Guitar, Vocals
Joshua Lowry
Fiddle, Mandolin, Banjo, Vocals
Daryl Hartman
Vocals, 12-String Guitar, Mandolin
Jonathan Shegog
Highland pipes, small pipes, Vocals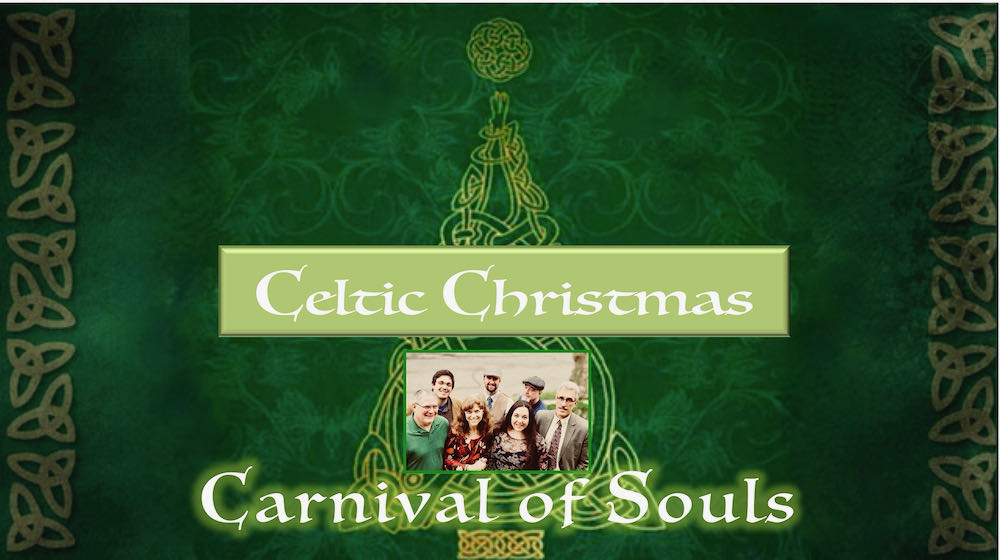 'Nollaig Shona Duit' means 'Happy Christmas to you'
A traditional Irish Christmas blessing:
'May peace and plenty be the first
to lift the latch on your door,
and happiness be guided to your home
by the candle of Christmas.'
Experience the warmth and festive glow of being 'home for the holidays' as the Lowry family and CARNIVAL OF SOULS  bring a family-friendly concert with heart-warming traditional Christmas songs fused with reels and jigs and moving interpretations of traditional Christmas songs of worship, friendship and love in their performance – A Celtic Christmas in Foxburg's Lincoln Hall on Sunday, December 4 at 4:00 PM.
PLEASE NOTE that this concert is SOLD OUT with a waiting list. Carnival of Souls will returning to Lincoln Hall for their St. Patrick's Day program next season on Saturday, March 18, so be sure to reserve or buy tickets early!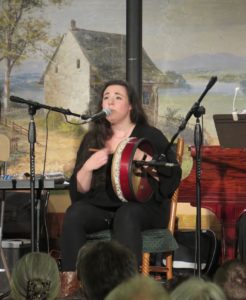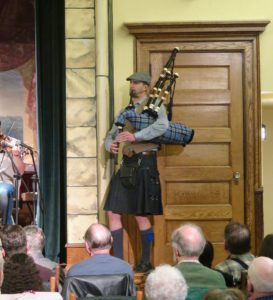 And all performed on a mix of non-traditional and traditional Celtic instruments – from the call of the highland bagpipes to the bodhrán drum, tin whistle, flute, guitars, accordion and keyboard — AND small jingle bell instruments for the children to play when they are called up front to join in the musical merriment!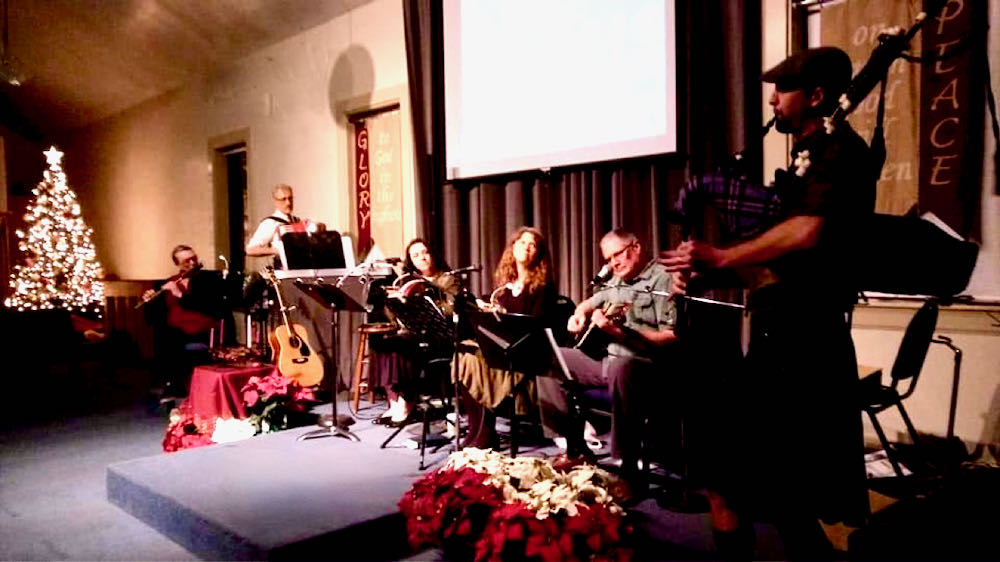 With vocals including Christ Child Lullaby, Come be Merry, Shepherds and Lassies and A Night in Bethlehem plus virtuosic instrumentals, your hearts will be warmed and filled with the miracle of Christmas as you join them in a carol sing-along at the conclusion of the concert.
Post-COVID, open theatre style seating has returned to 100% capacity.  There is no mask requirement. Please refrain from attending if you are ill or if you have been exposed to anyone with COVID.
ARCA is grateful for the generous donation of Ronald and Judy Montgomery sponsoring the Carnival of Souls Celtic Christmas concert. 
Tickets are Adults $20, Students $5, and children under 6 Free.  Buy online here – or Pay  cash or check at the door.  Call to Reserve: 724-659-3159

ARIVE EARLY & EXPLORE FOXBURG!
Plan to Make a Day of it in beautiful Foxburg and get some Christmas Shopping done at the Red Brick Gallery!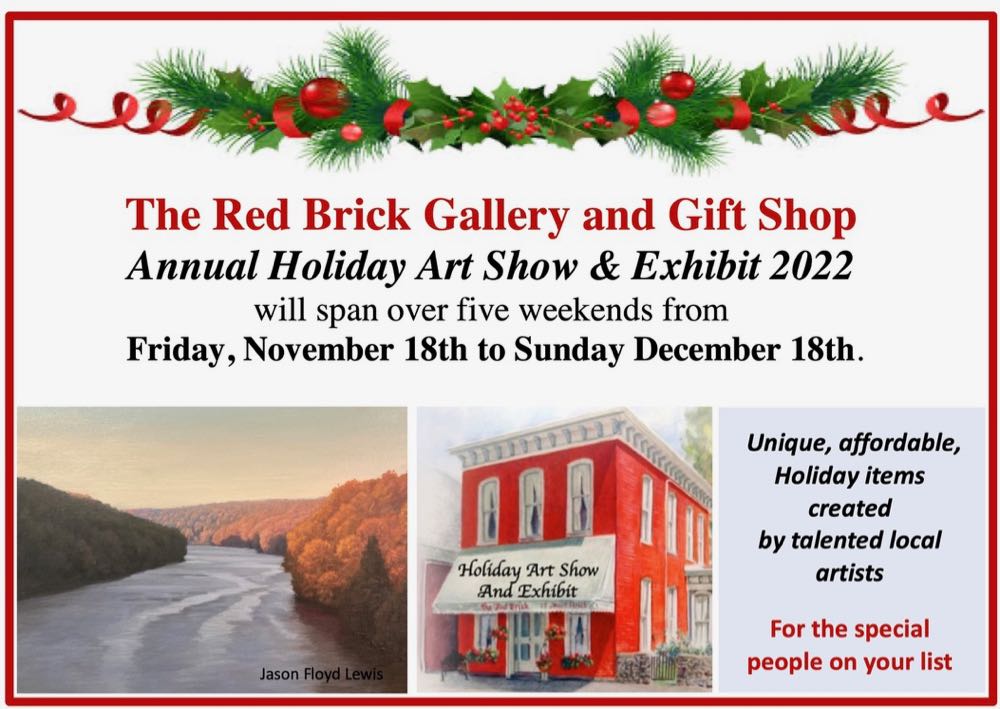 Visit Foxburg this season, glittering with Christmas decorations and shop locally for one-of-a-kind gifts for those special people on your list.  The Red Brick Gallery and Gift Shop Annual Holiday Art Show & Exhibit will be open before the Carnival of Souls Celtic Christmas concert on Sunday, December 4 from noon to 5 PM for your Christmas shopping – to find an early holiday gift for that special person on your list from the first floor offerings of talented Cooperative Artists from the region.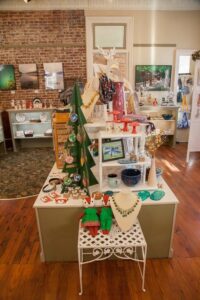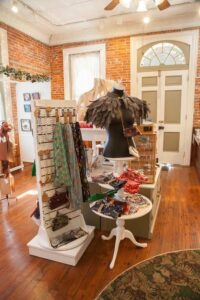 Original, high quality, artisan-made gifts created by Red Brick Gallery Cooperative Member Artists will be for sale on two floors of the gallery in a variety of media: Silver and gemstone jewelry, hand woven scarves and rugs, hand-turned wooden vases, rustic wooden tables and natural wood cutting boards, wearable art, hand-made baskets, oil and watercolor paintings, pencil drawings, fine art photography, and greeting cards. There will be something for everyone on your holiday list, and maybe even a few items for yourself!
Current members of the Red Brick Gallery Artist Cooperative are Cheri-Lee Anderton-Yarnell, Jeffrey Calta, Mark DeWalt, Donna Edmonds, Angela Taylor Hardwick, Andy Johnson, Nick J. Karellas, John M. Karian, Dennis Keyes, Jason Floyd Lewis, Karen Mortland, Nissa Rappoport, Linda Thompson, and Cathy and Jack Trzeciak.
Make It a Foxburg Holiday Outing!  Combine your trip with lunch or dinner at The Allegheny Grille or  Foxburg Pizza, do wine tasting and some shopping at Foxburg Wine Cellars, buy chocolates to put under the tree and enjoy gourmet chocolate and specialty coffee at Divani Chocolatier and Barrista to fortify your spirits – or plan to stay Saturday or Sunday night at the newly renovated, romantic Foxburg Inn – reserve early and get the room with the fireplace! Or plan to spend the night up the river at Emlenton's bed and breakfast,  The Barnard House.
ABOUT CARNIVAL OF SOULS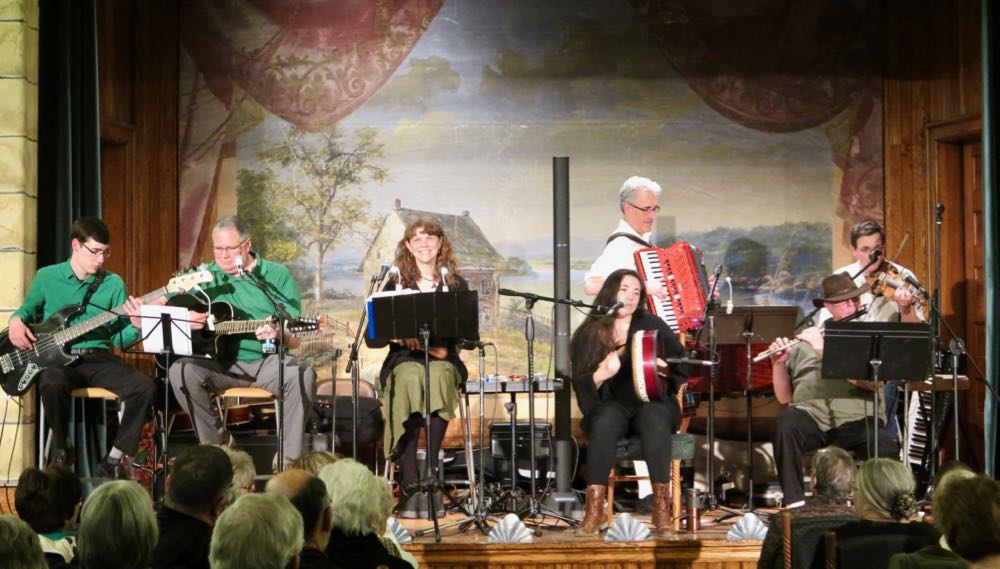 CARNIVAL OF SOULS has been performing traditional and original Celtic music in Western Pennsylvania, eastern Ohio, and West Virginia for nearly twenty years. The group uses a wide variety of traditional and non-traditional instruments to produce a rich range of music that would be at home in a pub in Dublin or a coffee shop in Shadyside.
Led by Brian and Kelly Lowry the band features highland pipes, bodhrán drum, 12 string and bass guitar, mandolin, fiddle, accordion, and keyboard along with high spirited vocals.    Their first CD, "No Scone Unburned" was released in 1999 and has been acclaimed by Dirty Linen, the international magazine of folk music, and is in the Irish music archives in Dublin. They can be heard at a variety of venues in the tri-state area.
You can listen to their music from their CD No Scone Unburned – "Forty-two Pound Checque and Wind that shakes the Barley: – and more samples of No Scone Unburned and their second CD, SconeHenge, through CD Baby.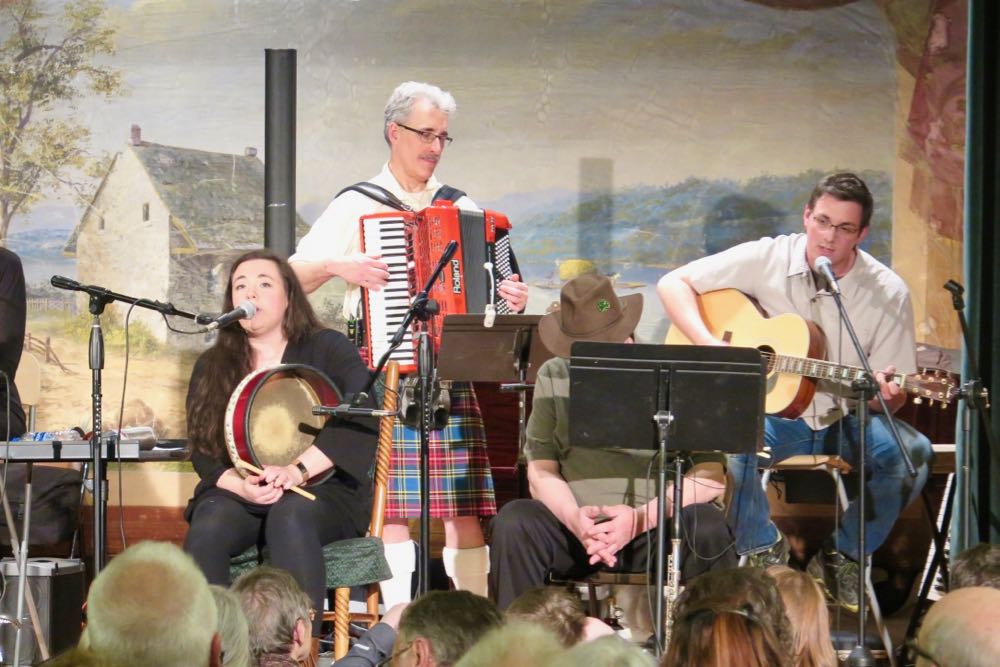 The band includes talented members of the extended Lowry family.  The band members are:
Roy Abbott – flute
Daryl Hartman – vocals, 12-string guitar, mandolin
Brian Lowry – keyboards, accordion, tin whistle, hammered dulcimer
Kelly Lowry – vocals, percussion
Jonathan Shegog – Highland pipes, small pipes
Caitlin Lowry – vocals, bodhran, keyboard
Benjamin Lowry – bass, six-string guitar, vocals
Joshua Lowry – fiddle, mandolin, banjo, vocals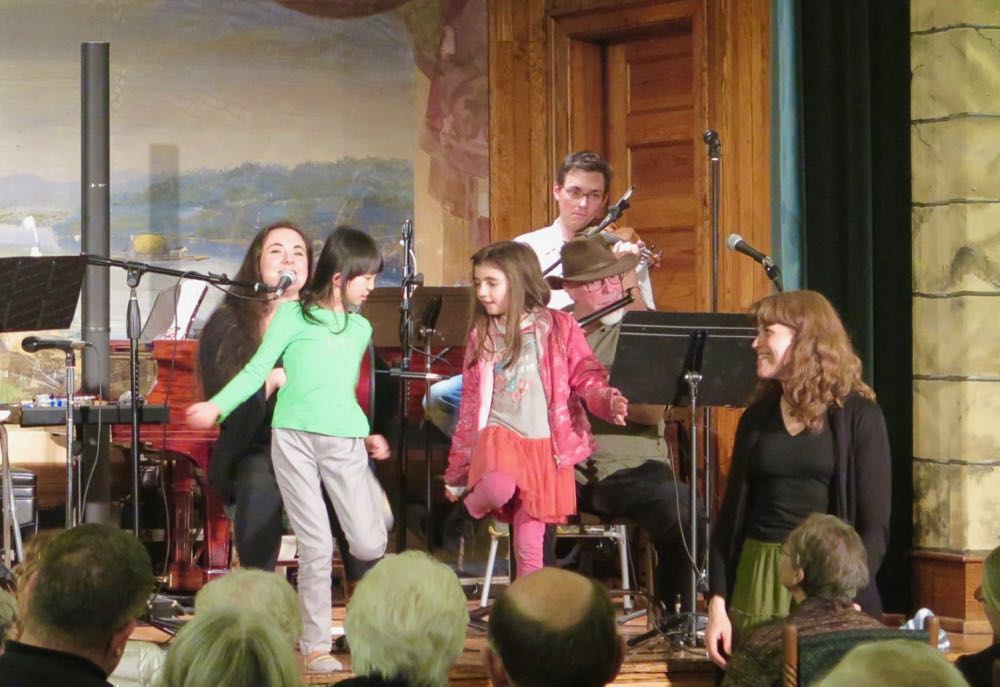 By reserving tickets at 724-659-3153, you can experience the joyous and heart warming music making of the Lowrey family and Carnival of Souls in their Celtic Christmas concert. Their musicianship has been hailed as creative and with tight arrangements in reviews of their CD – "No Scone Unburned":
Dirty Linen
"… it's when the band gets creative that their sound gets most interesting. There are dreamy arrangements of "Lagan Love" and "She Moves Through the Fair" with echoing keyboards and rainsticks, a version of "Bogie's Bonnie Bell" with a rythmic variation that turns it into a sad calypso, and a rocking hammered dulcimer reel set.
The Pittsburgh Tribune/Review 
"…Arrangements are tight, and the songs bristle with tin-whistles, accordion and galloping bodhran, an Irish drum played by vocalist Bob Hartman. The band proves equally adept at pint glass-rattling rave-ups such as "Allistrum's March" and the lush, languid American Indian ballad "Shenandoah"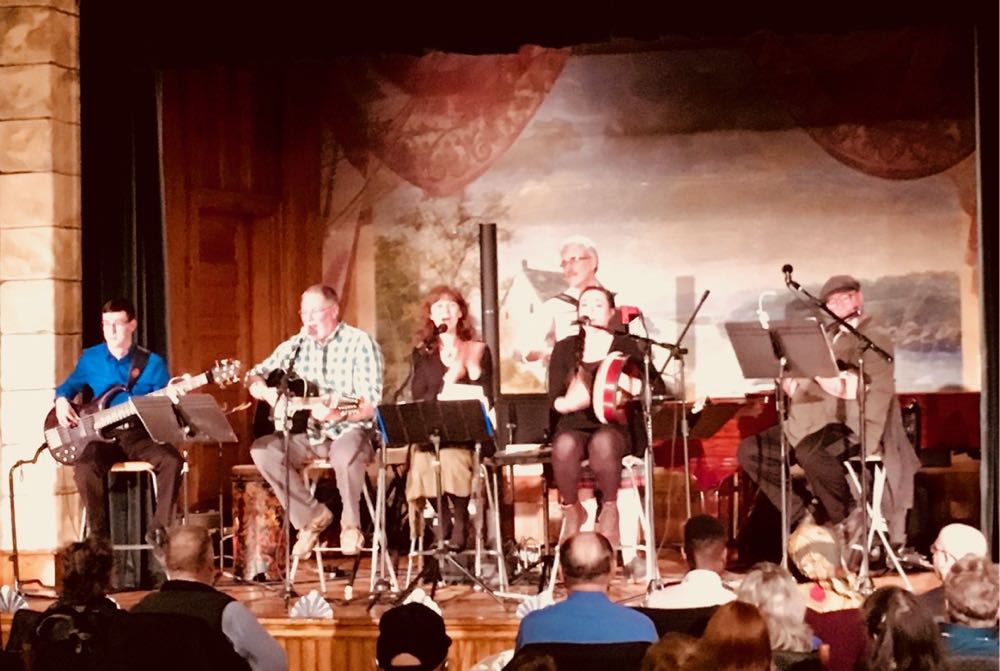 Celtic Christmas Traditions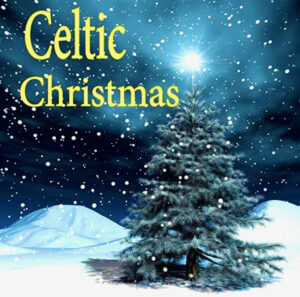 Christmas has been marked in Ireland since St. Patrick brought Christianity to the island in the fifth century.
Over the centuries, pagan Celtic customs merged with Christianity to produce some uniquely Celtic Christmas traditions
Celebrating Christmas with the traditional trappings that go with this festive season have roots that go far back into Celtic history.
The Mistletoe gathered by the Druids for its magical and health giving properties.
The Yule log burnt by the Celts to counter the darkness of mid-Winter when they thought the sun stood still for twelve days and to bring good luck.
The Holly and Ivy –  evergreens that Celts saw as important to keep evil spirits at bay.
Some Celtic Christmas Customs
A Candle in the Window
As well as a throw-back to the ancient Celtic custom of using fire to celebrate the turning point of the year, this tradition is said to be aimed at welcoming travellers to your home. The candle in the window marks the way to warmth and hospitality to anyone who finds themselves, like Mary and Joseph in the New Testament, without a place to stay at Christmastime.
Greenery
The druids of the ancient Celtic world used evergreen branches to symbolize the eternal nature of the human soul. In Christian times, the tradition of bringing evergreen branches into an Irish home has continued as a symbol of the eternal life brought about by Christ's resurrection. In Celtic countries, evergreen branches such as holly and yew are more traditional than the German custom of bringing an entire tree into the home.