Tom Roberts
Conductor & Pianist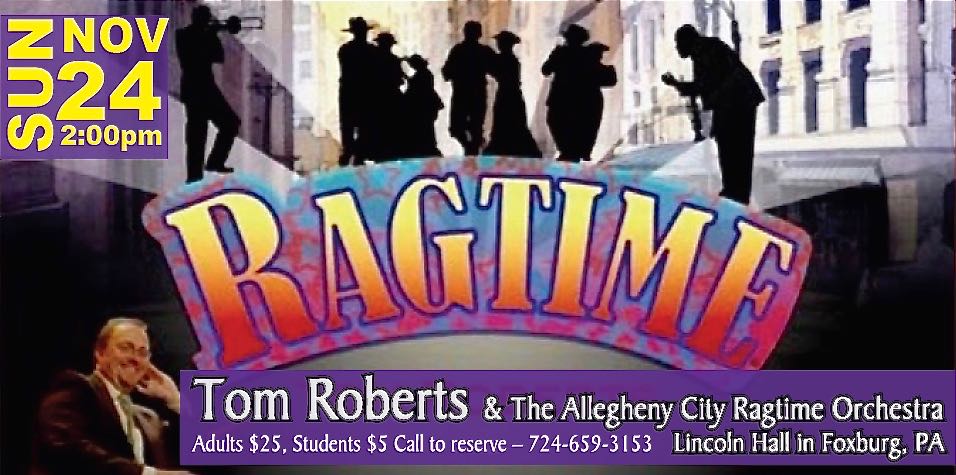 Begin your Thanksgiving holiday week in Lincoln Hall with the exuberantly joyous Ragtime music of the eight-piece Allegheny City Ragtime Orchestra, led by world renowned stride pianist, accomplished composer and musical archaeologist Tom Roberts, on Sunday, November 24, 2019 at 2:00 PM.
Tom Roberts will reintroduce audiences to the forgotten ragtime composers of Pittsburgh, sharing an extraordinary trove of hidden musical gems he has unearthed. In this unique concert, The Allegheny City Ragtime Orchestra will perform compositions from the original orchestrations of the great composers of the ragtime era, including: Scott Joplin, James Scott, Joseph Lamb and Tom Turpin.
Be charmed and uplifted as Tom Roberts, recognized as one of the leading authorities on ragtime, stride and early jazz piano in the world, brings back the Allegheny City Ragtime Orchestra to Lincoln Hall in Foxburg.
The concert also will honor the memory of the late Patricia Ann Steffee, long time Board member and ARCA founder, who was a great fan and friend of Tom Roberts. This concert is lovingly sponsored by generous gifts in memory of Patricia Steffee from Ronald and Judith Montgomery and Dr. C. J. and Susan Sutherland.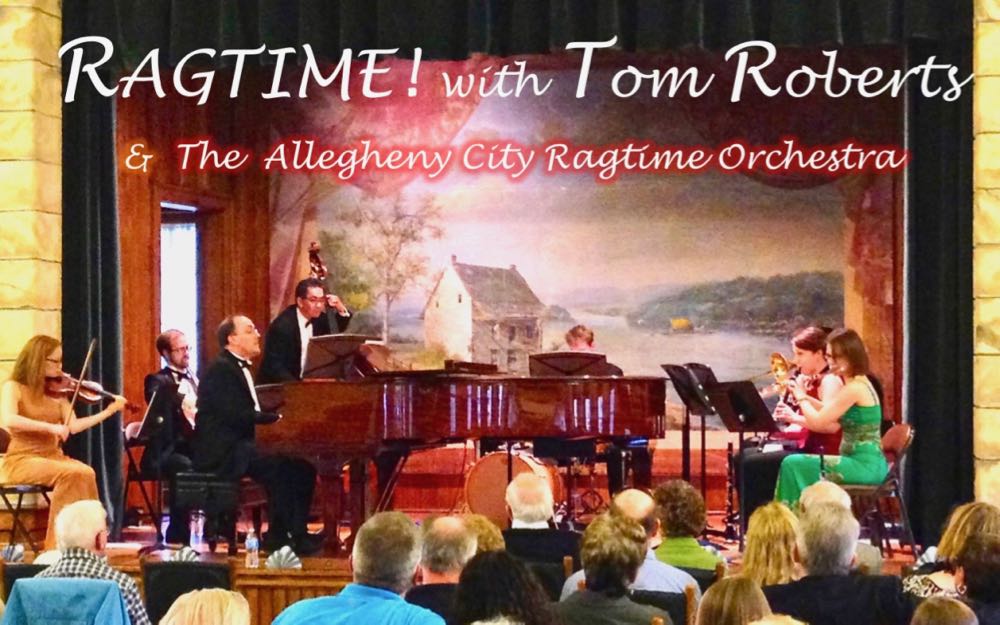 Before the Thanksgiving holiday, what could be more American Apple Pie than feeling the "ragged" rhythms of Ragtime that uplifted the spirits of a generation a hundred years ago – and that most likely was performed a hundred years ago in Lincoln Hall in Foxburg, founded in 1909 by the Fox family (which date is seen at the top of the stage proscenium).
Leave refreshed and ready for the holidays with a spring in your step, having enjoyed this delightful program with your family and friends, which received rave reviews on its last performance for ARCA in 2014 and everywhere it has been performed.
 Tickets are Adults $25, Members $20 and Students $5.  To reserve tickets, call 724 659-3153.
The Allegheny City Ragtime Orchestra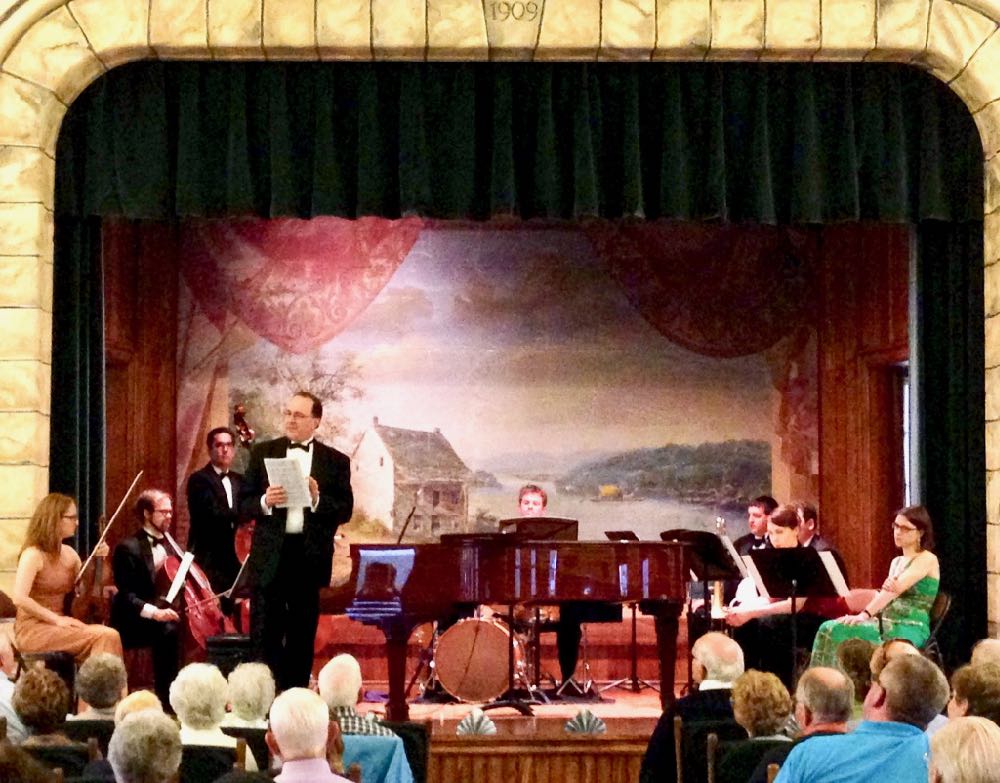 The Allegheny City Ragtime Orchestra returns to Lincoln Hall with delightful program host Tom Roberts providing commentary on the roots of Ragtime and its unique connection to Pittsburgh and western Pennsylvania.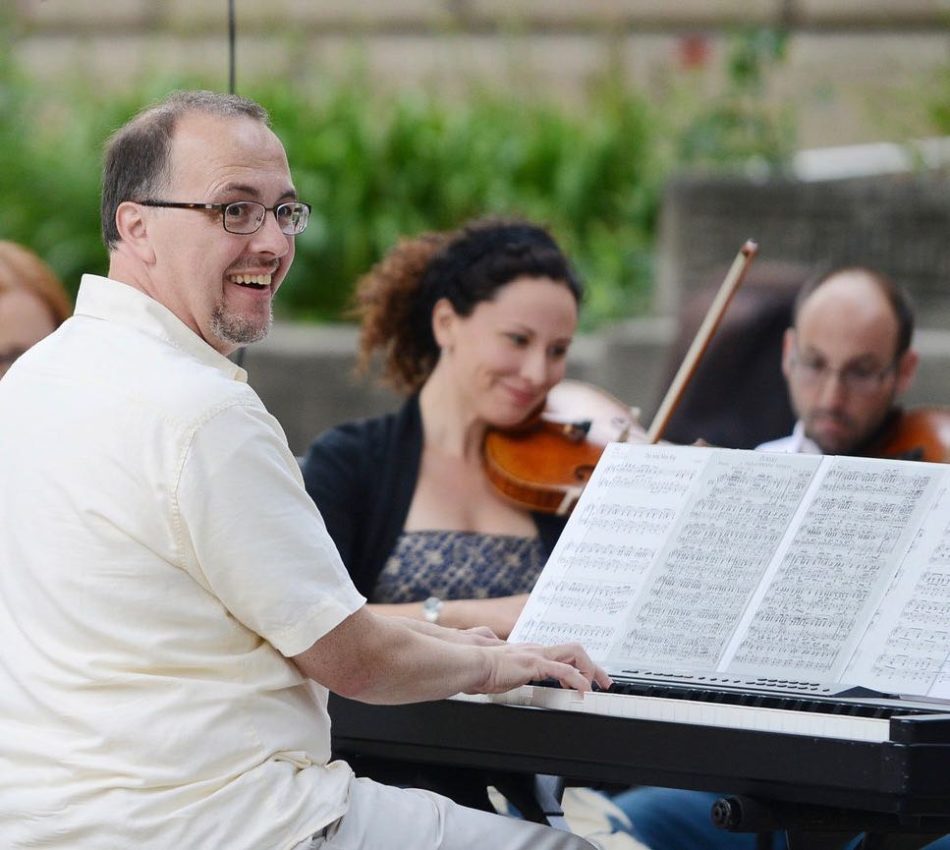 Formed in 2013, The Allegheny City Ragtime Orchestra takes its name from Allegheny City, known today as Pittsburgh's North Side. The orchestra is dedicated to restoring the lost history of the ragtime era in Pittsburgh. The ensemble will perform recently rediscovered compositions by Pittsburgh composers from the turn of the 20th century. These works have not been heard in almost 100 years… around the time of the founding of Lincoln Hall by the Fox family in nearby Foxburg.
In addition, the ACRO will perform Latin American-inspired pieces by composers from Harlem's Clef Club, an African-American musical organization formed by James Reese Europe in the 1910s. The concert will also feature compositions by composers from Latin American countries who were inspired by American Ragtime music.
Tom Roberts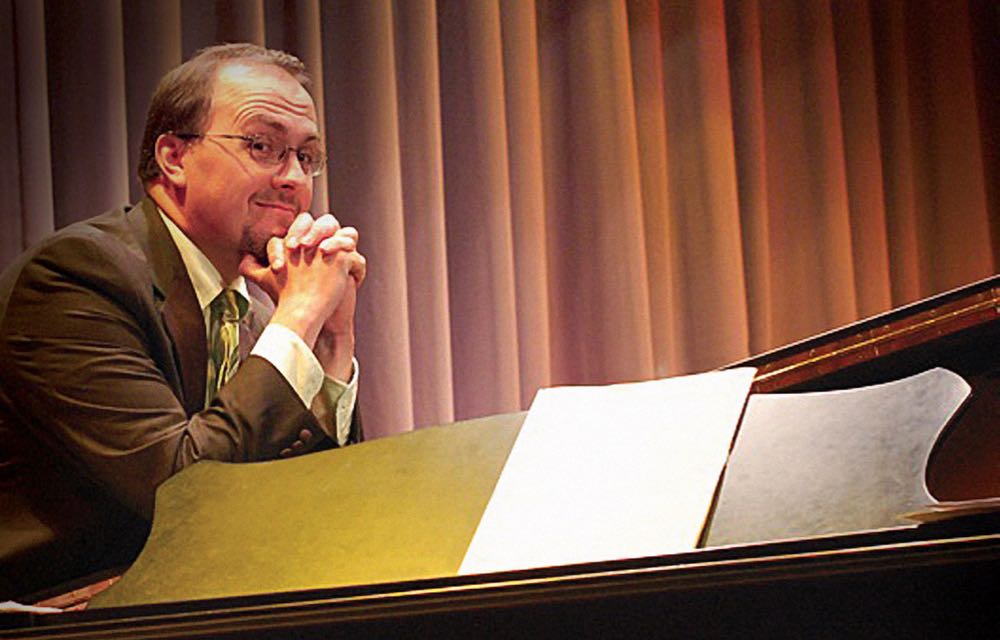 " … In our humble opinion Tom Roberts is without question one of the finest pianists today in the exciting Harlem stride piano style…"          JazzBeat Magazine
Tom Roberts is one of the leading exponents of early jazz piano in the world today, (as stated by Ricardo Sciavales in The Heart and Soul of Stride, Blues, and Swing Piano).
Tom has performed on The Tonight Show with Johnny Carson, The Statler Brothers Show on TNN and A Prairie Home Companion with Garrison Keillor.  He was the featured pianist at the International Stride Piano Summit in Zurich, Switzerland, 2001 and 2009.  Tom was the pianist for Vince Giordano and the Nighthawks in New York City (recent Grammy winners for the soundtrack to Boardwalk Empire) and the pianist and musical director for Leon Redbone for six years.
Originally from Pittsburgh, Tom played in all the major jazz clubs in the French Quarter and on the riverboats of New Orleans when he lived there from 1989 to 1994. Tom has performed twice at New York's Carnegie Hall in 2003, once with Skitch Henderson and the New York Pops. He was featured in 2003 in solo with Dick Hyman at the prestigious Jazz In July series at New York's 92nd St. Y. Tom has performed multiple times at The New Orleans Jazz and Heritage festival including a solo performance at The Professor Longhair Society's Piano Night At Tipitina's. He has performed throughout Europe as a member of multiple ensembles from New Orleans and as a member of The Ortner Roberts Duo.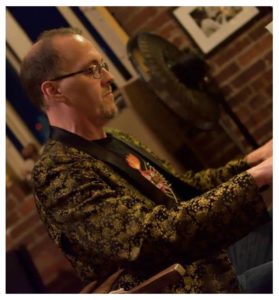 Roberts has arranged and performed music for the soundtrack of the Martin Scorcese film The Aviator as well as several titles for the film DeLovely; for the syndicated PRI show Riverwalk Jazz, Live from the Landing with the Jim Cullum Jazz Band; and a number of pieces for Wynton Marsalis and The Jazz at Lincoln Center Orchestra for a concert of the music of Louis Armstrong in October 2006.
Recently Tom has composed new musical scores for Charlie Chaplin films including One A.M., The Rink and Silent Picture Show. In a past season in Lincoln Hall for ARCA, Tom Roberts performed Chaplin's The Rink, The Pawn Shop and The Kid Auto Race for a Halloween costume event.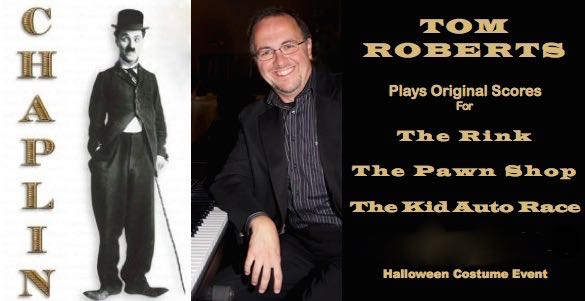 Tom has recorded over 40 albums and has performed throughout the United States and Europe.
He continues to tour worldwide and perform with bands from New Orleans and New York, including the Original Dixieland Jazzband and the Lousiana Repertory Jazz Ensemble.
Besides his pianistic artistry Tom is a versatile music historian with special focus on the Early Jazz era . He has contributed articles for magazines such as Piano Today and is a frequent guest at National Public Radio.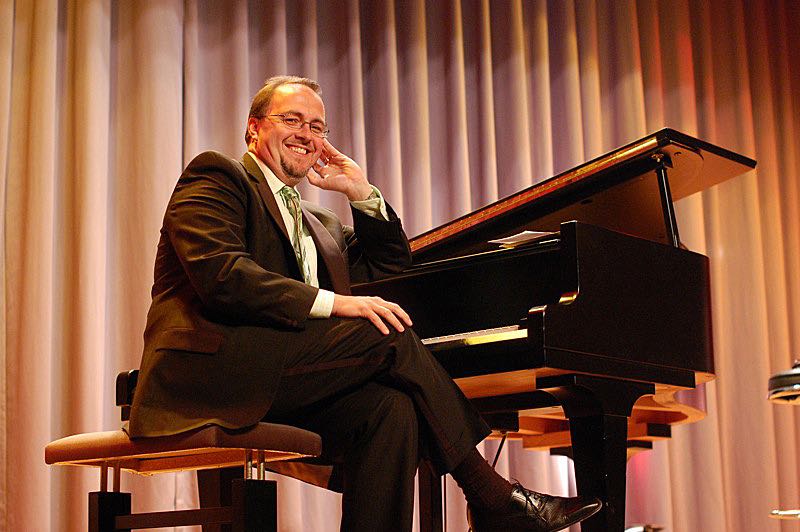 RAGTIME!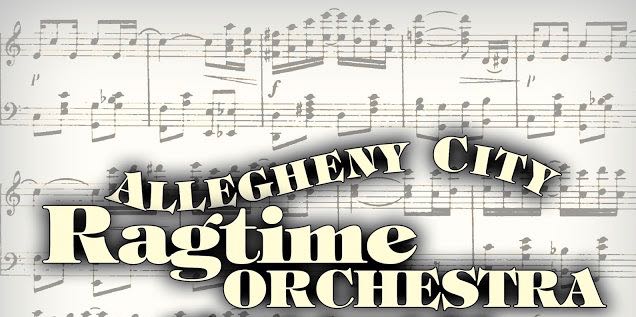 Resilient is one word often used to describe the spirit of our nation and its citizens.  One can easily reflect back upon the many tragedies this nation has endured and marvel at what 'will' and 'true grit' can overcome.  "The First Shot" is a common theme, whether it happened at Lexington, Fort Sumter, Pearl Harbor or New York City on 9/11.
American challenges also have come in the form of economic crashes, panics and depressions.
In times of crisis, one of ways the spirit of the nation has been lifted is through music. Often, a uniquely American form of music has arisen at these times to get people excited about their cause, lift their spirits and simply help them forget about the worries of the day.  In other words, it created a passion, sometimes described as a "craze that swept the land."  In the same fashion that America exported goods around the world, some of these musical forms swept the globe.  Think jazz, think big bands and in case you were not aware—think Ragtime!  Yes, Ragtime, that bouncy, toe-tapping, American syncopated music and dance form that crossed oceans was an earlier musical version of "Don't worry, be happy!"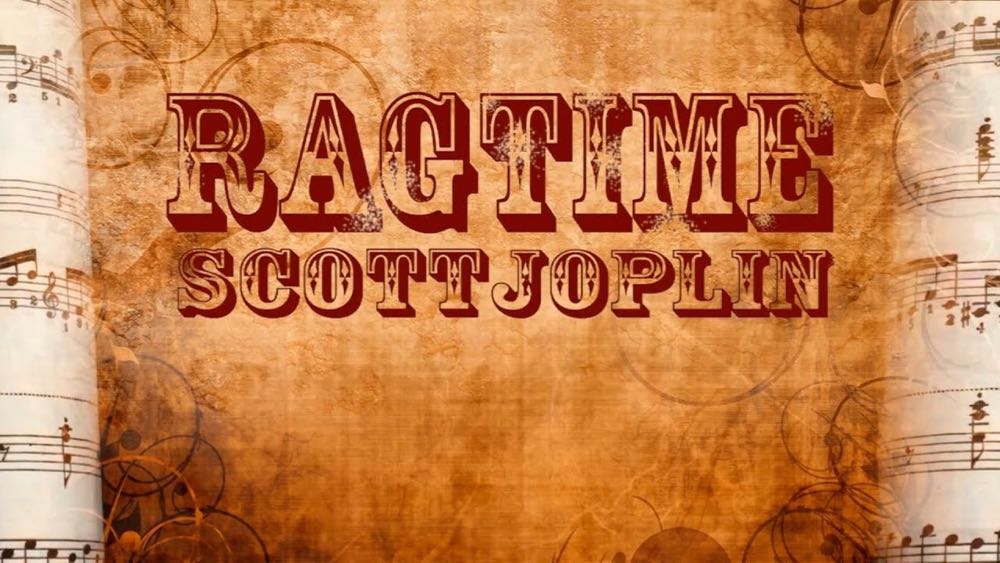 Back in 1893, our country suffered a "bust" or depression brought on by overbuilding and the shaky financing of railroads.  It lasted a few years, much like what we experienced after the market crash of 2008.  Music, specifically Ragtime, took America by storm.  Its main characteristic trait is a "ragged" rhythm.  Before being published as popular sheet music for piano, it began as dance music in the red-light districts of African-American communities in St. Louis and New Orleans.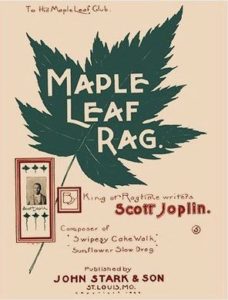 We readily think of Scott Joplin and his popular hits like the Maple Leaf Rag, but it is Ernest Hogan, a key pioneer in developing the genre, who is credited with coining the term Ragtime.   Ragtime was also a modification of the march made popular by John Philip Sousa, incorporating additional polyrhythms coming from African music.  In our time, the motion picture The Sting brought ragtime to a wide audience with its soundtrack of Joplin tunes.
More surprising may be that Western Pennsylvania has produced notable composers and performers of this style! Tom Roberts, originally from Pittsburgh and recognized as one of the leading authorities on ragtime, stride and early jazz piano in the world, has discovered ragtime compositions by Pittsburgh composers from the turn of the twentieth century… works that have not been heard in almost 100 years.
Our great fortune is that Tom Roberts, one of the most influential and accomplished pianists of our time, will be bringing the eight-piece Allegheny City Ragtime Orchestra (ACRO) back to Lincoln Hall in Foxburg on Sunday, November 24 at 2:00 PM to charm and uplift our spirits with this infectiously joyous music.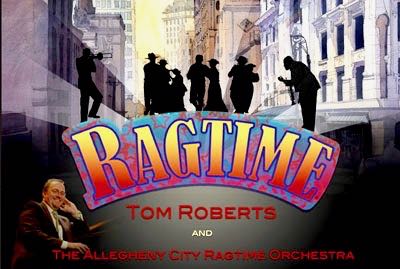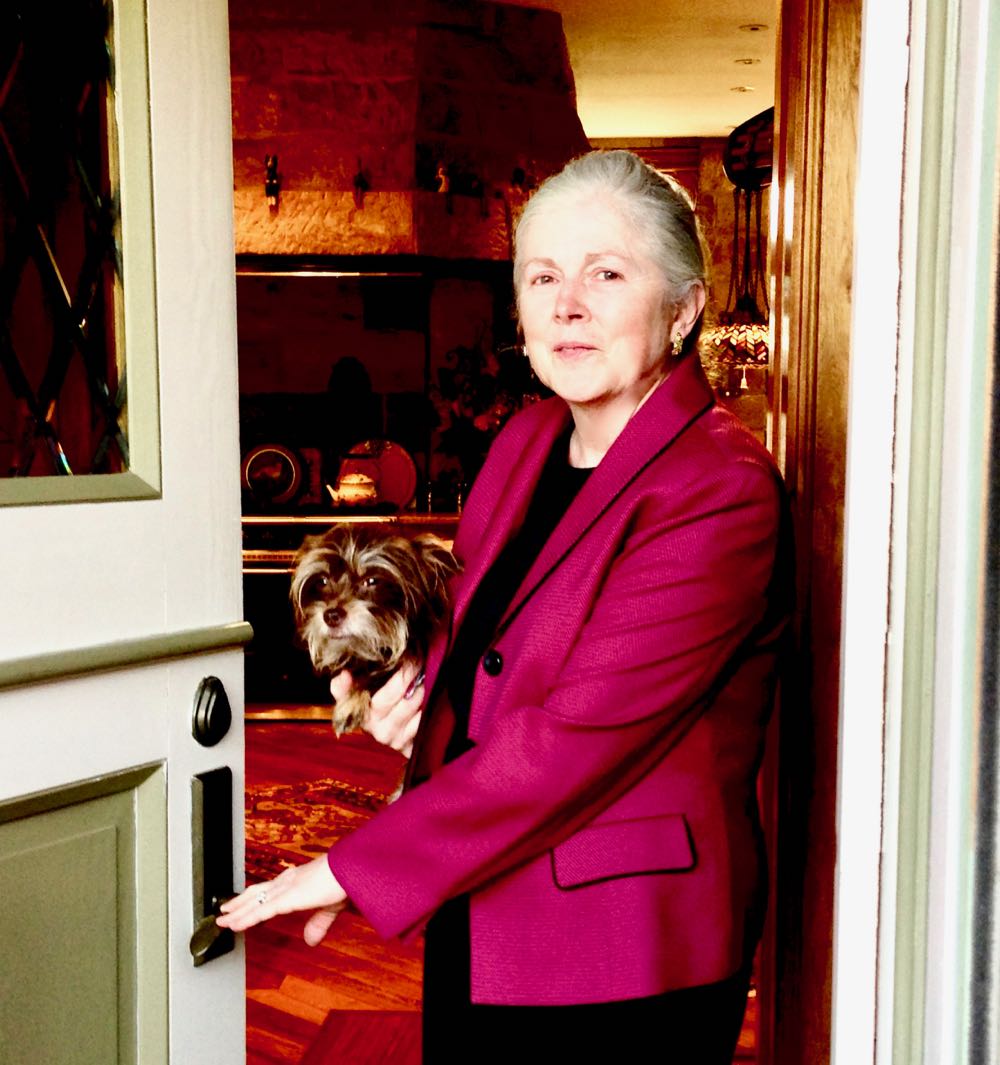 On April 20, 2018 Allegheny RiverStone Center for the Arts lost its beloved founder and dedicated Board member, Patricia Ann Steffee.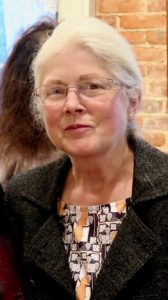 To pay tribute to the memory of this loving woman and devoted ARCA patron, Allegheny Riverstone Center for the Arts will present the second annual Patricia Steffee Memorial Concert on Sunday, November 24 at 2:00 PM in Lincoln Hall performed by The Allegheny City Ragtime Orchestra and Tom Roberts, for whom Patricia was a fan and friend.
This glorious afternoon enjoying the uplifting rhythms and melodies of Ragtime in Lincoln Hall will offer those who knew and loved Patricia Steffee a moment of to reflect and remember Patricia's many years of tireless work, multitudinous contributions and deep caring for ARCA, its Members, its audiences and the beautiful music and art presented during its first twelve years.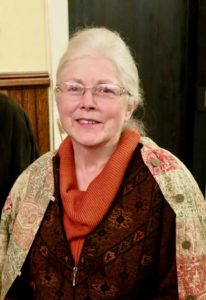 The beloved, gentle soul, Patricia Ann Steffee, passed away peacefully on Friday morning, April 20, 2018, at St. Vincent Charity Hospital in Cleveland, Ohio where she and her husband, orthopedic surgeon, Dr. Arthur D. Steffee, had served to heal so many people over the years.  Patricia was a registered nurse who worked professionally together with her husband performing spine surgeries in Cleveland and in 35 countries around the world, before they chose to make their home in Foxburg.
Born on June 16, 1948 in Owasso, Michigan to Harold and Rose Marie Bishop, Patricia was the second of twelve siblings and a second mother to all the children after the untimely, early passing of their mother. Throughout her life, Patricia continued her ministry to humanity, selflessly devoted to helping her immediate and extended family, her patients and anyone in need.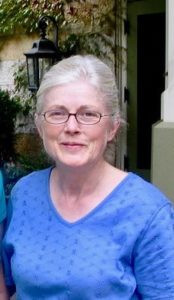 A concerned, loyal friend and wise counselor, Patricia will be greatly missed by all who experienced her humble kindness and deep compassion.  All who knew Patricia treasured that she welcomed everyone she encountered with an open, kind, loving heart and warm smile.  A true lady, epitomized by quiet grace and elegance, Patricia was a peace-maker.  With seemingly endless patience, she always saw the goodness and best in people.  A deep listener and encourager of others, Patricia was never heard to say an unkind word about anyone… an inspiring role model for many.  Her healing and tender caring extended to her friends, family and all creatures fortunate to be loved by her – her treasured dogs, lambs, cows, goats and alpacas.  Patricia loved all and was loved by all.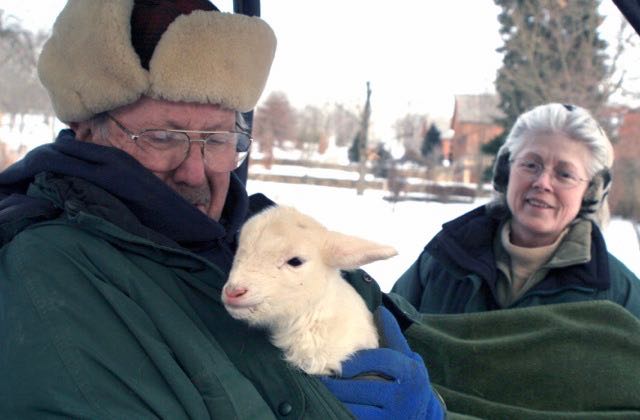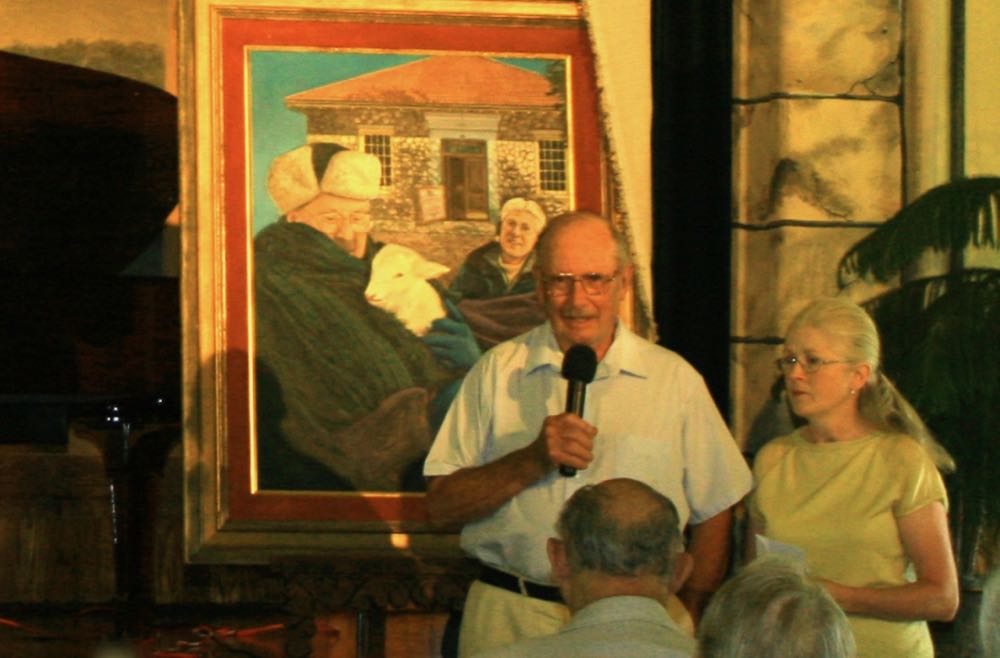 Never claiming anything to her own credit or drawing attention to herself, Patricia shared her expertise graciously and modestly.  Her exquisite artistic taste and tireless work together with her husband Arthur resurrected the original vision of the Fox family, restoring the RiverStone mansion, gardens and estate and developing the buildings and businesses in the village of Foxburg – including Allegheny RiverStone Center for the Arts' Lincoln Hall, atop the Foxburg Free Library.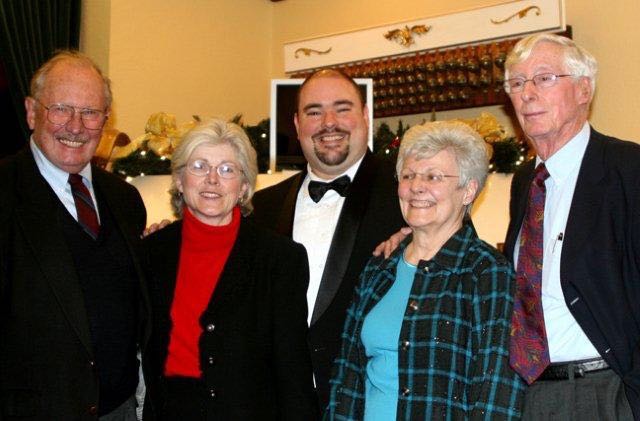 Acting as historian, she and her husband collected memorabilia and documents of the rich history of the founding Fox family.  More than the buildings and businesses they created, Patricia and Arthur envisioned building a community and bringing together like-minded people to appreciate the natural beauty of the Allegheny-Clarion River Valley – and each other.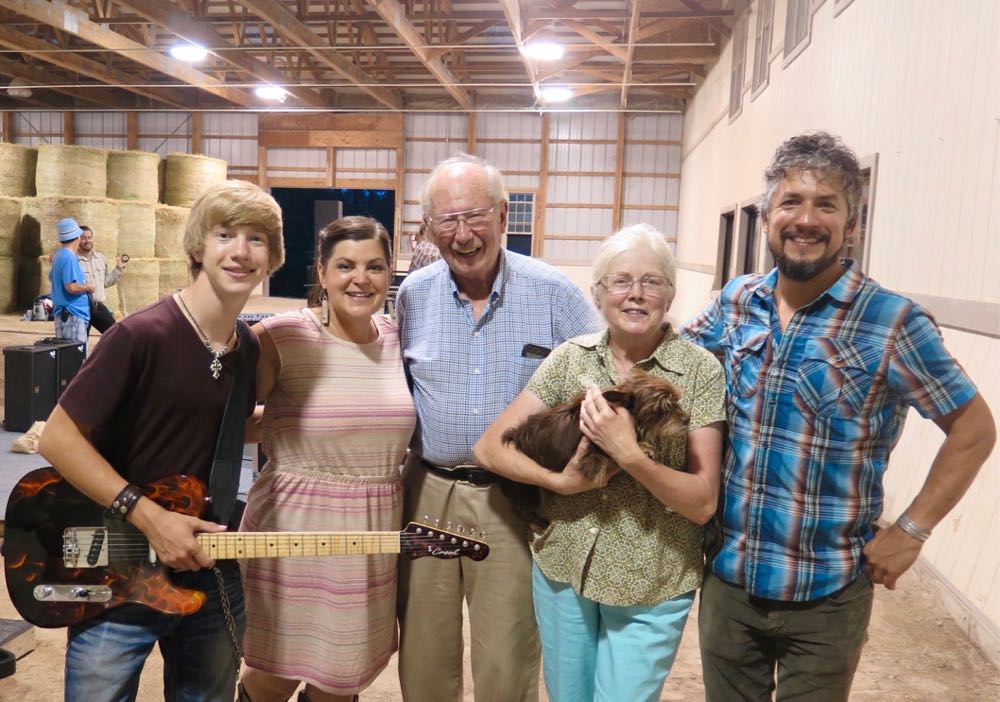 Patricia wore her abundance and wealth with humility and grace.  Her unselfish and boundless generosity with her husband Arthur – a gift to many – was like none we've ever known. Over the years, she and her husband Arthur opened their home at RiverStone to benefit community organizations and Allegheny RiverStone Center for the Arts, for which Patricia was a founder and served tirelessly as a dedicated and devoted Board Member.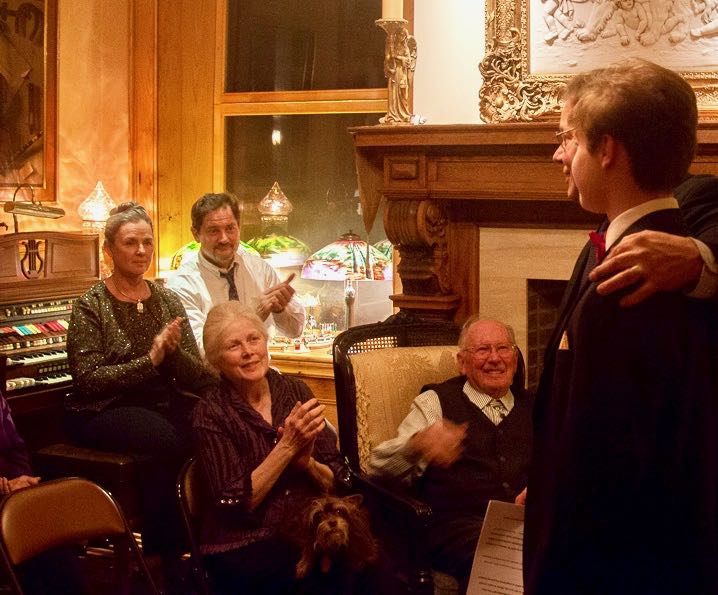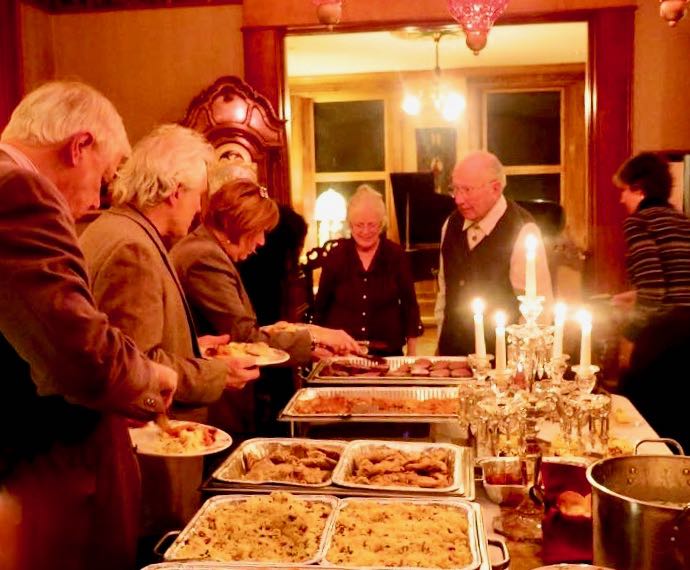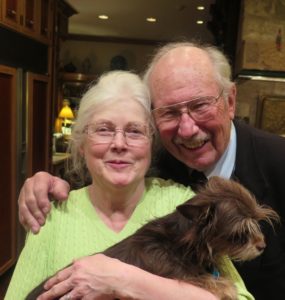 Patricia is survived by spouse Dr. Arthur D. Steffee, step-son David and Laura Steffee and grandchildren Sydney, Abigail and Dawson, sister-in-laws Susan Steffee and Erica Steffee, and siblings Margaret Tokich, Dennis (Sally) Bishop, Georgine (Steven) Moores, Brenda (Joseph) Piecenski, Matthew (Kathy) Bishop, Regina (Frank) Pomiecko, Marie Brzeski, Eileen Gorey (David Bartniski), Anne Castielle, Paulette (Joseph) Gubbini, Aunt Alice Biltz, and many nieces, nephews, great-nieces and great-nephews.  She is preceded in death by parents Harold and Rose Marie Bishop, brother Timothy Bishop, and brother in laws Robert Tokich and William P. Steffee.