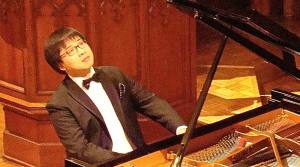 The brilliant artistry of young pianist, Alvin Zhu promises to delight the Lincoln Hall audience Sunday, April 27 at 2 PM.  Having just performed a recital at New York's Lincoln Center, Alvin Zhu will bring his big romantic style to works by Chopin, Grieg, Beethoven and Schumann. This  22 year-old award-winning and world-traveled multi-talented pianist and composer, will perform an eclectic recital program that has mesmerized audiences everywhere.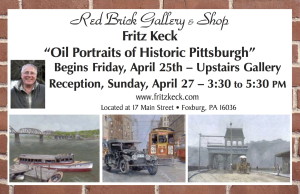 Young Steinway Artist Pianist, ALVIN ZHU, will perform on Sunday, April 27 at 2:00 PM at Lincoln Hall in Foxburg – with a reception in The Red Brick immediately following the concert, accompanying the exhibit of artist Fritz Keck, "Oil Portraits of Historic Pittsburgh".  After the concert, concert goers will meet the artist, Alvin Zhu, at a reception in the Red Brick Gallery and Shop located at 17 Main Street in Foxburg, as they view the first Red Brick Gallery exhibit of the 2014 season, "Oil Paintings of Historic Pittsburgh", featuring Pittsburgh artist, Fritz Keck.  
Alvin Zhu has won numerous awards and competitions, been a featured artist on NPR and been heard world wide in recital and as a soloist with orchestras in the United States, Canada and China.  His list of teachers and mentors is a who's who of the piano world.  Watch him on youtube as he plays Rachmaninoff Sonata No. 2 Op. 36, 1st Movement.
Born from a musical family, Alvin Zhu is continuing his grandfather Gongyi Zhu's genetic legacy as a great performing pianist. In the short time since he was inducted as the first American pianinst to the Young Steinway Artists Roster in 2009, his talent and maturity have further blossomed. He has performed internationally to consistent acclaim while he continues the 5 year Accelerated BM/MM program at the Juilliard School, which only admits the strongest students both academically and musically.
Alvin has swept audiences around the world from New York's Steinway Hall and Pittsburgh's Heinz Hall to Australia's Sydney Opera House, Lincoln Park's Performing Arts Center, Pittsburgh's Convention Center, Canada's Montreal Palais du Congress (Convention Center), China's Beijing Concert Hall, venues in Beijing, Shanghai, Taicang, Suzhou and cities in Europe.
A current student of Dr. Yoheved Kaplinsky at the Juilliard School, Alvin is a musician and a sensitive artist. As a child, he began lessons with his mother at the age of four and studied piano with Yeeha Chiu of Pittsburgh and Marylene Dosse. Alvin has had master classes with Gary Graffman, Emanuel Ax, Lang Lang, Murray Perahia, Leon Fleisher, Malcolm Bilson, Misha Dichter, Shikun Liu, and David Allen Wehr.
Tickets for Alvin Zhu on Sunday, April 27 at 2:00 PM  are Adults $25, ARCA Members $20, Students $10.