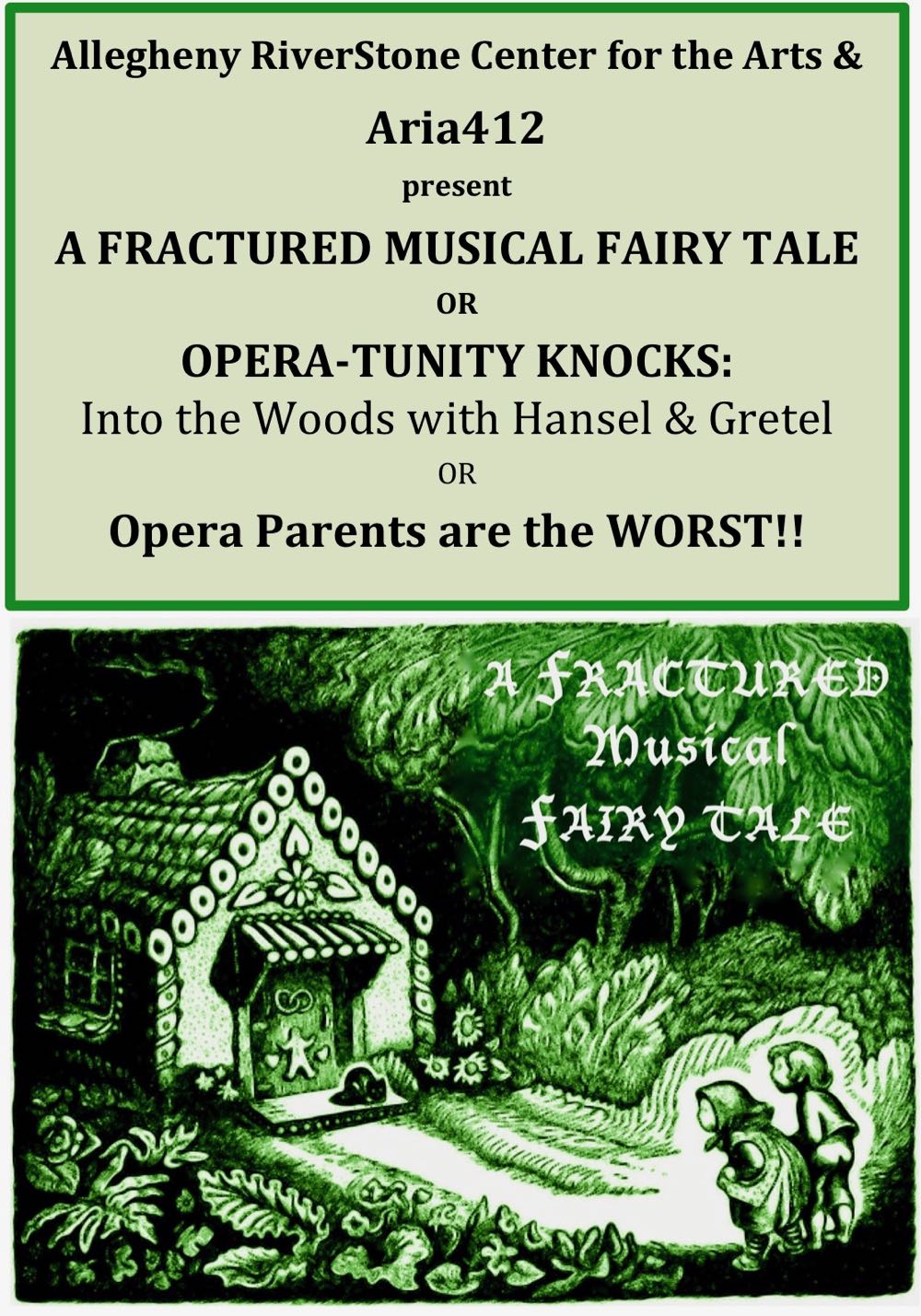 In 2019 Allegheny RiverStone Center for the Arts continued its successful Educational ArtReach program begun in 2009, bringing the celebrated opera-musical theatre ensemble Aria412 to perform an arts education residency in the Allegheny-Clarion Valley Schools on Friday, March 1, 2019.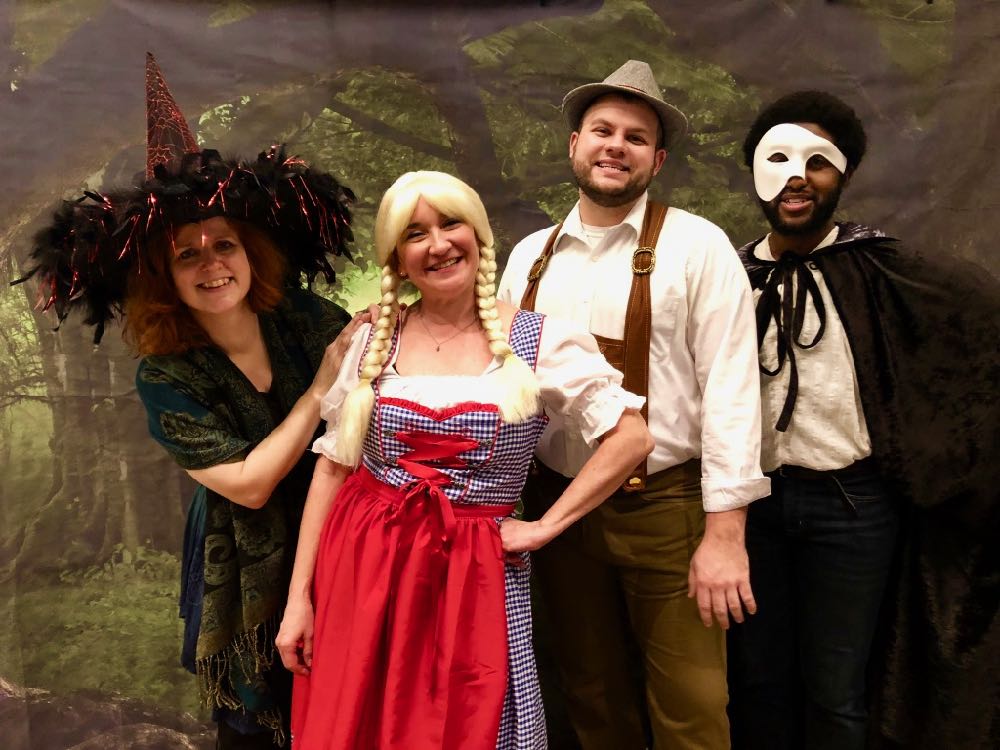 The Aria412 teaching artists – singers Desirée Soteres, Kelly Fiona Lynch, Kevin Adamik and Franklin Mosley and pianist Amy Kapp – conducted three small classroom workshops for students in grades 1 to 6 in the morning  – helping them discover how to take a deep singer's breath and learning about the characters and musical themes in the early afternoon assembly performance of "A Fractured Musical Fairy Tale".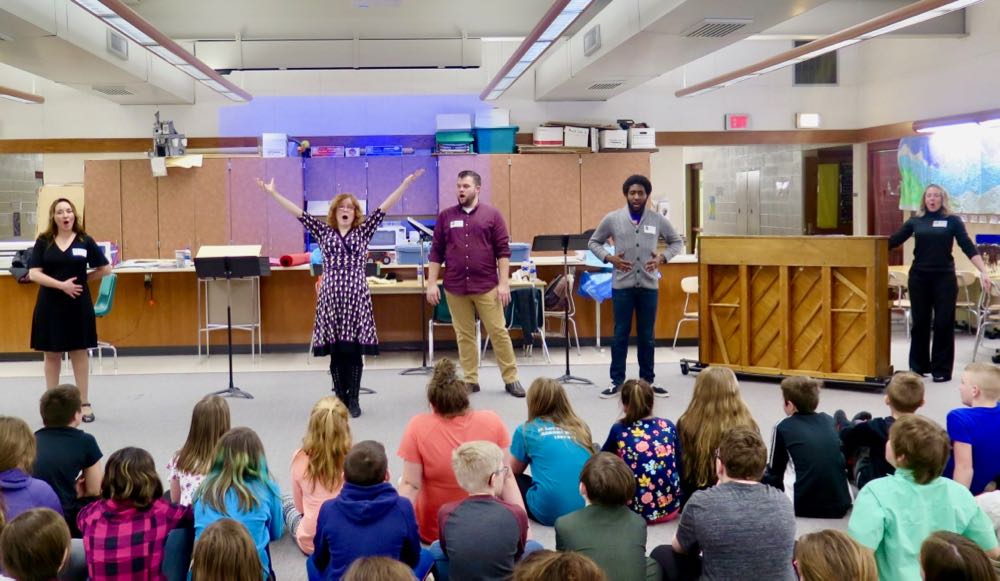 In the afternoon Aria412 performed in the A-C Valley Elementary gymnasium their original children's program, "A Fractured Musical Fairy Tale", based on the story of Hansel and Gretel for Grades K to 6 – followed by a second performance for Grades 7 to 12 in the Senior High School auditorium later in the afternoon.
A Fractured Musical Fairy Tale with subtitles Opera-tunity Knocks: Into the Woods with Hansel and Gretel – or – Opera Parents are the Worst – combined opera, musical theatre, jazz, rap and popular music retelling the story of Hansel & Gretel.  Along the way Hansel and Gretel encountered a rapping Witch, The wicked Queen of the Night with lots of operatic high notes, a friendly Barber named Figaro, a hungry plant named Audrey II and a masked Phantom of the Opera – all to delight, amaze and educate A-C Valley students.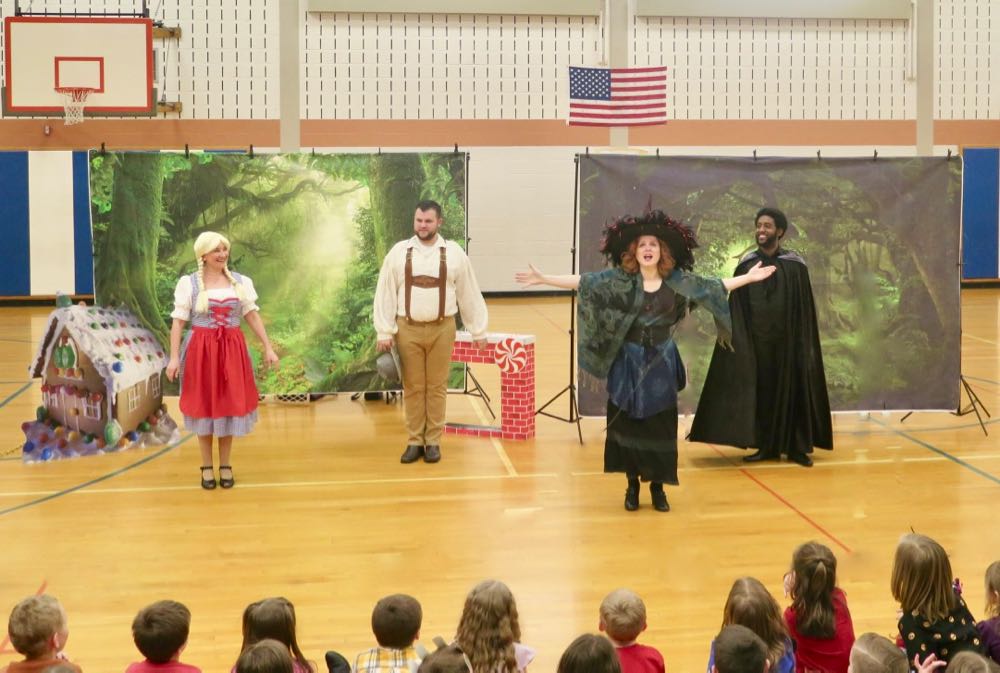 Aria412 Educational Mission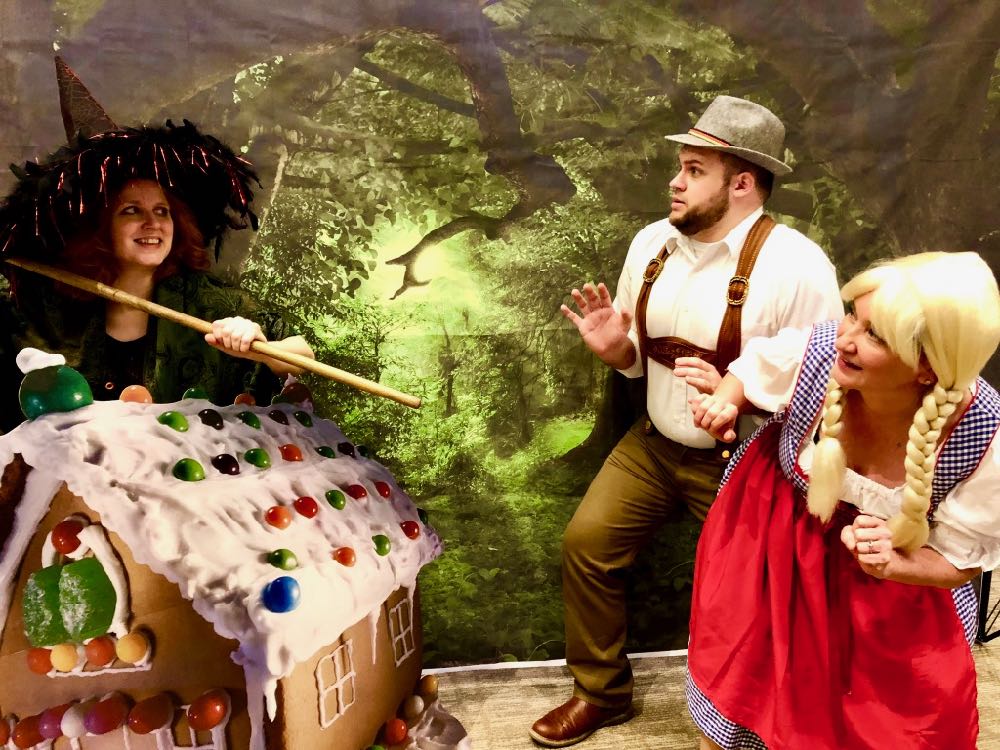 A shared dedication to their love of opera as well as musical theatre, jazz and popular music led founders Desirée Soteres and Kelly Fiona Lynch to form Aria412 and bring delightfully eclectic programs of these kinds of music to audiences in diverse public settings. From the beginning they have had a  commitment not only to provide performing opportunities for seasoned singers in the greater Pittsburgh area, but also for younger singers beginning their career.
In 2019, Aria412 has expanded their educational mission to include music education outreach to schools and students from K to 12 with their opera-mashup, A Fractured Fairy Tale – or – Opera-tunity Knocks: Into the Woods with Hansel and Gretel – or -Opera Parents are the Worst. On March 1, 2019 students in Grades K to 12 in the Allegheny-Clarion Valley Schools will experience the debut of this program, presented by ARCA.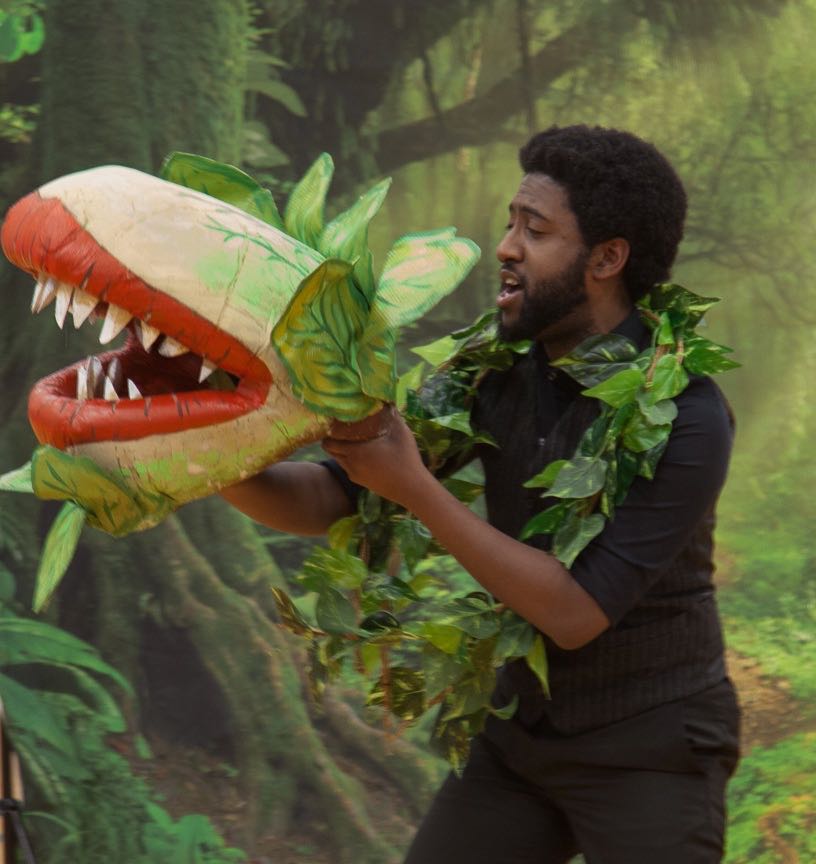 About Aria412 at A-C Valley Schools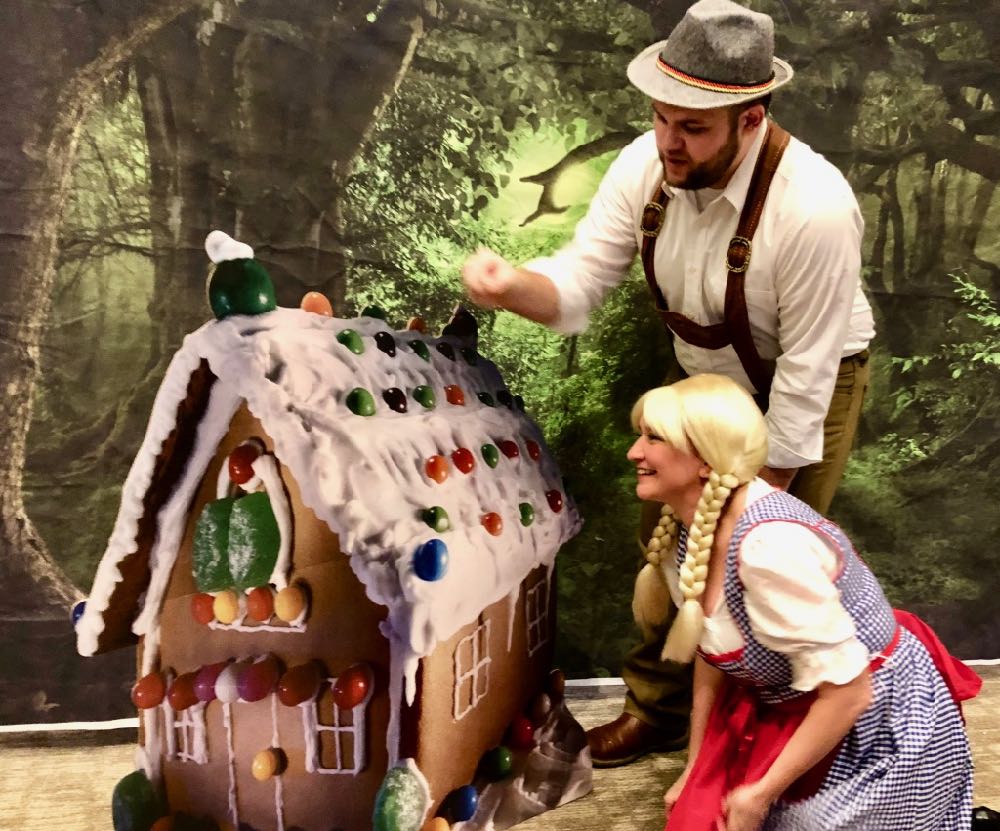 Allegheny RiverStone Center for the Art's arts education program fulfills its mission as a non-profit organization, demonstrating its commitment to contribute to the future of the Allegheny-Clarion valley community through the arts education of its young people. ARCA is grateful for its partnership with the A-C Valley School Board, administrators, faculty and music specialists in making this program possible.
Aria412 singers performed three small workshops for Allegheny-Clarion Valley Elementary students in grades 1 to 6 in the morning, prior to performing two assembly concerts for all K-6 students in the Elementary School gymnasium and for Jr. and Sr. High School students in the High School Auditorium – A Fractured Musical Fairy Tale!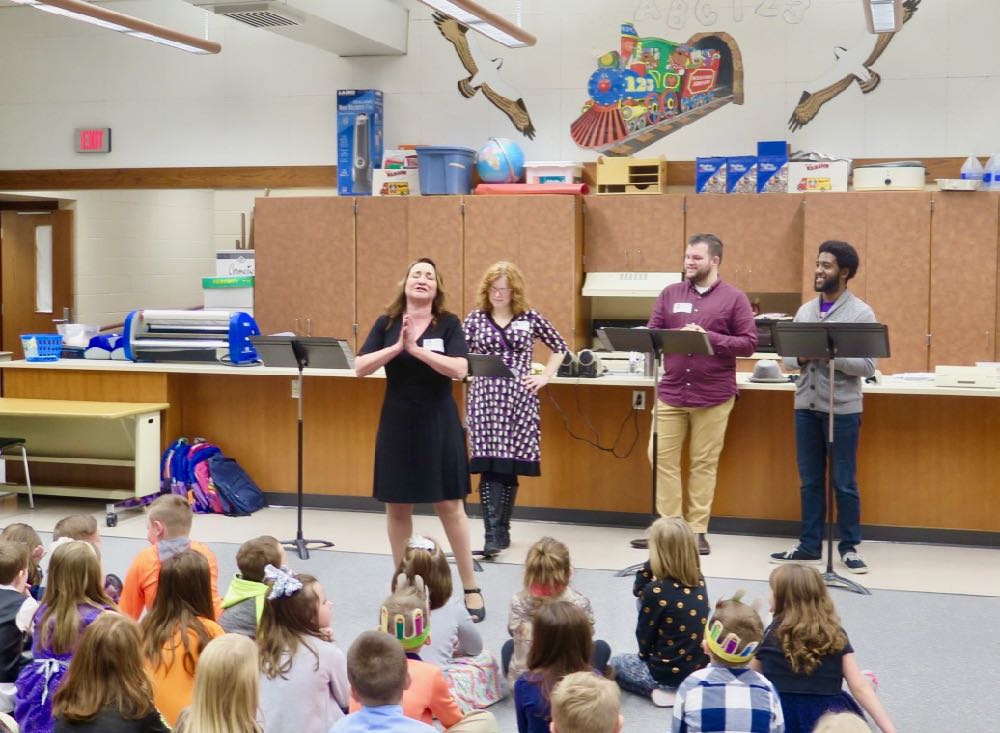 Designed specifically as an arts education resource for A-C Valley students, the Aria412 assembly concerts and workshops were not open to the public. Because there is no admission for any residency events, ARCA relies on contributions from the community to support its art education program in the A-C Valley Schools. ARCA is grateful for its Members and donors and for the Pennsylvania Council on the Arts' support of these educational activities.  Anyone interested in making a contribution or becoming an ARCA member may do so on this site.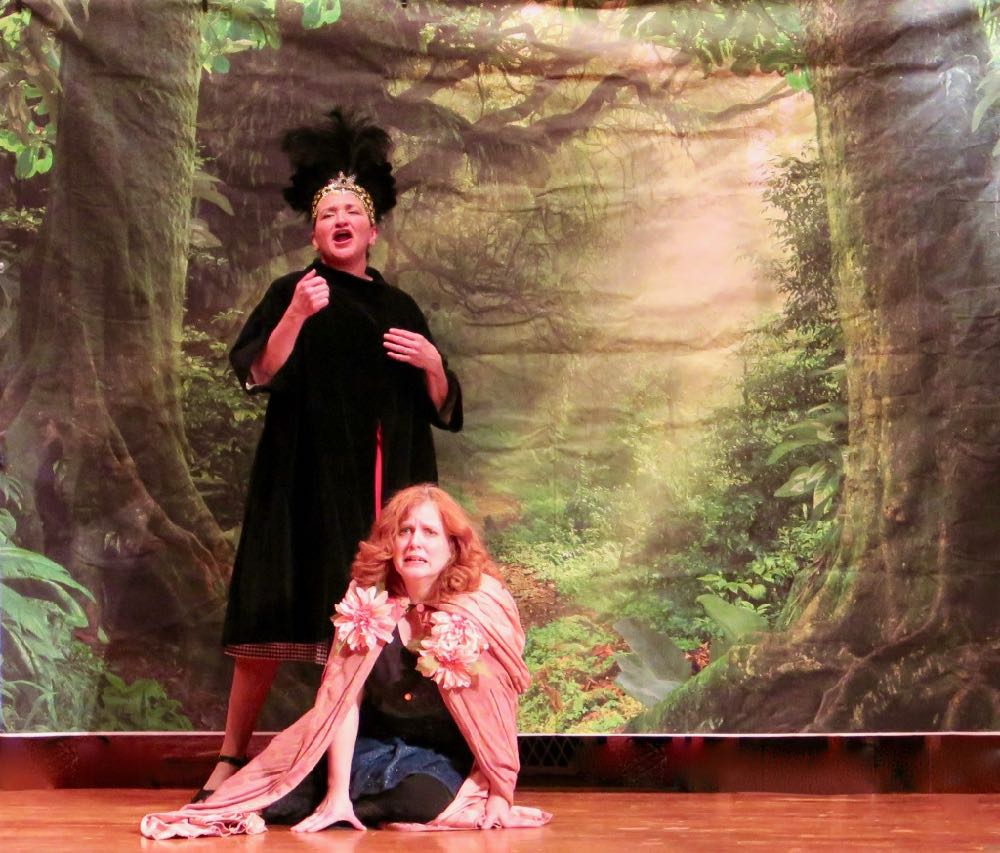 In advance of their residency, elementary music teacher, A-C Valley choral director and musical theatre director Jennifer Lowrey prepared students in K-6 for the small workshops, introducing them to the story, types of music being performed and excerpts of the music to be performed in the morning Introduction and afternoon assemblies.
Jennifer Lowrey said of ARCA's arts education program, "The students at A-C Valley have a love for the arts. The programming ARCA has brought into our district over the years has nurtured that love and opened a window into a world of professional artistic excellence that many students otherwise might not get a chance to experience. It also has given them a glimpse of the possibility of who they could become as an artist."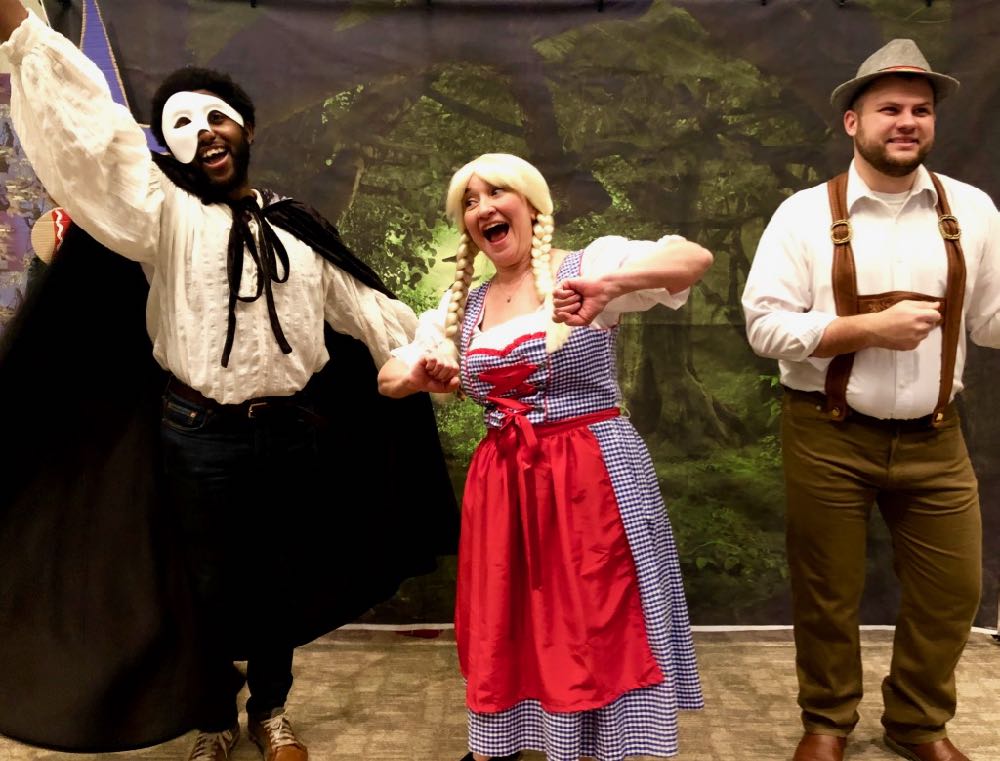 Aria412 has developed a reputation for their enthusiasm for and dedication to presenting eclectically entertaining programs combining opera, musical theatre, jazz and rock/popular music in diverse, relaxed public venues.
Founded by Kelly Lynch and Desiree Soteres, Aria412 began producing monthly cabaret opera and musical theatre shows in April 2017 at Hotel Indigo and now performs in a growing list of venues.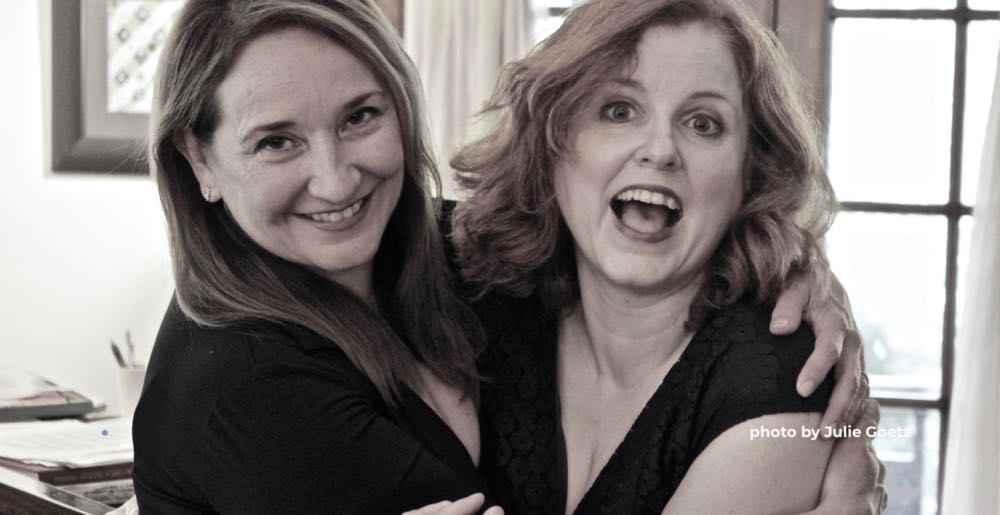 Each of the Aria412 concerts are designed to attract a mix of new audiences in addition to lovers of opera and the performing arts. By performing in a relaxed setting, they've appealed to an audience of people who otherwise might not have attended this type of performance. Their themed concerts delight and surprise their audiences – from culinary/food inspired programming to spooky Halloween musical theatre, art songs and opera arias to Shakespeare, Festivus and Grilligans' Island programs – all enhanced by the charming and humorous introductions of program emcee Kip Soteres.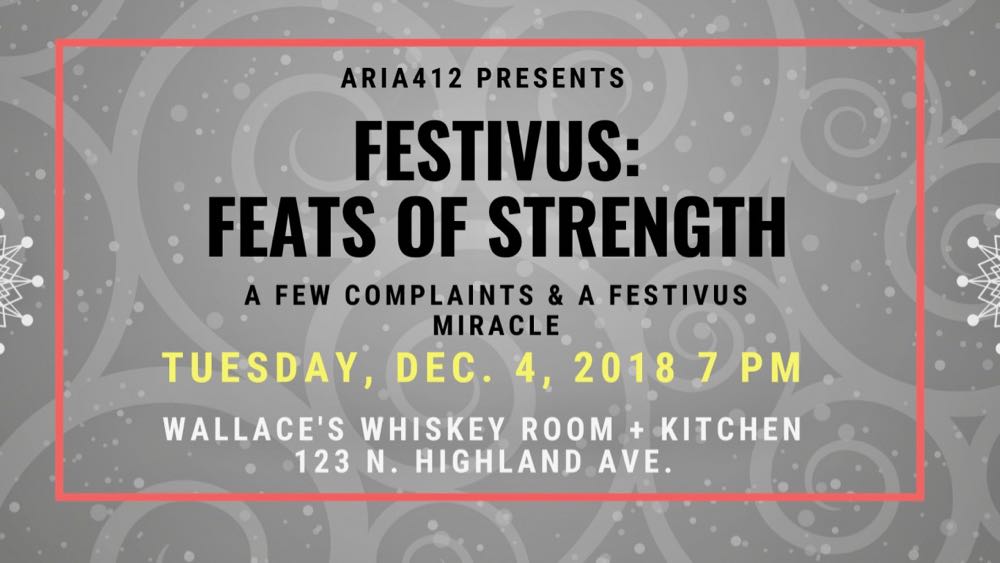 Aria412 uses established Pittsburgh singers along with "featured" young local performers, supporting the younger singers to stretch their repertoires and showcase their talents. In 2019, their educational mission has expanded to include music education outreach to schools and students from K to 12 with their opera-mashup, A Fractured Musical Fairy Tale – or – Opera-tunity Knocks: Into the Woods with Hansel and Gretel – or -Opera Parents are the Worst.  The debut in Foxburg's Allegheny-Clarion Valley Schools on March 1, 2019, presented by Allegheny RiverStone Center for the Arts, will include three morning Introductions in a community room/classroom setting for students from Grades 1 to 6 and two assembly performances for K to 12.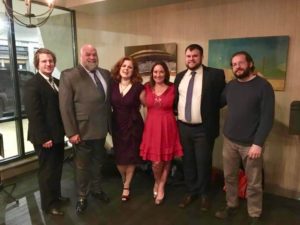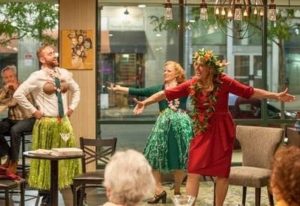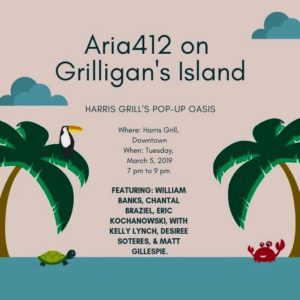 In addition to presenting delightfully themed programs of diverse music to keep their events interesting to their public,
educating, making new friends and building bridges among many disparate groups are also a part of their mission.
With several major projects in the works, keep an eye out for videos, unique performances and collaborations. Also, be sure to follow them on their website and Facebook where you can find many of their performances. It's also a great way to stay up to date on all things Aria412.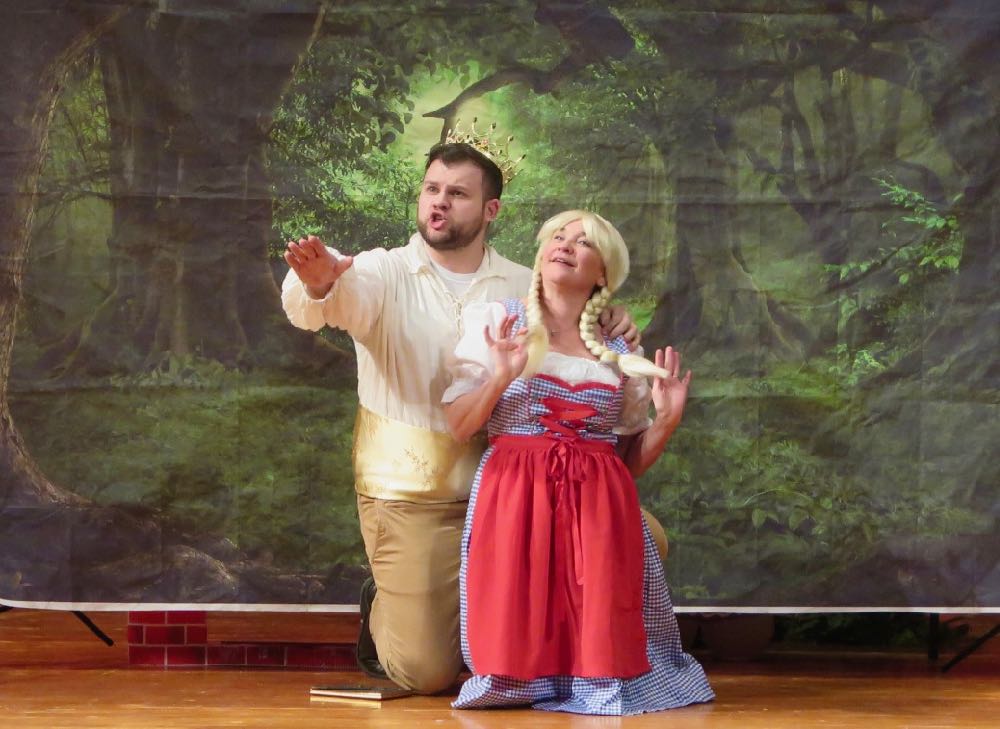 Desirée Soteres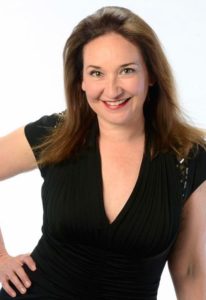 Soprano Desirée Soteres is equally at home in concert, musical theater and on the operatic stage and has been praised for her superb characterization and powerful vocal ability. Desirée's love for music has taken her across the U.S. and around the world. She comes to Pittsburgh via Memphis, Cincinnati, St. Louis, Portland, New York City, ports around the globe through Cunard Cruise Lines, San José, and Chattanooga.
She's played many venues both traditional and unorthodox. Currently, she can be seen performing once a month with Aria412 at Wallace's at Hotel Indigo. Desirée especially enjoys new music and has premiered new works with Pittsburgh Festival Opera, Alia Musica and the New Dischord Festival. The most exciting premiere was the title role in Eve Apart by composer Tim Hinck and husband Kip Soteres, which was produced both in Chattanooga and Pittsburgh. Desirée's favorite operatic role is Queen of the Night in The Magic Flute. She has had the pleasure. of singing it with Undercroft opera, Opera San Jose, West Bay Opera, Stockton Opera, Pocket Opera and as a Resident Artist at Portland Opera.
Desirée premiered the role of Flora Dart in A New Kind of Fallout by composer Gilda Lyons and playwright Tammy Ryan with the Pittsburgh Festival Opera. That same season she portrayed Joe Boyd in PFO's gender bending Damn Yankees. Other theatrical performances include Roselinda in Die Fledermaus with Undercroft Opera, Despina in Cosi fan tutte with Mission City Opera, Blonde in Abduction from the Seraglio with Pocket Opera, Cunegonde in Candide with Arena Stage in Washington, D.C., and Rosa Bud in The Mystery of Edwin Drood with Chattanooga Theater Center. Desirée has appeared as Abigail in The Crucible, Mabel in The Pirates of Penzance, Zerlina in Don Giovanni, Lucy in Threepenny Opera and Celeste #1 in Sunday in the Park with George.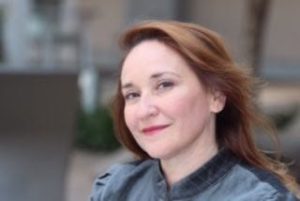 As a soloist with Pittsburgh's new music ensemble Alia Musica, she premiered Kierkegaard's Pantoum by composer David Lidov, was soprano soloist in Shadow in the Hot Sun by Paris-based composer Nissim Schaul and Al Vacio by composer Federico Garcia, a work she premiered at the inaugural New Dischord Festival in Chattanooga. Desirée created the role of Eve in Eve Apart at the Chattanooga Theater Center and created the role of Pamela in the premier of TOOWHOPERA by composer Sorrel Hays in Rome, GA.
On the concert stage, she recently performed at Chatham University in a Mozart Birthday Celebration, Classical Salon, Salon on Emerson in a Kurt Weill Salon, the 40th anniversary for Opera Volunteers International in NYC, University of Tennessee at Chattanooga Orchestra, Chattanooga Symphony Orchestra, Chattanooga Bach Choir and CreateHere's Hops and Opera.
She was a featured performer in a series of concerts in Europe, South America, and Australia aboard Cunard's Vistafjord and Royal Viking Sun.
Desirée received her MM in vocal performance from the University of Cincinnati College-Conservatory of Music, her BA in music from Rhodes College in Memphis and studied in Austria.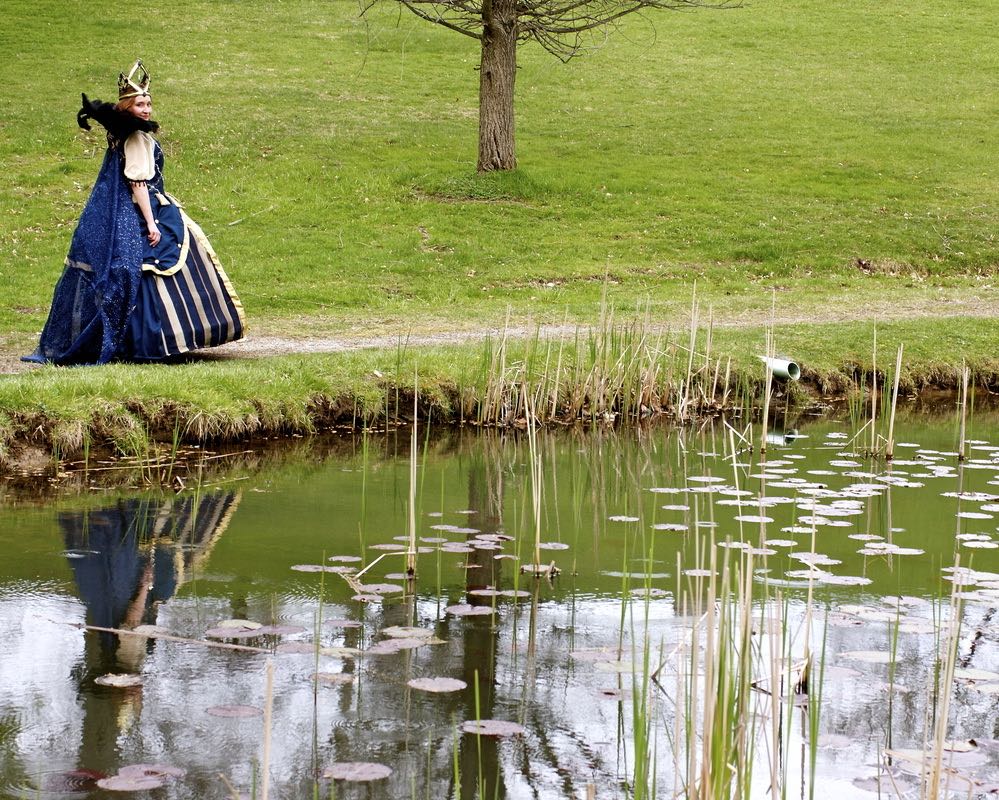 Kelly Fiona Lynch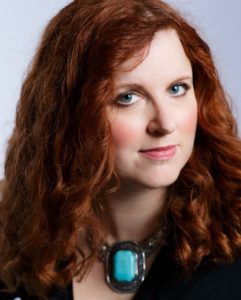 Soprano Kelly Fiona Lynch has performed across the east coast of the United States, Italy and Central America.  Ms. Lynch's early performing career was as a dramatic coloratura. As such, she performed the roles of Violetta in La Traviata, Lucia in Lucia di Lammermoor, Titania in A Midsummer Night's Dream, Micaela in Carmen, both Adele and Rosalinda in Die Fledermaus, both Madame Goldentrill and Miss Silverpeal in The Impresario, both The Queen of the Night and Pamina in The Magic Flute, Amor in L'incoronazione di Poppea, Adina in L'Elisir d'Amore, and Despina in Cosi Fan Tutte. Upon studying and performing the role of Norma, Ms. Lynch decided to take time from performing to switch fachs, reconditioning the voice to re-emerge as a spinto soprano.  Some of her most recent roles include Desdemona from Otello, Aïda, Elisabeth from Don Carlo, Leonore from La forza del destino, Amelia from Un ballo in maschera, Leonore from Il trovatore, Santuzza from Cavalleria Rusticana, and Cio Cio San from Madama Butterfly.
For Undercroft Opera, Kelly Fiona Lynch has been heard as Madame Larina and Tatiana in Eugene Onegin, as well as the title roles in Verdi's Aida, Bellini's Norma, Puccini's Suor Angelica, and Giorgetta in Il Tabarro. She has also sung the title roles of Lucia di Lammermoor and La Traviata for Erie Opera Theater.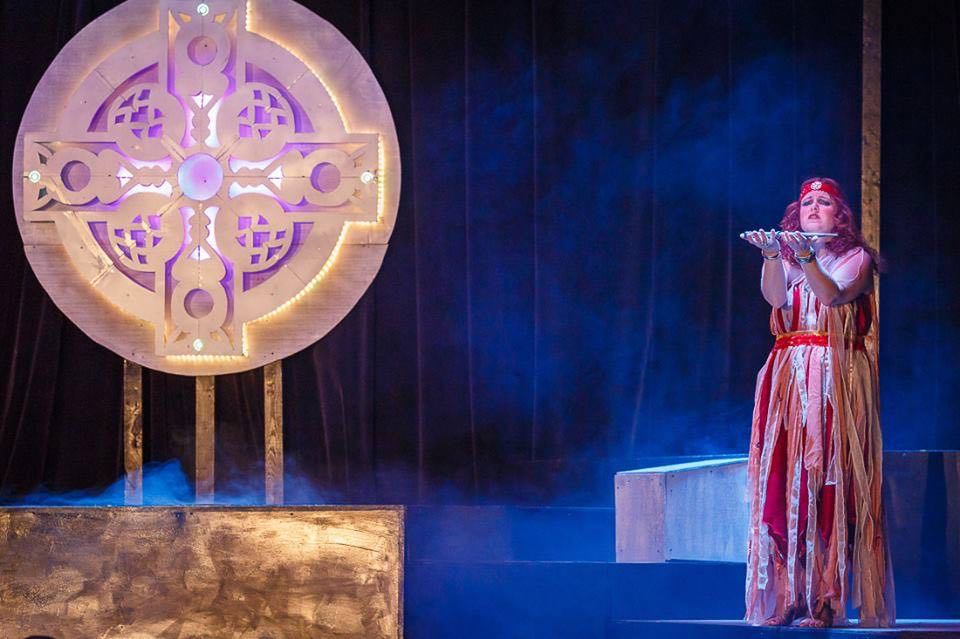 Ms. Lynch has performed in Italy and Central America, and has conducted master classes in San Jose, Costa Rica for the University of Costa Rica. As a soloist, she has sung with the Erie Chamber Orchestra, Pittsburgh Philharmonic, Johnstown Symphony Orchestra, Westmoreland Philharmonic Orchestra, Carnegie Mellon Contemporary Ensemble (Schoenberg's Pierrot Lunaire), and the Edgewood Symphony Orchestra, where she sang Mahler's Kindertotenlieder and the title role in Bizet's Carmen. Oratorio repertoire she has performed includes the soprano solos in Beethoven's Ninth Symphony, Rossini's Stabat Mater, Verdi's Requiem and Strauss' Vier Letzte Lieder. Kelly recently covered the title roles in Opera Theater of Pittsburgh's production of Strauss' Ariadne on Naxos, Rosalinda in Die Fledermaus, as well as Lizbeth, by Thomas Albert for Microscopic Opera.
Her most recent performances include the orchestral songs of Richard Strauss with the Edgewood Symphony Orchestra, and for Chatham Concert Opera, Amelia in Verdi's Un ballo in maschera and Chrysostemis in Strauss's Elektra.
Dr. Lynch received her Bachelor of Music degree from Mercyhurst College in Erie, Pennsylvania, majoring in vocal performance and minoring in piano. Her Master of Music degree is from Carnegie Mellon University in Pittsburgh, Pennsylvania, and her Doctor of Music degree from Louisiana State University in Baton Rouge, Louisiana, where she majored in vocal performance and minored in musicology. Dr. Lynch has also trained as a martial artist in Tae Kwon Do, and worked extensively as a massage therapist.
Based in Pittsburgh, Dr. Kelly Fiona Lynch is the Founder and Artistic Director of Chatham Concert Opera at Chatham University, which promotes local opera singers from the larger Pittsburgh area. She is currently on the music faculty at Seton Hill and Chatham Universities.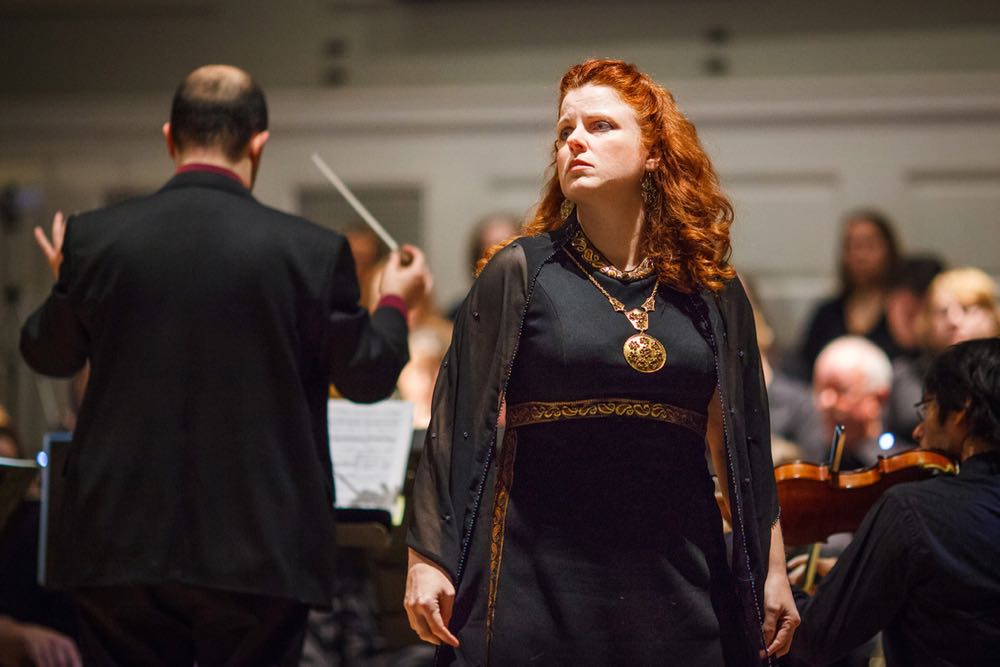 Kevin Adamik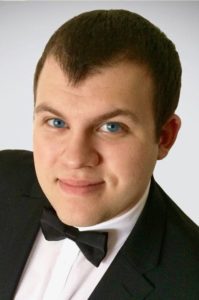 American Tenor, Kevin Adamik recently finished his position as a Resident Artist at Indianapolis Opera.  While at Indianapolis Opera, he performed Parpignol in La Bohème, and Romeo in a workshop of Don Freund's new opera Star-Cross'd Lovers.
Mr. Adamik has participated in several training programs around the country.  In 2015, he attended NAPA Music Festival where he performed Frantz and Spalanzani in Offenbach's The Tales of Hoffmann.  The next summer, he was an emerging artist with Opera in the Ozarks where he performed the title role in Britten's Albert Herring, and Venditore in Puccini's Il Tabarro. During the summer of 2018, he performed Tamino in Mozart's Die Zauberflöte as a young artist with Chicago Summer Opera.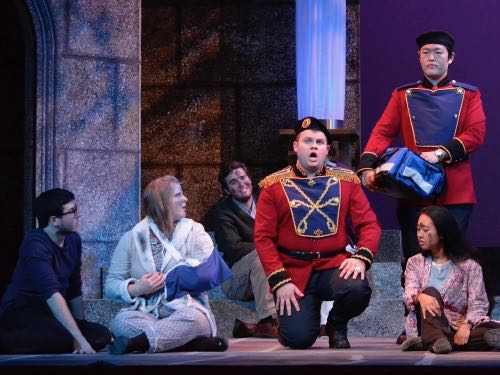 Mr. Adamik holds degrees from Slippery Rock University of Pennsylvania and Cleveland Institute of Music.  While at Slippery Rock, he performed many roles in the opera and musical theater scenes programs. He was the recipient of the Marianne Cornetti Scholarship, and a two-time winner of The Chad Williamson Scholarship Competition.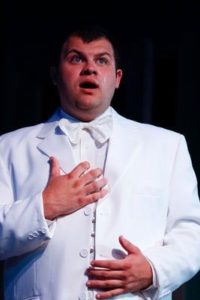 During his time in Cleveland he was seen on the opera stage as the title role in Mozart's La Clemenza di Tito, Bénédict in Berlioz's Béatrice et Bénédict, Oronte in Handel's Alcina, Don Basilio and Don Curzio in Mozart's Le nozze di Figaro.  
Originally from Pittsburgh, PA, he was a member of the Pittsburgh Opera chorus in productions of Aida, Le nozze di Figaro, L'elisir d'amore, and Moby Dick.  Mr. Adamik has been a soloist with the Edgewood Symphony Orchestra and the Pittsburgh Civic Orchestra.  He has also performed with Chatham Concert Opera and frequently performs with ARIA 412 in many recitals around the city.
Franklin Mosley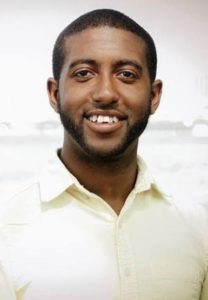 Baritone Franklin Mosley is a 2016 graduate with a masters degree in vocal performance from Boston University (BU) where he studied with Dr. Jerrold Pope and performed in productions done in collaboration with the Boston University Opera Institute. Originally from Carlisle Pennsylvania, Franklin received his BFA in vocal performance from the Indiana University of Pennsylvania (IUP) in 2014.
No stranger to the stage, roles include but are not limited to: Major General Stanley in The Pirates of Penzance(IUP), Ben in The Telephone(IUP), Sam in Trouble in Tahiti(IUP), Ronaldo Cabral in Later the Same Evening(BU), Joe Pitt in Angels in America(BU), and Snug the joiner in A Midsummer Night's Dream (BU).
A lover of masterworks, solo opportunities include Handel's Messiah, Haydn's Missa Sancti Nicolai, and the requiems of Brahms and Faure. Franklin has made solo appearances with the IUP wind ensemble, the Salem Philharmonic, Masterworks Chorale, The Paul Madore Chorale, and the Concert Singers of Lynn. Franklin recently played Luis and understudying the title character of CLO's Gallery of Heroes production of "Arriba! Arriba! The Roberto Clemente Story and served as music director for Mon River Arts production of Sister Act The Musical.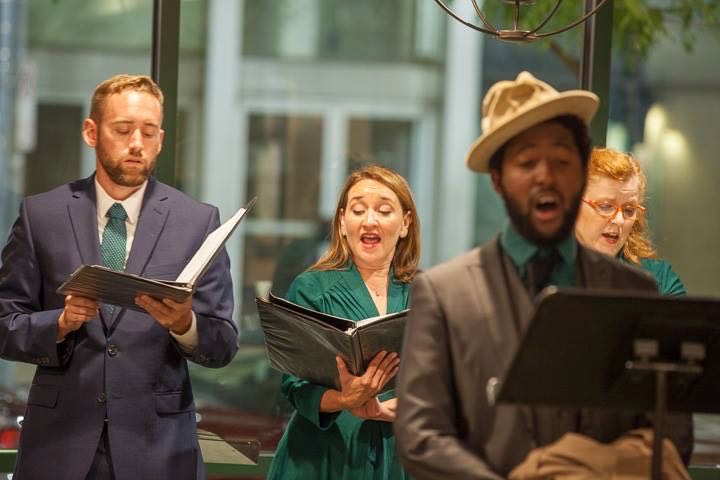 Franklin performs frequently with Aria412 including having sung the role of Sam in Trouble in Tahiti.  In September of 2018, Franklin appeared as Paolo in the Chatham Concert Opera's production of Verdi's Simon Boccanegra.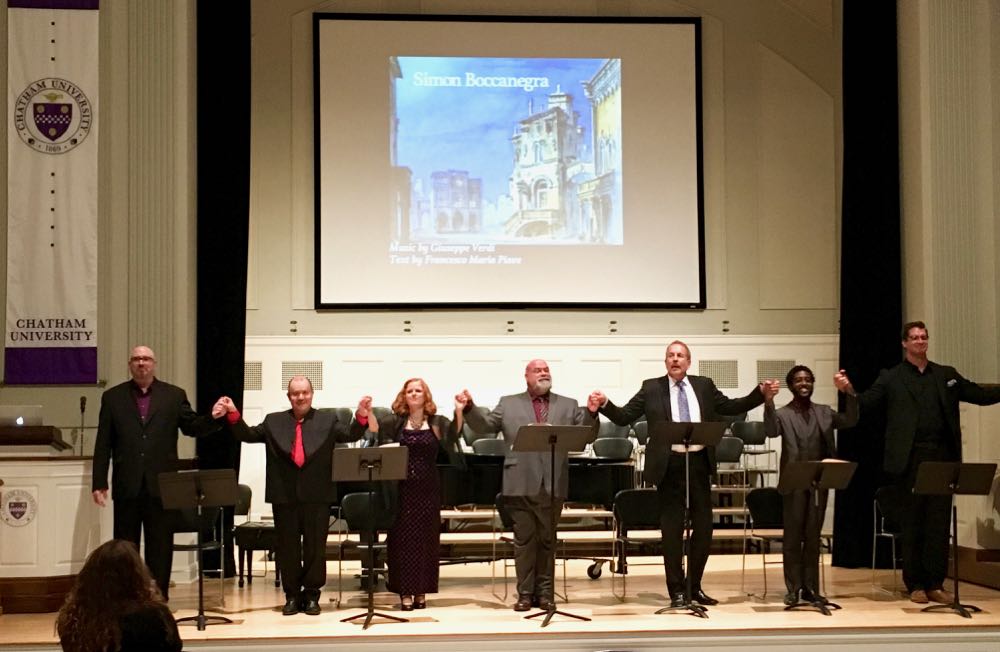 Amy Kapp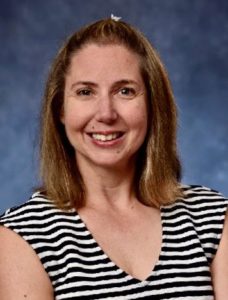 Pianist Amy Kapp received a MM in Piano Accompanying and Vocal Coaching from East Carolina University, an MBA from Chatham University and a BM from Clarion University.  She is a native of Fryburg, PA in Clarion County – close to the students for whom she will be performing at Allegheny-Clarion Valley Schools in the Aria412 Educational ArtReach residency.
Ms. Kapp currently is the accompanist for the Chatham University choir, accompanist for the University of Pittsburgh Theatre Department, Minister of Music at Trinity Lutheran Church in Wexford, PA and pianist for the Bay Chamber Players in Carnegie, PA. She also is also the Department Administrator for the Department of Civil and Environmental Engineering at the University of Pittsburgh.
Ms. Kapp has also been an accompanist for the Pittsburgh Ballet Theatre School and the Point Park Conservatory of Performing Arts as well as several local community theatres including the Comtra, Mariposa and Strand Theatres.