Brian Lowry
Keyboards, Accordion, Hammered Dulcimer
Kelly Lowry
Vocals & Percussion
Caitlin Lowry Shegog
Vocals & Bodhran
Benjamin Lowry
Bass, 6-String Guitar, Vocals
Joshua Lowry
Fiddle, Mandolin, Banjo, Vocals
Daryl Hartman
Vocals, 12-String Guitar, Mandolin
Jonathan Shegog
Highland pipes, small pipes, Vocals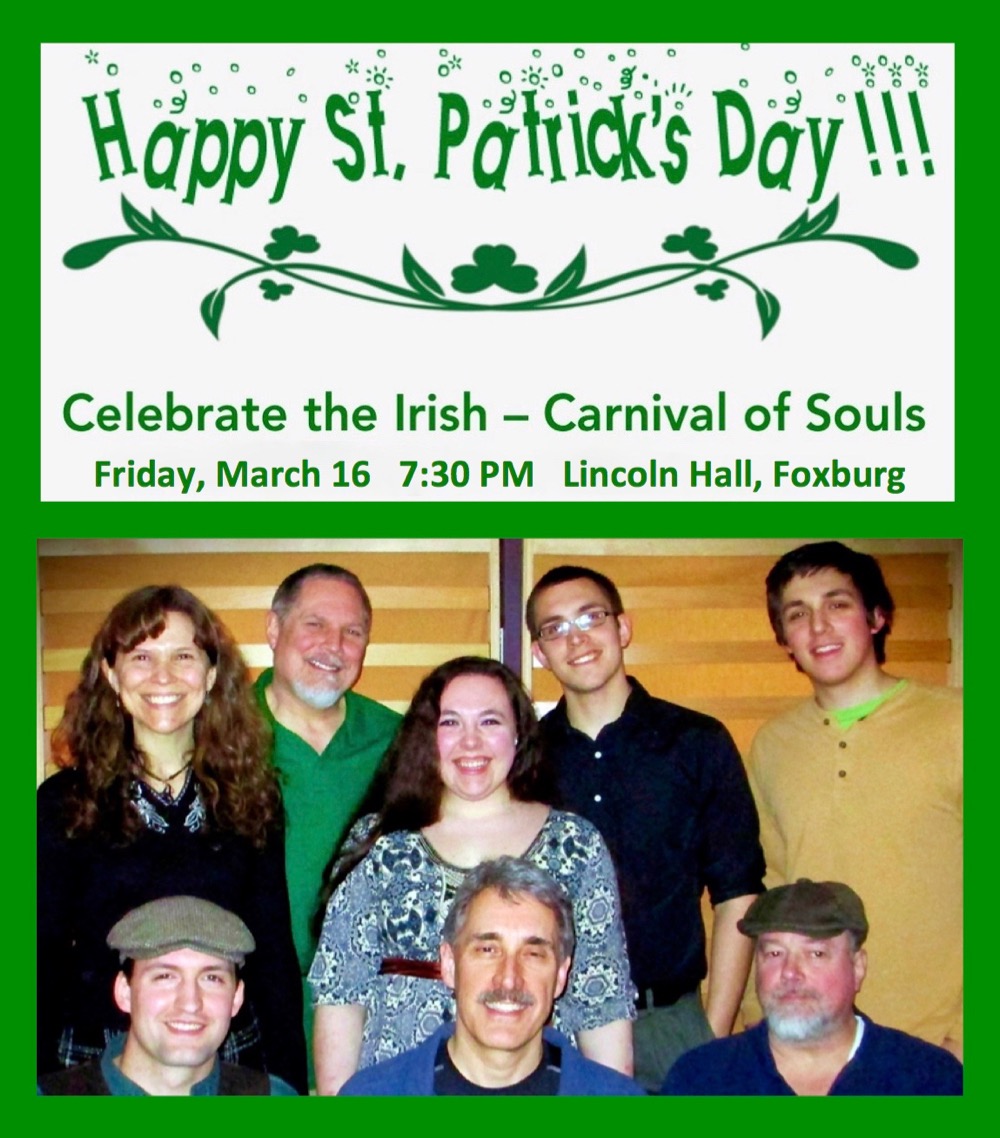 Returning by popular demand, the superb Irish Band CARNIVAL OF SOULS will sound the call for the Irish on Friday night, March 16, 2016 at 7:30 PM at Lincoln Hall in Foxburg. 
Begin your St. Patrick's Day Celebration with this joyous evening of superb Irish and Celtic Music with the very talented Lowry Family and Friends. Leprechaun magic will abound with the call of the highland bagpipes and all those lucky enough to be Irish – and all those hopefuls who wish they were Irish  – will tap their toes and kick up their heels celebrating St. Patrick's Day weekend in Foxburg.
Led by Brian and Kelly Lowry the band features highland pipes, bodhrán drum, 12 string and bass guitar, mandolin, fiddle, accordion, and keyboard along with high spirited vocals.   Listen to their music from their CD No Scone Unburned – Forty-two Pound Checque/Wind that shakes the Barley on their website, Carnival of Souls.    More samples of No Scone Unburned  and their second CD, SconeHenge,  is available through their website and CD Baby.  CDs will be available for sale at the concert.
Tickets are $15 for Adults and $5 for students.  To reserve, call 724 659-3153 or you  can buy tickets online on this page.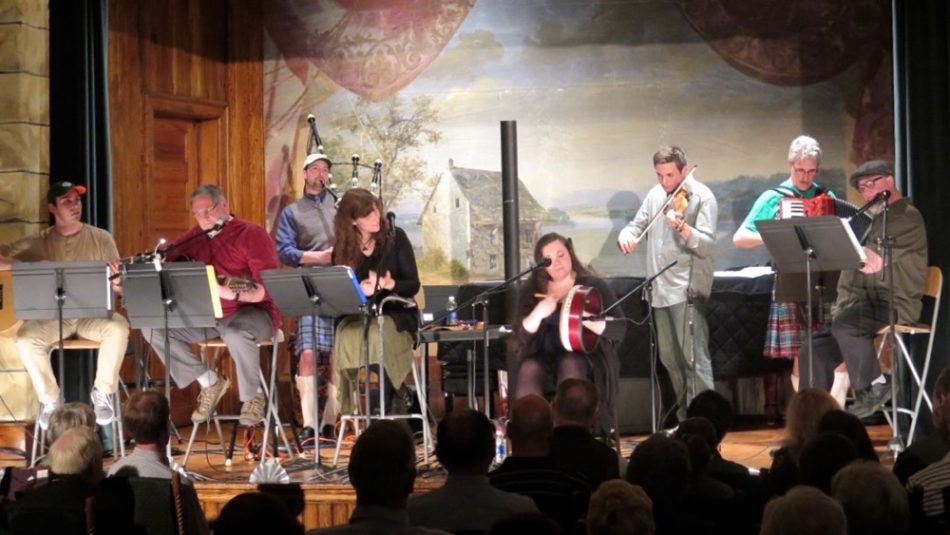 CARNIVAL OF SOULS has been performing traditional and original Celtic music in Western Pennsylvania, eastern Ohio, and West Virginia for nearly twenty years. The group uses a wide variety of traditional and non-traditional instruments to produce a rich range of music that would be at home in a pub in Dublin or a coffee shop in Shadyside.
Their first CD, "No Scone Unburned" was released in 1999 and has been acclaimed by Dirty Linen, the international magazine of folk music, and is in the Irish music archives in Dublin. They can be heard at a variety of venues in the tri-state area.
The band includes talented members of the extended Lowry family.  The band members are:
Roy Abbott – flute
Daryl Hartman – vocals, 12-string guitar, mandolin
Brian Lowry – keyboards, accordion, tin whistle, hammered dulcimer
Kelly Lowry – vocals, percussion
Jonathan Shegog – Highland pipes, small pipes
Caitlin Lowry – vocals, bodhran, keyboard
Benjamin Lowry – bass, six-string guitar, vocals
Joshua Lowry – fiddle, mandolin, banjo, vocals