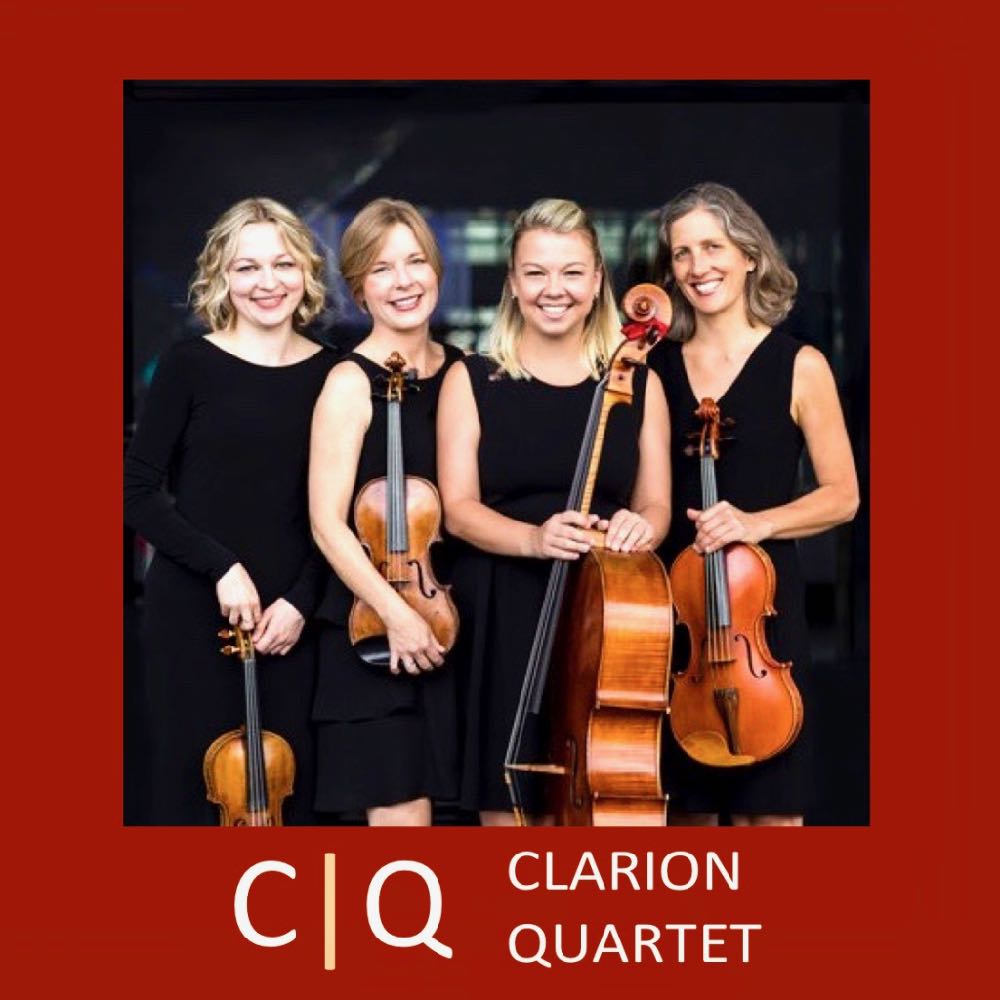 Allegheny Riverstone Center for the Arts is proud to present the Clarion Quartet in an inspirational program "GIVING VOICE TO GENIUS" on Sunday, March 1 at 2:00 PM in Lincoln Hall.  
Featuring poignantly beautiful and powerful music by Mendelssohn, Weinberg and Shostakovich, the concert presents the skillful genius of composers whose music has survived the ravaging and wasteful cultural destruction of war, prejudice, suppression and hatred.  Long-time ARCA favorite, Pittsburgh Symphony violinist, Jennifer Orchard, is joined by three superlative PSO musicians – Violinist, Marta Krechkovsky, Violist Tatjana Mead Chamis and Cellist Bronwyn Banerdt.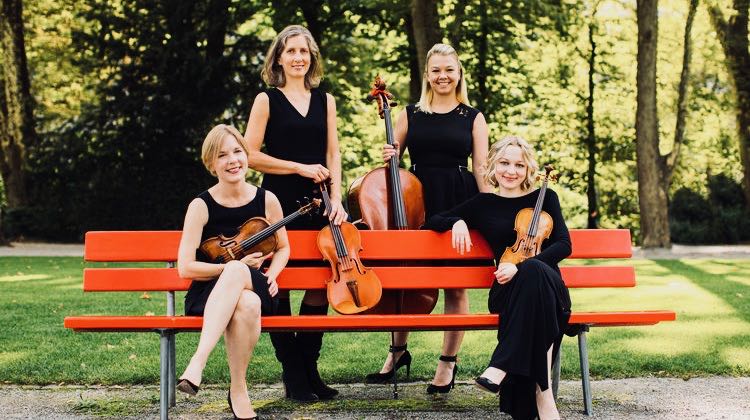 This glorious afternoon of world class chamber music in the intimacy and crystalline acoustics of Lincoln Hall will offer an an inspiring concert to begin ARCA's Fifteen Anniversary Performance Season... an experience of the redemptive power of musical genius to transcend all boundaries and limitations. Through a yearning to bring justice to creative voices that have been silenced, the Clarion Quartet is dedicated to providing renewal, hope, and healing through its music and work.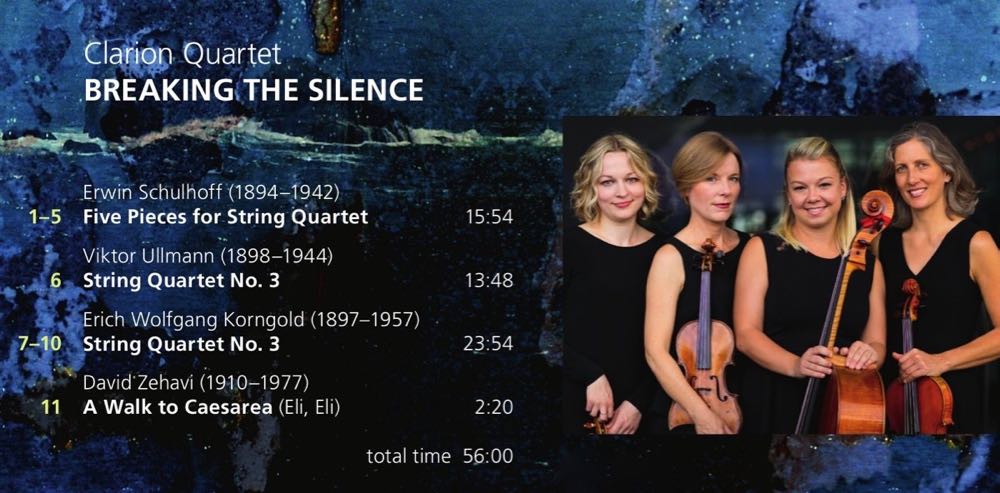 The quartet eloquently describes their mission with A CLARION CALL:  "With humane purpose and artistic virtuosity, the Clarion Quartet gives a voice to great composers who have suffered the injustices of suppression and imposed silence." 

After the concert, join us for a Meet the Artist cake and coffee reception at the back of Lincoln Hall. 
Tickets are Adults $25, Members $20, Students $5.  Call to reserve at 724-659-3153 or buy online here.
https://www.youtube.com/watch?v=D8mY9bnAmTk&feature=emb_logo
CLARION QUARTET
The Clarion Quartet binds artistic virtuosity with humanitarian purpose in presenting great works that are gradually entering the standard repertoire. The Clarion mission embraces three principles: offering performances for all audiences to hear and appreciate this music; providing educational presentations and master classes for emerging artists in conservatories; and advocating among professional musicians for suppressed works to be included in the canon of chamber music performed today.
The members of the Clarion Quartet, colleagues in the Pittsburgh Symphony Orchestra, have joined together to share their passion for chamber music and their particular interest in exploring Entartete Musik, works that were termed "degenerate" by the Nazis and banned during the years leading up to the Holocaust through the immediate aftermath of the World War II.
The highlight of the Quartet's 2016 debut season was a unique performance during an international tour with the Pittsburgh Symphony. The Clarion Quartet traveled to the former Theresienstadt (Terezín) concentration camp in the present-day Czech Republic and performed a concert on this site to honor those composers whose creativity was stifled, who suffered abuses ranging from exile to execution.
The Quartet seeks to immortalize the victims and their art through empathetic performances of relevant mid-twentieth century masterpieces.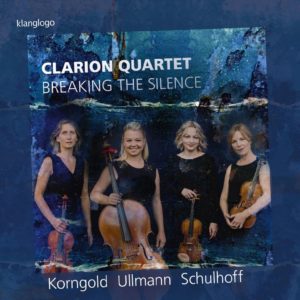 The quartet's debut recording, Breaking the Silence, was released in 2018 on the TYE/Naxos label. The album features the program that was performed at the Theresienstadt concert, including quartets by Viktor Ullmann, Erwin Schulhoff, and Erich Korngold.
"The thrill of discovery fills the new recording called "Breaking the Silence" by the Clarion Quartet, an American ensemble formed specifically to perform "Entartete Musik" that was suppressed by the Nazis.  The musicians' commitment, imagination and high technical standards make an irresistible case for the greatness of the music they're performing."  Mark Kanny, Classical Voice North America
With thanks to an Alumni Entrepreneur Grant from the Curtis Institute of Music as well as a grant from the Fine Foundation, the ensemble is turning its sights to the future with plans for many more performances and an ever-expanding repertoire.
Through a yearning to bring justice to creative voices that have been silenced, the Clarion Quartet is dedicated to providing renewal, hope, and healing through its music and work.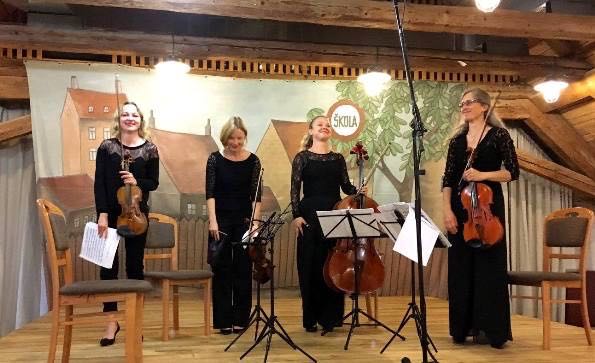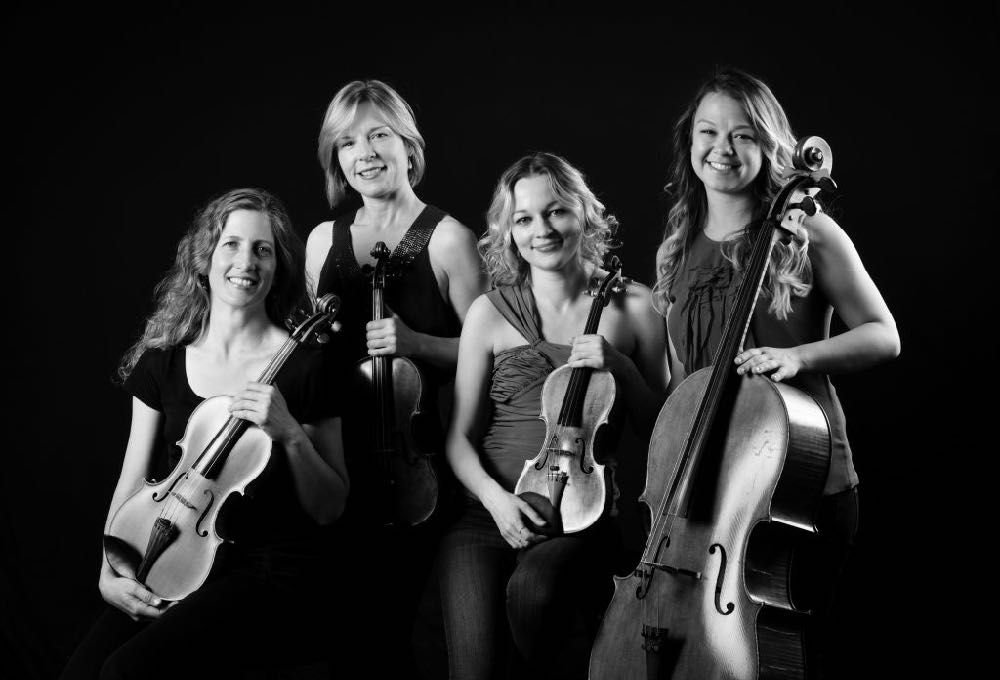 GIVING VOICE TO GENIUS
Concert Program – Sunday, March 1, 2020   2:00 PM Lincoln Hall
Mieczysław Weinberg  – Quartet No. 2, Opus 145, First Movement (1937)
Dimitri Shostakovich  – Quartet No. 7, Opus 108, in f-sharp minor (1960)
Intermission
Felix Mendelssohn  – Quartet No, 6, Opus 80 in f minor (1847)
Although Felix Mendelssohn enjoyed enormous success during his lifetime, he was among the most prominent composers of Jewish descent who were termed "degenerate" by the Nazi regime and whose works were banned from public performance.
Imagine if the Nazis had managed to eradicate Mendelssohn's music…
Mendelssohn's Quartet opus 80 was his last major work. He wrote it in a grief-stricken period following the sudden death of his beloved sister, Fanny, and Felix himself died just a few months later.
By setting the well-loved music of Mendelssohn alongside the lesser-known works of composers whose careers were directly cut short by imprisonment, death, and exile under Nazi control, we can begin to fully comprehend the vastness of the loss incurred by suppressing works of genius solely on the basis of the composer's religion, beliefs, or national origins.
Dimitri Shostakovich, although not "free" to compose whatever he wished, had an illustrious career; his music was deemed exportable by the Soviets and he wrote prolifically.
Weinberg was not as fortunate. His entire family perished at the hands of the Nazis after he managed to escape, first to Uzbekistan and then fleeing to Moscow where he fortunately met Shostakovich.
All composers represent a hidden dark side in their compositions both by the political will of the day and their personal story behind these specific works.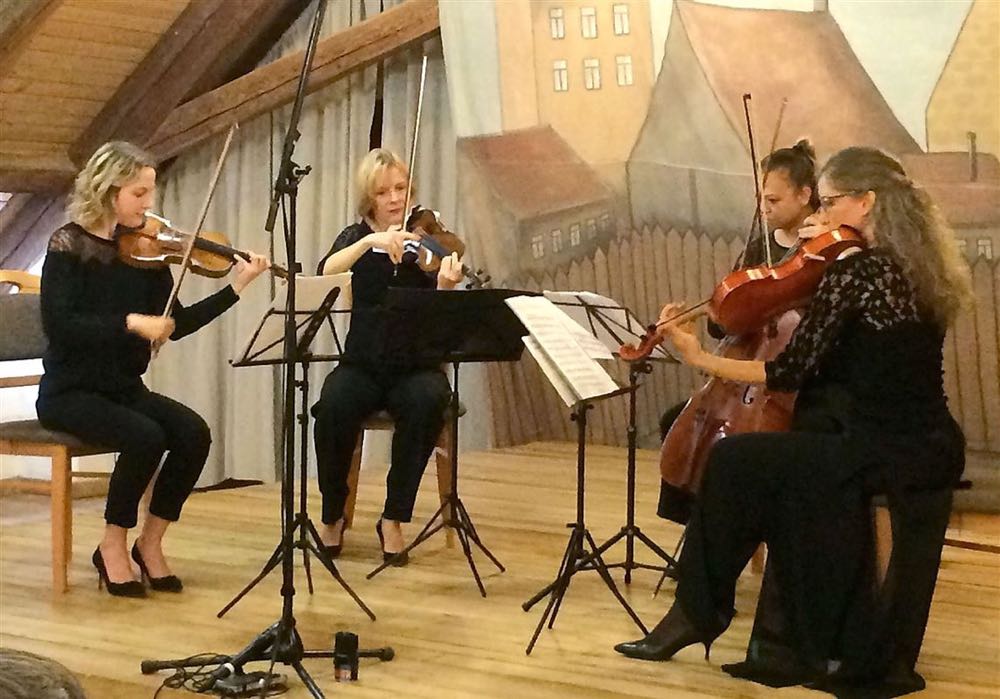 MARTA KRECHKOVSKY, VIOLIN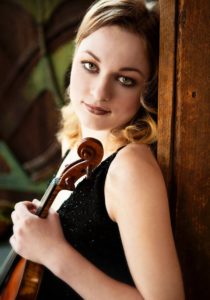 Ukrainian violinist Marta Krechkovsky joined the Pittsburgh Symphony Orchestra at the beginning of the 2014-2015 season. An experienced performer of orchestral and chamber music, she has been a substitute player with the New York Philharmonic and New Jersey Symphony Orchestra, and was invited to perform with World Orchestra for Peace as a tribute to Sir Georg Solti on the occasion of the 100th anniversary of his birth.
Krechkovsky has participated in numerous music festivals such as National Arts Center's Young Artists Programme led by Pinchas Zukerman and ChamberFest at the Juilliard School. She has served as concertmaster with Verbier Festival Orchestra and Chamber Orchestra in Switzerland and Pacific Music Festival in Japan. Krechkovsky was personally invited by conductor Valery Gergiev to participate in his Russian Easter Festival in Moscow, where she was a concertmaster. She was also invited by conductor Charles Dutoit to take part in the Miyazaki International Music Festival, held in Japan.
She became a prizewinner at Kocian International Violin Competition in Czech Republic at the age of 10 and was a top-prize winner at Canadian Music Competition in Montreal. As a soloist, Krechkovsky has appeared with numerous orchestras in her native Ukraine, including the Lviv State Symphony Orchestra. In Canada, she has performed with Canadian Chamber Academy, Toronto Sinfonietta, Oshawa-Durham Symphony and Canada Pops Orchestra as a top winner of the Toronto Music Competition. In 2013, she performed Bach's Double concerto with Joshua Bell and Verbier Festival Chamber Orchestra during their Asia tour.
An active chamber musician, Krechkovsky has appeared in New York concert halls such as Carnegie's Weill Recital Hall, Lincoln Center's Alice Tully Hall and Bargemusic in Brooklyn, as well as Kitara Chamber Music Hall in Sapporo, Japan, and was featured on RAI Live Radio in Milan, Italy. A recent chamber music highlight was in August 2017, when she performed Mozart's Clarinet Quintet with Yo-Yo Ma at the Grand Teton Music Festival's Gala concert.
Krechkovsky began studying violin at the age of six with her father, Orest Krechkovsky. She received her earlier training at Young Artists Performance Academy at the Royal Conservatory of Music in Toronto, where she studied with Atis Bankas. She holds a Bachelor of Music and Master of Music degrees from The Juilliard School where she studied with Glenn Dicterow and a professional studies degree in orchestral performance from Manhattan School of Music with Glenn Dicterow and Lisa Kim.
JENNIFER ORCHARD, VIOLIN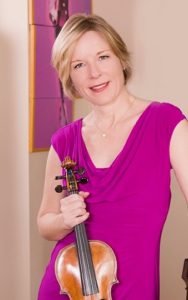 "I can't remember a time when I was not playing the violin," says PSO violinist Jennifer Orchard. The statement reflects on her earliest memories of music, but it speaks to a larger truth about this gifted artist: Life and music have always been joined as she lives out her life passion every day.
Orchard's biography spans all of the rites of passage that come with attaining the status of a world-class musician- the childhood successes the rigors of conservatory training, and the progress of a professional career. Yet the conventional narrative does not capture the more complete picture of Orchard, who has a heartfelt love for the beauty of music and a sense of purpose as she brings it to life.
Orchard came to the violin as a young child and grew rapidly. Her early success led to admission into the Curtis Institute of Music and The Juilliard School, where she honed the skills that would lead to a professional career.
She speaks with reverence of her teachers, including famed violinists Szymon Goldberg, Robert Mann and Lorand Fenyves, who helped her achieve both virtuosity and artistry.
From her conservatory studies, Orchard entered her first professional position as a member of the Lark Quartet. She played with Lark for eight years, from 1993-2001 and while there began a recording career that continues to this day.
Now a member of the Pittsburgh Symphony first violin section, Orchard channels her artistic endeavors through many avenues. In 2015, she and three other PSO musicians formed the Clarion Quartet which commits itself to performance and awareness of composers whose lives and careers were destroyed through the atrocities of WWII. These composers, deemed degenerate by the Nazi party have been neglected and largely forgotten since the war. The Clarion Quartet's mission is to break the silence and restore this music to its rightful place on the stages of today. Their recording of three such composers came out in 2018 and is available on Naxos.
Orchard's recording work also includes partnering with pianist Igor Kraevsky on the music of Paul Juon, a Russian composer whose works were also, though not through war, neglected and largely unknown. Orchard and Kraevsky's work together has spanned fifteen plus years, performing the world premiere of Paul Juon's Triple concerto in Moscow Conservatory Hall and producing many recordings including two world premieres entitled Weisse Nachte and Bagatellen.
Orchard expresses a sincere and humble gratitude for having had the opportunity in her life to play with great musicians and for appreciative audiences, which is the fulfillment of a life mission.
As for how she articulates that personal mission, she says without hesitation: "To always have passion about the music, and to never stop playing."
TATJANA MEAD CHAMIS, VIOLA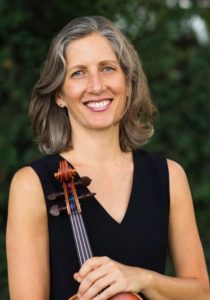 Tatjana Mead Chamis, Associate Principal Viola of the Pittsburgh Symphony Orchestra, joined the orchestra in 1993 under the direction of Lorin Maazel. She has appeared as soloist with the Porto Alegre and Sao Paulo Symphony Orchestras of Brazil, the Utah Symphony, the Curtis Institute Symphony Orchestra, and numerous times with the Pittsburgh Symphony and the Pittsburgh Symphony Chamber Orchestra. Nominated in 2017 for a Latin Grammy for her performance of the Sonata for Viola and Piano, dedicated to her by the Brazilian composer/pianist, André Mehmari, Ms. Chamis is finishing a project of recording music for Viola by Brazilian composers. Her performances as a recitalist and chamber musician have been broadcast on NPR and WQED in Pittsburgh.
Ms. Chamis began her studies in Frankfurt, Germany, on the violin, at the age of seven. At 15, she switched to the viola while studying with violist Mikhail Boguslavsky, in Salt Lake City, Utah. A 1994 graduate of the Curtis Institute of Music, she studied with Philadelphia Orchestra Principal Violist, Joseph dePasquale.
In 2016, Ms. Chamis founded the Clarion Quartet with three other members of the Pittsburgh Symphony. The virtuoso ensemble is dedicated to bringing to light the works of composers silenced by oppression.  She is a former member of the Caramoor Virtuosi and Rising Stars at the Caramoor International Music Festival in New York, and has performed at the Bravo Festival in Vail, Colorado, the Halcyon Festival, the Green Bay Music Festival with members of the Amelia Piano Trio, and the Tanglewood Music Festival.
A frequent guest lecturer, Ms. Chamis joined the Carnegie Mellon School of Music faculty in 2016.
BRONWYN BANERDT, CELLO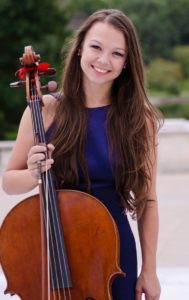 Bronwyn Banerdt joined the cello section of the Pittsburgh Symphony Orchestra in 2014.  She made her solo debut with Los Angeles Philharmonic in 2002 and has since appeared in concert throughout the United States, Europe, Russia, and southern Africa.  Notable solo appearances include performances with the Pittsburgh Symphony, Houston Symphony, Albany Symphony, and the world premiere of Poem for Cello & Orchestra by Michael Kamen.  At age 15 Ms. Banerdt was personally invited by the world-renowned composer John Rutter to perform the solo from his Requiem in Carnegie Hall.  Ms. Banerdt was awarded Grand Prize at the Los Angeles Philharmonic's Bronislaw Kaper Awards, and she has also captured top prizes at the Houston Symphony Ima Hogg Competition and Kingsville Music Competition.
Equally passionate about chamber music and orchestral performance, Ms. Banerdt has co-founded two uniquely focused chamber music ensembles with other members of the Pittsburgh Symphony.  The Clarion Quartet specializes in Entartete Musik— music written by oppressed composers — and seeks to bring light to artists whose legacies would be silenced.  The Pittsburgh Cello Quartet offers an eclectic mix from classical to pop and rock in unique arrangements for four cellos.  Ms. Banerdt has collaborated with renowned artists such as Kim Kashkashian and Mitsuko Uchida, and members of the Emerson, Guarneri, Juilliard, Borodin, and Orion string quartets.  She has performed at numerous chamber music festivals including Marlboro Music and Music from Angel Fire.  Before joining the PSO, Ms. Banerdt was a member of the prize-winning Trio Terzetto and performed as a substitute with many of the great orchestras of the world, including the New York Philharmonic, Philadelphia Orchestra, Cleveland Orchestra, Detroit Symphony, and Lyric Opera of Chicago.  Ms. Banerdt serves as Artist Lecturer in Chamber Music at Carnegie Mellon University.
A native of Los Angeles, Ms. Banerdt earned her Bachelor's Degree at age 19 from the USC Thornton School of Music, where she studied with Ronald Leonard.  She subsequently studied at The Curtis Institute of Music with David Soyer and received her Master's Degree from The Juilliard School with Richard Aaron.
Ms. Banerdt plays a Montagnana model cello made by Mario Miralles in 1998.