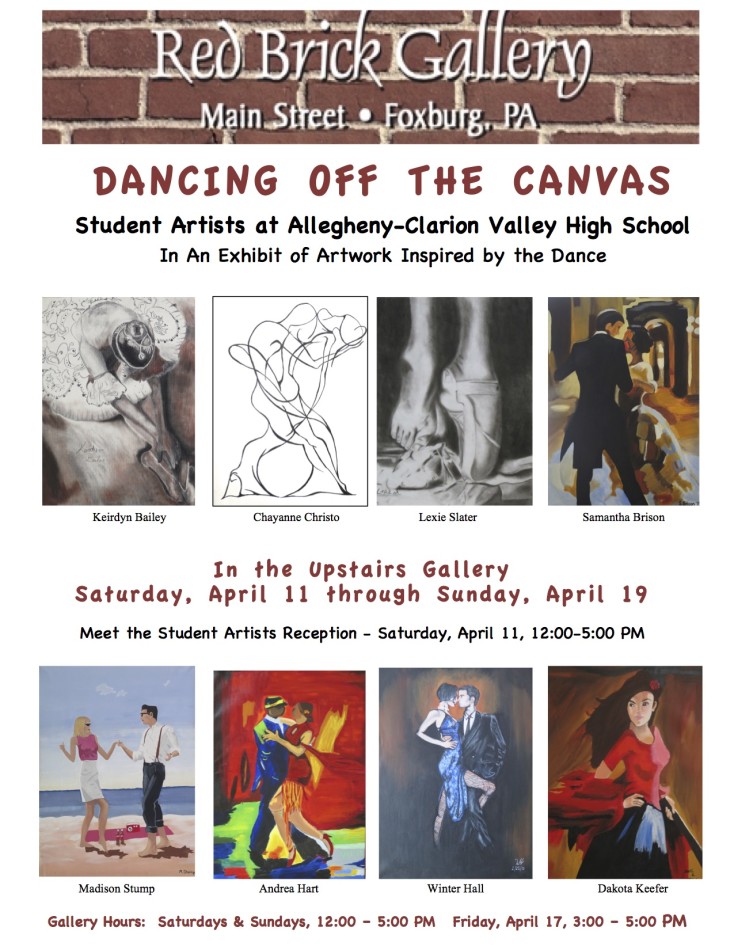 The impulse to move and respond to rhythm is deeply imbedded in our cultural DNA.  Utilizing the universal language of the dance, so popular in the media today, Allegheny RiverStone Center for the Arts has brought a sequential arts education program "Dancing Off the Canvas" to enrich arts education in the Allegheny-Clarion Valley Schools during the Spring of 2015.
Thematically, "Dancing off the Canvas" is all about giving A-C Valley students an opportunity to explore how art has inspired dance and how dance has inspired the visual arts.  ARCA's objective with this program has been to inspire students, enhance learning through the arts and celebrate student artwork in an exhibit in The Red Brick Gallery in Foxburg from April 11 to 19.
ARCA's Dancing off the Canvas seeks to bring attention to arts instruction already flourishing in the A-C Valley Schools and to provide new opportunities to showcase students' talents.  The art exhibit of A-C Valley students in Anita Allen's art classes in The Red Brick Gallery is the culmination of ARCA's spring arts education program.
More than 85 A-C Valley students in Anita Allen's art classes have created 100 works of art inspired by the dance, which will be featured in a Student Art Exhibit at the Red Brick Gallery from April 11 to 19. In their educational process, students have employed the long-standing practice, dating back to the masters of western art, of doing copies of works of art as a study in composition and craftsmanship. From ballet and tango dancers to dancing cartoon figures, beach party dancers and dancing bears, the student artwork is delightfully diverse and excellent in its reproduction of a wide spectrum of images inspired by the dance.
"Students have been working on their art for this exhibit since January," said Anita Allen, A-C Valley art instructor and Art club faculty advisor. " It's amazing to witness their creative process. The Dancing off the Canvas theme has certainly sparked their imagination and has led them to some truly inspired interpretations of dance as they see it. Our community will, without a doubt, get a true idea of the artistic skills our kids have when they see the quality and creativity of this art exhibit."
Donna Edmonds, a botanical artist herself and Director of the Red Brick Gallery, said, "Not only will the students create the pieces that will be displayed, they will also learn the fundamentals of framing and preparing artworks for display.  We are so pleased to be able to provide this rare chance for them to get a comprehensive perspective on the care and commitment it takes to build an exhibit from start to finish.
Edmonds added, "Perhaps this will provide the inspiration that some student will need to pursue a life-long love for creating art."
"This beautiful exhibit is a physical manifestation of the continually evolving partnership between ARCA and the A-C Valley Schools. We are empowering arts education by celebrating student artists in Anita Allen's classes. I've admired their work for years and we're so pleased ARCA can mount this special exhibit that we hope everyone will come to see and support with this FundRazr project," states John Soroka, Executive Director of ARCA.
The exhibit will run two weekends, from Saturday, April 11 through Sunday, April 19, with gallery hours on Friday April 17, 3 p.m. to 5 p.m.; Saturdays, 12 p.m. to 5 p.m. and Sundays, 12 p.m. to 5 p.m.
The ARCA Board of Directors is grateful to Red Brick Gallery Director Donna Edmonds for her generosity and expertise, presenting a seminar to A-C Valley students and creating the exhibit of A-C Valley student art this spring.
ARCA is grateful for the support of the A-C Valley School Board, Superintendent David McDeavitt, Principals Bill Jordan and John Giancola, Staff and Faculty including Anita Allen, Lori Marron Sherman, Jennifer Lowrey and Scott DiTullio for their partnership in bringing its sequential arts education program to enrich the education of AC Valley students.
Dancing Off the Canvas has been supported by a grant from the Pennsylvania Council on the Arts, a state agency funded by the Commonwealth of Pennsylvania and the National Endowment for the Arts, a federal agency. ARCA is grateful for an inaugural gift from the Bridge Builders Community Foundations in support of its Spring 2015 arts education program.
ARCA has launched a first time internet crowd funding effort on the FundRazr.com website (#inspire students) to invite public support for its arts education program in the Allegheny-Clarion Valley Schools.