Lynn Speakman
alto saxophone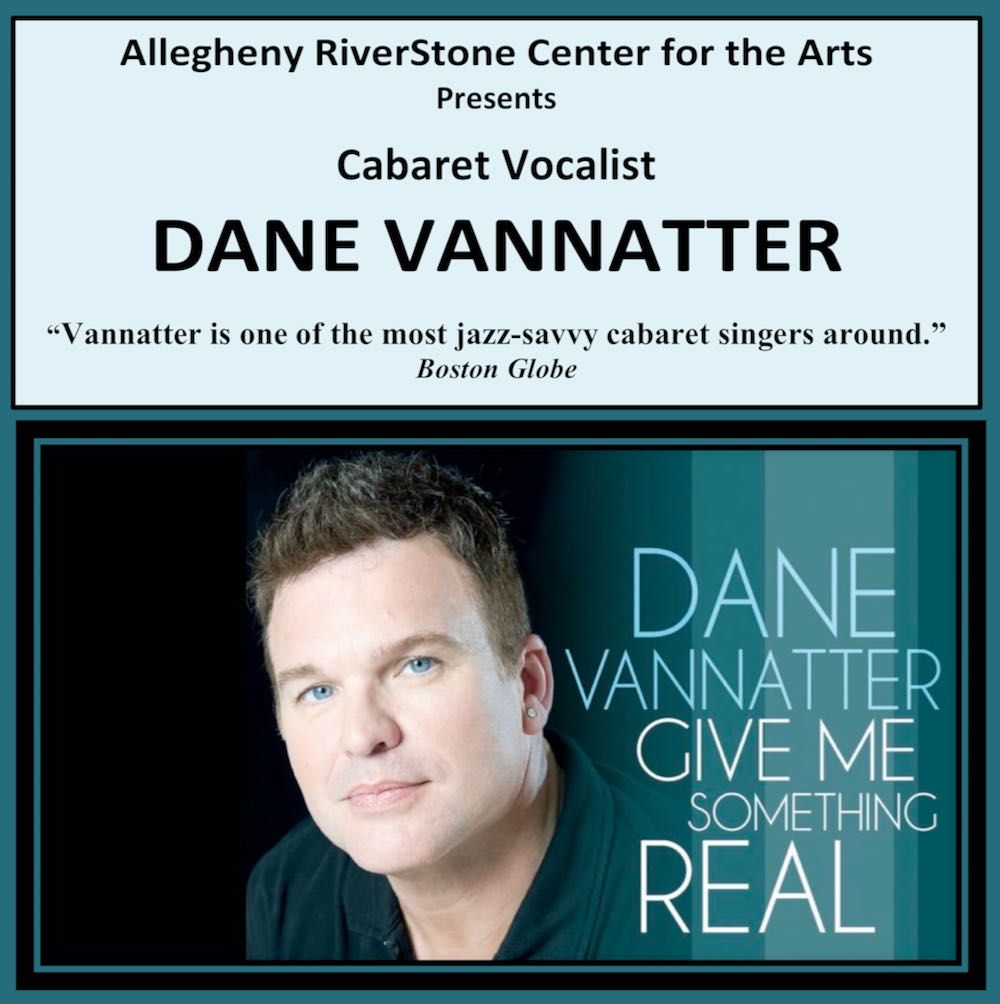 Allegheny RiverStone Center for the Arts will welcome back to Lincoln Hall by popular demand nationally acclaimed vocalist and recording artist, Dane Vannatter, on Saturday evening April 23, 2022 at 7:30 PM.  Enjoy a relaxing, romantic night out with this masterful entertainer and cabaret artist and a quartet of consummate Pittsburgh jazz musicians led by drummer Thomas Wendt, including Max Leake at the keys, Lynn Speakman on alto saxophone, and Eli Naragon on bass.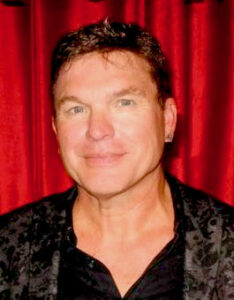 And be sure to wear your dancing shoes so you can take a spin with your sweetheart at the back of the hall!
You won't want to miss his inimitable style of intimate cabaret singing. "His voice has a floating quality that gets in your head and won't leave…his music is a swinging, soaring adventure!" The Boston Globe
In his last visit to Foxburg Dane left the audience begging for more of his unique vocal artistry and sensitive interpretations of the classic American songbook.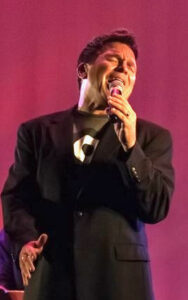 Dane's singing runs the gamut of emotions, as he performs heartfelt passionate, humorous, joyous and touching songs that span seven decades.
Post-COVID, open theatre style seating has returned to 100% capacity.  There is no mask requirement. Please refrain from attending if you are ill or if you have been exposed to anyone with COVID.
Adults: $25, ARCA Members $20, Students $5  Tickets available online here, cash or check at the door – or Call  to reserve tickets: 724-659-3153.
Dane Vannatter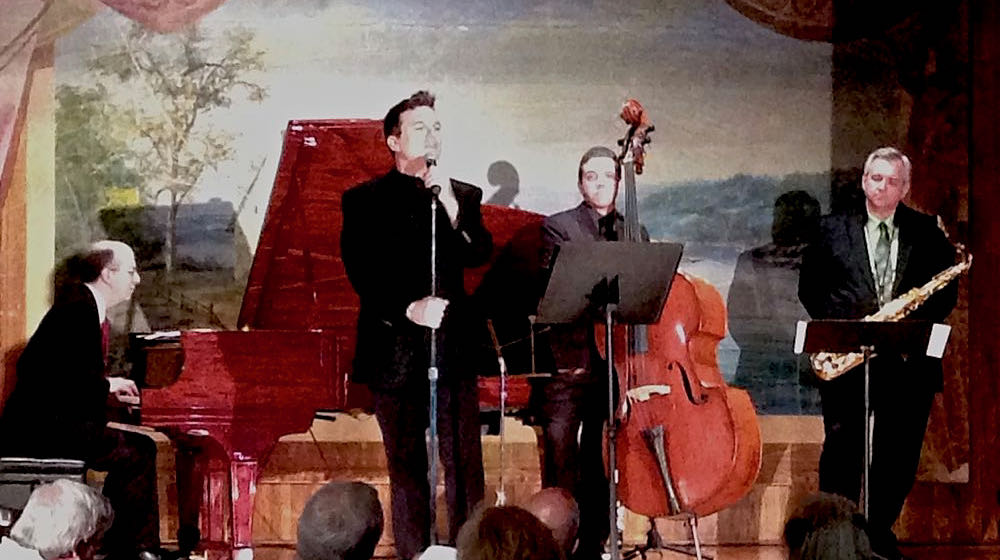 "Vannatter is one of the most jazz-savvy cabaret singers around".  Boston Globe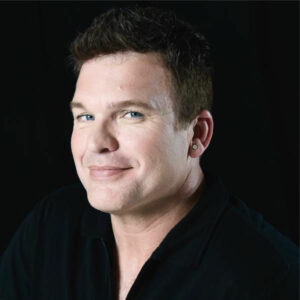 Acclaimed by Carol Sloane of Concord Records as 'my favorite among the new young male singers', Dane Vannatter has been celebrated for his naturally beautiful voice and tasty jazz style.  Montreal's George Evans said, "Dane Vannatter makes it sound so easy – his style is so natural and his sound so free that one could get the mistaken impression that singing isn't work to him at all, but as simple as breathing and just as organic."
Dane Vannatter hails from Muncie, Indiana where his grandparents were Church of God ministers who traveled the country playing and singing for death row prisoners. He attributes his love of music to his grandmother, who lovingly taught him to play the piano and introduced him to the wonderful complexities of harmony.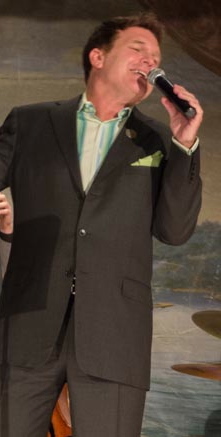 Equally influential in Dane's early musical experience was his father's love of jazz and masters of the song, such as Kay Starr and Billie Holiday. His father's extensive and varied album collection provided the vehicle through which the young Dane began to learn and experience the art of interpreting song. Whether they use their talents in the popular or classical music genres, most singers begin to reach a vocal maturity in their late 20's or early 30's. It was at this age that Dane began to approach singing very seriously as a result of an invitation to participate in a contest in Boston.
Currently living in Cleveland, Dane has received Bistro awards for Outstanding Vocalist and for his recording, Flight, by the critics of BackStage in New York. He has been acclaimed by reviewers at The New York Post, The Boston Globe and BackStage for a style that "blends facets of cabaret and jazz with intelligence and care".
The Boston Globe remarks: "Dane Vannatter's distinctive style leaves an imprint on whatever music he sings. His voice has a floating quality that gets in your head and won't leave…his music is a swinging, soaring adventure!" He has been nominated for four MAC awards and has been a Nightlife Award finalist.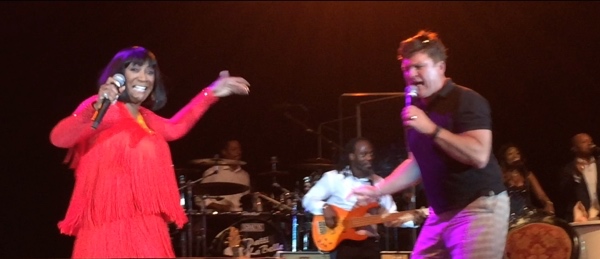 Dane has performed for several years at the annual Mabel Mercer Cabaret Convention at Town Hall in New York City and performed in venues nationally and internationally. In Pittsburgh, Dane has performed for the First Fridays at the Frick series and sings regularly at the Fairmont Hotel's Jazz at Andy's and James Street Gastropub & Speakeasy.
On July 31, 2015 Dane was called to the stage by Patti LaBelle during her concert in Columbus, Ohio. After hearing Dane sing and inviting him to duet on her classic "Lady Marmalade" Patti exclaimed "You better sing, fool. My God!."

Dane is a gentleman with a particular passion for lending his considerable talents in support of such noble causes as pancreatic cancer research and the Adagio Health Organization, which serves more than 100,000 Western Pennsylvanians regardless of income or insurance.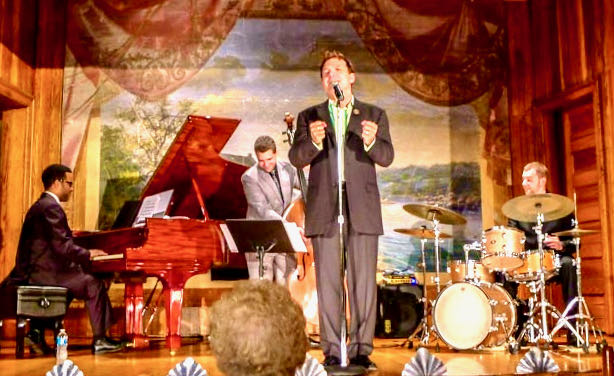 The review of Dane Vannatter's fourth CD Give Me Something Real in Cabaret Scenes:
January 31, 2016
Reviewed by John Hoglund for Cabaret Scenes
Many have asked, "Where are the torchbearers for the Great American Songbook today?" There are wannabes floating around who have gotten serious star attention that's arguably not warranted (like Michael Bublé or Diana Krall who are not quite the real deal or bore), but have been lucky enough to be churned out like butter and packaged well. But, today's cabarets and jazz clubs have some great singers who deserve a shot. Welcome Dane Vannatter, who has been kicking around Boston, New York and, more recently, Pittsburgh clubs for almost two decades and has built a loyal following. He's someone the Concord or Telarc labels might consider, especially since there is a paucity of good jazz vocalists on the market today.
While there's no magic formula to being a great singer, some just have what it takes. Vannatter fits that bill. Whenever this jazz/swing singer hits the stage, he is known for putting his best foot forward. He never disappoints. His fourth CD, Give Me Something Real, is no exception. His rangy jazz tenor caresses songs with ease. Insightful phrasing matches the quality of his full-voiced vocals, which remain flawless.
Unlike his previous three albums, this particular disc has a more personal touch as he blends etched-in-wood classics with contemporary story songs that soar. This is obvious on beautifully realized cuts like "But Beautiful" (Johnny Burke/Jimmy Van Heusen), "Blame It on My Youth" (Edward Heyman/Oscar Levant) and the album's title cut from 1998 by Clark Anderson and Meryn Warren which stands out for its heartfelt clarity. These are sung with an intelligence and bright musicality that excels with every note. A lot of heart went into recording these gems. Kicking off with a strong bass line, the frolicsome "I Love My Bed" (Bob Haymes) is a refreshing lighthearted romp that's given a terrific arrangement. He digs deep while retaining a strong drive on the Billy Strayhorn beauty "Something to Live For." Such versatility only adds to the surprises on this disc that mixes the old and new. One of the CD's most intense and trenchant cuts fuses the Coldplay hit "Fix You" (Chris Martin/Jonny Buckland/Guy Berryman/Will Chapman) with Leonard Cohen's legendary "Hallelujah." Joining these unique songs of shattered love and sadness is inspired, making for the album's finest cut. They unfold a tale of wrenching drama and heartbreak in a stunning arrangement that is about riveting as it gets. Vannatter shows his level of interpretive gifts with these two formidable songs. The burnished bruise in his expressive, softer moments underscores a natural vibrato that is heartbreaking. This pairing is worth the price of the album alone, which is a hands-down winner by a singer who deserves more exposure and recognition.
The exceptional band is led by Fred Boyle (piano), with Ron Ormsby (bass), Bart Weisman (drums), Steve Ahern (trumpet), Bruce Abbott (sax/flute), Jon Evans (bass), Eric Susoeff (guitar) and Daniel May (keyboard).