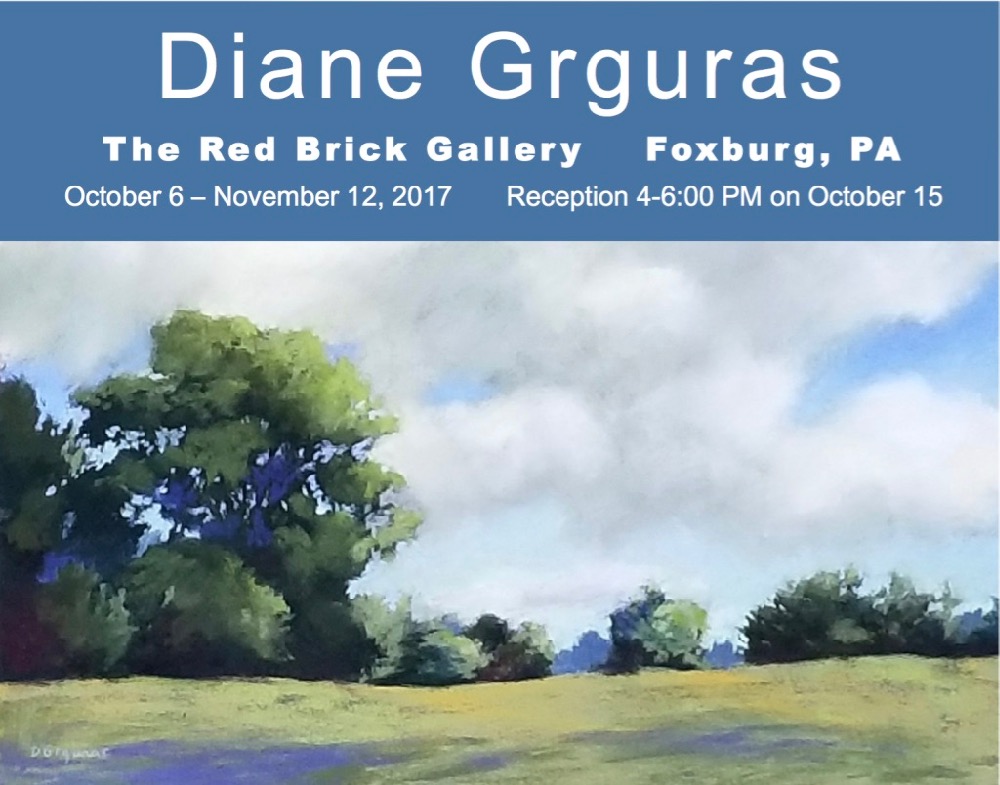 Allegheny RiverStone Center for the Arts proudly announces the Fall Exhibit of the Red Brick Gallery – Plein Air Pastels of Pittsburgh artist, Diane Grguras, runs from October 6 to November 12, opening on the weekend of the Foxburg's Fall Festival (Sunday, October 8).  Gallery Hours are Fridays 1:00 – 5:00 PM, Saturdays 11:00–7:00 PM, and Sundays 12:00–4:00 PM.
Meet the Artist at an Opening Reception on Sunday, October 15 from 4:00 to 6:00 PM in the Gallery at 17 Main Street, Foxburg,  following the Violin Virtuoso concert of internationally travelled soloist and conductor, Andres Cardenes, who has also served as the Pittsburgh Symphony's Concertmaster, at 2:00 PM in Lincoln Hall.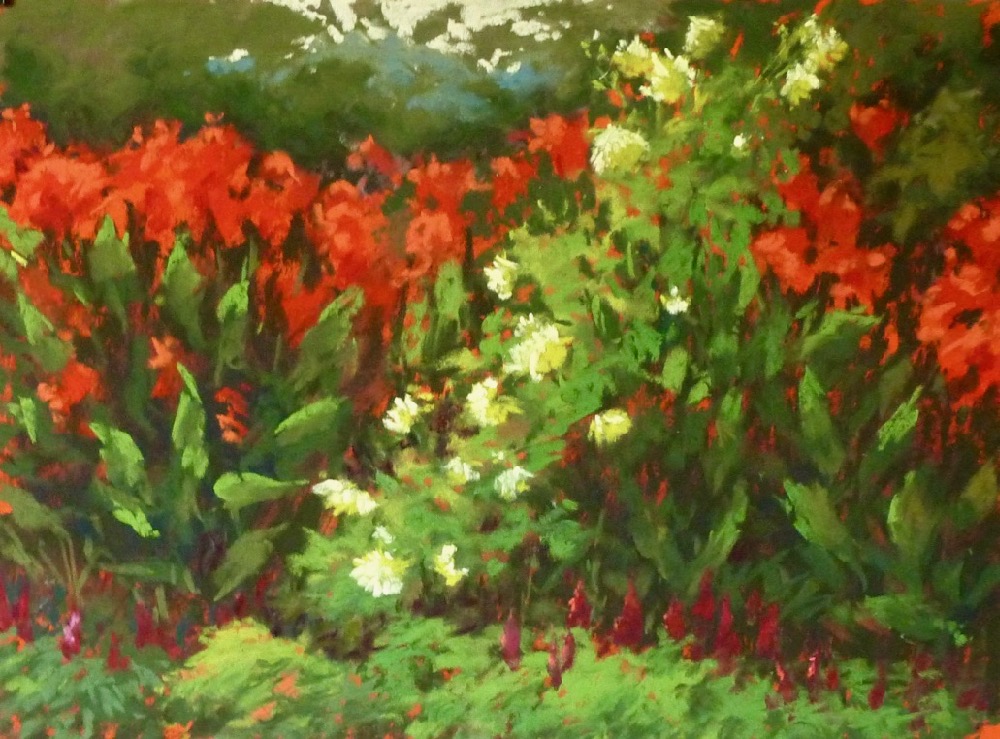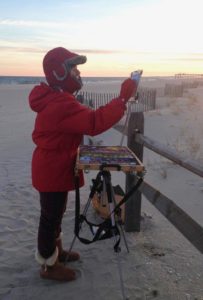 Diane Grguras, who has been painting outdoors for 14 years, credits it not only for increasing her observation skills but also for providing an awareness of the spiritual quality of the landscape. "The idea that each person is unique and important is mirrored in nature. My paintings are an expression of how I see & feel about the natural world. I appreciate the beautiful diversity of the world, as well as its order & logic. "
Grguras appreciates working outside because it "lets you see light and color in their true appearance and gives you the atmospheric feeling of a scene. It's not always comfortable but so worth the sun, wind, rain, frozen hands, and hat hair. You meet people from all over the world because you're doing something that speaks a universal language."
Pastels are Diane Grguras' choice medium because of their intensity of color. "Pastel is almost pure pigment and keeps the same brilliant appearance for hundreds of years. Most of my paintings are done outside because I like the freshness of painting fast… you have about 2 hours before the light has completely changed. For larger works I use plein air pieces or my own photos as references. Sometimes people ask me how I choose a subject. It's not so much the subject itself that attracts me, as much as how the light falls on an object or place, as well as the color it reveals." For more information on her work and to view her recent work:  www.dianegrguras.com

About Plein Air Painting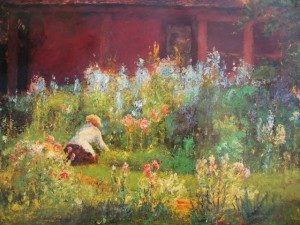 Plein air painting is a French expression meaning "in the open air," and refers to the act of painting outdoors; artists leave the four walls of their studio behind to paint and draw outdoors, seeking to capture the spirit and essence of a landscape or subject. The practice goes back centuries but was made into an art form by Claude Monet and the French Impressionists. Their desire to paint light and its changing, ephemeral qualities – coupled with the creation of transportable paint tubes and the box easel – allowed artists the freedom to paint "en plein air."
Impressionism and plein air painting spread across America, and art colonies developed in places like Cos Cob and Old Lyme, Connecticut; Taos, New Mexico; Laguna Beach and Carmel-by-the-Sea California; Brown County in Indiana; AND New Hope, Pennsylvania.
Though the practice of plein air painting has never stopped, there was a resurgence, mostly in California, in the 1980s. Today the movement is unstoppable; it has become "the new golf" as tens of thousands across the world have ventured outside to enjoy the beauty of the landscape and express it in plein air art work.

About the Artist
Diane Grguras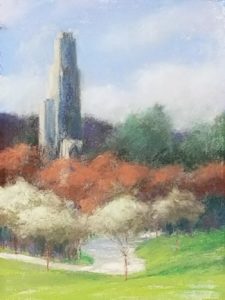 Diane Grguras has a B.S. in Medical Illustration from The Ohio State University and an A.S. in Scientific Illustration from San Bernardino Valley College (CA). She completed an internship in medical illustration at the VA Medical Center in East Orange, NJ.   She has worked as a graphic designer and illustrator and has taught art classes for adults and children.
Diane Grguras lives in Pittsburgh and is a member of the Pittsburgh Pastel Artists League, the Ohio Plein Air Society, the Cranberry Artists Network, and the North Hills Art Center.
Her work in pastel is in the plein aire tradition, and considers color temperature and the effect of light.
She has won awards in many shows and is represented by the Gallery on 43rd Street in the Lawrenceville section of Pittsburgh and Glass Growers Gallery in Erie, PA.