Katherine Soroka
mezzo-soprano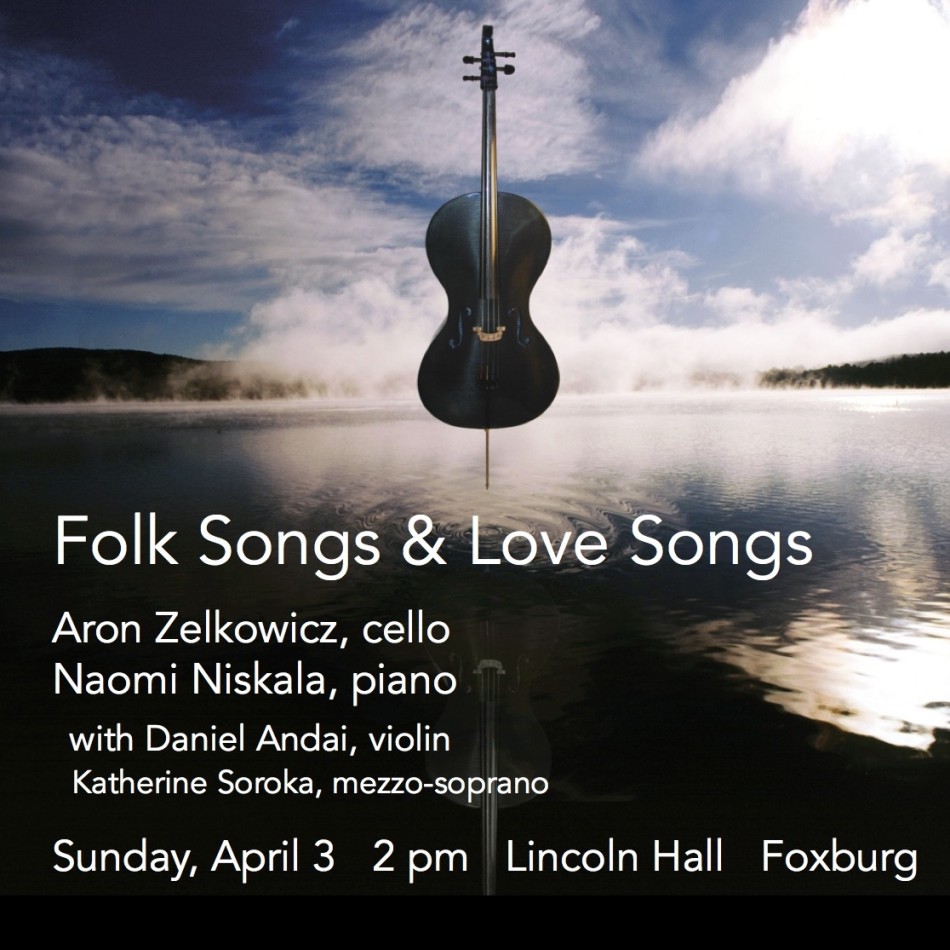 Allegheny RiverStone Center for the Arts is proud to open its 2016 Spring Performance Season with an afternoon of lyrically beautiful chamber music based on  "Folk Songs and Love Songs",  performed by nationally and internationally acclaimed musicians and recording artists  – cellist Aron Zelkowicz, collaborating with pianist Naomi Niskala and violinist Daniel Andai – and with mezzo-soprano Katherine Soroka in a cameo performance.  Music will be in full bloom with chamber music and songs by Beethoven, Schumann, Dvorak, Massenet, Cano and Piazzolla.
This concert is dedicated to ARCA's founder and long-time Board members, Dr. Arthur and Patricia Steffee, whose love, commitment and generosity have made possible the presentation of glorious music and art in the beautiful Allegheny River Valley. Join us for a reception afterwards in Lincoln Hall with cake and coffee to celebrate them and Allegheny RiverStone Center for the Arts' Tenth Anniversary Performance Season.
Tickets are Adults $25, Members $20 and Students $5.  To reserve, call 724 659-3153 or buy tickets online here.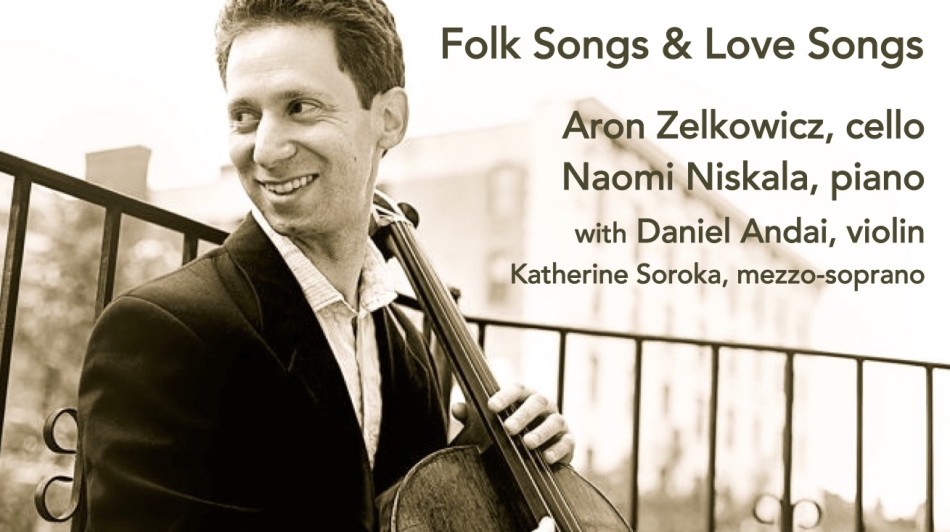 Aron Zelkowicz, cello     Naomi Niskala, piano
with Daniel Andai, violin    &   Katherine Soroka, mezzo-soprano
12 Variations on "Ein Mädchen oder Weibchen"         Ludwig Van Beethoven (1770-1856)
from Mozart's "The Magic Flute" in F Major
Op. 66 for cello and piano
Five Pieces in Folk Style, Op. 102                                    Robert Schumann (1810-1856)
for cello and piano
Vanitas Vanitatum (Mit Humor)
Langsam
Nicht schnell, mit viel Ton zu spielen
Nicht zu rasch
Stark und markiert
Élégie (1875)                                                                       Jules Massenet (1842-1912)
Epílogo, from Luna (1988)                                                José María Cano (b. 1959)
Primavera porteña, from The Four Seasons                  Astor Piazzolla (1921-1992)
arr. Jose Bragato for piano trio

Intermission
"Song to the Moon", from Rusalka, Op. 114                 Antonin Dvořák (1841-1904)
arr. for cello and piano
Piano Trio in E minor, Op. 90, "Dumky"                        Antonin Dvořák
Lento Maestoso
Poco Adagio
Andante
Andante Moderato
Allegro
Lento Maestoso
Program Notes by Aron Zelkowicz
Folk songs and love songs were embraced by Romantic composers as the popular music of their day.  Allegheny RiverStone Center for the Arts celebrates the humble origins of some lush vocal and instrumental chamber music in a varied program that features first-time guest violinist Daniel Andai, cellist Aron Zelkowicz, and pianist Naomi Niskala.
As the centerpiece of our program, Antonin Dvořák s beloved "Dumky" Piano Trio is awash in sumptuous melodies. Like Dvořák, Robert Schumann created original music inspired by the simplicity and directness of folk dances with his Five Pieces in Folk Style. Ludwig van Beethoven, mostly known for his powerful symphonies and sonatas, captures the charm of one of opera's most popular characters in his 12 Variations from Mozart's Magic Flute.
We delve further into the world of opera with a cello arrangement of Dvořák's most famous aria, the "Song to the Moon" from Rusalka.  Mezzo-soprano Katherine Soroka joins the ensemble for an Elegie by the French operatic master Jules Massenet, and the haunting Epilogue from José María Cano's folk opera Luna. The passions of Cano's Spanish folk opera are complimented by Astor Piazzolla's fiery tango Primavera Portena for piano trio.
We are honored to perform this recitals' two moon-related songs, the Dvořák and the Cano, in honor ARCA's founders and long-time Board members, Dr. Arthur and Patricia Steffee.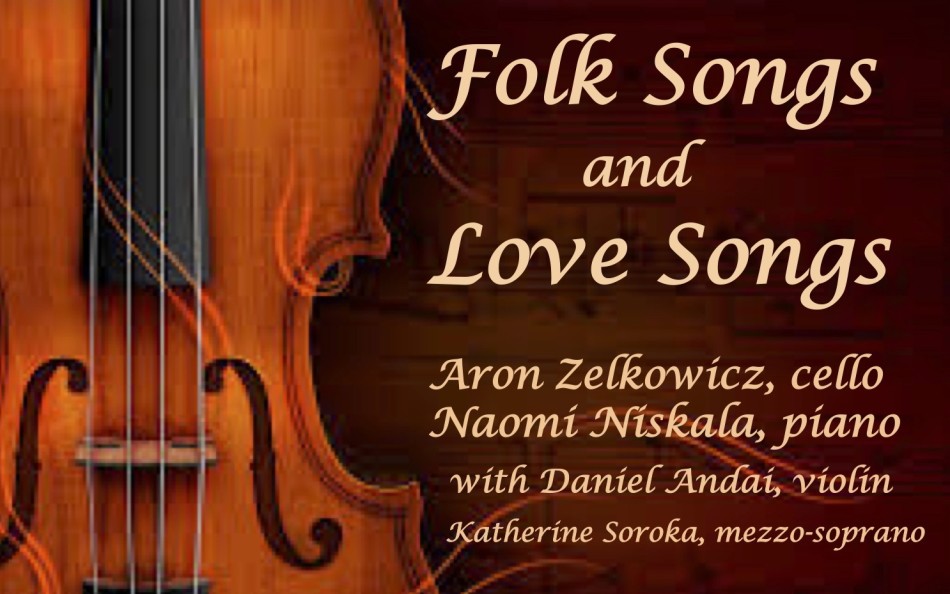 As Allegheny RiverStone Center for the Arts celebrates its 10th Anniversary Performance Season in 2016, it will be paying tribute to and thanking those whose efforts, love, commitment and generosity have made possible the presentation of glorious music and art in the beautiful Allegheny River Valley.   No one is more deserving of recognition than Dr. Arthur and Patricia Steffee, who not only were founding members of ARCA, but also refurbished Lincoln Hall, served as officers on its Board of Directors since its inception, and hosted several fund raising house tours at their home, RiverStone mansion, as well as annual Major Donor Dinners and post concert receptions.
Folk Songs and Love Songs by Aron Zelkowicz, Naomi Niskala, Daniel Andai, and Katherine Soroka is dedicated to Dr. Arthur and Patricia Steffee.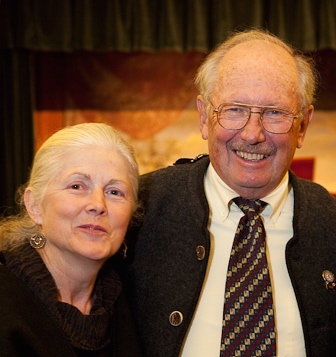 Arthur and Patricia are great lovers of classical music, with recorded music soaring in their home by day and night and even as they are working in their greenhouse.  Sweet are the moments when the music performed by extraordinary artists in Lincoln Hall have brought tears to their eyes.  Among their favorite musical compositions are two works on the April 3 concert program:  Dvorak's "Song to the Moon", from Rusalka arranged for cello and piano, and Epílogo, from Luna for cello and voice by José María Cano.
Aron Zelkowicz, cello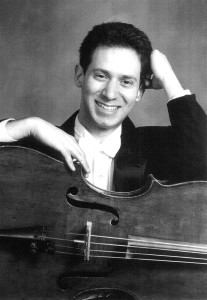 With a career encompassing a broad range of activities as a cellist, performer, teacher, and administrator, Aron Zelkowicz has cultivated a repertoire both classical and ethnic, familiar and obscure. For eleven years he served as the Founder and Director of the Pittsburgh Jewish Music Festival, which presented rare and diverse works from Jewish musical traditions to Pittsburgh audiences every spring. Under his guidance, the Festival featured renowned ensembles and guest artists from the orchestral, chamber, early music, rock, and world music genres in innovative and thematic programs, for which he directed every aspect of fundraising, marketing, production, and artistic planning. The Festival has commissioned several works from major composers like David Stock, Judith Shatin, and Nizan Leibovich, received major grants and mainstream critical acclaim, and has been featured in full-length radio and cable television broadcasts. Critics noted his "impressive" directorial debut of an original 2013 production of the chamber opera "The Dybbuk" by Ofer Ben-Amots, and dubbed the Festival "one of the highest quality concert series in town" (Pittsburgh Tribune-Review) and a local "best-kept secret" (Pittsburgh Post-Gazette).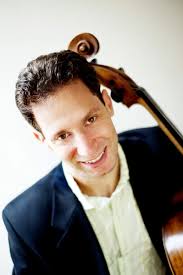 As a chamber and orchestral musician, Dr. Zelkowicz has performed at the Tanglewood, Banff, Aspen, Sarasota, Chautauqua, Colorado, and Sunflower music festivals, the New York String Orchestra and Juilliard Quartet Seminars, with members of the Emerson and Cleveland Quartets, as Principal Cello of the Miami Symphony Orchestra, and on European and North American tours with the Pittsburgh Symphony Orchestra. He enjoys relating directly to both adults and children with outreach programs and personal introductions to his concerts, as he has done with the Charleston Symphony Orchestra in South Carolina, the Proteus Ensemble, Piccolo Spoleto's Spotlight chamber music series, and as his own Pittsburgh Jewish Music Festival. As a teacher and coach to young string players, he has given master classes at the universities of Alaska, Michigan, Montana, Nevada, Texas, and Wisconsin, and served on the faculties of Point Counterpoint Chamber Music Camp, the Brevard Music Center, and the North Carolina Governor's School. In 2013 he completed an eight-city tour of the midwest U.S. playing the complete Britten Cello Suites in honor of the composer's 100th birthday.
A native of Ottawa, Canada, Aron Zelkowicz grew up in Pittsburgh and received degrees from the Eastman School of Music, Indiana University, and Stony Brook University, where his teachers included Anne Martindale Williams, Paul Katz, Steven Doane, Janos Starker, and Colin Carr. He performs in the New England region as a member of the Springfield Symphony Orchestra, the Rhode Island Philharmonic Orchestra, the Boston Landmarks Orchestra, and the Boston Lyric Opera.
Naomi Niskala, piano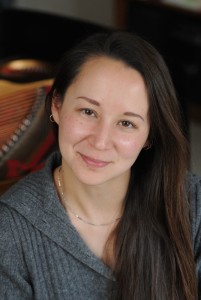 Pianist Naomi Niskala has appeared as soloist and chamber musician in Europe, North America, Russia, Israel, Thailand, and Japan, and her performances have been broadcast on BBC Radio, Deutschlandradio, RTV Germany, and NPR's Performance Today. Her competition awards include first prize at the Kingsville International Isabel Scionti Solo Piano Competition and a top prize at the International Stravinsky Awards Competition in Illinois, and she spent two summers each at the Tanglewood Music Center and the Ravinia Festival's Steans Institute. Upon invitation from Zarin Mehta and the Ravinia Festival, she performed as chamber musician in Israel, Turkey, and Greece. Niskala performs regularly with Spectrum Concerts Berlin, one of Germany's leading chamber organizations.
Recent performance highlights include the San Francisco Symphony Chamber Series at Davies Symphony Hall, soloist with the St. Petersburg Chamber Philharmonic of Russia, and with Spectrum Concerts Berlin in the Philharmonie Kammermusiksaal of Berlin, Carnegie's Weill Hall, and in Thailand and Kosovo. Her release of the only complete recordings of American composer Robert Helps's solo piano works on two discs with Albany Records in 2007 was met with high acclaim, and the first volume was declared one of the ten "2007 Best of the Year" discs by ClassicsToday. She has also recorded piano chamber works of Robert Helps and Ursula Mamlok with Spectrum Concerts Berlin for two discs on Naxos, as well as the world premiere of Mamlok's 2015 quintet "Breezes" for Bridge Records.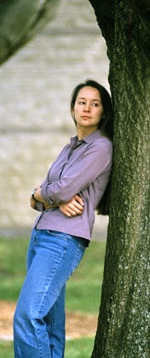 Born to Japanese/Finnish-American parents, Niskala began studying piano at the age of three. She was raised in Rochester, New York and later Tokyo, Japan. Niskala holds degrees from the Yale School of Music, Stony Brook University and the New England Conservatory of Music, and also attended Tufts University. She received her Master of Music and Doctor of Musical Arts degrees in Piano Performance with Gilbert Kalish at Stony Brook, and an Artist Diploma with Claude Frank at the Yale School of Music.
Other teachers include the late pianists Patricia Zander and Maria Luisa Faini, as well as chamber music studies with pianists Leon Fleisher, Menahem Pressler, and Peter Serkin, and violinists Louis Krasner and Eugene Lehner.
Niskala has taught on the faculties of Wesleyan University (Connecticut), the University of South Florida's School of Music, and the University of North Dakota. She is currently Associate Professor of Music at Susquehanna University, where she teaches piano and theory, and leads a summer chamber music exchange program to Japan.
Daniel Andai, violin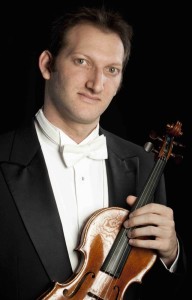 Hailed as an "Exemplary Leader" by the New York Times for leading members of the New York Philharmonic and the Manhattan School of Music in Carnegie Hall, violinist Daniel Andai has shared his versatile artistry as a soloist, recitalist, chamber musician, concertmaster, conductor and recording artist in major concert venues in over 50 countries across five continents, the Middle East, the Caribbean and over 30 United States. He is a prizewinner of national and international competitions and has soloed with orchestras around the world.
Daniel Andai is concertmaster, frequent soloist and guest conductor of The Miami Symphony Orchestra (MISO). He was also concertmaster and frequent soloist of the Philharmonic Orchestra of the Americas in New York with whom he recorded multiple Billboard rated SONY Classical CD's, made numerous televised solo appearances and was featured on AeroMexico's inflight entertainment systems.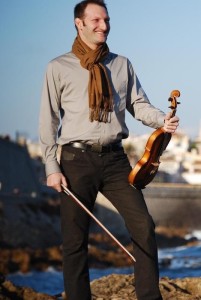 Daniel has held concertmaster positions with orchestras in Mexico, Brazil, Switzerland, and France, performed in the sections of the New York Philharmonic and the Miyazaki Festival Orchestra in Japan, and worked closely with members of major string quartets and symphony, opera and ballet orchestras around the world. The New York Times wrote of his concerto performance, "A lyrical dialogue unfolded between orchestra and solo violin, whose melodic lines were expressively performed here by Daniel Andai."
Daniel Andai is the Dean of Music at the New World School of the Arts in Miami, Florida and the Artistic Director of the Killington Music Festival in Vermont. Dr. Andai previously was the violin professor and The Marialice Shivers Endowed Chair in Fine Arts at the University of Texas in Edinburg and served on faculties at Miami-Dade College and New World School of the Arts. He hold degrees from the University of Miami, the Manhattan School of Music and Lynn University.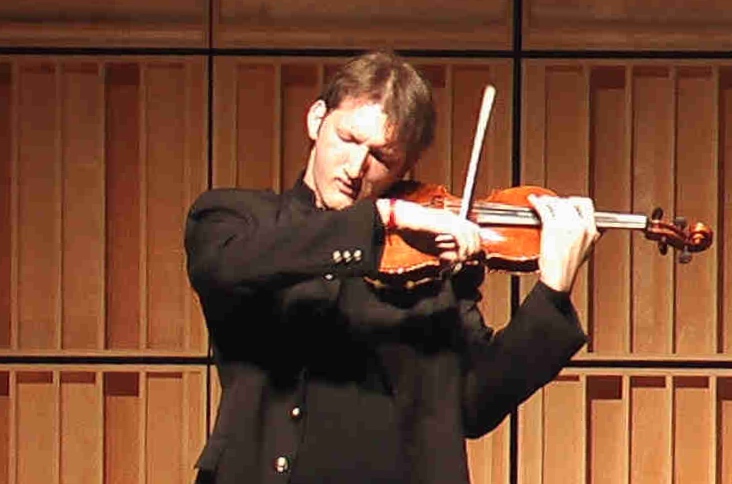 Katherine Erlandson Soroka, mezzo-soprano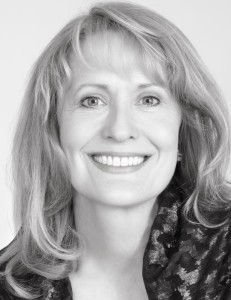 A veteran of opera, oratorio, cabaret, and musical theatre, Katherine's first love is art song and vocal chamber music.  A winner of Pittsburgh's Concert Society Major Auditions, her singing has been acclaimed as  "masterful" and "heroic" with "heartfelt vocalism" in the Pittsburgh Post Gazette.  She has performed chamber music with the Pittsburgh Jewish Music Festival and sung recitals in Kresge Auditorium, on The Silberman Recital Series at Allegheny College, in New York City at Cami and Merkin Concert Halls, and here in Lincoln Hall for ARCA.
Katherine curated and sang a Music for Exhibitions concert with Chatham Baroque at the Frick Museum in conjunction with the exhibit "From Michelangelo to Annibale Carraci:  A Century of Italian Drawings From the Prado".  A benefit concert performance with members of the Pittsburgh Symphony Orchestra for Concerts for Causes raised funds for the Children's Homeless Education Fund.
Influenced by her work with Jan DeGaetani, Katherine has performed contemporary music with the Duquesne Contemporary Ensemble including  Ahkmatova Songs by University of Virginia composer Judith Shatin, and the world premiere of Rumi Sings of Love by Pittsburgh composer, David Stock.  She performed Betty Oliviero's Juego de Siempre with Joel Sachs and Continuum contemporary ensemble in New York City.  Other performances at Aspen Music Festival and in New York City at The JCC, The Kitchen, Greenwich House, The Juilliard School, Columbia University and City University of New York featured music by Chinery Ung, Judith Shatin, Glen Cortese and Noah Zahler, among others.
Katherine has performed with the Knoxville Symphony Orchestra and has narrated and sung with the Pittsburgh Symphony Orchestra in  "Tiny Tots" and "Schooltime" concerts.  She has been a frequent soloist in oratorio and numerous zwischen fach operatic roles ranging from Cherubino, Romeo and Dido to Suor Angelica and the Countess.  She has performed cabaret shows at Panache and Don't Tell Mama in New York City and numerous classical cabaret concerts for the McKees Rock Symphony and in her native North Dakota, among other venues.   Favorite musical theatre roles are Vera in Pal Joey, Anna in The King and I, and Lilli Vanessi/Katherine in Kiss Me Kate.  Katherine teaches voice privately in Pittsburgh and Emlenton.