Oil Portraits of Historic Pittsburgh by Fritz Keck
April 25 – May 18, 2014
Exhibit Opening:  Sunday, April 27  3:00 – 5:00 PM
The Red Brick Gallery and Shop in Foxburg, Allegheny RiverStone Center for the Arts (ARCA) artist cooperative reopened its 2014 season on Friday April 25th with an exhibit of"Oil Portraits of Historic Pittsburgh", displaying the captivating work of Fritz Keck.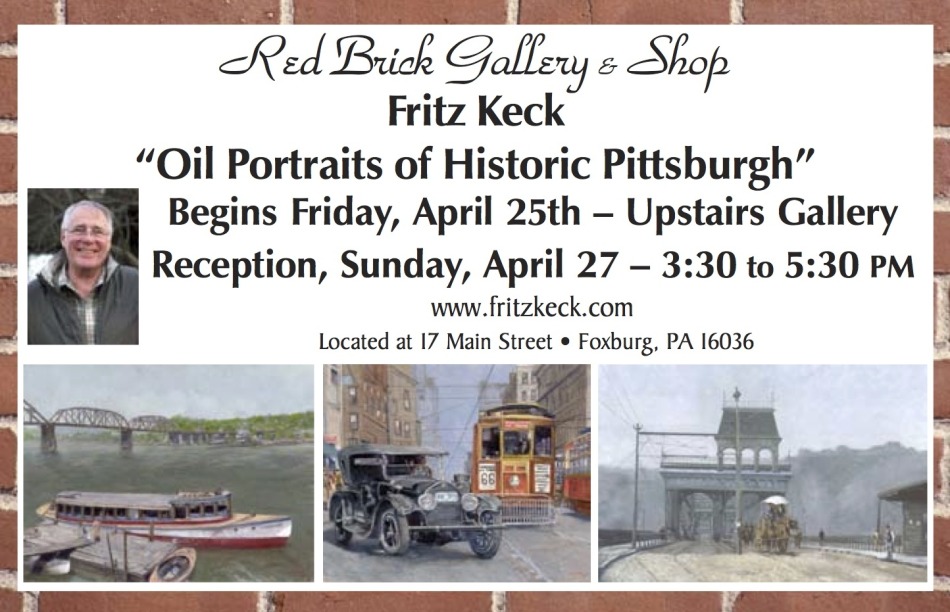 An Opening reception was held on Sunday, April 27th, from 3:30 to 5:30 PM providing an opportunity to meet and visit with Fritz Keck.  The reception coincided with ARCA's afternoon concert at Lincoln Hall presenting the up and coming piano virtuoso Alvin Zhu.
Fritz Keck is a Pittsburgh painter who has gained recognition by creating original oil paintings of old historic Pittsburgh and western Pennsylvania.  Fritz Keck has returned to his home town of Pittsburgh after many journeys and various career choices to pursue his dream of painting full time.
Growing up in Edgewood and a graduate of Carnegie Mellon, Mr. Keck is now focusing his subject matter on early Pittsburgh history. Using old photos as reference, Fritz brings these images to life in original oil paintings, allowing his palate to reflect the diversity and uniqueness of the Pittsburgh Region. With practiced brushstrokes, Fritz's paintings reveal the vintage character of this distinctive history.  www.fritzkeck.com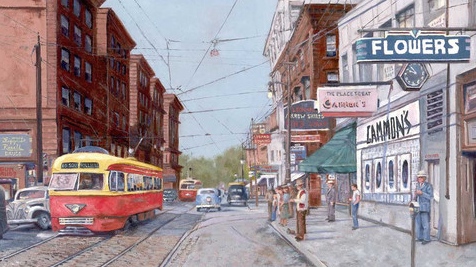 The Red Brick is located at 17 Main Street in "downtown" Foxburg and is open on week ends, with new extended hours beginning Friday April 25th till the end of the year:  Friday Noon to 8 PM, Saturday 11 AM to 8 PM and Sunday 11 AM to 4 PM.