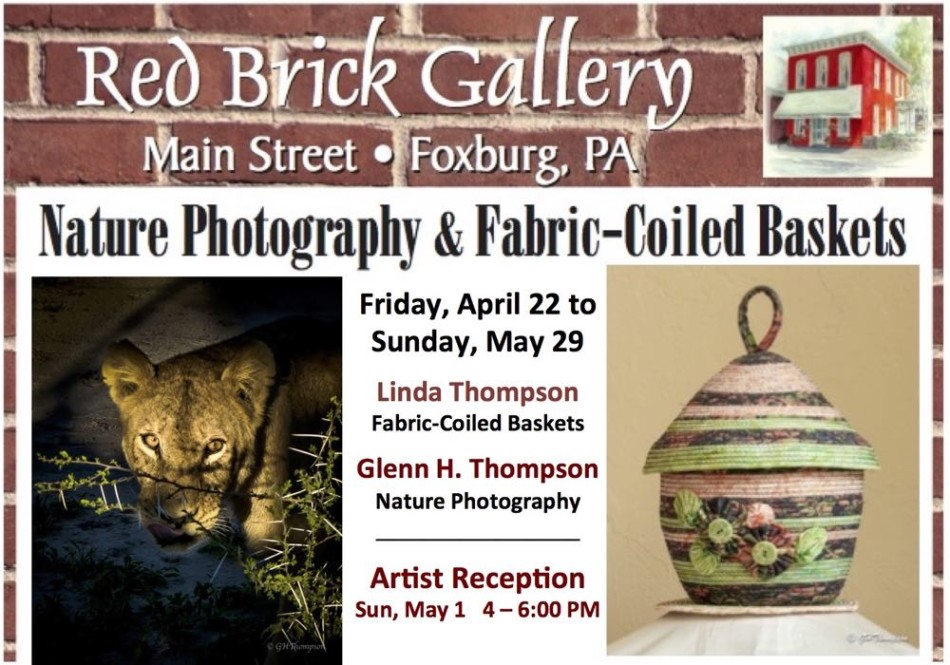 As Allegheny RiverStone Center for the Arts is celebrating its Tenth Anniversary Performance season, its artistic subsidiary, The Red Brick Gallery, is beginning its sixth season, featuring six rotating exhibits from April through December 2016, showcasing the artwork of its own Cooperative Artists. The first exhibit of Nature Photography and Fabric-coiled Baskets by husband and wife, Glenn and Linda Thompson, runs from Friday, April 22 to Sunday, May 29. A Meet the Artists' Reception will be held on Sunday, May 1 from 4:00 – 6:00 PM, immediately after ARCA's Wurlitzer Theatre organ concert by Dan Minervini.
Red Brick Gallery is located at 17 Main Street in historic Foxburg, PA. Gallery hours are Fridays, 1:00 p.m. to 5:00 p.m., Saturdays, 11:00 a.m. to 7:00 p.m., and Sundays, 12 p.m. to 4:00 p.m.

Linda Thompson's intricately beautiful fabric-coiled baskets will be showcased in the gallery space on the second floor at 17 Main Street in Foxburg among three collections of Glenn's landscape and wildlife photography taken on his recent travels around the world: One from a late-2015 safari in Kruger National Park in South Africa, a second celebrating the beauty of the birds of Costa Rica from January, 2016, and landscapes that were converted to black and white from their original color images.
Linda Thompson's Fabric-Coiled Baskets
Linda's fabric-coiled baskets are each uniquely contrasted in color, texture and decoration. Formerly a professional Gifted and Talented coordinator, Linda first discovered weaving when she and her husband spent five years in Brazil during his tenure as a corporate executive with PPG Industries. Returning to the U.S., her weaving led to her chosen artistic pursuit: "When I discovered fabric-coiled baskets, I knew I had found a great creative outlet!

As each row spirals into existence, there is surprise and fulfillment, color-play and texture, whimsy and structure. What is a basket? …a vessel… a pleasing shape… a means of self-expression." Erik Wahl's quote rings true with her: "The secret is not the mechanics or technical skill that create art–but the process of introspection and different levels of contemplation that generate it."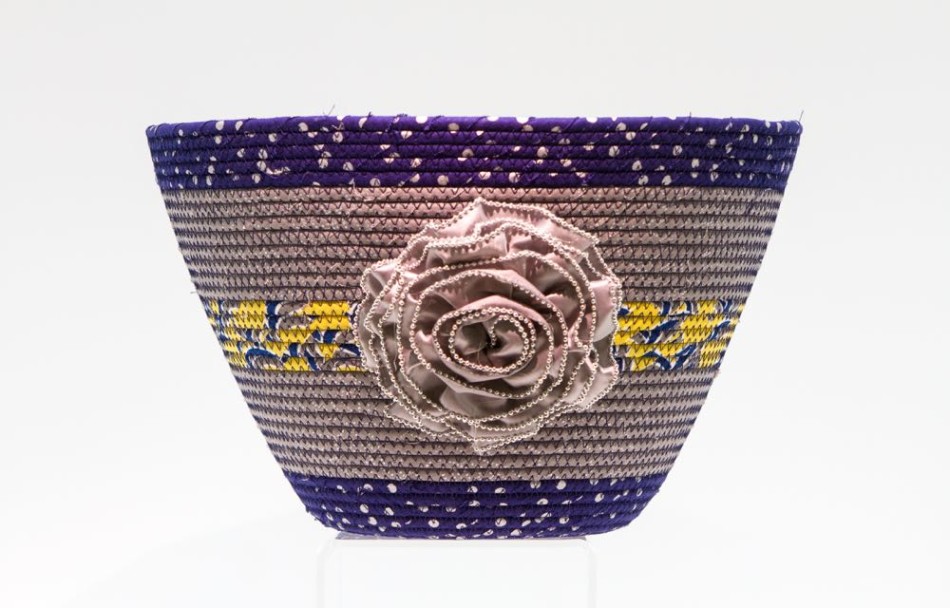 Glenn H. Thompson's Landscape and Wildlife Photography
Coincidental with his retirement, Glenn H. Thompson rekindled his deeply rooted interest in photography, which began when he received for Christmas in 1955 his first Ansco camera and film-processing and contact-printing kit. He made black and white photos using the kit, as often as his allowance and grass-cutting jobs would provide cash to buy film and developing chemicals.
"It is almost impossible to believe that less than ten short years after retiring from a global business career that I would be displaying photographs in an art gallery!  Now, with rolling cases and back-packs stuffed with digital cameras and gear, I venture to places around the world in search of the flora, fauna and landscapes that I used to "ah" over in National Geographic.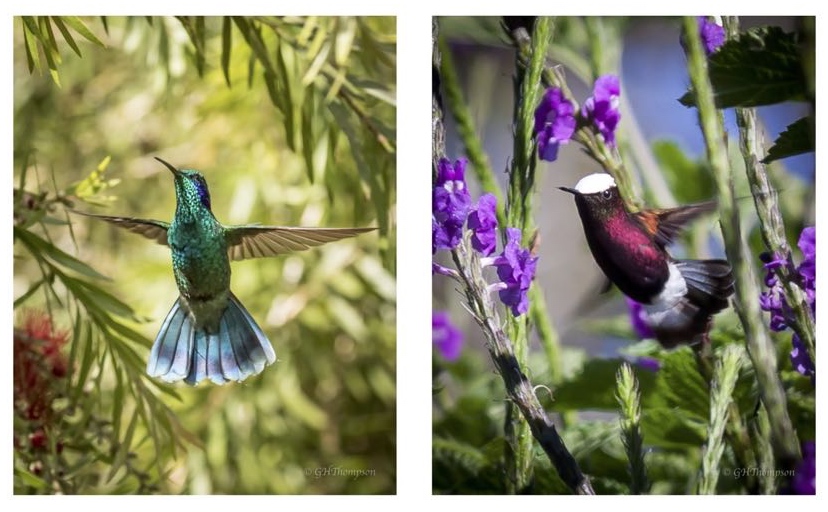 Until last year, the results of those trips ended up as coffee table books, which eventually got stashed away on obscure shelves.  As a co-op member of the Red Brick Gallery, I now have the opportunity to share some of my images with a broader audience than just my family and friends who visit my home.  It gives me much pleasure to share the beauty of this special planet we call home as I see it through the lens of my camera. "
A black and white landscape of Glenn Thompson's displayed at the Red Brick, "Black Water Reflections", is one of three finalists in a competition that celebrates the inspiring beauty of the magnificent American landscape, exemplified by the work of artist-photographer, Ansel Adams.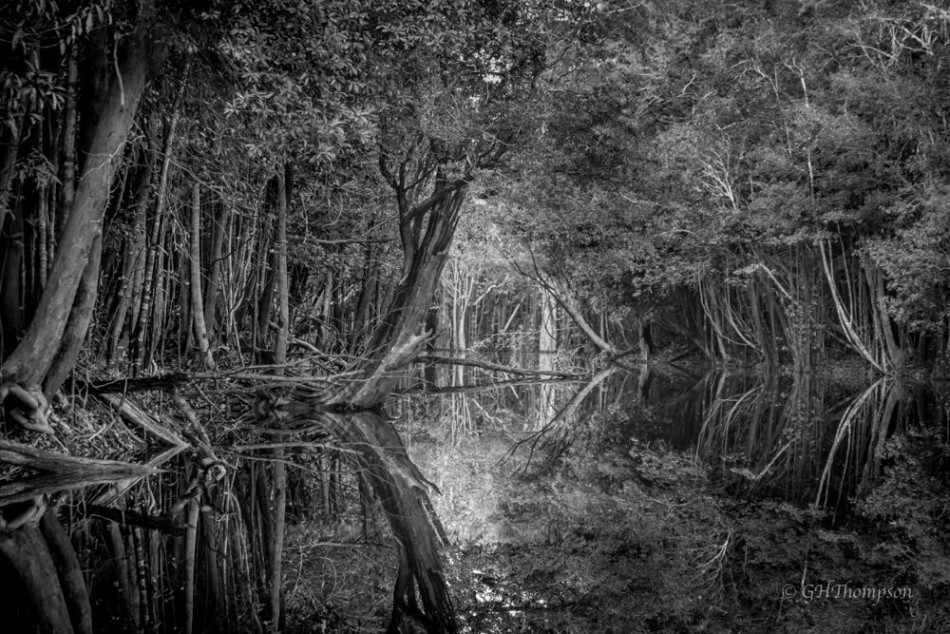 The photo, taken on the Rio Negro in Brazil, was obtained while Glenn was searching for birds and monkeys as subjects. Glenn recognized, however, that the scenery in the middle of the Amazon also was remarkable. He described the epiphany of moving into the swamp's alcove in a flat bottomed boat and waiting for five minutes for all the wave ripples to disappear before capturing his perfectly mirror-reflective photograph in the "The Modern Landscape: Black and White Photography Contest". Glenn says he composed the photo specifically for black and white and even said to himself afterward that it was the most "Ansel Adams-like" photo he'd ever done.
ABOUT THE ARTISTS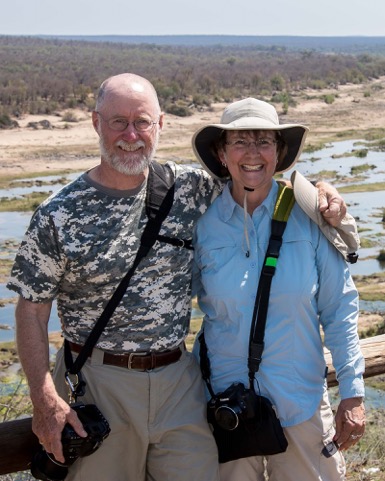 Glenn and Linda have been Red Brick Gallery Cooperative Artists since the fall of 2015, but they have much deeper roots in the Allegheny Valley going back to the 1940's when Glenn first retreated with his family to a shared "fishing club" camp on the banks of the Allegheny near Emlenton. In 2007, Glenn and Linda, who reside in Butler, PA, acquired the riverfront property and rebuilt the lodge as a second home in their retirement. Now with their two children and grandsons, they are the fourth generation to have "this piece of Paradise leave indelible marks on [their] lives".
Linda Thompson was an English major in college and a coordinator of gifted programs in her professional life.  Linda is a 1970 graduate of Westminster college with a BA in English and a minor in secondary education. She then completed an MA in gifted education at Kean College of New Jersey, now Kean University, in 1983.
Linda has always been a firm believer that the arts are what keep us centered and in touch with nature and the beauty of the world. About 15 years ago she and her husband spent an adventuresome five years living in Brazil. While there, with few friends and limited fluency in Portuguese, she discovered a weaving teacher who spoke English. Linda relates that the language she mastered during that time was that of warp and weft, not Portuguese. It gave her a calm pursuit in the turmoil that surrounds one when one is far away from family and trying to fit into a new culture.
Upon her return to the US, she continued to weave, searching for another artistic outlet. A quilter friend introduced her to fabric-coiled baskets and she has found great satisfaction watching the baskets, each unique, and often not exactly as planned, emerge from the sewing machine. The challenges met and the personal flair she's been able to insert have brought great satisfaction and relaxation.  In addition to baskets, she is learning Zentangle, a contemplative art form that provides her with a graphic art pursuit to round out her creative repertoire.
Glenn has pursued his passion for nature photography in his retirement.  Glenn Thompson is a retired businessman and entrepreneur.  His corporate career spanned 35 years during which he was involved in the coatings businesses of PPG Industries and ICI (England). His early work life was technology-focused including coatings research, technical and customer service management. Midway through his career, Glenn migrated to corporate development roles including global M&A and international corporate expansion. His international experience was extensive and included overseas postings in England and Brazil. His five year assignment in Brazil involved the creation of the business structure for PPG's South American coatings operations including the construction of two factories and five business acquisitions.
Shortly after retiring from corporate life in early 2003, Glenn became an angel investor in Plextronics, a high-tech spinout from Carnegie Mellon's chemistry department. A few months thereafter, he joined the fledgling operation as their COO and helped grow the company to more than 70 employees over the next seven years when he retired once again. He remained as an active consultant to the company until it was sold to Solvay (Belgium) in 2014.
Glenn is a 1968 graduate of Westminster College with a B.S. in Chemistry and is a member of the College's Board of Trustees. He has done post-graduate studies at CMU, Pitt and the Vlerick School of Business in Brussels.
Glenn and Linda, college sweethearts, have been married for 47 years.  They have two children, two grandchildren and a dog. Linda and Glenn reside in Butler, PA and have a second retirement home on the banks of the Allegheny River near Emlenton, PA.
Red Brick Gallery is located at 17 Main Street in historic Foxburg, PA. Gallery hours are Fridays, 2:00 p.m. to 6:00 p.m., Saturdays, 11:00 a.m. to 7:00 p.m., and Sundays, 12 p.m. to 4:00 p.m.