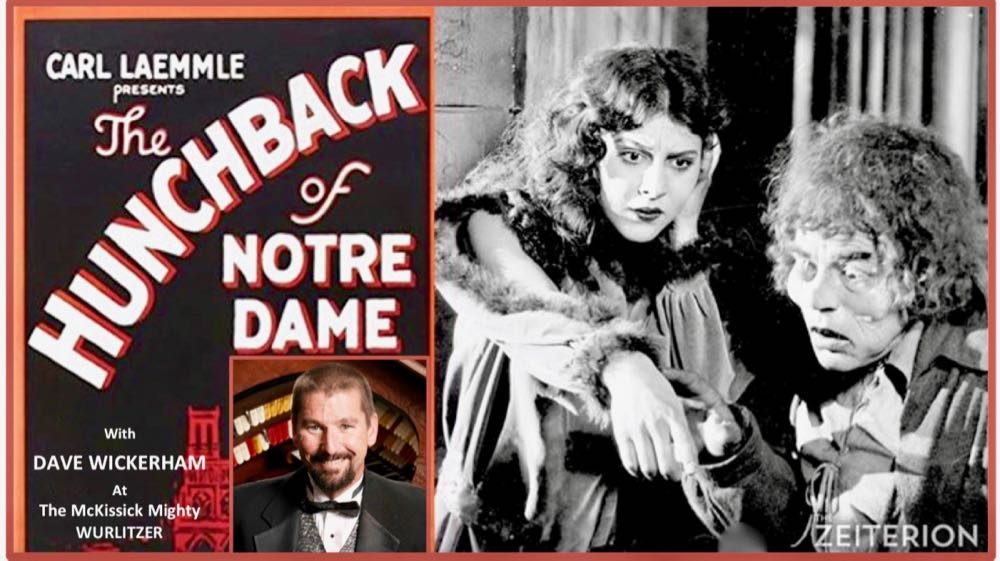 Be prepared to be awed, terrified and delighted as you begin your Halloween week (in costume if you wish!) with Allegheny RiverStone Center for the Arts!  Step back in time to the 1920s as you watch the legendary silent horror movie classic "The Hunchback of Notre Dame" starring Lon Chaney and featuring the brilliant Dave Wickerham on the McKissick Mighty Wurtlitzer in Lincoln Hall on Sunday, October 28 at 2:00 PM.
Dave Wickerham's concerts are always well sold, so be sure to reserve your tickets early. Adults  $20, Students $5.  You may purchase tickets online here or call to reserve:  724 659-3153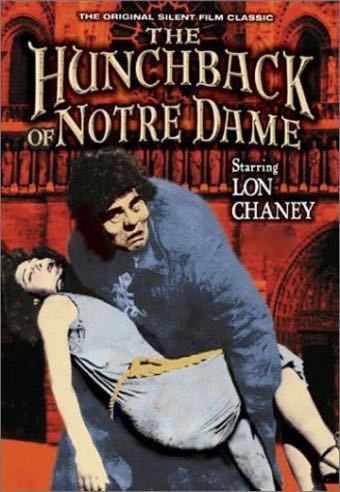 This silent screen version of the often filmed novel by Victor Hugo remains a powerfully entertaining movie nearly 100 years after its release. Lon Chaney gives a brilliant performance as the grotesque bell ringer Quasimodo, the Hunchback of Notre Dame. And Wickerhams' realization of the musical score that accompanies the silent movie will be magical!  
AND IS IT SCARY!! Lon Chaney's version of Quasimodo is powerful and memorable!  He is deaf and half blind; his only joy in life is ringing the cathedral bells. While Chaney wears a fake "dead" eye, wig, putty nose, and plaster hump – with braces on his legs as he hobbles around, licking his lips and grimacing, this extraordinary, dedicated actor didn't rely on those outward trappings to create his character; he portrayed the Hunchback with a powerful emotion reality. The film elevated Chaney, already a well-known character actor, to full star status in Hollywood, and also helped set a standard for many later horror films including Chaney's The Phantom of the Opera in 1925.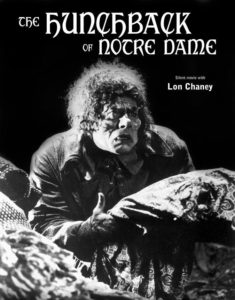 ABOUT THE HUNCHBACK OF NOTRE DAME:  Set in 15th Century Paris, ten years before Columbus discovered America, "Hunchback" personifies the word Gothic. It begins on the annual Festival of Fools – the one day when the oppressed subjects of King Louis XI's tyranny are able to let loose and have some fun. Quasimodo gets crowned King of the Fools during the revelry.  Jehan (Brandon Hurst), the evil brother of the archdeacon, lusts after a Gypsy named Esmeralda (Patsy Ruth Miller) and commands the hunchback Quasimodo (Lon Chaney) to capture her. Military captain Phoebus (Norman Kerry) also loves Esmeralda and rescues her, but the Gypsy is not unsympathetic to Quasimodo's condition, and an unlikely bond forms between them. After vengeful Jehan frames Esmeralda for the attempted murder of Phoebus, Quasimodo's feelings are put to the test.  (See full story below)
No one makes the Lincoln Hall's McKissick Mighty Wurlitzer Theatre organ sound more glorious than Dave Wickerham. This is world class theatre organ artistry from a truly one-of-a-kind genius and the kindest, gentlest and most generous soul… evidenced by the glow you will feel after experiencing his inspiring performance of this epic horror movie classic.
Debut of a new position for The McKissick Mighty Wurlitzer in Lincoln Hall:  Join us as ARCA unveils the McKissick Mighty Wurlitzer in its flexible, new position at the foot of the stage for silent movies – in front of the full size screen on stage which fills the proscenium.  Thanks to a generous gift from an anonymous donor and lover of ARCA's Wurlitzer organ, this new set up will allow the audience to view not only the full sized screen on stage but also in the same frame Dave Wickerham at the Wurlitzer… viewing a silent film with glorious organ music as it would have been performed in theaters around the country 100 years ago.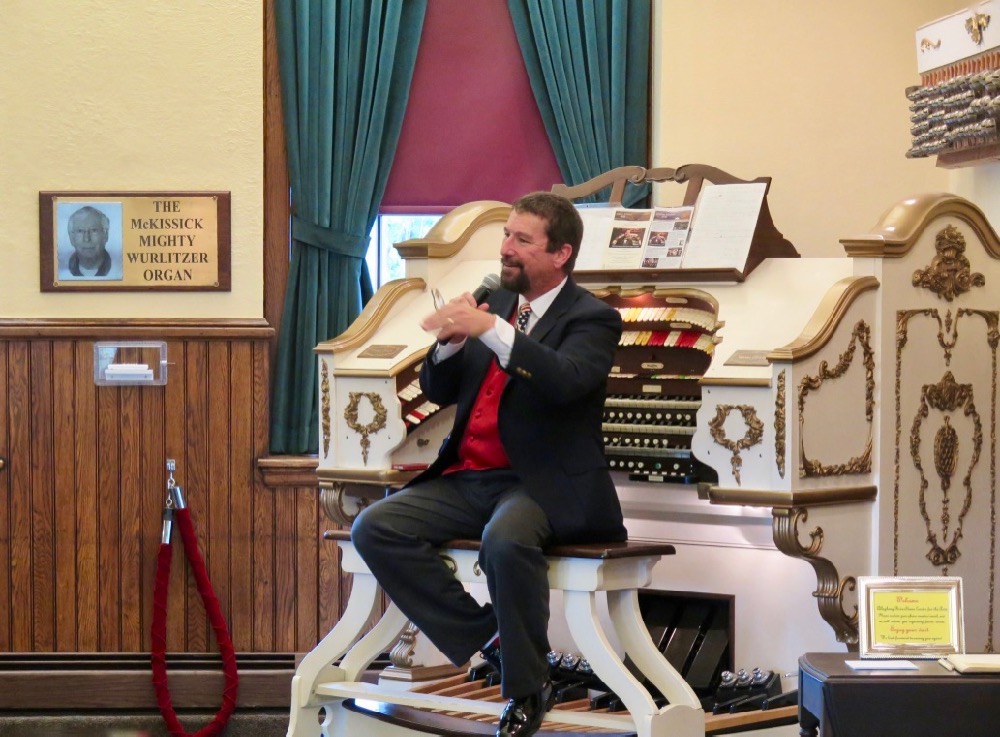 JOIN THE FUN – and become part of the Halloween festivities by dressing as the Hunchback or a gypsy or as your favorite film character or in a Halloween costume of your choice.  A Halloween costume parade will take place at intermission with winners in several categories!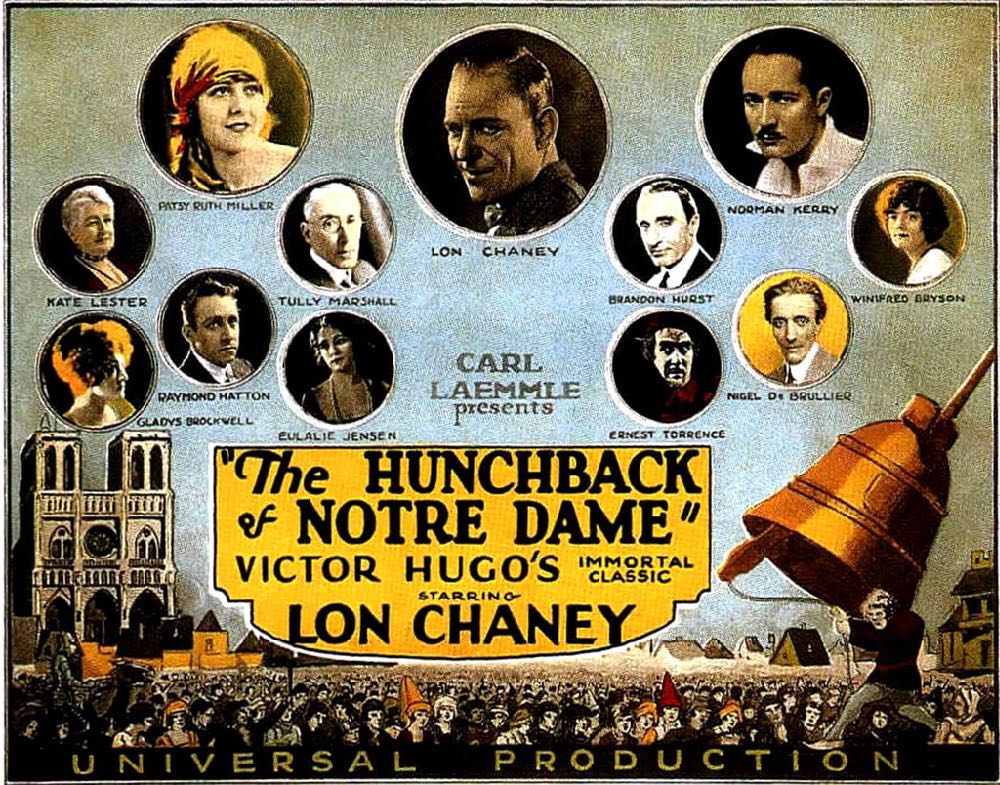 The story is set in Paris in 1482. Quasimodo is a deaf, half-blind, hunchbacked bell-ringer of the famous Cathedral of Notre Dame in Paris. His master Jehan, the evil brother of Notre Dame's saintly archdeacon Don Claudio, prevails upon the hunchback to kidnap the fair Esmeralda, a dancing gypsy girl (and the adopted daughter of Clopin, the king of the oppressed beggars of Paris' underworld).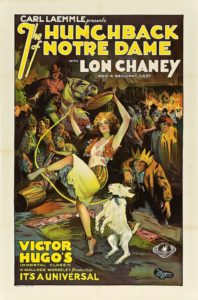 The dashing Captain Phoebus rescues Esmeralda from Quasimodo, while Jehan abandons him and flees (later in the film, Quasimodo begins to hate Jehan because of this). At first seeking a casual romance, Phoebus becomes entranced by Esmeralda, and takes her under his wing. Quasimodo is sentenced to be lashed in the public square before Esmeralda and Don Claudio come to his aid.
To their dismay, Jehan and Clopin learn that Phoebus hopes to marry Esmeralda, despite being engaged to Fleur de Lys. Phoebus persuades Esmeralda to accompany him to a ball celebrating his appointment as Captain of the Guard by King Louis XI. He provides her with rich garments and introduces her to their hostess, Madame de Gondelaurier, as a Princess of Egypt. Clopin, accompanied by his beggars, crashes the festivities and demands Esmeralda be returned.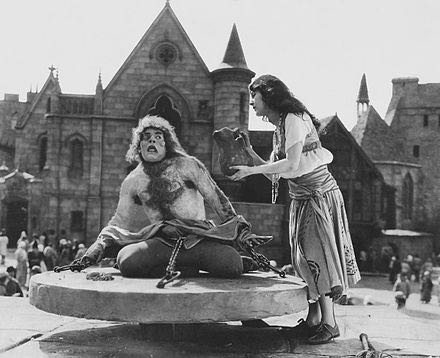 To avoid bloodshed, Esmeralda says that she does not belong with the aristocracy. Later, however, Esmeralda sends the street poet Pierre Gringoire to give Phoebus a note, arranging a rendezvous at Notre Dame to say goodbye to him. Before Phoebus arrives, he is stabbed in the back by Jehan. After Esmeralda is falsely sentenced to death for the crime, she is rescued from the gallows by Quasimodo and carried inside the cathedral, where he and Don Claudio grant her sanctuary. Don Claudio restrains Quasimodo from violence.
Later that night, Clopin leads the whole of the underworld to storm the cathedral, and Jehan attempts to take Esmeralda, first by guile (telling her that Phoebus's dying wish was for him to take care of her), then by force. Quasimodo holds off the invaders with rocks and torrents of molten lead. Meanwhile, the healed Phoebus is alerted by Gringoire and leads his men against the rabble.
When Quasimodo finds Jehan attacking Esmeralda, he throws his former master off the ramparts of Notre Dame, but not before being fatally stabbed in the back. Phoebus finds and embraces Esmeralda. Witnessing this, Quasimodo rings his own death toll, and Gringoire and Don Claudio enter the bell tower just in time to see him die. The last image is of the great bell swinging silently above the hunchback's corpse.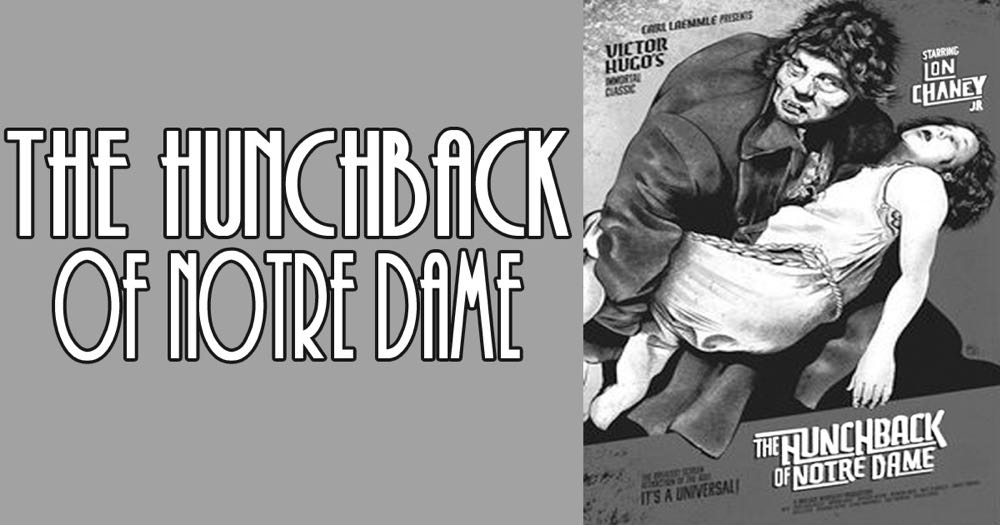 ARCA's McKissick Mighty Wurlitzer Organ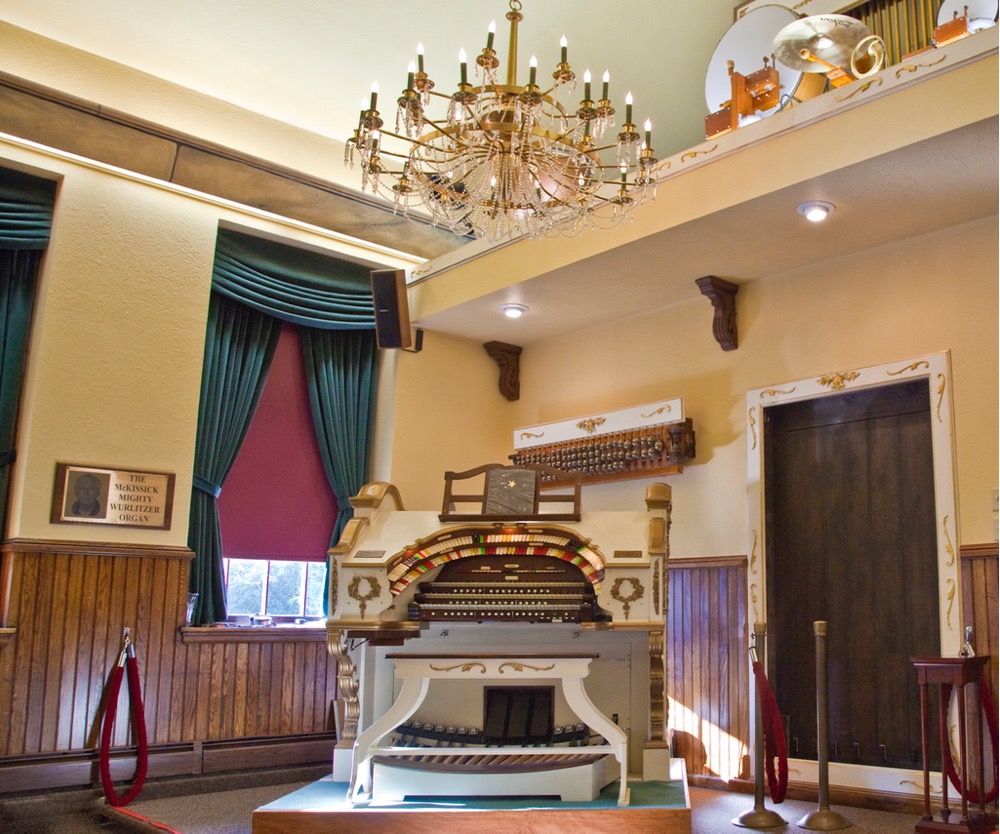 ARCA's Wurlitzer contains seventeen ranks of pipes and is characterized by a balanced blend of unmistakeable Wurlitzer 'sounds".  Built in 1928 at the Wurlitzer Organ factory in North Tonawanda outside of Buffalo and numbered OPUS 1989, the organ originally was installed in Cleveland's Uptown Theatre.  It was played for several years accompanying silent movies.  With the end of the silent film era it was subsequently purchased by Richard Wheeler, a Cleveland organist, and remained in his home until Wheeler passed.  Paul McKissick purchased it from the Haynes Company in North Canton, Ohio, where it had been in storage.
Named for Paul McKissick, who lovingly and painstakingly rebuilt the instrument over eleven years, in 1999 the restored Wulrtlizer was installed in McKissick's garage at their home in Lake Latonka near Mercer, PA.  The organ became known as the Latona Pipes, and was played in annual benefits concerts to raise money for the DeBence Museum in Franklin.  Dr. Arthur and Patricia Steffee attended one of the concerts.  When Paul decided to downsize and was seeking a place for the Wurtlizer for the next generation, Dr. Arthur and Patricia Steffee, ARCA's founders, purchased it to enhance the newly restored Lincoln Hall, on the second floor of the Foxburg Free Library.
Its seventeen ranks of pipes translate to 60 notes per voice or rank, more than 1200 pipes and 6,000 moving parts to make the Wurlitzer sound.  Only the relay and computer are not authentic or vintage parts on the organ.  The installation included one of Wurlitzer's most unique features, the decorative 'Toy Shelf' of miniature instruments, which are displayed in a rear balcony in Lincoln Hall and are all powered by the organ. The marimba was added and all the associated drums, cymbals, bells and automatic piano produce a balanced blend of unmistakable Mighty Wurlitzer sounds.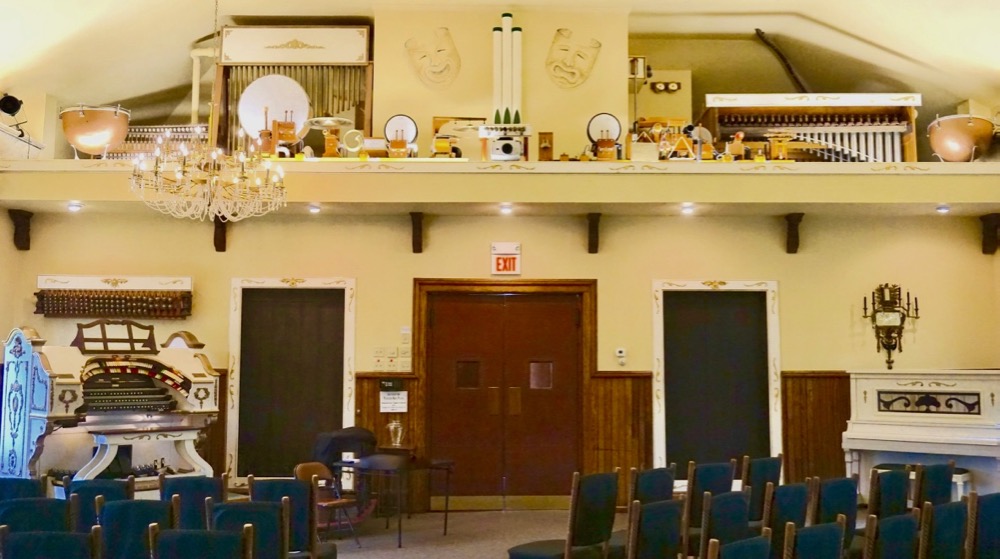 ARCA audiences have enjoyed ten years of glorious music making on the McKissick Mighty Wurlitzer by some of the worlds greatest theatre organists – including David Wickerham, Martin Ellis, Walt Strony, Scott Foppiano, Donna Parker, Jelani Eddington and Ken Double.  Jason Wiles is ARCA's organ technician, maintaining and tuning the organ for each concert.
In 2012, the McKissick Mighty Wurlitzer Legacy Fund was established in honor of Paul and Sally McKissick, to maintain the organ and insure the future of this extraordinary instrument for future audiences.  Anyone wishing to contribute to this fund may do so by contacting ARCA at info@alleghenyriverstone.org.
See more on the Paul McKissick Story and the McKissick Mighty Wurlitzer organ.
About the Artist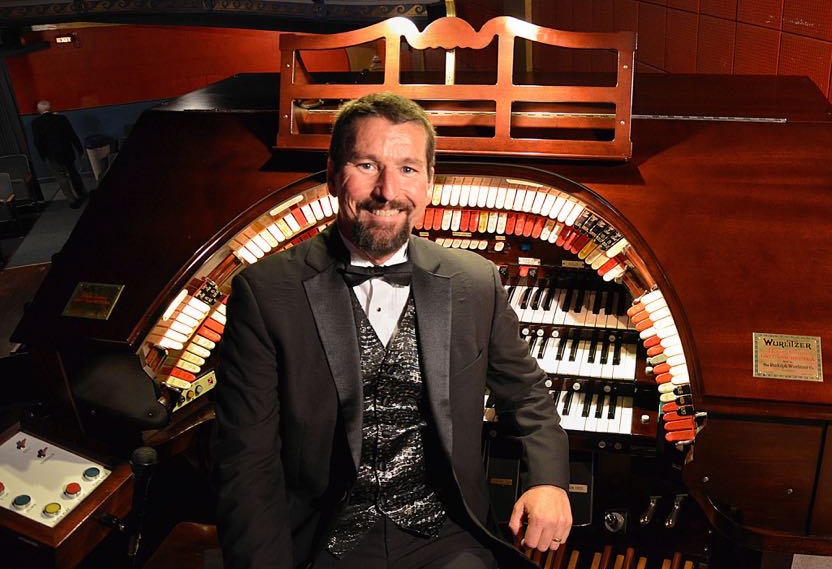 Dave Wickerham was born in Encino, California in 1962. He began playing the electronic organ at the age of four and had his first pipe organ experience at age10. His musical education started at age 7.  When he moved to Arizona in 1976, he became Associate Organist at the famous Organ Stop Pizza Restaurants in Phoenix, Mesa and Tucson. While in Arizona, he continued his musical studies with Roseamond Crowley, one of the few remaining descendants of the Louis Vierne line of organists. He attended the University of Arizona in Tucson on a full scholarship, pursuing classical organ studies for six years with Dr. Roy Johnson.  In 1984, Dave moved to the Chicago area to become Staff Organist at Pipes and Pizza in Lansing, Illinois. In addition to his performance there, he concertized frequently, as well as ministering musically and serving at various churches.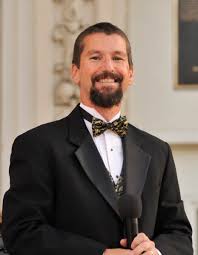 In August of 1990 the Wickerham family – Dave, his wife and two young children – moved to Wisconsin, where he was one of the featured Staff Organists at the Piper Music Palace in Greenfield, a position he held for 10 years.
In the spring of 2000, Dave ushered in the new millennium with a limited special engagement, as a featured organist at "Roxy's Pipe Organ Pizzeria", part of a $26,000,000 expansion phase at the FIESTA Casino and Hotel in Las Vegas, Nevada. The Wickerham's, Dave, Rhonda, and now three great kids, spent a year and a half there before returning back home to Wisconsin in August of 2001… For the next three years, Dave resumed his position at the Piper Music Palace and was also the Principal Organist at Williams Bay Lutheran Church in Lake Geneva, WI.
He enjoys concertizing frequently to many audiences including various chapters of the American Theatre Organ Society. In April of 1999, he took great pleasure being a feature artist in Melbourne, Australia for the convention of the Theatre Organ Society of Australia for which he received rave reviews. He returned "Down Under" for a six-week concert tour in Australia and New Zealand during the summer of 2003 and very recently has completed a similar tour concluding November of 2012.
Dave also enjoys recording and has recently "sold out" his fourth CD "Sounds of Music" recorded on the famous 5 Manual, 80 Rank Theatre Organ at the Sanfilippo Residence in Barrington, IL. There are two NEW recording projects that are soon to be completed and released.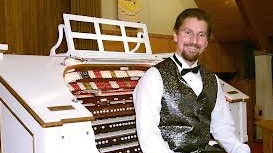 After seven years as Organist – Curator with the legendary Milhous Collection in South Florida, Dave and his family currently enjoy living in Upper Michigan where he has accepted the position of Co-Manager and Organist in Residence at Crystal Theatre in Crystal Falls. This 1927 theatre is now a regional Performing Arts Center and houses a 3 manual, 21 rank Moller theatre organ that Dave also looks after. Additionaly, his wife Rhonda – at his side – works as Co-Manager of this beautiful and historic venue.
Click the Wurlitzer menu item above to learn about the history of the Mighty McKissick Wurlitzer and Paul McKissick. Then, reserve your seat for this special holiday Wurlitzer concert featuring an artist who delights audiences both young and old. Once you hear the majesty and capability of a Theatre Organ, you will be hooked!