Jason Floyd Lewis
Landscape Painter
Linda Thompson
Fabric Coiled Baskets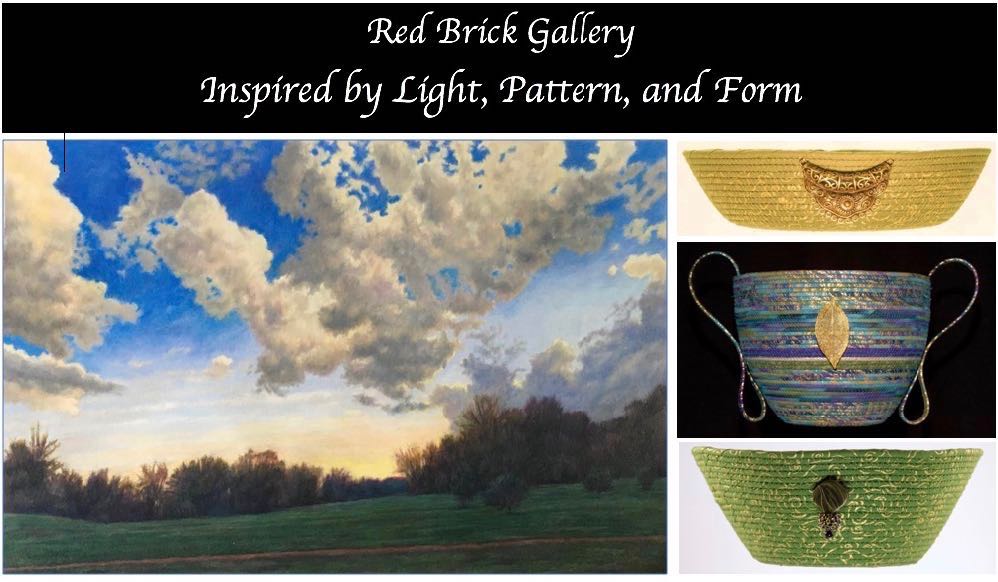 When summer begins to wane and autumn approaches, the landscapes of the Allegheny and Clarion River valleys begin to take on a special meaning in the changing light. It is a splendid time to view the natural landscapes of our area captured in paintings by a talented local artist, Jason Floyd Lewis.  Jason will be accompanied by Linda Thompson, whose pattern and form inspired fabric coiled baskets will delight everyone.  The Red Brick Gallery enthusiastically announces a new exhibit at its artist cooperative from Saturday, September 12 to Sunday, November 1.
The RBG, an arm of Allegheny RiverStone Center for the Arts, has reopened compliant with PA state guidelines and with precautions for the health and wellbeing of its patrons and artist personnel. All patrons are required to wear masks upon entering the RBG and to maintain social distancing requirements.  Gloves and hand sanitizers will be available and masks for customers if they do not have them.  Special care will be given to cleaning and sanitizing the building to maintain a safe environment.
The Red Brick Gallery is located at 17 Main Street in historic Foxburg, PA. Gallery hours in 2020 during COVID are Saturdays and Sundays, 12:00 noon to 5:00 p.m.
About The Artists
Jason Lewis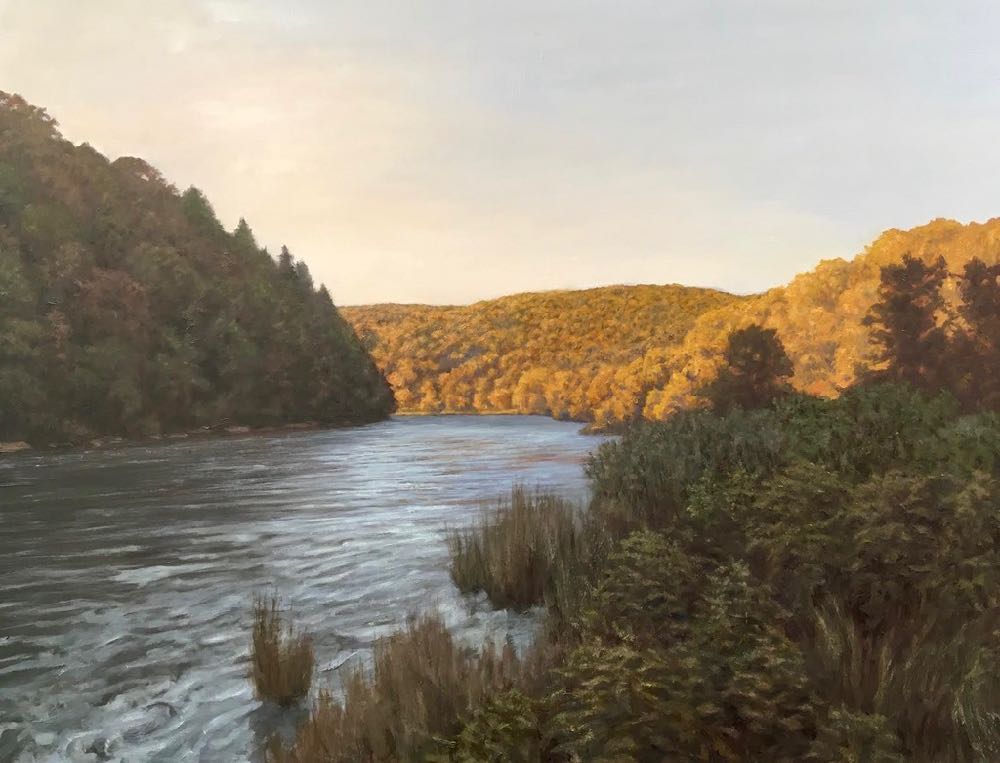 Jason Floyd Lewis grew up in Clarion, PA.  He received a BFA from the Columbus College of Art and Design where he studied drawing and painting.  He went on to earn a MFA in Drawing at Bowling Green State University in Ohio.  Currently, Jason lives in Clarion, Pennsylvania and shares a studio space with his wife, Amanda.

The ideas for my current body of work germinated during the shut-down period earlier this year.  I spent several weeks at home and, while it was an occasion to grow closer to my immediate family, I was also able to enjoy moments of solitude in my studio.  I took time to reflect on what was important to me in the process.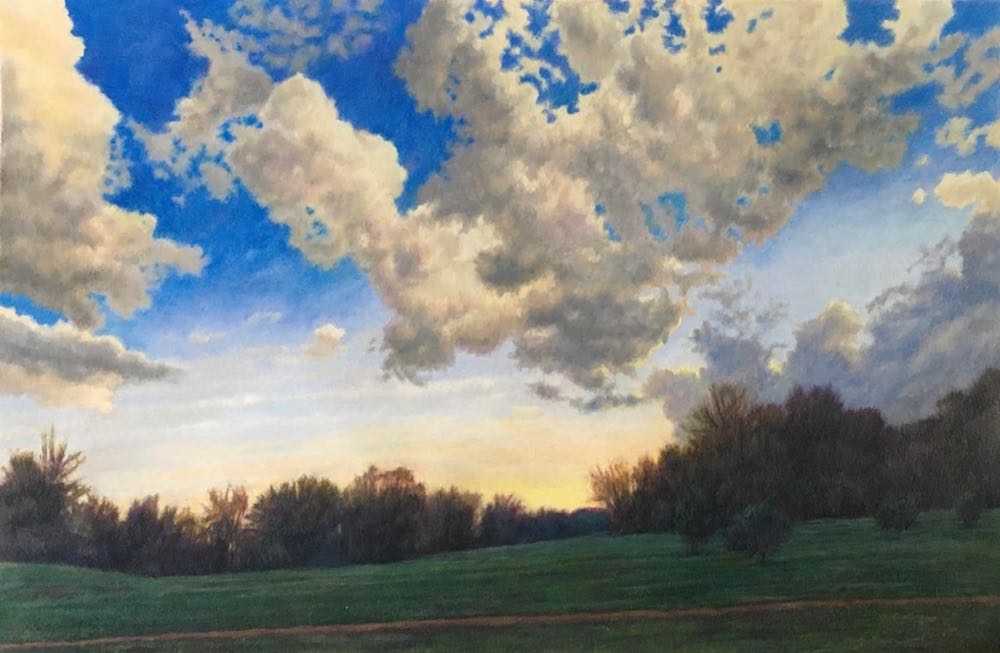 I think most people, regardless of their beliefs, have a sort of spiritual experience when contemplating the landscape.  Making drawings and paintings of these encounters is a way for me to meditate on the forces at play.  It is a pleasure to explore the landscape, from the grandeur of sunlight striking a hillside to the patches of dirt under my feet.  I feel a sense of awe when studying this beautiful creation of which I am a part.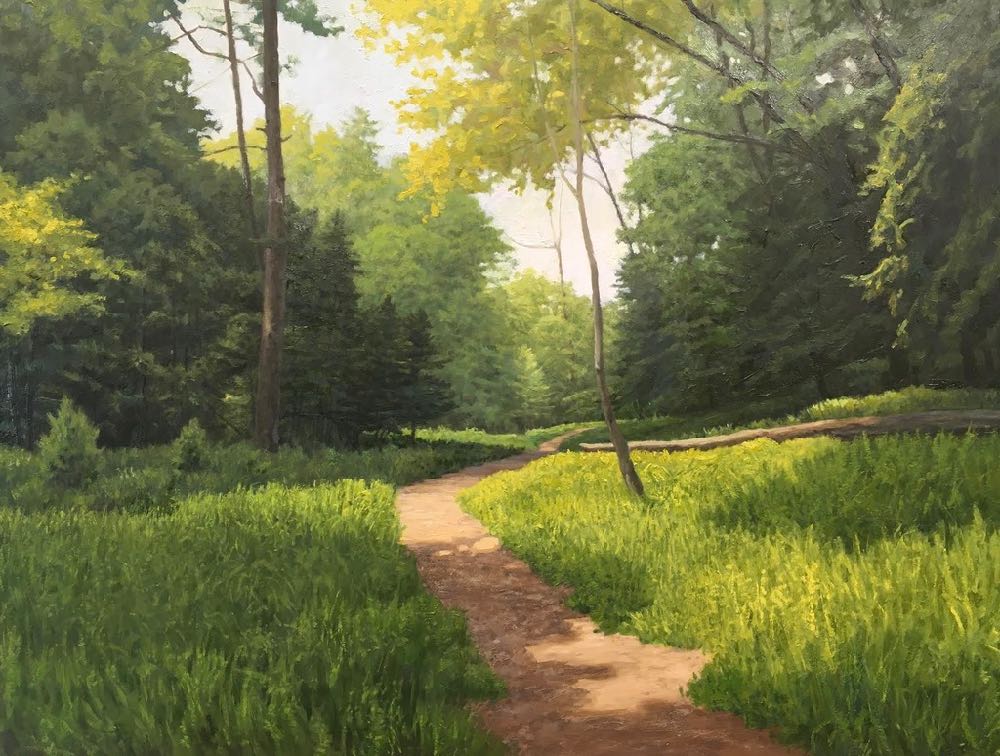 In this work, I feel I have spent more time and attention exploring the subtle nuances within each space.  The physicality of my painting surface has become slightly more pronounced or more textural.  I have been a little freer with my mark making, trying to create more complexity, and to suggest more of what I feel from the places I depict.  My desire is to make artworks that are more than just images; works that engage the viewer on some kind of emotional or spiritual level.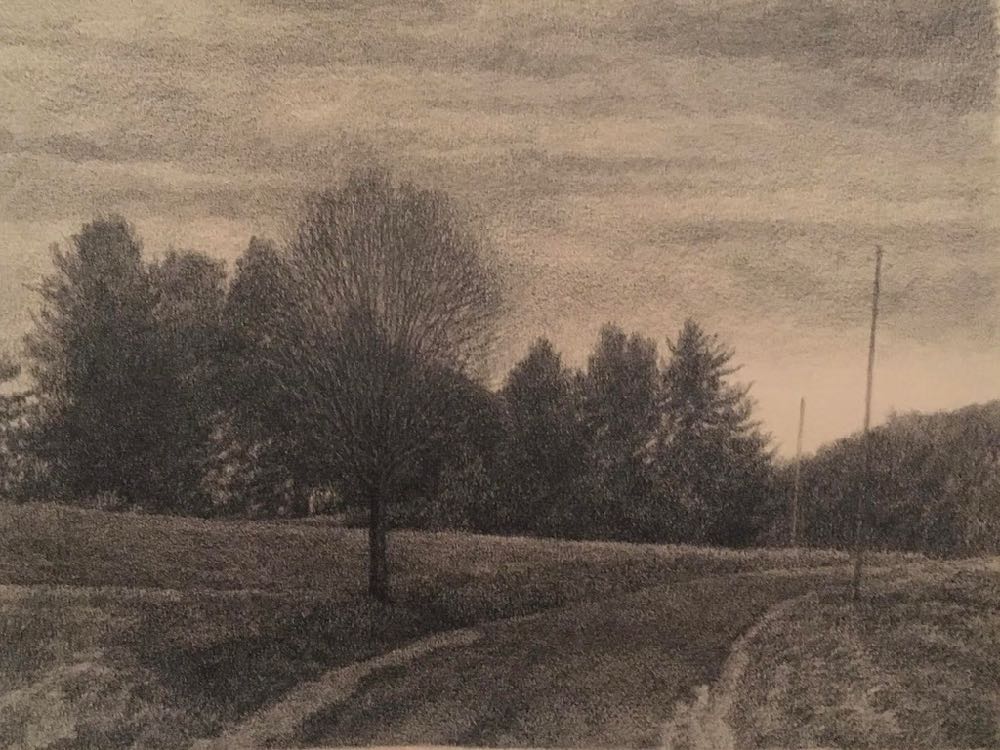 The Red Brick Gallery is located at 17 Main Street in historic Foxburg, PA. Gallery hours in 2020 during COVID are Saturdays and Sundays, 12:00 p.m. to 5:00 p.m.
Linda Thompson
Though I was an English major in college and a coordinator of gifted programs in my professional life, I have always been a firm believer that the arts are what keep us centered and in touch with nature and the beauty of the world.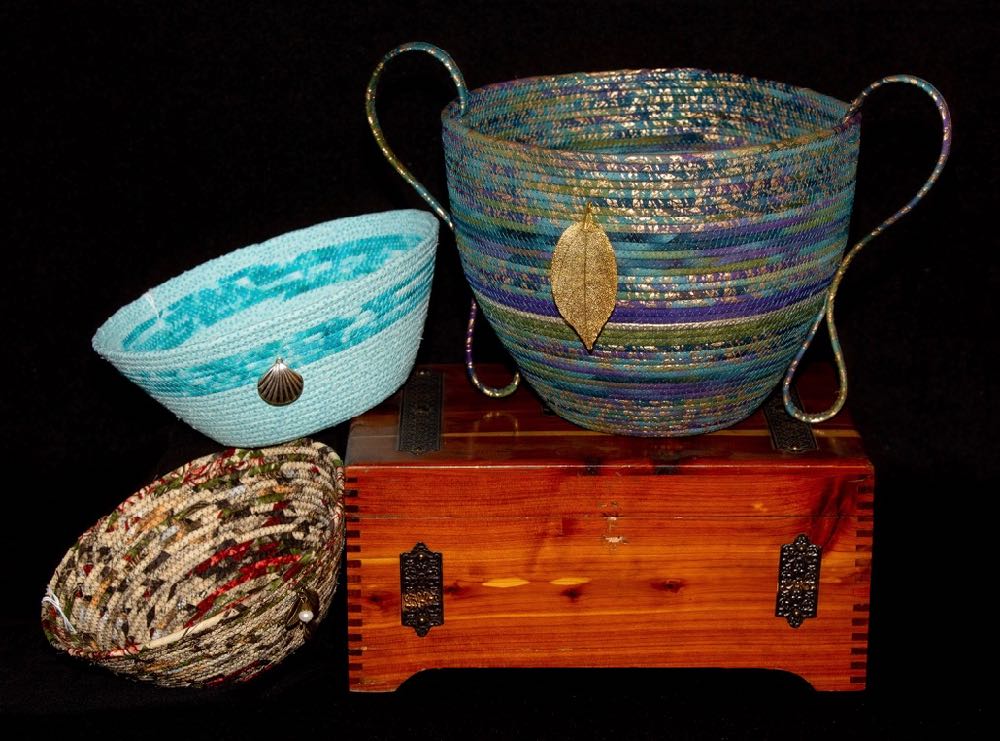 About 15 years ago my husband and I spent an adventuresome five years living in Brazil. While there, with few friends and limited fluency in Portuguese, I discovered a weaving teacher who spoke English. I have always said that the language I mastered during that time was that of warp and weft, not Portuguese. It gave me a calm pursuit in the turmoil that surrounds one when one is far away from family and trying to fit into a new culture.

Upon my return to the US, though I continued to weave, I felt I was searching for another artistic outlet. Fortunately, a quilter friend introduced me to fabric-coiled baskets and I have found great satisfaction watching the baskets, each unique, and often not exactly as planned, emerge from the sewing machine. The challenges met and the personal flair I am able to insert have brought great satisfaction and relaxation.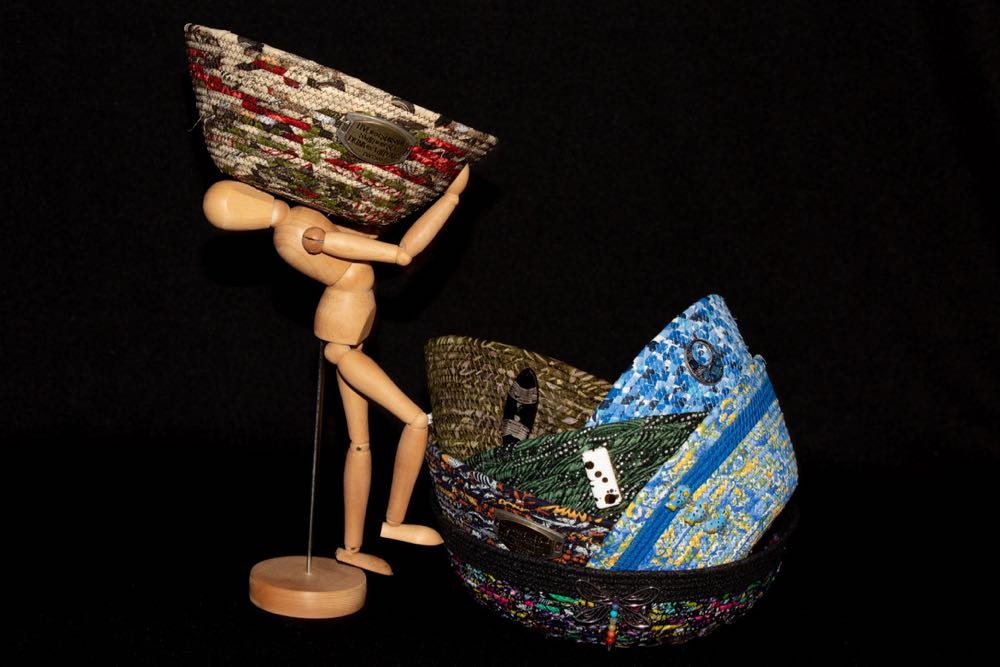 As Thomas Paine would say, "These are the times that try men's (and women's) souls." During these unprecedented months battling an unseen enemy, our lives have been upended and reconfigured. In order to cope with these changes, each of us has had to dig deep to find ways of stabilizing ourselves and discovering ways to keep a positive attitude.
For me the tactile routine of preparing fabric, winding it on the line, and sewing in ever-expanding spirals has kept me grounded and provided a routine that was otherwise missing. And that mysterious "Ah, ha" moment when I remove the finished basket from the machine still brings joy!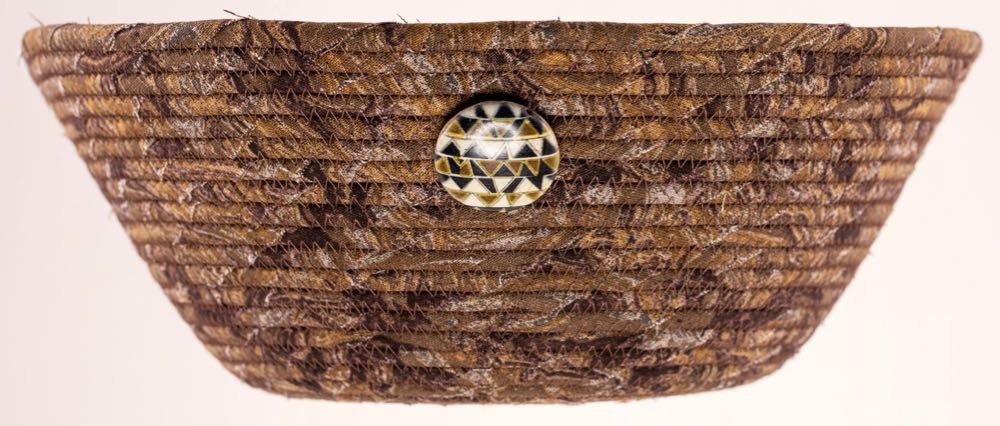 We all miss our extended family and friends, and the "old" normal, but hopefully, like me, you have managed to find a stabilizing force to keep you grounded. Creative outlets, whatever form they take, help to keep us whole!
The Red Brick Gallery is located at 17 Main Street in historic Foxburg, PA. Gallery hours in 2020 during COVID are Saturdays and Sundays, 12:00 noon to 5:00 p.m.