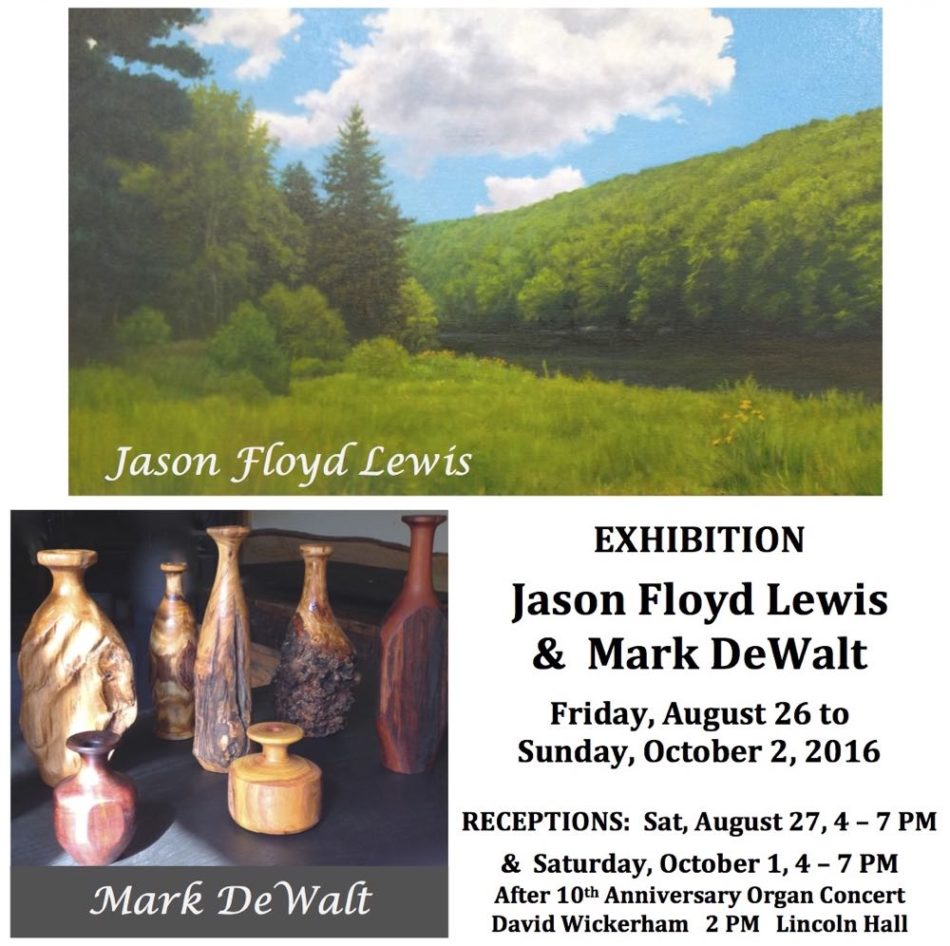 Allegheny RiverStone Center for the Arts and the Red Brick Gallery proudly announce its next exhibition showcasing the work of Red Brick Gallery Cooperative Artist, Painter Jason Floyd Lewis, and Guest Artist and Woodworker, Mark DeWalt, from Friday, August 26 to Sunday, October 2. The Red Brick Gallery is located at 17 Main Street in historic Foxburg, PA. Gallery hours are Fridays, 1:00 p.m. to 5:00 p.m., Saturdays, 11:00 a.m. to 7:00 p.m., and Sundays, 12 p.m. to 4:00 p.m. 
The historic Gallery on the bank of the Allegheny River in Foxburg is an ideal venue for this exhibition of landscapes by Jason Floyd Lewis depicting the beauty of western Pennsylvania and woodworking furniture and sculptures by Mark DeWalt, using wood from native forests and salvaged artifacts.
Both Jason and Mark are well known to area residents; Jason Floyd Lewis is a charter artist/member of the Red Brick Gallery Cooperative whose works grace the walls of the Gallery and Gift Shop and the homes of his many fans and friends.  His stunning oil landscapes range in size from exquisite miniatures to breathtaking large canvases; landscapes in graphite and colored pencil are subtle in nuance and detail. Jason's interest in conveying mood, emotion and the effects of light, air and humidity takes the viewer on a journey into the mind of the forest scenes he depicts.
Guest artist Mark DeWalt will be presenting his woodworking art for the first time in Foxburg. Mark's love of the textures, colors, character and potential of wood is revealed in the beauty of his fine craftsmanship, from wood vases fashioned from trees in Penn's Woods to rustic furniture crafted from barn siding, fence posts, flywheels and harness parts.   Mark also is the pianist, composer, and leader of CATRO, the Pittsburgh Jazz band. CATRO is much beloved by ARCA audiences from their appearances during numerous jazz festivals and Poetry and Jazz concerts in Lincoln Hall.

This Exhibit will have two open house receptions – a reception to open and close the exhibit.  On Saturday, August 27 Artist and CATRO pianist, Mark DeWalt, and a bassist will perform in the second floor gallery during the Meeting the Artist Opening Reception from 4:00 – 7:00 PM.  Come on in and enjoy a late summer afternoon on the Allegheny River in Foxburg viewing stunning landscapes and wood creations which reflect the beauty of our area.
Then return for the Reception on Saturday, October 1 from 4:00 to 7:00 PM as ARCA holds a birthday party in the Red Brick Gallery and outdoor garden, immediately following the 10th Anniversary Wurlitzer Organ concert in Lincoln Hall at 2 PM performed by beloved and celebrated organist David Wickerham.  CATRO will be playing in the Red Brick Gallery garden, weather permitting, or inside in the event of rain.  ARCA's 10th Anniversary celebration will feature Catro's music and birthday cake in the garden with wine, lemonade, sweets and savories on the first and second floors of the gallery… a joyous way to celebrate ten years of ARCA bringing Glorious Music and Art to the beautiful Allegheny River Valley.
ABOUT THE ARTISTS
Jason Floyd Lewis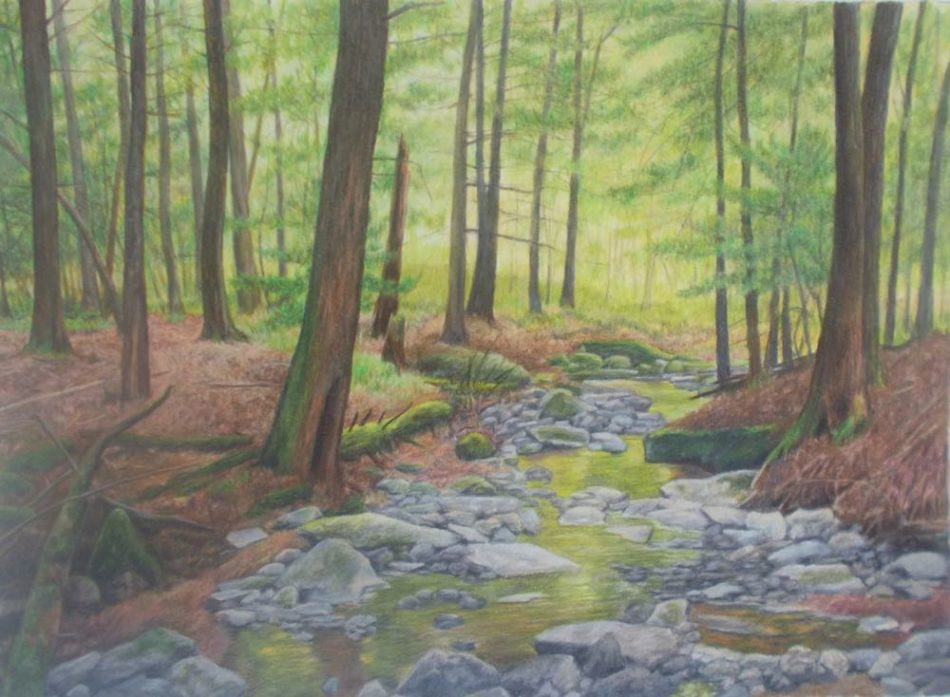 Jason Floyd Lewis grew up in Clarion, PA. He received a BFA from the Columbus College of Art and Design where he studied drawing and painting. He went on to earn a MFA in Drawing at Bowling Green State University in Ohio. Currently, Jason lives in Clarion, Pennsylvania and shares a studio space with his wife, Amanda.
Artist Statement
My artwork represents the landscape as I have observed it. The paintings and drawings represent real places, most of them near my home in western PA. Most of the places I choose to represent are in some way memorable, such as rivers, roads or other significant landmarks. I am interested in the way human activities coexist and intermingle with the natural landscape in rural areas. In my recent work, I have focused on forest interior spaces, exploring the more rugged terrain of wooded areas. I am also interested in depicting the various effects of light, air and humidity that can transform the mood of the landscape.
My goal is to depict the landscape in a naturalistic way. I use photographic reference in the studio to produce my finished works, however, I do not consider myself to be a photorealist. The photos are a tool used both for designing and for recording facts about my subject. As I work, I refer to the photographs, but also rely on my memories of observing the landscape and on my recollections of paintings done by other artists whom I admire. I work in thin layers of paint, building up detail and color contrasts gradually until I am satisfied with the visual impact of the representation.
In my work, I try to balance my strict attention to realistic detail with a freedom to manipulate the overall structure and effect of my images. I try to use gradations, lines and rhythms to create a sense of space and time in a dynamic way. My goal is to orchestrate works of art that not only emulate the beauty of the landscape but also operate as an expression of my personal response to it.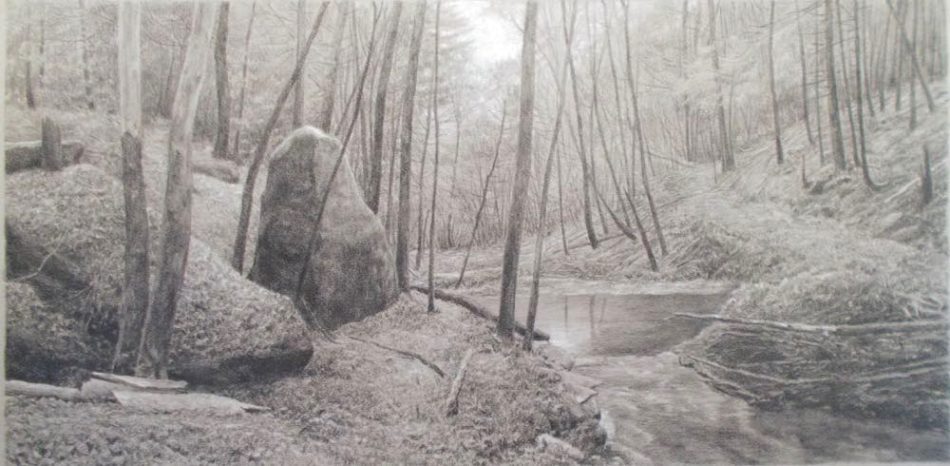 Mark DeWalt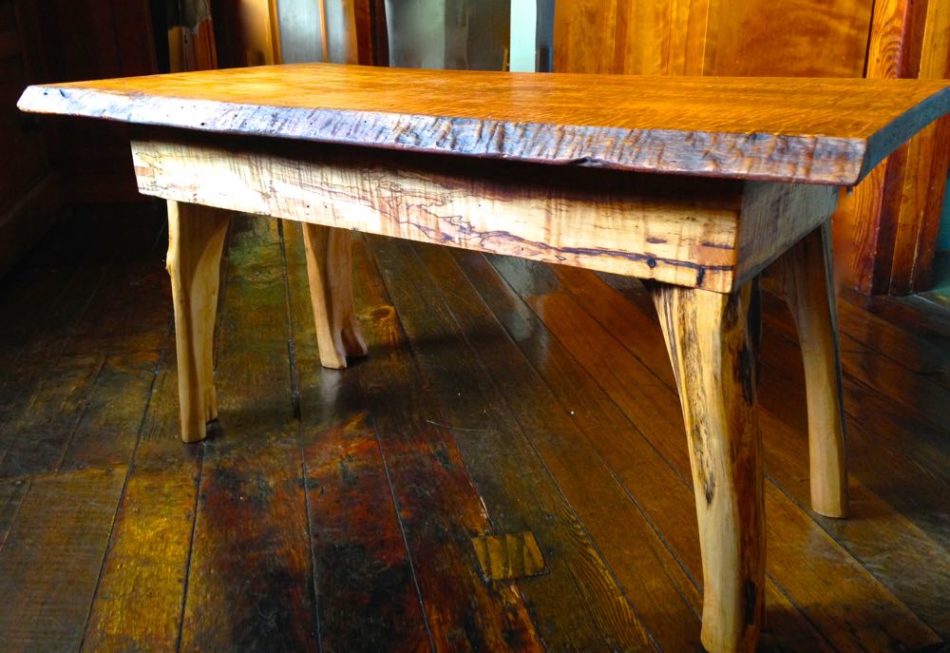 Mark DeWalt is a fourth generation woodworker located in rural western PA about one hour north of Pittsburgh. Fine craftsmanship and a creative process informed by the materials being used result in furniture that feels both fresh and traditional. Local forests, salvaged artifacts and reclaimed lumber provide the raw materials for the work. In addition to custom pieces, restoration work is also done; continuing the pattern established by his father, grandfather and brother.
Artist Statement
Woodworking has provided both economic stability and artistic opportunity for four generations of my family. I grew up handling and manipulating wood; learned to see it's beauty revealed through works of fine craftsmanship, and learned to love it's textures, colors, character and potential.
Always living in a rural setting, I have found great inspiration in the natural and historic forms that surround me. I enjoy blending materials from diverse origins to create something new while incorporating time-tested techniques. Recent works have been fashioned using figured lumber, barn siding, fence posts, flywheels and harness parts.
CATRO
Pianist, composer, and leader of CATRO, Mark DeWalt is the creative force behind the Pittsburgh Jazz band called CATRO. Their inspired sound truly comes from the heart – An expression of life's joys & passions.
These master musicians' experience includes touring, recording, and performing in Jazz, Rock, Latin, Classical and Educational capacities all over the world – experience which they then bring to the many special events, weddings and parties for which they perform right here in the greater Pittsburgh region.