Ken Double
Theatre Organist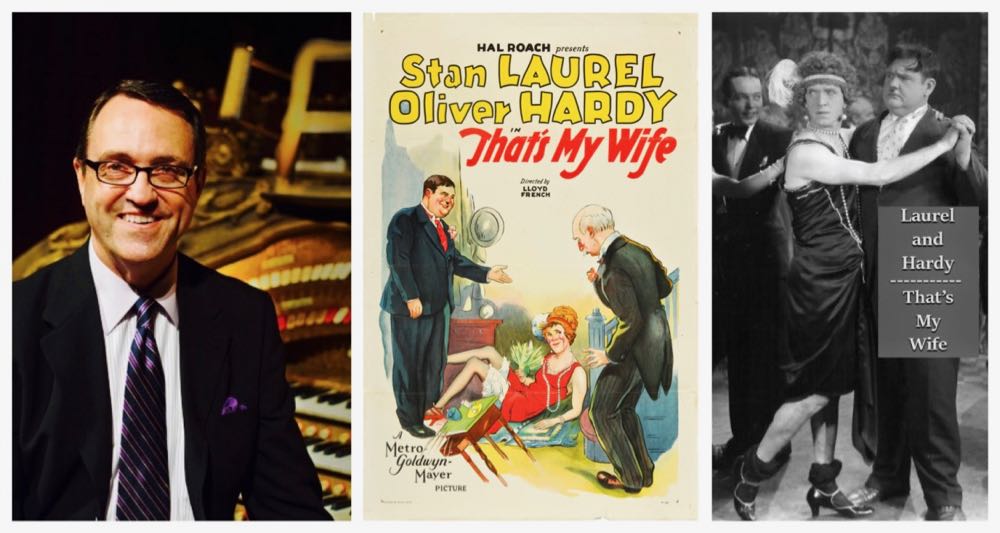 Allegheny RiverStone Center for the Arts is proud to bring back consummate theatre organist, Ken Double, to perform on Lincoln Hall's McKissick Mighty Wurlitzer at 2:00 PM on Sunday, May 19, 2019 in a program of popular theatre organ arrangements and after intermission, the silent movie short, That's My Wife.   
Tickets are $20 for Adults and $5 for Students.  Call to Reserve to 724-659-31533 or buy online here.  Cash and checks are accepted at the door.ARCA is grateful to donors John and Carole Anderson for their sponsorship of this concert.
Plan to arrive in Foxbutgh early to walk through the colorful and energetic exhibit at the Red Brick Gallery, SPRING INTO COLOR!, featuring paintings, collages and objects by Pittsburgh artist, Ginnie Smoliar.  The Red Brick Gallery and Gift Shop is open on Sunday, May 19 from 12 noon to 4 PM.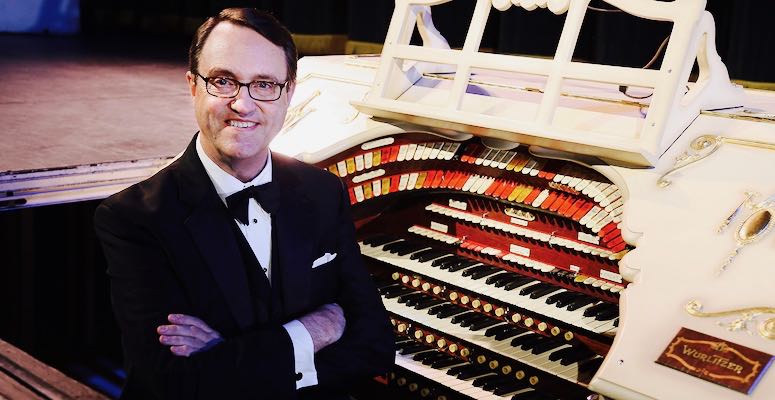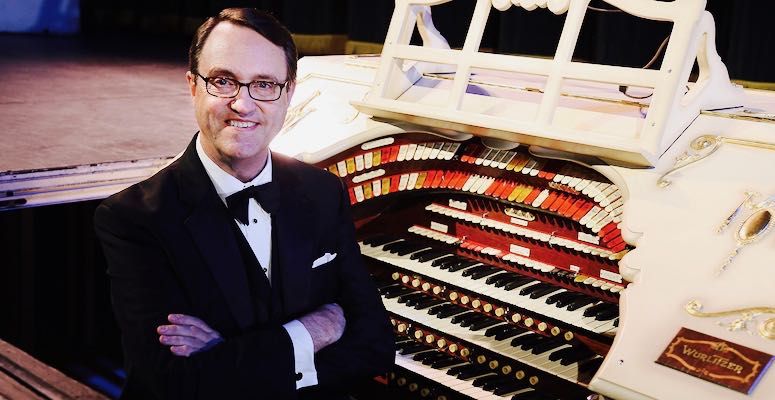 On the first half of the concert, Theatre organ lovers will be spell bound by Ken's dazzling arrangements that will show the McKissick Mighty Wurlitzer and its percussion instrument "toy shelf" to its full glory!  Enjoy a medley of tunes from Music Man and a medley of Frank Sinatra songs, including That's Life, My Kind of Town, and I've Got You Under My Skin…  PLUS one of Johann Strauss' most famous waltzes, Voices of Spring, the famous operatic song O Sole Mio, Cumana (a fiery Latin tune), The Roses of Picardy, and Sweet Georgia Brown and Georgia On My Mind, among others.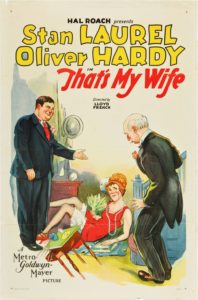 On the second half, Ken Double will be providing the sound track for the uproariously funny 1929 silent movie short, "That's My Wife."  Stan Laurel has lived on Ollie Hardy's premises for so long that Mrs. Hardy (L&H veteran, Vivien Oakland) has had enough and moves out. Wouldn't you know it, Ollie's rich Uncle Bernal (William Courtwright) — who plans to leave Ollie his a huge inheritance if Ollie stays happily married — chooses that night to visit Ollie and meet Mrs. Hardy for the first time. Guess who gets commandeered to play "Mrs." Hardy – none other than Stan, dressed up like a woman!
When the story sends Mr. and "Mrs." Hardy to dinner with Uncle Bernal, the movie throws every cliche it can muster at The Boys — an obnoxious drunk, a necklace inadvertently dropped down the back of Stan's dress; L&H meet each challenge with great aplomb, fully in character.  As with all of the great L&H shorts, at movie's end Stan and Ollie are left with nothing and no one but each other.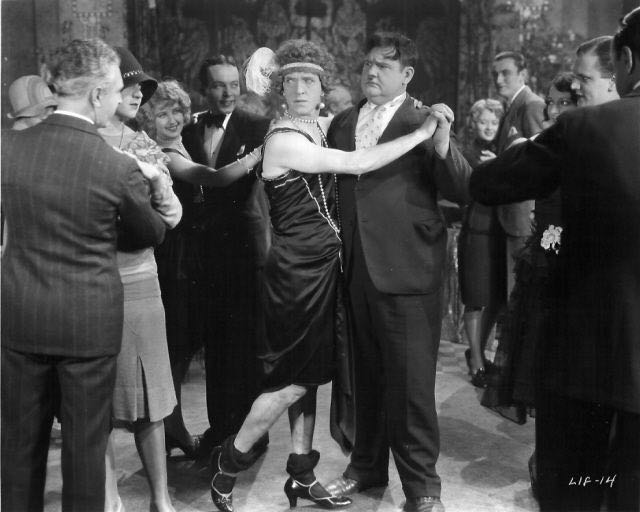 One of the preeminent theatre organists and recording artists of the day – Ken Double has performed many times all across the country in addition to his seven tours of Australia and New Zealand, and two trips to Great Britain. He also shares the great privilege of being one of the two organists who perform at the Atlanta Fox Theatre on famed Mighty Mo, the great Moller organ.  This internationally acclaimed, world traveled organist will perform a program of diverse theatre organ favorites from his ten CDs.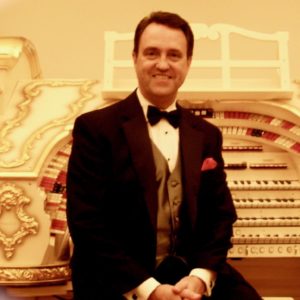 During his concert career, Ken Double has performed all over the United States in addition to seven tours of Australia and New Zealand and two trips to Great Britain, including stops in Seattle, WA; Wilmington, DE; Tampa, FL; Chicago, IL; Los Angeles, CA; the famous Casa Loma in Toronto. In addition to his hundreds of concerts, he has ten CD's to his credit, including  The Music of Casa Loma, the first-ever recording on the Mighty Wurlitzer in the Great Hall of Toronto's historic castle.  Ken is thrilled with the opportunity to return to scenic Foxburg, PA for another visit with the McKissick Mighty Wurlitzer.

Make a Day of it in Foxburg
Driving over for the Concert?  Plan to make a full spring-day of it on the banks of the beautiful Allegheny River in Foxburg.  Arrive early and stop by the opening exhibit of the Red Brick Gallery 2019 season – SPRING INTO COLOR! with Paintings, Collages and Objects by Pittsburgh artist Ginnie Smoliar.  Gallery hours are Sunday, 12 noon to 4 PM.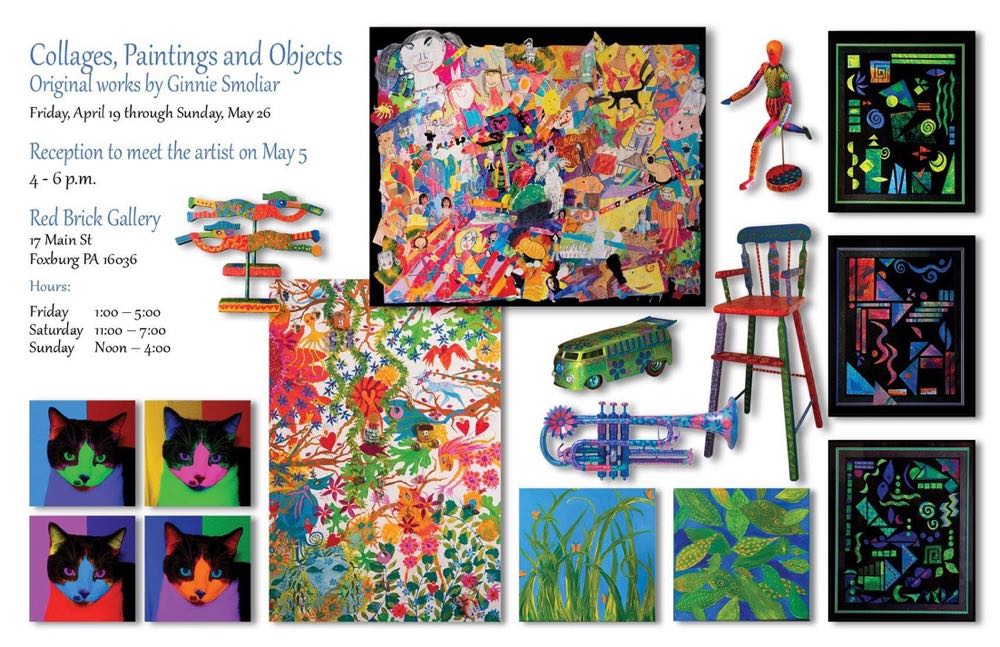 Also plan to enjoy Spring in full bloom on the beautiful Allegheny River – walk or bicycle along the River or have lunch outside on the deck overlooking the river at The Allegheny Grille or at Foxburg Pizz, enjoy wine tasting at Foxburg Wine Cellars  and have gourmet coffee, ice cream and a handmade chocolate dessert at Divani Chocolatier and Barrista.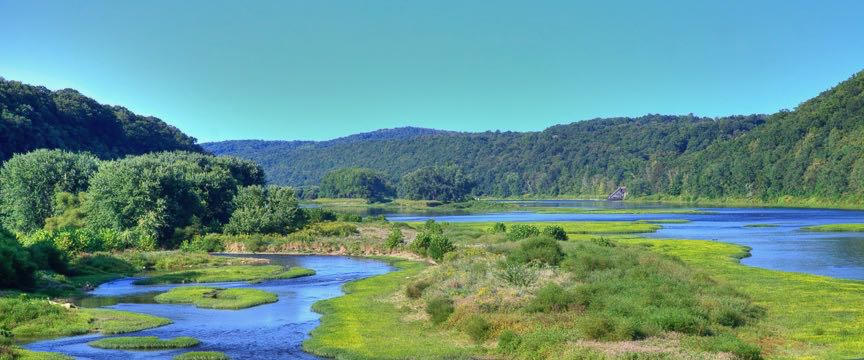 ARCA's McKissick Mighty Wurlitzer Organ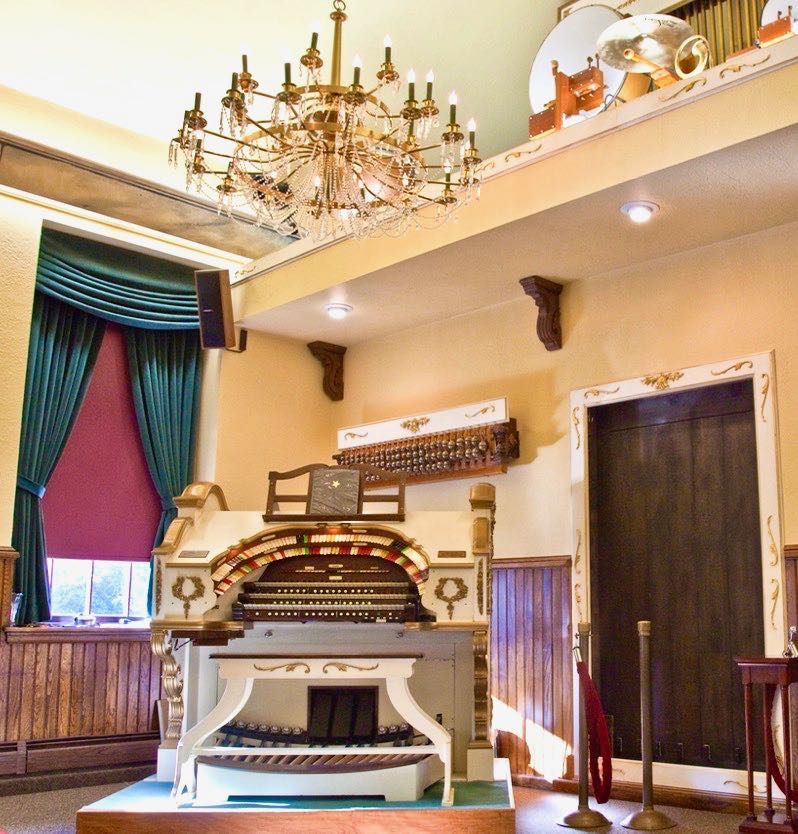 ARCA's Wurlitzer contains seventeen ranks of pipes and is characterized by a balanced blend of unmistakeable Wurlitzer 'sounds".  Built in 1928 at the Wurlitzer Organ factory in North Tonawanda outside of Buffalo and numbered OPUS 1989, the organ originally was installed in Cleveland's Uptown Theatre.  It was played for several years accompanying silent movies.  With the end of the silent film era it was subsequently purchased by Richard Wheeler, a Cleveland organist, and remained in his home until Wheeler passed.  Paul McKissick purchased it from the Haynes Company in North Canton, Ohio, where it had been in storage.
Named for Paul McKissick, who lovingly and painstakingly rebuilt the instrument over eleven years, in 1999 the restored Wulrtlizer was installed in McKissick's garage at their home in Lake Latonka near Mercer, PA.  The organ became known as the Latona Pipes, and was played in annual benefits concerts to raise money for the DeBence Museum in Franklin.  Dr. Arthur and Patricia Steffee attended one of the concerts.  When Paul decided to downsize and was seeking a place for the Wurtlizer for the next generation, Dr. Arthur and Patricia Steffee, ARCA's founders, purchased it to enhance the newly restored Lincoln Hall, on the second floor of the Foxburg Free Library.
Its seventeen ranks of pipes translate to 60 notes per voice or rank, more than 1200 pipes and 6,000 moving parts to make the Wurlitzer sound.  Only the relay and computer are not authentic or vintage parts on the organ.  The installation included one of Wurlitzer's most unique features, the decorative 'Toy Shelf' of miniature instruments, which are displayed in a rear balcony in Lincoln Hall and are all powered by the organ. The marimba was added and all the associated drums, cymbals, bells and automatic piano produce a balanced blend of unmistakable Mighty Wurlitzer sounds.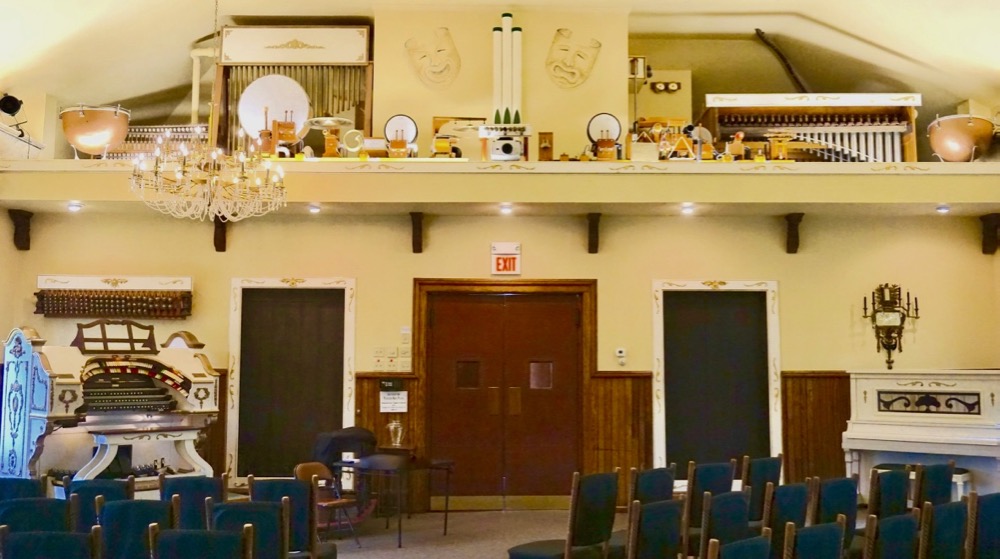 ARCA audiences have enjoyed ten years of glorious music making on the McKissick Mighty Wurlitzer by some of the worlds greatest theatre organists – including David Wickerham, Martin Ellis, Walt Strony, Scott Foppiano, Donna Parker, Jelani Eddington and Ken Double.  Jason Wiles is ARCA's organ technician, maintaining and tuning the organ for each concert.
In 2012, the McKissick Mighty Wurlitzer Legacy Fund was established in honor of Paul and Sally McKissick, to maintain the organ and insure the future of this extraordinary instrument for future audiences.  Anyone wishing to contribute to this fund may do so by contacting ARCA at info@alleghenyriverstone.org.
See more on the Paul McKissick Story and the McKissick Mighty Wurlitzer organ.
About the Artist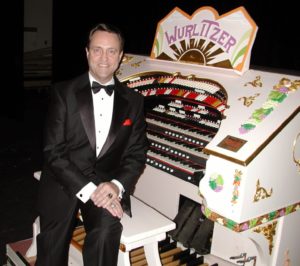 Ken Double has smoothly moved from two performing careers in his nearly 40-years on stage, on radio and on television. His broadcasting career included play-by-play work for the NBA Indiana Pacers, Purdue basketball, the Indy 500 and 17 years of NHL, IHL and AHL hockey.   After 33 years in broadcasting, he put the organ lessons of his youth along with his "gift of gab" to work in a new career.
A Chicago native who now calls Atlanta home, Ken began organ lessons at age 8; while in college in Indianapolis played the organ at Tommy Bartlett's Water Show in Wisconsin Dells; for sporting events at Market Square Arena; has performed hundreds of concerts all over the world; and has 18 recordings to his credit, including his latest, Let's Play Two, which features two private installations in North San Diego County, CA.
Ken takes pride in having performed the Grand Opening concerts on the restored theatre organs at the Long Center in Lafayette, IN; the Wurlitzer at Manual High School Indianapolis; the Page pipe organ at the Anderson, IN Paramount Theatre; and at the Indianapolis Warren Performing Arts Center Barton organ, all where for many years, Ken called home.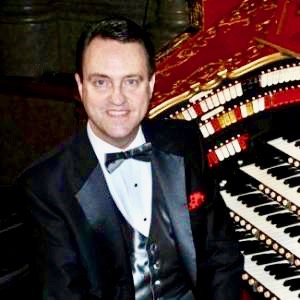 Ken has performed all over the country in addition to his seven tours of Australia and New Zealand, and two trips to Great Britain.
He operates Ken Double Entertainment; is the current president of the ATOS chapter in Atlanta; is President of the Long Center Theatre Organ Society in Lafayette, IN; and after leaving ATOS' top post, he is now assisting the effort to restore the mammoth Midmer-Losh organ, "The largest musical instrument in the world," at Boardwalk Hall in Atlantic City as the chief fund-raiser for the Historic Organ Restoration Committee.
He also shares the great privilege of being one of the two organists who perform at the Atlanta Fox Theatre on famed Mighty Mo, the great Moller organ in Atlanta.
Ken is thrilled with the opportunity to return to scenic Foxburg, PA for another visit with the McKissick Mighty Wurlitzer.
Sportscaster, musician, promoter, executive – Ken has worn many hats in his professional career with an aim at having fun and getting paid for it! Or, as the song goes, "Nice work if you can get it."