Wishing you a Merry Christmas, Joyous Holiday Season and Healthy and Happy 2023!
Allegheny RiverStone Center for the Arts wishes you a blessed Christmas and joyous holiday season with your family and beloveds, and extends to you heartiest wishes for a healthy and Happy New Year.
And our heartfelt thanks to all of you for your generous financial support and concert attendance in 2022.
During 2022, Allegheny RiverStone Center for the Arts presented an extraordinary season of "Glorious Music an Art in the beautiful Allegheny-Clarion River Valley" – only possible because of YOU, our devoted audience members and donors.
The Board of Directors of Allegheny RiverStone Center for the Arts and The Red Brick Gallery Cooperative Artists extend their warmest thanks to you for your generous support of our mission to bring world class music and art to all the people of the greater Allegheny-Clarion River Valley Region.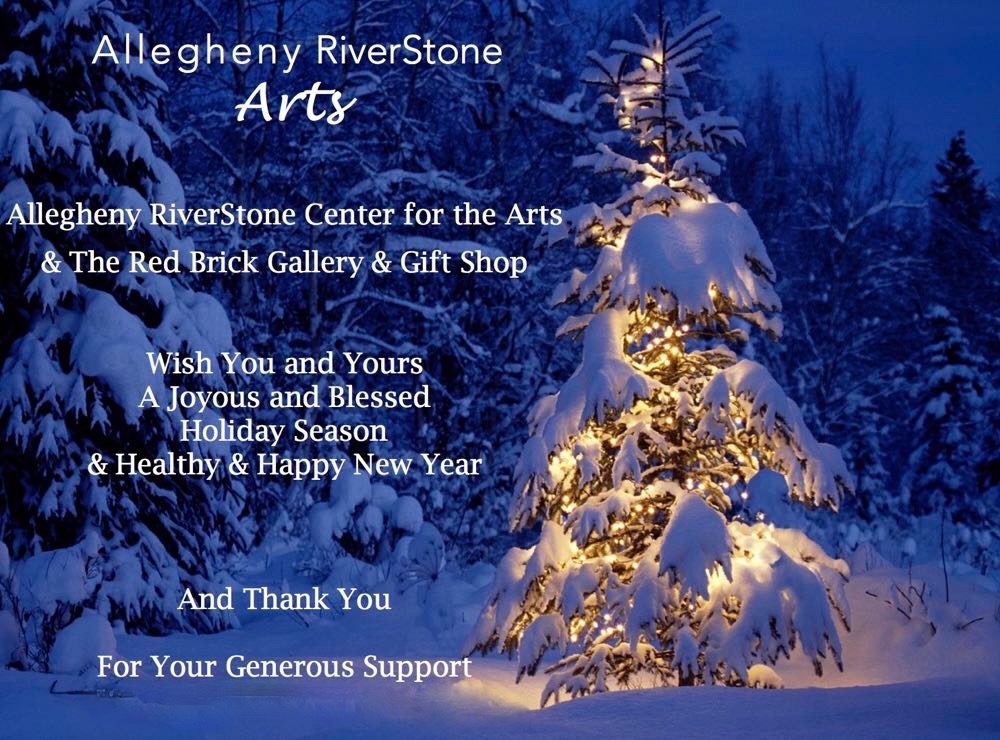 ARCA Concerts and Exhibits in 2023
ARCA's 2023 season promises to bring more world class music and inspiring art to its audiences in Lincoln Hall and at the Red Brick Gallery.
The Winter season opens on Saturday, February 11, 2023 with a Valentine's Day evening of music and dancing featuring Key Factor with Mark DeWalt and blues singer Lori Russo. 
ARCA favorites Carnival of Souls will return during St. Patrick's Day week on Saturday, March 18 at 7:30 in Lincoln Hall for their joyous musical celebration.
Other season highlights include the return of extraordinary theatre organists Brett Valiant and Dave Wickerham, cabaret singer Judi Figel, TAKE3 and the return of the ARCA Membership picnic at RiverStone Estate before the outdoor concert and dance featuring the spectacular In Transit Band… and many more soon to be announced.
The Red Brick Gallery season of exhibits in the Second Floor Gallery will include Geoffrey Dunn, painter; Roy Engelbrecht, photographer;  Elizabeth Ford, painter; Dennis Keyes, photographer with Jannick Wildberg, painter; and Andor Paposi-Jobb, painter and educator. 
Check back soon for our detailed event listing for the full Red Brick Gallery exhibit and Concert Season.
ARCA's new membership brochure also will be online soon.  You can sign up to receive newsletters and and information about ARCA's new 2023 season and membership events on this site.
Heartiest wishes for a Merry Christmas, Joyous and Blessed Holiday season and a wonderful 2023!
See you at concerts and exhibits in the coming year in the beautiful Allegheny River Valley!