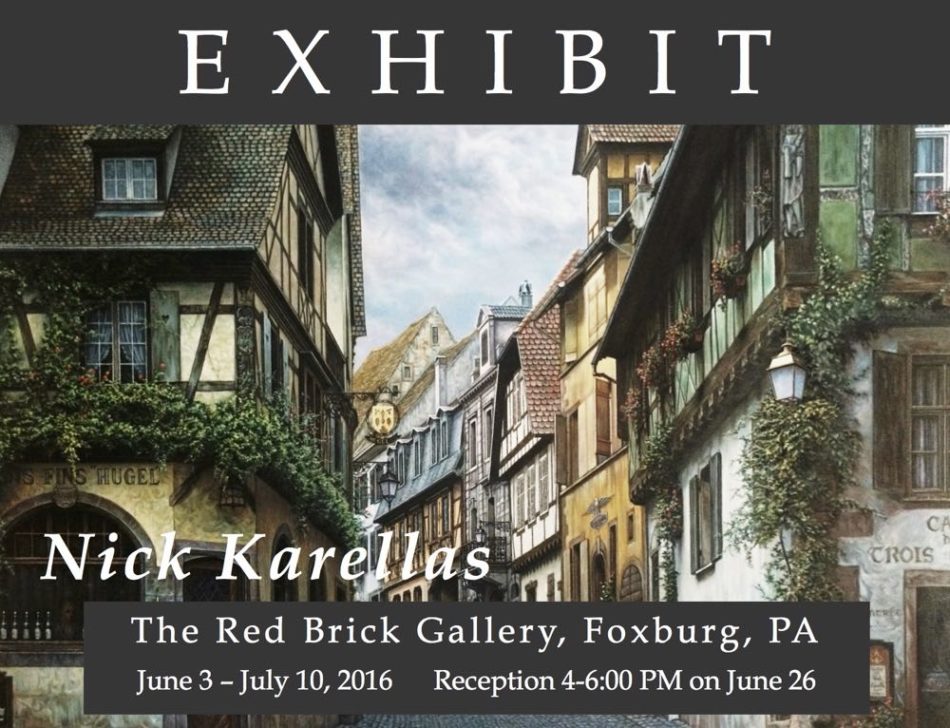 Allegheny RiverStone Center for the Arts is proud to announce the Red Brick Gallery Exhibit: "Realistic Masterworks"  by Nick J. Karellas, RBG Member artist, from Friday, June 3 to Sunday, July 10. A Meet the Artist Reception will be held on Sunday, June 26 from 4:00 – 6:00 PM, immediately after ARCA's 2:00 PM concert in Lincoln Hall featuring the Clarion University Chamber Singers.  The Red Brick Gallery is located at 17 Main Street in historic Foxburg, PA. Gallery hours are Fridays, 2:00 p.m. to 6:00 p.m., Saturdays, 11:00 a.m. to 7:00 p.m., and Sundays, 12 p.m. to 4:00 p.m.
If you've visited the Gallery in the last year, you will definitely remember the size, scope and impeccable realistic detail of paintings by RBG Member artist Nick Karellas. His artworks in oil, pen, ink and watercolor are truly Realistic Masterworks.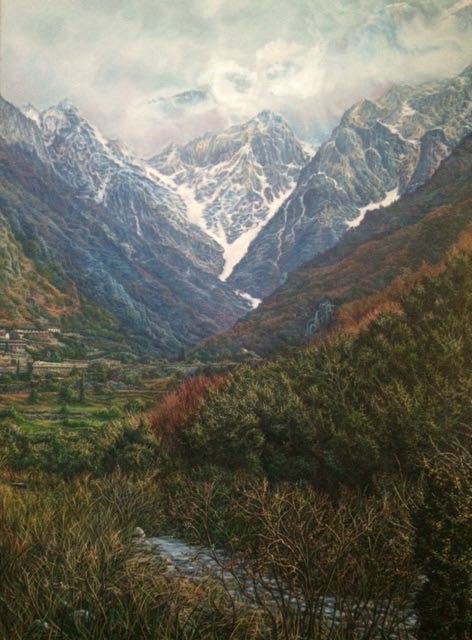 Ranging from a glorious sacred mountain valley in Greece to a view from the vault of a Gothic cathedral bringing sunshine into the church and the lives of the people below, each of his works tell a story and convey the richness of having lived in both Europe and the United States. Even more, Nick's artworks give the viewer an experience that all is well in the world – a sense of awe and wonder that life's smallest, most precise details are simply part of a harmonious, divine order.
Karellas, who describes himself as a man of few words, lets his canvases do the talking. While he believes that everything we do should have a purpose, he modestly said that he hopes his artwork does "tell a story and make a difference."
An oil painting of an inner city street in Strasbourg used in the poster for this exhibit, where numerous wars have been fought on the border of France and Germany, exemplifies this perspective; the French architecture on one side of the street peacefully coexists with the German on the other side. A painting of a seacoast with sailing ships from a by-gone era and a storm beginning to rage overhead is the beach at Normandy where D-Day would take the lives of thousands centuries later.
About the Artist
Nick Karellas came from a family of artists. His mother was a dress designer working for Caroline Herrera and his father, John, was a famous dramatic tenor opera singer who performed at La Scala in Milan and at Carnegie Hall in New York City. Nick came to the Allegheny River Valley when his father bought a church in Parker. During the last years of his father's life, the church was visited by monks, bringing treasured icons from the Greek Orthodox Church.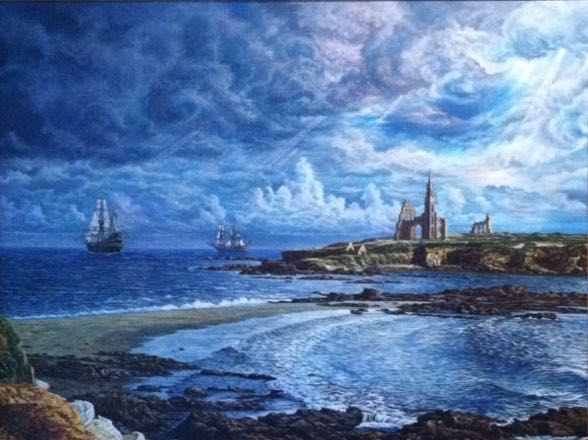 Fortunately for us, Nick continued to use the Parker church as an art studio and became affiliated with ARCA's Red Brick Gallery. He has a rich and diverse artistic resume. Born in Milan, Italy in 1960, he lived in Italy, then Greece, during his childhood.  While in Italy, Nick had the opportunity to work in commercials.  His acting career included having the lead child role in a movie, the Italian version of 'The Prodigal Son'.  Nick is accomplished in classical piano, having performed at New York's Carnegie Recital Hall at the age of twelve.
Nick started drawing at the age of five, with his first commissioned work at twelve years of age painting portraits of the bishops of the Greek Orthodox Church.  After moving to the United States he attended Art and Design High School in New York City and studied portraiture, under famed portrait artist Daniel Greene at The Art Students League. Daniel Greene is well known to Pittsburghers for his portrait of former Pittsburgh Symphony Music Director William Steinberg displayed in the lobby of Heinz Hall. Local residents will be able to experience and purchase Nick's portraiture artistry for themselves during the Red Brick Gallery Day on Saturday, August 27, when Nick will be doing quick portraits for hire as a benefit to raise money for the Red Brick Gallery and ARCA.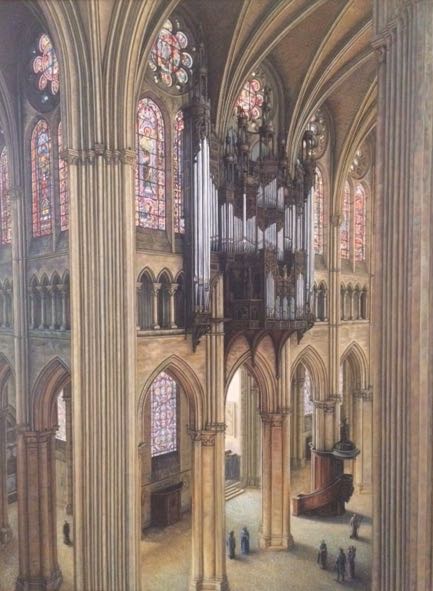 While continuing to display in galleries, for twenty-three years Nick served as an architectural illustrator for a major New York City architectural firm, working with architects and engineers designing campus buildings for universities around the country. Nick was able to telecommute when he moved to Pittsburgh with his wife, who is the Senior Vice President of Finance for a Pittsburgh PR firm. They have a 17 year-old son.
A prolific artist who has sold more than eighty works in recent years, Nick Karellas has produced a total of eighteen new artworks for this exhibit. New to this exhibit will be a series on Pittsburgh architecture in the early twentieth century, during a time, according to Karellas, "when life was simple and beautiful." Also unique to this exhibition, is that Nick's new works will be brought in progressively throughout the exhibit, beginning with eleven new works when the exhibit opens and including the remaining seven as the exhibit progresses – all leading up the Meet the Artist Reception on Sunday, June 26 from 4 – 6:00 PM.

The Red Brick Gallery is located at 17 Main Street in historic Foxburg, PA. Gallery hours are Fridays, 2:00 p.m. to 6:00 p.m., Saturdays, 11:00 a.m. to 7:00 p.m., and Sundays, 12 p.m. to 4:00 p.m.