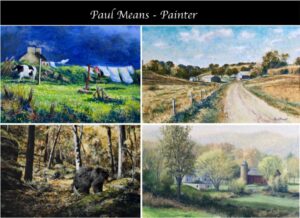 As Spring is bursting forth in the beautiful Allegheny-Clarion River valley, the 2022 season of the Red Brick Gallery and Allegheny RiverStone Center for the Arts opens with painter Paul Means. The exhibit features paintings of Western Pennsylvania rural landscapes, wildlife, and portraits.  The exhibit will be open weekends from Friday, April 8 thru Sunday, May 15 on the second floor of the historic Gallery on Main Street in Foxburg, PA overlooking the Allegheny River.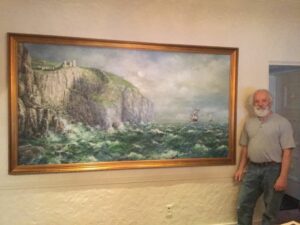 Bring your family and friends to the Paul Means Meet the Artist Reception on Sunday, April 10 from 4:00 to 6:00 PM immediately following the 2:00 PM concert by Nathan Carterette Poets of the Piano in Lincoln Hall. The Red Brick Gallery is located at 17 Main Street in Foxburg.
The 2022 season  
Gallery Hours are Fridays 1:00 – 6:00 PM, Saturdays 11:00–7:00 PM, and Sundays 12:00–5:00 PM.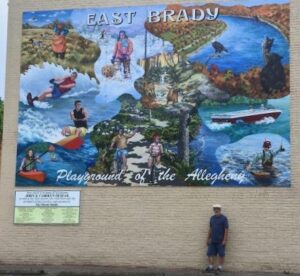 Paul Means has always wanted to be an artist and after a stint in the Air Force as a sign painter he obtained formal training at the now defunct Ivy School of Professional Art in Pittsburgh, PA.  This training expanded his skills in color theory, design and composition, which allowed him to experiment in many media and styles.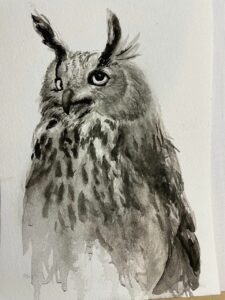 Later working for a church restoration company for several years, Paul gained the skills of classic craftsman gold-leafing, wood graining, and marbleizing.  This also allowed him to work with a team of artists on large-scale murals, mosaics and Tromp l'Oeil. Drawing from that experience, Paul, who currently resides in Butler, PA. has been self-employed as a decorative artist and muralist.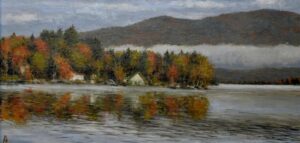 Paul's numerous residential and corporate commissions include such diverse topics as a 10 x 15-foot mural of a Mennonite Barn raising, and two 23-foot long landscapes of Alaska and Africa created as a backdrop for a big game hunters' collection of trophies. He has painted murals of Italian scenes in a breakfast room and coral reefs in a condominium in the Bahamas.  A partial list of his clients includes executives from H.J. Heinz Co., Alcoa, and U.P.M.C.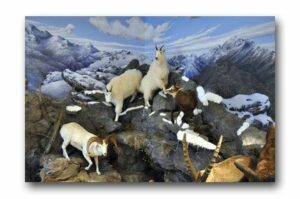 Paul's interests include painting scenes that have their roots in historical subjects, such as can be seen in his Civil War representations; however, he draws inspiration for most of his paintings from nature.  Whether during his travels to Europe and in the Unites States or in his own backyard, Paul first captures moments in time through photographic imagery.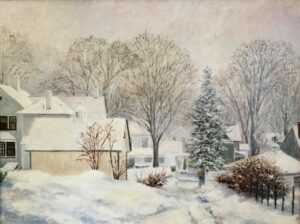 He then uses a strong color palette and lighting effect to transform the subjects of his photographs into drawings, oil paintings and etchings always seeking to follow the advice of Impressionist Camille Pissarro who said "I paint because I can't not paint.  Don't proceed according to rules and principles, but paint what you observe and feel… One must have only one master– nature; she is the one always to be consulted."  It's this concept of nature-as-master that Paul has always heeded; his muse is the world itself, and he seeks to better his skills so that he can better represent our world and the feelings he finds there.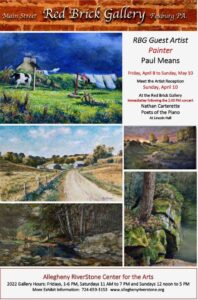 Red Brick Gallery  Hours
Fridays: 1:00 – 6:00 PM
Saturdays: 11:00 AM to 7:00 PM
Sundays: 12:00 noon to 5:00 PM
Location
Red Brick Gallery
17 Main Street
Foxburg, PA 16036