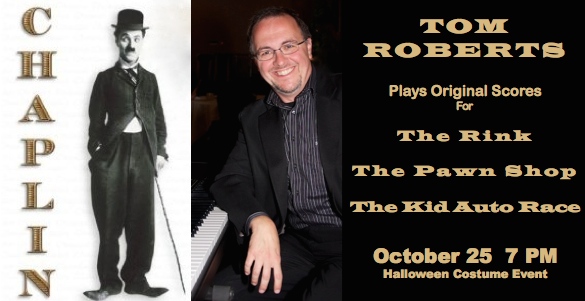 Your 2014 Halloween can get an early start by attending Phantom Night III at Lincoln Hall on Saturday, October 25, 7:00 PM. This family-friendly Halloween community costume event receives a makeover this year. As an alternative to the typical horror film evening, we want you to enjoy the rib-cracking humor of some Charlie Chaplin silent films, accompanied by the affable Tom Roberts on piano, playing his own original scores to suit the action on the silver screen.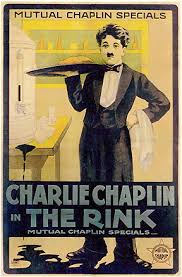 Tom Roberts, Pianist and Arranger, will be at the Steinway performing his own music written to accompany three Charlie Chaplin movies:  The Rink, The Pawn Shop and The Kid Auto Race.  Become part of the festivities by dressing as Charlie Chaplin or in the Halloween costume of your choice. Of course, we are keeping the costume contest, with prizes being awarded in several categories. Don't be bashful, audience members from 8 months to 80 years old arrive in all manner of home-made or store-bought outfits, congratulating or poking good-natured fun at each other.
By the way, Lincoln Hall will be easy to recognize–the building itself will not be in disguise! Dress up and join the fun while watching the work of one true genius and enjoying the piano performance of another.
ABOUT TOM ROBERTS
Tom Roberts is one of the leading exponents of early jazz piano in the world today. He has performed on The Tonight Show with Johnny Carson, and A Prairie Home Companion with Garrison Keillor. He was the featured pianist at the International Stride Piano Summit in Zurich, Switzerland, 2001 and 2009. Tom was the pianist for Vince Giordano and the Nighthawks in New York City (recent Grammy winners for the soundtrack to Boardwalk Empire) and the pianist and musical director for Leon Redbone for six years.
Tom has performed twice at New York's Carnegie Hall in 2003, once with Skitch Henderson and the New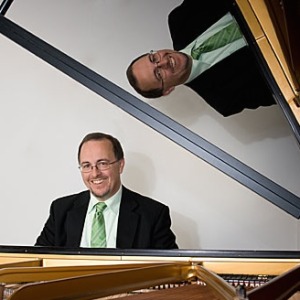 York Pops. He was featured in 2003 in solo with Dick Hyman at the prestigious Jazz In July series at New York's 92nd St. Y. Tom has performed multiple times at The New Orleans Jazz and Heritage festival including a solo performance at The Professor Longhair Society's Piano Night At Tipitina's. He has performed throughout Europe as a member of multiple ensembles from New Orleans and as a member of The Ortner Roberts Duo.
Roberts has arranged and performed music for the soundtrack of the Martin Scorcese film The Aviator; for the syndicated PRI show Riverwalk Jazz, Live from the Landing with the Jim Cullum Jazz Band; and a number of pieces for Wynton Marsalis and The Jazz at Lincoln Center Orchestra. Recently he has composed new musical scores for the Charlie Chaplin films One A.M. and The Rink through a commission from The Pittsburgh Symphony.