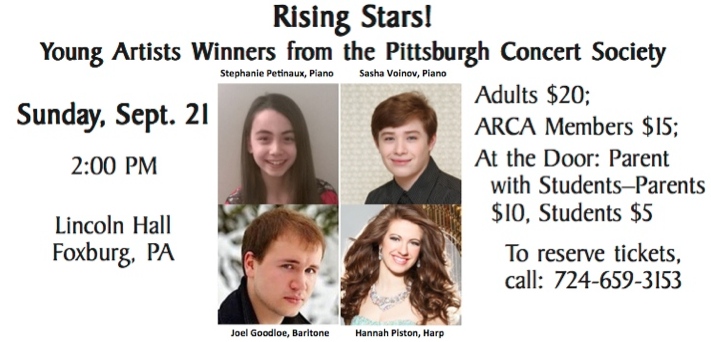 Pittsburgh Concert Society Young Artist Auditions, will share their exuberant talent in a rich and diverse program of music sure to delight young and old.  Pianists Stephanie Petinaux and Aleksandr (Sasha) Voinov will perform Haydn, Beethoven, Chopin, and Liszt on the Lincoln Hall Steinway.  Baritone Joel Goodloe will perform an inspiring group songs by Gustav Mahler based on poetry by Friedrich Rückert and Harpist Hannah Piston will charm the audience with works by Bach and French composers, including Marcel Tournier.
After the concert, the audience is invited to attend a Meet The Artist Reception and the Opening of the Exhibit of artist Doug Elder on the second floor of The Red Brick Gallery at 17 Main Street in Foxburg.
Popular family prices are offered to encourage parents and students from the Allegheny-Clarion Valley Schools to attend.   This concert is part of ARCA's Educational ArtReach program, The Music That Makes Us Dance, bringing workshops and assembly concerts featuring musicians and dancers into the AC Valley Schools K-12, and featuring works written for or inspired by the dance in numerous concerts during the fall season.
Our Rising Stars from the PCS will be performing music for the dance, including a Chopin Polonaise, Liszt Hungarian Rhapsody, Debussy Arabesque, a dance for harp by French composer Marcel Tournier and Gallop, a dance composed by PCS Young Pianist, Aleksandr (Sasha) Voinov.  Other works programmed are by Haydn, Beethoven, Tournier and Mahler.
It is hoped that many parents will bring their children to experience the inspiration of these young artists and take advantage of the family discounted tickets
PITTSBURGH CONCERT SOCIETY
Another first for ARCA is the establishment of a new relationship with the Pittsburgh Concert Society. Their Foxburg debut will take place on Sunday, September 21 at 2:00 PM, featuring winners of their Young Artists auditions. This rigorous competition only selects the best of the best as winners and will not make an award if their standards are not met. You will hear a varied program featuring four different performers who are well on their way toward musical careers. Not only will adults be amazed by the quality of these young artists, children and teens will be inspired by the examples on Lincoln Hall's stage.
The mission of the Pittsburgh Concert Society is to encourage and develop local music talent by providing financial rewards and formal performance opportunities to musicians living or studying within a 75-mile radius of Pittsburgh.
Founded in 1943, the Pittsburgh Concert Society is a non-profit, equal opportunity organization. All artists appearing on the Society's programs are selected by audition. To afford each candidate a fair opportunity, an independent judge of national reputation, from a city other than Pittsburgh, adjudicates.
All artists appearing on PCS programs must live within a 75-mile radius of the city.  PCS Major auditions for adult artists are held in April and winners are showcased in a series of fall concerts in Carnegie Mellon's Kresge Theatre.  Winners of the Young Artist Auditions competition in January are featured in a series of concerts during the Spring.
The Pittsburgh Concert Society is proud of its history and its contribution to the arts in the Pittsburgh area. It is an organization of dedicated officers and board members, all volunteers, consistently working to maintain the highest possible level of talent in their concert presentations.
In addition to its formal concert activity, the Pittsburgh Concert Society reaches out into the community. Outstanding artists are invited to perform in venues throughout the city, with a special emphasis on reaching young people. These performances are arranged by the officers of the Society, working in close collaboration with organizations such as the Children's Museum, the Children's Hospital, the History Center of Pittsburgh, The Carnegie Library, assisted living communities, Pittsburgh and suburban school districts, colleges, and other local arts organizations.
Join us and listen to some excellent young artists who may very well rank among the stars of the future. With ARCA's reputation as the cultural jewel of the region, we have an established standard of presenting quality performers in each genre.