Get ready to don your beret, wear some slick clothing and rejoin the Bebop and Beat Generation!
COOL JAZZ AND POETRY return to Lincoln Hall on Sunday, November 9 at 2:00 PM, led once again by poets Andy Johnson and Philip Terman with musical elaboration by some of the tastiest jazz musicians in the greater Pittsburgh region – Catro with Mark DeWalt  and Dave Kana and Blisstaken with the amazing Saxophonist, Terry Steele and Guitarist, Mike Wienand.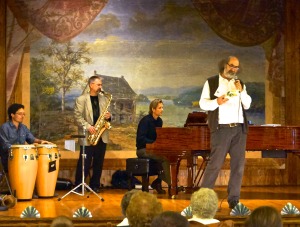 Each will offer their own poetry in their unique style of spoken word performance, with musical paraphrases expressively interjected by a group of jazz artists whose improvisations deftly lend themselves to images in the mind. Andy, retired Slippery Rock University poet, and Philip, of Clarion University are both published writers who deliver the written word with all the nuance appropriate to each poem offered. What a great way to spend a chilly November Sunday afternoon, decked out in your favorite comfy turtleneck.
Tickets: Adults $15, Students $8  To reserve tickets, please call 724-659-3153
Philip Terman, author of six books of poetry, reads his poetry while accompanied by members of the jazz ensemble Catro – Mark DeWalt on the Steinway, Dave Kana on saxophone, and Orion Jenkins on percussion.  Their collaboration brings musical texture to the Phil's rich poetry.  Terman has read his poetry in many venues across the country. Phil shares the stage again with fellow poet Andy Johnson of Slippery Rock.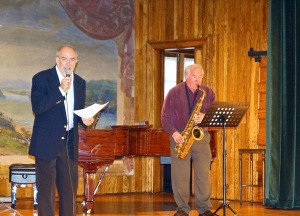 Poet Andy Johnson has been writing, publishing, and giving poetry readings in Michigan and western Pennsylvania for the last forty years. Andy is joined by other members of Blisstaken – Terry Steele, saxophonist, and Mike Wienand, guitar.
Andy regards the spontaneity of poetry/ jazz as something unique: "During the poetry/ jazz experience everyone including the poet, the musician, and the audience gets to participate in the creation of something which always manages to be new." Andy will be accompanied by saxophonist Terry Steele. Terry is a retired Professor Emeritus from Slippery Rock University is now a freelance musician in the Pittsburgh area where he is active playing musicals, backing entertainers, playing jazz venues and when needed is the performs saxophone with the Pittsburgh Symphony.
Harkening Back to the Beat Generation
As members of the Beat generation began to embrace aspects of African-American culture during the 1950s, the art of jazz poetry shifted its focus from racial pride and individuality to spontaneity and freedom. In this case, both jazz poetry and jazz music were seen as powerful statements against the status quo.
Jack Kerouac would often have musical accompaniment for his poetry readings. His colleague, musician and composer David Amram, would often play the piano or bongos as Kerouac read. Amram later wrote of their work together:
"We never once rehearsed. We did listen intently to one another. Jazz is all about listening and sharing. I never drowned out one word of whatever Jack was reading or making up on the spot. When I did my spontaneous scatting […] he would play piano or bongos and he never drowned out or stepped on a word or interrupted a thought that I or anyone else had when they joined us in these late night-early morning get-togethers. We had mutual respect for one another, and anyone who joined us received the same respect. We almost never used a microphone. Most of the time, there weren't any available!"
Lawrence Ferlinghetti had a similar collaboration with saxophone player Stan Getz. Beat poet Bob Kaufman was said by some to be the greatest jazz poet ever to have lived, with the exception of Langston Hughes. Kaufman paid homage to jazz in poems like "O Jazz O" and "Morning Joy." His work is notable for its syncopated rhythms, surreal imagery, and a quality of alienation stemming from his own life as a drifter and a jailbird.
In the 1960s, Beat poet LeRoi Jones renamed himself Amiri Baraka and revived the idea of jazz poetry as a source of black pride. Baraka was a cultural nationalist who believed that "Black People are a race, a culture, a Nation". Elements of jazz show up often in Baraka's work, such as syncopation and repetition of phrases. Gil Scott-Heron, often seen as one of the founding fathers of rap music, also used many of the artistic devices of jazz poetry in his spoken-word albums of the 1970s and 1980s.
The use of jazz poetry at coffee houses and places of that sort has often been seen as a great tool to help people who are very busy lower their stress levels. The smooth sounds of the soft music and flowing words makes it a great way to relax; however, real jazz poets do not intend to relax listeners.
Find out what the buzz has been about…
Make the drive to hear poets live…
Dig the jazz….not razzmatazz…
Have a trip that makes you hip…