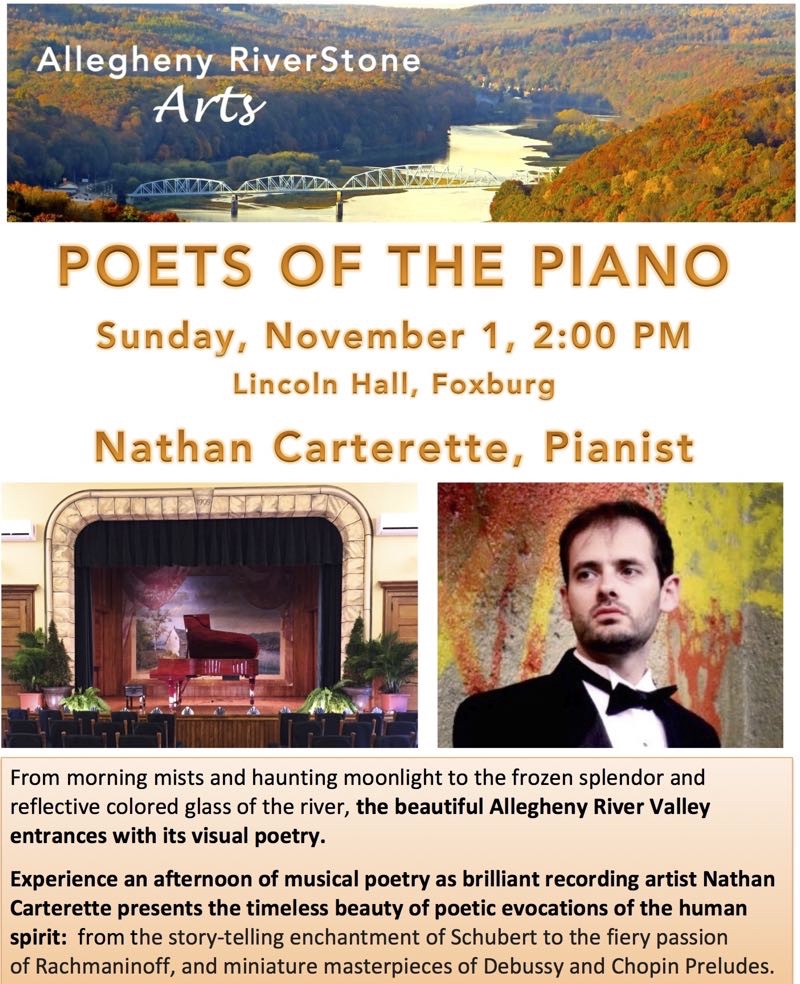 As the beautiful Allegheny-Clarion River Valley indulges in the colorful moods of autumn, you too can luxuriate in the musical poetry and timeless beauty of masters of the piano literature – Rachmaninoff, Schubert, Dubussy, Kim, and Chopin – in the hands of brilliant pianist Nathan Carterette, who will share his insights on the musical legends of the spirit he has chosen to bring to his Lincoln Hall audience.
Join us for an afternoon of glorious music making as celebrated pianist Nathan Carterette performs "Poets of the Piano" in Lincoln Hall in Foxburg at 2:00 PM on Sunday, November 1.
Tickets are $5 for Students, $20 for ARCA Members and $25 for Adults.  You may reserve tickets by calling 724 659-3153 or may purchase tickets online at https://alleghenyriverstone.org/event/poets-of-the-piano-nathan-carterette/.
Just an hour and half north of Pittsburgh, Lincoln Hall's intimate acoustics provide a truly inspired environment to enjoy chamber music and pianists performing on its 7 foot Steinway. Built in 1909, the stage's backdrop is an original hand-painted canvas of an actual scene downstream on the Allegheny River.  Lincoln Hall has a capacity audience of 120 and is located on the second floor of the Foxburg Free Library.
Plan to Make a Day of it in beautiful Foxburg!  Enjoy the autumn colors with a walk along the Allegheny River trail or rent bicycles with Foxburg Tours.  Have lunch at the Allegheny Grille with seating overlooking the Allegheny River, or for more casual fare, at Foxburg Pizza with salads, sandwiches and pizza.  Save time to enjoy wine tasting at Foxburg Wine Cellars and savor a gourmet coffee and hand made chocolate at Divani Chocolatier and Barrista.  Or spend the night in the lovely Foxburg Inn.
And of course, stop by the Red Brick Gallery and Gift Shop to enjoy the offerings of talented Cooperative Artists from the region and do some early Christmas shopping and view an exhibit in the gallery space on the second floor by Chris DeNapoli Michael – "Through My Eyes".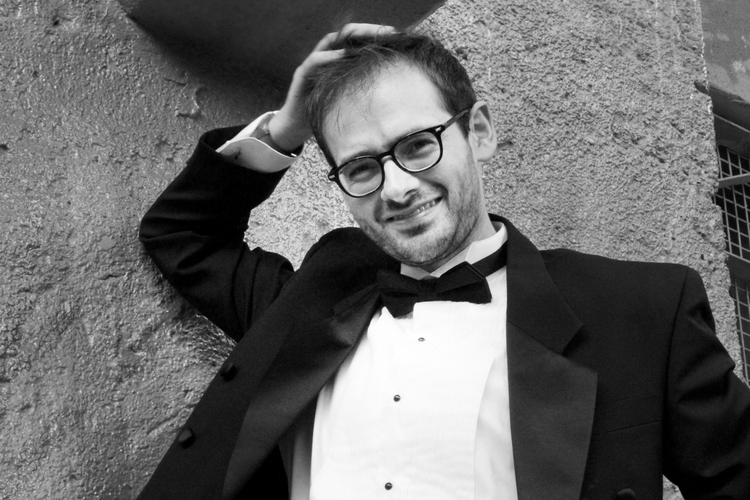 Enjoy a magnificent afternoon on Sunday, November 1 as pianist Nathan Carterette performs "Poets of the Piano" on Lincoln Hall's Steinway at 2:00 PM, revealing the pianist as "reciter" and the composer as "poet" of music. You will be moved and entranced by Nathan's pianist sensitivity and virtuosic bravura.  A master of sharing program commentary, Nathan will guide your discovery of the poetic essence of the music he is performing.
Nathan will weave together for ARCA's appreciative audience two programs from the series of the same name he's performing in Pittsburgh in the fall of 2015 at the Church of the Redeemer:  "Ballads, Tales, and Lays", performing musical poetry, from the story-telling enchantment of Schubert to the fiery passion of Rachmaninoff, and miniature masterpieces of Frederick Chopin's Preludes, op. 28, tiny poems in an astonishing emotional range – plus works by Nikolai Medtner, Korean composer Quentin Kim, and Claude Debussy.
Hailed as "wonderfully poetic," (Westfalen Post) and "very compelling in his power and presence" (International Composer), Nathan Carterette has distinguished himself in the concert world by performing a huge range of works from Elizabethan keyboard music to music written today. His innovative programming has inspired audiences to approach unfamiliar music with open ears, and familiar music with new appreciation.
Tickets are $25 Adults, $20 Members, $5 Students
Poets of the Piano

Impromptu in c minor, op.90 no.1                Franz Schubert
Russian Folktale, op.42 no.1                           Nikolai Medtner
Etude-Tableau in D, op.39 no.9                      Sergei Rachmaninoff
Four Preludes                                                    Quentin Kim
I. Leggiero e languido
II. Patetico
III. Molto dolce
IV. Fantasmagorico
Ballade in g minor, op.23                                Frederic Chopin
——  Intermission  —–
Preludes, Book I                                                Claude Debussy
   The Sunken Cathedral
   The Girl with the Flaxen Hair
   Minstrels
Preludes, op.28                                                 Frederic Chopin
I.  C Major–Agitato                            II.  A Minor—Lento
III. G Major—Vivace                       IV. E Minor—Largo
V.  D Major—Molto Allegro            VI. B Minor—Lento Assai
VII.  A Major—Andantino              VIII.  F# Minor—Molto Agitato
IX.  E Major—Largo                         X.  C# Minor—Allegro Molto
XI.  B Major—Vivace                      XII.  G# Minor—Presto
XIII.  F# Major—Lento                   XIV.  Eb Minor—Allegro
XV.  Db Major—Sostenuto             XVI.  Bb Minor—Presto con fuoco
XVII.  Ab Major—Allegretto           XVIII.  F Minor—Molto Allegro
XIX.  Eb Major—Vivace                  XX.  C Minor—Largo
XXI.  Bb Major—Cantabile             XXII.  G Minor—Molto Agitato
XXIII.  F Major—Moderato            XXIV.  D Minor—Allegro appassionato
Poets of the Piano
Nathan Carterette will perform on Lincoln Hall's Steinway works from the first two concerts in the "Poets of the Piano" series he is performing at the Church of the Redeemer in Pittsburgh in the fall of 2015.
"Poets of the Piano" is devoted to the pianist as 'reciter' and composer as 'poet' of music. Nathan's program will focus on story-telling music or those telling the story (Minstrels) as well as music in miniature, tiny poems in an astonishing emotional range.
Nathan Carterette has provided these notes regarding his program:
To paraphrase Tom Lehrer, it is a sobering thought that when Franz Schubert was my age, he had been dead for four years. Schubert died at 31 from syphilis, and although he had composed several masterpieces in his formative years, the last years of 1827 and 1828 have gone down in musical history as one of the most productive periods for any composer at any time. In that less-than-two-year span, Schubert completed dozens of works that are essential to the classical canon, including the eight Impromptus.
The title Impromptu was novel, and it refers to music that would have been improvised probably for a social gathering, in a salon. Schubert's Viennese social circle is well documented, made up mostly of literary Bohemian bachelors, and this Impromptu would have been spun out for an intimate circle at someone's home; very likely it would have been followed by a recitation of poetry, a popular song, cocktails, or all of the above.
In the first half of the 19th century, towards the end of Schubert's days, character pieces for piano like the Impromptus became more important and thus more common. Rather than relying on generic titles like sonata or prelude and fugue, composers started imagining literary content to their music, a tradition that endured well into the 20th century. Both the Russian Folktale and the Etude-Tableau are examples of this.
Nikolai Medtner and Serge Rachmaninoff were friends and contemporaries, both pianist-composers who escaped the Russian Revolution (Medtner to England, Rachmaninoff to California). Medtner in particular composed in the character piece genre, mostly in pieces title Skazki, meaning roughly folk- or fairy-tale. He wrote about four dozen of these, the Russian Folktale being one. It depicts a series of scenes rich in suggestion: a lyrical gather-round-the-fire song; fresh music of springtime; a desperate night horse ride; the grand march of the Tsar's army. Rachmaninoff designated his Etude-Tableau, a 'tableau' in the sense of a painting depicting an active scene, an Oriental March and Scene at the Fair. The wild frenzy of the end is like a Ukranian kopak, a peasant dance.
The tradition of pianist-composers is a strong thread of music history. Mozart and Beethoven wrote their concertos for themselves to play to the public; Liszt composed music so difficult only he could play it; Schumann damaged his hand but handed all his new music to his wife Clara; and the later Romantics like Scriabin and Rachmaninoff also made their mark as pianists playing their own music. Around the 1930's that tradition started to thin out (though Gershwin belongs to it) and after the death of Medtner in 1952 it practically disappeared.
However, Quentin Kim is a living composer writing in that tradition. He is a virtuoso pianist, trained at Juilliard, who also composes piano music. In 2013 he asked me to come to Korea (he is Professor of Piano at Pusan National University) to record his complete works, about an hour in length total. The Four Preludes were composed in 2010 and are his shortest works, each one about two pages in length. They are perfect miniatures – the first a light song floating in mid-air; the second a dramatic declamation, like a classical actor; the third a yearning aria hovering over uncertain harmony; and the fourth
a phantasmagoric toccata that brings to my mind gargoyle statues on a Gothic cathedral, coming to life during some terrible storm. Short, to the point, but full of fantasy.
The title of Frederic Chopin's opus 23, Ballade, was like Schubert's title Impromptu novel. In its first publication it was advertised as 'ohne Worte,' or 'without words.' Poetic titles for instrumental music were still unusual, and had to be explained to consumers. In this grand Ballade, we feel a tragic epic unfolding through Chopin's ingenious melody, his mastery of piano texture, and his fiery virtuosity that can burn down a fortress. This is one of the classic repertoire pieces, and still stands imperishable.
Claude Debussy took poetic titles to another level in his two books of Preludes. In a style usually called 'Impressionistic,' he wanted his music to evoke something visual. Each of his Preludes has a poetic title, but he actually wrote the titles at the end of each piece, so the pianist only saw it after he was done playing. The Sunken Cathedral refers to a specific Gallic legend of Ys, a secret underwater cathedral that on certain misty mornings would rise out of the sea and show its glory. In this piece, Debussy evokes the mist over the sea; the muted ringing of bells and liturgical chanting as the cathedral emerges; and the full organ ringing out over the shore. The Girl with the Flaxen Hair is based on a poem by Leconte de Lisle of the same name. It's a simple pastoral, evoking nostalgia, simple love, and timeless beauty. Minstrels is a raucous piece probably based on 19th century British entertainers in blackface. We can hear juggling, somersaults, and other fine tricks.
Chopin had the ambition to write a book of Preludes in every major and minor key that came from his love of Bach, whose 48 Preludes and Fugues (two in every major and minor key) never left Chopin's piano. Although we think of them as coming from different artistic worlds, Chopin revered Bach. Many of his Preludes are familiar, such as the 'Raindrop' in D-flat or the Little Waltz in A, but the overall effect is one of huge variety, a collection of legends of the human spirit.
Legend also surrounds the history of these short masterpieces. In 1838, the consumptive Chopin and his cross-dressing female lover Georges Sand escaped Paris for the salty, humid air of Majorca, an island south of Barcelona. It was believed that climate would alleviate symptoms of tuberculosis. Sand wrote a small book about their journey, 'A Winter in Majorca,' that described their stay in cells of the Cartuja Monastery; she wrote of waves crashing against the crags, rain beating down on the monastery windows, water dripping onto the piano where Chopin composed his Preludes. Unfortunately for Romanticism, the only truth to the story is their trip. Chopin had already composed the Preludes by the time they arrived in Majorca.
But we can forgive her; lofty language and inspiration has always followed in the wake of these Preludes. The composer Robert Schumann, writing as Chopin's contemporary, has still the best words on the subject: "…these are sketches, the beginnings of etudes, or, if you will, ruins, eagle's feathers, all strangely intermingled. To be sure, the book also contains some morbid, feverish, repellant traits; but let everyone look in it for something that will enchant him. Philistines, however, must keep away."
Nathan Carterette
Nathan Carterette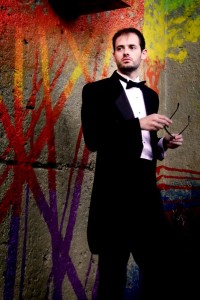 Hailed as "wonderfully poetic," (Westfalen Post) and "very compelling in his power and presence" (International Composer), Nathan Carterette has distinguished himself in the concert world by performing a huge range of works from Elizabethan keyboard music to music written today. His innovative programming has inspired audiences to approach unfamiliar music with open ears, and familiar music with new appreciation.
Nathan has performed in such venues as Weill Recital Hall and the Yamaha Piano Salon of New York City, the Gasteig in Munich, the Museum für Kunst und Gewerbe of Hamburg, and Cleveland's Trinity Cathedral. He has been presented in several universities such as the Berklee School of Music, Cleveland Institute of Music, Radford University, Kent State University, Baldwin Wallace Conservatory, and Carnegie Mellon.
His solo premieres include the U.S. premiere of James MacMillan's Piano Sonata, the world premiere of Dafydd Llywelyn's TimeQuake no. VII, part II (Hamburg) and several works of composer Quentin Kim, including Variations on an Ancient Korean Melody and Four Preludes. An adventuresome concerto soloist, Nathan has also played a wide repertoire of works, including Schoenberg's Piano Concerto, op.42 with the University of Missouri-Kansas City for a Schoenberg Retrospective Festival.
Educated at the University of Missouri-Kansas City, where he studied with Robert Weirich, and Yale University, where he studied with Boris Berman, Nathan Carterette began his piano studies at the age of eleven with Cleveland's legendary Birute and Anthony Smetona. A chance encounter in 2004 with Welsh composer-pianist Dafydd Llywelyn led to an invitation for intensive private study in Germany, both of the traditional repertoire and Llywelyn's works.
Nathan has recorded both books of Bach's monumental Well-Tempered Clavier and the complete solo piano works of Korean composer Quentin Kim. This video recording of his performance of the complete Bach Goldberg Variations in St. Andrews Episcopal Church in Pittsburgh is on youtube.