This fall Allegheny RiverStone Center for the Arts is exploring musical dance forms from around the globe.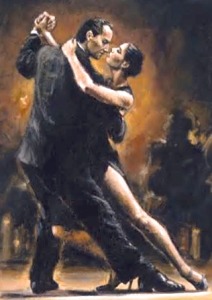 On Saturday, October 4, at 7:00 PM, the Pittsburgh Chamber Players return to Foxburg's Lincoln Hall with some very flavorful selections of Tangos and Milongas from their Encore, Encore! CD.  Once you've found your footing with music from south of the equator, be ready to leap across the pond for the lively and spirited gypsy folk tunes in Hungarian and Slavonic Dances. The program concludes with the chamber music masterpiece Piano, Dvorak's Quintet No. 2 in A major, with its melancholy Dumka second movement.
Continue the journey of 'The Music That Makes Us Dance' and join us in Foxburg on an Early Autumn weekend and discover for yourself what will move you.
The Pittsburgh Chamber Players is an acclaimed group of Pittsburgh Symphony musicians performing in mixed ensembles raging from two to eight artists.  Previous appearances on the stage of Lincoln Hall have made this group an audience favorite.  Their performances are noted for an eclectic mix of traditional repertoire along with rarely heard works and new compositions-a display of daring and intelligent programming presented with uncompromising artistry.  The Pittsburgh Post-Gazette states: "They appealed to the heart and the head, offering a warm, seductively luxurious sound and an impressive precision and unity of purpose".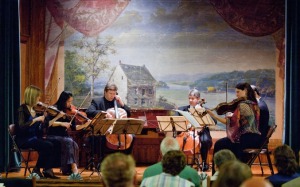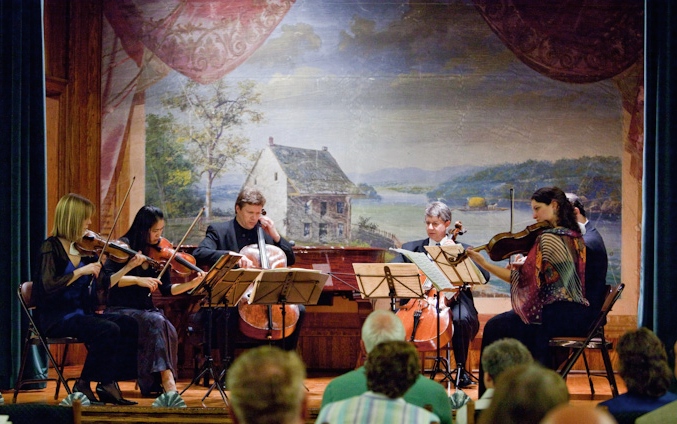 Mikhail 'Misha' Istomin, Pittsburgh Symphony Cellist and the group's Artistic Director says: "Our concerts with favorite chamber music treasures, new musical flavors and stirring experiences will engage and involve you with both the music and musicians for intimate and informative performances, taking chamber music back to its roots as an evening among friends".
Each member of this ensemble has an impressive list of credentials not only as performers, but also as educators, sharing their skills and love of music with students of all ages.  For this particular performance, the only artist not associated with the Pittsburgh Symphony is pianist, Eugene Sirotkine, a world-traveled soloist and former Assistant Conductor and Chorus Master of New York's Metropolitan Opera."One piece of great art makes all people feel the same…another piece of great art makes people feel a variety of emotions, but one thing is constant: great art always makes people….feel!"- Misha.
ABOUT THE ARTISTS
Mikhail 'Misha' Istomin, born and educated in Russia, holds a Master of Music degree from the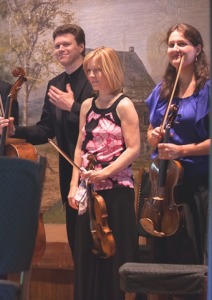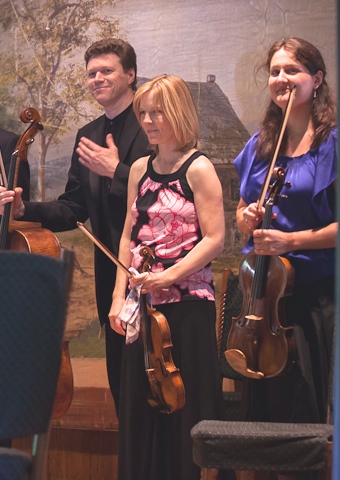 St. Petersburg Conservatory. He has played with the State Hermitage Orchestra and the Kirov Opera and Ballet Theatre Orchestra. In 1987, he became the cellist with the Leningrad Conservatory String Quartet which won the Grand Prize in the National Soviet Union Competition in 1989. Defecting to the United States, Misha first joined the Richmond Symphony where he also taught at Virginia State University and the University of Richmond. In 1991, he was appointed Principal Cellist of the Pittsburgh Opera and Ballet Orchestras and the following year Lorin Maazel appointed him as a member of the Pittsburgh Symphony. He is a founding member of the Pittsburgh Piano Trio.
Canadian violinist, Jennifer Orchard, has traveled the world performing as a chamber musician, soloist, and currently as a first violinist with the Pittsburgh Symphony since 2001. Upon graduation from the Juilliard School, Jennifer was invited to join the world renowned Lark Quartet, recording many works and touring globally. In 2002, she began performing with the Pittsburgh Piano Trio. Ms. Orchard plays on an Andreas Guarnerius violin, dated circa 1676. In addition to all of her performing and teaching, Jennifer enjoys raising her three children with cellist Mikhail Istomin.
A native of Evanston, Illinois, Jeremy Black joined the Pittsburgh Symphony's first violin section in 2002. At the age of 12, he was a soloist with the Chicago Symphony and applauded for his "musical fire" and "effortless technique" by the Chicago Tribune. Since 2005, Jeremy has enjoyed summers as the Concertmaster of the Grant Park Orchestra in Chicago. He is an avid fan of chamber music and also performs recitals throughout the region. The instrument he currently plays was made by Lorenzo and Tommaso Carcassi in 1783. Mr. Black resides in Pittsburgh with his wife Kate and their children and he enjoys reading, racquetball and computers.
Marylène Gingras-Roy, a native of Quebec City, Canada, joined the Pittsburgh Symphony's viola section in 1997 and was promoted to fourth chair in 2004. Her major teachers include Douglas McNabney, François Paradis, Karen Tuttle and Joseph DePasquale while studying at the Conservatoire de Musique de Quebec and the Curtis Institute in Philadelphia. She has participated in many festivals in Italy, Jerusalem and Germany. Marylène maintains a full teaching schedule at Duquesne University and in her private studio. She is the viola coach for the Three Rivers Young People's Orchestra.
Pianist and conductor, Eugene Sirotkine, has advanced degrees from the St. Petersburg Conservatory, Oberlin Conservatory and the Mannes College of Music.  For nine years, he served as an Assistant Conductor and Chorus Master at New York's Metropolitan Opera working with James Levine and many leading operatic singers. In 1994, he founded the New York Metamorphoses Orchestra. Recent engagements have taken him to Hong Kong, Argentina, Israel, Brazil, Italy, Washington, D.C and Cape Town, South Africa. He frequently performs with members of the New York Philharmonic and the Metropolitan Opera Orchestra.