Tom Roberts
Piano, whistling and vocals
Dave Klug
Drums & Percussion
Wayno
Vocals, harmonica & ukulele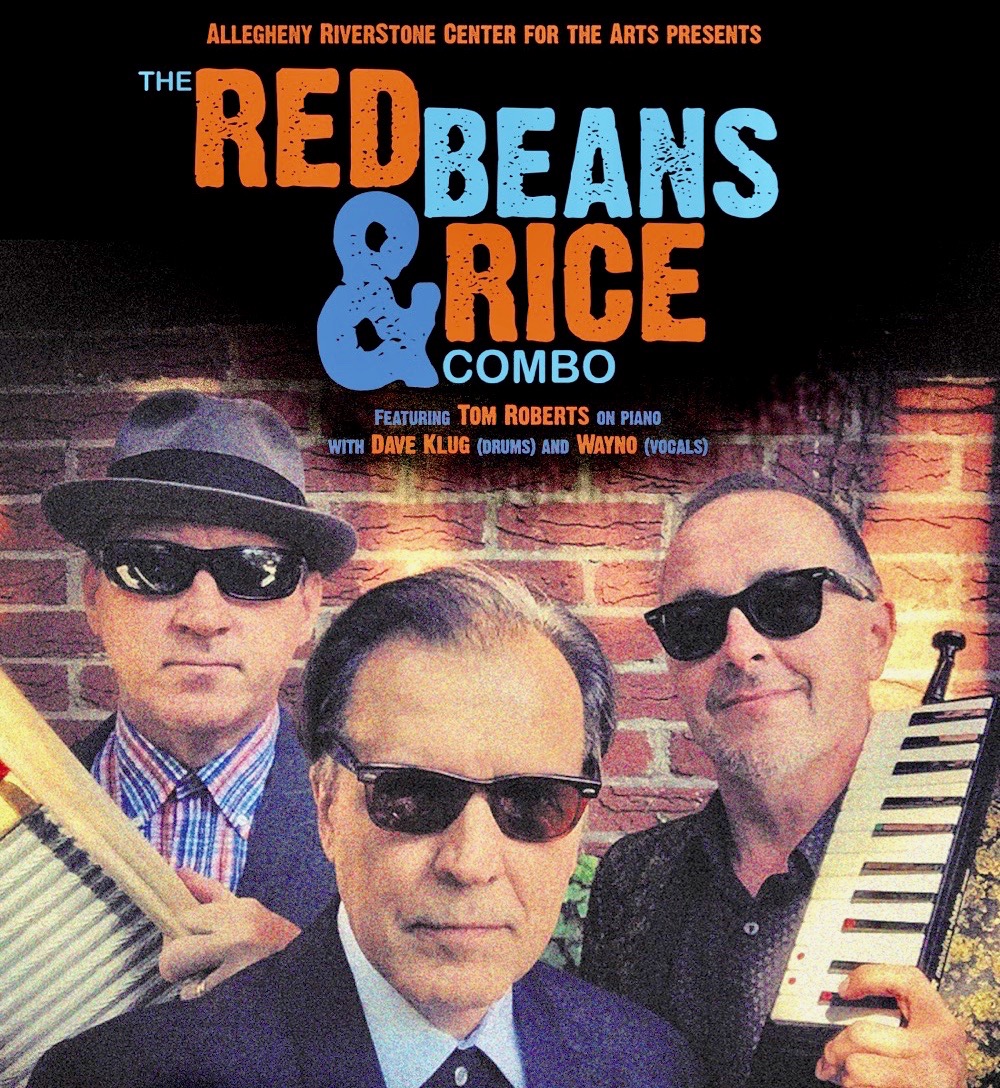 Put on your dancing shoes and dress in your vintage swing garb as Pittsburgh's rockin' rhythm & jazz trio, THE RED BEANS & RICE COMBO, serve up a delightful musical gumbo in their premiere appearance at historic Lincoln Hall in "A Saturday Nite Fish Fry" on Saturday, April 22, at 7:30 PM in Foxburg.
DISCLAIMER:  No actual fish will be fried at this event!  But there will be dancing at the back of Lincoln Hall for those who want to shake a leg.

The Combo features the world celebrated early jazz stride pianist, Tom Roberts (a Foxburg favorite) on piano, whistling, & vocals, along with Dave Klug on drums and his custom-built "Kluger Soundboard," and Wayno on vocals, harmonica, & ukulele.

Why are they called The Red Beans and Rice Combo, you might ask… because you can get fries or a biscuit with the combo but you'll always choose the biscuit because that's the way they ROLL – as they serve up a very cool mix of classic New Orleans R&B,  50's rock ala Jerry Lee Lewis and Chuck Berry, Mose Allison, Tom Waits, Slim Galliard and Louis Jordan –  – all with a side of wit and humor.
IT WILL BE A SUPER FUN TIME!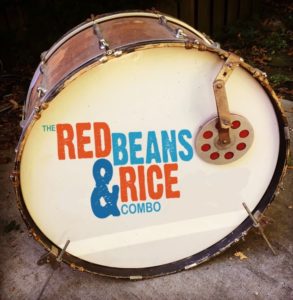 The fun-loving , sharp-dressed band has been gigging around Pittsburgh for a little over a year, and quickly developed a reputation for delivering a danceable mix of New Orleans R&B, early rock & roll nuggets, and barroom ballads, with a jazzy dash of Tin Pan Alley, and ALL with wit & humor.
And you can dress in vintage garb… putting on those blue suede shoes!  Ladies and gentlemen attending the show are welcome to dress up as formally or casually as you'd like, with speakeasy attire or vintage 50's swing finery particularly encouraged.
Join us for an elegant, fun, and funky evening, and don't leave your dancing shoes at home!
Tickets are Adults $15, Students $5 !  Beverages available by donation.  Buy online or reserve by calling 724-659-3153. 
ABOUT THE ARTISTS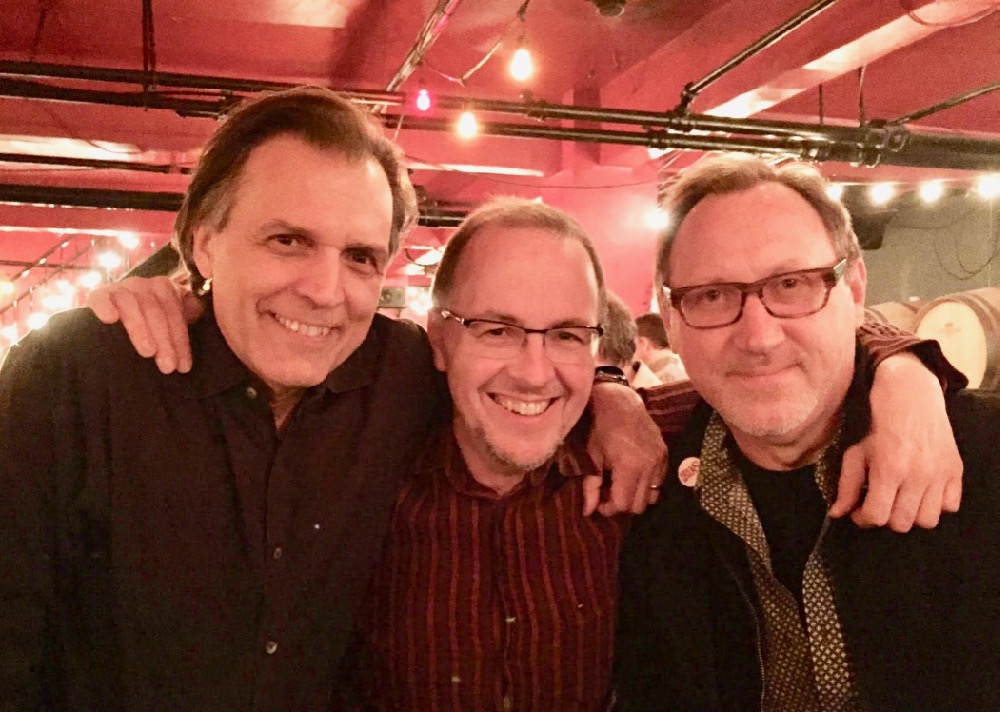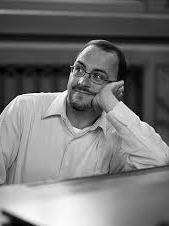 TOM ROBERTS is a world renowned piano player most noted for his love of early jazz and considered one of the finest pianists today in the exciting Harlem stride piano style.  Announcing the release of Roberts' first solo CD Solo Art Records stated: His new CD is one of the finest solo piano recordings in the entire Solo Art catalogue… truly a four-star session with some of the finest jazz piano you've heard in a long time."
Tom has performed on The Tonight Show with Johnny Carson, and A Prairie Home Companion with Garrison Keillor. He was the featured pianist at the International Stride Piano Summit in Zurich, Switzerland, 2001 and 2009. Tom was the pianist for Vince Giordano and the Nighthawks in New York City (recent Grammy winners for the soundtrack to Boardwalk Empire) and the pianist and musical director for Leon Redbone for six years.
Tom has performed twice at New York's Carnegie Hall in 2003, once with Skitch Henderson and the New York Pops. He was featured in 2003 in solo with Dick Hyman at the prestigious Jazz In July series at New York's 92nd St. Y. Tom has performed multiple times at The New Orleans Jazz and Heritage festival including a solo performance at The Professor Longhair Society's Piano Night At Tipitina's. He has performed throughout Europe as a member of multiple ensembles from New Orleans and as a member of The Ortner Roberts Duo.
Roberts has arranged and performed music for the soundtrack of the Martin Scorcese film The Aviator; for the syndicated PRI show Riverwalk Jazz, Live from the Landing with the Jim Cullum Jazz Band; and a number of pieces for Wynton Marsalis and The Jazz at Lincoln Center Orchestra. Recently he has composed new musical scores for the Charlie Chaplin films One A.M. and The Rink through a commission from The Pittsburgh Symphony.  He is excited to share his latest project, The Red Beans & Rice Combo, with friends in Foxburg.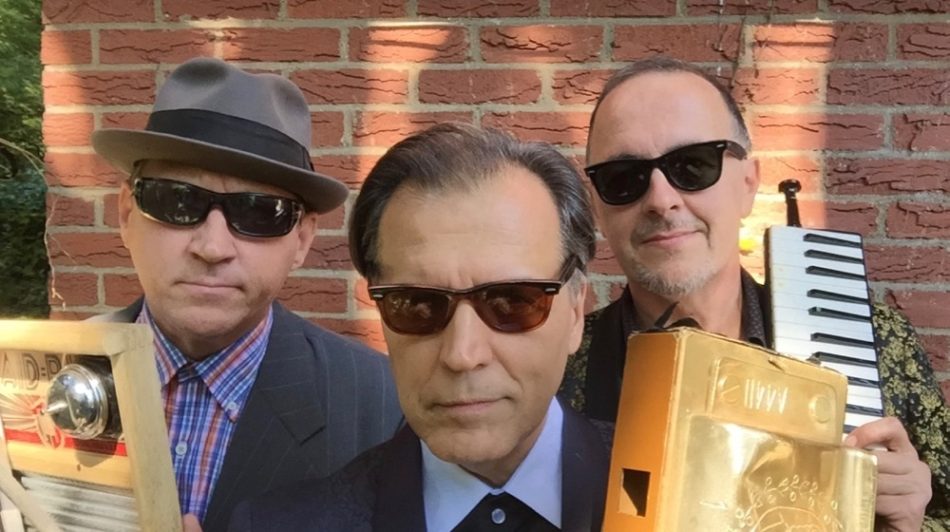 DAVE KLUG has translated his quirky brand of humor into a successful illustration career for the past 350 dog years. His drawings have captured the eye and imagination of clients such as The Wall Street Journal, The New York Times and Scholastic. He is a regular contributor to Highlights Magazine and has been commissioned for larger than life murals for The Pittsburgh Zoo and Aquarium, The Consol Energy Center in Pittsburgh PA, and the world famous Primanti Brothers Restaurants.
Dave is also a household name when it comes to music, drumming for some of the Pittsburgh area's best bands since the 1980s. It's always a treat to see and hear Dave performing with one of the vintage drum kits he has rescued and restored.
Dave never strays very far from his passion for animals, and is committed to many Animal Charities including Animal Friends in Western Pennsylvania. His Veterinary Supply Store, Klugworld, creates a full line of client communications materials for animal care professionals across the country.
Wayno® is a Pittsburgh-based cartoonist, illustrator, pop artist, writer, and musician, whose name is in fact a registered trademark (hence the "circle R" symbol). He shares a special musical chemistry with Tom and Dave, and has a taste for obscure old tunes about food and drink.
He was gag writer and colorist for Dan Piraro's Bizarro daily comic panel for more than five years, and is also a frequent writer for Hilary Price's Rhymes With Orange comic strip. His own cartoon panel, WaynoVision, launched in 2014.
Wayno's humorous illustrations have appeared in The New Yorker, The New York Times, Entertainment Weekly, Nickelodeon Magazine, Pittsburgh Magazine, he has designed many beer labels for East End Brewing Company. He's mounted several one-man art exhibits, and was a Visiting Artist at the Manchester Craftsmens Guild in 2013. In 2010, Animal Friends selected him as the Honorary Artist for their Black Tie & Tails gala, which raised over $400,000 for the pet adoption & resource center.
Wayno is a member of the Pittsburgh Society of Illustrators, and serves as the chair of the Pittsburgh Chapter of National Cartoonists Society.
For more information, please visit: