The Red Brick Gallery presents
Seth McClaine
Impressionistic Landscapes & Streetscapes
From June 5 through July 12
Meet-the-Artist Reception – Saturday, June 6, 5:00-7:00 PM
GALLERY HOURS: Friday 2:00 – 6:00 PM;
Saturday 11:00 AM – 7:00 PM; Sunday 12:00 PM – 4:00 PM
The Red Brick Gallery is pleased to announce its next installment in this year's exhibition season: Oil Painter Seth McClaine.  McClaine's work showcases beautifully rendered Impressionistic-styled landscapes and streetscapes of Western Pennsylvania. His pieces are primarily painted from photographs that he has taken.
McClaine's exhibit opens on Friday, June 5 and will be on display until Sunday, July 12.  An Exhibit Opening on Saturday June 6 will give you an opportunity to meet the Artist from 5:00 – 7:00 PM before the ARCA concert of Tom Panei and Friends in Lincoln Hall at 7:30 PM. Plan to enjoy both!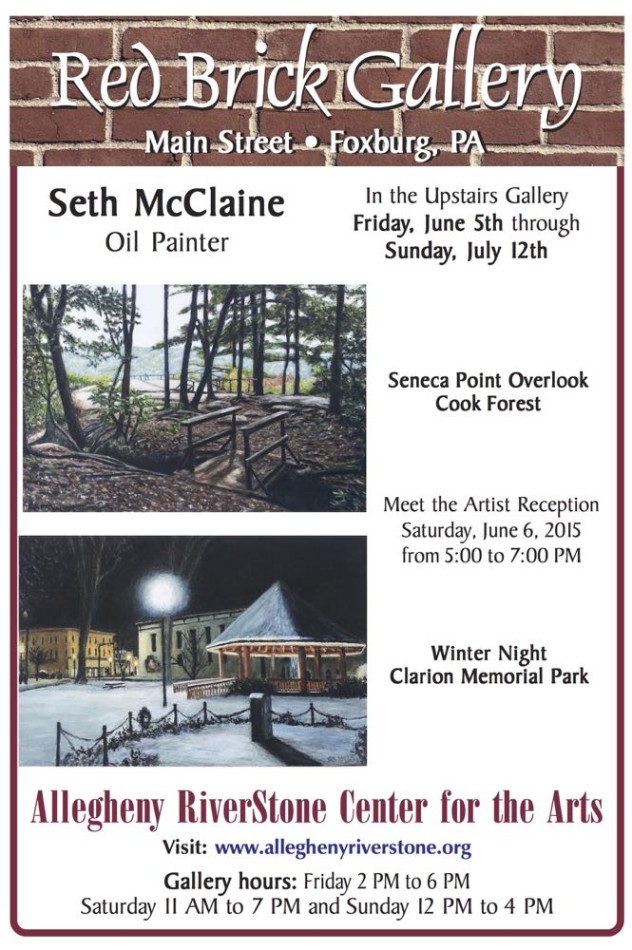 Seth McClaine is an oil painter from Clarion, Pennsylvania, where he works from his home studio. He specializes in landscapes and streetscapes, which are primarily painted from photographs that he has taken himself of Western Pennsylvania and other places he has traveled to. He graduated from Clarion University of Pennsylvania in 2007, with a Bachelor of Fine Arts in painting and graphic design.  In 2007 he exhibited his paintings in a solo exhibition at the Clarion University Art Gallery. Since then he's been selling his paintings online, through commissions, and in local shops. He exhibits his paintings in group exhibitions and competitions, including for several years in the annual Autumn Leaf Festival Art Show.