As Spring is bursting forth resplendently in the beautiful Allegheny-Clarion River valley, the 2019 season of the Red Bick Gallery and Allegheny RiverStone Center for the Arts opens with "Spring into Color!" by Pittsburgh based artist, Ginnie Smoliar.  The exhibit features a vibrant collection of collages, paintings, and objects for which the common denominator is vivid COLOR.  The exhibit is open weekends from Friday, April 19 thru Sunday, May 26 on the second floor of the historic Gallery on Main Street in Foxburg, PA overlooking the Allegheny River. The Red Brick Gallery is located at 17 Main Street in Foxburg.  Gallery Hours are Fridays 1:00 – 5:00 PM, Saturdays 11:00–7:00 PM, and Sundays 12:00–4:00 PM. 
The exhibit's Meet the Artist opening reception on Sunday May 5, 4:00 to 6:00 PM  in the upstairs gallery followed  the 2:00 PM concert, Romantic Russia – Rhapsodies of  Spring, in Foxburg's Lincoln Hall, featuring ARCA favorites David Allen Wehr, piano with Pittsburgh Sympathy Orchestra Principals Lorna McGee, flute and Ann Martindale Williams, cello.
About the Artist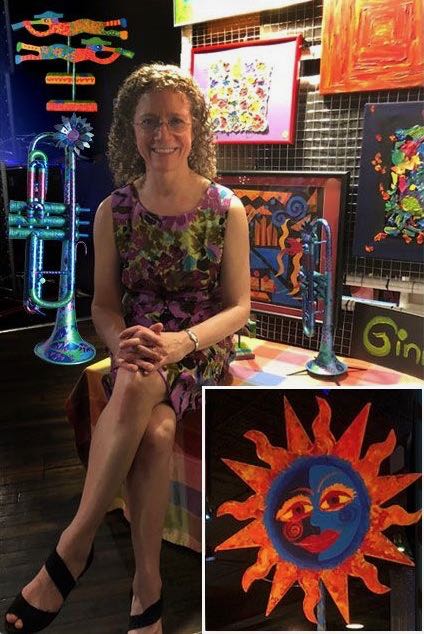 Ginnie Smoliar was born in Palo Alto, California, and has lived in Seattle, Tallahassee, Boston, Wichita and Philadelphia.  She has called Pittsburgh home for more than 36 years.  She began her professional life as a classical musician, earning a master of music/oboe performance degree from Temple University, and playing the oboe and English horn with various ensembles in the Pittsburgh region, including the Pittsburgh Symphony, Pittsburgh Opera, Pittsburgh Ballet Theatre and Pittsburgh New Music Ensemble, among others.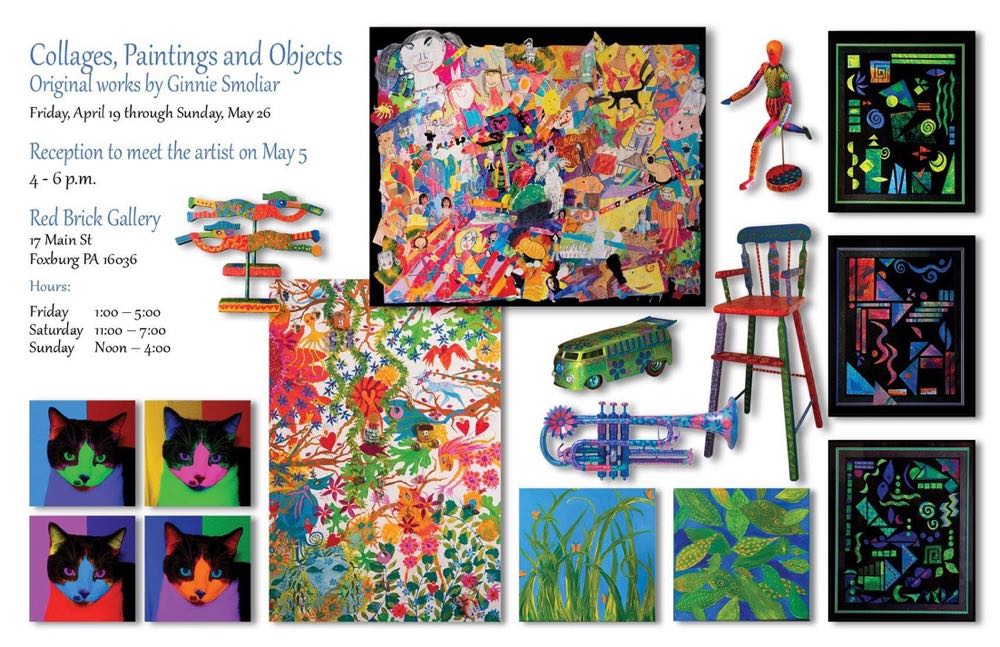 Eventually Ginnie realized that freelancing as a musician did not keep her engaged or busy enough. She had taken art classes for years but wanted a marketable skill, so in 1992 she went to The Art Institute of Pittsburgh to study graphic design and earn her associate's degree in specialized technology/visual communications.  Ginnie free-lanced for about seven years as both an oboist and graphic designer.  In her first full-time job, she created an in-house design department for a small public relations firm, followed in 2001 by being hired as in-house graphic designer for PPG's corporate marketing and communications department; at the same time, she permanently put away the oboe. After 15 years, and by then manager of visual communications, Ginnie retired from PPG.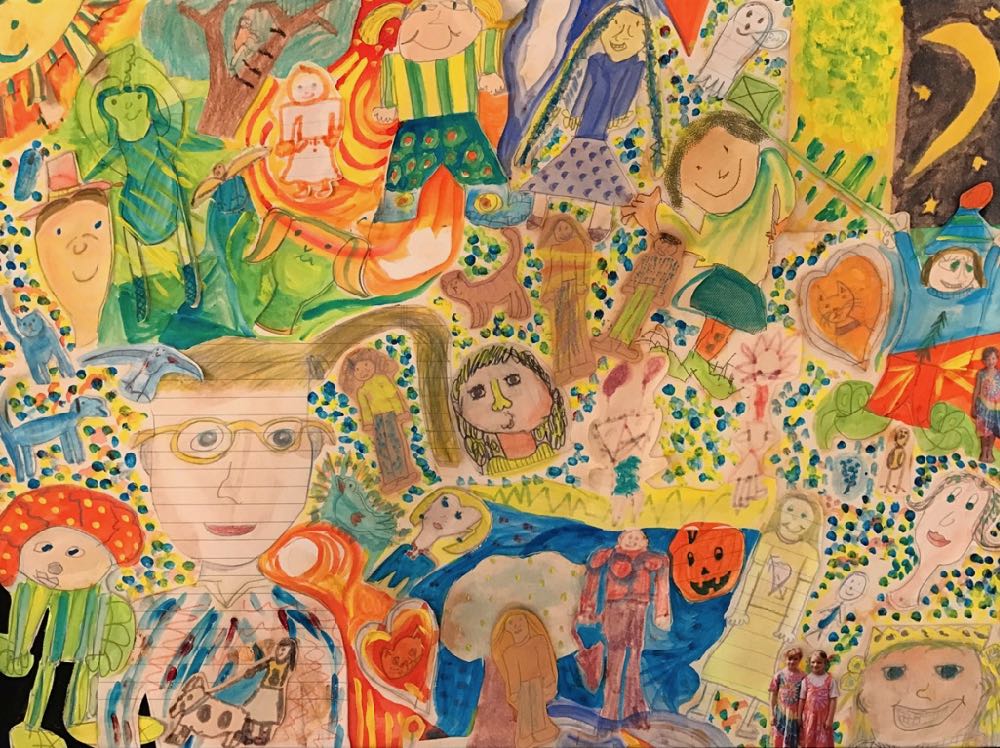 Ginnie now offers graphic design services and commissioned fine art through Smoliar Design, the business she started with her husband, Harold, who recently retired from the Pittsburgh Symphony Orchestra as Principal English horn.  Her musical instrument sculptures grew out of painting a violin as a fund-raising project for the Pittsburgh Youth Symphony Orchestra.  She has since painted other violins, oboes, basses, cornets, a mandolin, organ pipes, clarinets, a guitar, a saxophone and even violin bows.  Some were commissioned and some were for friends or herself, but as Ginnie states "they all are unique and I haven't met an instrument that I can't paint!"

Ginnie's collages were inspired by a desire to consolidate and display her twin daughters' childhood and teenage artwork.  She brought up bags of saved art languishing in her basement and cut out the most compelling colors, blends, shapes, figures and words.  After arranging and gluing those bits and pieces onto large boards she incorporated a few photos of the kids to show around what age the illustrations were created.  Some are geometric and abstract while others are figurative – it depends on the original art – but the framed results are colorful, complex and whimsical.  Ginnie explains that "I love painting and incorporating existing materials into my art such as earrings, small toys, broken watches, beads, keys, and various other odds and ends. It's hard for me to throw anything away that could find new life in something beautiful and fun to look at."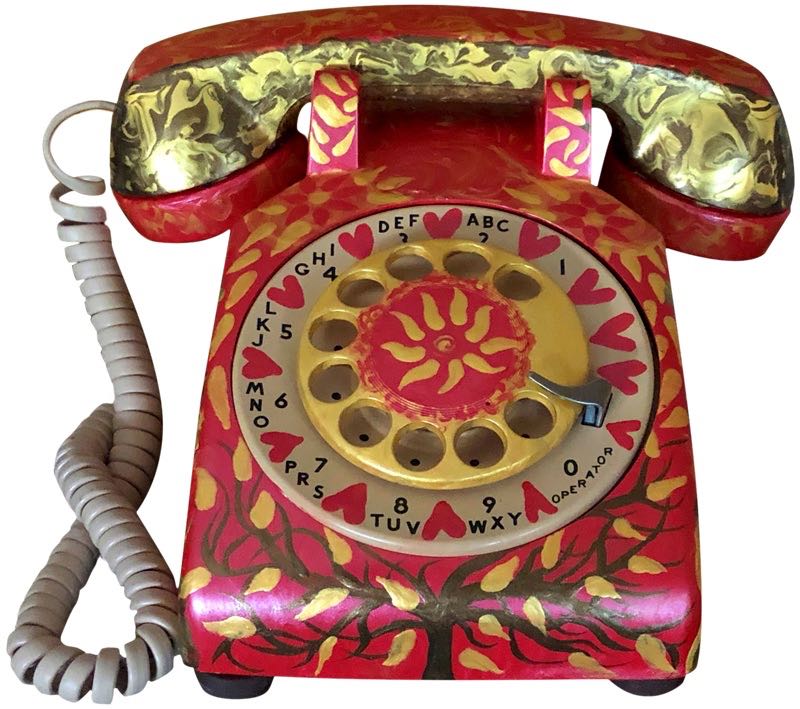 The Warhol-inspired digital art stems from her many years of using Photoshop as a graphic designer.  She began by colorizing and posterizing photographs of her daughters and "grandkitties," and have since created posters of other people's pets and kids, houses and even a husband on a dirt bike.  "I love starting with something in front of me and deciding what I can create with it. Sometimes it's a blank canvas, but more often it's a musical instrument, kids' artwork, old jewelry, toys, photographs and random other odds and ends.  But whether I'm using my hands or a computer, the results are vividly colorful – possibly the only common denominator in all my artwork."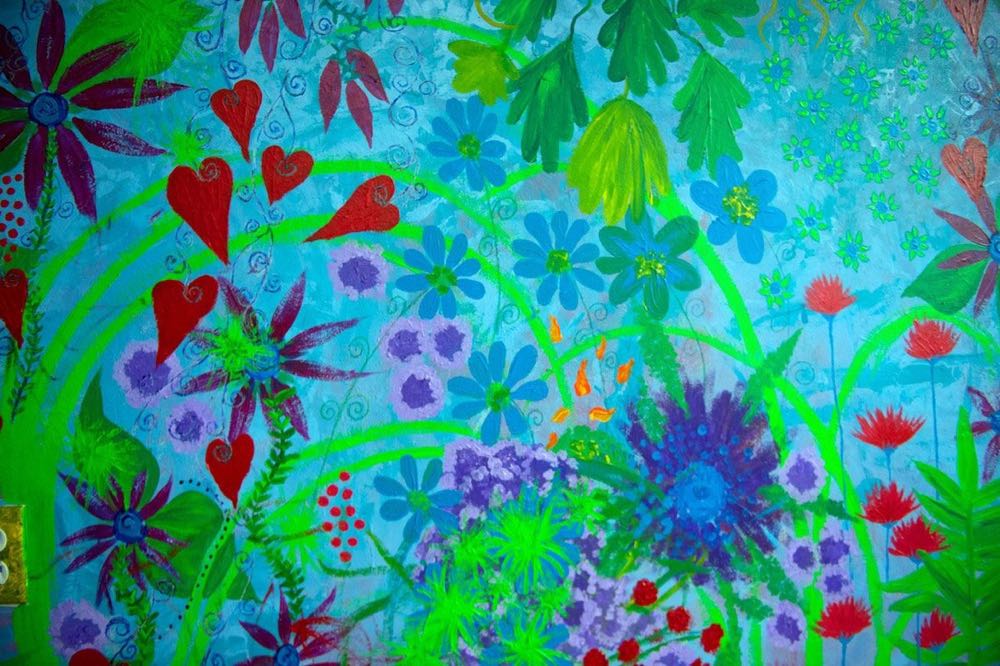 Ginnie is a member of the Pittsburgh Artist Registry, a participant in the Pittsburgh RAW Showcase, and was recently one of the winners of Construction Junction's Creative Reuse Contest.  Please visit her website at smoliardesign.comto view more of her artwork and contact her if you'd like her to create something personal for you, whether it's a painted object, a collage of your child's artwork, a painting incorporating meaningful items, or a posterized version of a significant photo.
The Red Brick Gallery is located at 17 Main Street in Foxburg.  Gallery Hours are Fridays 1:00 – 5:00 PM, Saturdays 11:00–7:00 PM, and Sundays 12:00–4:00 PM.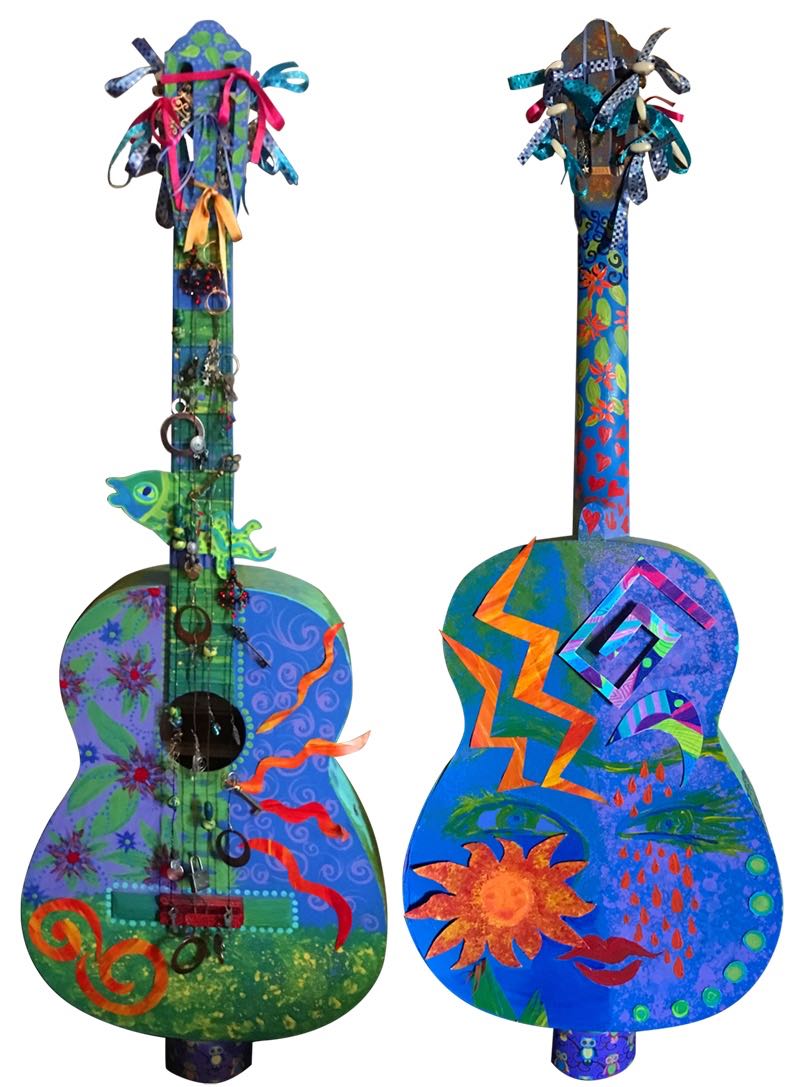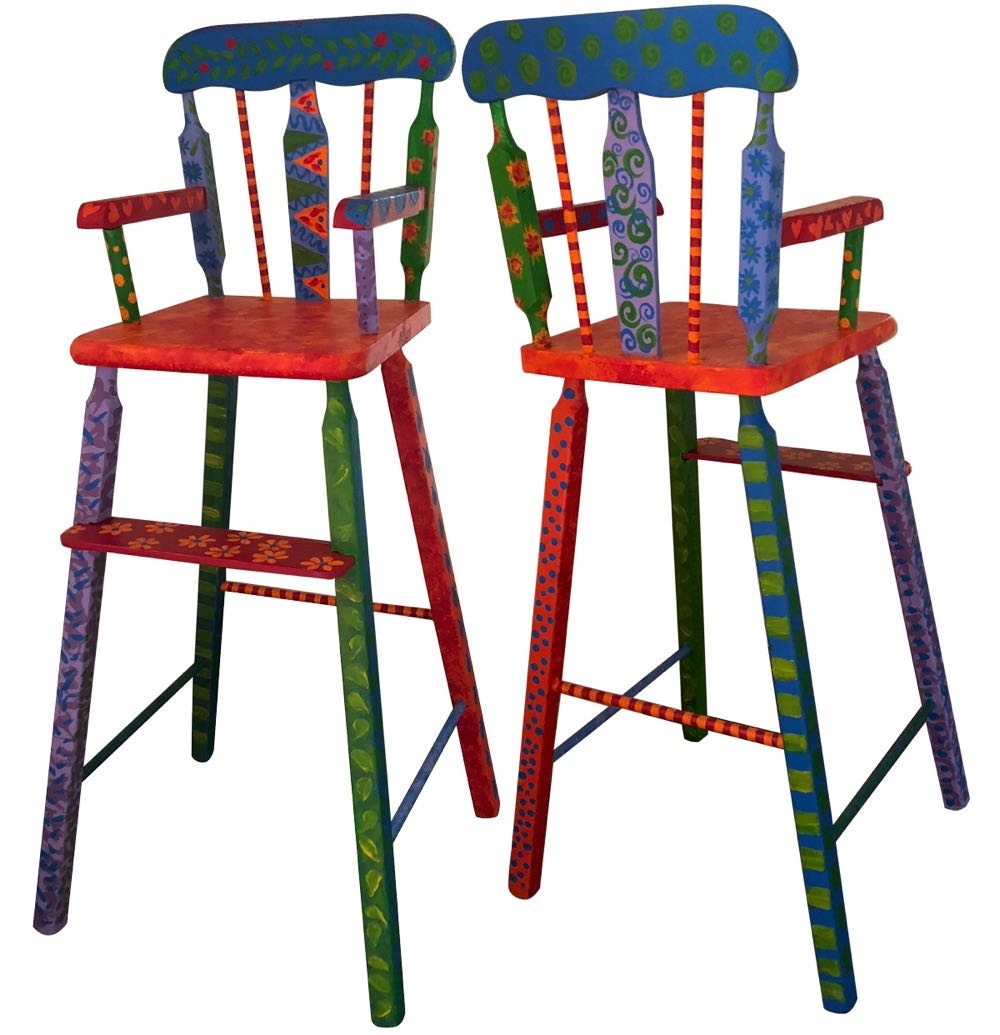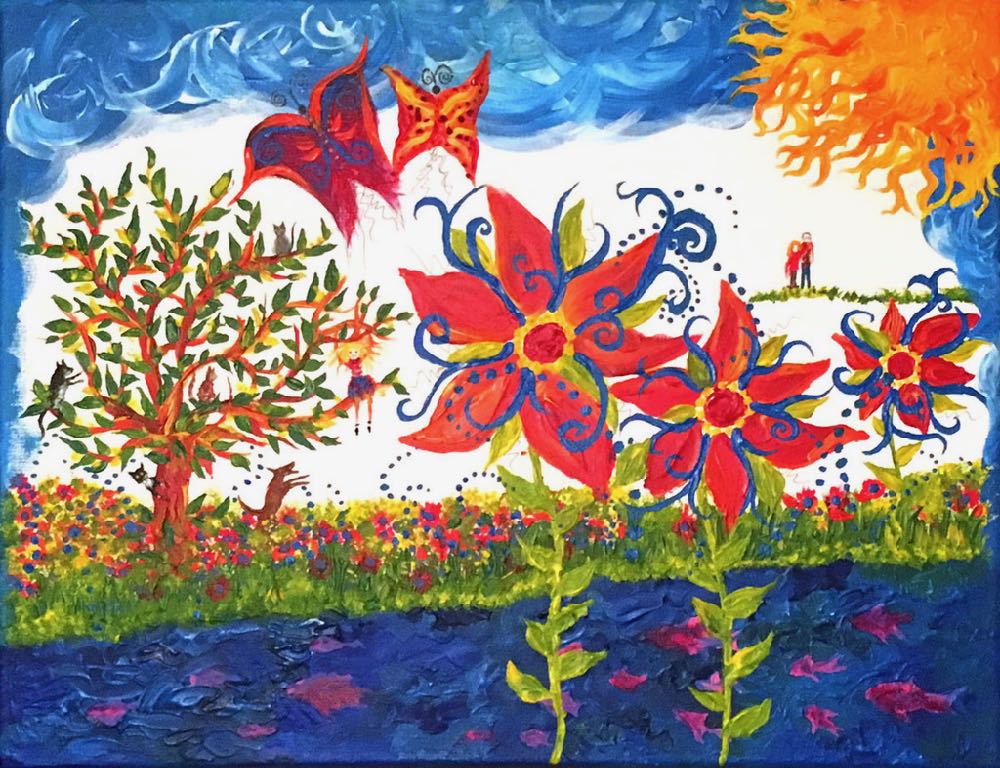 About Red Brick Gallery:
Encompassing two floors of the charming 150-year-old Fox Estate building in historic downtown Foxburg, Pennsylvania – the Red Brick Gallery is a jury-selected artists' co-operative, supported through the non-profit Allegheny RiverStone Center for the Arts (ARCA). The Red Brick Gallery strives to nurture artistic creativity by providing an inspiring venue for local artisans to showcase one-of-a-kind work in just about every medium: ceramics, jewelry, wearables, fiber art, photography, watercolors, oils, illustration, wood, mixed-media, greeting cards and more. Along with ARCA, Red Brick Gallery seeks to raise appreciation for the arts within the surrounding region and neighboring states.