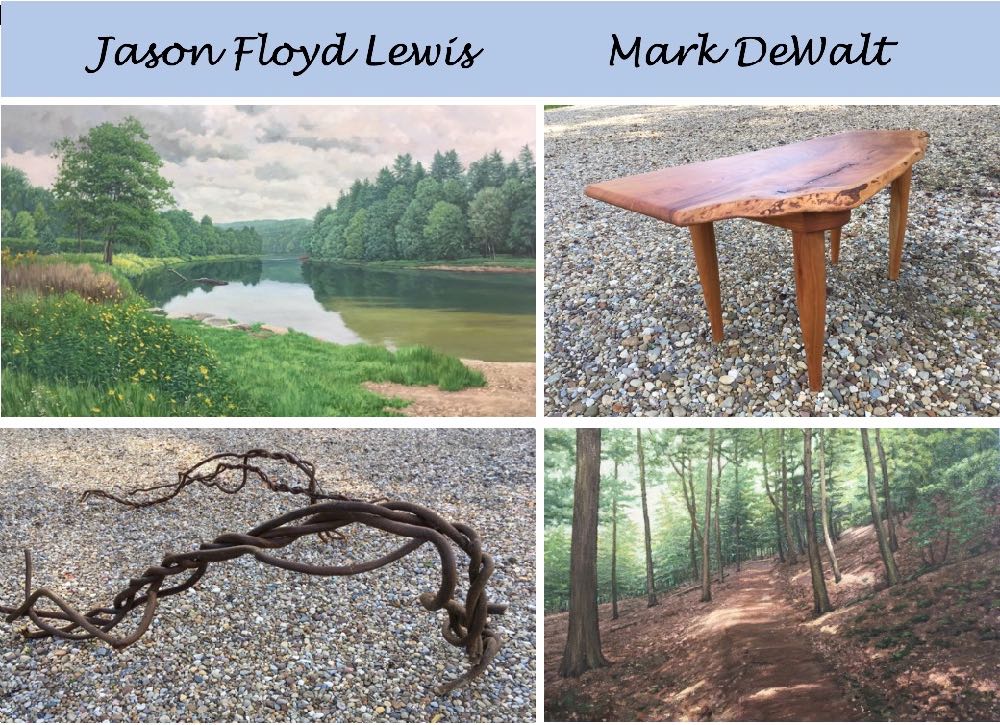 While visiting Foxburg and enjoying its brilliant autumn colors, stop by the Red Brick Gallery Art Exhibit Forest to Finish that will be running every weekend from Friday, October 4 thru Sunday November 10.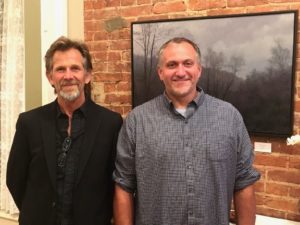 As the fall colors are reflecting off the beautiful Allegheny River in Foxburg, you will feel as if you have walked into a woodland haven with the paintings and drawings of forest landscapes and interior forest spaces by Red Brick gallery cooperative painter –  Jason Floyd Lewis and the finished natural edge furniture and forest forages of Mark DeWalt, also an RBG cooperative artist and woodworker.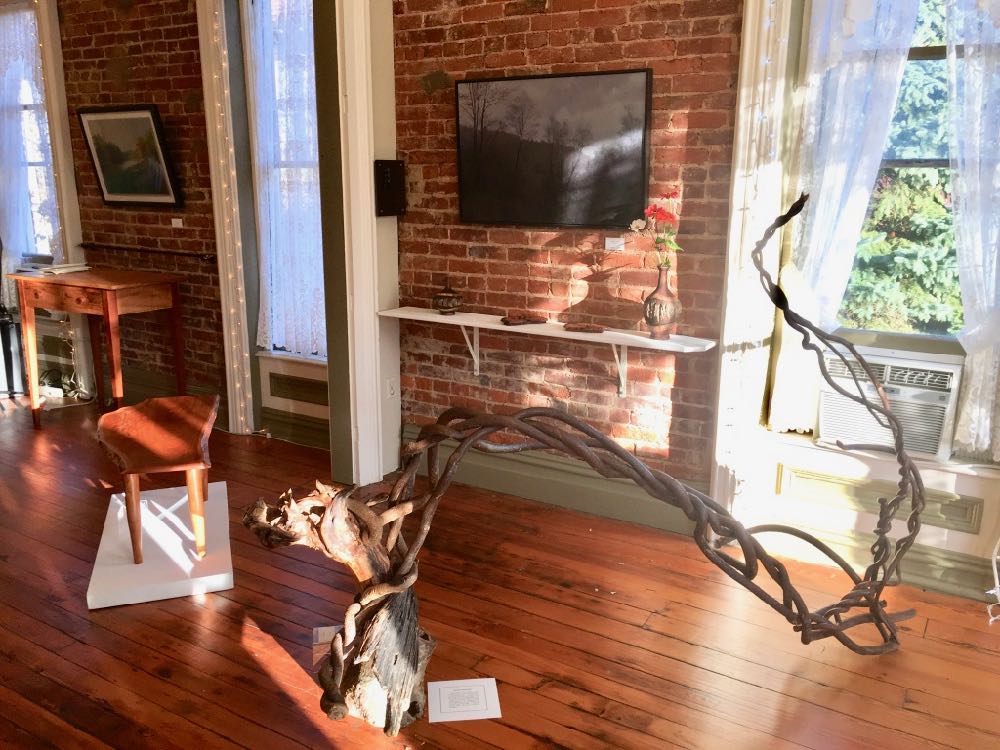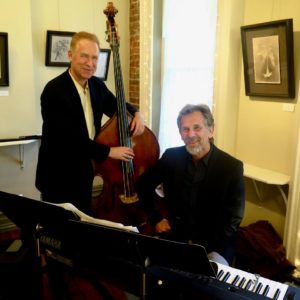 On Saturday, October 12 in a Music 'N Art wine and cheese opening reception from 5:00 to 7:00 PM, returning by popular demand was poet Philip Terman, reciting his poetry, to the jazz improvisation of  Mark DeWalt on keyboard and Dave Morgan on double bass – who also performed some jazz standards. Yes – featured Red Brick Gallery Cooperative wood-artist Mark DeWalt, the leader of the jazz band CATRO, also is an acclaimed jazz musician in the region who has performed at the Kennedy Center and toured to Scandinavia and South Africa, in addition to  many regional Jazz and Art Festival engagements. This special event which took place in the upstairs gallery of the Red Brick Gallery was an opening night to remember for everyone attending – and one that any gallery in New York City would have wished to have.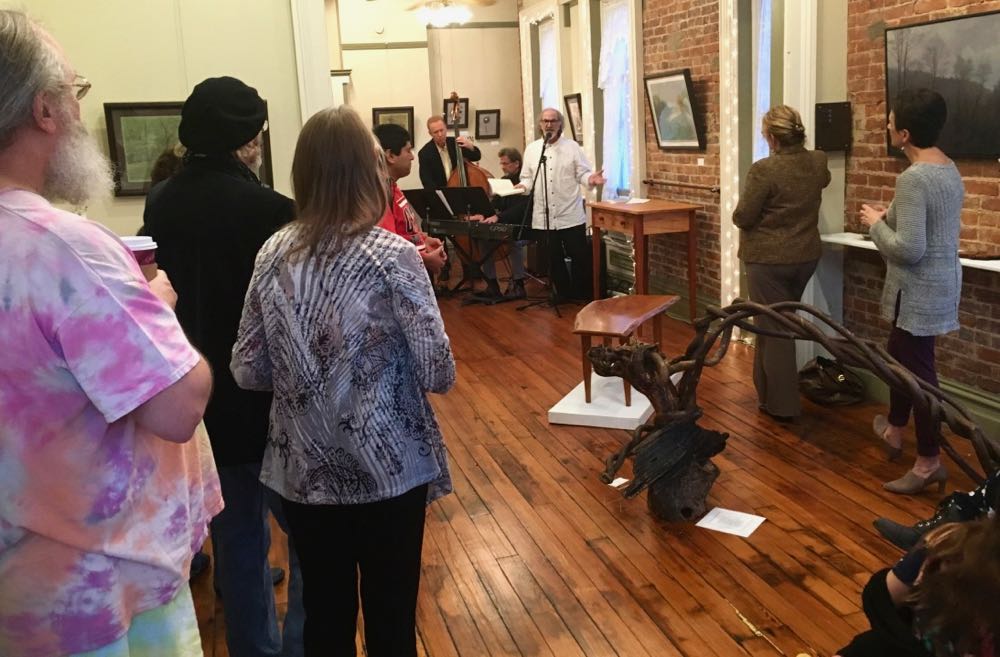 For those who missed the October 12 opening, another wine and cheese reception for the exhibit will be held on the second floor of the Red Brick Gallery on the last day of the exhibit, Sunday, November 10, from 4 to 6 PM after the concert of International pianist ALEC CHIEN performing Romantic favorites at 2 PM in ARCA's Lincoln Hall.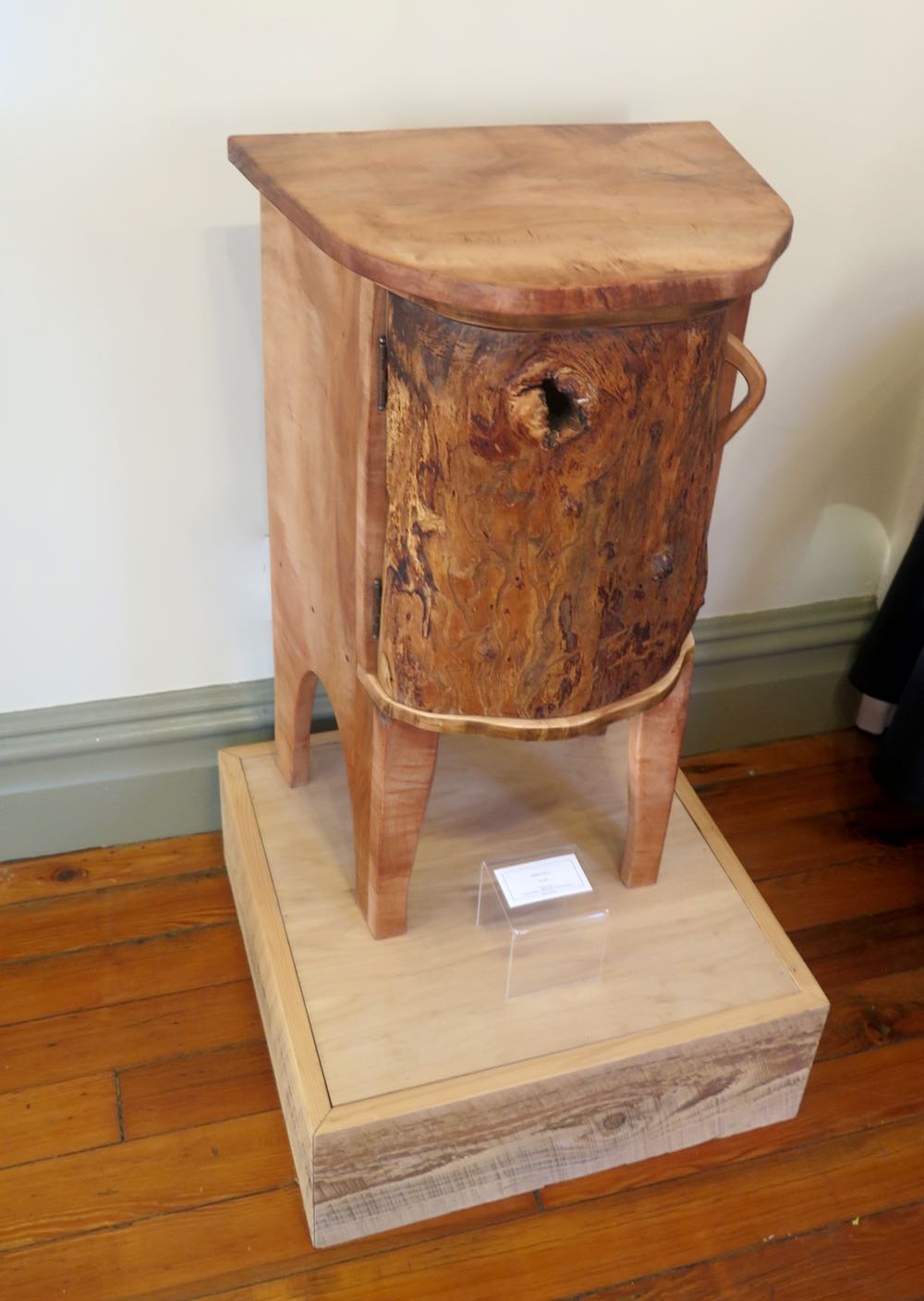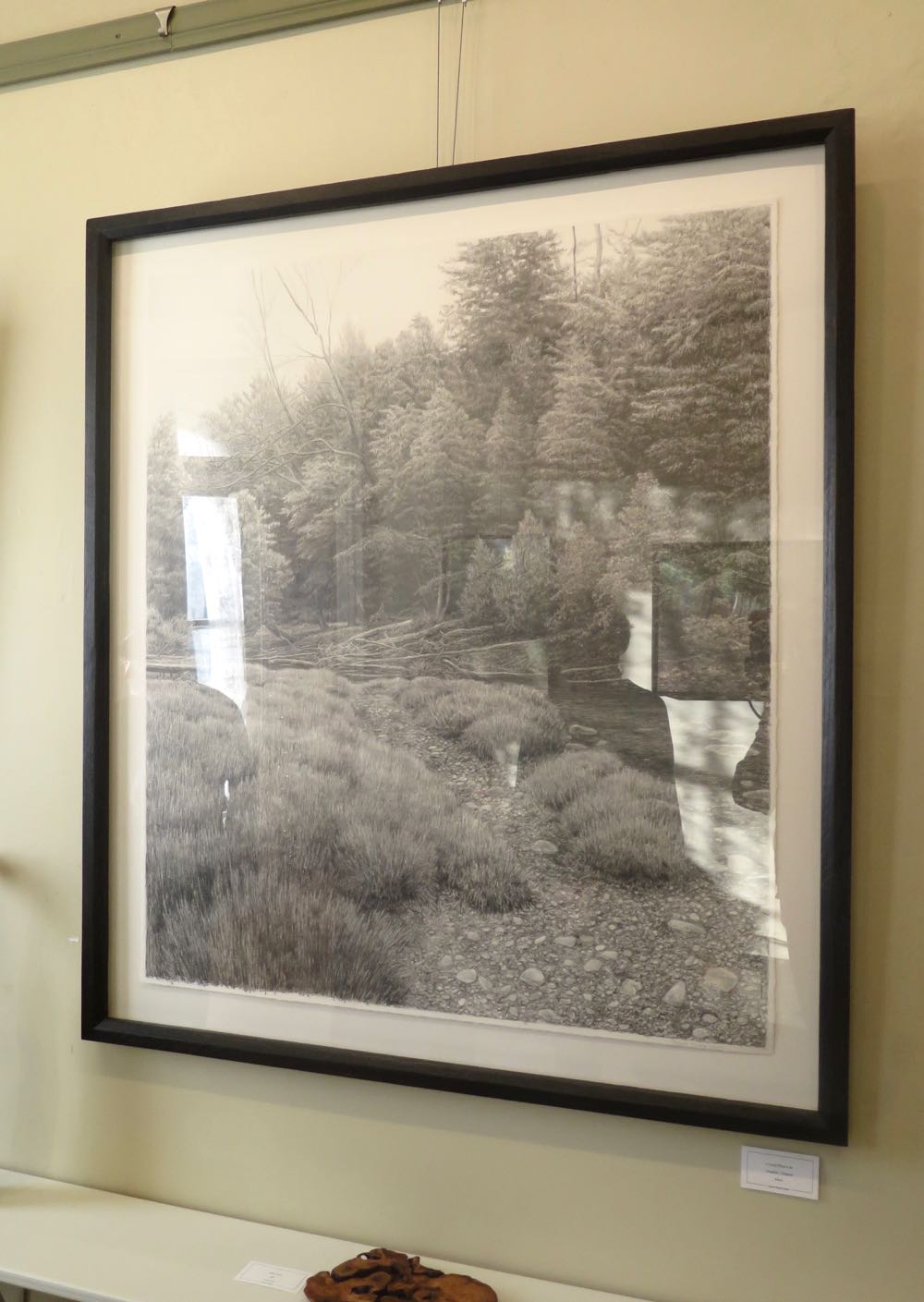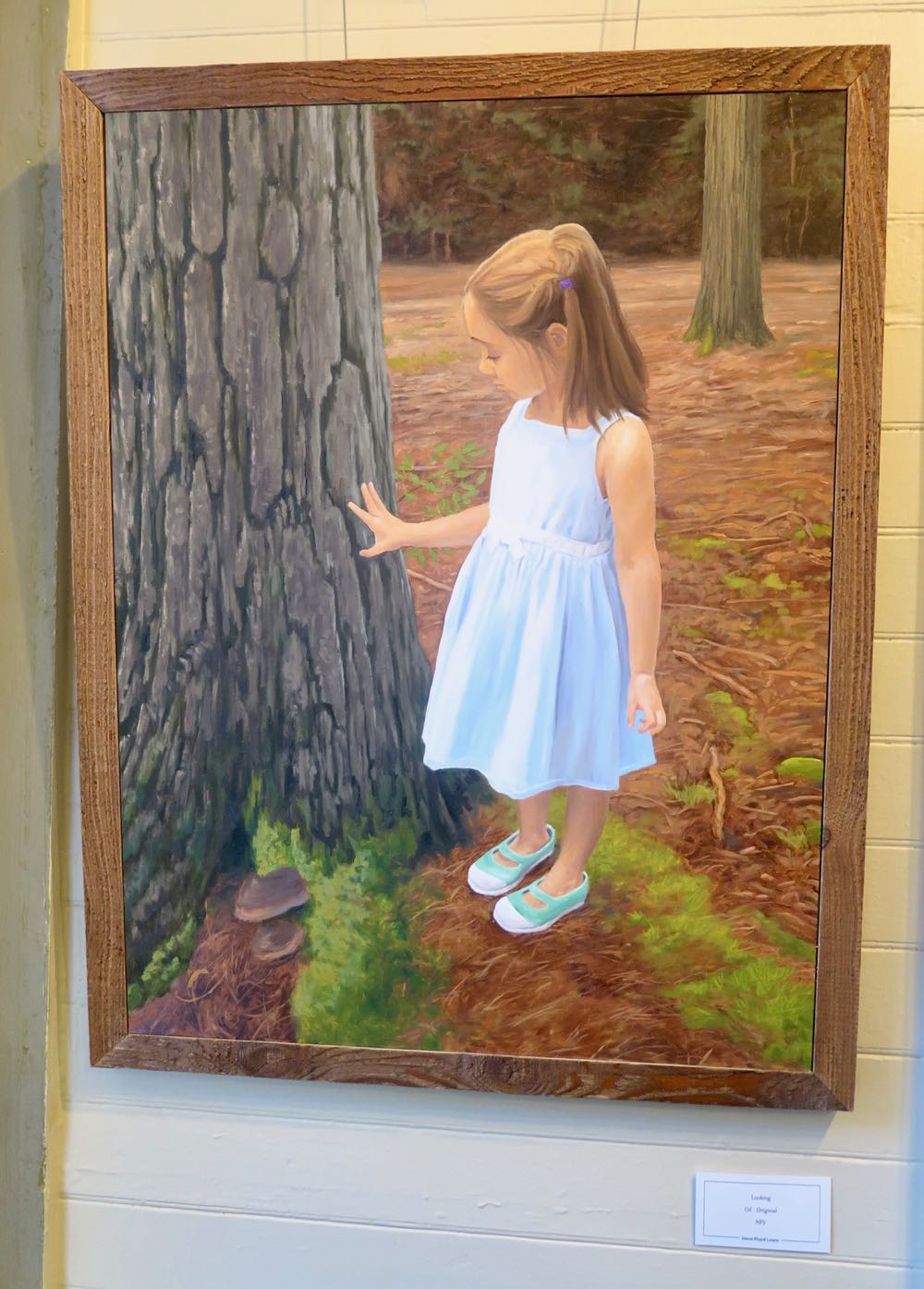 The Red Brick Gallery is located at 17 Main Street in historic Foxburg, PA. Gallery hours are Fridays, 2:00 p.m. to 6:00 p.m., Saturdays, 11:00 a.m. to 7:00 p.m., and Sundays, 12 p.m. to 4:00 p.m.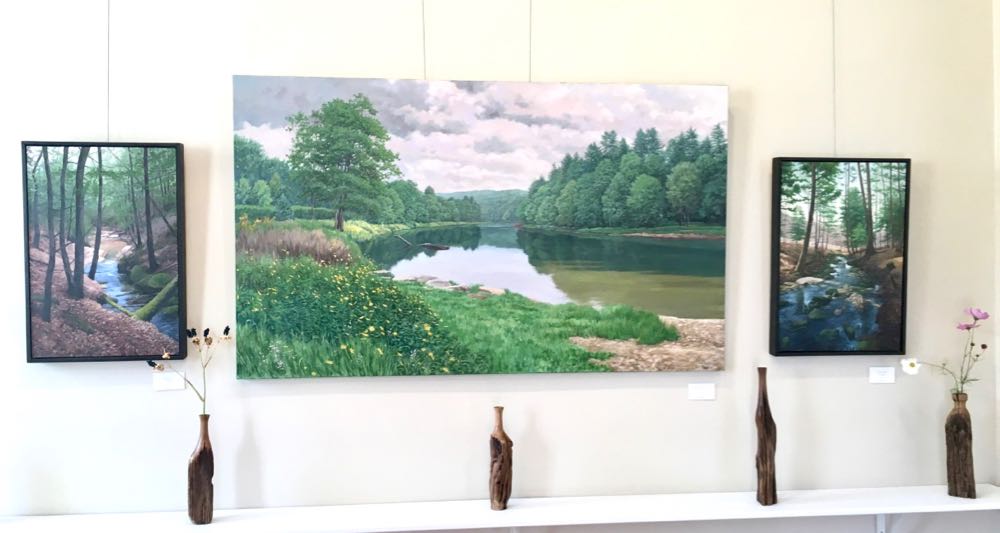 About The Artists

Mark DeWalt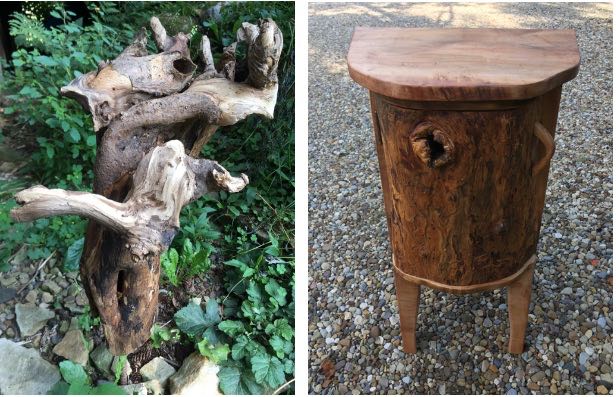 Mark DeWalt is a fourth-generation woodworker located in rural western PA about one hour north of Pittsburgh. Fine craftsmanship and a creative process informed by the materials being used result in furniture that feels both fresh and traditional.  He grew up handling and manipulating wood; learned to see the beauty revealed through works of fine craftsmanship, and learned to love the textures, colors, character and potential.  Local forests, salvaged artifacts and reclaimed lumber provide the raw materials for the work. In addition to custom pieces, restoration work is also done; continuing the pattern established by his father, grandfather and brother.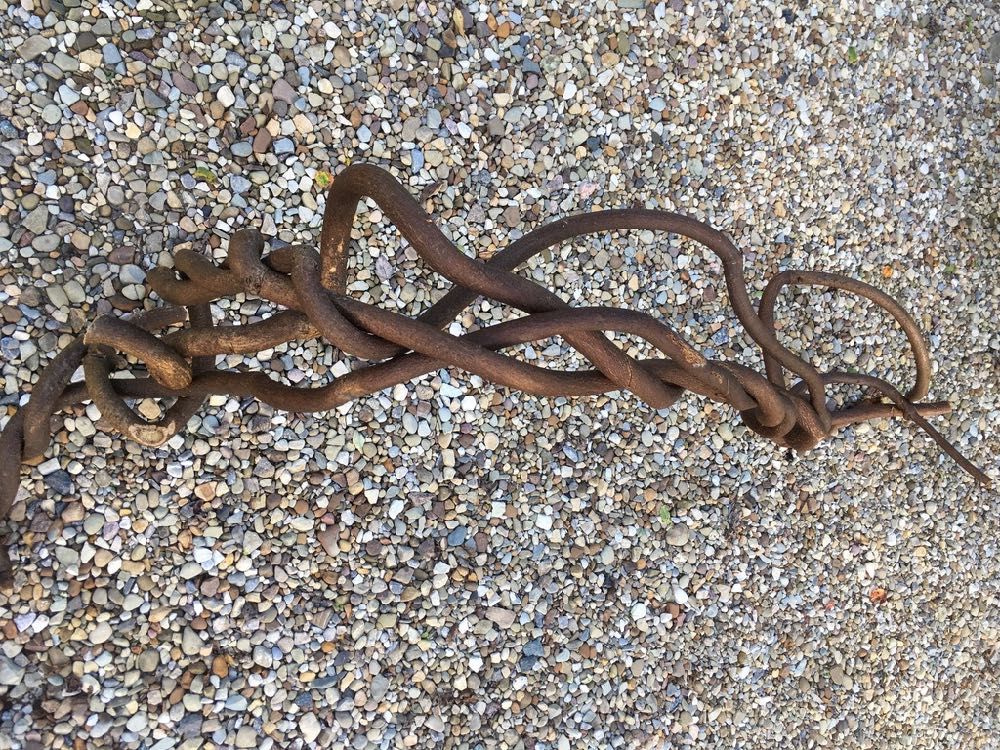 The materials he uses inform Mark's fine craftsmanship and creative process; the result is furniture that feels both fresh and traditional.  He enjoys blending materials from diverse origins to create something new, while incorporating time-tested techniques.  Local forests, salvaged artifacts and reclaimed lumber provide the raw materials for his work.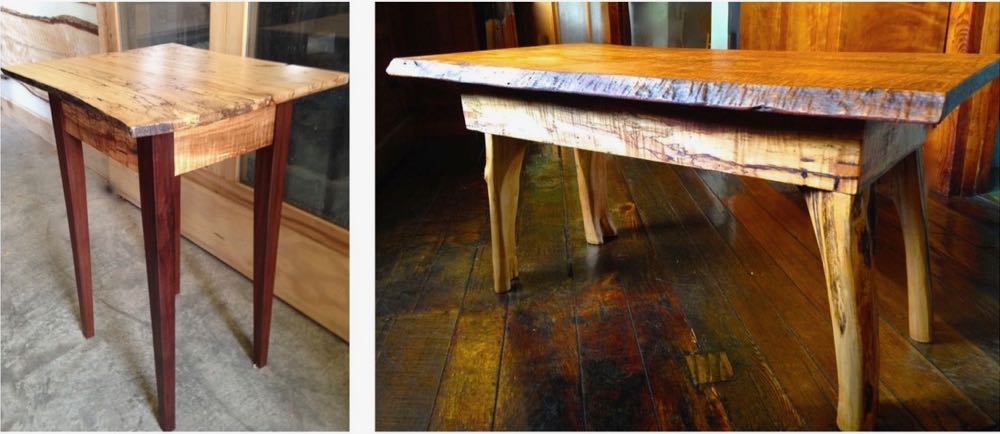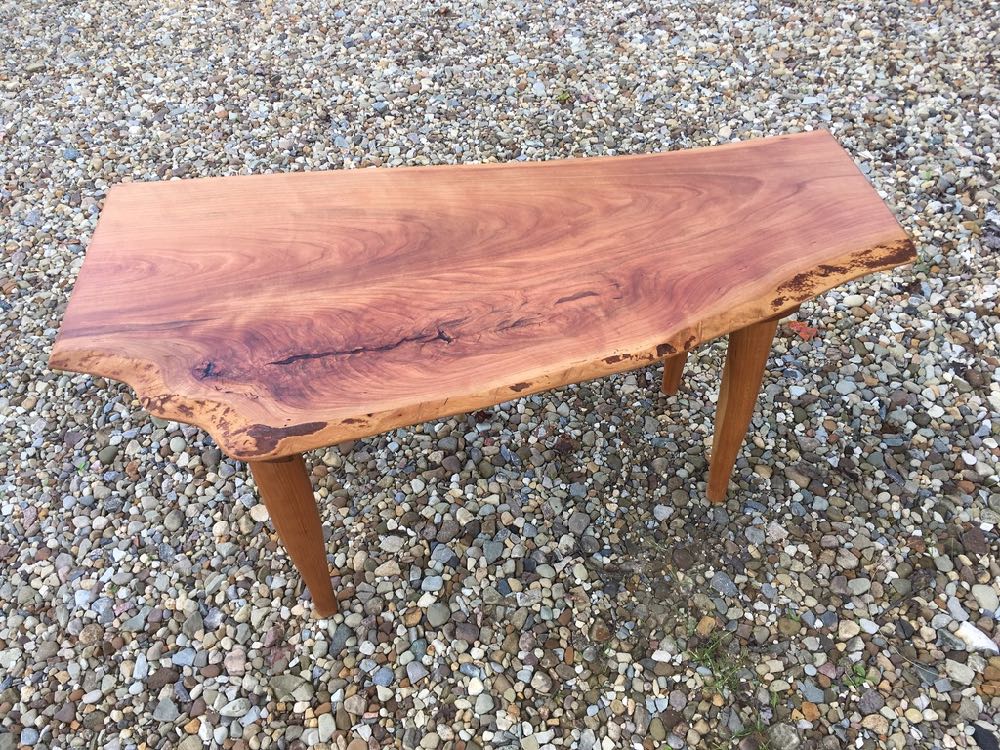 Always living in a rural setting, Mark has found great inspiration in the natural and historic forms that surround him. He enjoys blending materials from diverse origins to create something new while incorporating time-tested techniques. Recent works have been fashioned using figured lumber, barn siding, fence posts, flywheels and harness parts.

The Red Brick Gallery is located at 17 Main Street in historic Foxburg, PA. Gallery hours are Fridays, 2:00 p.m. to 6:00 p.m., Saturdays, 11:00 a.m. to 7:00 p.m., and Sundays, 12 p.m. to 4:00 p.m.
Jason Floyd Lewis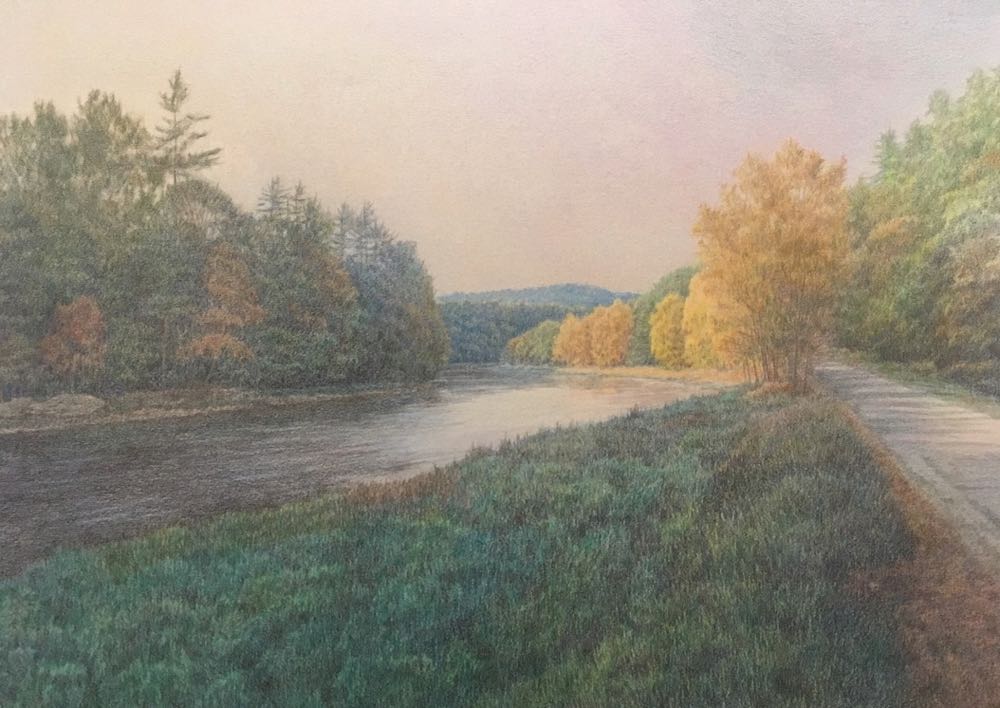 Jason Floyd Lewis grew up in Clarion, PA.  He received a BFA from the Columbus College of Art and Design where he studied drawing and painting.  He went on to earn a MFA in Drawing at Bowling Green State University in Ohio.  Currently, Jason lives in Clarion, Pennsylvania and shares a studio space with his wife, Amanda.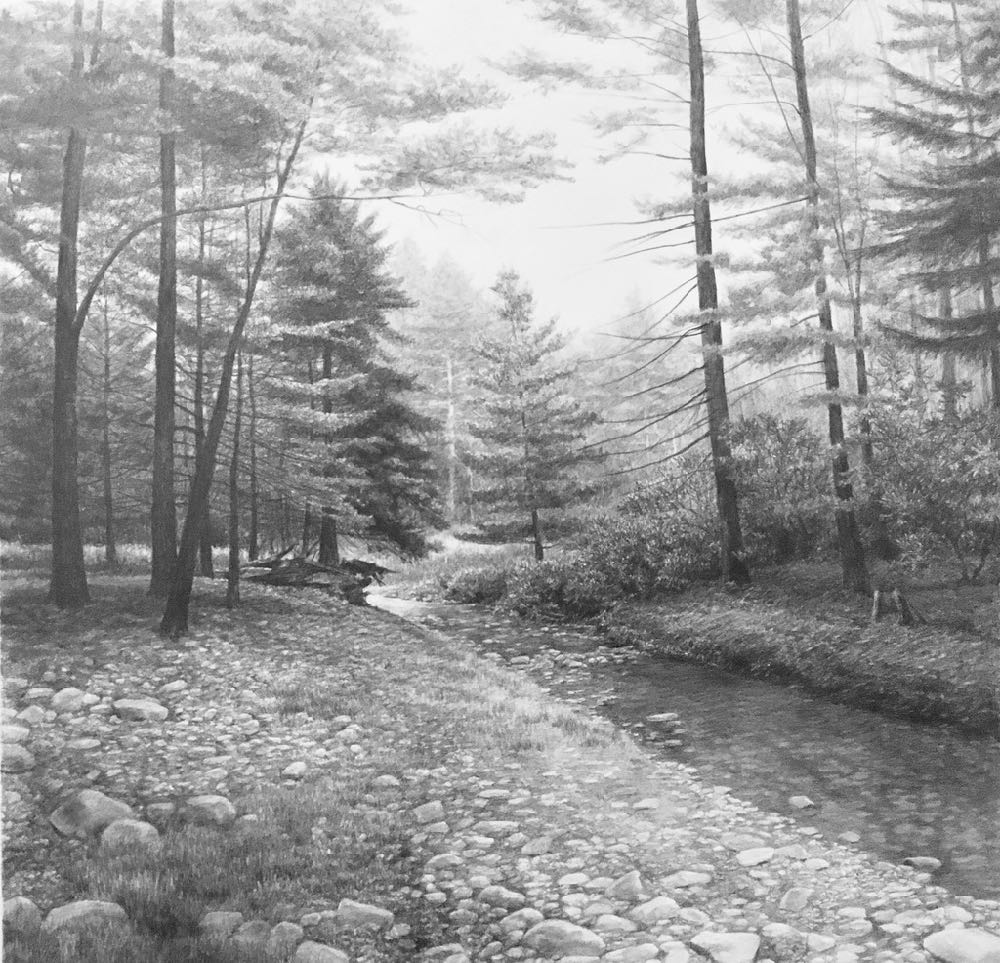 Artist Statement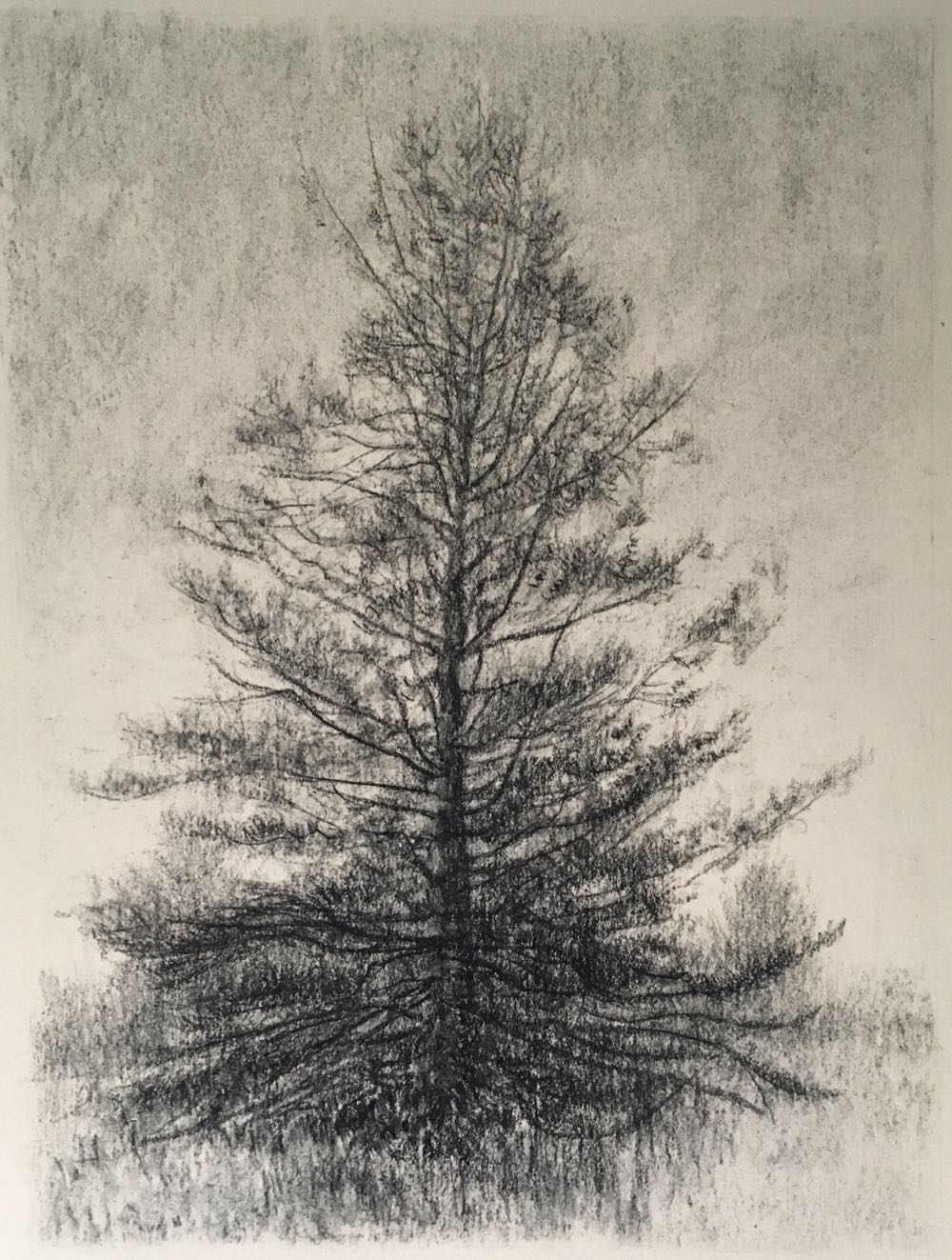 My artwork represents the landscape as I have observed it.  The paintings and drawings represent real places, many of them near my home in western PA.  Most of the places I choose to represent are in some way memorable, such as rivers, roads, trails or other significant landmarks.  I am interested in the way human activities coexist and intermingle with the natural landscape in rural areas.  In my recent work, I have focused on forest interior spaces, exploring the more rugged terrain of wooded areas.  I am also interested in depicting the various effects of light, air and humidity that can transform the mood of the landscape.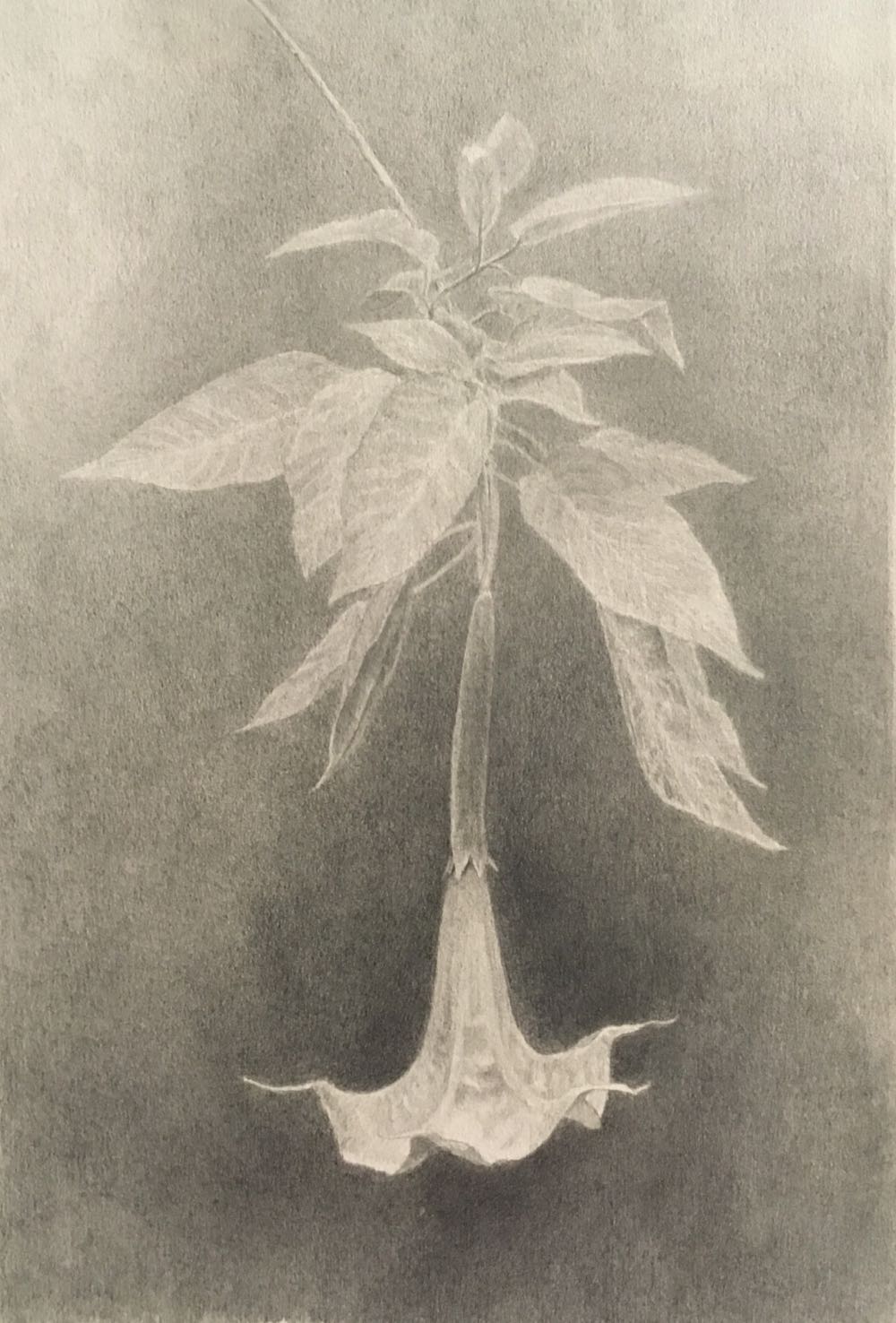 My goal is to represent the landscape in a naturalistic way. I use photographic reference in the studio to produce my finished works, however, I do not consider myself to be a photorealist.  The photos are a tool used both for designing and for recording facts about my subject.  As I work, I refer to the photographs, but also rely on my memories of observing the landscape and on my recollections of paintings done by other artists whom I admire. I work in thin layers of paint, building up detail and color contrasts gradually until I am satisfied with the visual impact of the representation.
In my work, I try to balance my strict attention to realistic detail with a freedom to manipulate the overall structure and effect of my images.  I try to use gradations, lines and rhythms to create a sense of space and time in a dynamic way.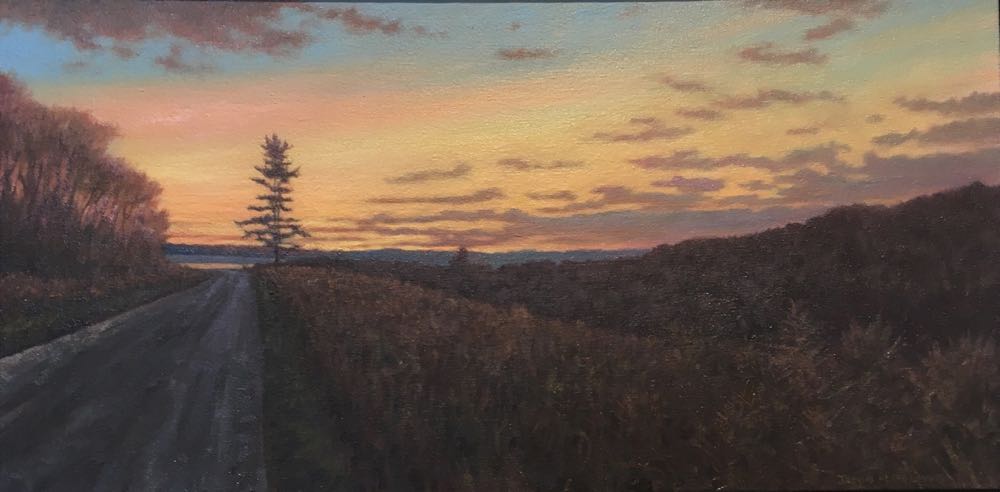 My goal is to orchestrate works of art that not only emulate the beauty of the landscape but also operate as an expression of my personal response to it.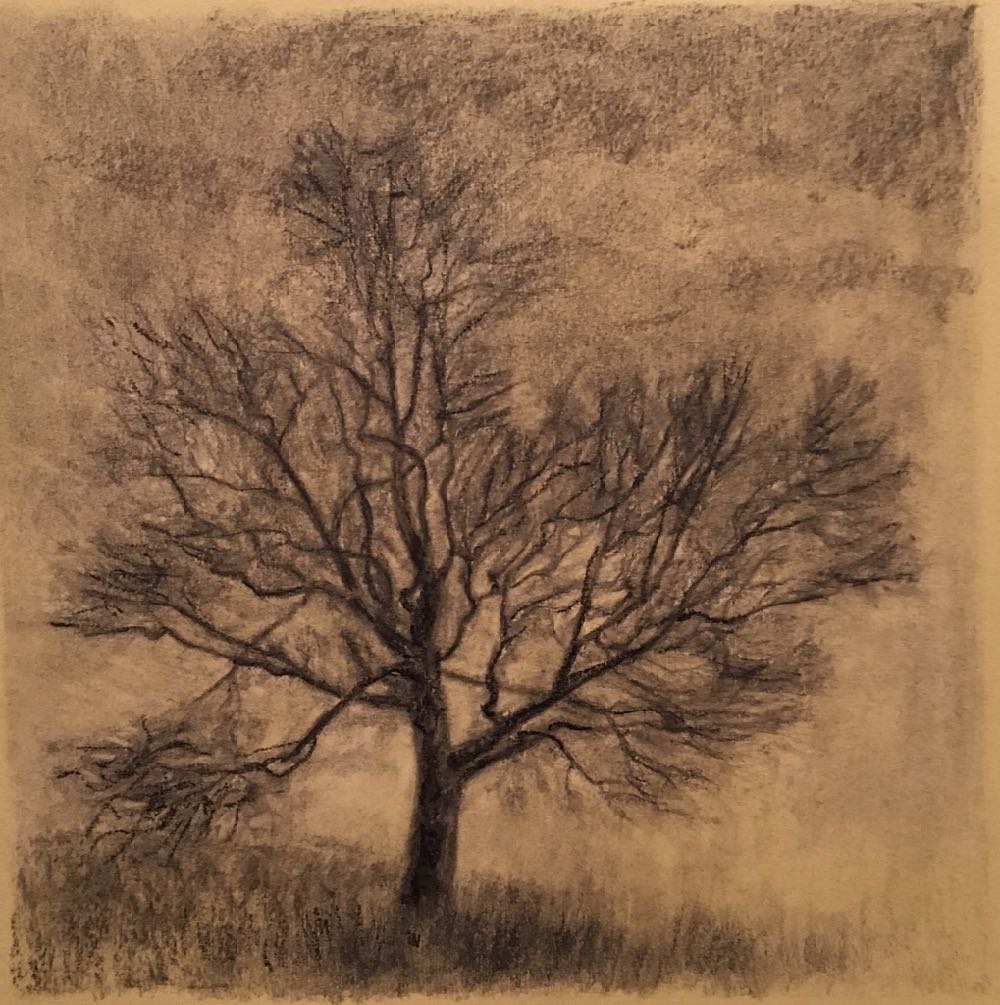 The Red Brick Gallery is located at 17 Main Street in historic Foxburg, PA. Gallery hours are Fridays, 2:00 p.m. to 6:00 p.m., Saturdays, 11:00 a.m. to 7:00 p.m., and Sundays, 12 p.m. to 4:00 p.m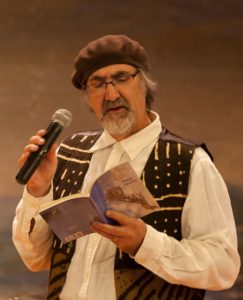 Poet Philip Terman is the author of eight collections of poetry, including the most recent, Our Portion: New and Selected Poems (Autumn House Press, 2015).  His work has appeared in many journals and anthologies.  He teaches creative writing at Clarion University, where he directs the Spoken Arts Reading Series, and is a former co-director of "The Chautauqua Writers" Festival at the Chautauqua Institution. Occasionally, he performs his poetry with the jazz band, The Barkeyville Triangle.
His poems have appeared in several journals and anthologies, including The Sun, Poetry, The Kenyon Review, The Georgia Review, Extraordinary Rendition: (American) Writers on Palestine,  and 99 Poems for the 99 Percent.
"I'm delighted to be presenting my poetry with ARCA again." states Philip Terman. "I've performed my work with the phenomenal jazz band, CATRO, many times in Lincoln Hall. ARCA's arms have been wide-open in presenting such a multitude of artistic expressions and bringing them to an amazingly welcoming audience of enthusiasts.  ARCA's presence in Foxburg and surrounding areas is a generous gift for so many of us who live in more isolated areas but thirst for culture.  These events rank among the most satisfying experiences I've had in sharing my poetry, and I'm most grateful for ARCA for presenting the occasions for these opportunities."  
www.philipterman.com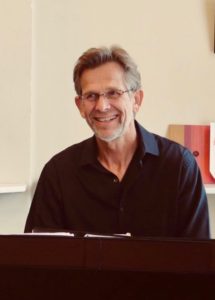 Mark DeWalt, pianist, is the leader of the jazz band CATRO.  Living of the Grove City area, Mark appears regularly throughout the region playing piano and keyboard, performing in festivals, clubs, commercial and private settings. In 2006 Catro released a self-titled CD which includes seven of DeWalt's compositions. Mark's playing has been included in numerous other recording projects ranging from World Beat, original rock, and Jazz to contemporary Christian styles. Highlights of his career include performing at the Kennedy Center in Washington DC, two tours to Scandinavia, a tour to South Africa and many regional Jazz and Art Festival engagements.
His current projects include collaborating with the celebrated poet Phil Terman presenting programs of Phil's poetry-reading accompanied by live music.  In addition to Catro performances, Mark also  appears as a side man with numerous regional groups, teaches private students and works as a church accompanist.
Mark's wood working artistry is displayed in ARCA's Red Brick Gallery Gift Shop and has been featured in exhibits in the second floor Gallery space of the Red Brick, for which he is a Cooperative Member Artist.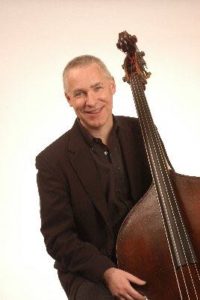 The composer, improviser, and double bassist Dave Morgan has collaborated with a wide range of jazz, pop and classical artists. His most recent recording is Beyond Boundaries with the vocalist Amanda Powell. Morgan was a recipient of a "New Works: Creation and Presentation" grant from Chamber Music America, which resulted in his recording, The Way of the Sly Man, featuring Jack Schantz, Howie Smith, Jamey Haddad, and Dan Wall
Morgan also composed the music for The Surprise of Being—Live at Birdland by the Cleveland Jazz Orchestra featuring Joe Lovano. A Tri-C Jazz Fest concert of Morgan's transcriptions and arrangements of the music of Frank Zappa for the Jazz Unit featuring Ernie Watts and Mark Wood earned an Award of Achievement from Northern Ohio Live. He performed this music as guest artist with the Chicago Jazz Orchestra in December 2012.
Morgan collaborates in crossover projects with Apollo's Fire, the Internationally-acclaimed Baroque ensemble, and occasionally performs with The Cleveland Orchestra as a jazz bassist and bass guitarist. The American Wind Symphony Orchestra has commissioned several pieces, including "Colors of Your Dreams," "Reflections and Mediations", and "The Art of Seven."
Several of Morgan's orchestral pieces are recorded on Centaur Records. The YSU Symphonic Wind Ensemble directed by Stephen Gage is planning to release a recording of his compositions for wind ensemble, featuring several YSU faculty members as guest soloists. A current project is Blue Is More Than A Color, a recording of his recent works for large jazz ensemble featuring many extraordinary soloists including Pete Mills, Brandon Scott Coleman, Theron Brown, Dave Kana, Chris Coles, and Sam Blakeslee. This project, made possible by a generous grant from the Knight Foundation, will be released in Winter 2019.