DONATE & Support Glorious Music & Art in the Beautiful Allegheny River Valley
Description
All donations of $25 and above entitle you to the

Benefits of Membership

 associated with your designated level.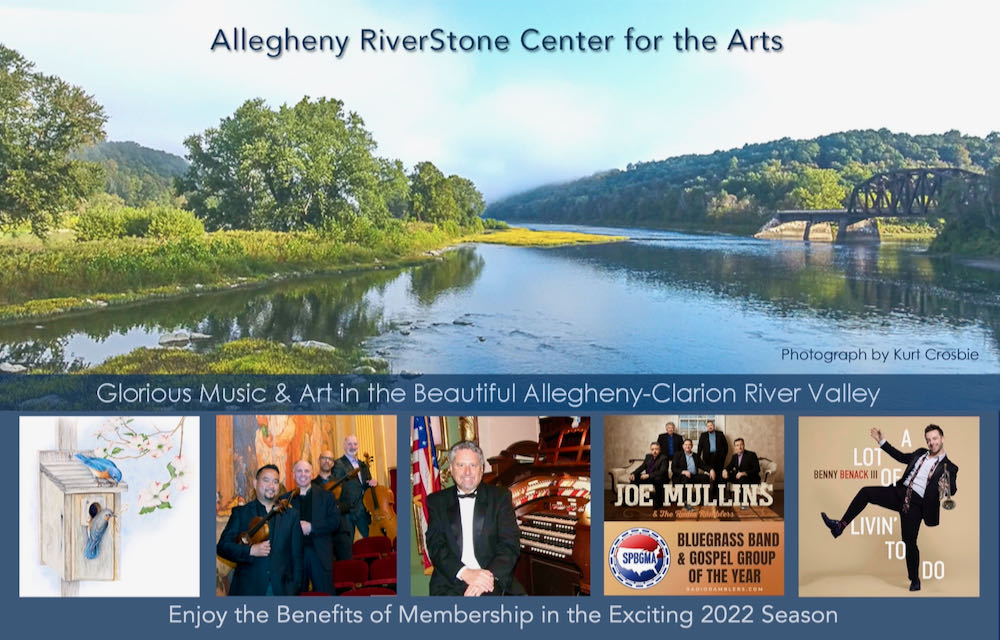 Become Part of ARCA's Donor Family in 2022
Johann Wolfgang von Goethe said, "A man should hear a little music, read a little poetry, and see a fine picture every day of his life, in order that worldly cares may not obliterate the sense of the beautiful which God has implanted in the human soul."  At the conclusion of a performance or a Red Brick Gallery exhibit opening, that appreciation of beauty is readily apparent in your smiling faces and expressions of our audience, being touched and moved by the experience. Food for the soul is at the heart of ARCA's mission to present artful offerings to our ARCA family, immediate community and the greater region. 
Your recognition of the importance that this non-profit means in your life was powerfully demonstrated by your continuing financial support and concert attendance during COVID, for which we are deeply grateful.  Your support enabled ARCA to safely present concerts and open the Red Brick Gallery, following guidelines at all times.  In fact, your inspired attendance achieved a record-setting number of sold-out performances in 2021.  Thank you for your trust and faith in our primarily volunteer-driven efforts and for your support that has touched so many lives through ARCA's concerts, art exhibits and educational programs.
We invite you to be a part of our Donor Family in 2022 and enjoy the benefits of membership associated with your designated level.  Because ticket sales cover only a fraction of the cost of presenting events, ARCA relies on financial support from businesses, foundations, government agencies, and most importantly, individuals like you to make up the difference.
Your gift is greatly appreciated, and helps make ARCA a vibrant contributor to the culture and sense of community in our region. Join your friends and make new friends at ARCA events and take pride in helping sustain music, art, and culture where we all live and work.
Once again your Membership will give you discount pricing for events right here in the Valley that otherwise would only be available in larger cities at higher ticket prices (not to mention travel and parking). But as our ARCA family knows, it's much more than that. ARCA is a place for you to come with your family and socialize with your friends and make new friends – at concerts, our annual Membership picnic, special donors events and at the very popular Meet the Artist and post-concert receptions at the Red Brick Gallery.
We invite you to join us and become part of our Donor Family – and become an ARCA Member with a gift of $25 or more.  Your membership gift or major donation opens the door to a full year of benefits. Included are ARCA ticket discounts, discounts at Foxburg restaurants and shops, "A Taste of Foxburg", invitations to special membership events and the ability to mingle with performers and artists at receptions.
Members receive notification of events by email, mail and/or phone.  A formal acknowledgement of your gift will appear in ARCA publications. Contributions above a base $25 membership may have tax advantages and we will acknowledge your deductible gift in writing.
We thank you in advance for your donation in support of ARCA's 2022 season – and for attending concerts, viewing exhibits at the Red Brick Gallery, and inviting friends to join you in our patronage. Your gift will help students, families and music and art lovers experience the cultural jewel of the region and the charm of the cultural destination of Foxburg and Emlenton as they discover "Glorious Music and Art in the Beautiful Allegheny River Valley."
By donating and supporting our annual series of concerts, Educational ArtReach and Red Brick Gallery exhibits, you will become a Member and receive: