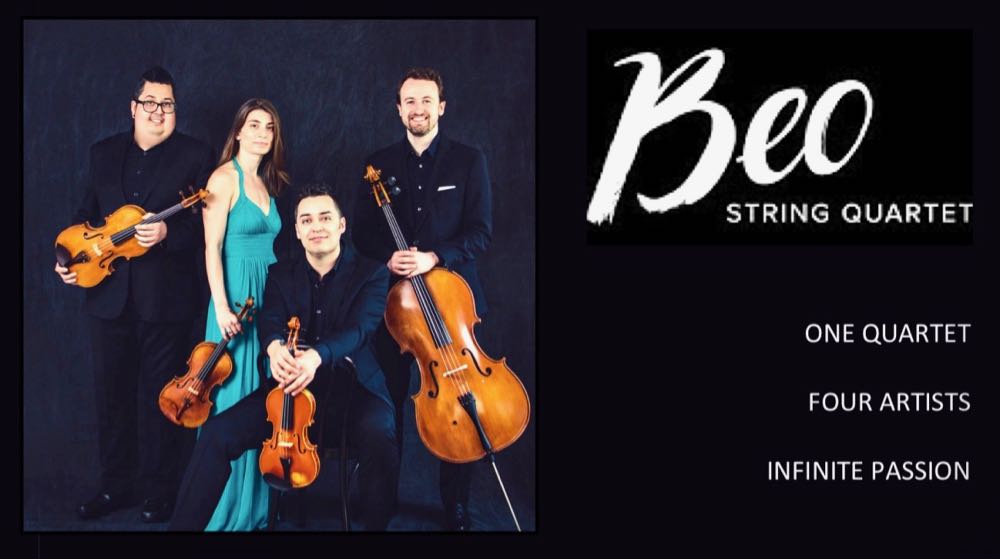 "This is an ensemble whose music making speaks to the heart as well as the mind."  Composer, Richard Danielpour
Allegheny RiverStone Center for the Arts welcomes back to Foxburg on Sunday, October 3 at 2:00 PM the premier new ensemble, BEO STRING QUARTET, whose stellar performances have been hailed for their virtuosity, rhythmic vitality and crystal clear articulation, going deep inside the music.
From Band of Brothers to Beethoven – and a new music/theatre/media work by composer/violist Sean Neukom –  come and discover a visionary 21st century String quartet and be refreshed and invigorated that classical music is in the hands of these passionate advocates for both tradition and innovation!
After the concert, enjoy a special ARCA "Meet the Artists" wine and cheese reception at the Red Brick Gallery for the opening of the new Dennis Keyes and Cynthia Sciandra exhibit.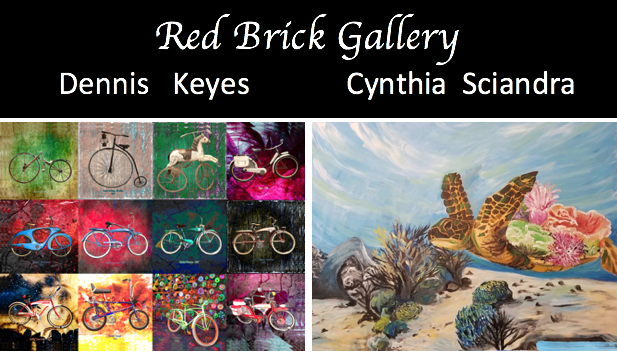 Now in its sixth season, the young, virtuosic ensemble has performed over 100 concert works in the US and Europe – including over 40 world premieres. Nationally acclaimed as consummate Teaching Artists, in 2018, BEO performed a brilliant arts education residency in ARCA's Educational ArtReach Program in the Allegheny-Clarion Valley Schools.
A shared dedication to the continued understanding, exploration, and love of music is what inspired the musicians to form the Beo String Quartet in 2015. Beo String Quartet embraces the breadth and depth of responsibility of being a 21st century quartet. By crafting original music and projects, engaging listeners through entertainment and thoughtful demonstration, collaborating with living composers, performing quartet masterpieces in a wide array of settings, and exploring technology's capacity as a musical and social tool, Beo continues to expand the role of chamber music in today's global culture.
Their refreshing program on October 3 will be a meeting of tradition and innovation not only to uplift and entertain but also to stimulate thought and awaken new understanding.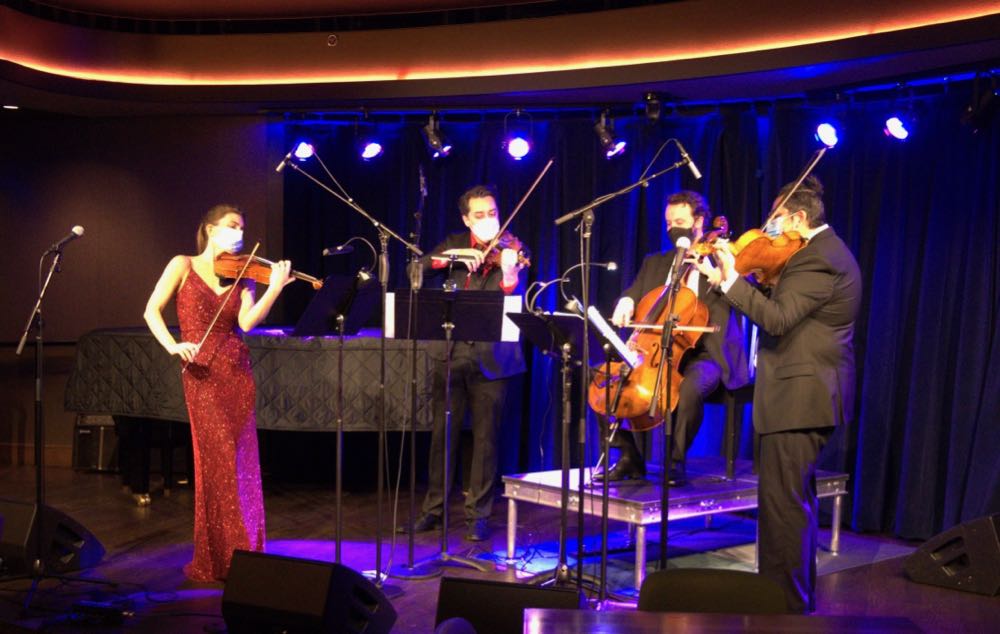 On the first half Beo will perform Beethoven's String Quartet No. 14 in C# Minor, op.131.  A profoundly beautiful and powerful work, upon listening to a performance of this quartet composer Franz Schubert remarked, "After this, what is left for us to write?"   And Robert Schumann said that this quartet and the entire opus had a "grandeur… which no words can express… on the extreme boundary of all that has hitherto been attained by human art and imagination."
Undaunted by the ineffable, Beo violist and composer Sean Neukom has written a work entitled, 19-20, inspired by the COVID pandemic and all that it has wrought in our lives – particularly in the arts and the world of live musical performances as we have known it.
After intermission, in addition to two shorter works, Beo will perform 19-20, a multi-movement work steeped in music, theater, technology, and observation.  For music lovers concerned if classical music could survive the most recent onslaught of the COVID lock down closures, Neukom's 19-20 seeks to answer this question. The work ultimately ponders the importance and necessity of art in a post-Covid world.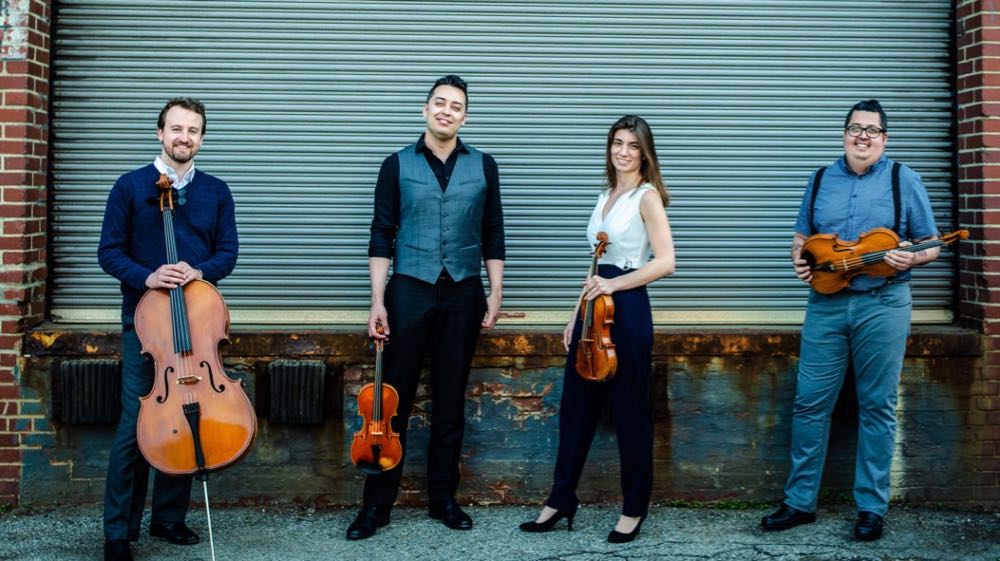 ADVOCATES FOR NEW COMPOSERS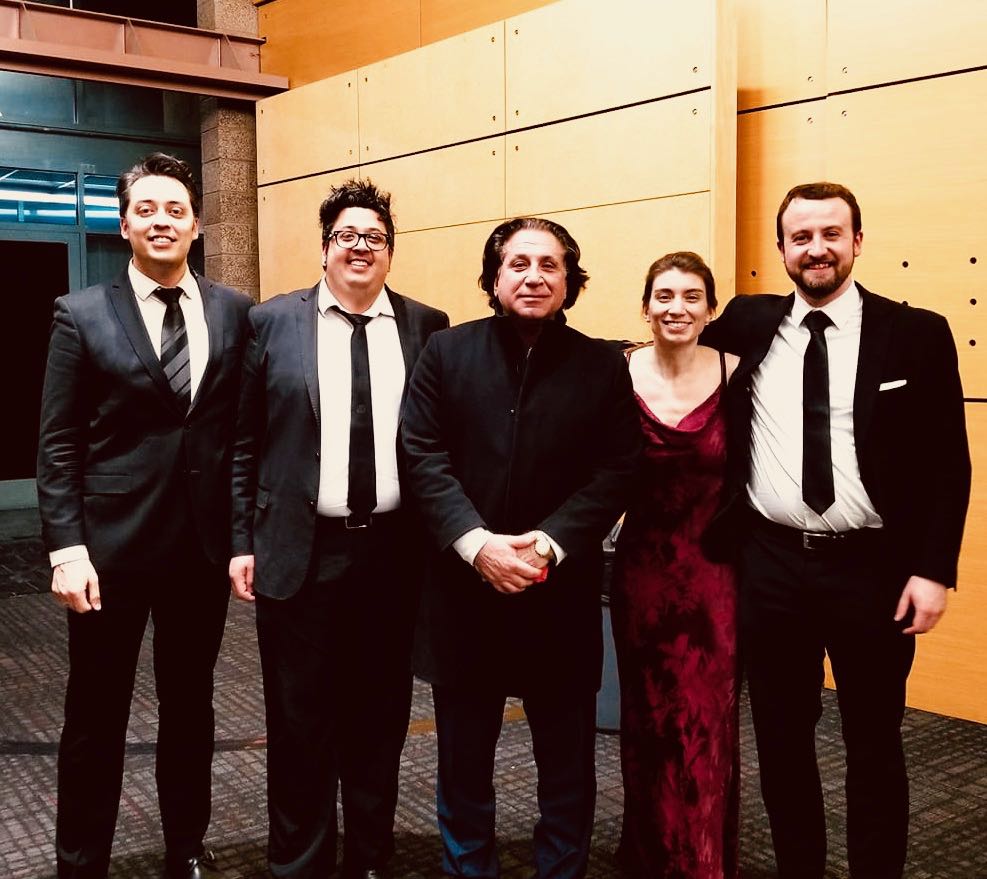 Beo's commitment to innovation brings them to collaborate with composers and push the boundaries of the string quartet literature. Composer Marc Mellits of the University of Illinois at Chicago said of their performance of one of his works,
"…what impressed me most was how they got deep inside my music, and put themselves into my sound world to create something new and powerful. Their interpretation of my quartet was simply astounding and showed tremendous maturity and drive. They played every note like it was the last note they would ever play! An absolutely spectacular group of young, hungry musicians."
An annual resident with the Charlotte New Music Festival, its founder Elizabeth Kowalski said, "Beo String Quartet is without a doubt the most professional, talented, and visionary ensemble that I have ever worked with."
ACCLAIMED & INSPIRED EDUCATORS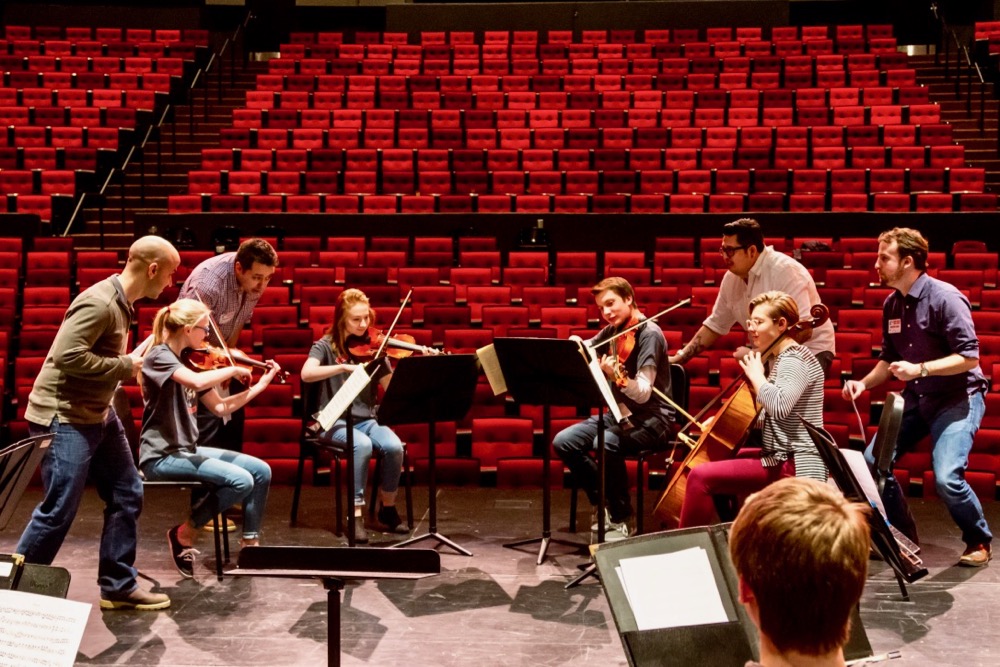 Beo has been acclaimed for their uniquely crafted educational seminars for students of all ages.  Their educational workshops as well as formal and informal performances, at Virginia Tech's Moss Arts Center in Virginia evidenced their mastery in the Teaching Artist arena:  "We had nearly 900 children, ranging from grades 3-8… [they were] with [them] from the very start, and provided memorable insights in how to listen to chamber music. All were captivated and inspired."
In 2018, Beo performed in ARCA's ArtReach Program in A-C Valley Schools an arts education residency in the Allegheny-Clarion Valley Schools for students from K to 12.  In the elementary school their workshops demonstrated the range of instruments and various playing techniques to elicit creative responses from the students on how to "Find the Melody", derived from attentive listening.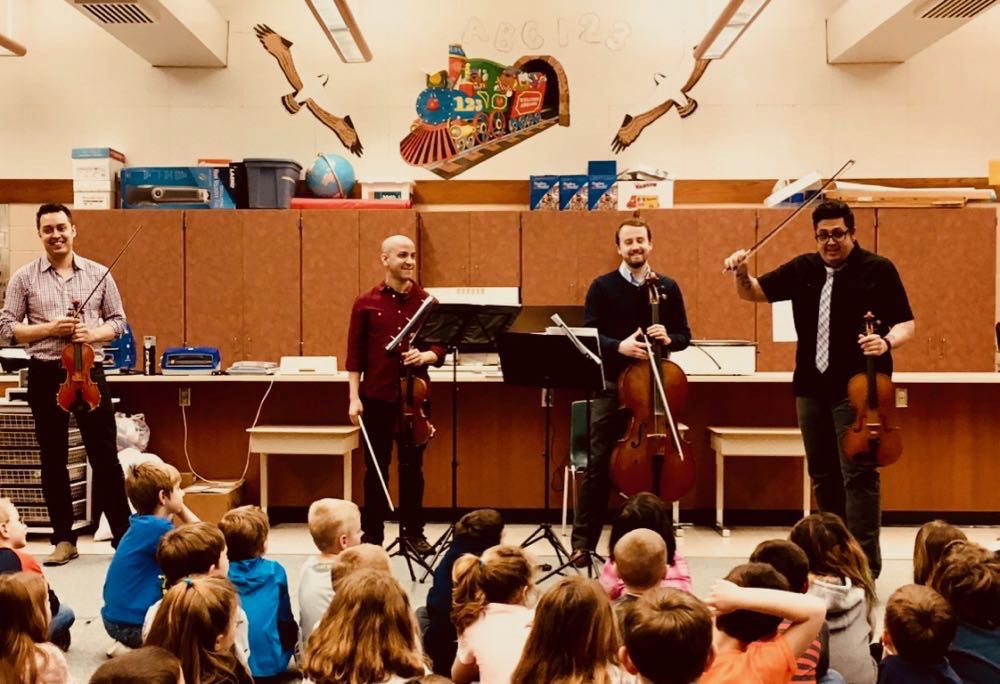 Performing the Andante furioso movement from Dimitri Shostakovich String Quartet, Opus 118, No. 10 –  A flat Major, 1964 for the Junior and Senior High School Beo had the student's rapt attention.  Demonstrating the conflict in the dialogue of musical motives in the movement until the haunting single voice at the end,  Sean explained how Shostakovich created a musical metaphor for Stalin's totalitarian campaign with the Russian people.  Although a thorny work, you could have heard a pin drop!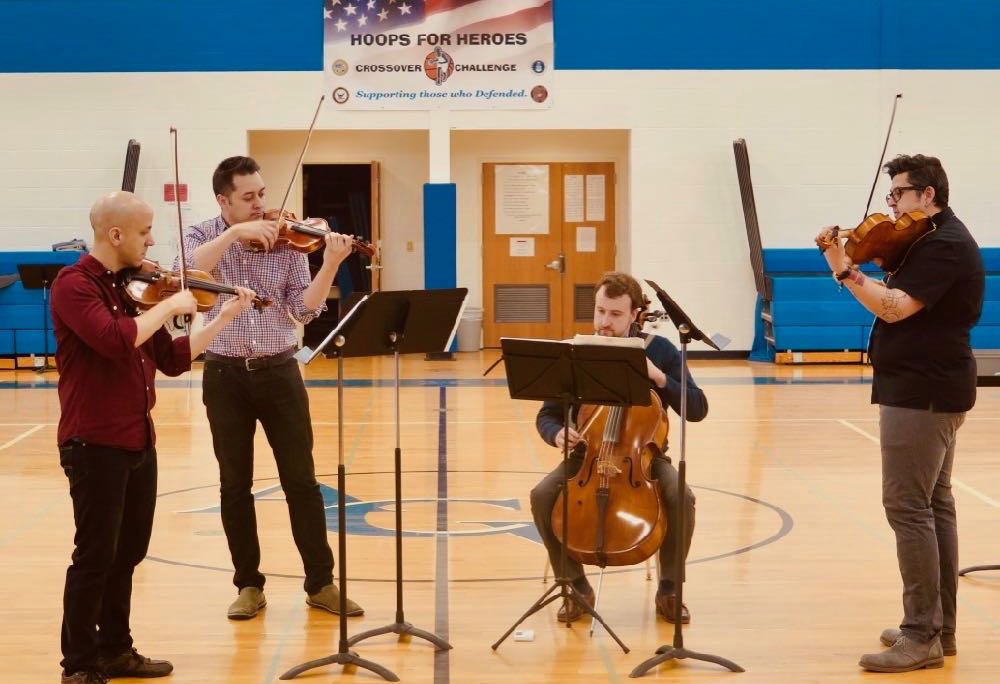 Post-COVID, open theatre style seating has returned to 100% capacity.  There is no mask requirement. Tickets are Adults $25, Members $20, Students $5.  Call to Reserve at 724-659-3153 and pay by cash or check at the door. Tickets may be purchased online here.  Doors open at 1:30 PM.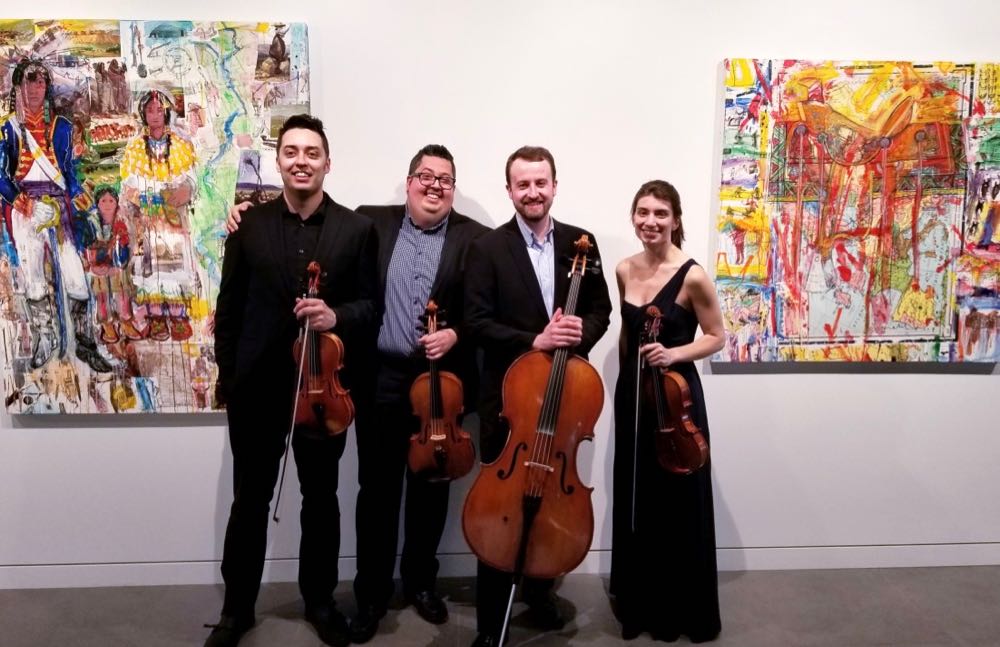 Tradition Meets Innovation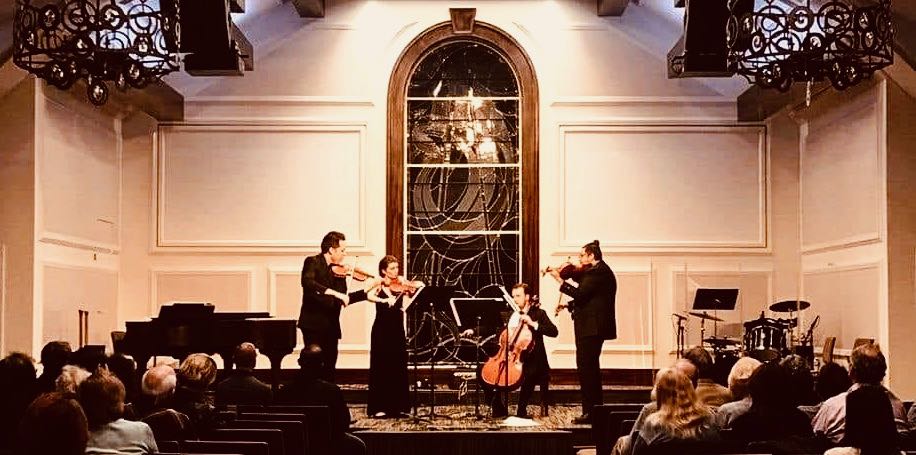 Their program will include Beethoven's profound String Quartet No. 14 in C# Minor, op.131 on the first half.  A work that was purported to be Beethoven's favorite of his late quartets – which he said had found "a new manner of part-writing and, thank God, less lack of imagination than before".  The Beethoven will be framed by two shorter works.
The second half will feature a new work by Beo violist, Sean Neukom entitled 19-20.  It is a multi-movement work steeped in music, theater, technology, and observation.
For music lovers concerned if classical music could survive the most recent onslaught of the COVID lock down closures, Neukom's 19-20 seeks to answer this question. The name comes from two known events in all our lives: Covid-19 and the year 1920. The work unfolds in four movements titled Screens, Masks, Deception and Ashes. Each movement explores its namesake through musical development and through the use of staging or technological elements. The work ultimately ponders the importance and necessity of art in a post-Covid world.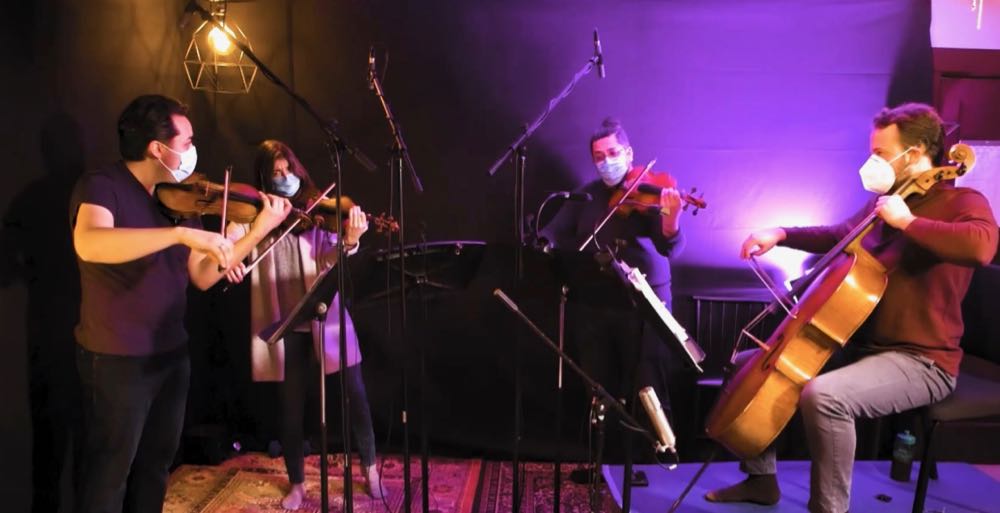 Beo String Quartet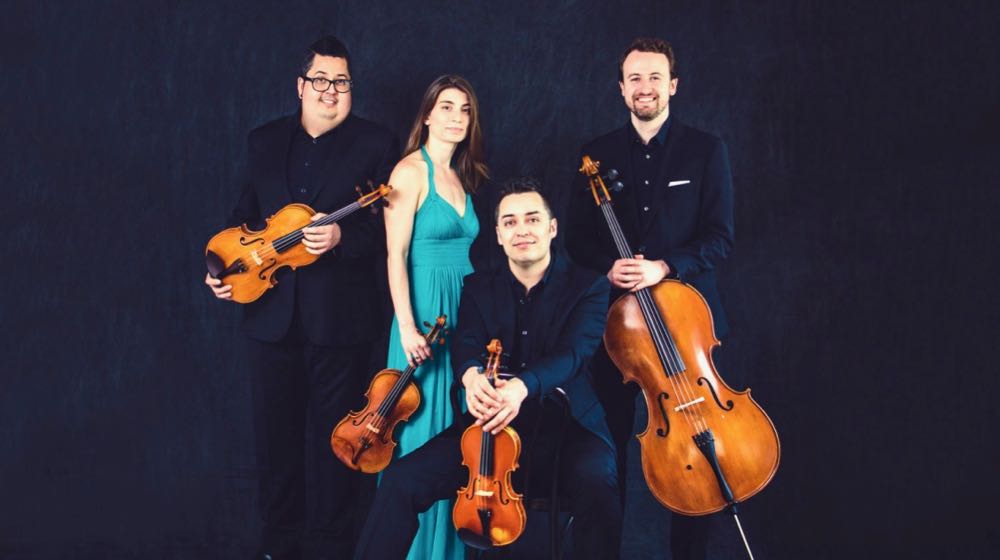 ONE QUARTET  –  FOUR MUSICIANS  –  INFINITE PASSION
Beo exists as a 21st century quartet by directing the future of the art through original music and projects; engaging listeners through entertainment and thoughtful demonstration; collaborating with living composers to showcase the music of our time; performing the masterpieces of the string quartet literature in a wide array of settings and venues; and participating in our modern global culture through a strong social media presence. Now in its sixth season, Beo has performed over 100 concert works in the US and Europe–including over 40 world premieres.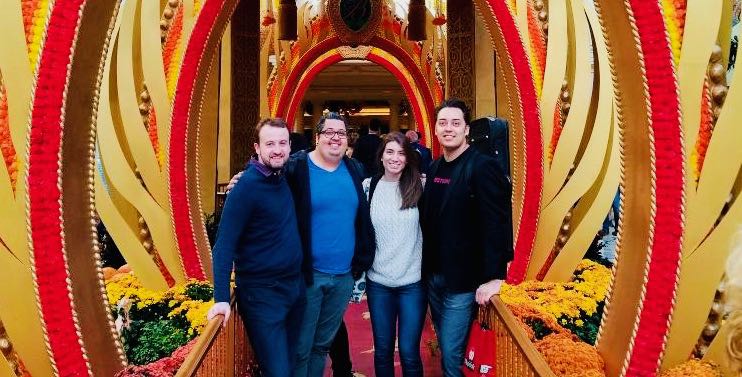 In addition to its many recordings, music videos, and covers, Beo regularly performs original works and projects – repertoire you cannot hear any other ensemble perform. One of its most unique original projects, 'Projection1: Triple Quartet,' was composed by Beo's violist, Sean Neukom, and premiered at Virginia Tech University in 2017. The work is essentially written for three string quartets—one live and two digital—the live Beo quartet being flanked by two pre-recorded projections of Beo! In addition to a rich aural texture, the performance experience engages the visual and spatial senses of the listener. Other projects include genre-mixing albums and full length shows such as 'TriggerLand,' a set of rock-inspired, classically composed, rhythmically-charged songs combining animation and amplification with a strong narrative focus on social issues.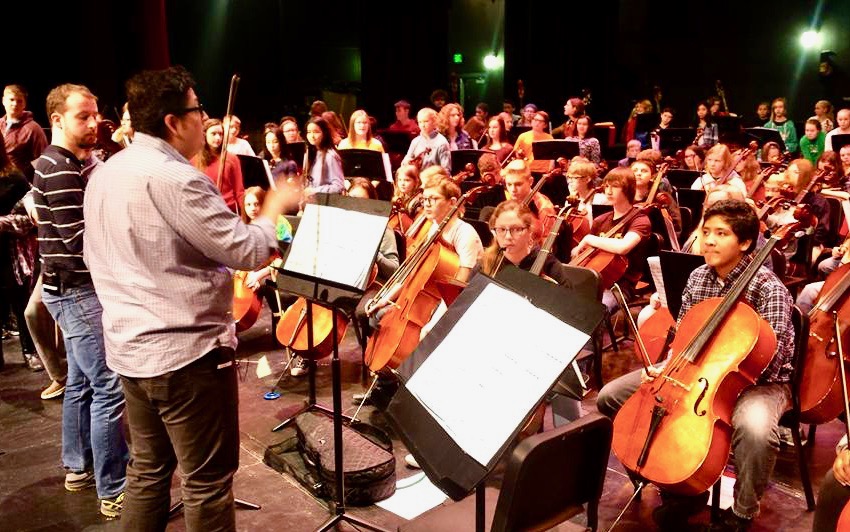 Music education outreach is essential to the quartet's vision, and Beo has earned a reputation for its thoughtfully-crafted presentations – disguised as entertainment. Each show is designed to teach chamber music skills and a love for classical music to students ranging from complete beginners to pre-professionals. Through its educational tours of elementary, middle, and high schools, short-term residencies at colleges and universities, and annual residency at Dakota Chamber Music, Beo has shared these unique, engaging experiences with more than 3,000 students to date.
Beo is actively involved in the contemporary music scene and holds an annual residency with the Charlotte New Music Festival. In partnership with the summer festival, Beo hosts an annual Composition Competition. For this competition, a winning work is selected from a large pool of submissions, recorded, and programmed frequently through Beo's following season. Recordings of the winning works can be found on Beo's website alongside other contemporary works. Notable composers that Beo has worked with include Richard Danielpour, Marc Mellits, and Lawrence Dillon..
With several new projects always in the works, be sure to stay in touch with all things Beo by subscribing to the handle @beostringquartet on Facebook, YouTube, Instagram, and SoundCloud.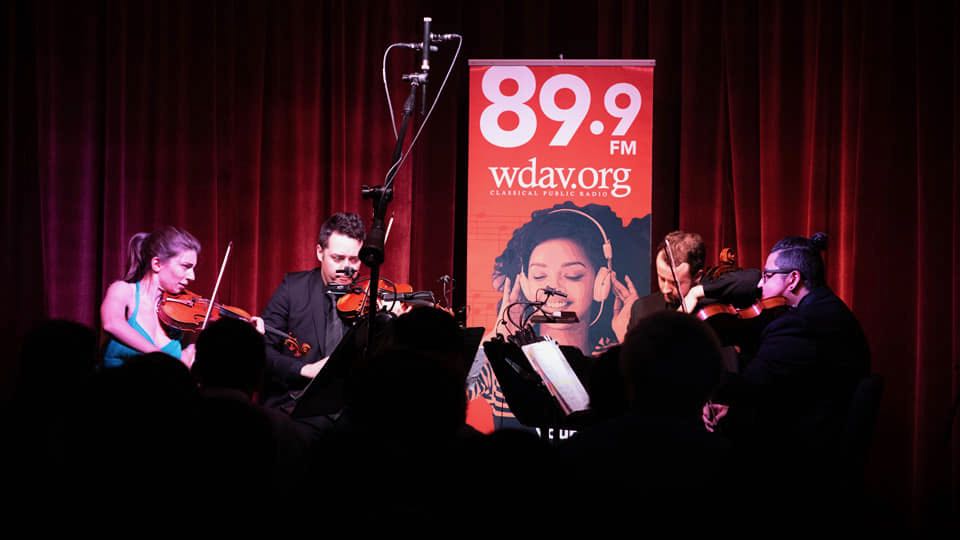 Jason Neukom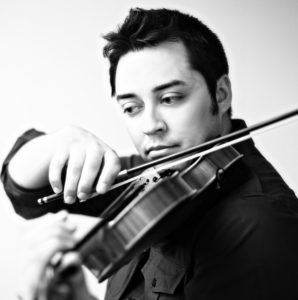 Violinist Jason Neukom is a founding member of the Beo String Quartet and has dedicated the majority of his career to chamber music both in performance and in education. An avid supporter of new music, he has given over one hundred chamber music world premieres and considers it very important to perform the music of today.
Jason's passion for chamber music began while studying with the Ying Quartet at Dakota Chamber Music, a festival where he is now faculty. Prior to forming Beo, Jason was the first violinist of the Freya String Quartet from 2009-2015.
For Jason, music is a family affair, as he grew up playing music with both parents and his brother, Sean Neukom. Whether it was playing as  a family string quartet for social functions or reading through one of his father's recent compositions in the living room, music has always been a daily activity that was a major part in forming strong bonds to both his family and to sharing music. This has carried into Jason's professional life, as he frequently performs the music of both RIchard and Sean Neukom. Some of Jason's proudest musical moments include recording an encore-style album of string quartets with Freya written for him by both Richard and Sean Neukom (called 'Snapshots'), and recording violin parts for two of Sean Neukom's visionary albums ('The Ghost and Mr. Able' and 'Dead Reckoning').
Jason studied at Minot State University, the Cincinnati College-Conservatory of Music, and Carnegie Mellon University School of Music, under the guidance of Dr. Jon Rumney, Piotr Milewski, and Professor Cyrus Forough, respectively. He has been awarded fellowships to programs such as the National Repertory Orchestra, the National Orchestral Institute, the Opera Theater and Music Festival of Lucca, Italy, the Britten Pears Festival Orchestra in England, and has held teaching positions and assistantships at programs such as the Cincinnati Starling Project and the New York Summer Music Festival. As a soloist, he has made several appearances with orchestra.
Mr. Neukom currently resides in Pittsburgh and serves as a concertmaster for Pittsburgh Festival Opera, as associate concertmaster of the Westmoreland Symphony Orchestra, regularly performs with the West Virginia Symphony, the Wheeling Symphony, and has also performed with the Vancouver Symphony and Sarasota Orchestra. In addition to his frequent concerts, Jason maintains an active violin studio and enjoys working on media projects for Beo.
Aviva Hakanoglu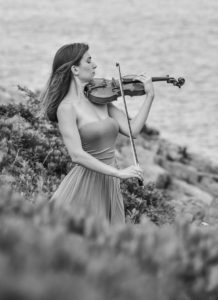 Violinist Aviva Hakanoglu was born and raised in New York City, and joined the Beo String Quartet in 2019. Previously, Aviva was a member of the Steinem Quartet, which was selected for the inaugural class of the Emerson String Quartet Institute at Stony Brook University. While living in Long Island, Aviva was the assistant director of the Three Village Chamber Players, a community-based chamber music collective that provided free concerts around the area. Aviva remains committed to curating meaningful performance experiences at a variety of venues.
With Beo, Aviva holds artist faculty positions at Dakota Chamber Music and the Charlotte New Music Festival. She is also a violinist with the Pittsburgh Festival Opera, and has held positions with the Owensboro and Terre Haute Symphony Orchestras. She has attended festivals such as the Bowdoin Music Festival, Heifetz Institute, and Chautauqua Music Festival. A passionate chamber musician, Aviva has collaborated and performed with renowned artists such as Atar Arad, Peter Stumpf, Lawrence Dutton, and Paul Watkins.
Aviva received her Master's degree from Indiana University Jacobs School of Music studying with Simin Ganatra, first violinist of the Pacifica String Quartet. While at IU, she was a participant of the Pacifica Quartet Intensive Seminar, and also studied pedagogy with Mimi Zweig, director of the Indiana University String Academy.
Aviva earned her Bachelor's degree in Philosophy and Music from Harvard University. She holds a Doctorate in Musical Arts from Stony Brook University, where she studied with Jennifer Frautschi, Philip Setzer, and Arnaud Sussmann.
Sean Neukom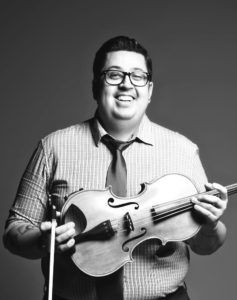 Composer and violist Sean Neukom began his violin studies at the age of three at joint lessons with his brother, Jason. These lessons, taught by their father, laid the foundation for an intense love, respect, and appreciation for music and for making music as brothers. This love of music took Sean to Minot State University where he received a Bachelor in Music degree, under Dr. Jon Rumney. While at MSU Sean's musical curiosity lead to the start of compositions in the form of exercises. Following Minot, Sean went on to the Cleveland Institute of Music to earn a Master of Music degree in violin performance under the violin division head at the time, David Updegraff.
Sean's mainstay as a performer is as the violist, and as a founding member, of Beo String Quartet. Prior to Beo String Quartet, Sean played violin in the Milhaud Trio for three years. (In 2007 the Milhaud Trio gave one of the few American performances of Darius Milhaud's only piano trio with the composer's wife in attendance.) Additionally, Sean studied the inner workings of chamber music extensively with members of the Ying Quartet and with Peter Salaff of the Cleveland Quartet. When not performing with Beo String Quartet, Sean is the principal 2nd violin with the West Virginia Symphony Orchestra. Leading up to the winning of this post, Sean played violin in many top ensembles including the Nashville Symphony and the New Zealand based Southern Sinfonia.
As a composer, Sean's works cover a wide range of styles. His concert works have been commissioned by organizations such as the Pittsburgh New Music Ensemble, the Charlotte-based Fresh Ink new music series, the innovative multi-media music and dance group Cadence Collective out of Milwaukee, and most recently by the Dayton Philharmonic Orchestra (DPO). The DPO commissioned Sean to write a violin concerto for their illustrious concertmaster, Jessica Hung Calligan, and will be premiering the work in May 2018. Sean's pop-art works are self produced and are approached through the same creative means as his concert works, but with the goal of reaching ears both in and out of a concert hall. Such albums include The Ghost & Mr. Able, Dead Reckoning, and a yet to be named new album currently being composed. Beo String Quartet, being joined by two other stunning musicians, will be starting to perform these albums live in 2017 under the name of "The Beo Plug-In".
An awareness of the changing ways in which music is consumed and produced in the 21st century has lead Sean to really consider how music groups and organizations are managed. His first step into such waters was with the organization named Symbiotic Collusion that ran from 2011 to 2014. This group was run as a for-profit outfit and with the notion that by having products and services to sell one could finance their own artistic projects. Elements of this have been brought to Beo String Quartet but with the necessary tweaks all endeavors require. Sean believes that music is one of the most enriching elements for humankind and that the modern musician needs to know how to market and illicit a call to action just as well as play their instrument. This combination of an intense love for chamber music, a desire to connect different audiences through like music, and a practiced sense of entrepreneurship through music has shaped Sean's early and developing career.
Ryan Ash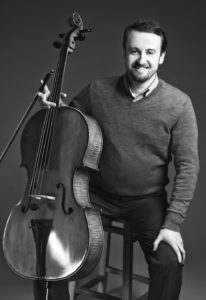 Ryan Ash, cellist, began his musical studies on the piano at the age of six. He earned his Bachelor of Music degree at the University of Illinois at Urbana-Champaign, studying cello with Brandon Vamos (of the Grammy-winning Pacifica Quartet) and piano with Dr. Yu-Chi Tai, and his Master of Music degree at the Chicago College of Performing Arts at Roosevelt University with Dr. Tanya Carey, former president of the SAA and with whom he continues long-term teacher training every summer. Ryan has also taken teacher training with Dr. Louis Bergonzi and Dr. Karen Hendricks (cello), Caroline Fraser (piano),  and Melanie Ron (early childhood music).  He has performed in masterclasses for Steven Doane, Richard Aaron, David Halen, Amit Peled, John Sharp, Wendy Warner, the Arianna, Biava, and Shanghai String Quartets, and has spent summers studying at the Meadowmount School, Innsbrook Institute, Madeline Island Music Camp, Britt Festival, and the Astona International Festival in Leysin, Switzerland.
Before relocating to Pittsburgh, Ryan performed frequently as a member of the Sinfonia da Camera, the Champaign-Urbana, Eastern Illinois, and Decatur Symphony Orchestras, and the Lyria Piano Trio. His performance of Gian Carlo Menotti's Trio for Two Cellos and Piano was also featured on Chicago's classical radio station 98.7 WFMT. Ryan has since performed recitals of solo and chamber music on the Holy Trinity Concert Series, OvreArts, Music on the Edge, Living Room Chamber Music Project, and appeared with Ripieno Pittsburgh as well as the Westmoreland, Butler County, Huntington, and Ohio Valley symphonies. He maintains a teaching studio at the Center for Young Musicians.