Susan Powers
Banjo and Vocal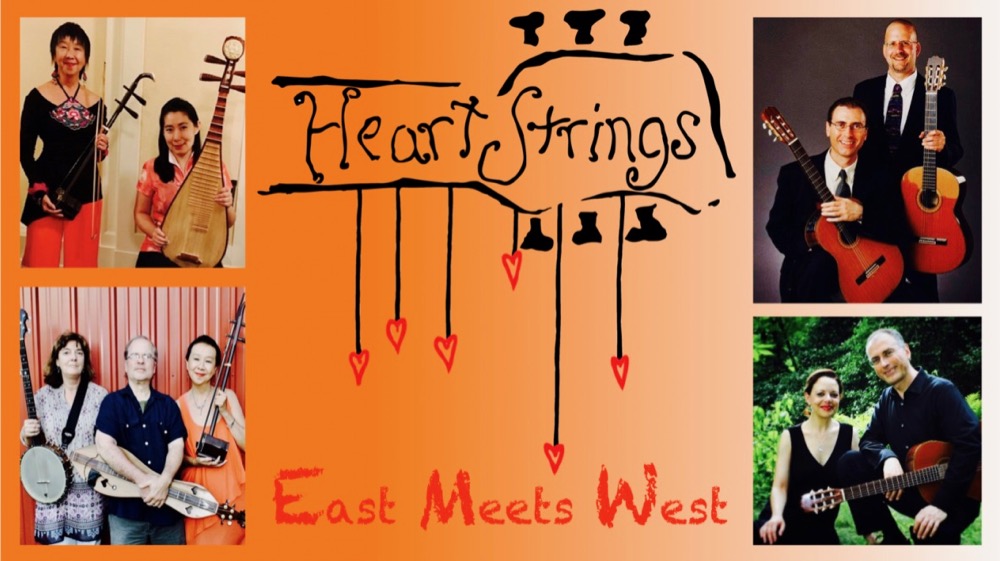 String music has stirred our souls for thousands of years – even before the blazing guitar music of the Sixties generation changed music forever!!
Join us for a celebration of string music – from ancient erhu and pipa music from China to European classical guitar duos and American 20th century cross-over blue grass to jazz, blues and rock and roll!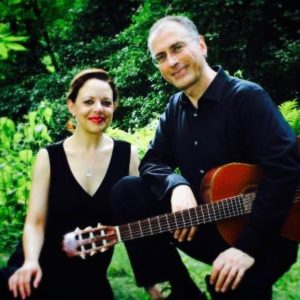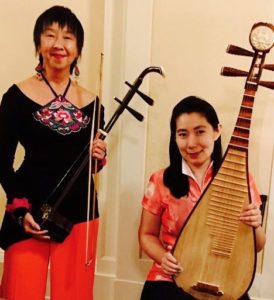 NEVER BEFORE TOGETHER!
You do not want to miss this unique FEAST OF STRINGS with guitars, banjo, dulcimer, erhu and pipa in Lincoln Hall at 3:00 PM on Sunday, April 8 – HeartStrings: East Meets West. 
Opening the first half with AppalAsia and String Bouquet and after intermission the Ferla-Marcinizyn Guitar Duo with cabaret singer Daphne Alderson.
ARCA audiences will remember favorites John Marcinizyn and Daphne Alderson from their Valentine's Cabaret performances in 2016 with the "Love Cafe" and John's performance in 2017 with clarinetist Susanne Ortner.
Luxuriate in an afternoon of glorious string music from ancient China to the Appalachian hillsides and from the classical courts of Europe to the recording studios of the twentieth century, as erhu and pipa join banjo and dulcimer and two guitars become a band and vocalists soar – all playing the strings of our hearts… a joyous cross-cultural musical celebration!
Tickets are Adults $25, Members $20 and Students $5.  Call to  at 724-659-3153 or buy online here.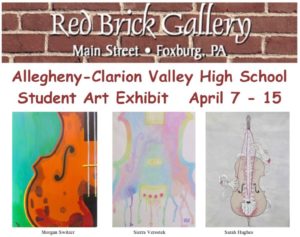 Before the concert, enjoy the opening of the Student Art Exhibit of artwork by more than 100 Students from the Allegheny-Clarion Valley High School (under the direction of art teacher Anita Allen) and some on string and music themes – at the Red Brick Gallery from 12:00 to 4:00 PM, 17 Main Street, Foxburg.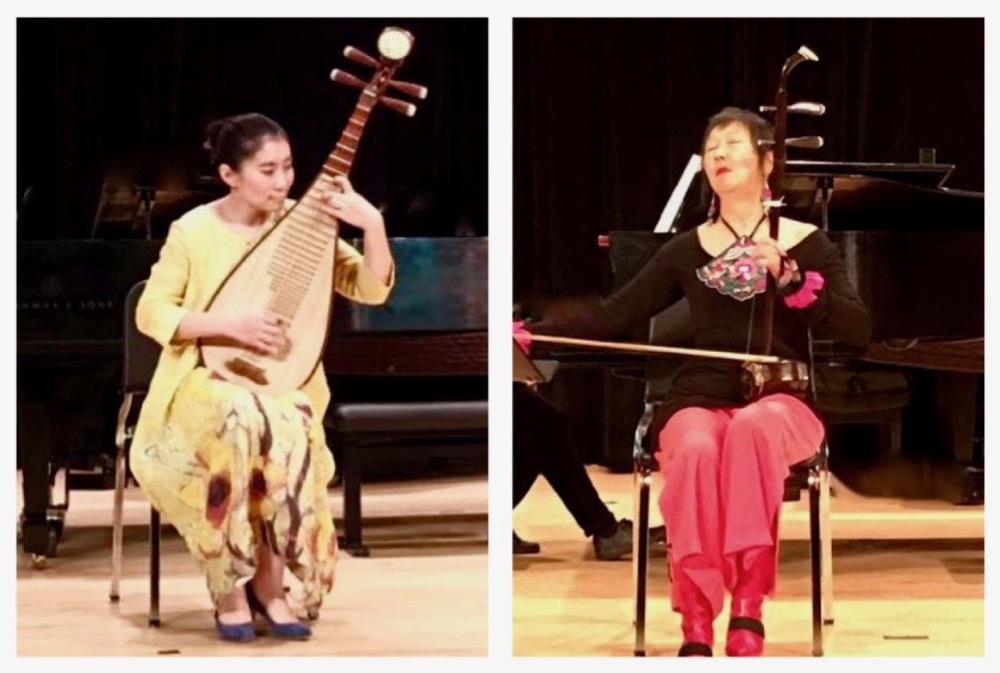 As individual artists, Jin Yang and Mimi Jong have been dedicated to the study and performance of traditional Chinese music.  Since meeting in 2015, they have embarked on a musical journey together.  From concert halls to libraries, from universities to community centers, from museums to house concerts, String Bouquet is permeating the hearts of their audience.  Their versatile styles include Chinese traditional, global, western classical, jazz, pop and modern music.  Their multi-media projects include collaboration with dance and various performance arts.  String Bouquet continues to explore and expand the possibilities of their creativity, bringing exciting music presentations to their audience.
Yang Jin, pipa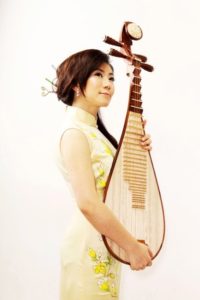 Born in Datong, in northern China's Shanxi province, Yang Jin began studying pipa at nine.
In 1995 she was admitted to the Central Conservatory of Music in Beijing, and received her BA and MA degrees. Before relocating to the U.S., she served as a pipa instructor at the Wuhan Conservatory of Music in Wuhan, Hubei province, China.
Yang Jin has received many awards, including first prize in the TianHua Cup National Youth Traditional Music Competition in 1997, and the Silver Award of Chinese Golden Bell Award for music.
She has performed in mainland China, Hong Kong, Taiwan, France, the United States, Britain, Japan, and the Philippines. In 2010 she was the only mainland Chinese pipaperformer selected (by Wu Man) to participate in a workshop led by the Kronos Quartet and Wu Man at Carnegie Hall.
In October 2016, joined Yo-Yo Ma's "Silk Road ensemble" together with the famous Mark Morris Dance Group and Well-known mugham singers Alim Qasimov in Great music epic "Layla and Majnun" world tour.
Yang Jin served as Visiting Scholar at Kent State University in 2013-14 lives with her family in Pittsburgh, Pennsylvania, where she maintains a busy performing and teaching schedule.
Mimi Jong, erhu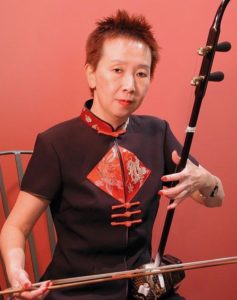 Mimi Jong has a diverse musical background acquired from growing up in Indonesia, being educated in Germany, and immigrating to the United States. Since age eleven, she has been performing on the erhu, an ancient, Chinese, two-string, bowed instrument. By moving beyond tradition and embracing the erhu's versatility, Mimi has performed with jazz, folk and classical musicians, conducted educational workshops, and performed at music festivals.
With the mission of nurturing cross-cultural connections through art, Mimi has co-founded multiple projects. Partnering with artists from China, Mimi was able to introduce traditional Chinese dance and music to schools in the Western Pennsylvania region. Along with Appalasia, she was a featured presenter and performer at the Festival of Woman Composers conference at Indiana University Pennsylvania. Mimi has also been a returning faculty member of Hundington County Art Council's Folk College. With the group "Silk Sound," Mimi has collaborated with various jazz musicians and tabla master Samir Chatterjee to develop a new voice from ancient and contemporary Asian melodies. Demonstrating her open mind and musical flexibility, Mimi collaborated with Persian santur master Dr. Dariush Saghafi and tombak master Mahmoud Tehrani, creating hauntingly beautiful music that transcends cultures and genres. Bringing erhu to modern movement, Mimi's cross-disciplinary involvements include collaboration with the Mary Miller Dance Company and artist Jennifer Myers'  theatrical productions, creating ground-breaking cinematic performances.
Mimi was a recipient of 2014 "Master Artists and Tradition Bearers Award" from Rivers of Steel National Heritage Area. In addition, she serves as the music program director for "Silk Screen Arts and Cultural Organization" and is the board President and founding member of "HarmoniZing," where her contributions include recruiting renowned artists for local concerts and residencies and providing a platform to encourage diversity in Pittsburgh's music scene.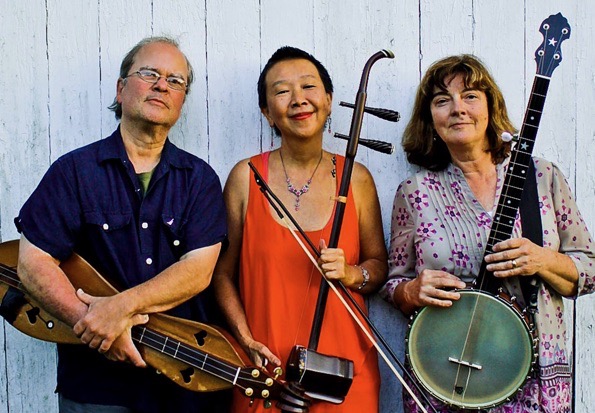 Appalasia was formed by Mimi Jong, Jeff Berman, and Sue Powers in Pittsburgh, PA. Together they have created an evocative and ambitious performance language for dulcimer, erhu, banjo, and vocals that combines the influence of their folk-roots with original composition and inspired improvisation.  Enjoy hearing excerpts from their two CDs.
The individual members of Appalasia each have extensive histories of collaboration, performing, and recording with artists including Andy Statman, Tony Trischka, Pasang Dolma, Alash, Susan Mckeown, Karen Han, Robert Een, Min Xiao Fen, Samir Chatterjee, Linda Thompson, Osei Koranke, Devilish Merry, Arthur Russell and Huang Xiang, to name just a few.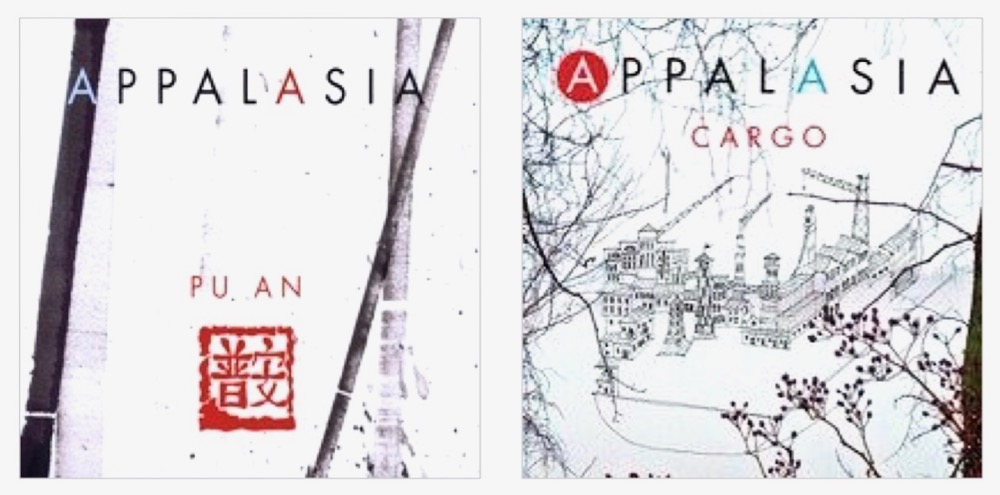 "Appalasia is one of the most innovative and musically exciting groups I have ever heard. The unusual combination of instruments creates such a joyous feeling and combines sophisticated composition with brilliant playing in a way that makes it all seem effortless. Those of us who sat and listened were all literally spell bound. Hearing the banjo played in new ways and the use of the traditional Chinese violin played with stunning virtuosity with Jeff Berman's dulcimer was just what the world needs to hear This wasn't cross-over or fusion. This was great music making that needs no label."                                                David Amram, NERFA 2015
"This trio create, perform, and record music that is unique and beautiful with its evocative eloquence and multitude of sound images …Those of you familiar with the music of West Canadian groups Asza, Orchid Ensemble and Silk Road Music will find themselves in familiar territory because their approach is relatively similar to that of Appalasia in terms of instrumentation and overall sound, though it seems that Appalasia goes further in its melodic search and does not hesitate to give free rein to improvisation and emotional expression… Susan Powers singing often evokes that of the wonderful Gillian Welch … "                              Dan Behrman, Le Magazine Son et Image

Mimi Jong, erhu (see Yang Pipa Erhu Duo above)

"AppalAsia is a fantastic trio hailing from Pittsburgh PA… While CARGO is not a dulcimer album per se, Jeff Berman's sensitive fingerstyle is evident throughout the recording… Jeff's dulcimer and Susan's clawhammer banjo seem to merge as one, and I often had trouble hearing the individual parts; the rhythmic flow and groove is really outstanding. Second, Susan has a voice you won't forget, at once earthy and bluesy as it is mysterious and haunting. Two of her songs which have these qualities are "Up and Down The River" and "Halloween Waltz". Third, Mimi's expert erhu playing adds a wonderful, very expressive dimension to their overall sound, and to my ears, it doesn't sound as exotic or Eastern as I expected. This is hard to explain, but the trio just sounds totally right- like they have been playing together for centuries. They said at the concert that they all had set out to write music specifically for this unique ensemble, and to me, they have succeeded brilliantly."           Jerry Rockwell, Dulcimer Players News/ Winter 2016
Jeff Berman, dulcimer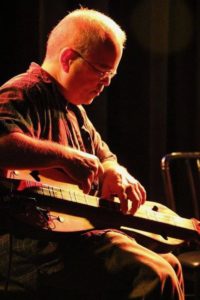 Jeff is a multi-instrumentalist, improvising artist, and composer whose work reflects his global musical vision. A native of New York City who now lives in Pittsburgh, he has developed a genre-extending concept on mountain dulcimer, vibraphone, and percussion, that has allowed him to collaborate across stylistic boundaries with a diverse group of artists from across the globe. Josef Woodward has described his music as "a worldly folk-jazz", and the Los Angeles Times wrote "Berman bends a chord or strums his Appalachian dulcimer…to stunning effect".  Jazziz has written "…hypnotic vibes work…Berman not only plays vibes, he sounds like he created the instrument," and music journalist Bill Milkowski has called Jeff's writing "…hauntingly beautiful…"
Jeff has performed internationally both as a solo artist and as a member of various ensembles. Some of the artists he has performed, recorded, and toured with include Andy Statman, Tony Trischka, Robert Een, Susan Mckeown, Lindsey Horner, Osei Koranke, Paul Bley, Linda Thompson, and choreographers Yin Mei and Gia Cacalano to name just a few. He has three recordings on the Palmetto Records label featuring his own compositions, and his music has been used for performance, dance, theatre, and film —including the Academy Award nominated documentary In Our Water.
Jeff is rostered with the Pennsylvania State Council on the Arts as a Teaching Artist and has conducted residencies and professional development sessions across the Western Pennsylvania region. These experiences have ranged from creating world rhythm ensembles with elementary school students, Aesthetic Education workshops with middle school students, lecture/demonstrations on cross-cultural collaboration with college students, and workshops in improvisation for arts educators.
Susan Powers, banjo and vocal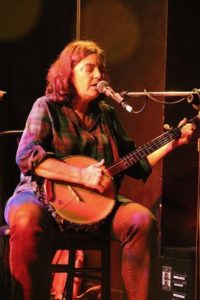 Sue Powers grew up outside of Pittsburgh in a family with deep roots in the musical landscape of Western Pennsylvania. She has been singing and playing banjo since high school. Both of her parents were sacred singers, and both her grandfather and her great grandfather were fiddle players who performed for local square dances in the Appalachian "old time" tradition. Powers is a founding member of the group Devlish Merry, where she pioneered the use of the five-string banjo in Celtic music. The group has released three recordings featuring her playing, singing and song writing. Powers has adapted her unique 'claw hammer' style to blues, rock and pop music, and is acknowledged as a songwriter whose personal imagery evokes the Pennsylvania landscape. The Pittsburgh Post-Gazette has written "…the primary element that makes Devilish Merry unusual is the prominent banjo by Ms. Powers… her polyrhythmic…clawhammer style [explores] inside the rhythm… an Afro-blues style applied to Celtic music…".  The Pittsburgh City Paper has written, "[her songs]… convey a sense of drama… her approach to the banjo – a bluesy variation on claw hammer plucking – makes her an original."
Her music has been used in modern and traditional dance, performance, theater, and film, including the Smithsonian exhibit "Lewis and Clark: Clash of Empires", Roger Sayers documentary about "outsider" folk-artist Howard Finster, and Jerry Starr's stage play "Burried: The of the Sago Mine Disaster."
Powers has extended her educational outreach to "Beyond Appalachia" – a workshop and
residency/performance experience that highlights the influence of Appalachian music, from it's roots in the British Isles and Africa to it's branches in Country, Bluegrass, Blues, Jazz, and Rock music. She conducts lectures and demonstrations in schools and universities on the aesthetics of cross-cultural collaboration and creativity, and she was a featured presenter and performer at the last Festival of Woman's Composers conference at Indiana University Pennsylvania.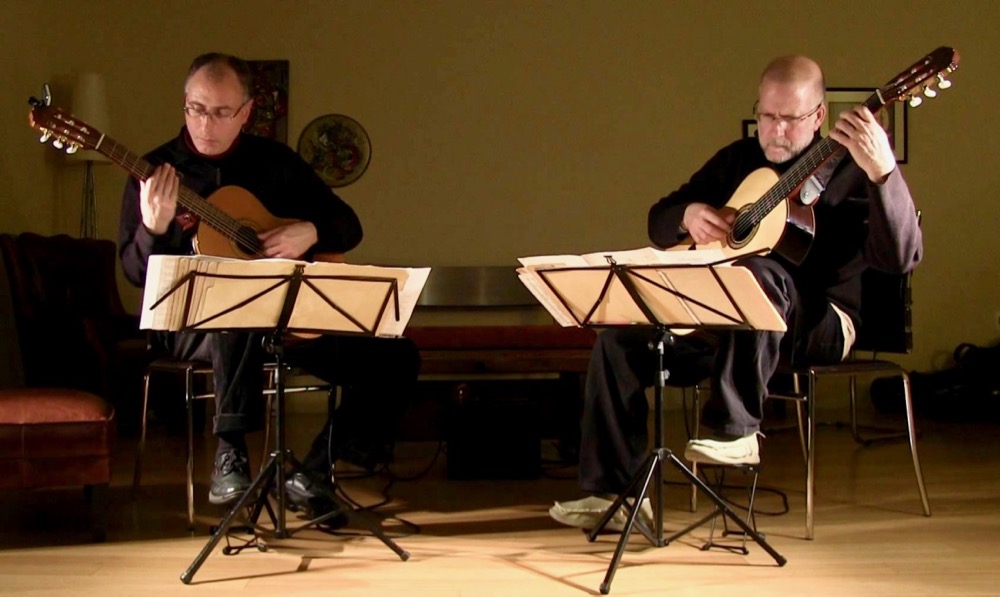 Pittsburgh Concert Society winners, the FERLA-MARCINIZYN GUITAR DUO have been heard frequently in Pittsburgh on concert series presented by Carnegie Mellon University, the INTERNATIONAL POETRY FORUM, and the DEAR FRIENDS Ensemble.
As soloists and ensemble players, Marcinizyn and Ferla have performed throughout the United States including programs at the Smithsonian, the University of Akron, Arizona State, the Chatauqua Institution, Oberlin College, Florida State University, New York University, and Notre Dame. The have been heard on NPR, Voice of America, USIA, Chukyo TV-Nagayo, Japan, and in Pittsburgh, on WQED-FM.
Their repertoire spans five centuries and includes music by traditional and contemporary composers as well as folk, jazz, and popular arrangements. Their four CDs celebrate the diversity of their rich repertoire and collaborations.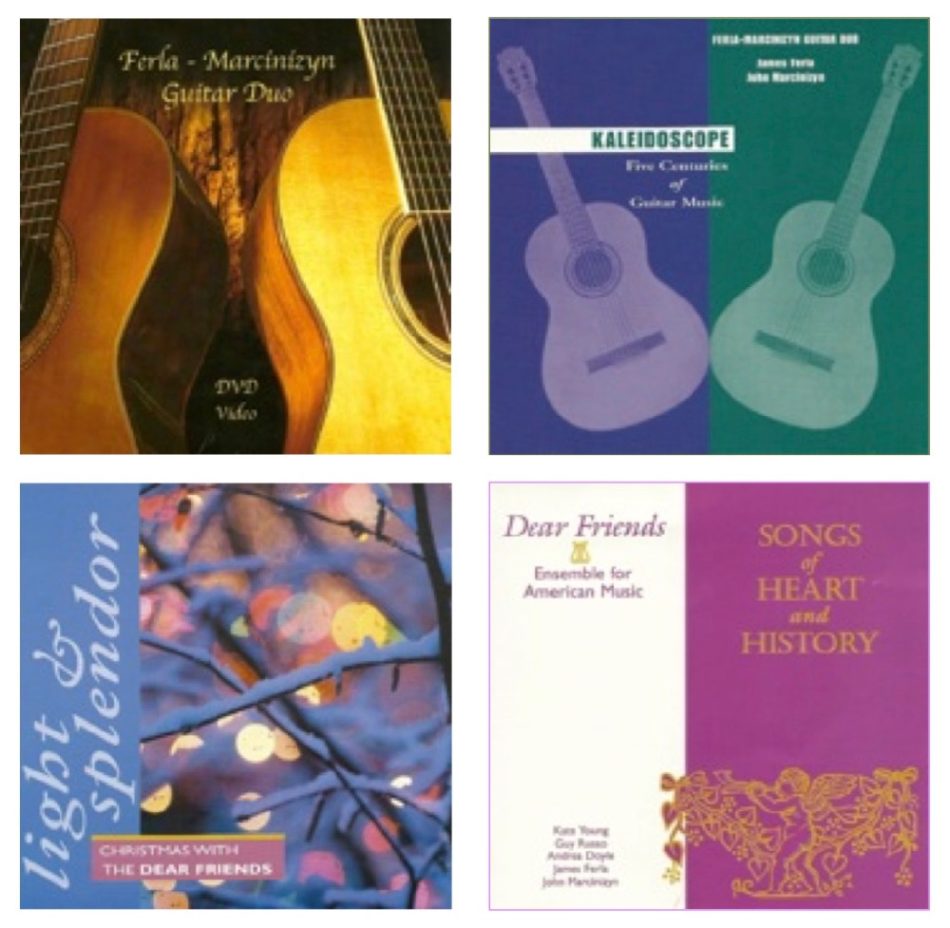 Andrew Druckenbrod, of the Post-Gazette, wrote that: "The Ferla-Marcinizyn Guitar Duo provided some education of its own with a survey of the repertoire of the guitar. . . including some animated lute transcriptions in which the duo expertly executed the imitation. . . . A Hindemith Rondo came across lively and punchy, and Brouwer's variations on Frere Jacques was masterful. The best piece, and performance, of the afternoon was Andrew York's Evening Dance, which created a fascinating mood using evocative harmonies and nimble runs."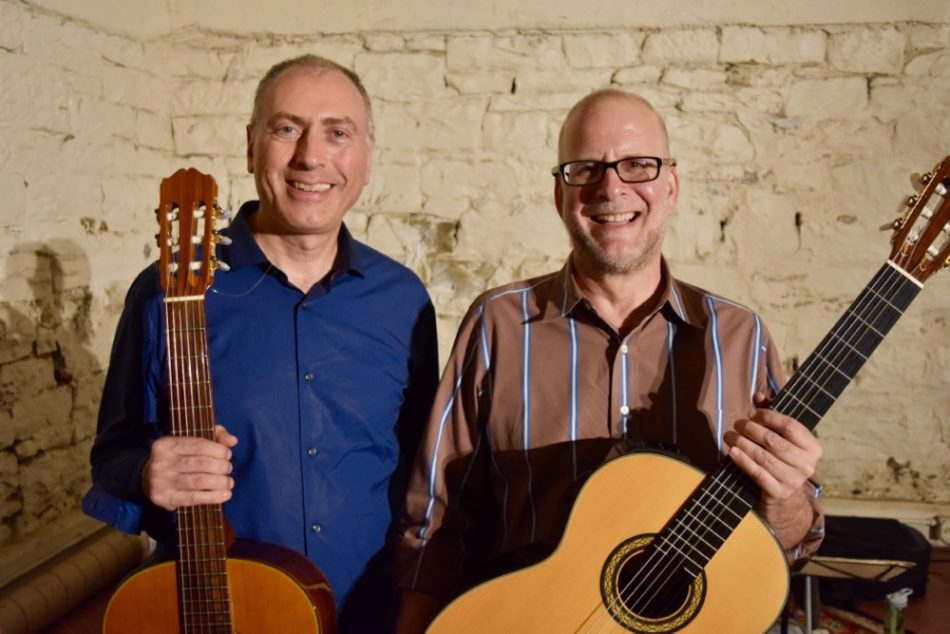 John Hayes of the Pittsburgh Post-Gazette wrote that they "compile what is easily the most diverse set list in town."
The Guitar Duo performs frequently for audiences of all ages in western Pennsylvania at schools, museums, historical societies, clubs, festivals, and on community and church concert series.  And frequently performs with cabaret singer, contralto, Daphne Alderson.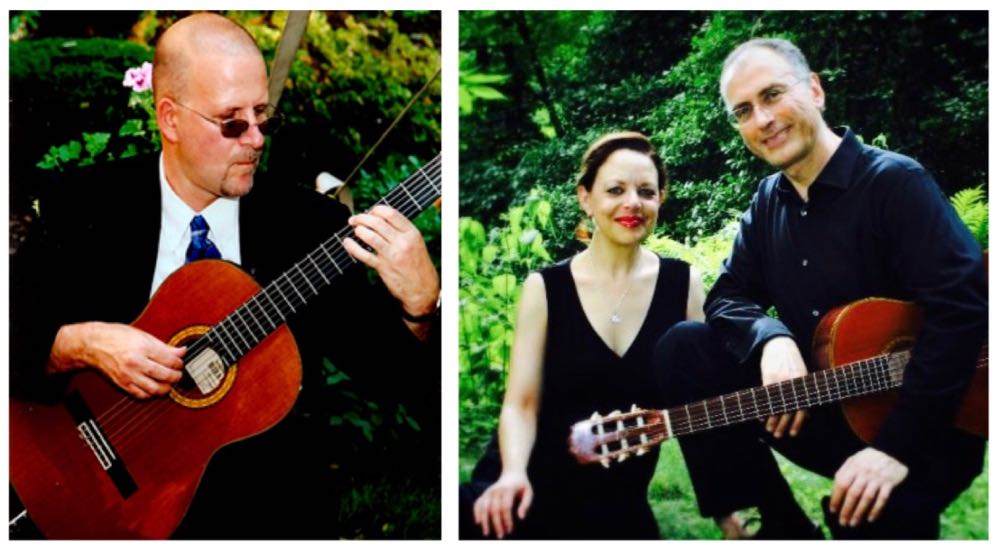 James Ferla, guitar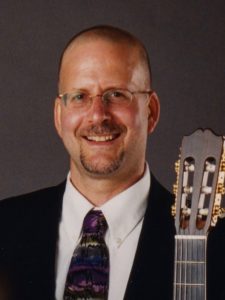 In addition to his concerts with the Ferla-Marcinizyn Guitar Duo, James Ferla, a two-time Pittsburgh Concert Society winner, has also performed with the Pittsburgh Symphony, Cuarteto Latinoamericano, the Renaissance City Winds, The Pittsburgh New Music Ensemble, DEAR FRIENDS Ensemble and Cynthia Koleda DeAlmeida, principal oboe of the Pittsburgh Symphony, tenor Doug Ahlstedt and contralto Daphne Alderson.
James Ferla has given numerous solo and ensemble concerts throughout the United States including programs at the Smithsonian Institution, Arizona State University, Wolf Trap, the Chautauqua Institution, Florida State University, Oberlin College and Notre Dame. He has been heard on NPR, PBS, CBS, Voice of America, USIA, Chukyo TV-Nagayo in Japan, and, in Pittsburgh on WQED-FM. Mr. Ferla has published several articles on guitar repertoire in SoundBoard, the journal of the Guitar Foundation of America, and is heard on seven CDs.
James has published several articles on guitar repertoire in SoundBoard, the journal of the Guitar Foundation of America. With singer/actress Kate Young, James recorded Castelnuovo-Tedesco's Platero y Yo for Voice of America and is heard on the soundtrack of the PBS American Experience film, "Stephen Foster." He teaches guitar at Carnegie-Mellon University and the University of Pittsburgh. At Carnegie Mellon, Ferla also directs the Carnegie Mellon Guitar Ensemble.
James' principal teachers were Richard Franklin, Carlos Barbosa-Lima, and Colin Sterne. James has an MFA in performance from Carnegie Mellon University and an MA in Musicology from the University of Pittsburgh.
John Marcinizyn, guitar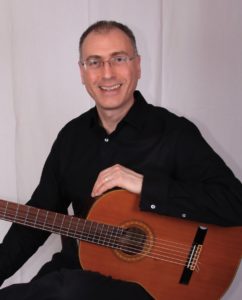 Pittsburgh based guitarist, composer, banjoist John Marcinizyn performs frequently as a soloist, with the Ferla-Marcinizyn Guitar Duo, contralto Daphne Alderson, flute and guitar duo, violin and guitar duo, and groups ranging from The Bach Choir of Pittsburgh to Billy Price. He is also a member of Acoustic Swing (jazz trio), and The Red Hot Ramblers (Dixieland jazz). His versatility as an acoustic and electric guitarist allows him to perform in many styles including classical, jazz, flamenco, rock, blues, and folk. John has also performed guitar and banjo for many theater companies including Quantum Theatre, where he wrote and performed a flamenco score for The Red Shoes and a Blues score for El Paso Blue.  His playing can be heard on eight CDs and one DVD.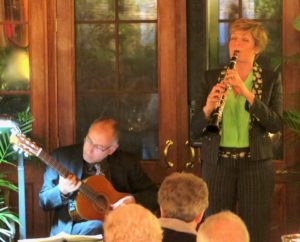 A favorite of ARCA audiences, John has recently appeared in Foxburg with clarinetist Susanne Ortner both in a cabaret in Lincoln Hall and in the Allegheny-Clarion Valley Schools educational residency, "The Music That Makes Me Dance", performing for students from grades K to 12.  With his wife, contralto Daphne Alderson, John recently performed in the Valentine's cabaret, "Return to Love Cafe", in Lincoln Hall.
John's original music compositions have received numerous performances and include a guitar concerto, string quartet, orchestral music, music for theater, and pieces for solo guitar and guitar with mixed ensemble, as well as a number of jazz and rock pieces.  His Sonata for Guitar and Marimba received critical acclaim following its premiere at the Guitar Foundation of America International Festival and Competition held in Buffalo.  The Westmoreland Symphonic Winds commissioned Song for the Sparrows, in memory of Beth Ann Johnson and Elyse Jeanne Saraceni who were killed in the 1988 terrorist bombing of Pan Am flight 103.  IonSound Project premiered his And All Manner of Thing Shall Be Well, for Contralto, Cello and Piano, based upon the writings of Julian of Norwich. John wrote and performed the theme music for Excela Health's (hospitals, rehabilitation centers, and health facilities of Westmoreland County) television, radio and web commercials.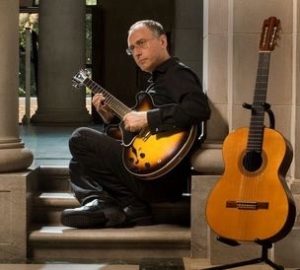 Recently he toured in South America and the Eastern Caribbean with contralto, Daphne Alderson in programs that varied from chamber music through cabaret.
John holds a Ph. D. in music composition and theory from the University of Pittsburgh, and is an Artist-Lecturer in guitar and composition at Carnegie Mellon University and Seton Hill University.  He also teaches a class on slide guitar techniques at the Duquesne University Guitar and Bass Summer Workshop.
Daphne Alderson, contralto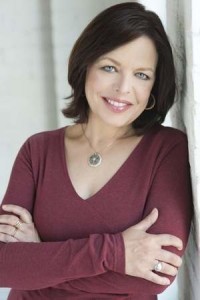 Daphne Alderson 's diverse career as lyric contralto includes opera, cabaret, oratorio, and chamber music. Pittsburgh Post-Gazette calls her, "An artist of dignified passion," (Handel's MESSIAH) and an artist of "Beautifully rendered love songs, (Love Café)."
"Daphne's voice gives me shivers…she's really magical, and when she sings in French, you'll want your sweetheart nearby," quotes Ted Sohier (WQED fm, Pittsburgh).
Ms. Alderson's recent return to opera was Mere Jeanne in Pittsburgh Opera's acclaimed premiere of Poulenc's DIALOGUES OF THE CARMELITES. Roles with Microscopic Opera followed: Agnes in FANTASTIC MR. FOX and Abby Borden in Thomas Albert's LIZBETH. Most recently, she debuted the role of Helen Cooper in the World Premiere of Todd Goodman's NIGHT OF THE LIVING DEAD (Kelly Strayhorn Theater, Pittsburgh).
Her Madame Armfeldt in Sondheim's A Little Night Music garnered: "Luscious, dark tones, an accomplished rendering." (July, 2013, Pittsburgh Tribune Review and City Paper for Opera Theatre of Pittsburgh SummerFest).   Other recent credits include AINADAMAR with Quantum Theatre and Miss Baggott in Benjamin Britten's THE LITTLE SWEEP.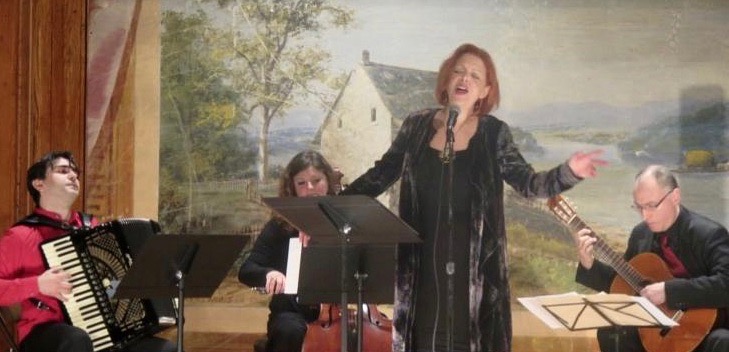 A Piaf Songbook, her collection of iconic French ballads and folk songs of Leonard Cohen tours 2013-2014, commencing with guitarist John Marcinizyn in Central and South America. The Piaf concerts for the Pittsburgh Symphony's Paris Festival were hailed…"Not to be missed…" (Mark Kanny, Pittsburgh Tribune Review).
Her Love Café concert series at Heinz Chapel are an annual event in Pittsburgh's cabaret scene. Daphne is a roster artist at Pennsylvania Performing Arts on Tour.
Commissioned works include Songs That Oscar Taught Me, (Oscar Hammerstein), All Heart, All Judy, with Douglas Levine, musical director.
Her cabaret debut, An American in Paris, World War II toured the MidAtlantic Region.
Recent projects include appearances at the Club Café, Whittaker Center for the Performing Arts in Harrisburg, opera outreach educational tours with the Pittsburgh Opera, Bricolage Theatre, IonSound Project and Chamber music at Chatham College with members of the Pittsburgh Symphony. Her repertoire includes Bach, Vivaldi, the chamber works of Schumann, Brahms and Mahler, Handel's MESSIAH, Mendelssohn's ELIJAH, Pergolesi's /Vivaldi's STABAT MATER, Chamber Music at the Frick Museum with Steinway artist Yeeha Chiu and cellist Elisa Kohanski.
Daphne Alderson is an Associate Professor of Voice and Opera Workshop at Seton Hill University. She resides in Pittsburgh with husband, guitarist and composer John Marcinizyn and their beloved pets, T-Bone and Viola.