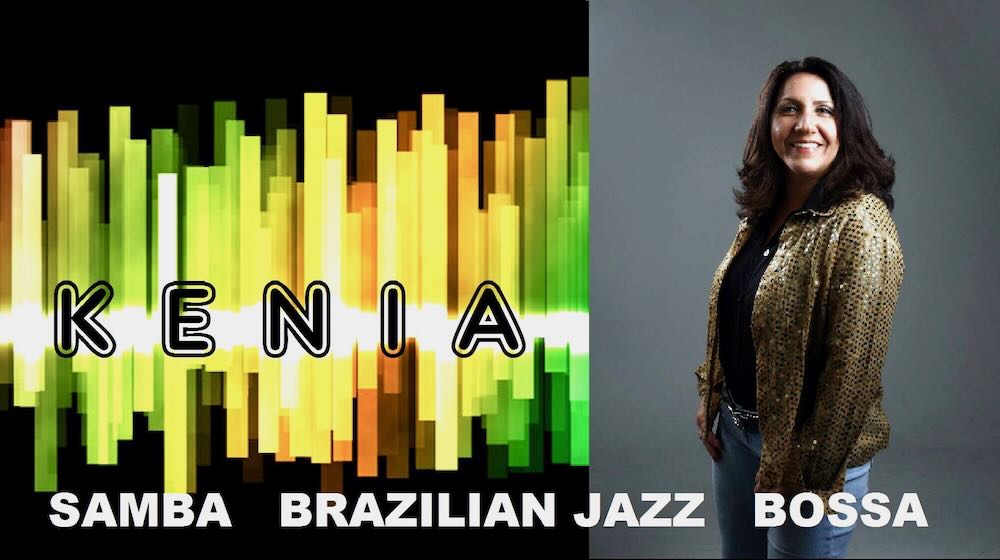 If you have some life-history and remember the smooth Brazilian jazz of the early 90's that defined sexy and suave, then you were loving the recordings of the internationally acclaimed Brazilian singer KENIA with her sensuous amber-toned voice and seductive, polished vocal phrasing – who single-handedly defined the essence of heavenly, pop accented Brazilian jazz in the 1980s and '90s.
Her critically acclaimed solo albums established her as one of the most popular and successful U.S. based Brazilian musicians since the heyday of Sergio Mendes and Brazil '66 – with that 'certain something' that has always made her music transcend geographic and musical boundaries.
ARCA is proud to be presenting the artistry of KENIA – still one of the reigning queens of Brazilian music – in an evening of Samba, Brazilian Jazz, Bossa nova, and Choro in Lincoln Hall on Saturday, October 14 at 7:30 PM on the eve of the Foxburg Fall Festival. Beer and Wine will be sold.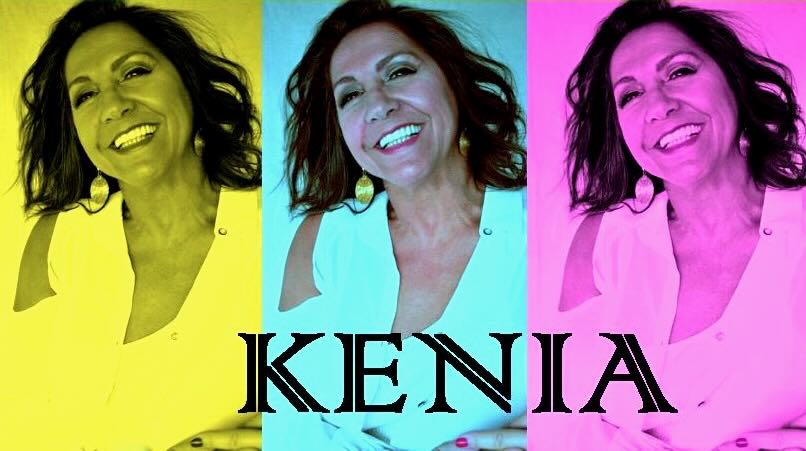 Revel in the artistry of one of the most excitingly unique performers with a sense of 'ease' and 'breeziness' that has come to characterize Kenia's style in intimate, smooth vocals that are subtle and yet soulful with finesse in both American standards and Brazilian material. AND – you may find your way to the back of Lincoln Hall to dance to the 'be-bop/samba' beat and smooth virtuosity of her band of premier Pittsburgh jazz musicians, featuring Eric Susoeff on guitar, Tony DePaolis on bass and Tom Wendt on drums. 
Born in the exotic city of Rio de Janeiro, she reflects the pulse and intensity of her native Brazil through her diversified style, excellent choice of repertoire and deep tone, which Jazztimes magazine described as 'a wonderfully expressive vocal instrument that throbs with sultry intensity, it's low key, yet ultra bright'.  

Kenia migrated to the United States to pursue a career as a solo recording artist. Inspired by a variety of musical influences, ranging from Brazilian greats Elis Regina, Ivan Lins and Djavan, to the American stars George Benson and Stevie Wonder, Kenia launched her career in the Jazz World.
Kenia's suave, velvety tone lent magic to her collaboration with stellar trumpeter Claudio Roditi on his album, 'Red on Red', that garnered extensive airplay on radio stations nationwide. This success led to an association with Ricky Schultz of Zebra Records/MCA, yielding two highly acclaimed solo projects entitled 'Initial Thrill' and 'Distant Horizon'.

Kenia's voice has the infectious charm of Astrud Gilberto; a persuasive whisper that takes on more power in her native Portuguese, but equally evocative in English. It is perhaps Kenia's ability to apply the more accessible English lyrics without losing any of the wonderful Brazilian touch, that has made her so very popular with the 'Adult Contemporary' audience.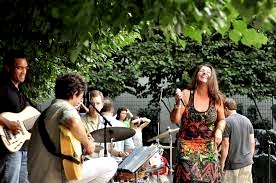 Singing with warmth and a sense of fun in her recent CD, On We Go, Kenia entices a new generation of listeners, at the top of her form with seductive, polished vocal phrasing in repertoire including songs co-written by Kenia and the Brazilian songwriting legends Ivan Lins and Antonio Adolfo as well as her foray into the world of choro.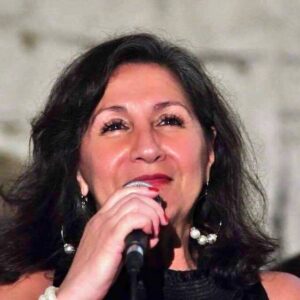 THIS CONCERT WILL SELL OUT – Reserve early or buy online now.
Tickets are Adults $25, Students $5.  Beer and Wine will be sold. 
Tickets may be purchased online here.  
Call to Reserve at 724-659-3153 and pay by cash or check at the door.  Doors open at 7:00 PM. 
Post-COVID, open theatre style seating has returned to 100% capacity.  There is no mask requirement. Please refrain from attending if you are ill – or if you have been exposed to someone with COVID.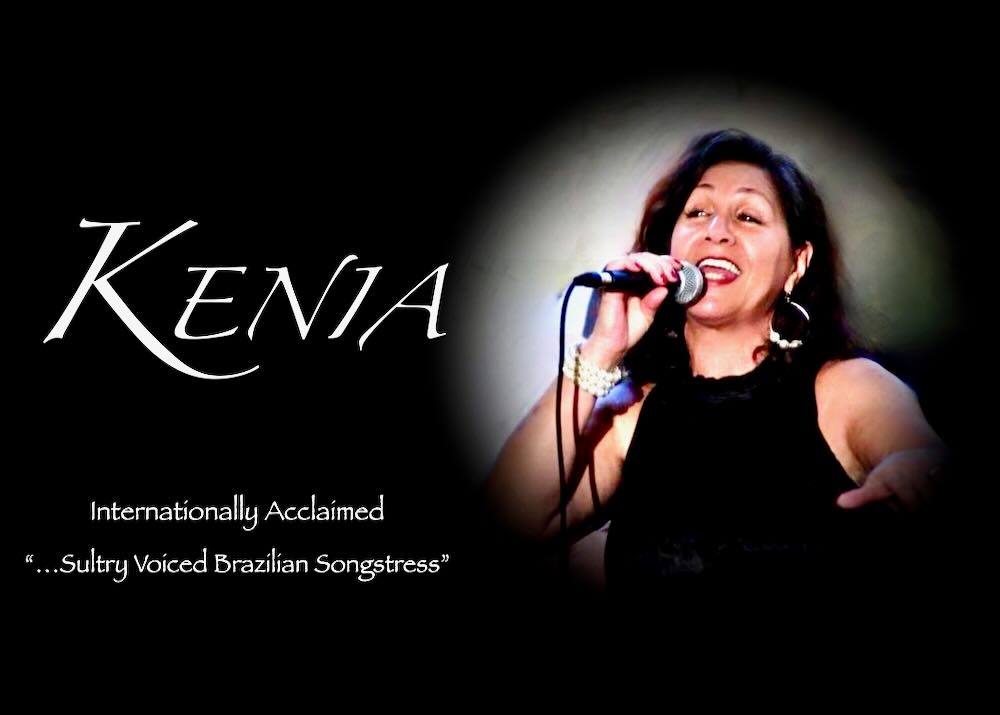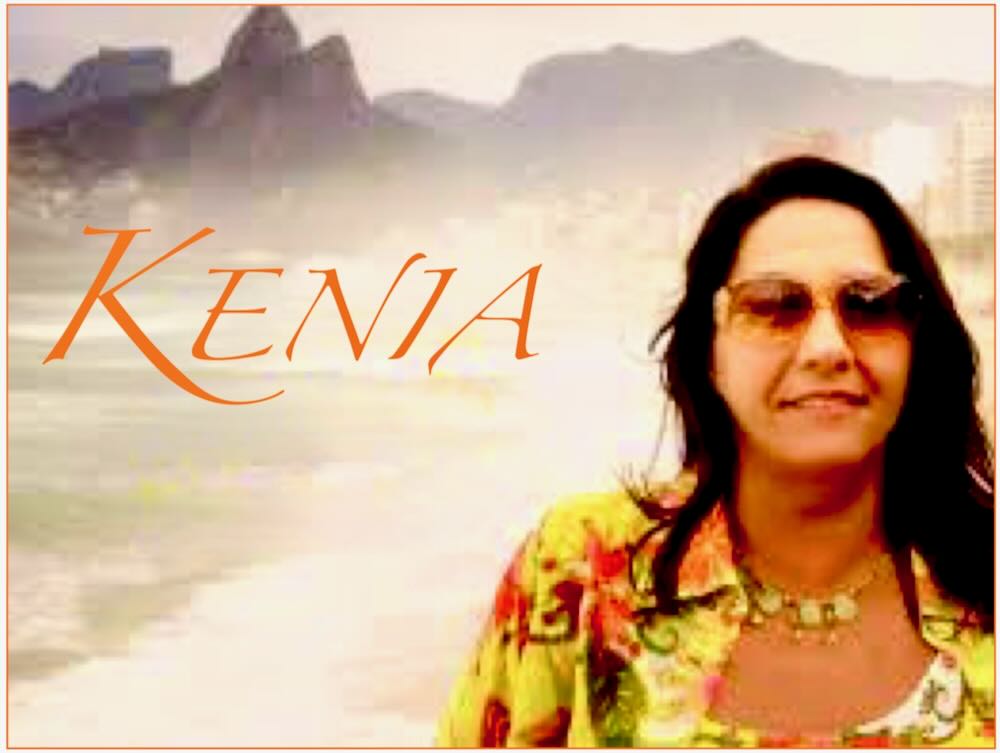 "The music caresses you, washes over you, tranquilizes you before you have a chance to notice her flawless rhythms, both jazz and bossa, and incredibly precise articulation."    Washington City Paper
KENIA is renowned for her ability to translate the complex rhythms of her Brazilian homeland into jazzy creations that made her a star of the smooth jazz movement two decades ago.
The artist was born Kenia Acioly into a family of Italian origins in the city of Nova Iguaçu, a distant working class suburb of Rio de Janeiro. When she was six, Kenia's family moved to Copacabana. Later, she lived in Niterói, Rio's sister city across Guanabara Bay, and Leblon, one of the city's most upscale neighborhoods. Each stop along the way provided opportunities to explore the local cultural peculiarities that go into making Rio and its neighboring environs one of the world's most exotic locales.
An interest in music came early; she studied piano and learned to play the guitar by ear. Singing however, became her path to success in music world. Influenced by such Brazilian greats as the late Elis Regina, she also began listening to such North American artists as Sarah Vaughn, Carmen McRea and George Benson.
Her choice of music to interpret came not from the bossa nova of the 1960s but from the talents of the generation of composers that followed and put the Brazilian sound on the world map once again. Kenia gets her inspiration from a variety of musical influences ranging from Brazilian greats such as Ivan Lins, Djavan and João Bosco, to American legends George Benson and Stevie Wonder, among others.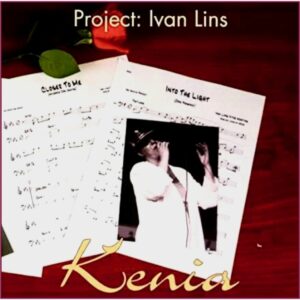 Throughout her storied recording career, Kenia has performed at national and international festivals from the Pittsburgh International Jazz Festival to the Bonaire Heineken Jazz Festival in the ABC Islands. She has collaborated not only with jazz icons but also with up-and- coming artists, such as a 2011 show with Pittsburgh-based trumpeter Sean Jones. She is equally enchanting performing standards by big names (Gershwin, Lennon and McCartney), works by contemporary composers (Romero Lubambo, Luiz Simas) and original material with her own lyrics and music composed for Kenia by the likes of Antonio Adolfo.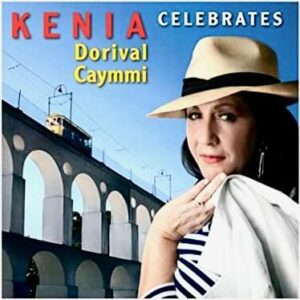 For many jazz fans in the 1980s and 90s, Kenia's singing was the gateway to contemporary Brazilian jazz and pop. She stood out from her compatriots because of her intimate, smooth vocals—subtle yet soulful—and her finesse with both American standards and Brazilian material. Arriving in the United States in 1980, Kenia quickly established herself as the hot new Brazilian singer on the NYC scene and recorded her U.S. debut with trumpeter Claudio Roditi on his album "Red on Red." She launched her solo recording career, turning out four popular and critically acclaimed albums for the MCA and Denon labels between 1987 and 1991.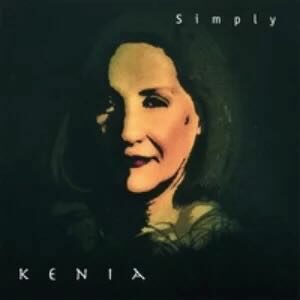 Music legends James Taylor, Michael Brecker, and Chuck Loeb (Fourplay) invited her to record on their albums, and Donald Harrison utilized Kenia's vocals on the soundtrack for the Brazilian documentary, "The Devil's Toothpick." In 1997, she launched her own label, Mooka Records, with a particularly ambitious effort: "Project Ivan Lins," a tribute to one of Brazil's most prolific and popular contemporary songwriters, featuring Lins himself as a special guest.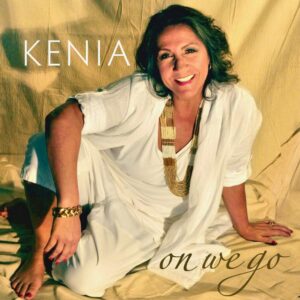 From local jazz clubs to her ongoing innovation in recording sizzling Brazilian beats, Kenia is not only a sultry jazz songstress but also a savvy producer with a passion for sharing Brazil's rich cultural heritage.
Kenia also performs shows along with kickin' concerts featuring her with her band playing some hot Brazilian jazz, bossa nova, samba and choro.  In conjunction or as stand-alone offerings, Kenia also presents professional workshops on Afro-Brazilian rhythms for school children, Afro-Brazilian rhythms for adults, and master classes in Brazilian phrasing for jazz and vocal students and artists.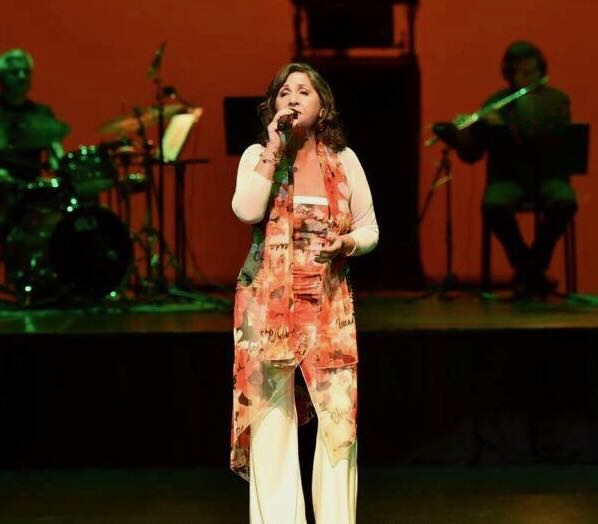 ERIC SUSOEFF, Guitar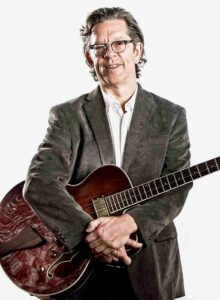 Well known to local jazz enthusiasts, guitarist and composer ERIC SUSOEFF has been part of the Pittsburgh music scene since his debut with Harold Betters at the Encore in 1976. Offering a warm, bluesy, full-bodied sound, he has played with a long list of local and international luminaries including: Dizzy Gillespie, David Amram, Roger Williams, Airto, Ivan Lins, Romero Lubambo, Charo, Frankie Avalon, Marty Allen, Eric Kloss, Frank Cunimondo, Gene Ludwig, Pete Henderson, Dave & Maureen Budway, Sandy Staley, Kenia, Roger Humphreys, Erin Burkett, Kenny Blake, Walt Harper, Nathan Davis, Don Aliquo, John Wilson and many others.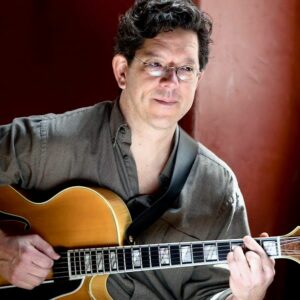 A major focus for Eric has been his Latin jazz quintet Salsamba, founded in 1984, which has played to clubs, festivals and colleges throughout the U.S. The group recently released their sixth recording titled "Mojito Blues." Past releases (MAMBO IN BLUE, MAMBO DEL SOL, LATINVENTIONS, THE TRAVELER, BRAZILIA) all received critical acclaim. Additional recording credits include musical artists: KENIA, Don Aliquo Jr., Sandy Staley, Mike Tomaro , Richie Cole, Azucar and about 60 others.
His flair for arranging the beautiful music of Antonio Carlos Jobim led to a 2005 CD with Soprano Lilly Abreu and Cuarteto Latinoamericano, an internationally known string quartet.
Eric has been seen on stage and TV playing everything from nostalgic rock to show tunes and avant-garde chamber music, with groups as diverse as the Pittsburgh New Music Ensemble, The Marcels, Carnegie Mellon University Drama Department and Pittsburgh Civic Light Opera. Last year Eric enjoyed a 3 month jazz club residency in Hangzhou China performing with the George Heid III Quartet. Recently Eric appeared with the Pittsburgh Symphony Orchestra performing "The August Wilson Symphony" a world premier piece. Eric last performed with the Pittsburgh Symphony in January of 2003 as part of a Pittsburgh Symphony Pops concert conducted by Marvin Hamlisch.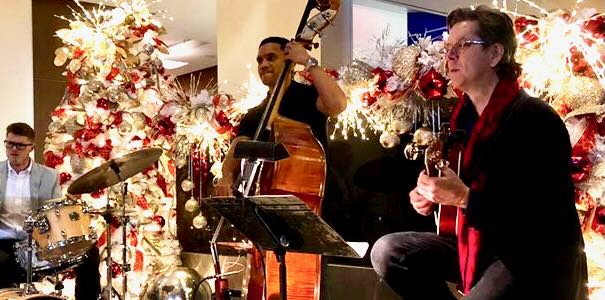 TONY DePAOLIS, Bass
"Pittsburgh bassist Tony DePaolis has redefined the boundaries of the all-important debut record with The Contemporary Dynamic. It's a concept album. It's a double album. Its personnel list is thirty-six musicians deep. The Contemporary Dynamic isn't just ambitious; it is absurdly so." – All About Jazz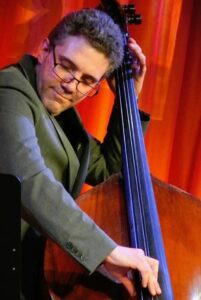 Long hailed as a shining star in his hometown of Pittsburgh, bassist Tony DePaolis is also a singular songwriting voice with a keen ear for arranging.
DePaolis, the son of musical parents, first began his professional career performing alongside Horace Silver alum, drummer Roger Humphries. DePaolis also did notable stints with vocalist Sandy Staley and guitarist Jimmy Ponder. He spent most of the late 20-aughts on the bandstand with then up-and-coming trumpet star Sean Jones.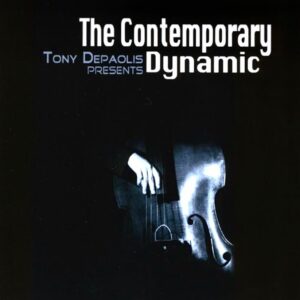 In 2009, DePaolis recorded and released his highly ambitious debut album, The Contemporary Dynamic. Sprawling across two discs, the double-album featured over thirty-six artists, including drummer Daru Jones, saxophonist Jacob Yoffee, vocalist Gene Stovall, and guitar legend Joe Negri.
DePaolis' compositions and arrangements have appeared on releases by Charles "Poogie" Bell, Colter Harper, Francesco Lo Castro, Erik Lawrence, Reid Hoyson, Tony Campbell, and Paul Cosentino's Boilermaker Jazz Band.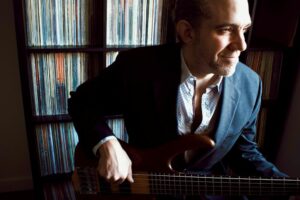 In 2019, DePaolis was the recipient of a grant from the Heinz Endowments and Pittsburgh Foundation for the completion of a new original recording project. The project, titled Life Unbound, was written for quartet, sextet, septet, nonet and strings, has an anticipated release in 2023.
DePaolis was born and raised in Pittsburgh. He attended Johns Hopkins University for Film Studies. He was a participant in the 2008 iteration of the Betty Carter's Jazz Ahead program. DePaolis currently lives in Brooklyn, NY.

THOMAS WENDT, Drums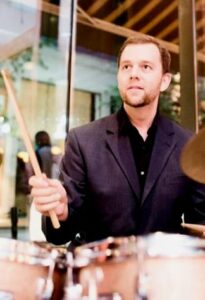 Thomas Wendt has been playing the drums professionally since the age of 14. A graduate of The Pittsburgh High School for the Creative and Performing Arts, he has studied with master drummers Roger Humphries, Joe Harris, and Kenny Washington.
Thomas maintains a busy freelancing schedule with Pittsburgh's top jazz artists such as Dwayne Dolphin, Joe Negri, Sean Jones, David Budway, KENIA, the Latin jazz group, Salsamba, and the newly re-formed Pittsburgh Jazz Orchestra. He has also played with many visiting international artists like David "Fathead" Newman, Donald Byrd, James Moody, Jimmy Heath, Clark Terry, Benny Golson, Phil Woods, Freddy Cole, Monty Alexander, Bill Watrous, Paquito D'Rivera, Curtis Lundy, Wycliffe Gordon, Ann Hampton Calloway and Javon Jackson.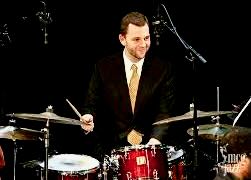 In 2008, Thomas played on the Emmy Award winning soundtrack for the PBS documentary, "Fly Boys" and in 2010 he recorded an album featuring trombonists Jay Ashby and Steve Davis, entitled Mistaken Identity. Thomas has also recorded albums with Gene Ludwig, Sandy Staley, Salsamba, David and Maureen Budway, and Joe Negri. Recently, he has been working with Jazz legend Hubert Laws and has appeared with him at the Litchfield Jazz Festival and the Miami Jazz Festival.In 2013, Thomas performed with pianist Alan Broadbent for the Nyack NY Library Concert Series.
Thomas has been on the faculty at the Afro- American Music Institute in Homewood since 1998 and Duquesne University since 2016 and West Virginia University (2018) and teaches privately.