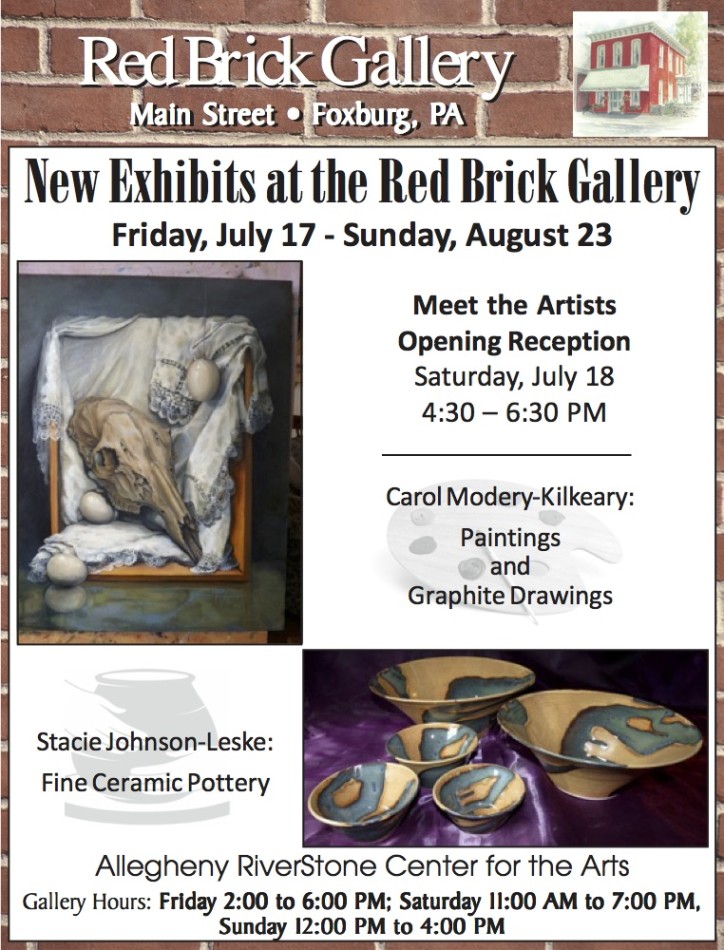 The Red Brick Gallery's Summer Exhibit – from Friday, July 17 to Sunday, August 23 – will feature the paintings and graphite drawings of Carol Modery-Kilkeary and the pottery of Stacie Johnson-Leske.
Join us for the Meet-the-Artists Opening Reception on Saturday, July 18 from 4:30 p.m to 6:30 p.m. prior to the 7:00 p.m. concert at Lincoln Hall of The Allegheny Drifters in a Bluegrass Jamboree.
ABOUT THE ARTISTS
Carol Modery-Kilkeary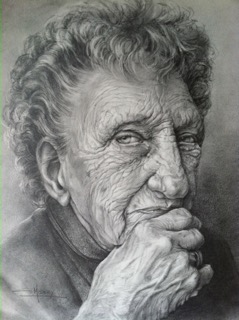 Carol Modery-Kilkeary became interested in figure drawing while attending the Art Institutes of Pittsburgh and Fort Lauderdale for fashion illustration, where she freelanced as a fashion illustrator. Her path took her back to school for mechanical drafting. During this time, she worked as a clerical to pay tuition. Her clerical career continuted for the next 16 years, but she always had the need to create art. While working full time she freelanced doing a variety of art commissions – from animal portraits to custom motorcycle painting.
In her retirement she was provided the opportunity to pursue her passion for creative expression.
Overwhelmed with choices, Carol decided to go back to basics: drawing with the goal to draw well. "Graphite is a simple, honest medium that can be pushed beyond it's rawness, " Carol said.
She has an impressive list of honors and awards attained for her art work. These include McMurray Art League/ Galleria exhibit 2010, 2011, 2014 best of show (jurors Peter West, World West Gallery; John Delmonte and Mark Panza, Panza Gallery). She has received several jurors awards between 2010-2015. Most recently she won best of category for still life and two jurors award for still life and figurative in the 2015 Galleria exhibit (juror Barry Jeeter).
Carol's artistic achievements don't stop there. The September issue of Street Rodder Magazine features her husband's 1949 "tin woodie" station wagon on which she painted all the realistic wood grain on the exterior of the car.
"My work consists of graphites and oils, mostly figurative and still life," Modery-Kilkeary stated. "I am inspired by contradiction of a subject – the coarseness of its appearance, yet finding beauty in honesty and form. My work is detailed and my objective is to pull the viewer into the piece. "
Stacie Johnson-Leske
A Washington, DC area native, potter Stacie Johnson-Leske was mesmerized by dance as a child. She was fascinated by the difficult jumps and turns that the delicate dancers made that looked so easy and the way they were lifted and tossed as if they were weightless. Stacie was also awed by the strange and colorful costumes, the brilliant lights and dazzling sets surrounding those beautiful and magical dancing creatures. She pursued her dream of becoming dancer by attending the Interlochen Arts Academy and the North Carolina School of the Arts, where she earned a BFA degree.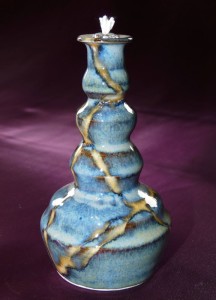 Stacie began working with ceramics in 2002 when, as a Christmas present, her husband arranged for her to take pottery lessons. Her enthusiasm and talent led to a three year apprenticeship with Jonnie Kinney, an accomplished potter in Richmond, Virginia.
As a ceramics artist, she is inspired by and employs many lessons acquired from her years of dance training for a career as a ballerina.
"For me, the clay is the body of the dancer. I use a gritless, white stoneware which appears to be delicate and fragile, when in truth, it has great strength and elasticity. As my 'dancer' pirouettes on the wheel, it flexes- expanding and contracting into elegant forms."
"I am the music as I use the rhythm of the spinning wheel to encourage the clay to compress and stretch into fanciful shapes which, like a prima ballerina, are lightweight yet deceptively strong and durable."
Once the form is complete, it is costumed in richly colored glazes or textured in swirling black and white, enhancing the shape and drawing the viewer's eye.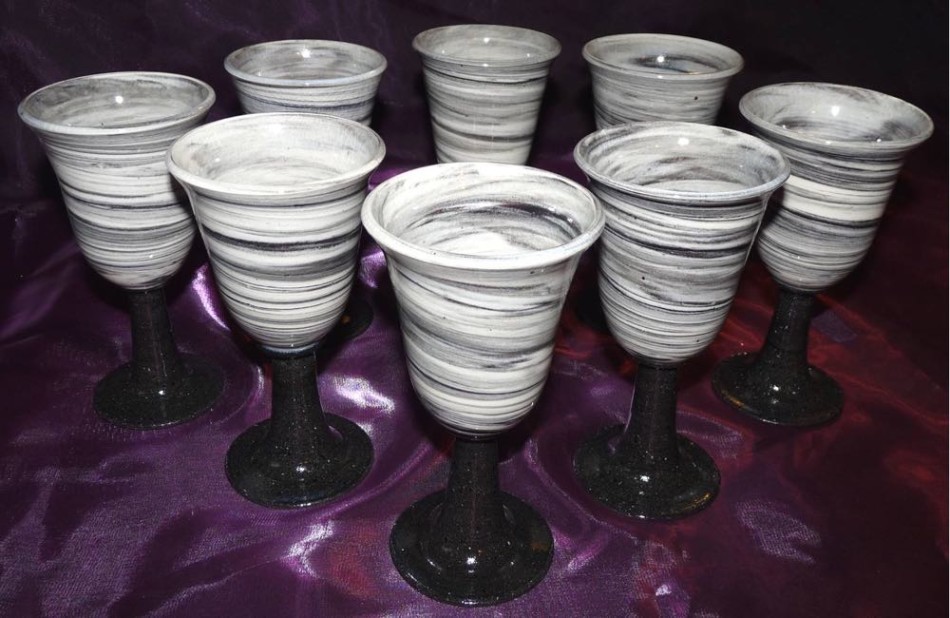 Stacie continued, "As you look at a piece of my work I hope you see the dancing, laughing lines, the unexpected bursts of color and the joyful movement."
"When you hold a piece of my pottery in your hand, you're also holding a small piece of my childhood spent in the ballet," she said.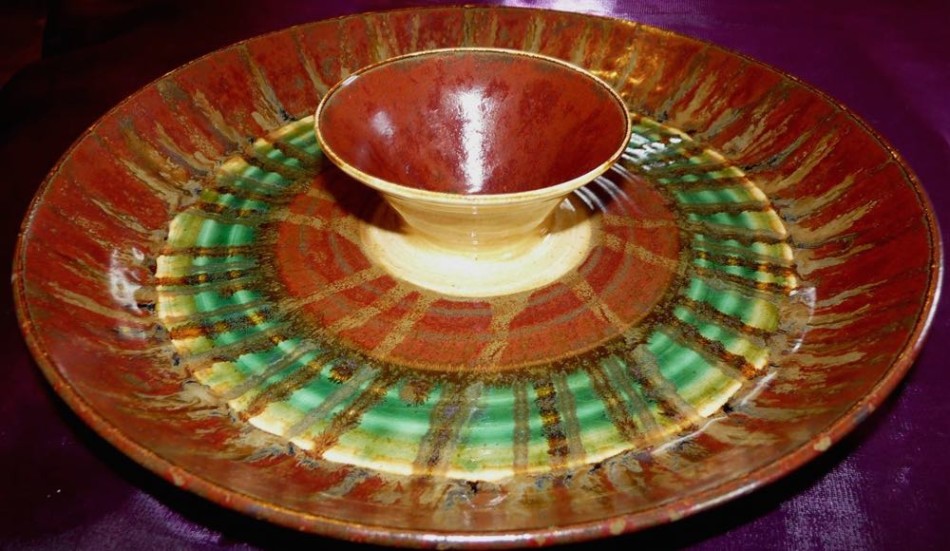 Today Stacie Johnson-Leske lives in Ridgway, Pennsylvania with her husband and two cats. This spring, Stacie opened her studio and a gallery in a storefront on Main Street in Ridgway. Her work is on exhibition in several area galleries and she exhibits at several fine art shows each year.
Red Brick Gallery is located at 17 Main Street in historic Foxburg, PA. Gallery hours are Fridays, 2:00 p.m. to 6:00 p.m., Saturdays, 11:00 a.m. to 7:00 p.m. (divided into two 4 hour shifts for co-op artists); and Sundays, 12 p.m. to 4:00 p.m.
Meet the Artists at the Opening Reception for this Exhibition on Saturday, July 18 from 4:30 to 6:30 p.m. prior to the concert – Bluegrass Jamboree featuring The Allegheny Drifters – at 7:00 PM in Lincoln Hall.