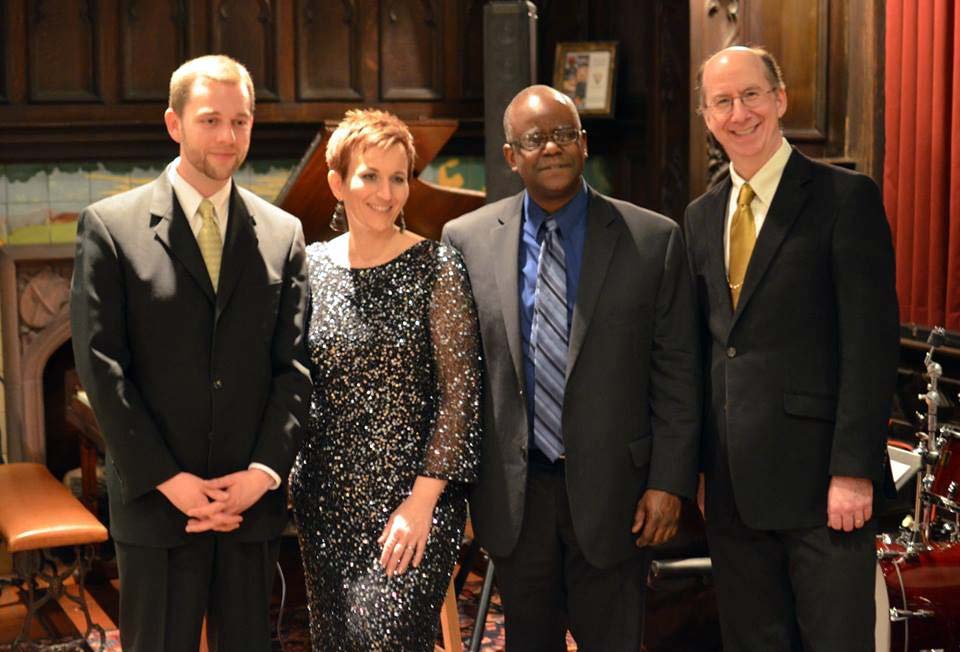 The high point of Allegheny RiverStone Center for the Arts Jazz Festival is a performance by The Tania Grubbs Quartet on Foxburg's Lincoln Hall stage on Saturday, July 26 at 7:00 PM. Plan for a relaxing, romantic evening by first enjoying drinks and dinner at the nearby Allegheny Grille or for lighter fare, stop by Foxburg's Pizza Shop.
Tania has been singing for as long as she can remember, appearing at many different venues showcasing her ability to be comfortable in various musical genres. While a student at Youngstown State University, from which she graduated, she focused on the classic American songbook. It was there that Tania focused on jazz by listening to every great artist she could study, taking advantage of every opportunity to sing and develop her craft.
At a jazz session over twenty years ago, she met her husband, bassist Jeff Grubbs. Jeff's early career took the couple to the Sunshine State, where they lived for five years. During that time, Tania established a solid reputation, singing in many jazz clubs, concert settings and theatre productions. She was a featured vocalist with the Florida Philharmonic and a "voice" of the Boca Raton Pops Orchestra for three years. In 1996, Jeff won a position with the Pittsburgh Symphony Orchestra and to this day, he is very well regarded for his classical performance skills as well as being the featured electric bassist on the Symphony's regular Pops series.
These days, you will most likely hear Tania singing with her own jazz quartet, The Tania Grubbs Quartet, which features Jeff on Bass. The other well-known members of the quartet are Daniel May, piano and Tom Wendt, drum kit. Currently, she is the Co-Director of the four-night per week jazz series, "Jazz at Andy's", at Pittsburgh's Fairmont Hotel, known for top-notch cabaret vocalists and jazz players. Additionally, Tania serves as the Music Director at Pittsburgh's first boutique hotel, the Mansions on Fifth Hotel. She has also been a featured vocalist with the Pittsburgh Symphony, the Civic Light Opera and the Pittsburgh Cultural Trust's "JazzLive" series. Audiences of the Pittsburgh Jazz Society, the Butler Jazz Society and the Westmoreland Jazz Society know her well.
Tania is a strong advocate for children, working with young children in music and movement. Her excellence in this area has been recognized by the Heinz Foundation, where she has been a four-time recipient of the Ready for Life grants.
This year, Tania celebrates the release of her new CD, "Lost in the Stars." She states: "As a mother of three and a woman who has been given the privilege to revisit the thing she loves to do–sing-I feel that more now than ever I have something to sing about."
Jeff and Tania are honored to call Pittsburgh their home and ARCA is honored to have them on our 2014 Jazz Festival series. Don't miss this opportunity to enjoy a great midsummer night out on the town!