Tom Panei
Singer, Songwriter & Guitarist
Zach Manuel
Singer, Songwriter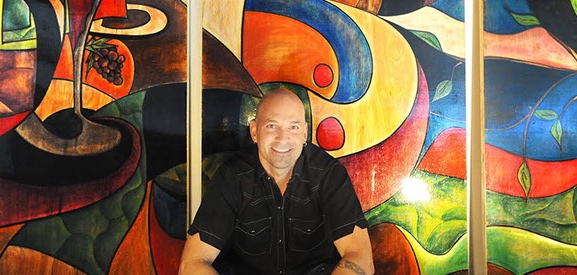 On Saturday, June 6 from 7:30 to 10:00 PM, Allegheny RiverStone Center for the Arts is proud to present An Acoustic Evening with Tom Panei – popular singer, songwriter, guitarist, recording artist, visual artist – AND new father!
Join us for night of music-making in a club-like environment right in Lincoln Hall that will get your summer rocking!  For a taste for the evening's groove, listen to Tom Panei: Acoustic Sessions on his website www.tompanei.com
Well beloved in and around his home town of Butler and known to casual audiences in Foxburg's outdoor venues, Tom Panei will bring his heart-opening, touching and evocative acoustic music indoors to Lincoln Hall's intimate acoustics for an evening of music making that will rock your soul and renew your spirit.
Tom will be joined by musical friends, expanding the evening into a three set program. Singer/Songwriter Zach Manuel will open the evening with his mellow, indie sound and unique rhythms and lyrics full of deep thought and sharp metaphors. Tom will be collaborating with the talented pianist Jessica Sanzotti in his acoustic set and jamming with the extraordinary guitarist, Greg Muiter, with his Rock, Jazz and Blues guitar playing magic.
Doors will open at 7:00 PM before the 7:30 concert.  Arrive early with friends – make new friends – and enjoy an evening in Foxburg you'll long remember.
AND MAKE AN EVENING OF IT – Plan to arrive early for an Opening of the Exhibit of artist Seth McClaine's Landscapes and Streetscenes at the Red Brick Gallery from 5:00 – 7:00 PM on Saturday, June 6 – immediately before the Tom Panei and Friends Concert.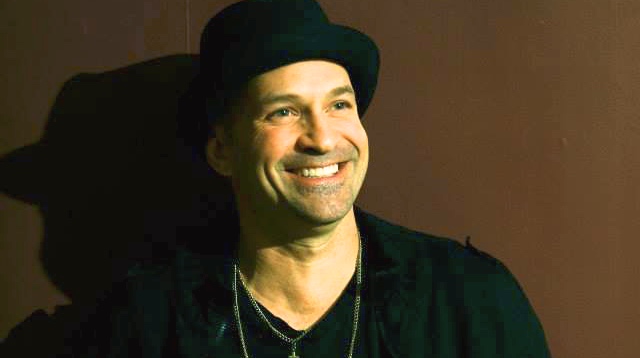 Tom Panei
As a singer-song writer, just beneath his well-crafted lyrics is an inner smile of a being completely comfortable in his skin as an artist in multiple genres.  He invites the listener into a world where one can revel in all life's surprises and revelations – safe for the moment within his artistic vision.  His CD Tom Panei: Acoustic Sessions can be purchased on CD Baby and heard on his website www.tompanei.com.
Also an acclaimed visual artist working in chalk pastels, in 2014 Tom was awarded for his epic mural I Hear The Train A Comin' one of the Top 25 Artists in the international art show, Art Prize, in Grand Rapids, Michigan.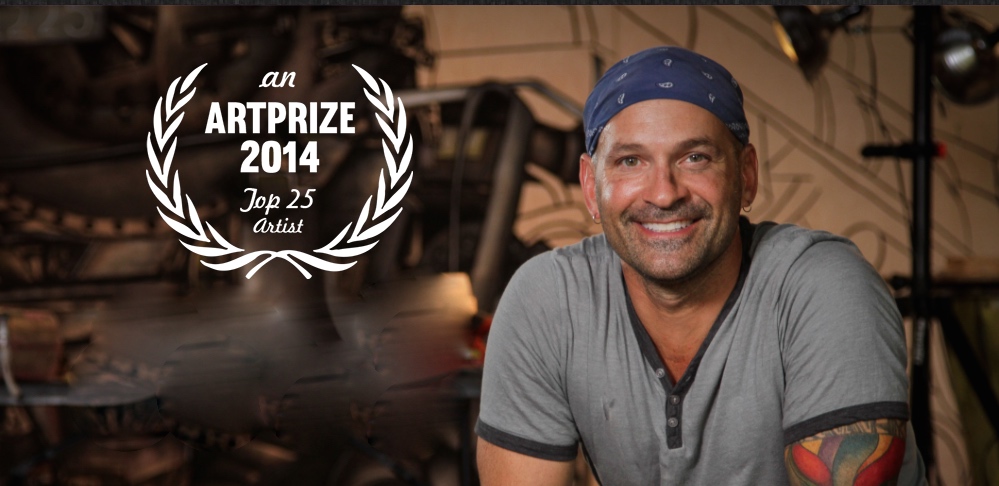 Straying from the traditional realism embraced by many pastel artists, Tom's work recalls the cubism assemblage methods of Pablo Picasso and George Braque. He has created and mastered his own technique of blending chalk pastels on wood panels that has become his signature style. Everything from his colorful abstracts to his large vibrant murals are recognized throughout the tri-state area and beyond.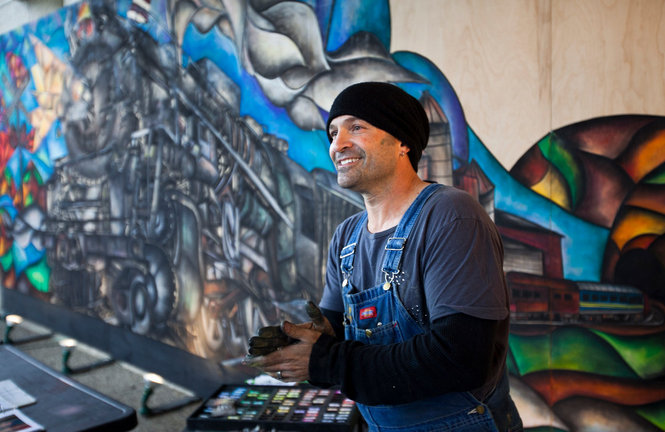 Throughout his career, Tom has gained a following of collectors from coast to coast in the continental United States in addition to Hawaii. Recently, international collectors from Canada, Italy, and Germany have also commissioned Tom for work. His art has been featured in many articles and publications throughout the country.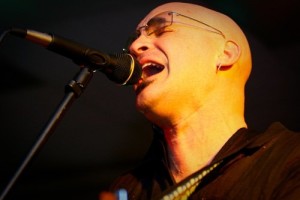 Through his vibrant murals, to his well-written songs, Tom has become a staple in the music and art scene in the region. He has played hundreds of shows and traveled countless miles sharing his soulful songs.  From Chicago to the Taj Mahal and Trump Towers in Atlantic City and Virginia Music Festival to ski resorts, wineries and clubs throughout the east coast, Tom has a following that keeps him coming back.  And in his native Butler, Tom's events are jam packed with fans and friends who are art and music lovers, celebrating life's pleasures through Tom's eyes.
So either playing guitar, or painting a picture, Tom always has a special way of connecting to his audience. Come out to Lincoln Hall on Saturday, June 6 and enjoy his Art of Music!
Concert at 7:30 PM.  Doors will open at 7 PM.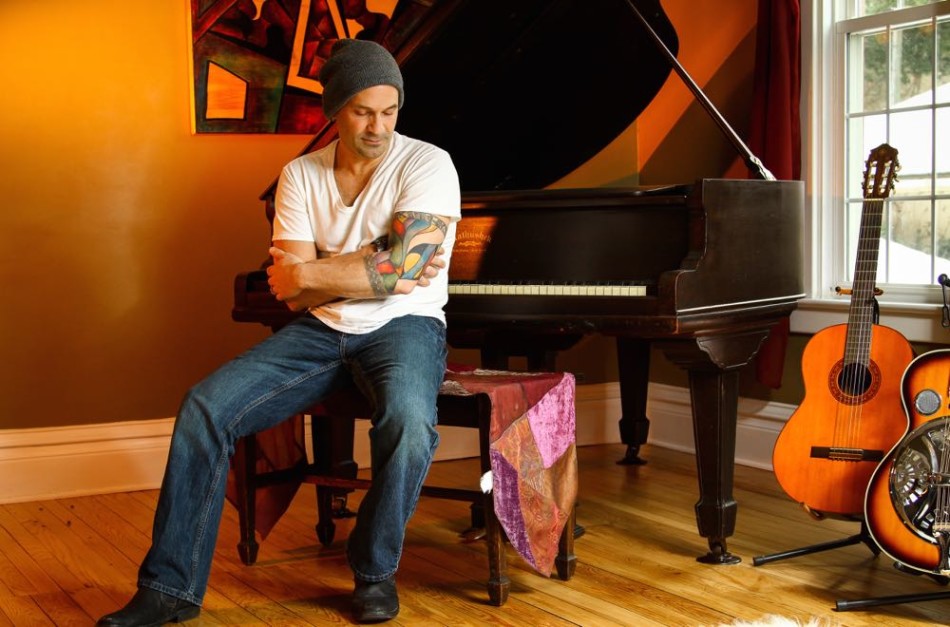 Tom Panei is proud to be sponsored in this performance by International Quality Consultants, Inc.

Other Artists
Zach Manuel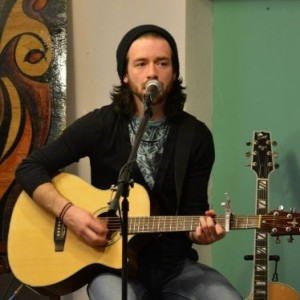 Opening the Tom Panei & Friends concert will be a set by Zach Manuel.  Zach is a singer/songwriter from Butler who has built a following in clubs and diverse venues throughout the region. Zach will be remembered by Allegheny RiverStone Center for the Arts audiences as he opened for the the Scottish rock band Big Country in the outdoor concert at RiverStone Farm in August of 2013.  Zach has cultivated a mellow, indie sound with unique rhythms and lyrics full of deep thought and sharp metaphors.
Greg Muiter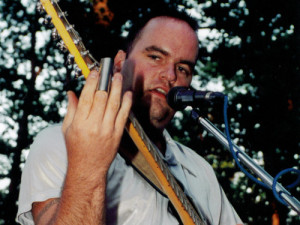 Greg Muiter is a Blues, Jazz and Rock guitarist who trained at Duquesne University and studied with the legendary Joe Negri. Over the last 20 years Greg has played with many different guitar ensembles and performed all over the world with various bands playing Blues, Jazz and Rock. He now resides in Wexford with his wife and 2 children.
Jessica Sanzotti
Jessica Sanzotti is an accomplished pianist from the Butler area who has performed with a variety of musical groups and in diverse styles.  Jessica recently co-directed Evita at the Butler Musical Theatre Guild and this summer will be playing and directing Altar Boyz for the company.  She is excited to be part of this special Acoustic Performance with Singer, Songwriter and Guitarist Tom Panei.