Hakeem Bilal
Bass Trombone
If you love FUN & Brass music & your DAD – then C Street Brass' Saturday, June 20 concert at 7 PM is for you and your FATHER and your whole FAMILY in Allegheny RiverStone Center for the Arts' Lincoln Hall in Foxburg – a Father's Day Brasstacular!
They are HOT and YOUNG and HAPPENING! And enormously talented and entertaining.
Chris Botti, trumpet soloist said, "…a fantastic and imaginative approach to the brass quintet music. I would highly encourage everyone to check them out."
Celebrate Father's Day as C Street Brass dazzles with their joyous theatricality and virtuosic playing of Duke Ellington, Astor Piazzolla, Cole Porter, George Gershwin and Billy Joel in their program, Music of the Americas.
Family Friendly Prices for this fun-filled concert of music theatrics: Students ONLY $5, Adults $25, Members $20, and Children Under 6 Free.
Encourage any young brass player you know – or anyone who loves brass music – not to miss this wonderful concert.
Last year ARCA brought River City Brass at Emlenton's Crawford Center last year – and each Christmas ARCA's brings Pittsburgh Symphony Brass to Foxburg's Memorial Church of our Father…
This summer it's C Street Brass – a group with some of the most dynamic and talented young brass players in the country.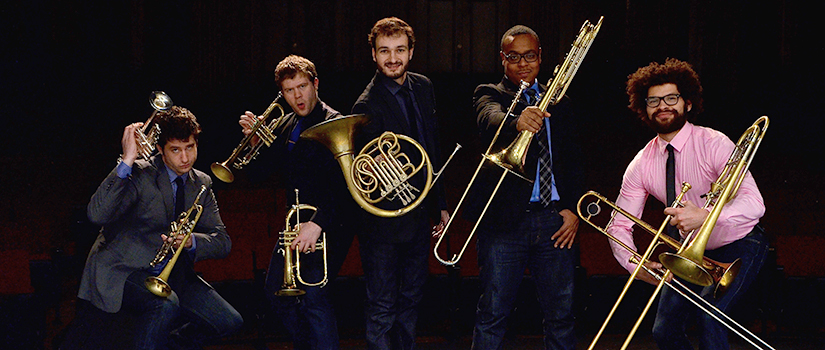 This highly creative, disciplined and entertaining group of fantastic young artists, each has a high-level talent on their own instrument.  Collectively they have a wonderful group chemistry and their energetic and engaging personalities make them an obvious audience favorite.
George Vosburgh – Principal Trumpet of the Pittsburgh Symphony and an ARCA favorite in the annual Christmas Pittsburgh Symphony Brass Concert – has said of the group,  "C Street is the new sound, look, and feel of the modern brass quintet. Highly virtuosic playing in a wide variety of styles rolled into an accessible, warm hearted candor which makes for a delightful concert experience. "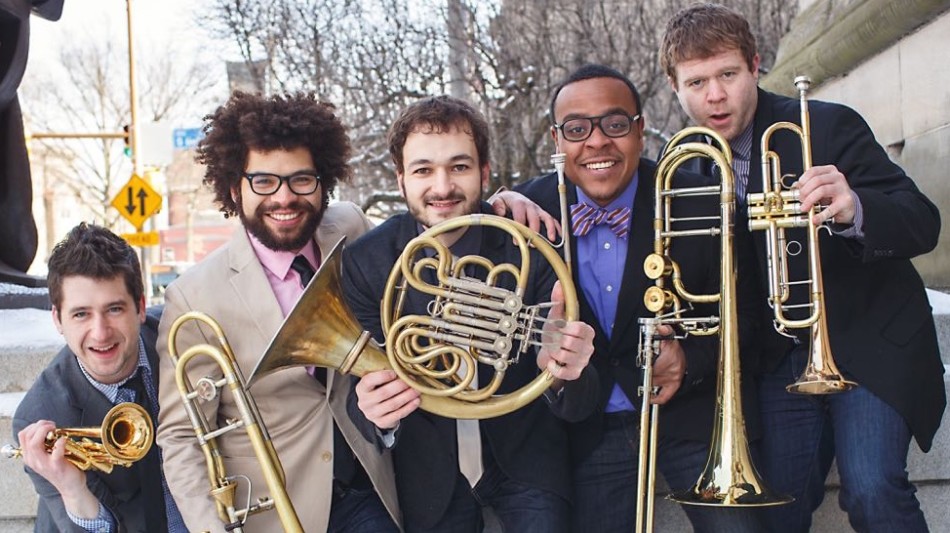 Hailed for radiating the joy of music-making, you will not want to miss this opportunity to be delighted and dazzled by the moving and entertaining theatricality and virtuosic playing of C Street Brass in Lincoln Hall on Saturday, June 20 at 7 PM.
C Street Brass will bring to ARCA's audience not only their fantastic and imaginative approach to brass quintet music but also their impeccable musicianship, amazing technique and stellar chops in diverse music from the Americas AND some patriotic music for the Fourth of July.  They are sure to charm, please and entertain.
Plan to arrive early and before the concert take in the Exhibit of artist Seth McClaine's Landscapes and Streetscenes at the Red Brick Gallery and Gift Shop on Main Street in Foxburg, open on Saturday, June 20 from 12:00 noon to 7:00 PM.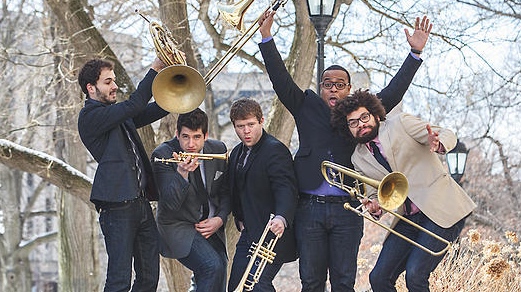 Libertango                                         Astor Piazzolla (1921-1992)  arr. Joe Burgstaller
Por Una Cabeza                                Carlos Gardel (1890-1935)  arr. Kyle Anderson
Lullabye                                              Billy Joel (1949)
Suite Americana                               Enrique Crespo (1941)
II. Bossa Nova
III. Vals Peruano
Concerto for Saint Marc                 Tomaso Albinoni (1671-1751)  arr. David Hickman
Amazing Grace                                  arr. Luther Henderson
—————Intermission—————
Suite Americana No. 1                    Enrique Crespo (1941)
II. Ragtime
Porgy and Bess Selections             George Gershwin (1898-1937)  arr. Luther Henderson
Summertime
It Ain't Necessarily So
Bess You is My Woman Now
Oblivion                                              Astor Piazzolla (1921-1992)  arr. Joe Burgstaller
In a Sentimental Mood                   Duke Ellington (1899-1974)  arr. Jack Gale
Fly Me to the Moon                         Bart Howard (1915-2004) arr. Jack Gale
High Society                                      Cole Porter  (1891-1964) arr. Luther Henderson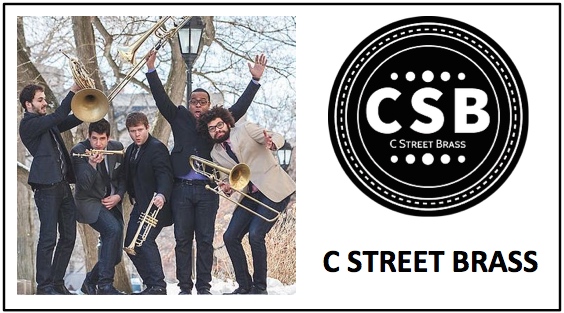 There is some absolutely stunning music that has it origins in the Americas. In their program, "Music of the Americas" C Street Brass takes the audience on a journey through North and South America by way of: broadway show tunes, sexy tangos, and cool bossa novas. not to mention some tastefully goofy antics.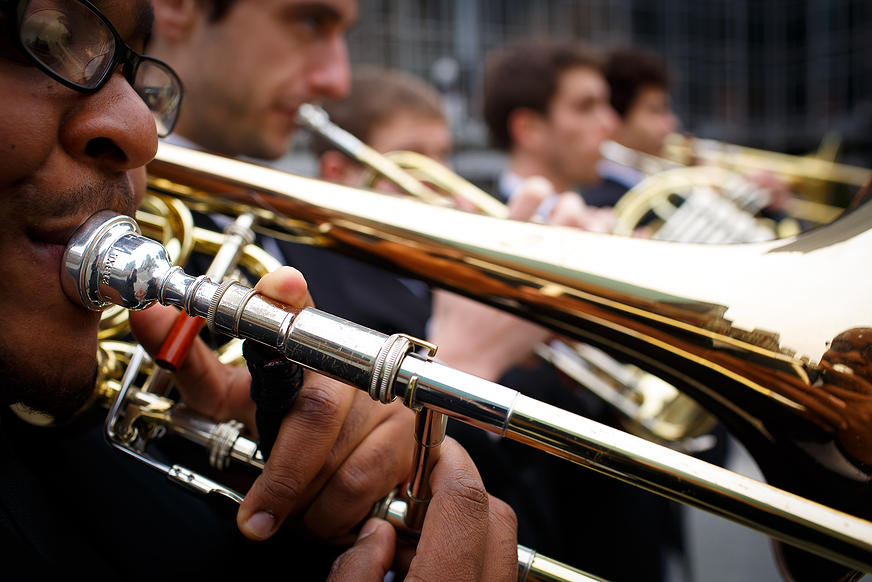 C Street Brass began as a small project between five friends who are coincidentally the most handsome men ever to grace the earth. Equally as comfortable in the sound world of baroque music as they are playing electronic dance music, C Street Brass connects lovers of the arts from all walks of life around a unique and innovative concert experience.
Ensemble in residence at Carnegie Mellon University since 2012, C Street Brass is proud to now call Pittsburgh home. In addition to their contributions to Pittsburgh's thriving music scene, C Street has been featured on a variety of series around the country including the Corpus Christi Chamber Music Series (Corpus Christi, TX), Community Concerts Second Series (Baltimore, MD) and the Strings Music Festival in Steamboat Springs, CO. The members of C Street are also regular performers at Bradley Hills Presbyterian Church in Bethesda, MD, have preformed extensively through the Baltimore/DC Metro area, and have been featured multiple times on WBJC: The Classical Voice of Baltimore. Internationally, C Street Brass has toured in Tbilisi, Georgia as resident ensemble of the 2012 Traveling Notes Music Festival and in Doha, Qatar in 2013 as ambassadors for Carnegie Mellon University .
C Street Brass is passionately committed to educating and inspiring the next generation of musicians. In addition to their educational work in Pittsburgh, the group has recently held educational residencies in: Orcas Island, W A, at Mercyhurst College in Erie, PA. In Spring 2014 C Street Brass was awarded a Visiting Scholars Grant by the University of South Carolina. By way of the grant, C Street Brass will spend one week each semester of the 2014-2015 school year in Columbia, South Carolina. C Street will perform a variety of concerts, teach master classes, give seminars, and share their music with the community by way of public outdoor performances and work with the community bands.
C Street Brass collaborates with musicians and artists of all disciplines. In 2010 the group premiered David Conte's "Two Pieces for Brass Quintet and Organ" with renowned organist and scholar Donald Sutherland. Their most recent project, Beauty Slap presents a new innovative concert experience combining electronic dance music with brass band and guitar. Beauty Slap has toured extensively throughout the east coast and can regularly be seen in dance clubs in the Pittsburgh area.
Scott Nadelson: Trumpet
Scott Nadelson, the father of the C Street brainchild, brings a unique artistic versatility to the band that enables him to showcase his skills through jazz, classical, commercial, electronic, hip- hop, and chamber music. He also brings an enthusiasm for any Apple product but brings no height to the band's basketball squad.
Scott began his love affair with trumpet at the age of 12, studying from New York freelancing god Chris Jaudes and was one of two trumpet performers to win the prestigious New Jersey State Governors School award.
An alumnus of the Peabody Conservatory, Scott was mentored by international soloist Joe Burgstaller and former Baltimore Symphony trumpet, Edward Hoffman. While at Peabody, Scott was principal trumpet with the Peabody Concert Orchestra and lead trumpet with the Jazz Orchestra. It was during this time in Baltimore that C Street Brass was born.
Scott currently enjoys teaching a private studio based in Pittsburgh, as well as his educational work as a teaching artist of the Pittsburgh Symphony. He is furthering his mission for world trumpet domination at Carnegie Mellon University, pursuing a Masters Degree under the tutelage of George Vosburgh and Neal Berntsen of the Pittsburgh Symphony.
Kyle Anderson: Trumpet
Currently Based in Pittsburgh, Pennsylvania, trumpet player Kyle Anderson is an active performer, music educator, and brass arranger. Kyle received his first trumpet at age 11 and has been in love ever since. A versatile artist, Kyle can be heard playing with orchestras, jazz ensembles, and chamber music groups of all variety.
At the age of 17, Kyle began lessons with preeminent trumpet virtuoso David Hickman in Tempe, Arizona. He then furthered his studies at the prestigious Peabody Institute under the tutelage of International trumpet soloist Josef Burgstaller. Kyle currently studies with George Vosburgh and Neal Berntsen of the Pittsburgh Symphony Orchestra.
Joe Hughes: Horn
A multifaceted freelance musician, french horn virtuoso, and die-hard Pittsburgh sports fan are just a few ways to describe Joe Hughes.
After graduating high school, Joe hung up his lacrosse gear to obtain a B.M. from the Peabody Conservatory and a M.M. from Carnegie Mellon University in French horn performance. As an orchestral musician, Joe has performed as principal horn of the Peabody Symphony Orchestra, along with the Baltimore Symphony Orchestra and other professional ensembles in the
Baltimore/DC and Virginia areas. He was selected to represent the Peabody Conservatory in Philadelphia's Kimmel Center as part of the Philadelphia Chamber Music Society, New York City's 92nd Street Y, and at the Library of Congress in collaboration with Leon Fleischer performing two chamber operas by the Hungarian composer György Ligeti. In the summers of 2012 and 2013, Joe played first horn in the Castleton Festival Orchestra conducted by music director Lorin Maazel. Since moving to Pittsburgh, aside from playing with the Butler and Westmoreland Symphonies, Joe comfortably performs in many other musical styles while playing with such crossover groups as the C Street Brass, River City Brass Band, and the Brass Roots Ensemble.
When Joe is not dressed in his best and performing around the city, he enjoys video editing, watching sports, dark roast coffee, high end scotch, his cat Victor, and exploring everything the great city of Pittsburgh has to offer.
Gabriel Colby: Trombone
Gabriel Colby keeps it simple. Give him a trombone, a cup of coffee, and a gym- he's good to go. Gabriel grew up in Avon, Connecticut surrounded by music. His parents John Colby and Beverly Rohlehr, and his sister Liza Colby are all accomplished musicians in their own right. Gabriel started his performance career in high school as a professional juggler in the duo 'The Big Hair Jugglers'. His passion for trombone came when he auditioned into principal chair of All-State Orchestra as a sophomore in high school.
Gabriel is classically trained and has a B.M. from Peabody Conservatory and a M.M. from Carnegie Mellon. Gabriel initially found his love for trombone through classical music, but he is very comfortable performing and freelancing in all styles. As a lead trombonist he has played for the ESPY Awards Orchestra in LA, The Nascar Awards Show in Las Vegas, and can he can be heard on the ESPN College Football theme. Gabriel now resides in Pittsburgh where he acted as principal trombone for the River City Brass Band in 2014 and currently plays trombone for Beauty Slap a new barrier-bending genre of brass band, electronica, and funk.
Believe it or not, Gabriel does not play trombone 24 hours a day. He also loves: working out, cooking, scotch, and exploring Pittsburgh, the city he calls home.
Hakeem Bilal: Bass Trombone
Hakeem Bilal proudly hails from Washington, D.C. and joined C Street Brass in early 2013. From the nation's capital, to Baltimore, New York, Dallas/Fort Worth, and now to Pittsburgh with C Street Brass, Hakeem's bass trombone has led him on an incredible journey!
A highly sought-after freelance musician, Hakeem has established himself in Pittsburgh and throughout the East as a chamber, orchestral, and brass band musician, as well as a clinician,
music coach, and teaching artist of the Pittsburgh Symphony. In addition to the band, Hakeem is the Bass Trombonist of the River City Brass and has collaborated with many commercial artists throughout the US. Hakeem feels very fortunate to have taken his trombone to many diverse venues across the globe.
Outside of making music, Hakeem loves to build things. Whether it is constructing an innovative cocktail from the bar, or building a computer from scratch, if its hands on, chances are he is in it to win it. Some things you may not know about Hakeem: Other than being a creative mixologist, aspiring chef, and former teen heartthrob, he has been known to randomly break into dance and thrives on being the catalyst of any party (and he says there is always a party somewhere). Hakeem enjoys sour fruits, whiskey, and BBQ beef ribs (not necessarily in that order). Come join the party!