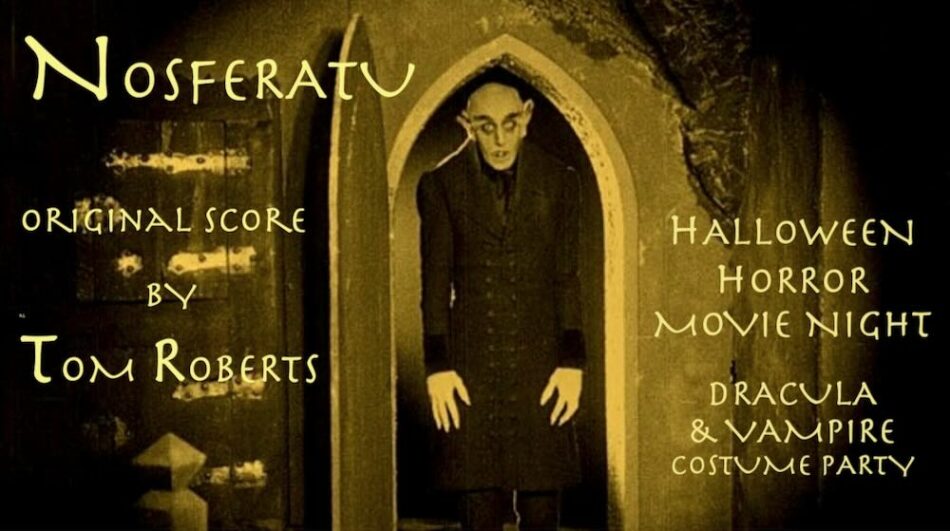 Make it a Spooky, Musical HALLOWEEN TO REMEMBER on Saturday, October 28 at 7:30 PM in Lincoln Hall – as Pittsburgh composer and acclaimed stride pianist TOM ROBERTS performs his original score for the first Horror Film, NOSFERATU.
Allegheny RiverStone Center for the Arts is proud to welcome back to Lincoln Hall's Steinway audience favorite Tom Roberts to play the score that was commissioned by the Pittsburgh Silent Film Society for the 100th anniversary of the film last year.
Tom Roberts is one of the leading exponents of early jazz piano in the world today (as stated by Ricardo Sciavales in The Heart and Soul of Stride, Blues, and Swing Piano). He has performed on The Tonight Show with Johnny Carson, The Statler Brothers Show on TNN, and A Prairie Home Companion with Garrison Keillor. Tom was pianist for Vince Giordano and the Nighthawks in New York City and pianist and musical director for Leon Redbone for six years. Tom has recorded over 40 compact discs and has performed throughout the United States and Europe.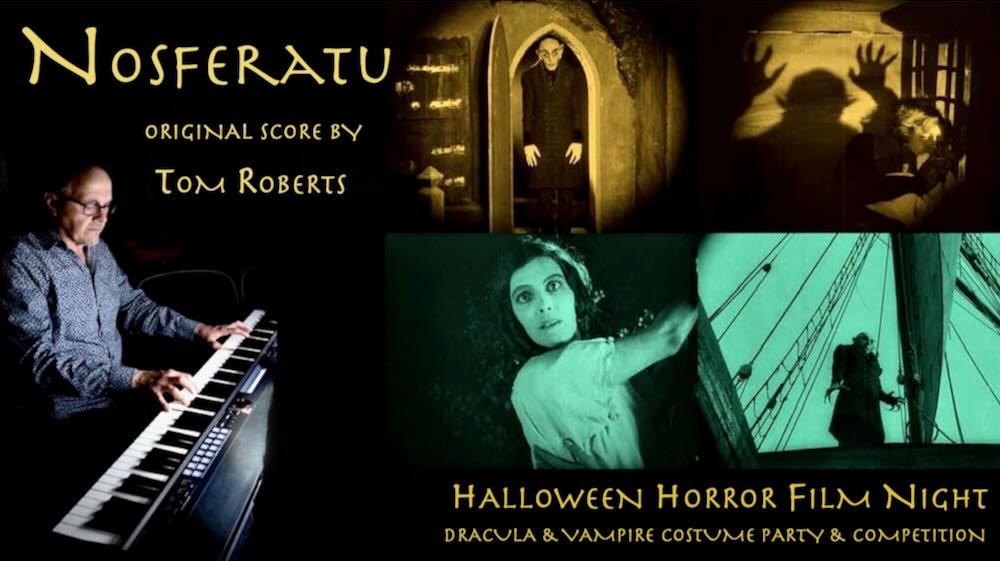 Nosferatu: A Symphony of Horror is the earliest adaptation of Bram Stoker's Dracula. The 1922 silent German Expressionist horror film was directed by F. W. Murnau and starred Max Schreck as Count Orlok, a vampire who preys on the wife of his estate agent and brings the plague to their town.
The silent film continues to disturb and inspire modern audiences with it's beautiful cinematography coupled with the nightmare-ish images of Count Orlock.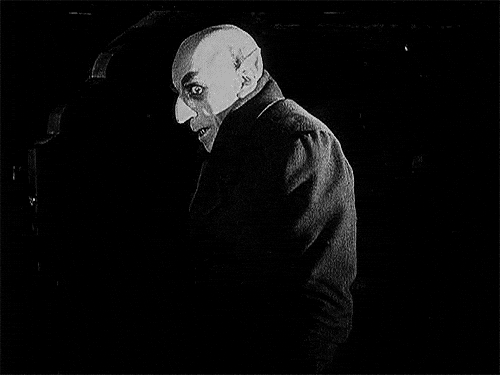 In keeping with the world premier of the iconic film in Germany in March of 1922 that featured a costume party, the evening also will bring back ARCA's popular Halloween costume parades and competitions of previous seasons.  Feel free to come dressed as DRACULA or a VAMPIRE or other spooky character to join the Costume Party and Competition at the intermission – or just sit back and enjoy the full screen presentation of the horror movie classic, NOSFERATU.  
Tickets are Adults $20 and Students $5.  Call to Reserve at 724-659-3153 and pay by cash or check at the door. Wine, Beer and Water will be for sale.
Nosferatu" is set in 1838, when a German real-estate agent named Huttert travels to Transylvania to do a deal for the mysterious Orlok … who then turns up in Germany. For music in the German scenes, Tom Roberts drew upon the bright, melodic style of 19th-century composer Robert Schumann. Scenes in Transylvania were scored to tunes inspired by Romanian traditional music.
"The beautiful thing about 'Nosferatu' is … it's not all terrifying," said Roberts.
"It's a beautiful film," he said. "It is such a masterpiece, this film, and there are lots of emotional levels within it. There's moments of hope, there's moments of mystery, there's moments of tragedy, there's moments of loss, and what I've tried to do with this score is capture each one of those moments as best as I can."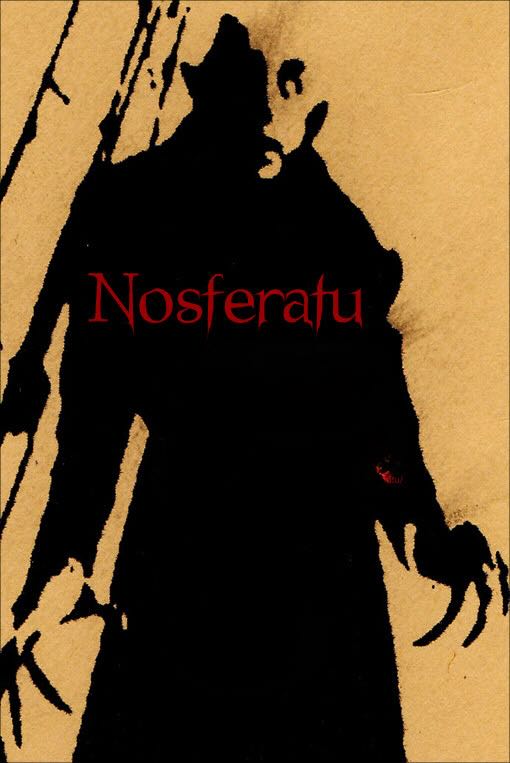 "Nosferatu" stars Max Schreck as the iconic vampire. It was one of several important films by Murnau, including "The Last Laugh" and "Sunrise."
"Nosferatu" was born into legal controversy. The studio that made its was sued by Stoker's estate, which claimed the film violated copyright protections on the 1897 novel, and most prints were destroyed. Also lost was the film's music score. Many films of the silent era came complete with original scores, meant to be performed live in theaters. (Roberts' inspirations in this line of work include Charlie Chaplin, who often scored his own films.)
100 years ago on March 4th, 1922, F. W. Murnau's classic horror film NOSFERATU: A SYMPHONY OF HORROR premiered at Berlin, Germany's zoological gardens – and guests were invited to arrive in costume.  Almost instantly, this film became a cultural icon, but not without controversy. The estate of Bram Stoker, author of the book "Dracula," sued the studio that produced "Nosferatu" over copyright claims. The "Nosferatu" filmmakers had changed some things, including character names — Count Dracula became Count Orlok, for example — to try and bypass any direct links to "Dracula." But that didn't stop a court ruling from ordering all copies of "Nosferatu" be destroyed in the case won by Stoker's estate. Some copies of the film survived, but the original score was lost.
For this screening, local composer and performer Tom Roberts will perform live his original score for the film. "It doesn't scare us, but it haunts us. It shows not that vampires can jump out of shadows, but that evil can grow there, nourished on death." – Roger Ebert.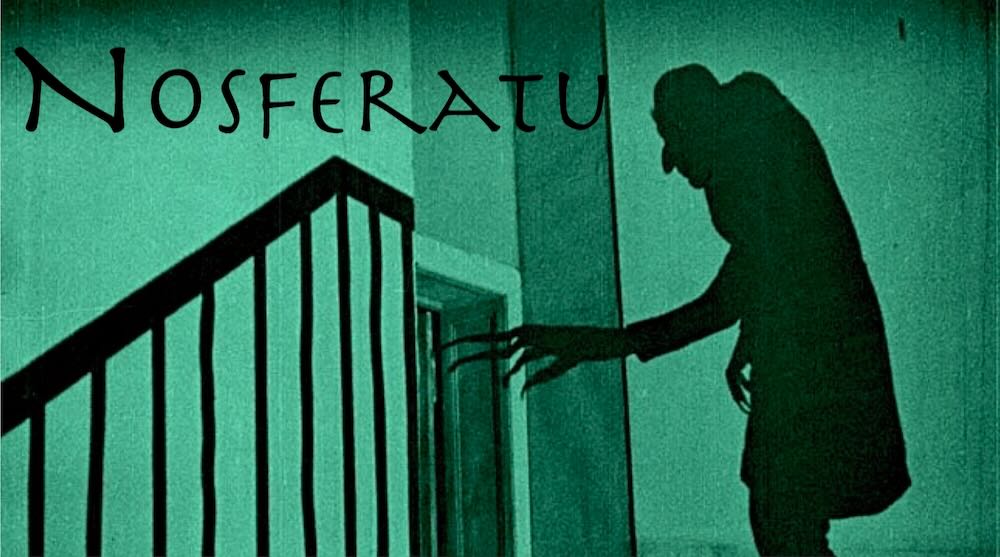 International film distributor Kino Lorber completed a high-definition remaster of the film's 35mm restoration, complete with an orchestral performance of Hans Erdmann's original 1922 score, as well as "unprecedented visual clarity and historical faithfulness to the original release version," according to a press release.
Kino Lorber describes the unauthorized adaptation of author Bram Stoker's Dracula as "the quintessential silent vampire film, crafted by legendary German director F. W. Murnau."
"Rather than depicting Dracula as a shape-shifting monster or debonair gentleman, Murnau's Graf Orlok (as portrayed by Max Schreck) is a nightmarish, spidery creature of bulbous head and taloned claws — perhaps the most genuinely disturbing incarnation of vampirism yet envisioned," the statement reads.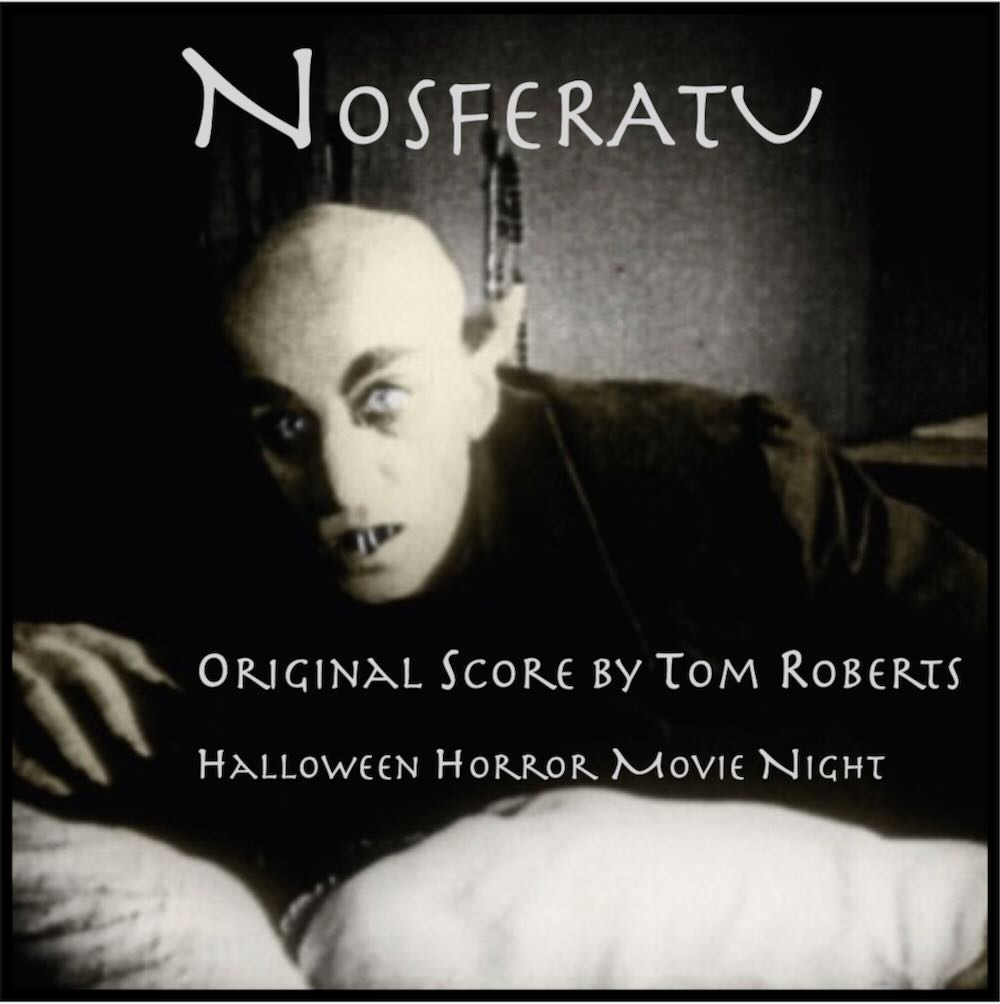 The statement also calls Nosferatu "an atypical expressionist film in that much of it was shot on location" — as opposed to shooting in a studio, a common practice at the time, the film's landscapes, villages, and castle were actual locations in the Carpathian mountains. 
"Murnau was thus able to infuse the story with the subtle tones of nature: both pure and fresh as well as twisted and sinister," it reads.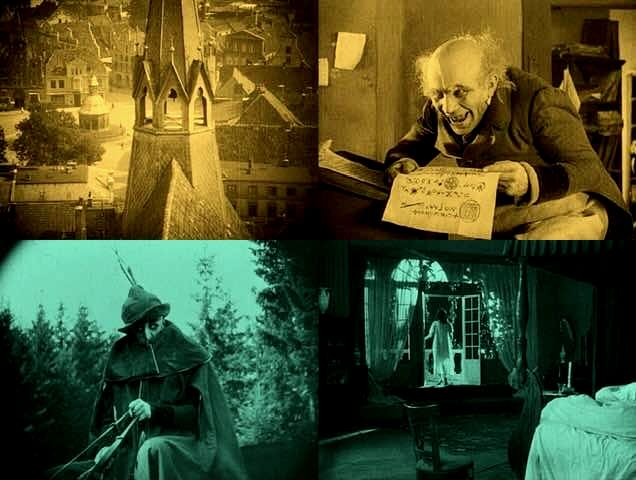 At Intermission Join the Costume Parade!

Become part of the Halloween FUN and festivities by dressing in a Dracula, Vampire or a Spooky Character costume – OR – since it's trick or treat,  present a "treat or talent" of your own.  Halloween candy WILL be given out.
Of course, there will be a costume contest, with prizes awarded, at Intermission!
Don't be bashful, audience members from 8 months to 80 years old have arrived in all manner of home-made or store-bought outfits… shy or outrageous, join the fun as you enjoy the world class pianism of renowned jazz pianist and composer TOM ROBERTS, performing his iconic score of the very first HORROR SILENT MOVIE!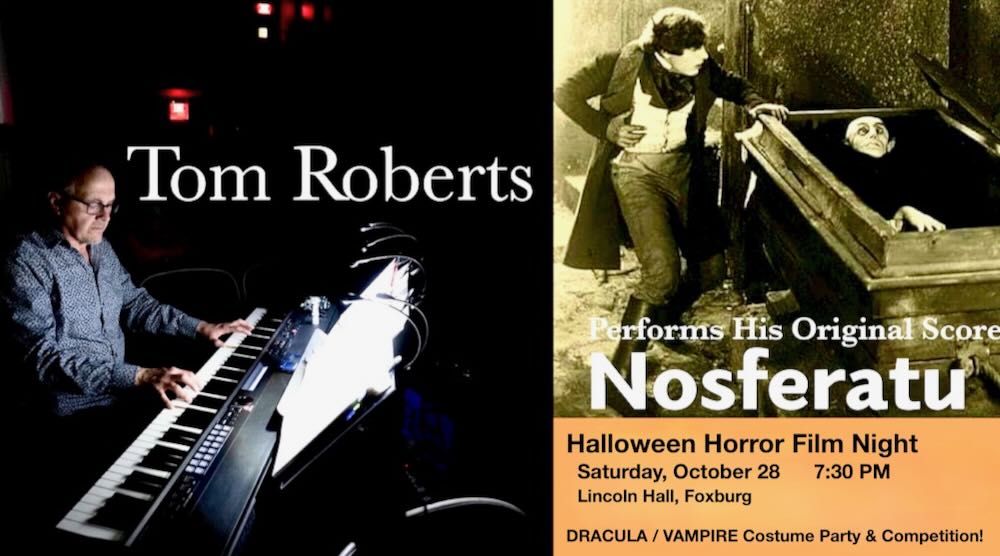 About TOM ROBERTS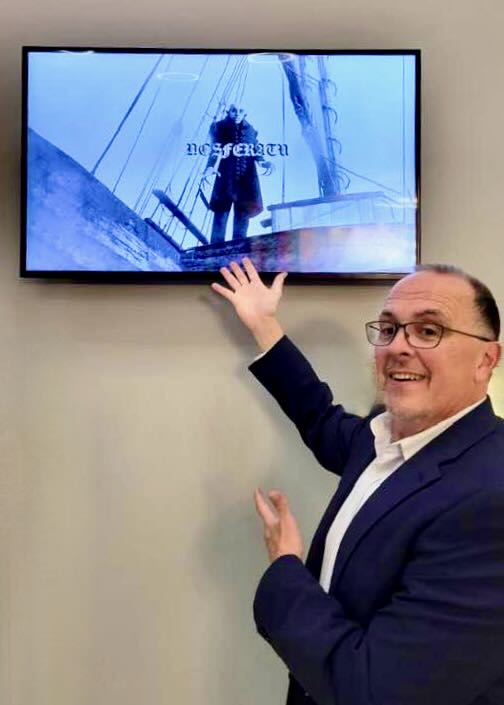 Performing his original score for Nosferatu, Allegheny RiverStone Center for the Arts brings back its long time friend, audience favorite and virtuosic genius Tom Roberts – "one of the leading exponents of early jazz piano in the world today, (as stated by Ricardo Sciavales in The Heart and Soul of Stride, Blues, and Swing Piano). 
Tom has dazzled Lincoln Hall audiences in the past with the music of James T. Booker – which Tom describes as "Stride on Steroids"-  as well as the music of legendary jazz and blues pianist Henry Butler – a blind artist who reveled "in fluency and facility, splashing chords all over the keyboard and streaking through solos with machine-gun articulation."  Not to mention giving ARCA audiences a taste of Tango and Choro.
Tom tells of going to Cleveland to hear Harry Butler play a few years back. Afterwards Tom went to meet the jazz legend. A blind man since his youth, Harry Butler shook Tom's hand and just wouldn't let it go, seeming to sense something about this Being.  Butler asked Tom  – "Who are YOU?"  Tom told him his name and Butler said, "Tom Roberts – I've heard you.  You're great!"
Tom has performed on The Tonight Show with Johnny Carson, The Statler Brothers Show on TNN and A Prairie Home Companion with Garrison Keillor.  He was the featured pianist at the International Stride Piano Summit in Zurich, Switzerland, 2001 and 2009.  Tom was the pianist for Vince Giordano and the Nighthawks in New York City (recent Grammy winners for the soundtrack to Boardwalk Empire) and the pianist and musical director for Leon Redbone for six years.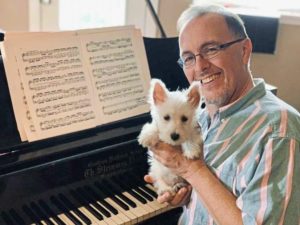 Originally from Pittsburgh, Tom played in all the major jazz clubs in the French Quarter and on the riverboats of New Orleans when he lived there from 1989 to 1994. Tom has performed twice at New York's Carnegie Hall in 2003, once with Skitch Henderson and the New York Pops. He was featured in 2003 in solo with Dick Hyman at the prestigious Jazz In July series at New York's 92nd St. Y. Tom has performed multiple times at The New Orleans Jazz and Heritage festival including a solo performance at The Professor Longhair Society's Piano Night At Tipitina's. He has performed throughout Europe as a member of multiple ensembles from New Orleans and as a member of The Ortner Roberts Duo.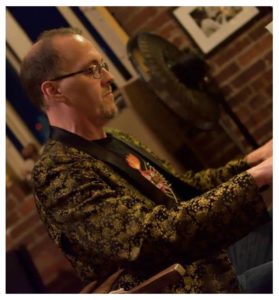 Roberts has arranged and performed music for the soundtrack of the Martin Scorcese film The Aviator as well as several titles for the film DeLovely; for the syndicated PRI show Riverwalk Jazz, Live from the Landing with the Jim Cullum Jazz Band; and a number of pieces for Wynton Marsalis and The Jazz at Lincoln Center Orchestra for a concert of the music of Louis Armstrong in October 2006.
Recently Tom has composed new musical scores for Charlie Chaplin films including One A.M., The Rink and Silent Picture Show. In a past season in Lincoln Hall for ARCA, Tom Roberts performed Chaplin's The Rink, The Pawn Shop and The Kid Auto Race for a Halloween costume event.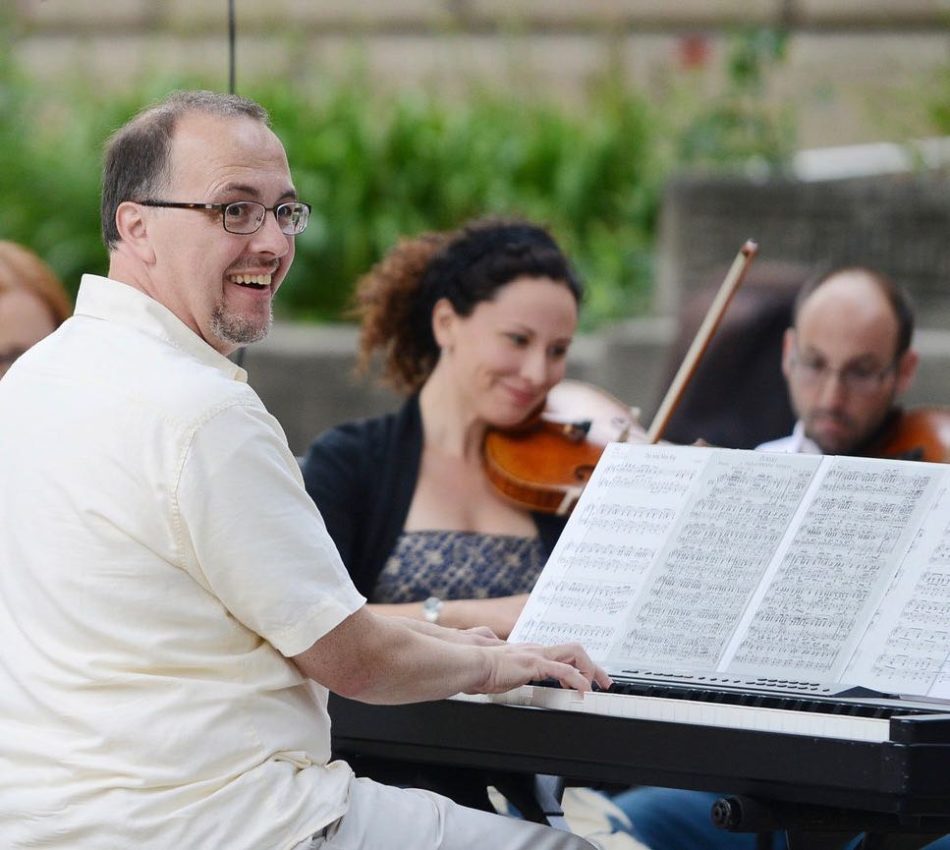 Tom has recorded over 40 albums and has performed throughout the United States and Europe.
He continues to tour worldwide and perform with bands from New Orleans and New York, including the Original Dixieland Jazzband and the Lousiana Repertory Jazz Ensemble.
Besides his pianistic artistry Tom is a versatile music historian with special focus on the Early Jazz era . He has contributed articles for magazines such as Piano Today and is a frequent guest at National Public Radio.