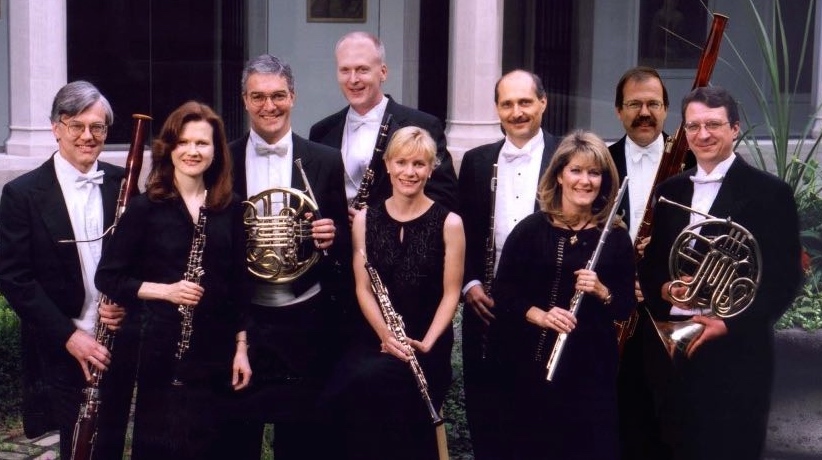 Celebrating the Tenth Anniversary of the first classical concert in Lincoln Hall in 2006, Allegheny RiverStone Center for the Arts proudly presents one of Pennsylvania's leading chamber music ensembles, The Renaissance City Winds, with celebrated pianist, Nathan Carterette, in a richly varied and entertaining program on Sunday, November 6 at 2:00 PM in Lincoln Hall.  Known for promoting the fine art of wind chamber music since 1975, The Renaissance City Winds have been hailed in the press for being "Nothing short of brilliant" [Olean Times Herald], "Playing with excitement, musicality and daring" [WQED-FM], "Expert wind players… attractive program… enjoyable" [New York Times].

This concert is not to be missed, as it is a "first" for ARCA, bringing world class wind playing to its audiences in a refreshing and delightful program of accessible classical music.  Anyone who has ever played a wind instrument would LOVE this concert – and be sure to bring along with you all the young people you know who are in a school band.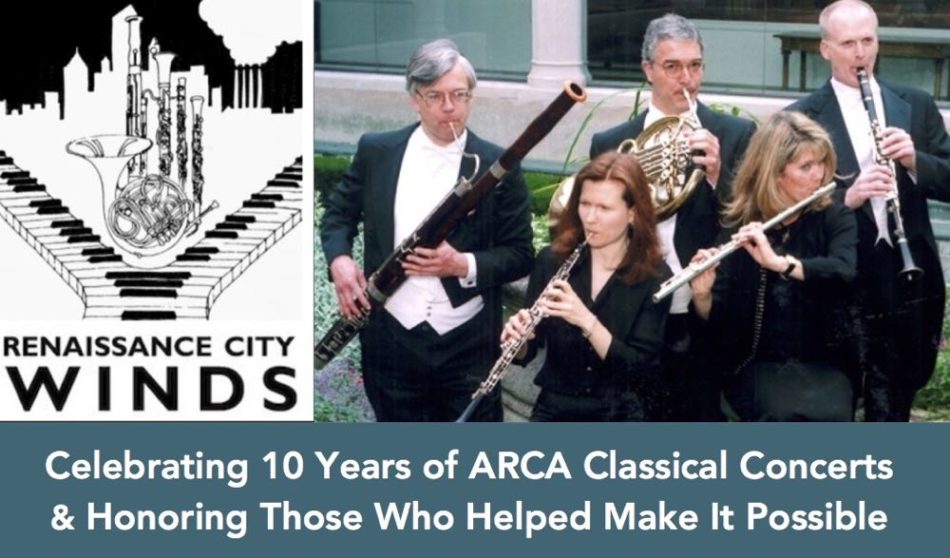 In celebration of its Tenth Anniversary Performance Season, the concert will open with a visual presentation of photos from ARCA's ten years of concerts, festivals and events. Immediately after the concert the audience is invited to enjoy a reception in the Red Brick Gallery on Main Street and Meet the Artist opportunity in conjunction with Ray Rossi's photographic exhibit, "World Views".
Tickets are Adults $25, Members $20 and Students $5.  To reserve tickets to be left at the door in your name, payable by cash or check, call 724-659-3153.
Honoring Past Board Members and Executive Directors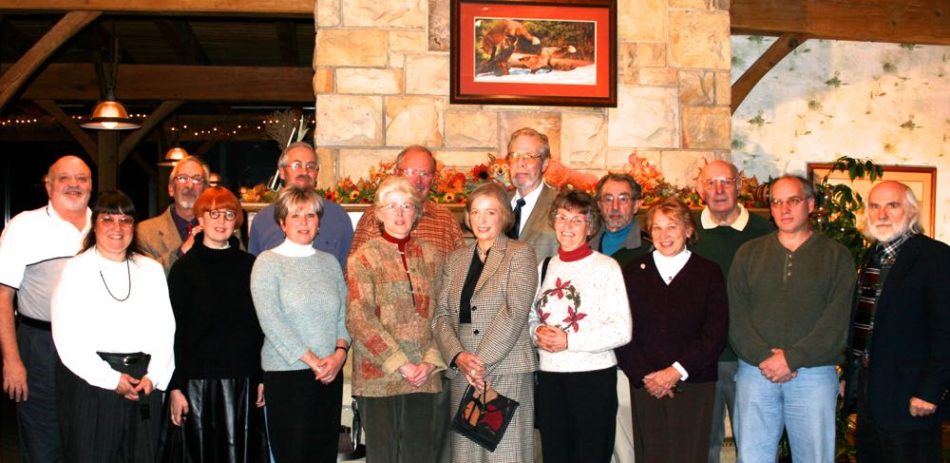 Before the November 6 concert of The Renaissance City Winds, special tribute was given to ARCA's early Board members and previous Executive Directors. Beginning eleven years ago a group of visionaries and culture lovers devoted their time, energy and resources to make their dream of creating a thriving arts center on the banks of the beautiful Allegheny River in Foxburg a reality. Since then, tens of thousands of people have enjoyed concerts, festivals, events and art gallery openings. ARCA has become the cultural jewel of the region. Join us in celebrating their generosity, dedication and determination, without which ARCA would not have reached this milestone.
Early ARCA Board members included Jae Ann Brown and Andor Paposi-Jobb, Lou and Rose Kalinowsky, Arch and Roberta Newton, Sue and Gerald Peairs, Tom and Margo Rudd, Arthur and Patricia Steffee, Bob and Karen Watson, Bud Irwin, Randy Silvis and Adam and Ann Weiss (Adam also serving as ARCA's first Executive Director).  They were joined soon thereafter by Mike and Sally Vereb, Tom and Nancy Hovis and Ron and Connie Hambrick Rennard.
ARCA's current Board of Directors includes Dr. Arthur and Patricia Steffee, Nancy and Tom Hovis, Ron and Connie Hambrick Rennard, Kurt and Joanne Crosbie, Kathy Soroka, Barbara Bott, Jack and Millie Armant and Pat and Bob Beran.  John Soroka is Executive Director.
The Founding of Allegheny RiverStone Center for the Arts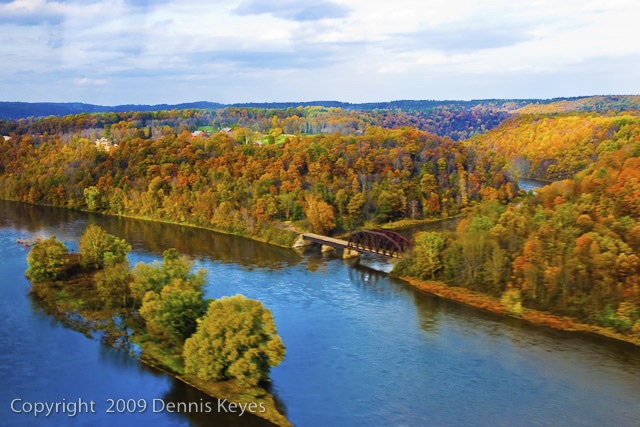 For hundreds of years the scenic allure of the Allegheny-Clarion river valley  has attracted settlers whose foresight established the business and social structure of the towns of Foxburg and Emlenton. Since the mid-19th century, arts and entertainment were brought to the valley to enrich the community – whether touring variety shows and musicians, silent movies or Emlenton Civic Club presentations.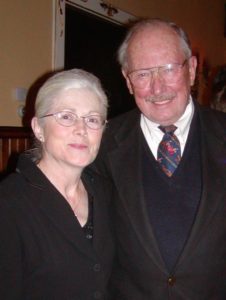 When Dr. Arthur Steffee and his wife Patricia began refurbishing the Fox estate and establishing Foxburg businesses in the late nineties and early millennium, they envisioned the arts as a hub of community and cultural life – drawing people to appreciate the refreshment of the arts in this stunningly picturesque valley.   Hailing from Cleveland, they had fond memories of going to Blossom Music Center, the Cleveland Orchestra's summer home, where the comingling of nature's splendor and music's soaring inspiration were an idyllic combination. They believed that the Allegheny River Valley deserved to have the same thing.
Inspired by their vision, eleven years ago a stalwart group of local culture lovers, educators and artists came together and began devoting their time, energy and resources to make this dream a reality. The founding Board of Directors in 2005 established the non-profit organization, Allegheny RiverStone Center for the Arts, and began creating a center for arts and education on the banks of the beautiful Allegheny River in Foxburg.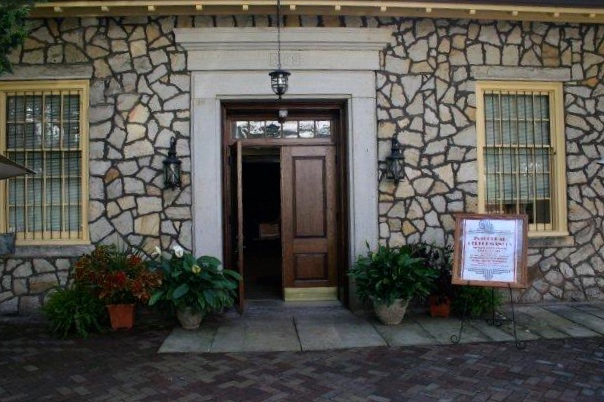 From the beginning, the generosity and hard work of these Board members and volunteers joining their ranks, established the cornerstone of ARCA; they not only developed the cultural offerings but also refurbished the concert venue itself.  The Fox family had built Lincoln Hall as a concert and community venue which opened in 1909 on the second floor of The Foxburg Free Library; however, it had long since been used as a medical center – broken up with small cubicles and a dropped ceiling.

According to founding Board member, Jae Brown, when Arthur Steffee first threw open the doors to show the Board the space, they were shocked and "gobsmacked… it was a debris-logged and entirely impassable 'warren' of partially deconstructed office space that precluded any passage past the foyer at the front door. It seemed impossible, looking back, but in a reasonable amount of time what had seemed an irretrievable space was redeemed by the vision and hard physical labor of many."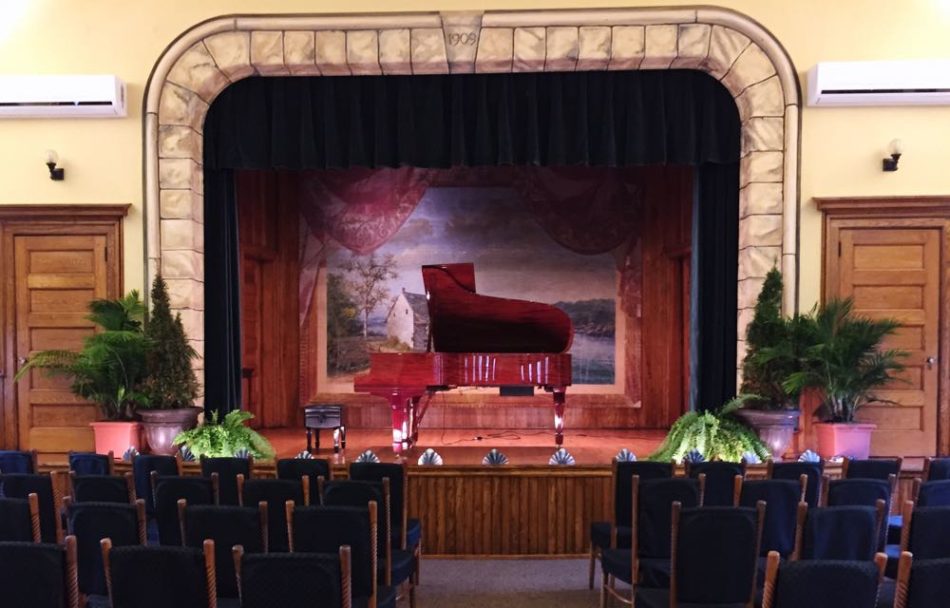 During the reconstruction an original hand painted oil painting of the river originally used as a curtain was found rolled up under the stage. Carefully conserved by Andor Jobb, who lightly cleansed the surface and reinforced the backing using rabbit glue, the painting now serves as Lincoln Hall's stage backdrop. A beautiful seven foot Steinway grand piano graces its stage.  Noted for its intimacy and crystalline acoustics, the hall is a favorite of instrumentalists, such as the Alexander String Quartet and Members of the Pittsburgh Symphony Orchestra.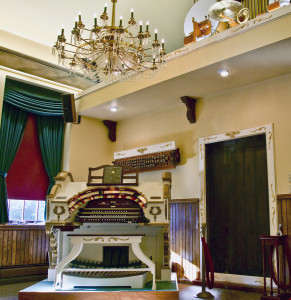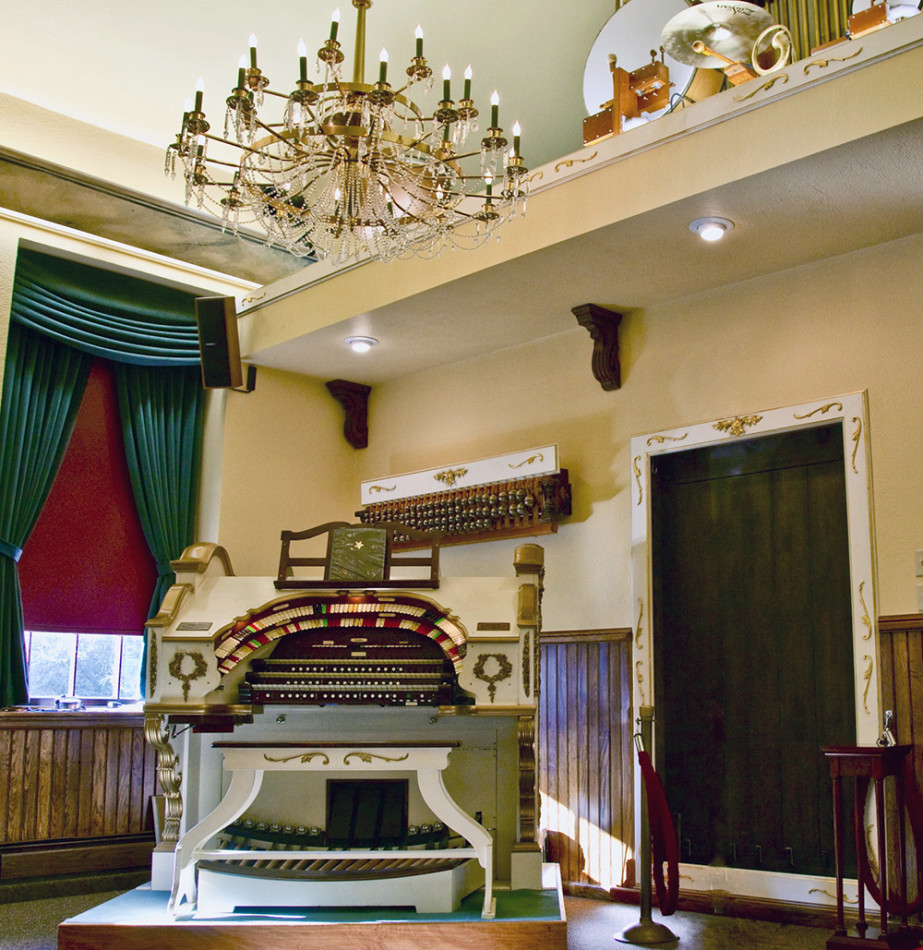 As Lincoln Hall was being renovated, considerable efforts ensued to move and install the 1929 Wurlitzer Theater Organ, which the Steffees had purchased from Paul McKissick.  Over eleven years McKissick had lovingly restored this treasure, which originally had been installed in Cleveland's Uptown Theater and played to accompany silent movies.  Dubbed the Mighty McKissick Wurlitzer, the theatre organ is one of only 24 created in its style and size.
Beginning in September 2005, Paul McKissick began putting the pipes in specially built boxes to prepare for their move to Foxburg. Over the next months, Dr. Steffee moved the boxes of pipes using a horse trailer at times, to ease loading and unloading. For the next year Paul personally, painstakingly installed the organ in its new home.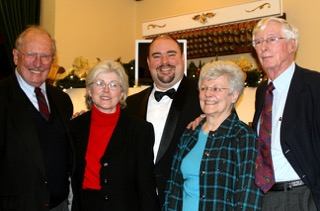 It was determined that ARCA would inaugurate its first performance season in the elegantly refurbished Lincoln Hall on October 5 and 6, 2006 with concerts on the Mighty McKissick Wurlitzer performed by Scott Foppiano; the first non-organ concert,"Shall We Gather By the River", was performed by Katherine Soroka and Friends on November 4, 2006 with Raymond Blackwell, piano, and PSO musicians, Jennifer Orchard, violin, and Mikhail Istomin, cello.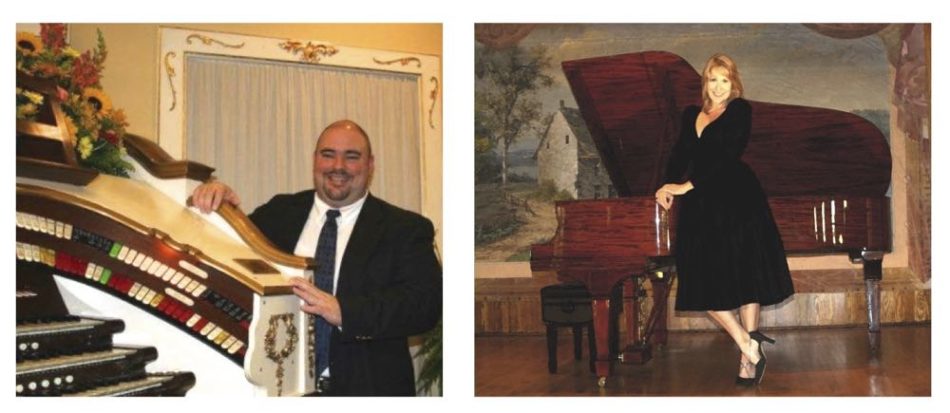 ARCA will conclude the celebration of its Tenth Anniversary Performance Season on November 6 honoring its founding Board members and volunteers, whose vision and prodigious contributions over the years have created an arts organization hailed as "the cultural jewel of the region" and becoming a cultural destination in its own right.
Prior to the concert at 2 PM on November 6 in Lincoln Hall by the renowned woodwind ensemble, the Renaissance City Winds, a visual presentation of ARCA's ten years of concerts, festivals and events will be shown; special tribute will be given to founding Board members, volunteers and previous Executive Directors, including Adam Weiss and Drew Orient.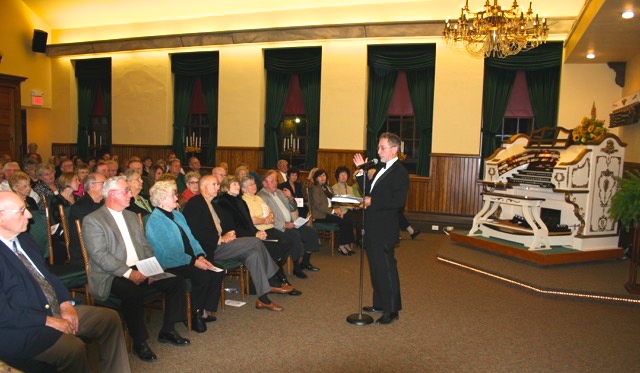 ARCA Members, donors, and audience members – without whom none of this would be possible – also will be thanked for their many years of devoted contributions and attendance.  Current ARCA Members will be given a specially designed ARCA mug, a gift generously provided by an anonymous donor.  These gifts also will be available for ARCA members attending December holiday concerts, and will be mailed to those not planning or unable to attend concerts to year end.  After the concert, a reception follows in the Red Brick Gallery and Gift Shop on Main Street in Foxburg from 4 – 6:00 PM, coinciding with the exhibit of photographer Ray Rossi's "World Views".
We invite you to join us in celebrating ten years of ARCA performances and paying tribute to all those who have helped make a reality – "Glorious Music and Art in the Beautiful Allegheny River Valley". To reserve tickets, call 724-659-3153 or by online here. Tickets are Adults $25, Members $20, and Students $5.
Anyone wishing to become an ARCA volunteer may call 724-659-3153 or send an email to info@alleghenyriverstone.org.  If you wish to make a contribution to the Tenth Anniversary Season, you may do so here, becoming an ARCA Member.  Thank you in advance for your generosity.
About The Renaissance City Winds
For 41 seasons The Renaissance City Winds have brought the warmth and joy of chamber music to Pittsburgh audiences. Varying in instrumentation and size from 3-10 musicians, the Renaissance City Winds is named after Pittsburgh's nickname and dedicates itself to performing and recording the finest music for wind instruments. It has become one of Pennsylvania's foremost chamber ensembles since its founding in 1975.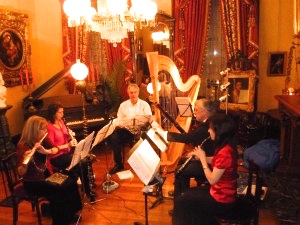 The Winds perform concert in their annual concert series at their residency host, Carlow University, and in unique venues and elegant private homes in Pittsburgh.  In addition to the typical small concert hall of 150-600 seats, the Renaissance City Winds have performed in libraries (including the world's first Carnegie Library), a working steel mill, gardens, Victorian mansions and modern private homes, outdoor amphitheaters, and churches and chapels of all sizes, shapes, and vintages.
The Renaissance City Winds have released CDs on the Elan and Centaur labels and been broadcast on television and public radio.  Enjoy listening to Renaissance City Winds excerpts on Soundcloud:
The Winds have toured throughout the East with appearances at Carnegie Hall (NY), the Kennedy Center (DC), Blossom Music Festival, and the Pennsylvania Governor's Residence. Originally a Pittsburgh woodwind quintet, the "Renaissance City Woodwind Quintet," the group increased its collaborations with guest artists and the frequent performance of octets and decets – most concerts used more than five players – and the ensemble officially expanded and shortened its name in 1988.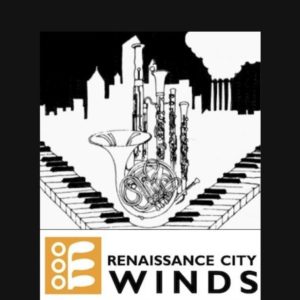 While it performs music from the sixteenth century to the present, the group has received special recognition for its devotion to American music. The Renaissance City Winds have been a tireless proponent of new music for four decades.  The ensemble has commissioned many works from contemporary composers, and performed older treasures it has researched from the Library of Congress, the Harmonists, and the Moravian collection.  In 2001 it won one of MEET THE COMPOSER's community residency grants, one of only four awarded nation-wide that year.
Not only have The Winds commissioned dozens of pieces and premiered over 100, but they also make a real effort to give second and third performances of worthwhile works; far too much fine music gets set aside after its premiere! A central part of this effort has been to perform not just the music of famous people, but to give a voice to young or obscure composers whose work deserves to be heard, especially those from western Pennsylvania.
The ensemble has captured nationally-competitive awards and grants from Chamber Music America, the National Endowment for the Arts, MEET THE COMPOSER (now merged into New Music America), the Alice M. Ditson Fund, and the Aaron Copland Fund for Music.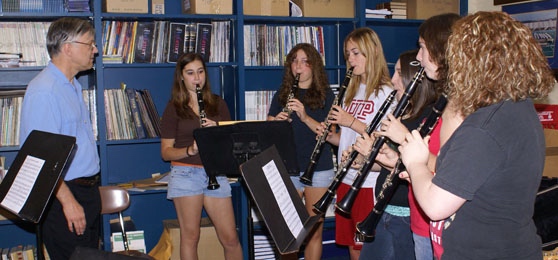 Seasoned educators in the public schools, the Renaissance City Winds have been giving school concerts and extended residencies since their very first season in 1975-76.  The ensemble is a juried roster artist with the Pennsylvania Council on the Arts' Arts-in-Education program.  They have presented one to two week long residencies, including lecture demonstrations for assemblies and/or classes on themes as diverse as American music of various ethnic backgrounds and music by women composers, with study guides available for elementary schools so teachers can prepare their students.
Working with sixth to ninth grades the Renaissance City Winds have conducted composer projects with students writing melodies and organizing them in logical form.  They also have presented Arts-Integration Lectures, for example, on American Music in a history class, Arts Management and Marketing in a business class, The Physics of Music in a physics or general science class and How to Listen to "Classical" Music  in general music class.  The Winds also have coached students in a variety of small groups and conduct master classes.
About Nathan Carterette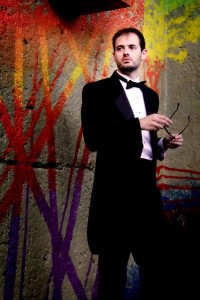 Hailed as "wonderfully poetic," (Westfalen Post) and "very compelling in his power and presence" (International Composer), Nathan Carterette has distinguished himself in the concert world by performing a huge range of works from Elizabethan keyboard music to music written today. His innovative programming has inspired audiences to approach unfamiliar music with open ears, and familiar music with new appreciation.
Nathan has performed in such venues as Weill Recital Hall and the Yamaha Piano Salon of New York City, the Gasteig in Munich, the Museum für Kunst und Gewerbe of Hamburg, and Cleveland's Trinity Cathedral. He has been presented in several universities such as the Berklee School of Music, Cleveland Institute of Music, Radford University, Kent State University, Baldwin Wallace Conservatory, and Carnegie Mellon.
His solo premieres include the U.S. premiere of James MacMillan's Piano Sonata, the world premiere of Dafydd Llywelyn's TimeQuake no. VII, part II (Hamburg) and several works of composer Quentin Kim, including Variations on an Ancient Korean Melody and Four Preludes. An adventuresome concerto soloist, Nathan has also played a wide repertoire of works, including Schoenberg's Piano Concerto, op.42 with the University of Missouri-Kansas City for a Schoenberg Retrospective Festival.
Educated at the University of Missouri-Kansas City, where he studied with Robert Weirich, and Yale University, where he studied with Boris Berman, Nathan Carterette began his piano studies at the age of eleven with Cleveland's legendary Birute and Anthony Smetona. A chance encounter in 2004 with Welsh composer-pianist Dafydd Llywelyn led to an invitation for intensive private study in Germany, both of the traditional repertoire and Llywelyn's works.
Nathan has recorded both books of Bach's monumental Well-Tempered Clavier and the complete solo piano works of Korean composer Quentin Kim. This video recording of his performance of the complete Bach Goldberg Variations in St. Andrews Episcopal Church in Pittsburgh is on youtube.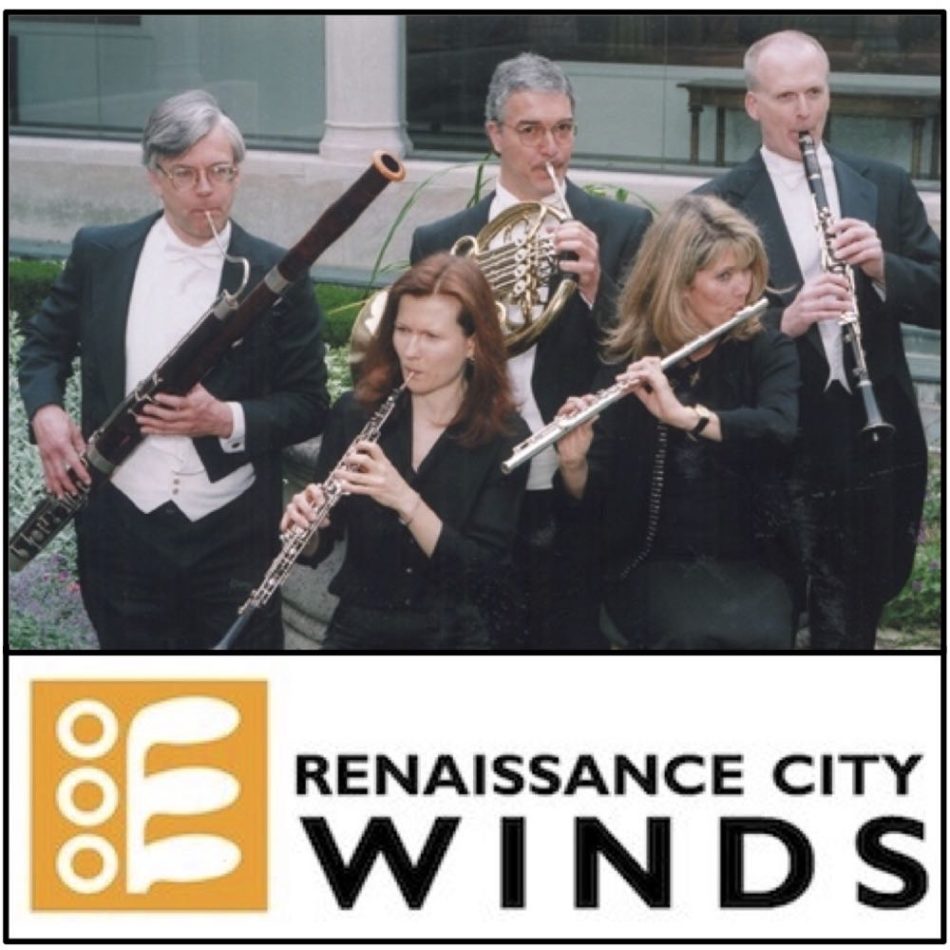 The Renaissance City Winds, with celebrated pianist, Nathan Carterette, will perform a richly varied and entertaining program on Sunday, November 6 at 2:00 PM in Lincoln Hall.
Divertissement, Op. 6 (1906) – FRANCE………………………………..Albert Roussel (1869-1937)
Suite of Old Lettish Dances – LATVIA……………………Andrejs Jansons Sarabumbals (b. 1938)
Martinu Dancis (Mummers' Dance)
Gaismina Aussa (The Dawn)
Garais Dancis (The Long Dance)
Kazu Dancis (Wedding Dance)
Clapping Music (1971) – UNITED STATES………………………………………..Steve Reich (b. 1936)
Antiche Danze Ungheresi del XVII secolo (c. 1959) – HUNGARY……Ferenc Farkas (1905-2000)
Intrada: Allegro moderato
Lassú (Slow Dance)
Lapockás Tánc (Shoulder-Blade Dance)
Chorea
Ugrós (Leaping Dance)
– INTERMISSION-
"Viennese Sonatina No. 1," K.439b – AUSTRIA………Wolfgang Amadeus Mozart (1756-1791)
Allegro (from Divertimento No. 4)
Adagio (from Divertimento No. 5)…………anonymous 18th C. keyboard transcription
Rondo: Allegretto -(from Divertimento No. 4
(adapted for reed trio by R. James Whipple)
Variations on an Ancient Korean Melody (2010) – KOREA…………………Quentin Kim (b. 1956)
Nathan Carterette, piano solo
Caprice on Danish and Russian Airs, Op. 79 (1887) – FRANCE………………Camille Saint-Saëns
Hoosier Rag (1907) – UNITED STATES……………………………..Julia Lee Niebergall (1886-1968)
Arranged by R. James Whipple