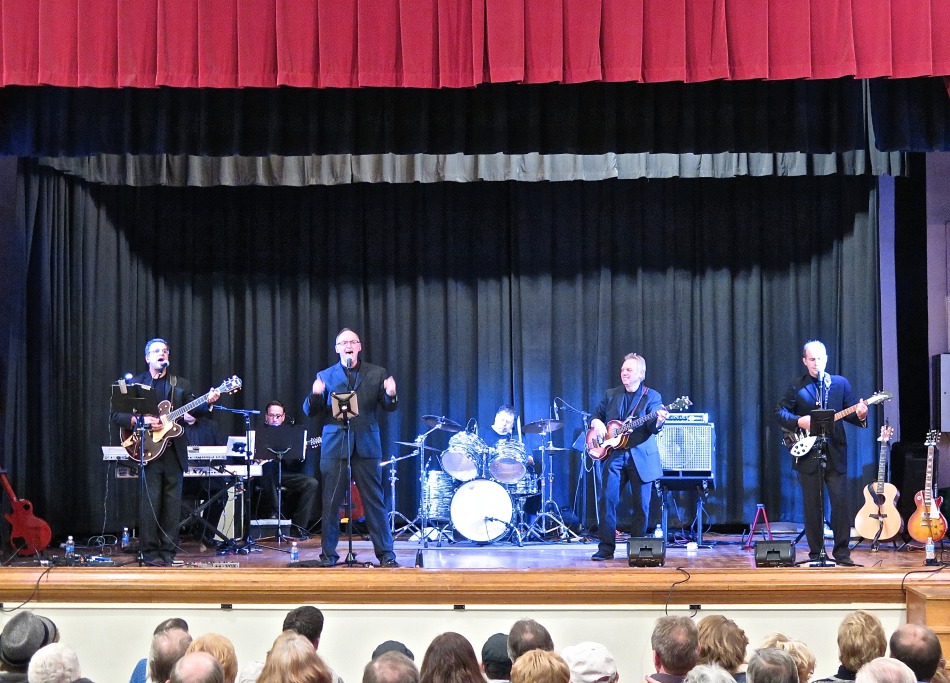 At a time when the Allegheny River Valley region is blessed to have the Blueprint Communities Initiative, the re-paving of Ritchey Run and the re-opening of the Emlenton Hill road – the November 1 Beatles Tribute Concert presented by Allegheny RiverStone Center for the Arts in Emlenton's Crawford Center brought together the contributions of many to benefit the arts in our community.
Many in the area are already familiar with Barry Louise, an unsung community leader who gets beneficial things done behind the scenes. Barry recognizes that ARCA, the cultural jewel of the region, is making a difference in the quality of life in the Allegheny-Clarion river valley.   ARCA partners with the AC Valley Schools to bring music, dance and drama resources to young people in the community and offers local residents the opportunity to take advantage of a wide variety of high quality musical and artistic presentations at family friendly prices without having to travel to the big cities.
"We are fortunate to have this arts organization do so much for our families and children and I wanted to do something to help them", Barry Louise says. "I placed a call to my friend Bill Zalewski, one of the Beatles Tribute band members. He agreed that presenting a concert in Emlenton to commemorate the 50th anniversary of the first appearance of the Beatles on American soil would be a perfect event for the larger community. Bill also agreed for the band to perform the concert as a benefit for this arts organization that needs our support."
The Beatles Tribute Band, based in Pittsburgh, has been delighting audiences for over ten years. Recently they moved their commercial performances to a philanthropic, not-for-profit format and decided to perform benefit events to help non-profit organizations which serve children raise money to support their community service. Band member Bill Zalewski offered this statement: "We are pleased that our performance will help this fine organization and its programs of arts enrichment for children, the community and the region."
Thanks to the generosity of Barry Louise and Bill Zalewski, Allegheny RiverStone Center for the Arts (ARCA) presented a Beatles tribute performance on Saturday, November 1, in Emlenton's Crawford Center. It was a great show, enjoyed by close to 300 people, with many dancing in front of the stage or in the aisles
In addition to the supporting funds raised from ticket sales at this benefit – in excess of $3600 – Bill Zalewski of Merrill Lynch and his administrative assistant Virginia Hoffman presented ARCA with an added contribution of $1000.00 from Merrill Lynch corporate offices. The photograph shows ARCA Executive Director John Soroka receiving the Merrill Lynch donation from Barry Louise and Virginia Hoffman.
ARCA is grateful to Barry Louise, Bill Zalewski and the members of the Beatles Tribute Band and Merrill Lynch for their generosity to the community and for creating a very special evening for the residents of Emlenton and our region.