Yesterday's beautifully sunny afternoon (Sunday, November 9) was a win in Lincoln Hall for those who wisely skipped watching the Steelers lose to the New York Jets.  Once again, poets Andy Johnson and Phil Terman read selected works from their own writings, each accompanied by their own group of musicians, poets in their own right in jazz and improvisation.  It was an afternoon study of contrasts and game-changing moods.
To set the mood for the event, the well-known band Catro got the audience warmed up with a couple of tunes—one a take off on a Spyro Gyra hit and the next a jazz standard. Mark DeWalt led from the piano, with Dave Kana on saxophone weaving complex riffs and Carlos Cortin deftly adding rhythm and highlights on congas and shakers.  These guys are always a pleasure to listen to, no matter the setting.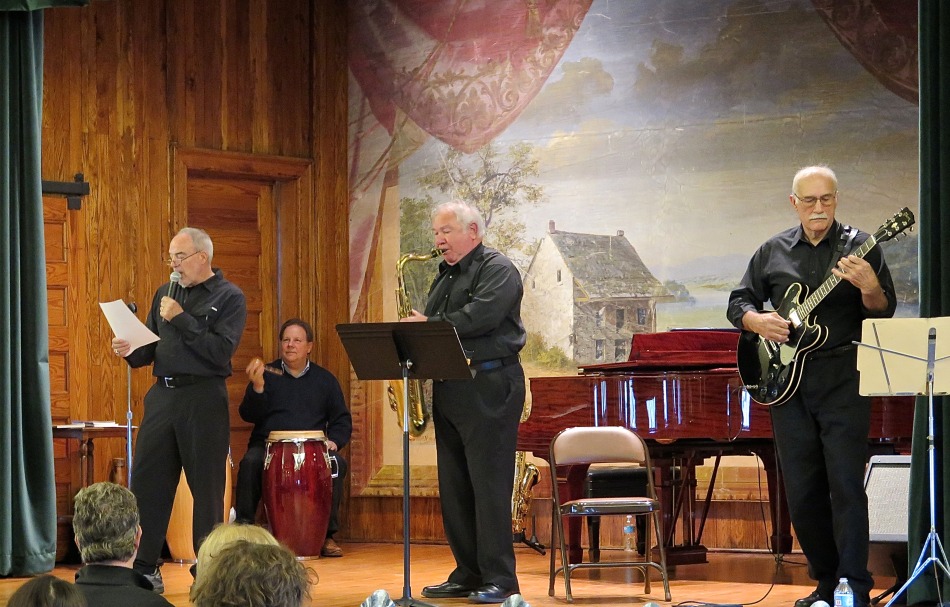 Andy Johnson was up first, accompanied by his group, Blisstaken.  Johnson, formerly of Slippery Rock University, a slender and meditative man, delivers his verse in a style that draws the listener in to appreciate extended thoughts and intimate personal moments. Backed by Blisstaken, with the impeccable Terry Steele on saxophone and Mike Weingard deftly working his way around the strings and frets of the guitar, this trio tends to add ethereal sounds of color to highlight the overall mood of a poem.  ARCA Executive Director John Soroka, formerly Principal Percussionist with the Pittsburgh Symphony Orchestra, was called to the stage to add shakers to the groovy "Buddha Cat" and "Iguana-Antigua". While each bard draws inspiration from his own life experience, of special note were Johnson's separate homages to his wife, daughter and granddaughter.  Also, Andy delivered an interesting variation on life's ten commandments—thought provoking, yet humorous.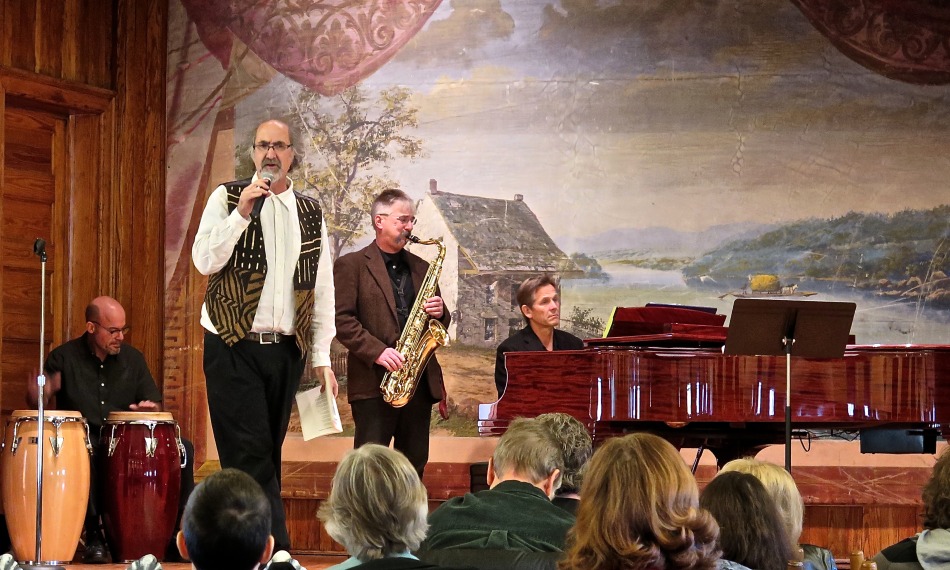 On the other hand, Phil Terman is a commanding bearded figure with a voice to match, who adds dance-like movement to underscore his poetic form.  A Clarion University professor, some of Phil's influences also come from his family—his father, a used car dealer and a relative, who lives in a country setting not unlike the area surrounding Foxburg and traps animals.  Phil captured his own experiences working for his father and being given well-worn vehicles to drive on a date: "Just as she gave in the car gave out!"  Phil's Jewish heritage was deeply expressed in a work about a fish, which spoke the word of God in a fishmonger's store.  During his readings, the excellent Catro leaned more heavily on pure classic jazz jamming, always in synch with the meaning and mood of the spoken word.
The music of poetry accompanied by music! An interesting and unique blend of two art-forms-as-one – with extremely satisfying results.   Kudos to Andy Johnson, Phil Terman, Blisstaken and Catro for taking the audience on a journey of the heart and soul.