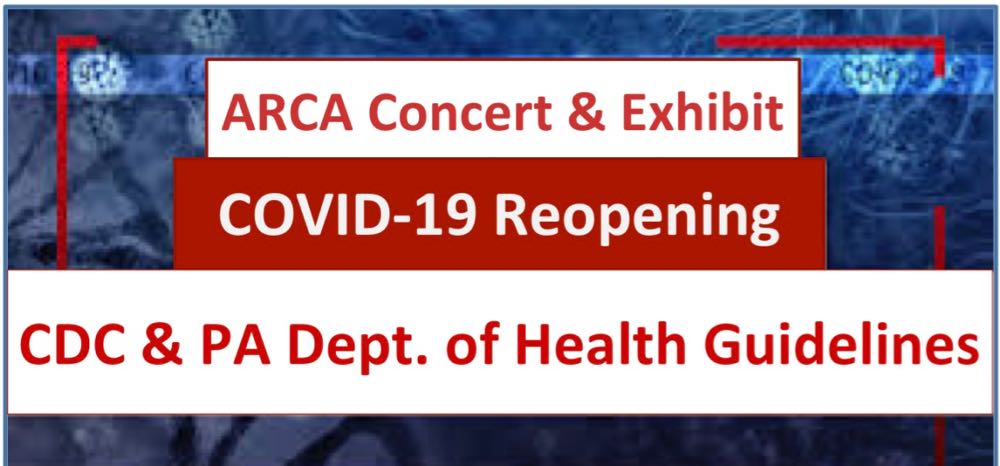 From the beginning of the COVID-19 pandemic, Allegheny RiverStone Center for the Arts closely monitored the recommendations of the Center for Disease Control, the President's Task Force and Governor Tom Wolf's office. The health and safety of its Members, patrons, performers and Red Brick Gallery customers and artists are of paramount importance to ARCA.
To protect its constituencies in the face of the pandemic, in the Spring of 2020 ARCA cancelled five Lincoln Hall concerts from April 4 to June 6 as well as the Red Brick Gallery openings of the student art exhibit from Allegheny-Clarion Valley High School and the first gallery exhibition.
On May 29, 2020 Clarion, Venango and adjacent counties in northern Pennsylvania moved into the Green Zone. After carefully considering the status of the virus in our region and the PA Green reopening guidelines from Governor Tom Wolf's office, ARCA's Board of Directors determined that it would resume its 2020 concerts and Red Brick Gallery season in late June/July.
Compliant with PA Green guidelines, the Red Brick Gallery opened its 2020 season with Image and Word: A Fanciful Journey exhibit on June 27, running Saturdays and Sundays from noon to 5 PM through Sunday, August 2.  On Sunday, July 12 at 2:00 PM pianist Nathan Carterette performed a Beethoven 250th Birthday concert in Lincoln Hall.
Three concerts in September and October also took place reliant on CDC and PA Department of Health guidelines.  With the spike in cases at the end of the year, November and December 2020 concerts were cancelled.  
————————————————————-
Beginning with concerts in March, 2021, ARCA is once again reopening with 50% socially distanced seating for patrons in masks – incorporating the following procedures based on requirements for reopening PA businesses in the Green Zone:
Please refrain from attending if you are ill.
Temperatures of performers, employees and volunteers will be taken before concerts.
Temperatures of audience members will be taken before entry.
Masks are required for patrons for entrance and to be worn inside.
Hand sanitizer will be available.
Concert patrons are required to sign a Waiver before entering.
Patrons will enter socially distanced.
Seating will be 50% of occupancy.
Patrons will be seated according to socially distanced guidelines.
Families and groups may be seated together.
Because seating is limited, reservations are recommended: 724-659-3153.
Patrons with reservations will be assigned reserved seats in hall quadrants.
Walk-ins are welcome if socially distanced seating remains.
Tickets may be purchased online: alleghenyriverstone.org or Cash/Check@ door
Each and every ARCA family member is precious.  For those unable to attend because of health concerns, concerts will be recorded for later broadcast on ARCA's Youtube channel, dates to be announced.
Allegheny RiverStone Center for the Arts sincerely appreciates the public's cooperation as we work through this uncharted territory together. ARCA looks forward to sharing inspiring music and art with its appreciative audiences again and providing the personal and spiritual enrichment that LIVE performances and art exhibits offer.
Please take extra care of yourselves and your loved ones.
Thank you for your continuing support,
Warmest regards,
John Soroka
Executive Director on behalf of the Board of the Allegheny RiverStone Center for the Arts